The Beauty Products Your Favorite Celebrities Swear By
It's not exactly groundbreaking for me to say that celebrities are pretty much constantly putting their best face forward. (Don't call Miranda Priestly.) But often times, it seems like they are using super expensive products or a permanent Glamsquad to follow them around and create their effortlessly gorgeous looks. And, to be clear, that is the case some of the time. But sometimes the answer is a little simpler than we all think—they just find what products work for them, and continue to use them. So here are the beauty products celebrities swear by, whether it's a body scrub, moisturizer, foundation, or whatever else. Many of these beauty products celebrities swear by are actually v accessible, so you might find yourself online shopping at the end of this list. A fair warning.
1. Chrissy Teigen
It's no surprise that we are shamelessly obsessed with Chrissy and everything about her realness. From her open conversations about pregnancy to her political views to her self-confidence, it's a no-brainer that we'd want to know her tips to looking and feeling good, too. Some of her favorite products include Ouai Shampoo and Conditioner, Ouai Scalp and Body Scrub, and a must-have: Coconut oil. She especially loves the one made by Vita Coco.

2. Kim Kardashian
For starters, Kim obviously uses her own products the most. I mean, duh. Her contour and highlighter kit as well as Kylie's bestselling Kylighter are among her faves. However, she's also a fan of Benefit Cosmetics Hoola Matte Bronzer and Guerlain Orchidée Impériale Rich Cream, according to Harper's Bazaar UK.

Guerlain Orchidée Impériale The Cream
3. Emily Ratajkowski
Not only is Em Rata insanely fit and unafraid to show off her abs, but she always seems to have the best sun-kissed, glowy skin too. It's just not fair to have both a good body and good skin. Ugh. If you're like me and would die to know her skin care secrets, you're in luck. She shared with Vogue that she uses Eucerin Aquaphor Soothing Skin Balm and Charlotte Tilbury's Magic Foundation.

Charlotte Tilbury Magic Foundation
4. Hailey Baldwin
This secret is for all the blondes out there who are constantly looking for a conditioner to keep their strands looking fresh and healthy. Hailey's hair stylist, Ryan Pearl, shared a favorite purple conditioner to follow with. The secret? Like with anything else, Pearl says too much purple shampoo can cause more damage than good, so using a deep purple conditioner afterwards like Redken's Color Extend Blondage Conditioner once a week can maintain your color and nourish your roots.

Redken Color Extend Blockage Color Depositing Purple Conditioner
5. Bella Hadid
The Hadids know how to turn heads on the runway and in the streets. Their impressive (and v expensive) wardrobe and 6-pack abs help, but it's their flawless makeup that really does the trick. Specifically, Bella enjoys some of Dior's most popular beauty products. For those lengthy lashes, she likes using Dior Diorshow Pump 'N' Volume Mascara and tops off her pout with Dior Lip Glow.

6. Jennifer Lawrence
I really wish my girl, JLaw, would get an Insta because I am really so obsessed with her. I would LOVE to see the hilarious sh*t I imagine she'd post because honestly, she is my drunk alter ego. She likes to keep her makeup pretty minimal, but she really loves a good face mask. Who doesn't? One of her favorites is the Decleor Radiance Flash Mask.

Decleor Life Radiance Flash Radiance Mask
7. Rihanna
Ri is serious goals and my go-to when I need a reminder of the boss betch I am. As predicted, she uses her own Fenty Beauty products like the Pro Filt'r Soft Matte Longwear Foundation and Killawatt Freestyle Highlighter. She also shared with Vogue an easy under-eye trick for pesky dark bags because obviously, we've all been there. She advises to use deep colored eyeshadow shades to cover the bags and "add definition".

Fenty Beauty Killawatt Freestyle Highlighter
8. Beyoncé
For some, god is a woman, and that woman could very well be Queen Bey. Since those in the Beyhive would absolutely die to be a clone of her, getting some insight into her beauty routine is the first step. Her well-known makeup artist, Sir John, shared with Glamour UK that he doesn't use a setting spray or even a moisturizer. Instead, he layers cream and powder. He also shared that he uses Tom Ford Bronzing Powder right on the T-zone for a natural-looking glow.

Tom Ford Small Bronzing Powder
9. Jennifer Lopez
J.Lo is super secretive about her beauty routine and tbh, I would be too if I looked that good at her age. Guys, Jenny from the block is almost 50 years old and she seriously always looks like she just turned 25. HOW DOES SHE DO IT? For starters, she says she drinks a ton of water and that she doesn't drink caffeine or alcohol. So, ya, we're pretty much screwed from the start. A couple of her favorite products include a highlighter from her collab with Inglot and some luxurious creams like Dr. Hauschka's Rose Day Cream.

10. Ariana Grande
In addition to her hella long ponytail, Ariana is never out without an on-point cat eye. I mean, her winged liner as always as fierce as they come. If you're envious and desperately trying to figure out her talented ways, her makeup artist's go-to is Urban Decay 24/7 Glide-On Eye Pencil in Bourbon.

Urban Decay 24/7 Glide-On Eye Pencil
Photos: Raphael Lovaski /Unsplash; Nordstrom (2); Neiman Marcus; Charlotte Tilbury; Ulta; Sephora (3); Decleor; Dr. Hauschka
Betches may receive a portion of revenue if you click a link and purchase a product or service. The links are independently placed and do not influence editorial content.
Celeb Makeup Artist Carrie LaMarca's Top Summer Beauty Hacks
Summer is hands down the best (and betchiest) season for many reasons: day drinking, tans, cute summer clothes—I don't need to convince you. But let's be honest, summer has its downsides. It's the little things, like feeling the need to shave every five seconds because your legs are always on display, and then shaving so much you end up irritating your skin, and having those awful bumps around your bikini area. The worst. It can also be really tricky to navigate how much makeup is too much at a beach party. Also, a sun-kissed glow may be easy for some to achieve naturally, but for others, it can end in a disaster (sunburn). I am the latter. Since we deserve to flaunt what we've got in the summer without botching our skin, we asked celebrity makeup artist Carrie LaMarca, who has worked with top models like Ashley Graham and Emily Ratajkowski, for her best summer beauty hacks.
What are your top tips for achieving glowing, smooth skin?
Glowing skin is my favorite, and there are several steps I take to achieve that. One: drinking lots of water is key! Second, I strongly advise using a power serum. Mad Hippie's Vitamin C serum is my current must-have product. It evens out your skin tone and brightens and plumps fine lines all in one, leaving your skin supple and glowing. Finally, I always make sure that my face is free of any "peach fuzz," because this helps your foundation to go on super smooth and even. For this, I love the Clio Beautytrim, a personal facial groomer, which is super gentle and small enough to keep in my makeup bag. 
What's the one thing we should be doing this summer to avoid ingrown hairs, bumps, and redness?
A big way to avoid ingrown hairs is to exfoliate before you shave. It helps to soften and loosen the hair, making it easier to get a clean, smooth shave. For bumps and redness, it helps if you use witch hazel on the area after shaving, and follow up with a light moisturizer.
What's the one item you have to have in your beauty bag when working with celebs?
My number one, can't-live-without item is the Cle De Peau concealer sticks. They are expensive but worth every penny! They work wonders on covering any red spots and under eye circles and are so lightweight and smooth that they look like your skin. 
What's the craziest beauty bind you've gotten into behind the scenes at a Sports Illustrated shoot, and how did you fix it?
This wasn't a Sports Illustrated shoot, but it was a swimwear shoot, and somehow the model didn't get the memo and showed up unshaven "down there!" Thankfully, I always keep the Clio bikini trimmer in my kit! I make sure to pack it for swim or underwear shoots because it quickly removes hair, but doesn't leave any redness or irritation that shaving with a razor can cause. I was able to clean her up quickly and got her right on set to start shooting. Crisis averted!
Any cool summer beauty hacks you can share for those of us who will be showing off our legs all summer?
A tan always makes your legs look better, so I'd recommend using a self-tanner like St. Tropez—one of my faves. But if you are too scared to commit to tanning yourself, or if you're in a last minute pinch, mix some of your foundation with your body lotion, and it works great for evening out the skin tone on your legs and covering up any redness. 
As a top celebrity makeup artist and skincare expert, Carrie LaMarca has worked to prep top models like Nina Agdal, Ashley Graham, and Emily Ratajkowski for their close-ups. From shoots on exotic beaches to the catwalk, Carrie is a pro when it comes to grooming and keeping the skin looking camera-ready.
How Do Celebs Prepare For Award Shows? Their Secrets To Looking Really Pretty
If you were watching the Oscars last night and were trying to figure out how these people show up looking fucking flawless, join the club. Celebs obviously have to be abnormally skinny and good-looking by default, but like, at what cost? I mean, don't get me wrong—Emma Stone looked pretty decent in Lala Land, but professionals are paid to edit that shit. 
What in the Steve Harvey happened last night? Read our Oscars recap!
We wanted to know what kind of prep goes on before the red carpet, so we did some research into the glamorous lives (and weird diets) of Hollywood's elite. If you thought stars were actually just like us, think again. Here's what the celebs do to get ready for the red carpet:   
1. They Get Their Faces Shaved

This is not a joke, and it's not a mistake that some 6th grade girl made because she was too scared to ask her mom for a wax. Celebs literally get their faces shaved before the red carpet and the treatment is technically called Dermaflash. Apparently, by getting rid of some excess peach fuzz and exfoliating your skin, you get that extra fresh glow that "flashing" provides. J.Lo and Jennifer Garner were both spotted getting their "flashing" done at the Beverly Hills Hot Springs and their skin is unreal, so like, we're trying not to judge. 
2. They Get Their Cheekbones Accentuated

We've been getting facials before events ever since our middle school graduations, but when it comes to award shows, celebs go to specific professionals who know how to literally manipulate your face to look better on camera. There are specific pros in LA that will only take nominees' appointments on the day of the Oscars. For example, celeb fave Joanna Vargas is known for her Oxygen Purifying Facial, which uses medical-grade oxygen to erase dull skin and create finer lines to get your cheekbones to look like they're popping out of your face. Goals, right?
3. They Get Blood Injected Into Their Faces

Botox appointments are just as regular as teeth cleanings in the celeb world, but when it comes to the Oscars, the regular injection doesn't make the cut. Celebs like Kim Kardashian swear by the "Vampire Facial Lift," which literally injects blood back into your face by using platelet rich plasma. Apparently it helps make your eyes look wider and your skin look super rejuvenated, and results are immediate. BRB, throwing up.
4. They Wrap Ice Cubes Onto Their Faces

A few days before the show, celebs are having this funky ice concoction wrapped onto their faces. Dr. Nigma Talib, an LA-based naturopathic doctor, works with stars before the Oscars through "icing" their faces. Icing is a process meant to de-puff your face, make your pores more refined, and take away any redness in your skin. She mixes together cucumber water, aloe vera juice, turmeric root, and water into a blender, and then freezes the liquid in an ice tray. Once they're frozen, she wraps the ice cubes in a washcloth onto their skin until it's all melted. Sounds pretty unpleasant and it's probably freezing AF. Aren't they cold enough from dieting all year-round?
5. They Put Jellyfish On Their Faces

This is another treatment that is super trendy right now in Hollywood, and it sounds like a high school bio experiment we decided to ditch. The jellyfish mask is made from jellyfish collagen, which is supposed to hydrate and firm your face to give you a youthful glow on camera. I don't even wanna know how much this absurd treatment costs, but you couldn't pay me to stick a jellyfish on my face. I know it makes you look good, but there are Instagram filters that do that too. We will be doing a follow-up analysis on if anybody ever has to have their face peed on if this treatment goes wrong.
6. They Cut Out Sugar, Gluten, Dairy, & Booze

Try telling a waiter that you're sugar-free, dairy-free, gluten-free, and you don't need a cocktail menu either. Celebs like Kate Bosworth, Penelope Cruz, and Sienna Miller follow this no-fun diet for weeks leading up to the Oscars, and it sounds pretty brutal. The worst part is, they probably can't even complain about it because all their famous friends are on the same fucking diet. I just hope they at least get shitfaced at the afterparty. 
The Best & Worst Beauty Looks From The Oscars
The Best & Worst Beauty Looks At The 2017 Golden Globes
The time has come to talk about one of the lesser-talked-about award ceremonies of the year: the Golden Globes, aka the Oscars' younger, drunker sister. While the Golden Globes red carpet allows stars to give less fucks be a little more casual/experimental than they would be at the Academy Awards, the 2017 lineup was lit. As in, there really weren't that many terrible beauty looks that made me want to (internally) scream/cry/cry-scream. I mean, of course there were still a few losers who missed the mark, but before we get into the fuck ups, let's talk about the shining stars who killed the game, i.e. the red carpet.
BEST:
Emily Ratajkowsfsfsdfksafsfki The Hot "Actress" From "Blurred Lines"

The monochromatic shadow and lip combo. The tousled lob. The full brow. 10/10 would bang.
Emma Stone

Though she's the palest person I've ever seen, Emma Stone usually does it right on the red carpet. Following the success of her 75th film with Ryan Gosling, Emma donned a laid back, whimsical low pony, a sheer rose lip, and a subtle cat eye.
Millie Bobby Brown

As the breakout star of Stranger Things and a former Betch of the Week, Millie murdered the red carpet. Not unlike how she murdered the Demogorgon. Only difference is this time she had soft, subtle makeup and a sleek bob.
Lily Collins

Pulling off a red lip with a pink dress and pink shadow is not easy, but somehow Lily did it just to prove that she can.
Kerry Washington

Here for Olivia Pope's sleek, buttery-highlighted hair and dark lip combo.
Olivia Culpo

The mocha smoked out eye/matte lip/low braid story Olivia's telling is my 2017 mantra. 
WORST:
SJP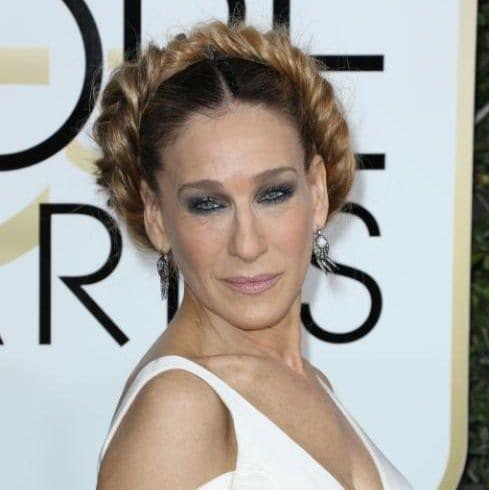 While she might have meant to honor the late and great Carrie Fisher, whatever the fuck is happening with SJP's braids makes me sad. She should have consulted Olivia. (Culpo, not Pope. Though both would probably be appropriate.) 
Milo Ventigmiglia

The poor man's Tom Selleck is now registered under Megan's Law. Seriously, go check.
Tom Hiddleston

Tbh, he looked OK on the outside (whatever), but last night we saw Tom Hiddleston be ugly on the inside. Proving that he loves himself more than he loves poorly printed tank tops, Hiddleston wanted everyone to know that he is an inspiration to UNICEF and Médecins Sans Frontières and the World Food Program.
Tom Hiddleston: Omg thanks for the award. Let me use this platform to talk about Sudan.
The audience: All ears.
Tom Hiddleston: And how I've saved it by acting in a boring show about guns with House.
The audience:

The only thing that would have made up for this is if he thanked Taylor Swift and the audience subsequently boo'd. Sigh. Maybe next year.