Is It Safe To Take A Train, Flight, Or Road Trip? What You Need To Know
Your European vacation is canceled and your shoe-box sized apartment is sitting at an unbearable temperature of 105°. If you're one of the lucky ones who still has a job, Mondays are basically indistinguishable from the weekend and your vacation days feel pretty much useless. At least we've made it to summer, and halfway through this dreadful year.
The CDC still advises against travel, and the best way to avoid contracting and spreading COVID-19 is to stay home and limit your interactions with other people. However, being around people—particularly in enclosed spaces—is what spreads coronavirus, not the actual act of traveling. This means that there are still ways to take a vacation and plan ahead to ensure you stay as safe as possible this summer. As every company's email newsletter informed us back in March, these are unprecedented times. So take precautions when allowing yourself to decompress, safely take a vacation, and try to dull the pain of 2020 with tequila sodas.
Travel, But Make It Local
Travel, both internationally and domestically, has obviously taken a serious hit due to the pandemic, with a low point on April 14th of only 87,000 fliers, according to the TSA. Since then we've seen a gradual increase in travel both in the air and on the ground as states rushed to open. Memorial Day weekend seemed to be the turning point when everyone just thought we could forget about the pandemic and get on with our lives, with a 48.5 percent increase in road travel compared to the previous weekend. Unfortunately, this jump and people's general unwillingness to socially distance resulted in a huge spike in coronavirus cases. Anddd this is why we can't have nice things.
The moral of the story: don't be that guy! If you're going to travel this summer, now is the time to keep your group exclusive and spend your money on fancy sh*t rather than just flocking to the hottest vacation spot (or literal COVID hot spot). Forgo the crowded Lake of the Ozarks pool party and show off your bikini body via Instagram from a private pool in an Airbnb instead. Skip the long flight and treat yourself to summer loungewear or dinner on a socially distant street-side patio. We're always talking about how we want to be where the people aren't, so let's take advantage of this opportunity and built-in excuse for getting out of plans.
It also helps to limit your groups, wear a mask when social distancing isn't possible, and avoid peak travel times. Before booking and going on a trip, be sure to monitor the number of cases in the area you are visiting, follow travel recommendations, and definitely don't ignore some states' 14-day quarantine mandates and get arrested.
"Help Me, I'm Poor," -The Airline Industry, Probably
View this post on Instagram
While your pink Away luggage set collects dust, your preferred airline has gone into a tailspin and the remainder of 2020 is looking increasingly bleak for the industry. American Airlines may furlough 20,000 employees starting October 1st when the federal bailout expires. United said they could lose 36,000 jobs in the fall. That said, should you be rushing to give them your money? While before, you would probably book flights based on what was cheapest, now you might want to choose your airline carefully. 
Since the beginning of the pandemic, airlines have claimed to be doing all they can to prevent the spread of coronavirus. However, as the economic pressures loom and lockdowns are lifted, there has been a gradual abandonment of precautions. Flights have become increasingly full, and airlines like American are booking back at full capacity. Senator Jeff Merkley (D-OR) called his jam-packed connecting flight to Texas  "incredibly irresponsible" and "high-risk." Meanwhile, airlines are not prioritizing cleaning, according to a recent Association of Flight Attendants survey where only 44 percent of flight attendants said their planes were thoroughly cleaned and disinfected between flights. A worker from American Airlines' evening shift also stated that she and a few colleagues had only ten minutes to clean some incoming flights before they had to board more passengers. Considering I spend double that amount of time just on my nighttime skin care routine, I don't think ten minutes is enough time to sanitize a whole plane's armrests and tray tables.
As we know from collecting air miles (remember those?), not all airlines are created equally. Delta will continue to not sell middle seats through the summer, and United will allow you to switch to a different flight if the one you are booked on becomes too full. While most airlines have policies advising all passengers to wear masks during flights, some airlines (you can guess which one) are not enforcing them.
Not Feelin' Fly Like A G6
Air travel is risky due to the increased time around large numbers of people in enclosed spaces, but if you must travel by plane, be sure to take the necessary precautions. Take the time to disinfect your seat, area, and hands, and opt for shorter flights without layovers to help reduce your exposure. Dr. Farley Cleghorn tells National Geographic, "Choose a window seat as far from the restroom as possible. Keep the overhead vent open and toward your face—continuous airflow creates a small, invisible 'wall' that restricts (at least slightly) the exhaled air from other passengers."
If international travel is essential for you, be aware that some airlines are prioritizing business class seats, which currently can cost as much as some people's annual salary. While on July 10th American Airlines told flight attendants that "for now, it's OK for customers to move to different seats in the same cabin," that policy isn't always the case. For one couple trying to get home to Australia from the U.S., their only option might be a $24,000 USD business class ticket. Somewhere out there an out-of-touch, super-rich person (Ivanka, is that you?) who only flies private thinks that must be the normal cost of a seat in economy…must be nice.
Trains: Bad And Bougie, Or Just Bad?
Trains can conjure two types of imagery: relaxing on a humming passenger train in comfortable seats like you're on your way to Hogwarts, or being shoulder-to-shoulder on the subway with a guy who smells as you try to drown out someone's argument with a podcast on your daily commute. 
Doesn't the first option of train travel just feel so European? While you may just be chugging upstate, it feels like you could be making your way through the Italian countryside. Even though European travel is off the table this summer, trains remain a safer option during coronavirus. Amtrak offers flexible bookings, limited seats for sale, and even private rooms. If your train travel is a little less "martinis in the lounge carriage" and more "essential commute on the L in Chicago at 6am", you definitely deserve a vacation. Even though cities like New York have gone to great lengths to clean and sanitize their subway systems, transit employees have been heavily impacted by coronavirus with many deaths in the early stages of lockdown. Regardless of the type of train you're taking, be sure to stay six feet apart when possible and wear a mask.
Roadtrip > Eurotrip
View this post on Instagram
Ok, fine, an Aperol Spritz in Positano is probably better than Bud Lights from a cooler by a murky lake, but traveling by car is likely the safest way to vacation this summer. It allows the least contact with other people and the most control of your surroundings, plus gas is at record low prices. If you've ever dreamed of being Britney Spears in Crossroads and driving down the highway in a convertible with your besties, now is the time!
"Traveling by airplane is much higher risk than traveling by car with your family," Carl Fichtenbaum, an epidemiologist with the University of Cincinnati College of Medicine and Infectious Diseases, tells CNBC. If you don't own a car, renting one is fairly easy, or upgrade to a camper van and convince your boyfriend that you are the next Caelynn and Dean, without having to meet on Bachelor in Paradise. Once you rent the vehicle, clean and sanitize it, then download Britney's full discography for when there's no cell service. (That last part is just a personal recommendation, not the CDC's.)
Before you leave, pack a COVID tool kit with hand sanitizer, masks, and wipes. While on your journey, try to limit interacting with others as much as possible: bring your own snacks to avoid going into convenience stores, pay at the pump rather than inside, and limit your number of stops—particularly in public bathrooms, as they can be cramped, and flushing a toilet can stir up aerosol particles. (If we weren't germaphobes before this pandemic, I'm pretty sure we are now.) Once you've completed your road trip checklist, you're ready to hit the open road like a suburban family in a minivan.
Drinks Well Alone
2020 is certainly a wild ride, and America continues to be the world's Florida. We won't be getting drunk in the airport lounge this summer, and Maine is the new Greek Islands, but at least the panhandle state stays consistently wild. Plus, on the bright side, you can delay buying another millennial pink bridesmaid dress for your cousin's destination wedding for at least a year.
With things looking so depressing, it's definitely time to salvage what's left of summer 2020 and book a vacation or even a long-term stay to take advantage of working remotely. Being safe doesn't mean you have to stay in your apartment alone, but it does mean you have to take precautions and limit your interactions with groups of people. And remember, drinking alcohol doesn't act as an internal sanitizer, but multiple White Claws can help you forget the terrible Zoom dates you went on in April and make summer feel a bit more normal.  
Images: Anna Shvets / Pexels
Where TF Can Americans Travel This Summer? And Should They?
As coronavirus cases climb in the United States, American passports appear to be losing their value. But America is GREAT AGAIN, haven't you heard? Thanks, Donny! As if a raging pandemic, lack of accessible healthcare, and systemic racism weren't enough, you can say au revoir to your European summer holiday, as well as vacations in a bunch of other places around the globe. Great. As the European Union prepares to reopen, U.S. travelers did not make the 15-country safe list and have officially been blocked from entering. So, where else can Americans travel right now? And better yet, should they travel or cancel trips this summer?
"You Can't Sit With Us"—The EU, Probably
When the EU closed its borders in March, it was no small decision. The same goes for continuing the ban for Americans, considering the fact that 15 million U.S. travelers visit Europe each year, and the industry creates jobs for 26 million people. Clearly, the bloc's economy will take a substantial hit as the travel industry's normally bustling summer season comes and (likely) goes without its usual international visitors. The decision was based on epidemiology as opposed to the economy, with the New York Times reporting that the EU "sought to balance health concerns with politics, diplomacy and the desperate need for tourism revenue." 
Canada, New Zealand, Australia and Japan are on the list of approved countries, and that list will be reviewed every two weeks. However, it seems that the U.S. will have to make a serious reduction in new cases in order to be reconsidered, so we won't be holding our breath. Unlike Americans, travelers from the approved country list will be permitted access to all EU member states, as well as Iceland, Liechtenstein, Norway, and Switzerland. So if you had hoped for some thirst-trap pics for your grid in Iceland's Blue Lagoon this summer, you'll have to keep your posting closer to home.
There's good news for some Americans, as the ban pertains to your residency rather than your passport. This means if you're an American living in one of the approved countries and can prove your residency there, you may be able to enter. Congrats—it's like a get out of jail free card!
Cruel Summer—The Countries Americans Can't Visit
In addition to the EU, there are also a number of other countries not allowing Americans in. Canada's regulation hottie Prime Minister Justin Trudeau recently announced the continuation of its border closure with the U.S. until August 21, with the possibility of another extension. Australia, New Zealand, South Africa, and China's borders also remain closed to all international arrivals. 
honestly it's surprising that the Bahamas are just now banning Americans when Fyre Festival was like three years ago

— Betches (@betchesluvthis) July 20, 2020
As of July 22, the Bahamas has once again closed its borders to the U.S. due to the recent rise in cases stateside. However, if you're bougie enough to have a private plane or yacht, you can keep planning your vacation as long as you can provide a negative COVID test… but you may get roasted by the internet for being a covidiot if you do. 
Countries Open To American Travelers
Dreaming of the beach? You might be in luck, as a number of Caribbean countries are open to visitors. Belize, Barbados, and Jamaica are all open to international travel, as well as St. Barts, St. Lucia, and Antigua. However, each country or territory has its own COVID restrictions upon entry. Some include providing a negative COVID-19 test no more than a week old, or temperature and health checks upon arrival. 
Mexico is also an option, even though the land border between the country and the U.S. remains closed. You can still arrive in certain areas by plane, but keep in mind that states are opening in varying degrees, so not everywhere in the country is ready for visitors. 
Despite the ban, Europe is not completely off-limits to Americans this summer; the open countries just might not be the places you have at the top of your bucket list. Albania and Serbia are European countries not yet in the EU that are currently allowing international travelers, so start your research on their tourist destinations if you really want to book a trip. Apparently Serbia has a killer wine region—who knew? Additionally, Croatia has decided to issue its own travel requirements outside of the EU's restrictions, allowing for non-EU citizens to visit, but requiring proof of pre-booked accommodations. Meanwhile, in the UK (no longer an EU member, as you may recall), international travel is permitted; however, all American arrivals must quarantine for 14 days upon entry.
"Just Because You Ameri-can Doesn't Mean You Ameri-should"
I hate to be the Debbie Downer here, but even though some countries are open doesn't mean you should be booking the first flight out. The CDC and the U.S. State Department still have travel advisories that warn against non-essential travel. You know what sucks more than wearing a mask during your staycation? Being on a ventilator.
As much as you're eager to take new travel Instagrams, we are still amidst a pandemic, and there are still a lot of risks associated with travel. Air travel may increase your exposure to the virus due to difficulties with social distancing and being near people indoors for an extended period of time. If you do decide to fly, take the common-sense precautions we've been talking about for the last five months: wash your hands regularly, wear a mask, cover your face when you cough or sneeze, and stay six feet apart when possible.
Travelers should also consider the practical risks, like obtaining health insurance. Some travel health insurance becomes void when there is a government travel advisory, so be sure to always check to see that you will be covered in case you get sick or injured during a vacation. 
Many countries are not as lax as the U.S., with nations like Canada and New Zealand still keeping their borders completely closed to visitors even though they have drastically fewer cases and deaths than the U.S. The countries are also enforcing mandatory 14-day quarantine to anyone who enters the country. Additionally, countries like Australia have issued a complete ban on overseas travel, and any exemptions must be approved by the government. Given that the success of flattening the curve in these countries has far outweighed the efforts (or lack thereof) of American officials, it might be wise to take a page from their book.
Party In The USA, Because You Won't Be Going Anywhere Else
Yes, 2020 has indeed been a horror show, with the U.S. as its main character. For now, let's hope that next year gets a whole lot better and we can resume our partying in Mykonos in 2021. On the bright side, where other than America can we see a Karen go postal in a Trader Joe's because her CoNsTiTuTiOnAL rIGhTs are being violated? Plus, there's still an election that could go horribly wrong! Seriously, just so much to look forward to this year. 
Do everyone a favor and find a friend with a beach or lake house, and just stay the fuck home/in said vacation house and drink margaritas until Florida feels like Florence. Good luck.
Images: Anna Shvets / Pexels
How To Run Safely Outside Without Being A Jerk About It
Apparently, I had no idea what being "stir-crazy" actually meant until we entered this indefinite solitary confinement they call quarantine. Even as a proud introvert, it feels like the universe is shoving all the plans I've ever canceled in my face and screaming, "IS THIS WHAT YOU WANTED?" This is absolutely not what any of us wanted—as any introvert will tell you, part of the thrill is canceling plans. With no plans to cancel, this endless abyss of plans that could have been (canceled) feels like a discount version of Groundhog Day. Not only are we mourning the closures of our favorite restaurants, stores, and bars, but many of the activities that kept us sane are no longer an option. One of the most difficult aspects of my quarantine has been the closure of my gym, and not only because of the sense of community it provided. Physical activity has been one of the only things I've found in over a decade of pretty severe anxiety that actually helped keep it in check. According to the CDC, reduced anxiety isn't the only noticeable benefit of regular physical activity. Just 150 minutes of moderate-intensity exercise each week (that's like 7 episodes of Schitt's Creek which, realistically, you've done in one day) can improve both your blood pressure and cholesterol levels. Regular exercise can also reduce your risk of certain cancers and cardiovascular disease. So yeah, TL;DR, exercise is good for you and I'm sorry for all the times I pretended I had cramps to get out of gym in high school. 
During this time of incredible stress and uncertainty, the anxiety-reducing aspects of physical activity are more important than ever. Being trapped inside a small space with no end in sight is stressful, to say the least. Exercise is definitely helpful, and nothing makes me feel quite as calm as the aftermath of a heart-pounding sweat session. There are plenty of workouts that can be done from the comfort of your own home, but when running is your go-to, working out while quarantined can be a little more complicated (unless you have your own treadmill, you lucky b*tch).
At the beginning of quarantine I was running four miles a day ….. Now I'm proud because I did a single squat

— Donese (@donese22) July 9, 2020
It's SO tempting—outside is literally right there. You can see it and hear it screaming at you to lace up and get out there. So what's stopping you? If your neighborhood is anything like mine, you've seen countless people jog by, headphones in, totally oblivious to the fact that we're in the middle of a freaking pandemic. If they can do it, why not the rest of us? Well, because we both know we're smarter than that. Yes, it's tempting to squeeze in a quick 3-miler and be back inside before the coronavirus even has a chance to notice we left our bubble. Unfortunately, this isn't some high-risk game of tag and we really can't afford to take any chances. Here's the great news, though—experts say that it is fairly safe to run outside, as long as we take the proper precautions. Family Medicine Physician Doctor Mike Varshavski—or as he's known on Instagram, Dr. Mike—tells Betches that running "is considered a low to moderate-low risk activity based on the new chart put out by the Texas Medical Association" and notes that "throughout this pandemic, almost all shelter at home orders have continued to allow and encourage solo exercise like hiking, walking, and running."
So that's the good news! And as long as you follow these pretty easy guidelines, you can rest easy knowing that you put your safety and the safety of others first.
1. Jog Alone Or In Small Groups, But Make Sure You Maintain A Safe Distance
I get it, running with your best friend or your running group like you've done for years is a blast. However, just because you have been extremely cautious about protecting yourself from the coronavirus doesn't necessarily mean your running partners have done the same. Make sure whoever you're running with is also taking the proper precautions, and continue to practice social distancing even when running outside.  Dr. Mike tells Betches, "any time you are exposing yourself to other individuals, it raises the risk of catching the virus," reminding us, "those who look healthy can still be spreading COVID-19. If you have to go with a group (for safety reasons, perhaps), try and be with the smallest group possible."
Brian Labus, Ph.D., MPH, assistant professor in the School of Public Health at the University of Nevada Las Vegas told Runners World, "If you deem running with a small group is something you're comfortable with, you'll want to ensure that these few people have been properly careful over the past few months, same as if you're running with one other person. Additionally, your small group should run somewhere you know you won't come in close contact with others." 
Labus also emphasizes that if you live with someone in the at-risk age group (over 65) or someone who is immunocompromised, extra precautions are necessary, and running with a partner may not be the best idea. He explains, "There have been over 182,000 cases (as of June 10) and over 77,000 COVID-19 deaths (as of June 6) in those age 65 and over since February 1, according to provisional data from the CDC. It is safer to run solo until disease transmission is low in your community."
2. Bring A Mask With You When You Run
It's probably not necessary to wear a mask while you run outdoors (and realistically, it would be really tough to wear a mask during any exercise that leaves you gasping for air) as long as you maintain the proper distance between you and anyone you encounter outside. Indeed, Dr. Mike tells Betches that "a mask should not be worn while running as sweat will make the mask wet and create other problems." He advises, "The best protection is to wear the mask until you're ready to exercise, take it off, and stay at least six feet away from others as best as possible."
View this post on Instagram
That said, it's probably not a bad idea to bring a mask with you when you run just in case. You may end up lost and needing to grab an Uber back, you could desperately need to run into Walgreens for a drink of water, or you might end up running into your ex and needing a disguise. Point is, there are a lot of reasons you may need a mask when leaving your house, so make sure you have one with you at all times. 
Donald Milton, a professor of environmental health at the University of Maryland School of Public Health explained to the New York Times, "Outdoors is relatively safe, and masks would only be important if you are exercising in crowded areas or indoors in space shared with other people." According to Milton, as long as you're keeping your distance, you should be pretty fine running outside with your mask at the ready in case of an emergency.
3. Scope Out Your Street During Different Times Throughout The Day, Or Find A Different Street Altogether
Please withhold all "duh"s, because from what I've seen firsthand it apparently needs to be said—the easiest way to keep your distance when running outside is to run in a less crowded area. Now, this doesn't mean driving 38 miles to the middle of the forest to knock out your run. This honestly may be as simple as spending a few days looking out your window every hour or two to see how many people are out and about. Peak hours in your neighborhood may also vary between weekdays and weekends, so also take that into account when planning your run. Ideally, you want to find both a time when not too many people are out, and a place where you have plenty of "escape routes." This means not running next to a busy street that you can't cross if you see a group of people on the sidewalk. If you're running on a forest path, it means being able to step way off to the side if someone else is approaching (and, see #2, don't forget your mask in case this isn't an option). 
Dr. Benjamin D. Levine, a professor of internal medicine at UT Southwestern Medical Center and Texas Health Presbyterian Dallas, explained to NPR the importance of keeping an even greater distance when exercising outside. He advises, "The greater volume and rate of breathing that occurs during exercise has the risk of spreading droplets farther. I think it's reasonable based on the known changes in breathing during exercise."
I don't know how many times I've been out walking and out of absolutely nowhere, a jogger runs by me so close that I feel a small gust of potential plague-wind as they pass. This isn't okay, guys. First and foremost, if we can't be considerate to other people who have just as much of a right to use the sidewalk as we do, we shouldn't be out running in the first place.
That said, if you've been keeping an eye on your street and it really doesn't seem like there's much of a break in the constant stream of people passing by, check out some other side streets nearby. Chances are, within a mile or so of where you live, there are some quieter residential streets that will be far less congested. 
4. Make Sure That It's Actually Okay To Run Outside In Your Area
As we've discussed, it is more than tempting to grab your shoes and just GTFO. But even if you've thoroughly read through these important tips and feel confident in your ability to run outside safely, please hit pause for just a hot second. Because of the constantly evolving nature of how we're handling this pandemic, running outside without a mask may not even be allowed in your area. Make sure you're constantly checking mandates from your state health departments to ensure you're adhering to your area's current requirements. These mandates are changing fairly regularly in some areas, so it's a good idea to check them daily before your planned run. Your state will most likely have a dedicated coronavirus page with all of the latest information, from things like the number of confirmed cases to reopening guidelines.
Dr. Mike emphasizes, "Know that there is no such thing as absolute safety when outdoors. The guidelines of wearing a mask, physical distancing, and washing hands will certainly reduce risk but not eliminate it. Know what is an acceptable risk for you."
If you're still hyped up to go for an outdoor run, more power to you. Just remember the four M's, and you should be good to go. Maintain your distance, Mask (in your pocket/bra/around your neck/whatever), find tiMes of the day that are less crowded (ok that was a stretch, who cares), and Mandates (check your local mandates to see what rules are in place in your area). Happy running!
Images: Andrea Piacquadio / Pexels; donese22 / Twitter; notskinnybutnotfat, dietstartstomorrow / Instagram
People In Alabama Are Having Coronavirus Parties To Get Infected On Purpose
In news that could not be more quintessentially Alabama, CNN reports that some young people in Tuscaloosa are holding coronavirus parties in order to purposely infect themselves with the virus. Truthfully, not a single word in that sentence surprised me, except maybe the fact that Florida was not involved. Congrats guys, it wasn't you this time!
In a presentation to City Council members, Fire Chief Randy Smith explained that there is a trend amongst young people in Tuscaloosa where they're throwing ticketed parties to catch coronavirus, and the first person to get a confirmed positive test wins a payout from the ticket sales. So this is like a coronavirus party-meets-pyramid scheme. Great! Council Member Sonya McKinstry said that there have been several parties in Tuscaloosa and surrounding areas in the past few weeks, and they confirmed with doctor's offices that these are actually real. And this is why we can't have nice things (and why other countries are literally banning us).
The city is reportedly working on breaking up these parties, and also passed a mask ordinance that will go into effect on Monday. It will require adults and children over the age of 8 (parents will have discretion with children aged 2-8) to wear face masks in all public places, including inside businesses, on public transportation, and at outdoor gatherings with 10 or more people. It will be in effect for at least the next 30 days, and those who violate the law face a $25 fine.
Though it seems like a special breed of stupid, the idea of hosting a gathering with the express purpose of exposing guests to a virus is not actually new. Beginning in the 1970s and 80s, parents would set up "chickenpox parties" for their children in the hopes that they would contract chickenpox sooner rather than later. Today, however, the CDC "strongly recommends against hosting or participating in these events," urging parents that the chickenpox is a serious disease that can cause severe complications and even death, even in healthy children (hmm, where have I heard this before?). The CDC adds that since there's no way to tell how severe a child's symptoms will be, "it is not worth taking the chance of exposing your child to someone with the disease."
While for most people, the CDC says, one-time exposure to chickenpox grants immunity for life, when it comes to COVID-19, we're really not sure yet, which makes having these immunity parties extra dangerous. According to Mayo Clinic, "It isn't yet clear if infection with the COVID-19 virus makes a person immune to future infection." We also don't know yet if having the antibodies protects someone from re-infection. Dr. Dyan Hes, founder of Gramercy Pediatrics, tells Betches, "Currently, we really do not know if there is COVID-19 immunity at all." Cool cool cool cool cool. While some people who contract the virus do get antibodies, she says, "Studies show that many patients lose their COVID-19 specific IgG antibodies within weeks to months after their infection. Other studies show that patients with mild infection or asymptomatic patients never mounted an IgG response with antibodies."
And just to scare you even further, Dr. Hes adds, "We do not know if the antibodies are protective, and this is a problem. Many people who have antibodies assume that they cannot be susceptible to the virus again," but this is not necessarily true. She advises, "The moral of the story is that everyone should still be wearing a face mask, follow social distancing guidelines, hand wash frequently, and use hand sanitizer when washing is not an option."
But, I hate to have to break this to you, it's not only Alabama. The New York Times reported that on June 17, well after large gatherings were banned, a group of about 100 people attended a party in Rockland County, NY. (In fact, the state order at the time limited gatherings to 10 people.) The host of the party apparently showed symptoms of being sick at the time of the event and, along with eight guests, later tested positive for COVID-19.
Rockland County officials deployed contact tracers to see who else may have been exposed at the party and found that guests were refusing to speak with officials or outright denying they were at the party. Officials were forced to subpoena eight people they believe were at the party, and those who refuse to cooperate will face fines of $2,000 per day. Stupid and stubborn! Tracers were also concerned about two other parties in New York City on June 20 and 27 that may have had some guest overlap with the Rockland County party.
BuT wHaT aBoUt ThE pRoTeStS? While you're right, Karen, that experts worried that the mass protests would cause a surge in virus cases—Dr. Fauci called them a "perfect set-up" for the virus and L.A. mayor Eric Garcetti was concerned they would become "super-spreader" events—so far, this has shown not to be the case. In New York City, there has not yet been an uptick in coronavirus cases, despite the large protests that have been continuing for weeks. Experts are attributing this to a variety of factors, including but not limited to: protests being held outside as opposed to inside; protesters marching at a brisk pace, not remaining stagnant, and wearing masks; protesters being younger and therefore less likely to show serious symptoms; and even just dumb luck.
And, a new working paper from researchers at Bentley University, the University of Colorado Denver, and San Diego State University analyzed data from 315 American cities and compared incidences of COVID-19 in 281 cities where large protests were held to the 34 cities in which they were not, and found that protests had no significant effect on COVID-19. They attribute this surprising finding to the fact that protests may have actually caused an increase in people who stayed at home. In other words, maybe people who would have otherwise been out and about stayed at home so as to avoid the protests.
Even though it's July 4th weekend and the urge to party might be tempting, I'm going to take a page from Coach Carr's playbook and say, "just don't do it, ok, promise?" And before you go sh*tting on Alabama, Florida, or any other states, just remember that recklessness isn't limited to one part of the country, and that the U.S. is the Alabama of the world right now.
Image: Kyle Smith / Unsplash
Trump Just Literally Banned These 7 Words
Happy Monday! The Trump administration did another bad thing. I'll give you a second to act surprised.

Okay, great. The Center for Disease Control and Prevention (CDC) has been given a list of forbidden words by the Trump administration, which includes "diversity," "transgender," "fetus," "evidence-based" and "science-based." So, why would the plastics The Trump administration want to ban these words from 2018 budget documents? To hurt minority groups, obv. What else is new?
Banning words like "science-based" and "vulnerable" make it nearly imposs for the CDC to do their job, which is literally to protect and save the lives of those who are vulnerable. As Dana Singiser, the VP of public policy and government affairs at Planned Parenthood, put it, "You cannot fight against the Zika virus, or improve women's and fetal health, if you are unable to use the word 'fetus.' You must be able to talk about science and evidence if you are to research cures for infectious diseases such as Ebola." It's kind of like if all of the sudden Trump said we couldn't used the words like"hungover," "unlimited mimosas," and "fuckboys," at brunch. It's fucking ridiculous and makes the task at hand simply undoable.

The CDC is hella pissed, and rightfully so. CDC Director, Brenda Fitzgerald, said in a memo to her staff that the "CDC remains committed to our public health mission as a science-and evidence-based institution." Ya girl just used two of the banned words in one sentence. Can I get a mic drop?
TRUMP ADMINISTRATION: You can't use these words.
CDC: Lol, no.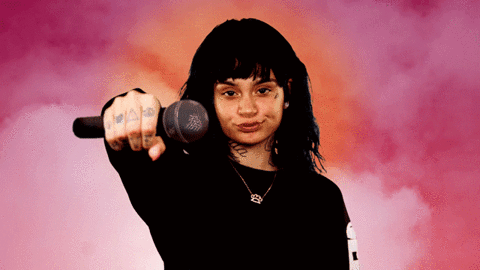 It looks like the CDC isn't going down without a fight, and we are here for it.

Heads up, you need to keep up with the news. It's not cute anymore. That's why we've created a 5x weekly newsletter called The 'Sup that will explain all the news of the week in a hilarious af way. Because if we weren't laughing, we'd be crying. Sign up for The 'Sup now!