What I Learned From Going On A Sex Cleanse
Back when I suggested writing this story to my editor, I was in week three of a sex cleanse. I've never been a fan of cleanses because, even though they're allegedly good for me, they always leave me feeling a little unsatisfied. Honestly, what inspired my sex cleanse is the gorgeous guy I'm seeing, who can be… difficult. Let's just say he's definitely given me a few reasons to walk away, but honestly, in my optimistic mind where the KY bottle is always half full, his pros outweigh his cons, which is why I always ended up back in bed with him. The problem? After the sex, like right after, I would be on cloud f*cking nine, but then the next day/week/month would come and we'd speak about as much as two neighbors on the subway do. In other words, we would not speak at all. It felt like I was back in seventh grade when my crush would ignore me…except now it felt a little worse because we aren't 13 years old, and getting ignored by someone who was just inside you feels pretty sh*tty.
And why feel sh*tty when I could feel like Princess Margaret in the White House? If you don't get that reference, watch The Crown, like, yesterday, but the important thing to know is that Princess Margaret lived her best life without the lure of multiple orgasms dragging her down, and I decided that's what I needed to do. So per my sex cleanse, I would stay in and binge The Sopranos instead of venturing out into dangerous territory (aka the Upper East Side), where Monsieur Best-I've-Ever-Had lives. I also swore off other sources of both toxic and non-toxic d*ck.
Because I am a loyal member of Domino's Piece of the Pie Rewards program, cleanses are obviously not really part of my lifestyle, so I was a little fuzzy on the rules, but two things I knew I needed were an expiration date and a goal. For the length of time my cleanse would last, I gave it a month, because I'm a #strongindependentwoman. And as for the goal, I wanted to prove to myself that I'm not as hooked on sex as my tall drink of water would have me believe. And to explain the science behind what I was doing, I asked author of Don't Sleep with Him Yet clinical psychologist Dr. Nancy F. Lee, PhD to help me out.

I learned a lot from my cleanse and want to share those lessons. First and foremost, practicing willpower and just an ounce of self-control feels really good! Secondly, not doing something that feels really good for a second and really horrible for much longer (like, I don't know, drugs?) is always a good thing. I mean, sex is cool, but have you ever made a bold decision and it ended up paying off? 
"If you find yourself regretting and/or resenting sexual encounters, which both reflect confusion and can be considered detrimental to your emotional wellbeing, by all means, do an all-out sex cleanse," Lee says. It's my personal opinion that unless you're Samantha Jones, it's impossible to not get even slightly emotionally invested in someone you're sleeping with—especially if it happens almost on the regular. I'm not saying all women f*ck a dude a once and spend the next day writing their wedding vows, but I have never slept with the same person a few times and not started liking him at least a little bit. That's where I'm at: I'm sleeping with this person who is annoyingly amazing in bed and I like him. As Shakespeare would say, I'm in a pickle.
In my opinion, the benefits of a sex cleanse are many, but first, you feel at least slightly more in charge of yourself. For me, that's really important since I usually feel very much at the whim of whoever I'm dating at the time—mostly because I hardly ever click with someone who's into me, so when I do find myself finally crushing on someone, I can't help but hold on a little. (By the way, I'm using the term "dating" generously here.) Even though my bed felt a little lonely over the last few weeks, it was nice knowing that I was actually happy about getting a good night's sleep in lieu of pretending that I'm REM cycling through my bedroom door slamming shut and my entire bed shifting in place when he comes back from the bathroom at 4am. Lee says, "It's worth doing an all-out sex cleanse until you develop insight and clarity regarding what it is you truly want." 

Most importantly, even if you're really casual about sex and don't limit yourself to only sleeping with people who call you their girlfriend (hi, hello), deciding you're taking a break from something that stresses you out is never a bad thing. Even if you're just along for the (literal) ride, sex isn't like playing tennis in that once you're done, you just carry on with your day and don't think about it again. So taking a little timeout is perfectly fine and may even be good for you! Lee adds, "If, for whatever reason you and an partner simply want to take a 'break' from sleeping together for a while, there's an exciting way to enjoy a whole new form of 'sensually focused sex' that is guaranteed to heat things up!" Like with my favorite vibrator.
Look, no cleanse is meant to last forever, so I ended mine when most people end theirs: when you need to put something of substance back in your body after a long enough time without it. Gross? Sorry, but it's been a few weeks and all of these puns are just falling into my lap. In all seriousness, the point of a cleanse is to rid yourself (mind and/or body) of anything toxic that came its way, so when you feel like you're back in a sound place, that's the right time to end the cleanse. Everyone will go on different cleanses (except juice cleanses because those are a bunch of lies) for different reasons, but all of them will teach you some valuable lessons and that is the damn truth. 
Sadly, before this article went to press, yours truly was in serious need of some Vitamin D and broke the cleanse with, you guessed it, the same guy who inspired me to embark on said cleanse in the first place! Ya hate to see it. Generally, when you break your word to yourself, you don't feel great. If you can't even rely on yourself to keep it together, who can you rely on? But honestly, I feel better than I did before I went on the cleanse because I am going into this clear-headed as opposed to d*ckmatized. 
Even though I am clearly a weak bitch, I did learn a lot from my cleanse and would definitely recommend it to those stronger than myself. 
Images: Giphy (2); Unsplash
4 Signs It's Time To Walk Away From A Relationship
At some point during every relationship that I've been in—whether it was a serious, long-term thing or a casual hookup—I've wondered when it's time to throw in the towel. Even though nearly every guy I've dated hasn't really followed the "treat others how you want to be treated" rule, I've always stayed because I was hopeful things would change. Instead, I get a hefty serving of B.S., and it always makes me wish I had ended whatever the hell this was much sooner. 
As you may be able to guess from my very depressing yet relatable intro, I'm currently in a situation (can't even call it a relationship) with someone who is giving me whiplash like never before. Long story short, he likes me a lot and wants to keep seeing me, but due to some lie he told me, he can't commit. In hindsight, he obviously said all that crap so that he could keep hooking up with me without ever having to take me on a date or get anywhere below surface level. After realizing this, all I have to say is *Amy Dunne voice* no f*ckin' way. So to all of the people in similarly absurd situations, here are four signs that it's time to walk away so that you can stop letting these clowns mess with your head and heart. 
1. They Aren't Consistent
One day he's Noah Calhoun and the next he's Cal from Titanic. Look, I don't expect anyone to treat me like a queen every second of every day, but I do expect general decency at the very least. (You would think that would not be a lot to ask for…) If the person you're dating is being really great sometimes and really horrible sometimes, f*ck them (not literally). There's also this taboo that says we can't call people/guys out for being complete asshats because it makes us look needy. Ummmmm no. If someone is treating you in such a way that makes you feel sad, angry, etc., say something. If you already have and nothing's changed, send them a thank you for finally letting you know they're trash so that you can find someone better.  
I know it's hard to just walk away, especially when you really like the person, but if someone is completely cool with treating you as if you don't matter, that should be enough to convince you they ain't worth sh*t. 
2. They Are Shady

Have you ever agreed that you're exclusive, but then they're still very much on dating apps? Omg, same! Contrary to how I may be making myself seem, I have actually never been the type to go through someone's phone.  However, if he's on his phone and I'm in the vicinity, I will 100% steal a glance when he thinks I'm not paying attention. If you do this too, you may have noticed they always have like, eight notifications on each app, right? If you're a bad bitch, you've called them out and then they probably said something like, "Oh, it always says that I have a ton of notifications because I never check it." Yeah, that's probably a lie. He/she is definitely still checking and talking to other people. Sorry if I just burst your rose-colored bubble, but someone had to tell you, so just be glad it wasn't his side piece.
3. They Won't Commit
I mean, this should be obvious, but I've fallen victim to this crap so many times that I feel like I need a therapist to tell me why I keep doing this to myself. Actually, I know why and I'm sure you do too, because you do the same thing. I'll keep this example to men because that's what I'm going through right now, but obviously the scenario isn't gender-specific. Ok: A guy will tell you he can't be in a relationship right now because but he likes you a lot and wants to keep hanging out. The problem is you don't want to stop hanging out with this person, because you like it. So you begrudgingly say you'll keep hanging out because you secretly hope that after a few months of getting to know you, they'll change their mind and want to date you. 
Yeah, that's not going to happen. If someone straight-up says they doesn't want to date you, believe them. If the statement goes something like this: "I like you, but" ignore everything after "but" because it doesn't matter. There are also tons of people who do want to date you, so why try to convince someone who clearly has no taste?
4. They Act Like Everything Is Fine When It Isn't

I absolutely, passionately hate when something is clearly wrong/different/up and he acts like everything is fine. Am I really expected to believe that everything is fine after a literal week of silence when we normally talk all day everyday? Sorry (not really) to all of the people who assume we are too stupid to notice this stuff, but you are stupid for thinking this is totally acceptable behavior. If they're telling you that nothing is up as they completely change the way they treat you, they aren't worth your time.
The important thing to remember is that you can't control how someone will treat you, but you can control how you react to their nonsense. If you are getting bad vibes from a romantic interest, your best move is to talk to them about it, and if the talk goes nowhere, walk the f*ck away. Because the more time you waste with people who don't want the same thing as you, the longer you delay finding someone who does.
Images: Everton Vila / Unsplash; Giphy (2)
10 Dating Profile Red Flags You Should Always Swipe Left On
Our therapist once told us "when people show you who they are, believe them" and we can't remember if she was talking about our parents or the President, but this very much applies to online dating as well. If you want to know whether or not someone is right for you, look no further than the version of themselves they hope you will believe. I mean, if someone can't come across as a cool person when they have an entire camera roll of photos and the help of their friends at their disposal, there's no way they're going to be bearable over drinks. Honestly, anything less than an A+ dating profile is totally unacceptable these days. Like, you can literally pay someone on Craigslist to do this for you. It's not that hard. But as much as men are responsible for throwing up red flags on the apps, women are responsible for blatantely ignoring them. I'm sorry but you thought the guy who posted a pic of himself shirtless next to a jaguar that he killed in Africa was going to be a fun hookup? Think again. Behind every shirtless mirror selfie, there is a divorce paper that you can easily avoid signing if you just heed these warning signs:
1. His Pictures Feature Multiple Hot Girls
Unless it's clearly a family reunion and his mom is just a MILF, there's no reason to feature any other women on your dating profile, no matter how hot you think you look in that tux from your cousin Brad's wedding. This is a red flag for many reasons. One, she's either an ex or a current girlfriend and you're not about to jump into sidepiece nation for anyone. Two, if she's just a friend, he's either trying to score jealousy points from you OR he is really that dumb and doesn't realize how shitty this looks. If it's the latter, he probably doesn't tip well either amongst other dumb guy habits, so you're better off without him.

2. His Profile Is Completely Blank.
If he can't think of one good thing to say, imagine trying to hold a conversation with him. Nobody wants to date someone that tries too hard, but not trying at all means he'll probably be a dud in bed. I mean, how hard is it to introduce yourself and say one witty thing? The dating profile is kind of like a cover letter, and if he can't write a good cover letter, he probably doesn't have a good job.

3. His Profile Is Full Of Demands.
Example: "If you're high maintenance DO NOT SWIPE RIGHT," or "Only Girls Who Watch Dr. Who Need Apply." Look, if you want to compare dealbreakers, our list is ten times longer than yours. But this is a dating profile, not an autobiography. That's what the first date is for. Or at least wait until we match before you start asking judgemental question about our taste in music. Don't worry, we're judging you much harder than you're judging us. If his profile sounds angry or demanding, guess what? He is probably angry and demanding. Swipe left on that loser.

4. You Can Only Ever See One Angle Of His Face.
There's no such thing as a good side if you're hot because every side is your good side. If all his photos are taken from one angle, he's not showing you his full face for a reason. Or maybe they're all close up and you can't tell what his body looks like. That means he's much shorter than he's letting on. No tall guy is ever like, whoops I just forgot to mention I was tall. That's like running a marathon and never telling anyone, what's the point?

5. There Is A Prevalence Of Winky Face Emojis.
The occasional ironic emoji is acceptable, but anyone overusing emojis to express themselves is probably the type of guy who gets overly touchy and doesn't understand personal boundaries. He's like definitely stared at his female boss's boobs too long, and he probably calls everyone "sweetheart" to avoid having to remember names. Gross.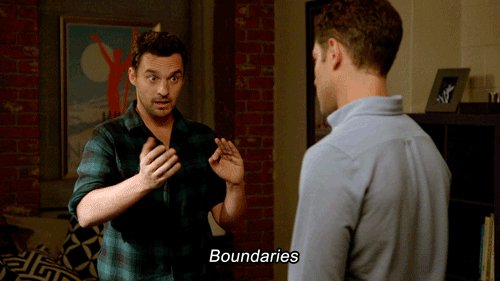 6. He Looks Different In All His Photos.
One of them is definitely from ten years ago. If you can't tell what he looks like, it's not because he's Batman and has a secret identity he can't let you know about. He's probably just insecure about how he currently looks and chose a bunch of out of date photos to represent him on his profile. If he looked like his pictures, he would look the same in all his pictures.

7. He Talks About How Good He Is At Sex.
You know how the dudes who are the worst at sex always think they're the best? Yeah, that's because sex isn't about the dude, it's about both people, and if a guy is trying to "win" at sex than 100% he is terrible at it. If he's posting about his great "skills" on his profile, he's probably never made a woman finish in his life. Plus he probably has herpes.

8. His List Of What He's Not Into Is Longer Than His List Of What He Likes.
He is quick to tell you what type of girls he's not into, but you have no idea if he even has a personality you would like. Guess what? He doesn't. If your personality is based on just hating things, it's probably because your personality sucks. He probably thinks about the world in a negative way, and before you know it you'll be 6 months into dating and he'll say something dumb like "maybe you should start working out more".

9. All His Photos Feature Celebrities (Wax Or Real).
Does this guy not have any friends? Nobody cares that you went to Madame Tussaud's and snapped a selfie with The Rock. Even if you met the actual Rock, this is a dating profile, not a resume of celebrity encounters.

10. He Is An Unknown Actor/Rapper/Model And All His Pictures Are Headshots.
He is definitely going to try and network and honestly he's probably only dating so he can have a scene study partner. In the slim chance he seems normal, you might try and go on a date with him, but just be warned that he's insecure by nature and will definitely ask you to help him with his self-tape.

Why Using Snapchat Is For Fuckboys
This week the Betches talk about the Fourth of July, the Kanye/Jay Z & Rob Kardashian/Blac Chyna feuds, answer questions from a listener who wants to know if it's ok to hook up with a guy that her friend has a history with, and play Would You Rather as well as Shoot, F*ck, Marry.
10 Signs Your Casual Relationship Turned Serious & You Played Yourself
So you're in a casual thing and it's fine. It's like, whatever. Like you're not even looking for a relationship. Right? Maybe you just got out of a longterm relay or maybe you just can't handle commitment. Honestly, being desperate for a boyfriend is such a nicegirl thing, unless you're in seventh grade in which case it still makes you cool to hold hands on the quad. But just because you haven't made it official doesn't mean you're not low-key already in a relationship. If you relate to this list, then we hate to break it to you, but you're kind of in a relationship.
1. You text each other every day and not just to hook up. I mean, let's start with the basics. If you've been talking to each other everyday for over a month, you're def more than just casual hookups. Like, I can't even remember to text my mom back sometimes. If some guy is sending you random shit he finds on the internet or just saying "how's your day?" you've def left the shallow end.

2. When your friends see one of out they ask where the other one is. And you're like, Idk, why don't you text him? Or if you're both at a party people ask you, "hey, where's Jared?" like you're supposed to know exactly where he is at all times. (He's outside smoking.) So maybe you get asked about each other because you actually do show up to things together all the time. Whoops.
3. You're each other's #1 best friend on Snapchat. I mean, sometimes technology knows us better than we know ourselves. Like have you seen Black Mirror? You might tell yourself you're not in a relationship, but one day hearts just showed up next to his name in Snapchat and you were like "how did they know!?"

4. You have plans to hang out on the next big holiday. If there's a three day weekend you make plans to hang out. If it's New Year's you're def hanging out. He asks you what you're doing before he makes any big plans, because sorry to break it to you… you are the plan.
5. When the DJ calls out the single ladies, you don't put your hands up. AND that's after three vodka sodas, and you know alcohol brings out the truth. It's not like you're in a relationship, you just don't want to advertise as being single. Or maybe you're not single.

6. He remembers stuff about you that you don't even remember telling him. Like your childhood pet's name or all of your allergies. The fact that he remembers little details about your life means you've spent enough time with each other for you to tell him.
7. You haven't opened Bumble in weeks. Things are so casual that you casually forgot you were supposed to be dating other people. Whoops. You legit forgot to open up the app and every once in a while you remember so you spend a few minutes swiping, but then get bored and text him instead.

8. You tell each other when you're going out of town so you can make a plan to hang out before. There's nothing more satisfying than being out of town when a casual hookup texts you to hang out—it makes you feel wanted in multiple cities like Ludacris. Like, whoops I forgot to tell you I'm off being more interesting than hanging out with you. So if you're telling each other about your travel plans it means he's made it to your inner circle. You are well past the courting phase.
9. You get invited on double dates from your other couple friends. Uh, Tracy and Mark have been dating for two years, you are NOT in the same boat. Speaking of boat, a booze cruise does sound fun. Why TF not? Oh, it's a couples cruise? Hah. Ironic, because you're not a couple. Or are you?

10. When you think about your future, he's in it. You're thinking about getting wasted at your birthday party, and he's taking you home. And your birthday isn't for another six months. Or you know, more future stuff, but who really thinks that far ahead? Anyways, the point is he creeps into your daydreams and you don't hate it.