The Quarantine Dating App Lines Everybody Is Sick Of
Even before coronavirus was the only thing we had to talk about, everyone's dating app profiles were already pretty much the exact same. On any given profile, you'd be guaranteed to see a line about The Office, loving margaritas, or asking your opinion about pineapple on pizza. But the lack of originality is even worse than usual. We may all be living the exact same lives right now, but that doesn't mean we need to be making the same jokes about toilet paper, how we don't know what day it is, or if we'll ever leave our homes again. We all get enough of that coronavirus small talk on our Zoom meetings with our bosses. Here are all the quarantine dating app opening lines, bios, and prompt answers that no one ever wants to hear again.
"This year, I really want to…leave my apartment"

All this does is remind me that I had to cancel all of my summer trips and will instead be getting drunk on White Claws all by myself and inflating a mini pool in my living room just to feel something.
"Need some toilet paper?"

Not sure about everyone else, but I don't know a single person who has had trouble finding toilet paper in the last two months. The toilet paper jokes should have ended in March, just like any hope we had of having a real summer.
"Can't wait to hang out after quarantine"

The optimism here is nice, but given all the people playing the game of "how many drunk people can we cram into this public pool" in states outside of New York and California, it's looking like quarantine is literally never going to end. You're better off acknowledging that we're all probably going to be FaceTime dating until it's time for our Zoom weddings in 2023. 
"On day __ of quarantine…"

Just like every major event planned for 2020, jokes about wearing sweatpants every day, having conversations with your cat, and not remembering what day it is have been canceled. Once my Boomer parents start making jokes about it, that means it's officially time for the joke to retire (to Facebook, where your relatives share memes from six months ago).
"Ideal night out…going outside"

"F*ck, am I ever going to go to a crowded bar and pay for overpriced drinks and forget my purse in the bathroom because 'Mr. Brightside' came on and I needed to go scream-sing it with my friends ever again?" That's what this response makes me think of. Not exactly "swipe right" material.
"First round is on me if…Rona ever ends"

Then odds are, there won't ever be a "first round." Maybe you wrote this back in March when you thought the world would go into lockdown for a few weeks and then everything would go back to normal. In that case, maybe it's time for an update.
"I'd break quarantine for you."
Hmmm…. Pretty sure if you're breaking quarantine for me, you're also probably breaking it for every other girl you talk to. It may feel like it's been 84 years since I've felt a human's touch, but I'd still rather ride out the rest of the hellscape that is 2020 alone than get coronavirus from a guy whose entire profile consists of mirror selfies.
Corona/Quarantine puns

Puns are never effective even when the world isn't living out an episode of Black Mirror. And maybe we're lowering our standards a little bit right now (I'd swipe right on a Goldfish cracker if it meant I could talk to it), but not enough for me to change my mind about immediately unmatching with anyone who uses puns.
"If coronavirus doesn't take you out, can I?"
IDK if you've read the news lately, but 100,000 people have died. And if that isn't enough to convince you that this is a super f*cking insensitive thing to say, consider that eventually you will probably end up sending it to someone who has lost someone to Covid. 
"I love The Office!"

Because apparently, even in a global pandemic where we've all got nothing but time to stream new content, people still think being obsessed with a seven-year-old TV show is a personality trait.
Not only are none of these even that funny, they're also just a really f*cking boring way to start a conversation. Like, do you really want to talk about your quarantine routine with every person you match with? It seems like maybe we should all make a resolution to fix our dating app game before this is all over.
Images: Samantha Gades / Unsplash; Maddie Dean (9)
3 Ways To Have The DTR Talk Without Saying 'What Are We?'
Some events in life are just inherently awkward, like when you say goodbye to someone and end up walking in the same direction, or when your ex is on the bike next to you in spin class. Some events, however, get a bad rap for being awkward when they really don't need to be. For instance, having the "what are we?" talk shouldn't be awkward at all. In fact, it should really just confirm what you both already know: that the situation you're in is either working or it isn't. Tbh, I didn't come up with this brilliant theory; I stole it from my friend's therapist when she was struggling with a potential boyfriend who ended up being a f*ckboy in disguise. My friend was seeing this guy for like six weeks and genuinely had no idea if their relationship would evolve or if it would stay in this weird limbo for another six weeks. So, to get her answer, my stupid dear friend wanted to just straight-up ask him if he wanted to be her boyfriend.
While I applaud the bravery and directness, the problem with this approach is you're setting yourself up to be really disappointed in someone you really liked while also giving him all the power. Not to mention, you're putting him in a potentially uncomfortable situation. So the therapist said, "If you're asking him if he wants to be your boyfriend because you are so unsure where his head is at, then you already have your answer." Like, damn.
If you're in a similar position and feeling unsure about where things stand and need answers, by all means, don't force yourself to just wait until his desires and intentions become more clear. However, simply ambushing someone with a DTR talk is equally not the move. So, what the actual f*ck do you do? Luckily, I have been through enough versions of this to have exhausted every option, so here's how to handle it.
End It

Look, if you really want to date the guy who isn't giving you any indication that he wants anything more than what you've been doing for the last few weeks, you may have to face the music and just end it. Now, I'm not saying to end things with a great guy who really likes you because he won't introduce you to his parents within three weeks of meeting you. I am saying that if you've been seeing a guy for at least, like, a month, and find that you haven't moved forward at all (only seeing each other about once a week, haven't met any of his friends, he never comes to your place, etc.) then it seems like he may want to keep things where they are in terms of seriousness. Even without explicitly saying it, you should be able to pick up on some cues based on his actions.
We've all heard the phrase "trust your instincts," so if you are feeling like you two aren't on the same page about what you want from each other, you probably aren't. It's unlikely that a person who isn't giving you much will totally surprise you and end up wanting something more serious—especially when he's consistently given you nothing but "let's keep this casual" vibes. Ending a hookup should not be awkward; in fact, it should be kind of a relief—at least for you, since you don't feel like hanging out with this clown anymore. Because you definitely don't owe him sh*t, don't feel compelled to make the talk a long, drawn-out conversation. Just remember your key points and get on with it.
Do Nothing

Chances are, after only a few weeks, you don't really have a good sense of who this person is, so there is a possibility that he will come around and end up on the same page as you. If you are a patient person, this could be a good route for you. Like I said, there's no specific amount of time that has to go by before doing something, but if your thoughts on the matter are between unsure and "this isn't happening," that's probably when you should make some sort of move. Like the underdog of The Hunger Games Plutarch Heavensbee once said, "It's all about moves and countermoves." Even though he was referring to the government subtly and slowly staging a murder of Jennifer Lawrence, the same can be said of dating. 
I wouldn't suggest waiting around and hoping he changes his mind one day because that could obviously end really badly, but if you feel hopeful that at some point in the near future, things will change, by all means, don't ruin a good thing. When enough time has gone by that you do feel confident that you both think of each other with the same title, the conversation will happen naturally and will be whatever the opposite of awkward is. For instance, after dating my college boyfriend for two months, he texted me one night and said "I just called you my girlfriend to one of my friends. We're dating, right?" *slow clap*
Ask What's Going On

Tbh, I prefer a more assertive approach to getting sh*t done, but if you don't want to scare this person off, starting the discussion with a question is a good call. When I say "scare this person off," I don't mean of you, the hot queen who's taking matters into her own hands, I mean of commitment. In my opinion, if the person is worth dating, he is probably worth waiting for if all he really needs is a little bit of time. On the other hand, if he says something like, "I really like hanging out with you and I'd like to keep doing that, but I know I don't want to be in a committed relationship any time soon," feel free to drop his ass. Both types of responses warrant the "What do you want out of this" question, because neither type of guy (the one who needs more time and the one who wants to keep hooking up) will initiate the conversation. Let's face it, no guy who doesn't currently, at this moment want to be in a relationship with you will DTR first, because there's no point. If you force his hand, so to say, then you'll at least get some clarity and the next move is yours. If you get the response that suits you, you can keep doing what you're doing and let some time go by, and if you get the f*ck boy response, you can walk away.
At the end of the day, there's no perfect way to have The Talk, so trust how you're feeling about it and do whatever you feel makes the most sense. The takeaway lesson is that this doesn't have to be an earth-shattering conversation that is really awkward and/or upsetting. Of course, if the outcome of said conversation makes you feel some sort of way that isn't queen-like, that's completely okay because we all know that men are disappointing in their nature, but the conversation itself should be easy as long as you know what you want from it. 
Images: Giphy (3); Unsplash
4 Signs It's Time To Walk Away From A Relationship
At some point during every relationship that I've been in—whether it was a serious, long-term thing or a casual hookup—I've wondered when it's time to throw in the towel. Even though nearly every guy I've dated hasn't really followed the "treat others how you want to be treated" rule, I've always stayed because I was hopeful things would change. Instead, I get a hefty serving of B.S., and it always makes me wish I had ended whatever the hell this was much sooner. 
As you may be able to guess from my very depressing yet relatable intro, I'm currently in a situation (can't even call it a relationship) with someone who is giving me whiplash like never before. Long story short, he likes me a lot and wants to keep seeing me, but due to some lie he told me, he can't commit. In hindsight, he obviously said all that crap so that he could keep hooking up with me without ever having to take me on a date or get anywhere below surface level. After realizing this, all I have to say is *Amy Dunne voice* no f*ckin' way. So to all of the people in similarly absurd situations, here are four signs that it's time to walk away so that you can stop letting these clowns mess with your head and heart. 
1. They Aren't Consistent
One day he's Noah Calhoun and the next he's Cal from Titanic. Look, I don't expect anyone to treat me like a queen every second of every day, but I do expect general decency at the very least. (You would think that would not be a lot to ask for…) If the person you're dating is being really great sometimes and really horrible sometimes, f*ck them (not literally). There's also this taboo that says we can't call people/guys out for being complete asshats because it makes us look needy. Ummmmm no. If someone is treating you in such a way that makes you feel sad, angry, etc., say something. If you already have and nothing's changed, send them a thank you for finally letting you know they're trash so that you can find someone better.  
I know it's hard to just walk away, especially when you really like the person, but if someone is completely cool with treating you as if you don't matter, that should be enough to convince you they ain't worth sh*t. 
2. They Are Shady

Have you ever agreed that you're exclusive, but then they're still very much on dating apps? Omg, same! Contrary to how I may be making myself seem, I have actually never been the type to go through someone's phone.  However, if he's on his phone and I'm in the vicinity, I will 100% steal a glance when he thinks I'm not paying attention. If you do this too, you may have noticed they always have like, eight notifications on each app, right? If you're a bad bitch, you've called them out and then they probably said something like, "Oh, it always says that I have a ton of notifications because I never check it." Yeah, that's probably a lie. He/she is definitely still checking and talking to other people. Sorry if I just burst your rose-colored bubble, but someone had to tell you, so just be glad it wasn't his side piece.
3. They Won't Commit
I mean, this should be obvious, but I've fallen victim to this crap so many times that I feel like I need a therapist to tell me why I keep doing this to myself. Actually, I know why and I'm sure you do too, because you do the same thing. I'll keep this example to men because that's what I'm going through right now, but obviously the scenario isn't gender-specific. Ok: A guy will tell you he can't be in a relationship right now because but he likes you a lot and wants to keep hanging out. The problem is you don't want to stop hanging out with this person, because you like it. So you begrudgingly say you'll keep hanging out because you secretly hope that after a few months of getting to know you, they'll change their mind and want to date you. 
Yeah, that's not going to happen. If someone straight-up says they doesn't want to date you, believe them. If the statement goes something like this: "I like you, but" ignore everything after "but" because it doesn't matter. There are also tons of people who do want to date you, so why try to convince someone who clearly has no taste?
4. They Act Like Everything Is Fine When It Isn't

I absolutely, passionately hate when something is clearly wrong/different/up and he acts like everything is fine. Am I really expected to believe that everything is fine after a literal week of silence when we normally talk all day everyday? Sorry (not really) to all of the people who assume we are too stupid to notice this stuff, but you are stupid for thinking this is totally acceptable behavior. If they're telling you that nothing is up as they completely change the way they treat you, they aren't worth your time.
The important thing to remember is that you can't control how someone will treat you, but you can control how you react to their nonsense. If you are getting bad vibes from a romantic interest, your best move is to talk to them about it, and if the talk goes nowhere, walk the f*ck away. Because the more time you waste with people who don't want the same thing as you, the longer you delay finding someone who does.
Images: Everton Vila / Unsplash; Giphy (2)
Why Do People Cheat? A Former Cheater Gives 4 Unexpected Reasons
Sex and the City is nothing if not completely accurate (jokes), and Samantha's unforgettable "all men cheat" proclamation is no exception. As a tried and true betch, I have no shame in admitting Samantha is my favorite, but I beg to differ on her bold statement circa season 2. According to a study conducted by the Institute for Family Studies, lots of people cheat. Specifically, it found, "Among men who have cheated on their spouse before, 61% are currently married, while 34% are divorced or separated. However, only 44% of women who have cheated before are currently married, while 47% are divorced or separated." Am I dyslexic or do those numbers say 61% and 44%? ZOINKS! If so, that means that about half of the people who cheat are currently married! This is why I have trust issues. And they say millennials are killing relationships. I'm gonna go ahead and say we're all killing relationships by cheating. And as I let these numbers marinate, *Carrie Bradshaw voice* I couldn't help but wonder, why do people cheat?
It would be great if everyone in monogamous relationships who wants to stray from their significant others would just break up with them instead of lie to them, but what do I know? As it happens, nothing! Author, counselor, life coach and former cheater, David Essel, let me know that cheating is slightly more complicated than just wanting to bang someone you think is hot or revenge-f*cking that dude in your building who always hits on you. He says, "After understanding the reasons why I used to stray, I made a decision 20 years ago to never walk that path again, and I haven't. I realized the downside of my actions were so much larger than the upside." Honestly, he has a point. Telling yourself not to do something bad is useless, but understanding why you do something bad could help curtail the habit. Or something like that, IDK, I'll leave it to the professionals here. If you've ever cheated, have been cheated on, or are considering cheating and want to understand why (so you can, like, not hurt someone you supposedly love!) keep reading to find out why people cheat.
1. Codependency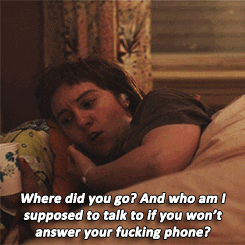 Ok, I know what you're thinking: wouldn't having an affair, whether physical or emotional, inherently make someone more independent than codependent? I thought the same thing. Essel's working theory? "The independent person would go to his/her partner, even if it took 10 or 20 attempts to get to the bottom of why the relationship was starting to fail. However, the codependent person hates to rock the boat, so he/she may attempt talking to his/her partner one or two times, but if he/she don't get the desired feedback, he/she will submerge the frustrations in the relationship." As anyone who's ever swept anything under the rug knows, if you do that enough, someone's going to trip. In this case, the codependent person just kind of quietly gives up on the relationship and pretends everything is fine, but seeks validation and false senses of love from someone else, which, for a codependent person, makes total sense. 
2. Resentment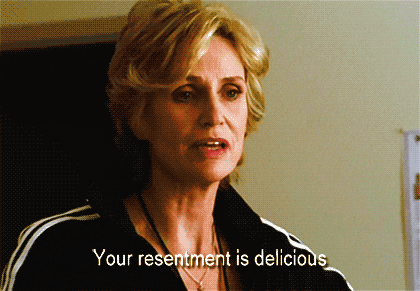 I mean, duh. It's a classic case of boy gets mad at girl, so boy f*cks another girl to even the score. This gross and juvenile pattern isn't exclusively for men, but TBH, I've never known a woman who cheated on her boyfriend out of resentment. Just saying. Put more eloquently, Essel says, "when we have unresolved resentments with our partner, we may stray into another person's bed as a way to 'get back' at our current partner." What a great way to resolve a problem! Kidding. Contrary to popular opinion, I think there are a lot of better ways to address resentment that don't involve another person or sexual intercourse—unless that other person is a couple's counselor or the sexual intercourse is between the peeps in the relationship.
Like jealousy, resentment is a scary beast that needs to be addressed in a mature and reasonable way. To people who cheat to get back at their significant others for, like, not wanting to go to the Super Bowl if the f*cking Pats are playing, do you really think having sex with someone else is going to solve the problem? I asked a few people guilty of this to answer and they all kind of said some version of "No. It definitely made things worse. But in the moment, it seems like the only thing that could make me feel better in that specific moment." As someone who has to either eat the whole pizza or none of it, I get it. 
3. Justification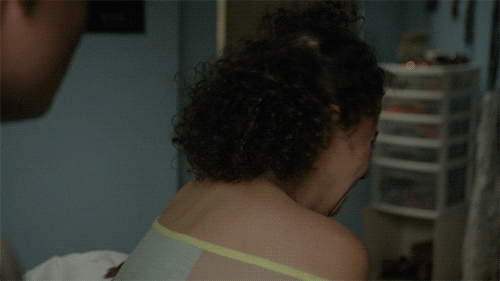 Essel defines this one in terms of "justifying, and defending, the right to have sex outside of the relationship." Tbh, if you're in a monogamous relationship, banging other people doesn't really seem like a right you have, but sure. So, people who use external sex to justify their assumed right to bang whomever they please do so because they want to prove this ~right~ exists. Who are they proving it to? Themselves? Their significant other? The SO will def not agree that you are entitled to f*ck around while dating her/him unless you've specifically discussed non-monogamous terms. 
These selfish f*cks are the type of people who don't move when the subway doors open to let people on the platform board the train. In other words, they're entitled. "But once again we can justify, rationalize, and defend any decision we make in life when we come from this place of entitlement." What I'd like to know is what gives people this sense of entitlement? Who do they think they are, Cersei Lannister? Are boys who assume they can f*ck whoever they want regardless of whether or not they're in an exclusive relationship running around town claiming "a *insert last name here* always pays his debt?" Look, if you are justifying cheating on your significant other out of a sense of entitlement, you do not deserve love you're in for a rude awakening. 
4. Boredom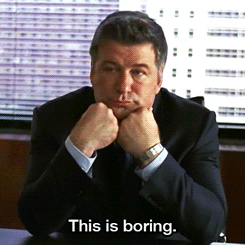 Ah, yes, the most complex of reasons to destroy a relationship. Essel says, "Instead of dealing with our boredom by way of working with our partners and/or getting professional help to figure out ways in which we can be more creative in love, some people just put their heads in the sand and get their thrills outside of the relationship." I mean, like, if you're bored, figure out a way to entertain yourself that doesn't involve potentially contracting STDs and betraying someone who loves you! I get bored all the time! In fact, I'm bored at work right now, but you don't see me applying to other jobs at my current job! The worst part of cheating out of sheer boredom is the fact that the other person in the relationship didn't even do anything wrong. Again, I'm not a professional, but if you are bored in your relationship, maybe don't be in a relationship? Seems obvious, but sometimes the right answer is the simplest one.
At the end of the day, "everyone cheats" obviously isn't true, but everyone f*cks up and that is a fact. If you do cheat, it's my personal belief that if you are honest with your partner, and genuinely apologetic, you can figure out how to move forward and maybe end up in a better, stronger relationship. Laugh all you want, but once a cheater, not always a cheater, Rachel Green's mom.
Images: Giphy (4)
I Marie Kondo'd The Guys In My Phone & Deleted Everyone Who Doesn't Spark Joy
If you have working eyes and ears, then you probably already know that the internet is freaking tf out over Netflix's latest hate-watch Tidying Up, which is all about the KonMari method of organizing. The revolutionary tidying method that involves rolling your frat formal T-shirts (because, yes, I still have those at 27 years old and, YES, they still bring me joy) instead of stacking them is the one that's sweeping the nation. Never mind that my mother has been telling me to roll instead of stack for the last 15 years of my life. If she wanted me to actually follow that piece of advice then she should have told me how well that content would perform on my IG stories. Just saying, mom!!
In addition to rolling our clothes, Marie Kondo, the cult leader mastermind behind the tidying method, also wants us to throw out all of our sh*t unless it "sparks joy in us." To which I'd just like to say, CHALLENGE ACCEPTED, MARIE. Look, just because I own all seven seasons of Buffy The Vampire Slayer on DVD when I do not own a device with a DVD player anymore doesn't mean those DVDs don't spark immense joy in me anymore!!
That said, Marie Kondo did get me thinking about if I could apply the KonMari method of tidying to other aspects of my life. Just because I'm not ready to throw out the Kappa Sig Semi Formal T-shirt from 2012 doesn't necessarily mean I'm not ready to throw out the former Kappa Sig frat member who gave me said shirt from my phone book, right? So, in the spirit of Valentine's Day I decided to use the KonMari method for organizing the men in my life, specifically the ones still wasting space in my contacts list, to see if it would bring me joy or just bring me more homicidal feelings by having to look at their names again.

Emily gets it.
For the sake of time (I assume if you're reading this you probably don't have the next 1,000 hours free to analyze my love life, no?), I'm only going to touch on a few of the men who inhabit my phone. I'm going to organize them by name, how we met, amount of time he's been in my phone, if he still sparks joy, and finally where I landed on it all. I promise it will only slightly feel like you're being emotionally waterboarded. So let's get started!
Guy #1: Jake*
How we met: College. I had to go back into the catacombs of my contacts list to the very first f*ckboy to ever wreak havoc on my life, Jake. A little bit of background about Jake: I met him in college when he was rushing a fraternity. His favorite hobbies included reading Fight Club and Zen and the Art of Motorcycle Maintenance and then talking about said books as if he were the first white male in a polo to ever do so. His other favorite hobbies included listening to sad country music and dumping me in public places. Damn, I had great taste!
We were on and off throughout college despite the fact that he once dumped me on my birthday, mid-throw in the middle of a beer pong game. I hadn't heard much from him post-college until his satanic 6th sense for my emotional well-being caught wind of me engaging in healthy romantic behavior and he decided to hit me up via several phone calls between the hours of 11pm-3am. That's sort of been our relationship ever since.
How long he's been in phone: 9 years *shudders*
Does his number spark joy: Hmmm. Does hating myself for 48 hours after drunk dialing him count?
Final verdict: Delete, delete, DELETE and maybe call the goddamn police. Tbh, this one was long overdue. I kept his number in my phone for so long mostly to remind myself that I'm better than him and to have on hand just in case. You know, just in case I blackout at 1pm after brunch on a Saturday and want some attention. We didn't even live in the same state for years so I always thought "what's the harm?" As if shame-spiraling for 72 hours after any contact with this person is not harmful. No no no no. Time to go. BYE.
Guy #2: Andy*
How we met: Tinder. Y'all say what you want about Tinder being a hookup app, but I've gotten way more dates off this app than any other one. Andy and I met when I first moved to New York and was living in a self-proclaimed "heartbreak hotel." By "self-proclaimed," I mean me and my roommates at the time made a group Twitter account to document our love lives and thought this was going to be our big break. To this day I think we have approximately 200 followers on that account.
Anyway. Moving on. Andy and I dated for about 4 months. And I don't mean we "dated" between the hours of 8pm-2am, Thursday-Saturday. I'm talking about an almost-relationship here. We went on movie and dinner dates, and I spent enough time at his apartment to warrant having a spare set of contacts in his bathroom—it was that legit. The relationship ended, however, when I had the audacity to DTR right before Christmas break and he disappeared off the face of this earth. Seriously. I'm still thinking about putting his face on a milk carton.

How long he's been in my phone: 1 year
Does his number spark joy: I have more joy for fat free ranch than I do for this person.
Final verdict: Delete. This one was pretty easy to get rid of. Looking back, there wasn't a whole lot of heat in our relationship. I think his most appealing quality was that he took me on dates and, for the most part, treated me like a human being with actual human feelings. I was just starting to like this guy when he went into witness protection (I assume) and we weren't together long enough for me to really get hurt. He doesn't bring me joy or even mild excitement at the thought of him sending me a "u up?" text out of the blue, so I guess that's when you know it's really over. 
Guy #3: Nate*
How we met: A bar. This guy I met after day drinking for six hours in the West Village and then decided to keep the buzz going into the night. I was hammered and he was very cute and it took me at least three outings that were very similar to the first one before realizing that the reason we always met up at the same bar is because he literally couldn't get into any others with his ID. I believe his exact words to me when I questioned him about his age were: "I'm basically 21." When he found out how old I really was (24 at the time), he was a bit too enthusiastic over our age difference. Though I wasn't even old enough to rent a car, he treated me like I was a goddamn Mrs. Robinson and would say things like "teach me" in the bedroom. Did this stop me from hooking up with him for the rest of the summer? Absolutely not. We cut things off when he had to head back to school early for lacrosse pre-season training. We still Snapchat each other occasionally.
How long he's been in my phone: 3 years
Does his number spark joy: Only in the amount of jokes I've been able to tell from the line "basically 21."
Final verdict: Keep. I mean, why not? Maybe when he finally graduates college we can grab a beer with the ID that has his legal date of birth. Nate, if you're reading this, call me!
Guy #4: Patrick Tinder
How we met: Tinder. I'm not even exaggerating when I say this is verbatim how his name is written in my phone. I believe our relationship lasted for about three days in the summer of 2015 where we exchanged deeply intimate conversations Snapchats and he asked me to come "sit on his stoop." I have a feeling he wasn't talking about the beautiful architectural masterpiece he inhabited in Bed Stuy!
How long he's been in my phone: 3.5 years
Does his number spark joy: Lol is this a real question? His number holds about as much sentimental value to me as the extra sock I found in my dryer the other day.
Final verdict: Delete. His number was the cockroaches of phone numbers because it somehow survived two stolen phones and a iCloud memory wipe. Suffice it to say, I shed no tears getting rid of his stoop-sitting ass.
Guy #5: Andy 2.0*
How we met: Tinder. Just to clarify: yes, I did meet two different Andy's on Tinder and date them. I'm saying "Andy 2.0" like he was the better Andy, which is absolutely not true. He was just the second Andy I dated in the span of two years. This guy was interesting because, though I met him on Tinder, he was vouched for my a friend of mine who'd grown up with him. This made me believe that he was not a piece of sh*t when he really, really was. About a month in I realized he was definitely only in it to hook up (and on his terms only) and so I tried to do what Andy #1 did to me: ghost him. It did not go well. If I ignored his texts he would hit me up in earnest for weeks with "I miss you" and "u mad?" and "I just want to see you". IF I would fall into his trap and meet him for a drink, he would immediately bring up going back to his place because didn't I want to see the view from his dick new apartment? Once we'd hook up he'd disappear into the ether for 2-3 months with his views of my IG story the only indication that I hadn't made him up. Rinse and repeat for two f*cking years.

How long he's been in my phone: 2 years
Does his number spark joy: His number certainly sparks something in me. But it's less of a joy feeling and more of "set fire to everything he knows and loves" feeling. Ya know?
Final verdict: Delete. Why I kept this guy around for so long is really just a testament to how low I'll stoop for attention. Thank u, nextttttt.
So there you have it. Do I feel happier now that my phone is a little more f*ckboy free? It's hard to say. I certainly feel less of an urge to set fires so, that's something right? I'll take it. 
*All names have been changed to save them from public ridicule. (Not that they deserve it).  
Images: Giphy (4)
Dating Sucks, So We're Making Our Own App
Dating sucks. Our scroll fingers are tired. We're v much over being assaulted on the daily by d*ck pics. We could write books full of sh*tty pick-up lines. I've gone on dates with a guy who claimed to be an art collector (he wasn't); a very terrible graphic designer (why would you use a cow in a logo?); and a guy who told me on date three that he'd been in prison. Where was that on his profile??? Even if you shell out money on a #legit app, you're paying for a fancy algorithm that thinks it knows you when, newsflash: it doesn't. Face it: most of us are destined to sit with our phones and swipe forever.
So we're making our own f*cking dating app. We're excited, too. It's completely different than any other dating app out there, because we're v smart and understand that going out and meeting people is like, hard, and technology should be here to help us. You're welcome.
We know you're literally dying to know more and we can't reveal much yet because our hair and brains are full of secrets, so enter your email and we'll send you super fetch updates about when this Betches' operated dating app is rolling out. Let's make dating fun again.
Here's what to do. Click here and enter your email or phone number. When you do, you'll also be entered to win a sweet prize like a f*cking amazing 5-day trip to Melia Punta Cana Beach resort for two with airfare. Sidenote: It's an all-inclusive adults only oasis, so no screaming 5-year-olds ruining your buzz. It also has four swimming pools, YHI spa, health club, seven bars, and seven restaurants. Praise be.
Even if you don't get to go to the Dominican Republic (sad), you could be one of ten people to win a $250 Sephora gift card, so you can give yourself beach hair and a fake tan even though you won't be laying on a beach (not as sad).
Does this all sound super awesome? Do you want to soak up the awesomeness? Grool. Sign up, then bully your friends into signing up, too, since that'll give you an extra entry into the contest.
Images: Shutterstock
The Golden Rules Of Hooking Up At A Wedding
When it comes to attending weddings single, you have two options: You can either pout at the single table and get hammered alone, or you can put yourself out there and have an amazing time with a really hot stranger. (Moment of silence for how Carrie Bradshaw-esque that just sounded. Ew.) Anyway, while hooking up with another single wedding guest is probably the best case scenario (you bought a fucking toaster and paid to have your hair blown out, you deserve to get laid), there are a few rules regarding wedding hookups you should follow to avoid total disaster. Here's how to hookup at a wedding without accidentally ruining anyone's life. 
1. Stay Out Of Plain Sight
While you totally have the right to the pursuit of a good time and wedding hookups, keep in mind that this is someone's most important day of their life. It'd be kind of a vibe killer if the bride's great aunt Agnes caught you acting nasty with one of the groomsmen in a coat closet. Make sure that there are no chances of someone old AF walking in on you and having, like, a heart attack or something.

2. Don't Kill The Dance Floor Vibes
You are not Snooki, this is not MTV, and you do not need to be Jersey Turnpiking on the groom's college roommate on the dance floor. By all means, have a shit ton of fun dancing all night long, but don't make it gross just to get the attention of a dude you want to hookup with. *Drake voice* This a place for families! Who drive Camrys! And go to Disney!

3. Pack A Few Makeup Necessities
Obviously, I'm not saying you need to bring, like, your Huda Beauty highlighter palette, but you might want to throw some blotting papers in your clutch or something. At a heavily photographed event, you probably don't want to be galavanting around with smudged lipstick or runny eyeliner. And hey, even if there are no wedding hookups to be had, you can use your supply kit to fix your makeup after going fucking HAM at the dessert table. Win-win.

4. Maybe Ditch Your Spanx And Chicken Cutlets
Weddings are one occasion where you're probably fully strapped with every optical illusion-creating, red carpet-ready product available. Between Spanx, chicken cutlets, and whatever random objects you have taped to your body to create the best version of yourself, you have, like, a million hookup disasters waiting to happen. I'm definitely not suggesting you do anything drastic like diet or workout so you can look good in a cocktail dress. I'm just saying maybe, like, sprint into the bathroom and pull off your Spanx so the rando you've chosen doesn't have to watch you drunkenly struggle with them later.

5. Make Sure You're Not Related
Okay, so. You have your cousins, and then you have your first cousins, and then you have your second cousins. That's not right. Is it? It's pretty gross that I even have to mention this, but if you happen to have a really huge family, it probably doesn't hurt to slip into the lobby and do a quick Facebook creep to make sure you're in the clear. I know this piece of advice is borderline hillbilly, but you're better safe than sorry.

6. When It Comes To The Wedding Party, Proceed With Caution
If you're a bridesmaid, maybe don't decide to hookup with a groomsman after the rehearsal dinner when you have bridesmaid duties all the way until the end of the farewell brunch. If it happens, it happens, but I'm just trying to save you from any unnecessarily awkward moments. Plus, you've already made it through the nightmare that was the planning process. Don't throw away months of dealing with shared Pinterest boards with a smile only to piss off Bridezilla on her wedding weekend.

7. Don't Be A Stage-Five Clinger
Sure, there are probably a million made-for-TV romantic comedies about people meeting at a wedding, but let's be realistic here. Casual wedding hookups are probably not the best way to meet your soulmate. Sorry. I cannot think of a more tragic scenario than ruining a perfectly executed wedding hookup by doing something insane like trying really hard to catch the bouquet in front of him moments later. Do yourself a favor and leave your crazy eyes at home for once.

Images: Giphy (7)
15 Signs You're Dating A Fuckboy
Fuckboys are not always easy to spot in the wild, given their highly adaptive nature and ability to blend in. Any betch that's been through the Amazon jungle of dating knows that meeting a fuckboy now is like finding a Rattata in the original Gameboy Pokemon—it's common AF but you always hope it's something better. The key to getting rid of the fuckboys in your life is to know how to identify early signs of fuckboyism before you get too attached. Here are some telltale signs the guy you're dating is a fuckboy you should def ditch.
1. He asks you to hang out but doesn't text you to follow up, and when you ask if you're still on he's just like, "sure where should I meet you".

2. He says things like, "we should hang" but never initiates an actual date.
3. He says things like, "let me know when you're free" rather than proposing an actual time and place.

4. When you ask him if he's seeing anyone else, he avoids answering and says something like, "you don't have to worry about that"
5. He uses phrases like, "keep me posted" and, "let's stay in touch" when you invite him to come out instead of just giving you a straight answer.

6. His friends don't seem to know who you are, which means chances are slim he's raving about you to them.
7. Or his friends all know who you are but act like they know something you don't because they do: They know he's seeing other people.

8. He'll disappear for days without you hearing from him, and when he finally resurfaces he offers no explanation, like it's perfectly normal.
9. When you ask him what's up, he over-explains why he's been so busy and offers specific details like, "hey! just been super busy with this work presentation and my cousin's in town and also my dog is sick so I haven't been sleeping what's up with you?" which really translates to, "please don't ask me to hang out."

10. When other guys flirt with you in front of him he seems totally unfazed, not in a chill, do-whatever-you-want-because-I'm-a-feminist way, but in the honestly-could-not-care-less-about-you way.
11. When you run into other girls when you're out, he definitely doesn't introduce you as his girlfriend, and sometimes doesn't introduce you at all.

12. He's always texting other people when you're together, and they're def not all bros.
13. He shadily will not respond to you during prime date hours of 7-11pm, because he's obvs on other dates.

14. His friends avoid direct eye contact with you when there's other girls flirting with him, and more than likely some of them are also hooking up with him.
15. He's never initiated taking a picture with you, and he's never posted one of you guys hanging out on his social media.

If you spot, like, more than three of these behaviors, it's time to reevaluate your life and your choices (not to mention your relationship). For more dating advice, buy our new book, I Had A Nice Time And Other Lies, and stop falling for fuckboys.
Images: Elsa Donald on Unsplash; Giphy (18)