Is Peter the Messiest Bachelor Of All Time? An Investigation
Last week, Peter Weber finally revealed that he and Kelley Flanagan are dating. With a picture of them on a plane, no less, just in case you didn't remember him screaming in our faces every week "I'M A PILOT, THAT MEANS I'M SEXY" and "WATCH HOW I MOVE MY HIPS DURING THIS SALSA DANCE." Oh sorry, that last one had nothing to do with this photo. Peter's finale was on March 9th, which means literally no time has passed since the season ended, because time doesn't count when you're in quarantine, or at least that's what I told my mother when I refused to celebrate my birthday in April. In that time (no time) Peter has managed to get engaged to Hannah Ann, dump Hannah Ann, try and date Madison for 36 hours, and is now dating Kelley. While yes, technically the Hannah Ann stuff happened after the season finished filming at the end of November, I still declare that to be no time, since it was over the holidays and time isn't real then either. And in all seriousness, I have to say, this is not a good look. In fact, it's just messy. And even with all the trash that ABC has thrown at us over the years, I'm starting to wonder if Peter is the messiest of them all? Let's take a look at past Bachelors and see if any of them can beat him at this game. 
Peter Weber
First, let me lay out my case for Peter. I understand walking into this thing with a chip on his shoulder because everyone wanted Tyler C to be the Bachelor, but that's still no excuse for letting his dick hand out the roses every week. The Bachelor is not Are You The One. It is not Too Hot to Handle. It is supposed to be, or at least pretend to be, about finding a wife—not just someone you want to hook up with and make sponsored his-and-hers FabFitFun posts with. It was obvious from the beginning that Peter wasn't looking for a wife, and proven when he brought two under-23-year-olds and a dementor to the Fantasy Suites. 
So, eventually Peter proposed to Hannah Ann because she was the only one of his final two who would have sex with him and oh, also, didn't eliminate herself. Shockingly, this did not turn into everlasting love. Peter is not the only Bachelor to change his mind after all the glitz, glamour, and Neil Lane's blinding smile go away. But he is the only one whose relationship with the runner-up was so short that if they were binge watching Tiger King together at the start of it, they'd never even find out if Joe Exotic managed to kill that b*tch Carole Baskin. And he is certainly the only one to then move on to a THIRD woman from his show. Now he's posting cringeworthy TikTok videos with Kelley, and Madison is responding with her own awful TikToks. I'm sorry, I cannot describe these any further because I tried to watch and I burst into flames of embarrassment, shame, and disgust. We'll see where Peter's relationship goes with Kelley. My heart says to root for them because she is age-appropriate and should have been the winner all along, but my head says that Kelsey should get her choreographed dance moves ready for when Peter is ready to move on in a few days. 
We didn't catch you. You've literally been posting videos together for a month. 
And now, things have gotten even messier, because we found out this week that Peter and Kelley left Chicago to go back to LA—in the middle of a pandemic. Hmm, guess they were bored there, so now they want to be bored somewhere else! They're now in the land of paparazzi, and we've already seen photos of them riding a tandem bike. Ew. Let's not forget that Peter already flew to Chicago during the pandemic, so he's a repeat offender at this point. Also, I hope he's not hanging out with his parents, who are definitely old enough to be high-risk! People, how hard is it to just stay the f*ck where you are!?
Jason Mesnick
It's hard to be messier than Peter, but Jason Mesnick was the OG of Bachelors That Change Their Mind™, so he can't be forgotten. For all you beautiful young things who don't need to slather your faces in expensive retinol, let mama tell you about Jason Mesnick. He was lucky Bachelor number 13, which aired in 2009. Ah, a time when we were so innocent and unaware of the terrors ABC had yet to unleash onto this world *cough* Chad Johnson *cough*. 
On his season finale, Jason Mesnick proposed to Melissa Rycroft and she accepted. Congrats! But then, on After the Final Rose, Jason realized he was still in love with Molly, his runner-up, and broke up with Melissa ON AIR. So this might not sound that shocking now that we've met The Shame of Scottsdale, Arie Luyendyk Jr., but back then this had never happened before, and things were not yet being manufactured to garner more Instagram followers. Plus, he did this on a live special! V messy, Jason. But to his credit, Jason is still with Molly today and they have adorable children, and I guess life is good and he got his sh*t together. So thanks for the entertainment, you crazy kids, glad it worked out! 
I'd also be remiss not to mention that we have Jason to thank for Reality Steve. His season was the first one Steve ever spoiled, and the rest is history, as they say. So thank you both for helping me win my Bachelor brackets for at least the last five years, and letting me get away with calling it a "God-given talent".
Arie Luyendyk Jr.
You all knew he was coming. And now he doesn't even seem all that original anymore, does he?  After nine long years of Chris Harrison making blood sacrifices to the full moon and selling a tiny bit of his soul each time he had to officiate the wedding of a couple that met on Paradise, the devil finally granted his request and sent him another Bachelor who never heard the phrase "no take-backs". 
Arie was middle-aged mature, experienced, and supposed to bring a level of seriousness to this show. Instead, he proposed to Becca and then brought a cameraman to their "happy couple" weekend, dumped her, and then refused to leave while she sobbed. It was uncut, raw footage, and I would rather go to the gynecologist every single day of my life than watch those moments of TV ever again. It's like he saw what Jason Mesnick did, pointed at it and said "That! Only make her want to die!"

And so he did. Then he went to his runner-up Lauren's house, they exchanged about three words and got back together. The ONLY reason he is not messier than Peter is because he made it work with Lauren, despite the fact that I have been dutifully sticking their voodoo dolls full of pins for two years. That's impressive. And their kid is cute. You MILDLY redeemed yourself, Arie. And that is the nicest thing I will ever say about you, so take it. 
Colton Underwood
Colton's messiness does not begin with his season. In fact, his season was relatively mild when you look at it in comparison to Arie emotionally running over Becca with a semi-truck the year before. Colton was messy before he even went on Becca's season. I'm sure I have voiced this in previous articles, but Colton schemed to be the Bachelor for years, and Mike Fleiss fell for it. Before Colton knew that Becca was going to be the Bachelorette, he DM'd Tia, thinking it would be her and he could score an advantage, and they spent a weekend together. Then, when he found out The Bachelorette was Becca, he peaced out. He went on Becca's season and had to reveal what happened with Tia. He still finished in fourth place, after which he went on to Paradise. On Paradise, he dicked Tia around some more, but didn't want to commit because he was in the running for The Bachelor "it wasn't there." 
Then he, of course, did become the Bachelor, and ended up with Cassie after the infamous fence-jump and getting the body shakes so loud I still hear them in my most quiet moments. And they're still together today, despite coronavirus, Cassie's bangs phase, and Colton's book. What's so unique about Colton's messiness is that the contestants usually wait until after they're the Bachelor to test drive other members of Bachelor Nation, but he did it before he was ever even cast on any of the franchise's shows, so kudos to him for recognizing a trend and getting ahead of it. I hope talking about your virginity on national TV for two months was everything you dreamed it would be when you were scheming, Colton! 

Never forget.
Chris Soules
Chris Soules' season was not actually all that noteworthy, unless you consider casting a Bachelor that couldn't form a full sentence for an entire season noteworthy. Chris was a farmer from Iowa, and a fan favorite on Andi Dorfman's season of The Bachelorette. He proposed to Whitney, much to runner-up Becca Tilley's obvious relief, and then they broke up very shortly after the finale aired. His real messiness began after his reality TV career, though. In 2017, Chris was charged with leaving the scene of a fatal car accident. Chris rear-ended a tractor which resulted in the death of the driver, Kenneth Mosher, and then left the scene of the accident. He was not charged with driving under the influence, although there were discarded beer cans found in his car. He eventually pleaded guilty and received two years probation.
Obviously this is more than messy—it's sad and devastating for the victim's family and it's reckless, dangerous, and stupid on Chris's part. But NOW he is quarantining in Iowa with the one and only Victoria Fuller. Word is that he DM'd her and that's how this got started. Damn, I feel like every day this show gives me grounds to sue Instagram. Is there anything messier than two people with a myriad of legal troubles hooking up? Now I'm thinking that coronavirus started just because it knew this couple was coming, and wanted to make sure they had literally nowhere to drive together. I'm sure this couple will only get more dramatic, and I'm excited to see where it goes. 
So, is Peter the messiest Bachelor? Yes, for now. But I don't doubt that the second ABC can start filming again they will find a new man even more indecisive and willing to debase himself for Instagram followers. So, enjoy your Messiest Bachelor of All Time badge while you can, Peter! But please take solace in the fact that you'll always remain the most embarrassing member of Bachelor Nation on TikTok. 
Images: DFree / Shutterstock.com; Giphy (2); pilot_pete, jasonmesnick, bachandroses/ Instagram
Hannah B. Is The Bachelorette ABC Deserves
As I sit here on this shockingly sunny Wednesday morning, two things are very clear: this hangover might kill me, and Hannah B. is going to make one hell of a Bachelorette. Sure, there's plenty to complain about, starting with the fact that she's younger than me (she's 24; I am…not). I'd rather not see more of Alabama than I have to (or more pageant footage, for that matter), but for f*ck's sake, half of the final four were some variation of pageant girls from Alabama. And yes, we've watched Hannah B. struggle to string together basic sentences, which some might consider a red flag. But I'm here to tell you why this tongue-tied, Southern pageant queen will give us the most fun season we've had in years—and why any other choice would have been a huge mistake.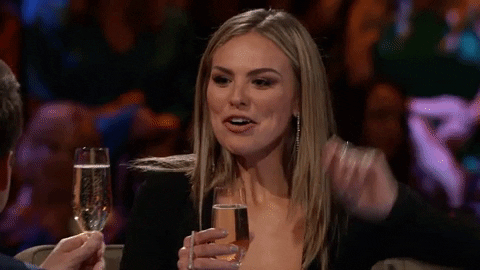 First, let's take a look at who was in line to be the Bachelorette. In this Variety interview, ABC exec Rob Mills confirms that they spoke to everyone in the final four plus Demi while making their decision. Let's take Demi out of the equation real quick: that woman was born to be on Paradise, and I'm pretty sure we have no idea what her real voice sounds like. Also, she is deeply and fundamentally not ready to get married, which we should at least still pretend is a prerequisite for being on this show.
So, that leaves Tayshia, Hannah G., and Caelynn—all of whom technically deserve the Bachelorette title more than Hannah B. Going by the rules of Becca's season, if your leading man deviates from the script and ambushes you for a surprise on-camera breakup, you are supposed to be the next Bachelorette. So both Hannah G. and Tayshia got pretty f*cked there. Actually, it's kind of a fun game to think about who got a worse deal out of this season. Is it Hannah G., who's gotten shockingly little screen time for someone who looks like a Barbie come to life, up to and including them cutting her fantasy suite? Or is it Tayshia, the divorced 28-year-old who jumped out of a plane, got dumped on camera, held a sobbing Colton in her arms, and STILL didn't get chosen as the second-ever non-white Bachelorette? (It's Tayshia, Tayshia got more f*cked here.)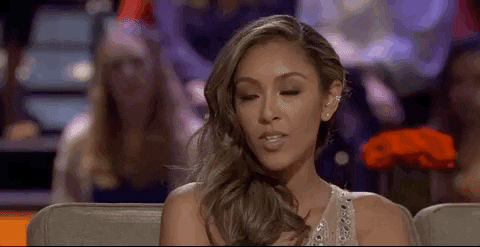 But here's the thing. We can all agree the Bachelorette shouldn't have been Hannah G.—she has a thriving career of "content creating" ahead of her either way, and I think she's about as ready for marriage as Demi is (f*cking 23-year-olds). Can we all secretly, quietly agree that we didn't want it to be the qualified and mature Tayshia either? I want many good things to happen for her, and I'm genuinely grateful that her screen time forced Colton to open his mouth for reasons other than kissing. But first of all, the last two Bachelorettes we've had have been responsible, grown-up women, and it's been boring as hell. Second of all, while it's f*cking disgraceful that there's only ever been one non-white Bachelorette, ABC needs to do some serious work on itself before they are ready to have another.
The show, in its current state, is barely equipped to handle a Bachelorette of color. Let's not forget the many "yikes" moments in Rachel's season where ABC cheerfully broadcast that it has no idea how to address race in a thoughtful way. They (probably purposefully) put a feminist-hating, Black Lives Matter-disparaging bigot on the show as a potential suitor to the first black Bachelorette, and kept him on for weeks, forcing the black contestants to explain to him why his own actions displayed undertones of racism. In my opinion, the change that needs to happen is ABC hiring more people of color and doing a serious overhaul of their many regressive attitudes—not throwing another black woman into a series of semi-racist situations with all of America watching.
Similarly, on the subject of topics ABC is unequipped to handle, Caelynn would also have been a disaster. When Caelynn shared the story of her sexual assault, it was moving, unflinching, and brave. She proved her eloquence, her inner strength, and her ability to be truly vulnerable on camera. But holy sh*t, can you imagine a season of The Bachelorette actually grappling with this? Think about the male contestants they pick. You know at least four of them would have made tone-deaf references to sexual assault before the end of night one. And Caelynn would have had to tell her story and relive that trauma several more times on camera, with different men, who have differing abilities to respond correctly. It would have been painful, sad, and peppered with tactless transitions from Chris Harrison. And let's not forget that the producers, in all their "careful vetting", let a convicted sex offender compete on Becca's season—and he made it pretty far in the process! Caelynn has a valid and important story to tell, but I'm glad we're not seeing it on The Bachelorette.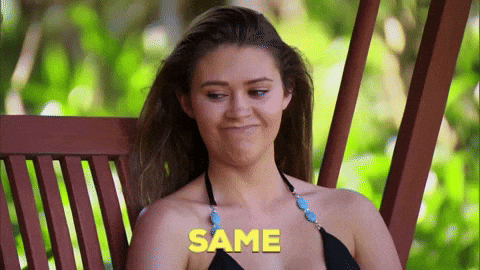 So, is my final point that Hannah B. is the perfect choice because she's young, white, and trauma-free? While I don't love the look of that sentence, that kind of is my argument. Rachel and Becca K., like I said, are smart, confident, gainfully employed women who know what they want. One of them wound up with her second choice, and the other with a MAGA troll—not exactly the empowering message we hoped they'd send. So maybe, at least for this season, we can stop pretending that The Bachelorette has the capacity to be an empowering show. I don't care if Hannah B. has the vocabulary of a fourth-grader and has never felt real pain. The Bachelorette is terrible at portraying eloquent women and their trauma in a watchable way anyway.
Hannah B., with her terrifying smile and big shiny eyes, was exactly the same person when she got sent home as she was when she arrived. While all the other girls slowly crumbled and dropped their facades, Hannah B. didn't flinch. ABC doesn't need or want an accomplished, mature woman as their Bachelorette. They need a marionette doll who can watch this guy rap without gagging. There will be no opportunity to get upset on this season of The Bachelorette—I'm sure whoever Hannah B. ends up with will be a great first husband. Until ABC is ready to make The Bachelorette a show that can handle serious issues without embarrassing everyone involved, bring on the Hannah B. Roll tide!
Images: ABC; Giphy (3)