11 Celebrity Moms Who Need To Adopt Us Immediately
We love our moms. Seriously. They're always there for us, and we don't know where we would be without them. But wouldn't it be fun if your mom was not just a cool mom, but a famous mom? In our alternate fantasy life, we could be on red carpets and living in some palace in Hollywood while our parents make millions. Like, did any one else see Francis Bean Cobain at the Met Gala and think, "if only my mom had been a famous heroin addict who may or may not have killed my dad. Then that could be me!" Or how like, Jaden Smith is just allowed to do whatever tf he wants (like bringing a handful of his own human hair to that very same Met Gala). It's like, God mom, did you really have to spend all that time working hard and raising us when you could have been trying to get famous? Like, what were you even doing before you had me?
Okay so, JK, but in the spirit of Mother's Day, here are the top celebrity moms we want to adopt us, because it's fun to dream.
1. Blake Lively
Blake Lively is basically the dream mom. She's beautiful and smart and funny and she loves to cook and she has a hot husband and can you tell that we like her? We'd get to live in a beautiful home in upstate New York, and the once or twice a year we'd get to go to a movie premiere. Sounds like a sweet deal to us.

2. Beyoncé
Blue Ivy is basically the princess of the world, which is what happens when your mom is an actual goddess. Like, I honestly dare anyone to show me a person who looks better pregnant than Bey. Her maternity fashion is on point. And considering she is already prepping for the arrival of her twins, so why not just adopt us at the same time? She'd barely even notice we were there.

3. Katie Holmes
This might seem like a surprising choice, but think about it. First of all, Suri was always the most stylish celebrity toddler, which is right up our alley. And now that Katie left Tom Cruise and all that Scientology bullshit behind, Suri is probably loving life. Also, we'd basically have Jamie Foxx as a stepdad now, and everyone loves a hot stepdad.
4. Meryl Streep
Not gonna lie, it would be pretty cool to have a mom who's literally a national treasure. Her daughters are successful actors now too, which means Meryl did a pretty great job of raising them. We just need Meryl to hug us every day and tell us we're beautiful, is that too much to ask?

5. Carrie Underwood
First of all, we really would love to inherit her flawless legs. We know that's not actually how adoption works, but a girl can dream. Also, it would be pretty awesome to have her sing us to sleep every night. She also probably has a lot of hot country singer friends that she could set us up with. And if any guy ever cheated on us, mom would know exactly what to do.

6. Reese Witherspoon
If you watched Big Little Lies, this should be a no-brainer. You would always have a beautifully packed lunch to take to school, and she would argue with your teachers until they gave you good grades. She's definitely the mom who's basically your big sister, which is perfect for talking shit.

7. Natalie Portman
Natalie is perfect and has the body of a small bird, so we would definitely love to get some diet and exercise tips from her. As an Israeli-American, we'd also get Israeli passports, and she'd be sure to throw us an insane bat mitzvah. L'chaim, Betches.

8. Rachel Zoe
We want the clothes. There is no other reason.

9. Michelle Williams
First of all, Michelle has raised little Matilda as a single mom, which is the most badass thing. She also has incredible style and just seems like a person who has her shit very together. We'd love her motherly advice on how to pull off short hair, and also how to wear a choker without looking like a basic bitch.

10. Chrissy Teigen
Let me first just say that this is not a ranking and Chrissy is only number 10 because we wanted to build up the suspense. Of fucking course Chrissy would be on this list. Chrissy is gorg and a casual swimsuit model AND she's hilarious af, especially on social media (aka the only place that matters). Chrissy is also an amazing cook and if we lived with her and John Legend (#swoon), we'd probs get fat but we'd honestly be okay with it. Actually, I'm not sure if I want Chrissy to adopt me so much as I want to BE Chrissy…

11. Tina Fey/Amy Poehler
Our ideal life situation is being co-parented by Tina and Amy, both of whom are just the best. Their kids are guaranteed to be funny and independent, and we really want to get in on it. Also, like, they're rich AF.

The 5 Best Celebrity Athleisure Lines For Your Workout AKA Gym Instagrams
Karl Lagerfeld once said that "sweatpants are a sign of defeat," but that was probably way before Gigi Hadid and the rest of the fashion betches created the athleisure movement to make it socially acceptable to wear comfortable clothes in public. Even Chanel is experimenting with tracksuits and sports bras now.

Of course, with every trend comes a wave of celebrities trying to make bank and stay relevant off of it. In 2017, you're only relevant if you have a lip kit, fragrance, and/or athleisure line. While I totally support wearing leggings and a tank top every single day (keeping people guessing whether I've just come off a stationary bike or an alcohol bender is kind of my thing), celebrity workout clothes can be a slippery slope. Like nose jobs and reality shows, not all athletic gear was created equal, so here's a definitive ranking of the betchiest celeb lines.
5. Kate Hudson's Fabletics
Kate Hudson is a betch icon, which means that because her dad is the inventor of Toaster Strudel a rock star, she has the power to convince people to sign up for a subscription service to get floral capri leggings every month. Fabletics really puts an emphasis on the "leisure" side of athleisure, because you don't even have to enter your dad's credit card information more than once—let alone leave the house—to get it. Just beware that your dad may have to sell his soul in order to cancel your subscription. But that's why we love our dads: they'd do anything for us and our quest for cheap leggings. #Blessed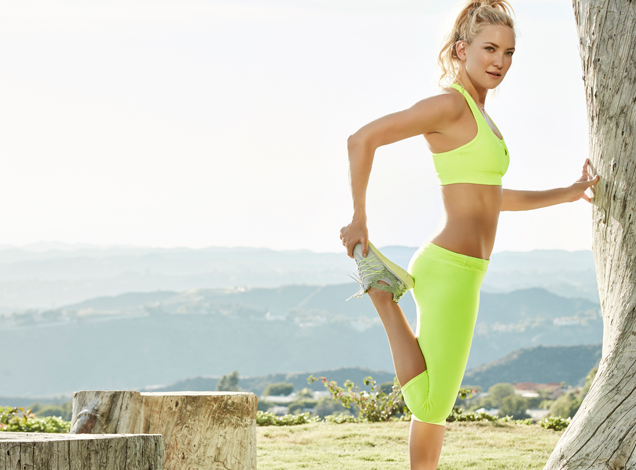 ​
4. Carrie Underwood's Calia
Carrie Underwood has the most amazing legs on the planet, so obviously, taking fitness advice from her is like getting an electrolysis referral from Kim Kardashian. Her line, Calia, is kind of like the mom version of Lululemon, but I'll let it slide because it also has more mesh than the entire cast of Jersey Shore's wardrobes combined.

Calia is sold at Dick's Sporting Goods, which is actually totally convenient because you can purchase a Louisville Slugger with your slutty caged sports bra to get all of your revenge supplies in one stop.

3. Kylie Jenner Merchandise
Kylie Jenner probably owns enough sweatpants and leggings to outfit every hungover betch for the next decade. Obvs, she threw some "sports sets" into her online merchandise shop. Everything is designed in Calabasas, which most likely means that the spandex shorts are engineered to reduce the appearance of butt pads.
​

The shop is also home to Champion sweatsuits that say "THICK!" on them. 70 bucks for a pair of Kylie's sweatpants may seem pricey, but it's probably one of the most cost effective ways to tell the world that you have a huge ass, or that you *think* you have a huge ass.
2. Beyoncé's Ivy Park
Beyoncé could release a collaboration with Crocs and the world would still lose its shit, so it's no surprise that her Ivy Park line has been so successful. It's almost like we don't even get to choose whether or not we like Beyoncé, we just have to. I honestly find it hilarious that people think the NSA is reading our group chats—if anyone's secretly watching over everything we do, it's Beyoncé's team. Anyway, Ivy Park's website is filled with like, tons of information about the "innovation" of their designs, so if you happen to break a sweat during the light jog you do when someone far away holds a door open for you, Bey's got you covered.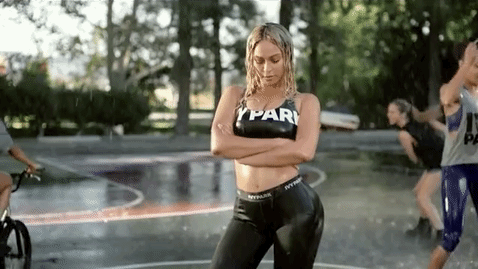 1. Rihanna's Fenty Puma
Fenty Puma by Rihanna is hands down the betchiest celebrity athleisure line out there (*braces for my inevitable hit by the Beyoncé mafia*). It's always sold out, which means it's exclusive. Plus, it inspires laziness because you can't actually work out in platform sneakers or stilettos. Unless you're Mariah Carey. (In which case, you're not even really working out. You're just spending your personal training session forcing your trainer to take pics of you. Such a power move.)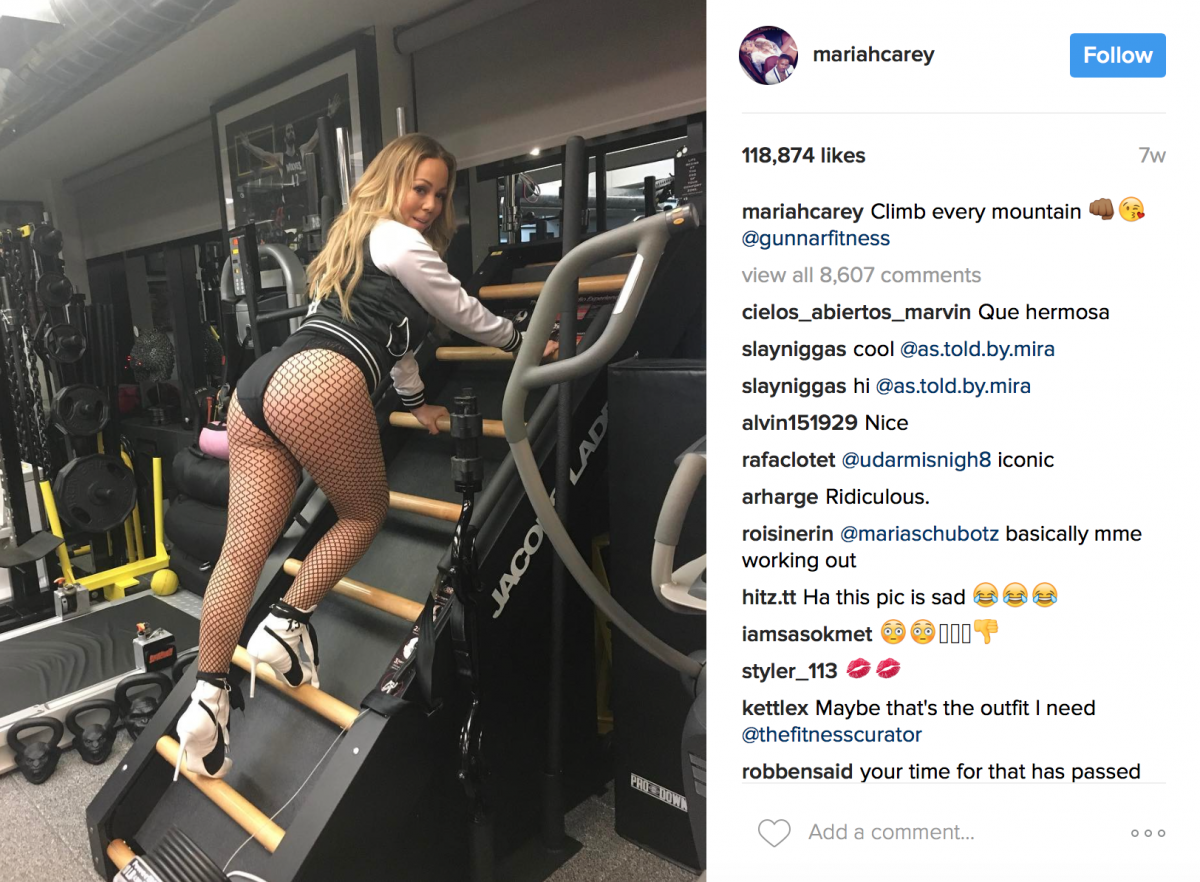 And None For Metallica, Bye: The Best & Worst Grammys Moments
Another year, another nine nominations for Beyoncé. This year's Grammys show touched on everything we expected it to: the subtle Trump jokes, the Adele vs. Beyoncé debate, and America's attempt to think of what else James Corden does aside from Carpool Karaoke. In case you missed the biggest night in music (and the one time a year rappers decide to bring out their religious sides), we've recapped the night's epic moments and the tragically bad ones. Here's the lineup:
The Best
1. Beyoncé Giving No Fucks By Not Memorizing A Speech

Bey's whole Multi-Cultural / Spiritual/ The Last Supper/ Mother's Day Came Early themed performance was a bit confusing and very overwhelming, but we can't judge the queen. She literally read her acceptance speech off of a golden pamphlet and gave no fucks that you're supposed to memorize a speech. Do you think Queen Bey has time to run lines before the show?
2. The Fake Tweets Line

James Corden had a pretty minimal amount of solid jokes throughout the night, but we have to admit we were a fan of his "fake tweets" line when he started getting hate tweets from randos. We're usually not that amused by all the political undertones in every punchline, but this one was subtle enough to be clever.
3. Chance The Rapper Winning Everything

TBH we weren't that into Chance's whole "in the name of the Lord" theme going on with his acceptance speeches, but we're pretty happy about his triple win. Aside from the fact that "No Problem" is literally the pregame song of 2017, we were ready for a break from Drake and Rihanna winning every rap and hip hop award. We approve of Chance being artist of the year.
4. Carrie Underwood's Dress

We honestly weren't blown away by many of the fashion choices this year, but Carrie Underwood looked unreal in her hot red Elie Madi gown. We're obsessed with the edgy cutout and bold color, and her makeup and new highlights looked unreal on top of it all. Her performance was alright too.
5. Bruno's Performance

We've gone back and forth on our opinion on Bruno Mars. I mean, on one hand, I could throw my phone out of the car every time "Uptown Funk You Up" comes on the radio, but on the other hand, his songs are ideal for those blurry Ubers on the way to the club when you're still convinced you're in for a good night. We were hoping for "24K Magic," but his "That's What I Like" performance actually made us forget for a quick second that he's literally 5'3″.
The Worst:
1. Twenty One Pilots Dropping Their Pants

I just wish I were in the room to shut down that idea the second one of them said, "If we ever win a Grammy, we should receive it just like this." Like, Twenty One Pilots creeped me out already before this situation, so the second they dropped their pants, it just confirmed the creepiness. I mean, I get that their lesson was some "anyone can do this" bullshit, but did we need to see your scrawny hairy legs to get the message?
2. No One Knowing The "Sweet Caroline" Lyrics

That Carpool Karaoke joke actually had potential considering it literally is the one funny thing James Corden does. Why couldn't anyone sing "Sweet Caroline"? I mean, I get that it's an old song, but ask any kid at a bar mitzvah and they could belt that shit out from memory, so why couldn't a bunch of professional singers do it??
3. Adele's Tribute Fuck-Up

Adele, you're the queen and you're dramatic as fuck, but did you really need to restart the whole song that no one wanted to listen to in the first place? I guess it's kinda respectable that you wanted to get the performance perfect in George Michael's memory, but like, next time just sing better the first time around. We've seen you do it before.
4. James Corden's Parents Bit

We're not gonna deny that James Corden had some funny lines throughout the show, but the whole "parents cheating on each other" bit was cringeworthy AF. It was bad enough to see Heidi Klum on your dad's lap. We didn't need to suffer through your mom's bad acting skills with Nick Jonas. This idea probably sounded better on paper.
5. Metallica's Mic Fiasco

Lady Gaga obviously killed it at the Super Bowl last week, so it didn't really bother us that she sang with Metallica, but once James Hetfield's mic was clearly broken, we just wished she was up their solo. We're not into heavy metal or anything, but we felt kinda bad for him watching him desperately try to share Gaga's mic. I mean, it's just sad that Adele got her do-over but he didn't. Moral of the story? Sucks to be anyone that's not Adele.