And Just Like That, Society No Longer Needed Carries
Before we had the phrase "main character moment," we had Carrie Bradshaw, the woman known for her credit card debt, kitten heel collection, and love for a man we pray was not based on D*nald Tr*mp.
With a weekly column in the New York Star, a few best-selling books, and a stint at Vogue, Bradshaw was the original influencer—a quality it seems she's holding onto. In a recently leaked script for And Just Like That, the upcoming reboot of the HBO hit that ran from 1998-2004, we learned that Carrie Bradshaw will be ushering her vintage narcissism into the new era in exactly the way we would expect: from behind a podcast mic. Where will Carrie's Sex and the City pod land among modern competitors like U Up? While her insights may have been revolutionary in '99, her tired tips don't hold a candle to today's sex positivity, and her narcissism doesn't translate either. 
Carrie Bradshaw was supposed to be the ultimate It Girl: career focused but not too busy, sexually free but hopelessly romantic, an enigmatic quirky Manhattan elite. She was written as the dream girl of every type of man, from finance guys in suits to artists to comic book enthusiasts. She sat front row at every fashion show, despite having worn a literal bird in her hair on her wedding day. She represented an impossible standard of perfection, one that every 2000s girl aspired to before ascending to adulthood and coming to the realization that Carrie Bradshaw is actually humanity's shared nightmare. 
Between leaked scripts and the mysterious set photos of Natasha, we can't stop thinking about the HBO hit that taught a generation of women to choose between four basic archetypes of femininity. We've spent decades taking Cosmo quizzes seeking the answer to an age-old question: which Sex and the City woman are you? We've refreshed the page so many times that we've missed the point: be anyone except Carrie.
Be a Samantha, a Charlotte, and a Miranda—a blend of our three supporting characters would make a classy, optimistic, sexually liberated woman who values her career, independence, friendships, and style. Imagine a world where a woman can wear Jimmy Choos without talking about it all goddamn day. 
If your vision board is still anchored by photos of Carrie Bradshaw's hundred-pound body in 10 pounds of tulle, we have the solution for you. The best way to combat Bradshaw levels of narcissism is to perform a self-check. Let's evolve the "which character are you" quiz into something actually helpful. Instead of asking, "am I a Carrie?," ask yourself, "am I the problem?" Here are some useful tips:
If your friend invites you to the opera, but you spot your ex mid-show,

do not

leave her stranded at the Met. 

If you're someone's maid of honor,

do not

choose their wedding day to confess you cheated on your boyfriend. 

If your friend gets you on the cover of

New York

magazine,

do not

black out the night before.

If your friend throws her neck out and is stuck on the floor naked,

do not

send your boyfriend to help in your place. 

If your friend buys you real cashmere for your birthday,

do not

ask if you can return it for cash. 

If you're a sex columnist who doesn't believe in bisexuality, get a new column. 

If you cheat on your boyfriend with your ex-boyfriend,

do not

write about it in the newspaper. 

If your boyfriend takes you to the country, take off the f*cking kitten heels. 

If you have a friend like Samantha Jones,

do not

take her for granted.
Maybe I'm bitter because Carrie Bradshaw is the person who convinced me I needed a collection of dresses for the classic last-minute gala. The summer before moving to the city, I spent my days rewatching all six seasons of Sex and the City and ordering countless pairs of heels that would never see the inside of a subway car. The first few weeks in New York make anyone feel like a Carrie, like the main character; but a few morning commutes, a failed Hinge date, and a phone call with ConEd are there to bring you back down to Earth all too quickly. Remember this, city girls: there is nothing chic about credit card debt.
In its time, Sex and the City turned the tides for single women. At dinner tables and crowded bars, four women created space to talk openly about subjects that were once taboo, even introducing the world to the Rabbit. The show laid a foundation, albeit a thin one, for 20 years of sex positivity and female empowerment, even if aspects of it failed to hold up to modernity. With the evolution of modern feminism and the introduction of the Bechdel Test, Sex and the City's mortal nemesis, longtime fans began looking to the show for nostalgia more than wisdom. Headlines once dedicated to "Carrie Bradshaw's Best Fashion Moments" were replaced by roundups of "Carrie's Worst Decisions on Sex and the City," "10 Times Carrie Bradshaw Was A Jerk," and "9 Times Carrie Bradshaw Was The Actual Worst."
When it comes to nostalgia, HBO is a bloodhound, and they caught the scent and ran with it. So now here we are, counting down the days to the reboot that we never asked for and the main character we never liked. That said, when And Just Like That does finally drop, don't reach out for at least three days, I'm busy. 
Be the main character without being a Carrie. Romanticize your life, but don't forget that the people who will meet you in a diner at midnight to have another conversation about your Mr. Big are not your supporting characters. Look at your life the way Sex and the City should have always been seen, as an ensemble.
Oh and—justice for Samantha Jones. 
Image: Courtesy of HBO Max
What's 'Sex And The City' Without The Woman Who Brought All The Sex?
And just like that, another TV show reboot that we probably don't need is announced. On Sunday, Sarah Jessica Parker, Cynthia Nixon, and Kristin Davis graced our Instagram feeds with a short trailer alluding to the fact that the iconic 1998 show, Sex and the City, was coming back to life. I was fully prepared to leave this franchise behind me after their failed attempt at a third movie, but this revival has left me quite intrigued. As I watched the And Just Like That teaser three different times on each of the stars' accounts, I (say it with me now) couldn't help but wonder, where was Kim Cattrall? Surely, we couldn't have Sex and the City without the woman who brought all the sex?!
As bummed as I am, it shouldn't be a surprise that Samantha Jones would not return in a SATC reboot. Kim Cattrall mentioned in several interviews that she would not partake in another iteration of the iconic show. I mean, who can blame her? The off-screen drama with SJP and other members of the cast was even more dramatic than the scripted fights they got into. (In 2018, following the passing of Cattrall's brother, she dragged SJP on Instagram, writing, "You are not my family. You are not my friend. So I'm writing to tell you one last time to stop exploiting our tragedy in order to restore your 'nice girl' persona.") Kim perfectly put it when she said, I don't want to be in a situation for even an hour where I'm not enjoying myself."
Since we won't get an appearance from Samantha Jones, I'm having trouble figuring out who is going to bring all the entertainment, iconic one-liners, and even an ounce of flavor that this show lacked from its cis, hetero, all-white cast. (Though perhaps HBO will take this moment to shake up said cis, hetero, all-white cast.) Who will be the voice of reason when Carrie is full of sh*t? Who's going to remind Charlotte that she shouldn't be so uptight and stuck in her ways? Is there going to be a fourth character who is equally as successful and ambitious as Miranda, but not an absolute buzzkill? 
If the show "must go on", then I suppose all we have left is to reminisce on the hilarious and completely out-of-pocket moments that Samantha Jones brought to our televisions for six seasons and two feature films. Join me as I pour one out for the unapologetic, pleasure-chasing publicist, and look back at some of her best moments.
Season 1, Episode 1 "Sex and the City"

From the very first episode, Samantha was serving realness to her delusional dater friends. I actually love that the pilot is basically about Carrie deciding to live the way Samantha has always been living and turning this into a revelation all about herself. Kind of telling, if you ask me…
Season 1, Episode 10 "The Baby Shower"

Another moment where Samantha was anything but subtle! While there is absolutely no shame in those who choose to be mothers, it was hilarious (and empowering) to see her not fall to the pressures of society and live exactly the way she wanted. Tbh, I might throw an "I don't have a baby" shower for the gifts — and the Instagrams.
Season 2, Episode 6 "The Cheating Curve"

Okay so this was definitely one of the more problematic episodes. When Charlotte decides to hang out with lesbians because she got cheated on, Carrie gets back with Big, and the whole gang debates the definition of cheating. Even with her dumb views about what constitutes infidelity, Samantha manages to give this nugget of, dare I say, good advice, that is eerily reminiscent of what my therapist has been trying to tell me for years. Who knew I could have just watched Sex and the City and saved myself the copay.
Season 2, Episode 7 "Chicken Dance"

In this episode, Samantha realizes the guy she just slept with, she'd actually already slept with 15 years prior, and it feels like a bleak look into my future. Also, they all attend a wedding where Carrie is reading a poem, which is where Samantha delivers this one-liner that my mid-20s self can relate to all too well. Ok, who am I kidding, this quote is timeless regardless of my age.
Season 4, Episode 10 "Belles of the Balls"


I'm sorry, but does she or does she not spit the absolute truth? One thing about Samantha was that she played like a man living in a man's world (again, as discussed vis-à-vis the pilot episode and overall premise of the show), and did it well.
Season 5, Episode 4 "Cover Girl"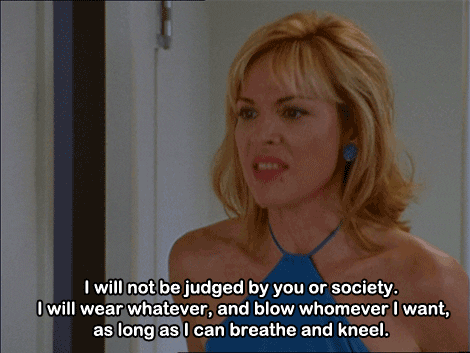 And just like that, we go from profound commentary on sexist double standards to a sexually explicit quote. Gotta love the woman's range. Even from her own best friends, Samantha had to defend herself from being slut-shamed, much like in this episode when Carrie judged her hooking up with a delivery guy. First of all, I would love to see that high-and-mighty attitude amidst the pandemic, when the delivery guy is the only person of the opposite sex with whom I regularly interact. Tbh if any of my friends did this, I'd be applauding them for (hopefully) getting a friends and family discount on Seamless.
Season 5, Episode 6 "Critical Condition"

Kind of conceited to think that any given person in New York City knows who you are, but I'll give her this one. I'll surely miss how unapologetic Samantha is, and how she does and says whatever she wants without worrying about how others will react.
Season 6, Episode 2 "Great Sexpectations"


Where would we be without that one friend who gives top-tier sex advice? Definitely not having as much sex as Samantha was, that's for sure. Thank God Carrie, Miranda and Charlotte had Samantha to remind them to not just have more sex, but good sex. Not sure they ever truly took her advice, anyway.
Images: HBO; Giphy
Recap Of The 'Sex And The City' Pilot From Someone Who's Never Seen It
Yes, what you just read is true. I, a living, breathing woman between the ages of 25-35, have never seen Sex and the City before. Why, you may ask? The answer is simple, honestly: my parents would have rather chopped off their own feet and cooked it up for dinner than let me watch a show that had "sex" in the title as a kid. (When girls in my grade made their bat mitzvah themes things like "Lex and the City", my mother was positively scandalized.) And yet in my house, we grew up watching Law & Order: Criminal Intent as a family, so what does that say about me? 
Anyway! Once I got older I really had no interest in watching Sex and the City, an opinion that has been reaffirmed by the countless articles pointing out just how cringeworthy and problematic it was. I thought that, coming upon my third decade of life, my complete ignorance of this cultural phenomenon would become irrelevant, much like the show's fashions. But now that a reunion has been confirmed, I feel the need to finally try to understand what everyone was talking about 20 years ago. I think I know the gist: Carrie is the annoying one, Samantha is the slutty one, Charlotte is the prude one, and Miranda is just kind of there. At least, that's what the memes tell me. We all are sooo one of these characters. We all want to be the Carrie (for reasons that elude me) and yet are probably all the Miranda. 
So, in an effort to finally be able to relate to people and not have to pretend-laugh at Sex and the City references, I decided to fire up my friend's HBO Max account and see what the fuss was all about. Here's my honest recap of the Sex and the City pilot.
The eponymous pilot opens with our narrator Carrie typing, "Once upon a time, an English journalist came to New York. Elizabeth was attractive and bright, and right away she hooked up with one of the city's typical eligible bachelors." I'm not going to retype this whole monologue, but the gist is, Elizabeth made the classic New York mistake of hooking up with a finance bro. And just in case you aren't from the city, Carrie makes sure to hit you over the head with how "quintessentially" New York the whole encounter is, by saying "in typical New York fashion" at least six times throughout this whole love story. If you don't live in New York, let me just say, that yes, it is in typical New York fashion to have a guy blow smoke up your ass and then completely stop speaking to you after he stands you up for plans that he proposed in the first place!! Sorry, I'm fine. It's fine.
Elizabeth's love story is much like my own, in that Elizabeth and our finance bro "dated" for two weeks until he ghosted her. The only difference is that at least Elizabeth got dinner out of it, when all I get are drinks and a vague promise to order a pizza if I were to come over to "watch Netflix". Or, at my lowest point, one 99-cent can of Arizona iced tea. So, I know this show premiered in 1998, but to me, the fact that this is a story worthy of an investigative-type piece in a literal newspaper is alarming. I wonder if I could get a job at the NY Post using my diary entries as writing samples at this rate?
Further underscoring my point that Carrie should not be a professional writer is this little gem of hers: "Cupid has flown the co-op," she says, with a self-satisfied smile. I hate it with every fiber of my being, and it's kind of sad to me that straight women in the late 90s apparently were getting treated like sh*t by men in the same way that we are now, but apparently nobody was talking about it? The only thing worse than getting ghosted left and right is thinking you're the only one who is getting ghosted left and right. I suppose if we can't get better treatment, at least we have the memes.
Cut to a montage that feels reminiscent of Hitch (don't come for me, I'm very aware of who must have inspired whom in this scenario) of random dudebros giving their takes on why so many amazing women are single. Oh boy, I feel a rage blackout coming on. One guy, in between chest presses at the gym, says that it's because in their 20s, guys are controlled in relationships by women. By their 30s, they're "devoured by women". He says that like it's a bad thing, but I feel like any straight man would be thrilled to be devoured by women. What do you all want!

Another dudebro doing bicep curls says, "you don't want to do it with someone over 35, because you have to have kids right away." He advises women over 35, "forget about marriage and just focus on having a good time". I almost shut the show off at this point, but decided to persevere at the expense of my blood pressure and general well-being.
Cue more sexist and ageist nonsense: older women don't want to settle, what women really want is Alec Baldwin (no thanks, if I wanted to get screamed at for no reason, I'd do more SoulCycle classes); women are too picky and turn down guys left and right for being too short, fat, or poor. Enter: Miranda with some sanity, to say that even the short, fat, and "poor" guys are still assholes. (It's almost as if you can't tell if someone's a good person by their height, weight, or bank account.) Gotta be honest — I did not come here to affirm how timeless this show is, but the degree to which I feel attacked is proving otherwise. 
At Miranda's 30-something birthday dinner — that was not me being lazy, they only specify it's a birthday in her 30s because, you know, women aren't allowed to age — Samantha comes prepared with some wisdom. She says, you can either bang your head against the wall and try and find a relationship or you can say "screw it" and just go out and have sex like a man. 
Charlotte: You mean, with dildos?
I mean, she's not wrong.
Miranda says that guys in New York don't want to be in a relationship with you, but they also don't like it when you only want them for sex. "All of a sudden, they can't perform the way they're supposed to," she says. I know this is not ~the point~ but Miranda saying that a man's only purpose is to provide sexual pleasure is kind of iconic. Am I too jaded to properly critique this show?
Carrie: Oh come on ladies, are we really that cynical?
Speaking for every single woman in New York:

I've decided that I'm definitely a Miranda because of this part where she's like, "this guy took me to dinner and read me a poem. What a serial killer, can you imagine?" *Scrolls up to earlier musing about how I don't even get taken to dinner* Interesting.
Carrie's like, "So you really think it's possible for women to pull off the whole 'having sex like men' thing?"
I will say that I do kind of resent that the premise of the entire show is built on this toxic double-standard where only men can have unattached sex. Do the women really have to be having sex "like men" or could they simply be having casual sex? The whole thesis is basically, "Women be catchin' feelings, am I right?" And look, I know this was 1998 and maybe that's the only lexicon they had at the time, but now it feels incredibly lame to have a writer's room that's like, "what if we have women… who date… now hear me out…. like men! Enjoying sex and everything! Genius, isn't it!!"
And just when I thought SATC might be somewhat timeless in its accurate portrayal of dating in New York, while at lunch with Carrie, Stanford hits us with this dumbass quote: it's straight love that has become closeted. Right, because I'm afraid to walk down the streets of New York holding the hand of my boyfriend for fear of vitriol or attacks. I bet the writer who came up with that one was real proud of themselves.
But they're back to realistic portrayals by giving Carrie a "loathe of my life" named Kurt Harrington (tracks) with whom Carrie kept hooking up throughout her 20s despite Kurt being a walking piece of trash (tracks again). I feel… reluctantly seen. However, Kurt was good in bed, and Carrie decides he'll be her guinea pig in the experiment of "can women indeed have sex without getting attached?" 
Carrie's big pickup line? "So, how's life?" Genius. I can see why they gave her a writing column. These two are practically gyrating against each other in what appears to be a crowded restaurant in the middle of the day. 
Me watching this: 

They make a booty call for 3 O'CLOCK IN THE MIDDLE OF THE AFTERNOON. Ok whatever, spoken as if I haven't done that exact thing after brunch. Ok, you're right, during brunch. 
So they bang at 3pm as indicated — or, actually, context clues lead me to believe Kurt just went down on Carrie, which is hilarious because you know Kurt is the type of guy whose face has never gone near a set of labia because he "doesn't like the smell" (you can tell by his teeth). When Kurt asks Carrie to return the favor, she says, "oh sorry I have to go back to work." Ma'am? I understand that you write a sex column, but I am pretty sure the newspaper would not count this as "necessary research" that needs to be conducted on company time.
After bouncing, Carrie is like, "I did it. I had sex like a man. I felt powerful, potent, and incredibly alive." And look, I'm all for being sex positive, but Carrie, the reason you feel powerful isn't because you had sex without immediately catching feelings (which take a minute to develop anyway—they're like Polaroids in that way). It's because you left a guy hanging. And truly, there is no feeling more powerful than that, and I support you, but let's not get ahead of ourselves. 
And it is while she's riding this high when Carrie literally bumps into the character who will be known as Mr. Big (it's amazing how much info you can glean from memes these days — maybe this is why people are so stupid). 
And there it is, the insensitivity I've been hearing so much about: When Skipper is complaining about how he hasn't gotten laid in a year because he… pause for collective gasp… respects women… Carrie says, "are you sure you're not gay?" I don't have the time or energy to explain all the ways in which this is wrong, and not a thing one person should ever say to another person. So let's just flag that and add it to the tab.
All the girls are spending the night at a club called Chaos (minus Charlotte, who's on a date with some rich guy and determined not to put out). I stopped going to clubs pretty much the second I stepped foot in Marquee, but I'm supposed to believe these 30-something-year-olds are willingly clubbing on a work night? No. 
Carrie is trying to set Miranda up with Skipper, but the problem is that Miranda will think Skipper is mocking her when he's actually just being sweet and direct. Me again. 
And I can see why Miranda is single, because she just used the phrase "ipso facto" in actual conversation. None of my lawyer friends have ever spoken this way, and neither has any real human. 
Who else happens to be at the club? None other than Mr. Big. Samantha spots him, and here comes the unintentional best line in the entire episode.
Samantha: You see that guy? He's like the next Donald Trump, only younger and much better looking. 
That line, and I sh*t you not, is followed by Carrie saying of Samantha: Samantha had the kind of deluded self-confidence that caused men like Ross Perot to run for President.
Or men like… Donald Trump. Wow, maybe we do need a reboot of this show.
Meanwhile, after Charlotte's date that apparently was at the f*cking Met Gala because she and Capote (who tf is named Capote) emerge wearing a tux and a ballgown, Char falls for the classic ruse of "want to come back to my place to check out my painting?" Except in my case, it's usually more like, "want to come up and see my roof?" when his roof is just his window and his window looks out over an air shaft.
Oh, Charlotte. Charlotte, Charlotte, Charlotte. You have fallen for the oldest trick in the book and still think you have the upper hand. The way this bitch is sighing and smiling to herself, she thinks she's some master pickup artist when she's clearly about to get ghosted.
I lied, it's even worse: Capote gets in the cab with her to go to the club! Lmaoooo is this how men acted before dating apps? Maybe millennials didn't kill dating after all. 
Speaking of the club, Samantha is over in the corner trying to fellate a cigar, and I am so uncomfortable I want to jump out of my skin. She shoots her shot, which I completely respect, although her methods are a little aggressive for my taste: inviting Mr. Big to the room downstairs. He doesn't take the bait, because we are supposed to believe he is ~evolved~ and ~sensitive~ when in reality he probably just likes being the pursuer and is turned off by a woman with confidence. Yeah, I'll say it!
In the end, Miranda and Skipper hook up and Capote takes Samantha home. And this is what we in the biz call a pretty successful night, we've got half the girls getting it in. Not bad for a club called Chaos, because if this stayed true to the name, there would have been a lot more vomit at the end of the night.
Carrie starts to walk home and then sees Mr. Big and just… gets in his car?? Is this the 1990s or the 1970s? This could easily be the intro to a Criminal Minds episode.
Carrie's bullsh*tting ability is somewhat respectable, though. When Mr. Big asks what she does for work, she calls herself a "sexual anthropologist" and says, "right now I'm researching this article on women who have sex like men." Like, you have a freelance writing assignment and you are talking to your friends about their dating lives. I do that all the time, should I be updating my resume?
Big: But you're not like that.
Carrie: Well, aren't you?
Big: Not a drop. Not even half a drop.
You can all but see the puddle that's forming in Carrie's underwear at this admission BLATANT LIE. Yeah, I'm beginning to see why people hate Carrie (aside from the terrible "cupid flew the co-op" puns). From what I've gathered (again, from the memes and a few headlines), Carrie will spend the next six seasons of this show on and off — and possibly a movie or two — doing Olympic-level mental gymnastics to justify this one statement made by Big in the back of a cab when almost everything else he does proves the exact opposite. And this is why you don't let the resident delusional dater give dating advice to the masses of New York City! Who knows how many generations of women she's led astray with her misguided musings? Okay, none, because this is a fictional show, BUT STILL. 
Carrie asks Big if he's ever been in love and he says "abso-f*cking-lutely". And that's supposed to be some groundbreaking admission? Lol, even the most twisted f*ckboys I know would admit they've been in love, but that's usually the problem: "one girl mildly hurt my feelings 16 years ago and that's why I will only lead people on from here on out." The 90s were whack. I think I've said all I needed to say on this pilot. They got the cynicism and general sense of uselessness with dating right; the rest was a lot of cringe. Samantha and Miranda are the only redeeming characters thus far. We didn't really need this reboot, and we definitely don't need it without Samantha or some sort of Samantha stand-in. 
Images: HBO; Giphy (3)
16 Amazon Prime Shows To Watch During Quarantine
Did anyone else think quarantine was going to be right up their alley for the first few weeks, but now they've finished all of Netflix* and there's nothing to do except alternate between staring hopelessly at the ceiling for hours on end and watching TikTok compilations? No one else? Just me?
Well, fear not either way, because even as you reach your final episode on your final show on Netflix, there are still half a dozen other streaming platforms out there waiting for you to give them a whirl. And why not! There are so many hours in the day in quarantine. You are never required to wear pants. You can be on Slack and watch TV in the background. The only rule of quarantine is to never leave your house. The real world has become a place of madness and fiction, and the only solace we can now find is going to be in the fabricated stress of television. 
So, without further ado, here are the best shows available on Amazon Prime during this quarantine. Disclaimer: I haven't spent as many hours on Amazon Prime as Netflix, mostly because it makes me weirdly uneasy to see my recent orders for lamps and cleaning supplies while I also browse for shows, so it goes without saying that I have probably missed a few of them. 
*By all of Netflix, I mean the shows worth watching. 
'Hunters'

The first season of Hunters recently started airing on Prime, and because I'm trying to avoid high-stress situations, I haven't started it. However, executive producer Jordan Peele (Get Out, Us) is an absolute genius storyteller, so it's gotta be super good. It also stars Al Pacino and Logan Lerman from the Percy Jackson movies, whom I completely forgot about, and now I need to watch. The show is set in New York City in 1977 and follows a group of Nazi hunters as they try to dismantle a secret group of Nazi officers that are trying to implement a fourth Reich in America.
'The Marvelous Mrs. Maisel'

If you've ever thought to yourself that maybe you were meant to live a different life and that life is specifically to be a Jewish mother living on the Upper West Side in the 1950s with an undiscovered talent for stand-up comedy, then this show is for you. Created by Amy Sherman-Palladino, of Gilmore Girls fame, The Marvelous Mrs. Maisel follows Midge Maisel's journey through the New York stand-up scene after her husband leaves her for his secretary (schmuck). Would Midge have worked for Betches if it was around back then? Almost certainly, and that's all you need to know.
'Girls'

Didn't we all already watch Girls? Personally, I stopped around Season 5 because every character became as annoying as humanly possible and I couldn't watch Hannah make another terrible decision or listen to Marnie try to launch her singing career for another second. That being said, I did like some of the characters and the incredibly dysfunctional family they created. At least Girls is a really easy binge because the episodes are short and the storylines are engaging and easy to follow. Just don't watch too much in a row, or you will go through what I did and never finish (but that's okay, too). 
'Fleabag'

I haven't watched Fleabag yet, but it won like, all the awards, and I see it everywhere on TL so I think I might just have to start. Phoebe Waller-Bridge writes the show and stars as the titular character, Fleabag. From the season 1 trailer, it seems kind of like a British and more updated version of Girls? As in, the main character kind of self-sabotages everything for herself but you still keep watching to see if maybe she'll turn it around one day. What seems more unique and interesting about it, though, is that Fleabag breaks the fourth wall often to explain to her viewers what's going through her brain, so maybe we have some more perspective and empathy for her questionable choices.
'Modern Love'

Modern Love is a miniseries that brings the New York Times essay column of the same name to life. Whoever was the casting agent really knew what they were doing. They've got Tina Fey, Anne Hathaway, and Dev Patel in their own 30-minute episodes, appearing casually as if they were normal people. The first episode made me cry, and the rest were definitely worth watching. With only eight episodes, this is a great show to watch if you don't want to commit to a whole series. And then you will become addicted to the stories and read 20 essays in one night and convince yourself you can write your own about the guy that has been delivering your groceries for the last week, if only you could come up with a catchy title.
'Sex and the City'

Since we have nothing else to do in quarantine, let's all sit around the kitchen table and discuss with our fellow quarantine inmates which character every person in our friend group most identifies with. Luckily, Sex and the City is on Prime to help you out. The one who is still making you do her Ship matches, just to f*ck with the guys? Samantha. The one who began planning a Zoom wedding immediately and already had a stockpile of hand sanitizer? Charlotte. The one who actually knows the facts of what's going on, but is over talking about it? Miranda. The one who thinks the pandemic is the just the thing to spice up her forthcoming-but-still-unwritten memoir? Carrie.
'Psych'

Psych is a detective sitcom that is the exact show to watch if you want to get really invested in/binge something for like, a minute, but don't want to be thinking about 24/7. Shawn Spencer is a police crime consultant who has convinced the police that he solves cases using psychic abilities, but was really just trained as a child by his dad to have heightened awareness and photographic memory, which is shown in flashbacks. Shawn works with his friend and partner Gus, at his psychic detective agency, Psych.
'The Sopranos'

The world will never get enough American-Italian mobster drama (@The Irishman), and that's all there is to say about that. The Sopranos is regarded as one of the greatest television series of all time, and luckily it's on Prime for you to decide for yourself (although I'm sure everyone has seen at least one episode at some point or another). Tony Soprano is the show's protagonist (if you will), who must balance his family life and role as crime boss of his New Jersey-based crime family—he delves into this narrative through talking to his therapist, Dr. Melfi.
'30 Rock'

Some of us think we are quirky and talented enough to be writing for Saturday Night Live, but just haven't had our big break yet. While we wait for that dream to manifest itself, we can watch 30 Rock. The popular sitcom, created by and starring Tina Fey, is available on Prime, and is based loosely her days as a head writer at SNL (although the live-sketch show depicted in 30 Rock is fictional). 30 Rock is right up there with The Office and Parks and Rec; it's just a super easy sitcom that you can throw on at any time of day and for whatever mood you're in. 
'Downton Abbey'

Downton Abbey is one of my favorite shows ever, and I'm so glad it's on Prime. Downton Abbey takes place in England and follows the lives of the aristocratic Crawley family and their servants from 1912-1926. There is so much drama both upstairs and downstairs, and while there are some people that try to cause tension, mostly everyone gets along and has adorable British accents. It's so easy to watch and get obsessed with, and I promise it's worth it.
'Dance Moms'

Honestly, who let Dance Moms air in the first place? Every Tuesday night in middle school for me featured a Dance Moms and Pretty Little Liars marathon, and looking back, that lineup feels like a bizarre fever dream. The antics of Miss Abby Lee Miller honestly haunt me, and the fact that she went to jail for a minute really doesn't help the whole situation. How did she choreograph those dances every single week? What is the rival studio, the inglorious Candy Apples, up to now? Will Maddie ever not be at the top of the pyramid? 
'Suits'

Mostly just putting this on the list because I think it might be fun to watch Meghan, Duchess of Sussex (wait do we still call her that, or no?) during her life before Harry. Suits is set at a New York City law firm, opening when Harvey Specter hires Mike Ross, a genius college dropout, to help him solve and close cases, despite Mike never attending or graduating from law school at all. 
'Curb Your Enthusiasm'

Larry David, the creator of Seinfeld and hilarious Bernie impersonator on SNL, plays a version of himself in Curb Your Enthusiasm. The 10th season just started, and luckily Prime has all the prior seasons so you can catch up. In the show, David faces the many annoyances of daily life, and basically just calls everyone out on their bullsh*t. TBH the show stresses me out because I am not a confrontational person at all, but it's really funny. I would love to see an episode of David coughing on someone and/or being coughed on during this pandemic. Maybe they're already working on it.
'Law & Order: SVU'

Over the last 20 years, Law & Order: SVU has seemingly gotten away with any and every plotline they could ever think up. My jaw immediately hits the floor every time I watch this show, and it stays there the whole episode. I love how they only seem to get the perp like half the time and then the rest of the time it's a therapy session. I love how they make up mid-season storylines for the main characters, and when you question them, diehard fans comment, "oh yeah, they mentioned that offhandedly 10 seasons ago," as if you should've remembered. I love how Finn seems to improvise all of his lines and no one ever reacts to them. This show is a great watch because you really don't need to watch it any particular order, and after one episode you'll be done with TV for a while.
'American Horror Story'

Eight seasons of AHS are on Prime, and I know everyone has a personal favorite. I only tried to watch this show once, when I was in ninth grade. I remember it so clearly, sitting in my friend's basement in the dark. It was season four: Freak Show. She didn't warn me at all. Enter: the scariest clown I have ever seen. Cue: me not sleeping for a week. That was the last time I ever even thought about watching this show. However, I'm older now, and wiser, and the world is as scary as it's going to get, so I'm considering giving it another try. I'll let you know how it goes. 
'Veep'

Let me be the first to say I would GLADLY elect Julia Louis-Dreyfus as Vice President and/or President of the United States right now, which is her role as the protagonist in Veep. Veep is about the personal and political careers of Selina Meyer, the Vice President, and her wacky but reliable staff as they try to make their mark and advance themselves politically. Does it seem like something like this will ever be allowed to happen in our country? Maybe not, but it's still fun to watch nonetheless.
Hopefully, by this point, you have found some sort of routine for your quarantine, and are not just watching TV for 9 hours a day as you maybe did at the beginning. (And if you are doing that, literally no shame at all.) However, we're in it for the long haul, and we'll need some entertainment to help us through it. If you can't stand staring at the screen any longer, try an audiobook. One show at a time, this quarantine is going to get a little more bearable.
Images: Jose Perez/Bauer-Griffin/GC Images, Amazon (16)
The 10 Worst Outfits From 'Sex And The City'
One good thing to come of this shelter-in-place situation is the much-needed excuse to catch up with my favorite and insane group of women. That's right, the iconic foursome otherwise known as "omg, which one are you?" is back in my life after more than a decade and, now that I am old enough to understand what's going on, better than ever! Sex and the City was the Gossip Girl of the nineties, which makes sense considering both shows have ridiculous plot lines that make no sense, absurd apartments that I'm pretty sure don't exist in New York and, of course, superb fashion, which we can blame on none other than Eric Damon, costume designer of both SATC and GG. 
Look, before I get into it, I just want to say that after wearing nothing but leggings and sweatshirts for the past three weeks, I admire the bold choices our boy Eric has made. However, after binging the whole series in an embarrassingly short period, I have seen… a lot. I can't unsee some of these outfits and I feel the need to share them with you. Full disclosure, lot of the train wrecks are Carrie's, which is to be expected, but that's not to say the other characters' wardrobes are much better. Here we go!
Guys!! What in the actual f*ck is this? If I had to write this article from memory (and not with the help of the amazing Instagram account @everyoutfitonsatc), I would still very much include this horrible look. There's so much going on with this offensively busy jumpsuit that I don't even know where to start. I admire the confidence it must take to wear this, but, like, no. She looks like a Bratz doll that never made it into stores because she's just too much and the manufacturers were at a loss on how to tone her down.
This is another outfit I would have included from memory. Tbh, I loved this midi skirt when I first saw it in 2002 and I still love it almost two decades later. The rest of this outfit, though, is an actual mess. First, what are the mechanics involved in tucking a button-down into itself without it being bulky af, and how did she manage to do the same tuck of the white tank under it? What purpose is this belt serving aside from assaulting my eyes?  I need answers, Eric! Aside from this skirt, the only good thing about this look are SJP's abs.
I swear I wore this exact same dress when I went as a Sexy Wench for Halloween 2009. Tbh, the dress isn't horrible (I'm biased, whatever), but the tragic accessories are really bringing it down. I mean, the boutonniere, chain, and silk scarf are too much. Spe
aking of which, could no one be bothered to tuck the corner of her stupid scarf in? I wish she'd swap all of the stupid accessories for a simple tennis necklace and call it a day. As Heidi Klum would say, "auf wiedersehen," honey.
Before anyone tries to drag me in the comments, let me just say that I love menswear-inspired looks on women. This unflattering disaster, however, isn't inspired by men's suiting because it is men's suiting. This would look hot af if Miranda undid a few buttons (at least enough for her to breathe) and invested some of her "I went to Harvard" money on a tailored blazer. Her only appealing accessory is the martini.
My friend got me one of these dresses as a joke when we went to Oktoberfest in Munich a few years ago and even then, I wouldn't wear it because it just looked too stupid. Why the hell, then, is Carrie wearing an actual dirndl in Central Park? The pigtails aren't helping the situation. I literally can't think of anything that would make this outfit better, so let's all agree that it's awful and move on.
Even though this chiffon top is allegedly Chanel, it's heinous, just like the rest of the outfit. Each piece is ugly in its own right and together, they make for one really unfortunate look. Eric, explain yourself! The only thing I can focus on are the little chode designs on the top. Am I a 12-year-old boy or are those tiny penises that are wider than they are long? Seriously, tell me I'm wrong.
I like to think of myself as a progressive and open-minded fashion-lover, but I've always hated overalls. These, however, are especially abominable because they look like they'd even be a little loose on the Michelin Man. I remember this episode: Miranda is on a really unfortunate dry spell and, with each passing and sexless day, gets more and more restless. Miranda, honey, this enormous overalls-puffer combination isn't helping your cause. For the love of God, put on literally anything else in your closet.
On a somber note, my dad recently battled (and won!) a tough war against cancer and watching him lose his hair was tough for everyone, so I get Samantha wanting to express at least some semblance of her glamorous self via wigs. An afro, though? Sam has been known to culturally appropriate on more than one occasion, so I'm not surprised that she actually wore this wig out of the house, but that doesn't make it okay! There are so many options, so why must you go with the most problematic?
Can someone have a bandana fetish? Is that a thing? These are not articles of clothing, Carrie! I hate to admit that the bandana-top crossover isn't even the worst part of this outfit. It's either the fishing net she's wearing as a sweater or the cowboy hat that, surprise surprise, also doesn't work. I remember she was on her way to the Hamptons in this episode, and something tells me she won't be well-received by the Serenas and Blairs out there.
If I had a body like Carrie's, I would literally wear a bathing suit every damn day. So why, god why, is she taking attention away from her amazing body and making us look at this foul bikini top with…are those men's board shorts? This is the second Hamptons-inappropriate outfit we've seen from Carrie, and I cannot handle a third.
There you have it, the 10 most offensive outfits from SATC. I know what you're thinking: where's Charlotte? Tbh, Charlotte has incredible style and is too good for this list. She's always tasteful and wears clothes that both fit and flatter her body. If you can find a pic of my Park Avenue princess in a gross outfit, lmk in the comments. Until then, I stand by my love for the Jewish Episcopalian. That's all.
Images: New York Daily News Archive / Contributor / Getty Images; everyoutfitonsatc / Instagram
The Best Shows And Movies To Binge On Netflix This Weekend
Sincerest apologies that this list, which usually comes a day or two before the upcoming month, is arriving two weeks late, but I've been very busy trying to force the guy I've been hooking up with to date me so that I can do something other than shrivel up and die on Valentine's Day. No such luck, so here I am with the February edition of must-watch movies and shows on Netflix. You're welcome.
Some months, I can't wait for my flaky-ass friends to cancel our weekend plans so I can stay in and binge all of the newly added movies and shows I once loved and had since forgotten about, but other months, I wouldn't be surprised to learn that a bunch of interns pick movie and show titles out of a hat and put them on Netflix. This month is the latter. Before you decide that nine different anime shows are not worth 13 of your dollars and cancel your subscription, know that there are plenty of classics and goodies coming to Netflix this month, so if you, too, have no plans on Valentine's Day, this list is for you! 
'To All The Boys: P.S. I Still Love You'
The only time I ever felt like I have become my mother was when my editor suggested I add this movie to the list and I had no idea what she was talking about, so I gave it a Google to find out that it is the sequel to like, the biggest and best rom-com of 2018. Great. Already missing out on pop-culture references. So, if there are any others under the age of 54 who don't know what this movie is, allow Netflix to explain. "When her secret love letters somehow get mailed to each of her five crushes, Lara Jean finds her quiet high school existence turned upside down." Yikes! So apparently this is the sequel to that cinematic masterpiece, and it bears the same name plus "P.S. I Still Love You." Sorry, but is the girl naming this movie the same person naming nail polishes? However, the cheese stands alone (I am the cheese) because everyone else seemed to love the first one, and will prob love the sequel. Lmk how it is, k?
'The Stranger': Season One
Based on the best-selling novel by Harlan Coben, this dark thriller will keep you guessing until the end. One day, a mysterious stranger shows up in Adam Price's life out of nowhere, and she spills a secret that could have some major consequences for everyone involved. The book is one of the best thrillers to come out in the last few years, and the show has also gotten rave reviews. Maybe don't watch this alone in the dark, because you will want to stay up all night to finish it, and then you won't sleep for a month.
'A Little Princess'
Before you skip this blurb because of the dumb movie name, wait! As a 26-year-old woman, I am proud to admit that A Little Princess is one of my favorite movies. I used to watch it with my grandfather every time I went to visit my grandparents and then I started to feel like eight viewings was seven viewings too many, so we stopped watching it. However, I saw it for the first time in like 13 years when it appeared on my Netflix homepage a few days ago, and let me just say, it's still a great f*cking movie.
It's about a little girl, Sara Crewe, who is quite possibly the most beautiful child in existence, but that isn't important, I guess. Anyway, she and her dad (who are both American and f*cking loaded) are forced to leave their amazing life in India so that her dad can fight for his country in WWI and she can attend the world's scariest boarding school. Anyway, her dad allegedly dies and she is left penniless, so bebe Sara becomes a servant at her boarding school. I'm already crying. 
'Love Is Blind': Season One
Guys, this show sounds so stupid and I cannot wait to watch it. If you thought The Bachelor was unrealistic, just wait until you get a load of this sh*t. Netflix says, "Nick and Vanessa Lachey host this social experiment where single men and women look for love and get engaged, all before meeting in person." Sooo it's a Married At First Sight rip-off? There is so much to discuss in this very short sentence, so let's start with the hosts. Is this Nick and Vanessa Lachey's attempt to become relevant again? Based on this description alone, I assumed the psychos participants getting engaged before meeting were at least, like, skyping before tying the knot, but no, I assumed wrong! I watched the trailer to discover that the men and women are locked in what Nick and Vanessa are calling "pods" and talking to each other on telephones. Alrighty. I would never marry someone who calls me on the phone. Like, are your fingers broken? No? Then f*cking text me. 
Just because all five of my friends were either out of town or had plans last Saturday night, I spent that time online stalking the cast to find that they are all local Atlantans and ~aspiring~ Instagram models. I kid you not, every male on the show has a fitness account on Instagram and every female concludes her captions with "use my name as the promo code for 20% off!" Here for the right reasons, though, right?? Lol.
'Elizabeth: The Golden Age'
If I relate most to any member of the royal family, it's OG Elizabeth. That bitch ruled a kingdom without assistance or permission from men. Slay, Queen. Anyway, there have been and will continue to be many biopics about our girl Liz, but this one is by far the best. It stars Cate Blanchett, who makes a serious case for elaborate collars and red hair. A lot happened during her lifetime and reign, but this movie's main focus is how she handled the Spanish Armada and her complicated relationship with Sir Walter Raleigh. It's a good watch if you're in the mood to learn something. 
'Who Killed Malcom X?'
What a question. Three people were charged in the human rights activist's murder, but no one really knows who actually did it. This docuseries explores what happened when an activist "embarks on a complex mission seeking truth in the name of justice," says Netflix's description. I'm definitely intrigued because I live for true crime documentaries and this is one of the country's biggest mysteries. Sold.
'Sex And The City 2'
This movie was so horrible, but I mean that in the best way possible. The clothes are as amazing as Samantha's dried-up one-liners, and it's worth your time if you haven't seen it. To sum it up in one sentence: Carries wrote a few books, Samantha hasn't changed, Charlotte is still a whiney hag, Miranda's taste in clothes has improved, and they all go to Abu Dhabi. The end! It's a good movie if you're expecting it to be pure garbage, but it definitely didn't get robbed at the 2010 Oscars, if ya know what I mean. 
'Narcos Mexico': Season Two
I'm going to keep this short since I did not watch season one, but I did watch the original Narcos and it was great. This spin-off is probably even better because it explores the drug wars in Mexico during the 1980s. Also, Jason Bateman isn't in this one, which I count as a plus. It's a show about Felix Gallardo, who heads the fictional Guadalajara cartel, and DEA agent Kiki Camarena, who moves with her family to Guadalajara. Sounds cool; I'm officially interested. 
'The Pianist'
If you want an antidote to Sex and the City 2, definitely give The Pianist a watch. This is by far the saddest movie I've ever seen and it's so factually accurate that we watched it in my AP European History class in high school. It's about Wladyslaw Szpilman (played by Adrien Brody), a Jewish Polish radio station pianist, and his story of survival throughout the course of the Holocaust in Germany. It's truly heartbreaking, but it's done so well that you'd be remiss to skip it. 
'Jerry Maguire'
Believe it or not, there was once a time when Tom Cruise didn't absolutely suck, and that time was in 1996 when Jerry Maguire came out. If you don't know, this is a rom-com starring Tom and Bridget Jones. Long-story-short, Tom is a sports agent who gets himself fired by having a conscience. He teams up with a single mother and together, they start their own management firm, but not before they swiftly fall in love. Simpler times, amirite?
'Dear John'
I am pretty sure Nicholas Sparks wrote all of his sappy male leads for Channing Tatum, and I'm 110% here for it. Not only did I read this book, but I saw the movie…in theaters. Obviously, it was terrible, but it did way better than I thought it would on Rotten Tomatoes, scoring a whopping 29%. Honestly, that's pretty impressive. Just watch the trailer and you've basically already seen the movie, minus a subpar sex scene that takes place in what looks like a barn. K. It's Channing Tatum at his hottest, so this is another good reason to cancel your plans.  
Images: Bettina Strauss / Netflix; Movie Coverage, Movieclips Classic Trailers (2), Netflix (2), Movieclips, End Time News, Warner Bros. Entertainment, Movies & Shows, Sony Pictures Entertainment / Youtube
5 Episodes Of 'Sex And The City' That Are Now Cringeworthy
We all love Sex and the City, or at the very least, love to hate Sex and the City. I mean, the better half of the twenty- and thirty-somethings in New York moved here because of the inspiration Carrie Bradshaw and her crew of Manolo Blahnik-clad misfits gave us. We've all sat around with our gals and gays deciding who's the Samantha (always the slutty one that has two glasses of Prosecco and starts announcing "I'm such a Samantha!") the Miranda (the smart one) the Carrie (me… I'm the Carrie, always) and finally the poor, sad soul that gets labeled the Charlotte. If you've ever worked serving tables and had someone order a hot water with lemon, you can blame Sex and the City. I always did. 

Here's the thing about shows from the past: they rarely stand up to today's standards of quality, comedy, and most importantly, political correctness or even personal morals. Sex and the City is no exception. Even when I watched the show in its entirety seven years ago, there were moments that made me wonder how they got away with some of the sh*t they did at the time. The show ran from 1998-2004, arguably a great time for television, but also a time before it was customary for us to question the things on TV that made us uncomfortable, offended, or simply confused. While there are many a "joke" that would now be considered to be um…in poor taste…these are five episodes that made me say "Uh…oh no, no, you can't say stuff like that anymore!"
5. Season 2, Episode 12 "La Douleur Exquise" – Stanford's Big Moment
It's supposed to be New York in the late 90s/early 2000s, and the LGBTQ+ representation is lacking. Carrie's gay BFF Stanford is the most visible gay character on the show, with a whopping 27 episodes out of the 94 that make up the series. 27 episodes sounds pretty good, until you watch them all and realize that most of the time Stanford is just dropping by to make a little quip, call himself a queeny bitch, and then sashay offscreen like me leaving a party the second the open bar ends.

In this particular episode, Big is out of town so Carrie has time to kill, so we're granted a little glimpse into Stanford's dating life. The scene is set: Carrie and Stanford chain-smoking cigarettes inside the apartment, tossing back pink cocktails and trading tea back and forth. (If you don't know what Tea is, it's like gossip—catch an episode of Rupaul's Drag Race every now and then.) Stanford takes a sip of his cosmo and reveals to Carrie that he's been dating—cyber dating, he says wearily. "I have cyber sex on the internet. My name is Rick9Plus. Rick9Plus, how sad is that. So, I've been chatting with this guy and now he wants to meet and I don't know if I should." Carrie, as any good friend should, asks what Stanford knows about him. "His name's BigTool4you. He seems hot, it's exciting, and I haven't good sex since before Cats was on Broadway." Well he seems hot and says he has a big dick, and in gay world that's like scoring a doctor who also has his law degree, an apartment in Paris, and family money out the ass! Only like…gay guys also want to score a doctor who has his law degree, an apartment in Paris, and family money out the ass, you know? Big dicks don't pay the college loans and credit card debt!

Now, do a lot of gay guys have anonymous sex on the internet? Yes. Of course they do. More than most straight people I know, my gay friends have sex a lot. I mean, I don't, because I'm riddled with anxiety and self-doubt, but my friends who are blessed with anxiety-free brains, or a good Xanax prescription, do. Here's the thing though, they don't only have anonymous sex. Growing up I didn't really know any gay people, like, at all, so the only gay men I was exposed to were the ones on TV having wild sex in dungeons, insulting everyone around them, generally being rude to each other, and never really having any kind of traditional life. Maybe Sex and the City should've reconstructed the way gay men were seen on screen, instead of reinforcing those pre-existing stereotypes. But maybe I'm just being a hysterical homo! You know us! Drama, drama, drama!
Stanford does end up meeting with "BigTool4U," very romantically at an underwear party at an after-hours club in Chelsea, and they share a very special moment where he touches the waistband on Stanford's tighty-whities. Ah, just like a modern day Gone With The Wind.  We never hear from "BigTool4U" again in any other episodes, and Stanford never mentions how their torrid love affair ended, but hey, they were only the most popular and talked-about TV show on HBO at the time, they must've just not had the budget to further invest in gay representation!

4. Season 3, Episode 5 "No Ifs, Ands Or Butts" – Samantha Tackles Racism (Not)
It's no secret that Sex and the City was completely lacking in diversity. Lacking in the sense that it didn't exist like, at all. Almost every single episode, one of the girls is dating or having sex with a guest star or two who's only there for one episode. During the entire series, the girls date three people of color. Maria, from the episode where Samantha "tries out" being a lesbian (lol), Dr. Robert Leeds, played by Blair Underwood, who is the go-to defense answer when someone comments on the lack of representation on the show, and then there's Chivon.

We're introduced to Chivon through his sister, Adeena, a restaurateur acquaintance of Samantha's who also happens to be a woman of color. Chivon and Samantha immediately click, and after a few jokes about how smooth and hot he is, sprinkled in with a couple of nuggets of information about how successful he is from Adeena, the girls start potentially the first dialogue about race on the show…and it's all bad. After Samantha insists she's not using "black talk," she's using "sex talk," Charlotte corrects her, "it's African-American talk," Samantha fires back with, "I don't see color, I see conquests," to which Carrie replies, "talk about affirmative action!" I mean… holy sh*t, what? At this point we're only five minutes into the episode. Buckle in kids, it's gonna be a real f*cked-up ride!

As the episode goes on, Samantha ends up dating Chivon, and here is where it gets interesting. When Adeena realizes that her friend Samantha is dating her brother, not only f*cking him, she is very unhappy. "I don't like you seeing my brother, I don't approve. I'm sure you're a very nice person but you're white, and I have a problem with my brother getting serious with a white woman. I'm never going to approve and my approval means a lot to my brother." Samantha is aghast at Adeena's response and immediately takes it to the girls, who begin discussing "his big black cock." Miranda slyly comments, "don't you mean big African-American cock?" SO MUCH IS HAPPENING HERE AND IT'S SO BAD. The first and only time we're going to discuss racism in the show is racism AGAINST Samantha!? No, God, please no.

When Samantha refuses to break up with Chivon and shows up to a club with him they bump into Adeena, where sh*t really hits the fan. She yells at Samantha that no matter how many "Jennifer Lopez dresses" she owns she'll never be with her brother. Samantha makes some comments that made me shrink into my couch, before she struts off, only to get her hair grabbed by Adeena, leading them into fist fighting in the club.

Again, this is one of the only woman of color to ever be on the show, certainly the only one with an actual story line, and she's portrayed as violent, closed-minded, and is literally called a loud-mouthed bitch by Carrie in the narration??? NO. NO, Sex and the City, just….no.
3. Season 4, Episode 11 "Coulda, Woulda, Shoulda" – Roosters & Transgendered People??
When this episode opened with crowing roosters waking up Carrie, I connected. I've literally lived in apartments in New York where my rich neighbors with too much money to burn owned chickens and roosters and kept them on their veranda. It's New York, people are insane. Just this week I saw a man walking down 6th Avenue with a snake wrapped around his neck and an old woman with a parrot on her shoulder shopping at Trader Joe's. Only Carrie doesn't just rant about how annoying the roosters are, but also how annoying a group of transgender sex workers that are supposed to work the street outside Samantha's meatpacking district apartment are! Oh, but also they're not described as transgender sex workers, we're introduced to them through Carrie's narration as follows: "There they were, Samantha's friendly neighborhood pre-op, transsexual hookers. Half-man, half-woman, totally annoying." Tasteful, Carr!

There's so much wrong with this. Imagine Zendaya on Euphoria referring to a group of people as transsexual hookers and it not immediately trending on Twitter. Remember, this is the level SATC was at at the time. The episode goes on with Samantha meeting the girls for breakfast the next morning, where she just digs her ignorant grave deeper. "I'm paying a fortune to live in a neighborhood that's trendy by day and tranny by night." Poor, sweet, dumb Charlotte is confused. "Tranny?" She asks. "Transsexuals. Chicks with dicks! Boobs on top, balls down below!?" Samantha answers. "I don't get the appeal there," Miranda comments before Samantha babbles some bulls*t about pseudo-straight guys from New Jersey and then they all laugh maniacally like Regina George bullying Katy Heron.

Transgender is defined as someone who identifies differently than their biological gender, while transsexual is someone who physically transitions from one gender to another. You know what they have in common? They don't like to be called f*cking trannies! Maybe if we weren't all growing up watching women who inspired a cosmo-and-scooped-out-bagel movement talk so negatively about a vulnerable minority community, we'd be ordering less hot waters with lemon and caring more about basic human rights?
Samantha decides to go down and make friends with the girls, all of whom are women of color, so…yeah, the only women of color in this episode are sex workers referred to as "tranny hookers." How many rounds of people did this script go through? A lot of people read those words and thought "yes! go for it!!" After Samantha "politely" asks them to quiet down, they agree to move down the block, only to be thanked by Carrie's pesky little narration: "Samantha always knew how to get her way with men, even if they were half women." Again, this isn't the craft services lunch of the day! These are words heard by millions of people tuning in each week, and for years after. Like, think about it a little!
In classic Sex and the City fashion, everything wraps up into a little messed-up bow when Samatha invites the transgender sex workers to a rooftop BBQ and Carrie says things like "I need to see you twirl, sista!" at the woman of color they've been talking sh*t about the entire episode, and they all snap their fingers at her joyously. Personally, I want to see this episode rebooted with these three fierce-ass transgender sex workers teaching Samantha and Carrie a thing or two about ignorance while wearing better shoes than them.

2. Season 3, Episode 4 "Boy Girl, Boy Girl…" – Bisexuality Apparently Doesn't Exist
People mostly remember this episode because it guest stars that guy I only know as Rachel's hot assistant Tag from Friends, and of course Alanis Morissette, but it's also the episode where Carrie discusses bisexuality and Miranda cries about being too masculine in her relationship, which is a whole different can of worms I can't even delve into.

Tag and Carrie go on a date to an ice skating rink (barf, literally never) while skating around and swigging Jim Beam from a flask, which I respect. Tag inexplicably calls Carrie "Carrigan" before listing all of his exes, ending with a guy named Mark. *Scandalous!* We immediately cut to the girls going in on their first serving of granola and berries of the day, and Carrie announces she's dating a bisexual. Samantha chimes in: "I'm a try sexual, I'll try anything once!" lol Samantha, l o l. Carrie reluctantly admits that yes, she does have a serious problem with his bisexuality, but he's just such a good kisser! "I'm not even sure bisexuality exists, I think it's just a layover on the way to gay town!"
Carrie, the authority on all things LGBTQ+, proclaims as a pride flag rises from the mist behind her. Charlotte, the resident conservative, makes her opinion known, "I'm very into labels, gay, straight, pick a side and stay there!" Miranda tosses in her two cents—"stop kissing him"—before they all scatter away to deal with their urgent $8,000/month apartments and Yves Saint Laurent bags. As Miranda leaves the screen, I wonder if Cynthia Nixon, real-life-out-lesbian-turned-politician, ever stopped for a second and was like, "wait you guys I have to tell you something!" Ah, the eighth world wonder.

At a fancy new club Carrie, makes her concerns known to Tag. "You're not gay?" she asks. *eyeroll* They end up in bed together, where Carrie starts throwing hypothetical situations at him: "So like..if there was a very beautiful girl on the street, and on the other side was a really good looking man…" He cuts her off and tells her it's not about sex, just about the person, before they have sex for hours. (Also like, sidenote: I  just want to remind you that he is very hot. This has nothing to do with what I'm talking about, but he is very hot.)
Eventually Carrie goes to a party with Tag and his friends, one of whom is Alanis Morissette, and describes the party as a "pupu plater of sexual orientation" before they all play spin the bottle like it's a cast party after a high school production of Anything Goes. Carrie spins the bottle and it lands on Alanis Morissette, and you oughta know it's going to be a messy situation. Isn't it ironic that Carrie kissing Alanis Morissette is what makes her run away from the party with one one hand in her pocket and the other smoking a cigarette, never t0 see Tag again? (Did you get all of those Alanis Morissette puns?? I deserve a f*cking Pulitzer.) There's literally no wrap up, Carrie just says "that was the last time I ever saw him, I took my old fart ass home." For the record, and I shouldn't even have to say this: bisexuality exists, Sex and the City doesn't know how to accurately portray any character that isn't an upper-class white woman, Tag is super hot, and Alanis Morissette's Jagged Little Pill album is still amazing.

 1. Season 3, Episode 2 "Politically Erect" – Voting is Stupid
Nobody is looking to Sex and the City for political guidance. If the show were to take place today I would be terrified to learn who each of the girls would've voted for in 2016, but let's face it, it would've probably been an overall disappointment. Speaking of disappointments, this episode starts with Carrie dating a hot silver fox who's running for comptroller. Naturally, she refuses to wear his pin out in the open, and instead hides its under a godawful flower pin. Carrie and the girls are all soon dining al fresco, discussing politics in fur coats. The conversation goes as follows:
Charlotte: I can't believe you're dating a politician, you're not even registered to vote!
Carrie: It's the undecideds they're really after.
Samantha: I totally get it, not only is he good looking, but he's got the power thing going for him. It's gotta be a turn-on.
Carrie: Oh yeah, I'm dating a potential comptroller, it's hot.
Charlotte: I want to help out with the campaign.
Miranda: Since when are you interested in politics?
Charlotte: Always. It's a really great way to meet men! And with Carrie by our side we can just get to meet the inner circle, and all the really interesting donors.
Miranda: By interesting men, she means single and rich.
Carrie: Guys, he's not running for President.
Samantha: Oh he should! I'd vote for him, he's really cute.
Miranda: So?
Samantha: I always vote for candidates according to their looks.
Carrie: I base my decision on the swimsuit competition.
Samantha: The country runs better with a good looking man in the White House!
The conversation goes on pretty much like that, Carrie saying one-off jokes while letting it be known that politics are stupid, Miranda making little remarks that remind us she's the smartest one of the group, but not smart enough to actually bring up the issue that Carrie's not registered to vote, Samantha talking about how hot JFK was, Charlotte discussing how she wants to date a hot politician—just the usual stuff! Carrie takes the girls to some political event and reminds them to vote for her politician boyfriend. Miranda asks why they're voting for him, and Carrie lists some bullsh*t reasons before giggling and saying "it's because I'm sleeping with him!" Samantha announces she doesn't believe in the Republican Party or the Democratic Party, she just believes in parties—just typical party convo. After more jokes about how he should be elected comptroller because he's hot, the whole politics storyline fizzles out. The comptroller-to-be asks Carrie to pee on him before breaking up with her because his campaign manager tells him dating a sex columnist is a bad look. Which is really the most believable thing about the episode.
Listen, I'm very aware that politics don't have to be a part of everything, but a little mention of how voting is important wouldn't have hurt anyone. If a show can inspire so many people to move to New York and convince their parents to pay for their overpriced apartments then it probably could've inspired some of those same people to vote, ya know?

Am I going to stop watching Sex and the City? Unfortunately, no. I'll probably make more comments on how f*cked up things are on the show, but I'll still sit there while the next episode auto-plays. There's nothing we can change about the media of the past, but at least now we can look at it with a different set of eyes. In 2019, I think we're all a little better at holding TV shows accountable. Also…just like…vote? 
Images: HBO (2); Giphy (14)
The Most Ridiculous Plotlines From Each Season Of 'Sex And The City'
As a 90s kid, I was too busy binging Dragon Tales to tune into Sex and the City when it was actually on TV, but thanks to both my parents' iTunes and my ex boyfriend's HBO Go, I've since made up time lost by watching and re-watching the show so many times that I can literally just say all of the lines with the characters at this point. Am I proud? Honestly, kind of. So in honor of this ridiculous show's 21st anniversary, I am graciously taking on the responsibility of pointing out the most absurd plotlines of each season of Sex and the City. It's a hard job, but someone's gotta do it.
If one of the reasons you love Sex and the City so much is because of its sheer ridiculousness, I'm with you. With that in mind, I'd just like to point out that I am well aware of the many more stupid plotlines than the ones I mention below. I don't have the energy or word count to list them all, so help a betch out and lmk the ones I missed in the comments. Let's get into it, shall we?
Season 1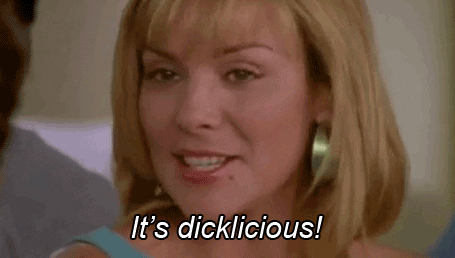 The most ridiculous plotline of this season is pretty easy. The threesome episode is so f*cking stupid it pains me to even talk about it. Why are all four women absolutely shaken to their cores when they learn that young men enjoy threesomes? Isn't this supposed to be a show that's like, pretty progressive when it comes to sex? Don't they live in New York where people are ~freeing the nipple~ left and right? Why are they all so shocked that their non-eunuch male counterparts are d for group sex? I'm pretty sure I learned that significantly earlier in my life than they did, and even I just kind of shrugged and carried on with my life. 
Anyway, I was pleasantly surprised that the most sexually vanilla character had the best reaction to the proposition of a threesome! Charlotte, you go girl! I'm sure it comes as a shock to no one that Miranda obv had the absolute worst reaction. She felt so #lame that all of her friends were having threesome drama, so she literally did the 90s equivalent of posting an ad on Craiglist to get in on the threesome game. Harvard-educated ginger seeking open-minded couples for a ménage à trois, anyone? Like, I'm sorry, but be a little more desperate, Miranda. Just because three of your friends are f*cking ignorant about men and their completely unrealistic threesome fantasies doesn't mean you have to be! The dumbest part of this whole plot line is that Miranda didn't even go through with it. Like, she somehow got this couple's hopes up and then "left to make a phone call" on her giant 90s cell phone and just left them high and, quite literally, dry. SMH, Miranda. This couple prob has some weird ginger revenge fantasy to play out now. Gross.
Season 2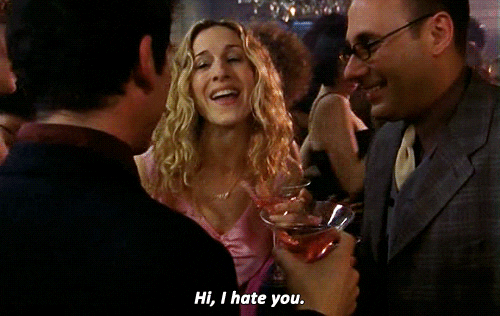 Anyone remember that episode where Carrie lost her sh*t because she ended up on the cover of The New Yorker looking like Frank Gallagher on a bender? I mean, you're a writer and you're on the cover of the f*cking New Yorker, so please explain why you're complaining. Be grateful, bitch! I can't even watch that episode anymore because it makes me so mad. To put things in realistic perspective, one time I ended up on the jumbotron at a Knicks game shoveling curly fries into the detachable jaw that I call a mouth, and I made my date (who I never saw again after that night) take a picture so that I could make it my cover photo for a whole two years. Carrie, live a little. She also let this amazing opportunity for self-promotion unflattering photo keep her from hooking up with one Bradley Cooper! I mean, he has a Porsche, girl. Let him give you a ride. As a struggling writer with an affinity for designer things and no man to pay for said affinity, I would do literally anything to get in/on The New Yorker. Writers are desperate for any notable editors to see their work or know their name in any capacity, so if you somehow land the goddamn cover of a reputable magazine looking like Shrek, you're f*cking thrilled about it. That's it.
Season 3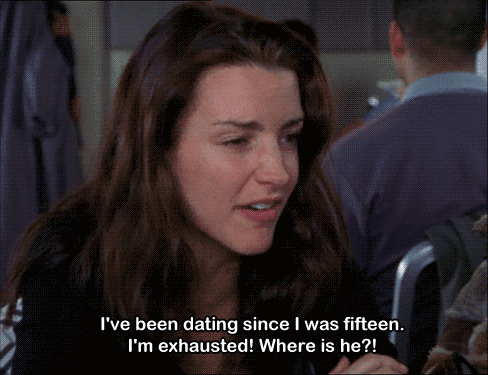 Charlotte and Trey. Like, is there an opposite hashtag for #couplegoals? I'd rather be single literally forever than end up on one single date with someone like Trey. First of all, he will always be Orson Hodge to me, so there's that. But, more importantly, he and Charlotte make absolutely no sense as a couple whatsoever. We already know that she has great taste in men because she ends up with my favorite Jew, Harry Goldenblatt, and his role in this show is a true mitzvah if I've ever seen one. Someone who could marry Harry would never be interested in the wet mop that is Trey MacDougal. The man says "alrighty!" for f*ck's sake!
The main reason this is just a ridiculous plotline is because Charlotte admits that she refuses to settle for anyone who isn't Prince Charming (how progressive of her…), so her engagement to an impotent Muppet is just so stupid, and I refuse to admit this season even happened because of it. Also, how does a Chanel suit-donning queen named Bunny produce such a waste of space? Like, if you look up the definition of "mommy issues" you will find a photo of Trey MacDougal, and there's no way Charlotte f*cks with a dude who lets his mother chill on the ledge of the tub while he's bathing in it naked. More importantly, Charlotte and Orson didn't even date! He paid for dinner a few times then said "alrighty" when she suggested getting married. Yep, sounds like a healthy relationship to me! I can't even get a guy I've been seeing for a month and a f*cking half to hang out with me more than once a week and she's over here proposing to herself and getting a big-ass Tiffany rock in return. This is not how things happen, y'all. Next!
Season 4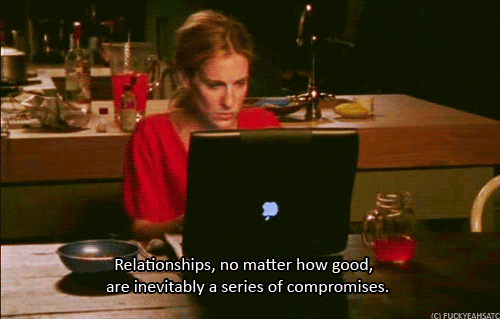 Ok this is a hard one for me to write because it involves throwing shade at my favorite SATC man, Aidan Shaw. As we know, Carrie and Aidan broke up because he didn't take her affair with Big very well. Is Mr. Big really that good in bed, or does he just like, live up to his name? I wouldn't cheat on Aidan for anyone other than Bradley Cooper, but Carrie lets this giant oaf screw up her relationship? I mean, at least she was honest about it, but that's beside the point. So after he and C called it quits, Aidan gets a serious revenge body/glow-up and Carrie is eating that sh*t up. I mean, same. Blah, blah, blah then they get back together. Like, I'm sorry, but he once threatened to break up with her because she had a f*cking cigarette during dessert. Remember that? Let me get this straight: he can forgive her full-fledged affair with an old flame who she ends up marrying (and then cheating on with Aidan, no less), but he draws the line at Marlboro Lights? Someone please explain this. Anyone? Bueller? Honestly, I am pro-second chances, so I would definitely give her another shot, too. But for someone who wouldn't bang her after a week and a half of dating because he didn't want to rush things with someone he really liked, he proposed to her pretty damn quickly after getting back together! Look, I love Aidan. Aidan is goals. I want to marry Aidan and have little woodworking babies with him, but he's giving us really mixed signals and I am not about it. Make up your mind, bruh. 
Season 5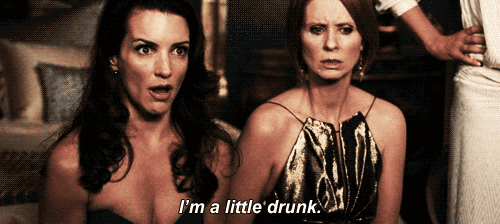 Charlotte's 36th-birthday-induced downward spiral was really confusing. She is like, hardcore trying to find The One, which isn't surprising since she's been playing the game since she was 15. But for some unexplained reason, the day she turns 36 is when she puts half of her thoughts and prayers toward finding her husband, and the other half into completely giving up. By that, I mean she attends inspirational love seminars right before she seriously takes up knitting. You can't claim you want to get married and be an avid knitter. You just can't. Sorry to all the knitters out there, but knitting is literally the most boring activity I've ever done, so I'm def not trying to fill the sexless void with handmade scarves.
Anyway, Charlotte is quietly having an emotional breakdown about not having a boyfriend, which is confusing because she's meeting a LOT of men in this season! The only time she looks pretty pathetic because she's literally flying solo is en route to Atlantic City, when she's third-wheeling Samantha and Richard f*cking on a private plane. Charlotte admits that she's pretty, smart, and cultured, so her breakdown seems kind of random, especially because there is only one episode during this season where she isn't dating someone. If I had that many men in my life, I would def not be complaining about being lonesome, honey. Also like, why 36?
Season 6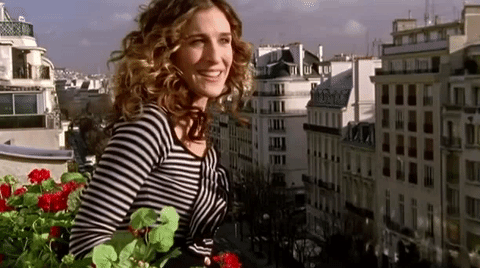 Carrie moving to Paris. Look, I get it. By the last season, Sex and the City was making so much money that they could have set up camp and starting filming on Mars. But, like, this whole plotline was so, so ridiculous that I just couldn't wrap my head around it. The only thing that made sense was when Big showed up and was basically just like, "wtf are you doing here? Can we leave?" And then they left. I wouldn't move to Paris with my f*cking husband, but Carrie is out here dating a former Studio 54 regular who she's been with for approximately two months. Quoi??? The fact that absolutely all of her friends, who she relies on for literally everything, were against this incredibly bold/stupid move should have been enough for her to not relocate her life in her late 30s for a man and a city she barely knows. But no, Carrie decides that now is the time to flee her very #blessed life in New York to walk the streets of Paris with a stranger. Don't get me wrong, I lived for the two Paris episodes, but I will never get behind the writers' choice to bring the ultimate New Yorker to a city where her disgusting attempt at a French accent would def not be taken lightly by the Parisians. Watching her eat sh*t in Dior, though, def made up for it!
If you're a tried and true Sex and the City fan, you prob noticed Samantha barely appeared in this article. Samantha's character was pretty on point throughout the entire show. She knew who she was and she did what/whom she wanted. The only thing she ever did that made me f*cking mad was in the series finale, when Smith flew all the way back to New York to surprise her with a succulent and she wouldn't even say she loves him in response to him saying he loves her. What a heartless wench! Like, it's the last episode of the most epic show, Sam. Tell the boy you love him.
Images: HBO; Giphy (6)