The Top Beauty Products You'll Need After Thanksgiving Dinner (Plus The Science Behind Why)
The sodium-filled bags under your eyes will thank you. 
Overeating on Thanksgiving is inevitable. Not only is overeating on Thanksgiving inevitable, but overeating some particularly nasty ingredients is also inevitable. (And if you don't relate to this idea of "overeating" then I'm sure there is another article out there for you somewhere!). 
We've all heard the shpiel about what "bad foods" and "bad ingredients" can do to our bodies, with the most obvious consequence being weight gain. But, have you ever stopped to think about what these harmful ingredients can do to your skin? 
What I'm trying to say is: not only can you gain weight after eating poorly, but your face and skin can go down the drain, too. Certain foods really can affect the quality of our skin. But, as I mentioned, eating these foods on Thanksgiving is going to happen no matter what. So, instead of trying to change our behaviors on the one holiday that we're basically required to indulge, let's lean on some amazing skin care products instead to help get us back to our beautiful, fresh-faced selves. 
Below I've listed out some beauty products you'll probably need after indulging on Thanksgiving. I also spoke with dermatologist and founder of MMSkincare, Dr. Ellen Marmur, who helped explain why our faces look so gross different after eating certain foods/ingredients.
Concern: Puffy Eyes From Sodium
Solution: Wander Beauty Baggage Claim Eye Masks 

The excessive sodium we'll be eating from all of that stuffing, pecan pie, and (if you're one of those) gravy can lead to some seriously puffy under-eyes. Why? Because "when we're eating out of balance, the fluids in our bodies begin to pool in areas where there is empty space," says Dr. Marmur. She explained that you're probably bloated all over, but you'll notice it more under your eyes.
So, invest in some stretchy pants as well as The Baggage Claim Eye Masks from Wander Beauty. These eye masks are super soothing and cooling, and also completely stay put on your face. Not that you were planning on being productive on Thanksgiving, but on the off-chance that you get up from the couch and help your mom clean up, you definitely have the option to wear these masks at the same time. 
Concern: Dry Skin From Alcohol
Solution: Herbal Dynamics Beauty Hyaluronic Acid & Oat Overnight Recovery Mask

Alcohol is a kicker for many reasons. Dr. Marmur explained that our skin gets super stressed out from all of the sleep we are destined to NOT get after drinking, as well as from the total loss of water our bodies experience when consuming alcohol. She explains, "The water that's normally in our circulation either goes out to the soft tissue (which also causes puffiness under the eyes), or it gets driven to our kidneys and you end up peeing a lot more than usual." Which all leads to dryness.
Hyaluronic acid to the rescue! HA is a molecule that "brings humidity to it, and holds it" according to Dr. Marmur. This is why the Herbal Dynamics Beauty Recovery Mask is a miracle worker. It totally plumps up the skin overnight by helping it to retain water. Let's just hope you're not too lit to remember to put it on.  
Concern: Wrinkles & Acne From Carbohydrates
Solution: Anda Enzyme Serum-Masque & Paula's Choice BHA 9 Treatment


While there is not much science behind the idea of carbs directly causing wrinkles and acne, Dr. Marmur explained to me the working theory of "glycation," or that sugar found in carbohydrates causes inflammation (which can lead to acne) and a loss of collagen in the skin (which can lead to premature wrinkles). Dr. Marmur emphasized that some people simply metabolize carbs well, while others don't. My brand is definitely "metabolizes carbs well." Anyway, her advice is to eat what feels right to you. If you notice you look particularly swollen after chocolate, for example, then eat less chocolate. Life's tough, I know. 
Carbs or no carbs, we'll all be wrinkly one day. Accept it! Or, if you can't, you can use serums like the Anda enzyme serum-masque to gently exfoliate and smooth out the skin. I've noticed that my skin looks super luminous with this particular serum! For acne, Paula's Choice BHA 9 Treatment works like a charm.
Concern: Being Anti-Social 
Solution: MMSphere LED Skincare Device

Okay, you caught me—this isn't a skincare concern, but it's still arguably THE biggest concern on Thanksgiving. Like, why do I need to entertain my out-of-town cousin at 9am the morning after Thanksgiving when we mutually don't care about each other? 
Enter the MMSphere LED Skincare Device* from Dr. Marmur. You know those ring lights that make us look hot in our selfies? This device is shaped like that, but it actually has real, non-superficial benefits that don't include getting our ex to "like" our latest Instagram. This device has five different colored lights, each with a different benefit for our skin. The amber light will be of particular use to you this Thanksgiving, as it releases endorphins and is proven to elevate your mood and energize you—it's even used to treat depression and Seasonal Affective Disorder. So instead of waking up and immediately retreating back to your pillow, soak up that amber light and be SOCIAL! 
*Betches readers can use code "HOLIDAY19" for any starter pack of your choice with the purchase of a sphere or a 4 pack of masks with the purchase of 3 serums. 
Good luck, and happy eating! 😉
Images: The MMSphere; Paula's Choice Skincare; Kerstin Florian Skincare; Herbal Dynamics Beauty; Wander Beauty
4 Healthy Foods That Are Surprisingly High In Fat
Over the last few weeks, I've been tracking macros on MyFitnessPal. Initially, I was doing it to try and get back on Keto. (By "back on," I mean I did it for two weeks before a vacation once.) Unsurprisingly, I bailed on Keto (nothing is low-carb enough!!!). and I then decided my #newyearnewme would be about counting macros instead. I'm currently using this calculator, which I found via this highly reliable fitness Instagram. I'm not even being sarcastic—there's very good advice on there. My biggest challenge with macros so far has definitely been keeping my fat content in check. Within a week, I realized I knew way less about which foods are high fat than I thought. For example, I had a day of what I considered very healthy eating (salads! oats! grain bowls!), and then discovered my diet had been 60% fat. And this is why I have trust issues. So, I did some research into which of my "healthy" choices were causing that high fat content. I'm not talking about obvious fats—you should all know that baked goods are full of bad fats and avocados are full of good fats. These are the sources of fat you're not as likely to guess as, say, a fried chicken sandwich or a BLT with mayo.
Disclaimer: Everyone's dietary needs are different, and many diets may call for higher fat content. I am not advocating for a universal low-fat diet, so do not come for me. Rather, I am hoping this information may be illuminating to some of you (read: I don't want to be the only one who didn't already know all this).
I'll be honest, I've never really known a lot about the nutrition content of falafel. It felt like a kind of dietary gray zone. Not as healthy as a vegetable, but probably better than cheese. Right? Not really. While trying to design a low-fat grain bowl at Tender Greens, I was pretty shocked to see that the steak topping was lower in fat than the falafel option. While falafel can be a healthy dish (the ingredients themselves are nutrient-rich), I'd somehow forgotten that it's typically deep-fried. This adds, in scientific terms, a sh*t ton of fat to your meal. FWIW, the "baked falafel" option at Tender Greens was way healthier—but unless a menu specifies "baked," you should assume it's deep fried, and therefore higher in fat.
Tofu is a similar deal to falafel—it's all about how it's prepared. While tofu isn't deep-fried quite as often as falafel (though still more often than you'd think), it's really good at soaking up whatever it's cooked in. And given that tofu on its own has just about zero flavor (it's okay, we can all admit that), it's usually cooked in a bunch of oils, sauces, etc. So tofu on its own? Low-fat, healthy option. But the way it's usually prepared in restaurants can make it a higher-fat option than something like chicken.
Okay, this one errs more on the side of "foods we knew were high in fat." But take a minute and actually consider how many "healthy options" feature nuts as a key ingredient. Protein bars that pride themselves on not adding sugar? Full of nuts. Overnight oats? Probably filled with nut butter (or WTF are you doing). Even a lot of salads and bowls will add nuts as a topping, plus, almonds are constantly touted as the ideal mid-afternoon snack. We also all know the problem with nuts—they are impossible to portion for how calorie-dense and fat-dense they are. And anyone who says they're full after 6 almonds is a dirty liar.
So, while nuts are full of technically good fats, it's still super easy to go over on your fat content goals if all the healthy options you're choosing are nut-heavy. So if my breakfast included 2 tbsp of almond butter (18 grams of fat and it never feels like enough), maybe I don't also have have a nut-based Lara Bar at 4pm (9 grams of fat), and snack on nuts at 6pm (19 grams of fat). That brings my fat content from nuts alone (not even the fun fats, like sauces and cheese and sugar) to 46 grams, when my daily goal is 48. (Let it be known that my total fat content for that day wound up being 90+ grams. This sh*t is hard!!!)
I know! I said this list would be about non-obvious sources of fat. Yet here I am basically listing the liquid form of fat and saying "surprise! This is fat." Sue me, but also listen because this is probably the #1 thing that people forget to count in their diets. One tablespoon of olive oil has 14 grams of fat. One tablespoon of butter has 12 grams of fat. (The type of fat they offer is different. Here is a long article on different fats and how they affect you.) Even at home, I struggle to cook something edible using less than 2 tbsp of one of these. It can be super tempting to just log the one chicken breast you cooked in there, but unless you're using a cooking spray, you have to account for the fats it absorbed.
Well, that's the end of my tirade on fat, and now I never want to look at a nutrition label again! Remember, the worst thing you can do with your diet is eat in a way that makes you miserable, because you know that sh*t won't last. My fat content is still way too high most days, but I'm figuring out what a low-fat day I can live with looks like. At least it's not Keto!
3 Signs That Weight Loss Isn't The Answer To Your Problems
When it comes to weight loss and dieting, we've all heard and believed a lot of lies. The Kardashians get their figures by sipping on Fit Tea! Gluten-free is always better! This is how many calories you should eat! No, this! Frankly, it's exhausting. The most damaging of these lies, in my opinion, is "nothing tastes as good as skinny feels." (To those of you doubting me, I lost 7 pounds with a stomach bug last summer. The taste of mac 'n' cheese kicks that feeling's *ss every time.) Not only is this saying wrong because it was coined by someone who has never tasted food (hi Kate Moss! Big fan), it's wrong because it promotes the idea that—no matter what else is going on—you would feel better if you were skinnier.
On that note, I'm sadly confident that every day of my life so far I would've agreed with the statement "my life would be better if I weighed ten pounds less." Even (and especially!) in moments with much, much more pressing issues directly affecting my well-being. So as we all embark on our respective, crazed self-improvement Januarys, here are some warning signs that your weight is not the real issue. In other words, signs that no matter how much you diet, or how much weight you do manage to lose, it's not going to address what's really bothering you. It won't, ultimately, make you all that much happier. And isn't that really the point?
You Constantly Compare Yourself To Others
Comparing yourself to others is a sure way to "fail" any diet plan. As countless trainers have told me when I whip out an inspo picture of Kendall Jenner, no amount of food restriction or exercise can make your body look like someone else's. You can look like a version of yourself with more muscles, or less fat, or with more or less of a noticeable stomach (I'm told—I've never experienced this myself). And that's it! Those are all your options. So if your desire for weight loss is specifically sparked by seeing a certain body type, I'm afraid to say that dieting will not get you where you want to go.
It's a long, boring process to become okay with what you're born with. (And it's one that the wealthier members of our society forgo for plastic surgery.) Whether the boost you need to get more okay with yourself is retail weekly therapy, daily affirmations, or just better bathroom lighting (I cannot recommend this one strongly enough), I can promise you that happiness is not five pounds away. So stop looking at the scale; the answer is somewhere else.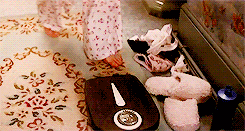 You're Way Too Obsessed With Your Diet
No, this isn't just a fun way to call out vegans and Paleo people. (Though truly, the amount y'all talk about your diets is insane.) One major sign that you're offloading other concerns into one specific area ("I need to lose weight") is when you become incapable of talking or thinking about anything else. When you become so fixated on what you can and can't eat, and when you can expect to see results, and whether or not anything feels different or bad or good all day—it places a huge, untenable amount of pressure on that part of your life. It puts you in a place where you're not able to find happiness from any other aspects of your life (AKA your friends, leaving the house for non-work reasons), and it convinces you even further that the only thing that will make you happy is losing weight.
We're all guilty of going a little overboard with a new venture we're excited about, and I don't want to shame anyone who's put in hard work on a diet. (I did the keto diet for two weeks, and the amount of math involved at every meal almost killed me.) But feeling like you're so obsessed that it's all you can think about means you need to step back. If you're finding that the only joy you get comes from seeing a number on a scale, it's not going to be quite so easy to just jump back into normal life once you're at the weight you think will make you happy. You need to address (right now! at the weight you currently are!) why other aspects of your life aren't fulfilling to you, and work on that at least as much as your diet.

Your Eating Is Mostly Emotional
Late-night shame binging, stuffing your face with apps at a family event, refilling your plate for the third time when your stomach still hurts from the second. Am I just describing my holiday break, or do I have a larger point? Both! What all those eating incidents have in common, beyond the fact that I am a monster, is that they had nothing to do with how hungry I was, or what I really wanted to be in my body. At many points in my life (#growingupfat), I've used food as a distraction—a quick hit of endorphins in the form of chocolate or cheese that took me away from the present moment. Whether that moment was stressful, sad, or just plain boring, eating made it better.
But as it turns out, eating every time you're not 100% okay with your surroundings does not actually feel better in the long run. And every time my emotional eating ticks up, and my weight inevitably changes along with it, I address it in the worst way. I am So Fat! I tell myself. Better go on an all-out diet, starting with green juice at 8 AM. But here's the thing! I was not gaining weight because my breakfasts were bad for me. In fact, I ate pretty healthily, within the context of normal meals. And making those normal meals more restrictive (under the I Am Fat & Therefore Must Diet regime) just exacerbated my emotional eating. Hungry people are weak people, and saying no to a midnight pint of ice cream only got harder when I'd subsisted on lettuce all day.
So, if you're like me and a lot of your "bad eating" tends to happen in these types of settings—where the food has nothing to do with its role as food, and everything to do with your mood—no diet in the world, sadly, will fix it. You have to figure out a peace for yourself in moments that typically have you reaching for food. Because even though there may be unwanted weight involved, it's not the weight that's the problem—it's the way you're using food to control your emotions. (And if you solve that problem, any remaining weight loss goals you have will be so much easier.)
See this? This is a picture of me on Sunday night not a well-adjusted human.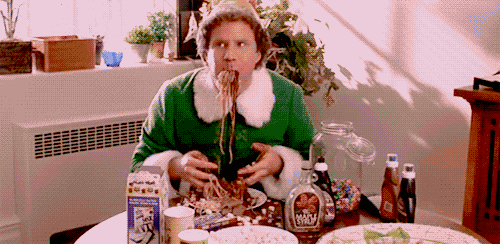 As you can probably tell, I'm guilty of all three of these behaviors. It sucks to feel obsessed with your weight, and it's easy to feel like the whole world encourages that kind of thinking. But the lie that they're selling is that weight loss is everything because weight loss will make you happy. Don't forget that happiness—YOUR happiness—is what you're actually after, and don't be fooled into thinking that weight loss will always, definitely get you there. There are other ways to be happy, and honestly, most of them make me way f*cking happier than going on a diet.
Images: Giphy (3); Unsplash / i yunmai
5 Popular Health Claims You Shouldn't Believe
If you've ever Googled anything related to your health, you've probably been bombarded by a billion articles claiming a variety of useless diagnoses. So, when you read one article that says that soy will kill you and another one that says it can decrease your risk of cancer, you're probably like, "WTF?" With all these contradictory health claims, who can you believe? You're right to be skeptical. As much as we love to waste hours scrolling through random stuff on our phones, the internet is filled with a bunch of people who think they're experts but definitely are not. We're talking to you, Becky—you're not a fitness guru just because you love post-workout selfies. Also, a lot of things in science are still unknown (duh). Plus, studies can be funded by food companies and therefore can have inherent biases.
Basically what I'm trying to say is:

Good news: scientists are aware of this. In fact, they've even published some super helpful articles about the influence of contradictory health claims and information on consumers. Their conclusions? That there was wasn't enough empirical evidence to clearly say anything, but people seem like they may be a little confused. No duh.
That being said, here are some of the most popular "health claims" that have totally contradictory science and therefore should be taken with a grain of salt.
Claim 1: Soy Is Bad For You
Soy is literally in everything. No, not just if you're vegan or vegetarian, it's literally in everything unless you, like, grow your own plants and raise your own cattle. It's fed to most livestock, so you indirectly consume it that way, plus soy protein isolate and other processed versions are put in most protein bars, powders, and snacks.
According to this Harvard briefing (so, like, probably legit), soy is fine as long as you don't eat too much of it. But that begs the question: how much is too much? It may improve your heart or it may cause weirdly high levels of estrogen. It may reduce the risk of breast cancer but it also may increase the risk of cancer. It also may slow down your metabolism by messing up your thyroid. SOS someone please tell me if it's bad to be eating so much tofu.
Claim 2: Carbs Are The Devil
Often vilified, carbs have become more popular recently with the grain bowl revolution and the whole "not demonizing food" movement. On the other hand, being keto or paleo is super #trendy, both of which avoid carbs. So, should we never eat a cupcake again? Or can we go full Mean Girls and eat all the carbs to lose weight?

Seriously though, I'm really confused if gluten is going to, like, kill me or if it's just a harmless ingredient in my breakfast cereal. Someone please LMK because the internet had no answers. Some people say carbs are great, specifically in whole-grain items. Others claim high-carb diets are terrible for you. IDK man. I just want a cookie.
Claim 3: Caffeine Will Kill You
I think I drink maybe eight cups of coffee a day (this is not an exaggeration), so I would really like someone to find out, once and for all, if this habit will kill me. Or if in fact, it's actually great for my metabolism. According to the Mayo Clinic, more than four cups a day is not ideal. And coffee is not at all particularly beneficial to your health. If you want to know all the potential ways your coffee habit may kill you, check out this deeply terrifying collection of studies. BRB got to figure out how to cut my coffee habit. But wait—now, get confused further by checking out this list of all the benefits of drinking coffee.
Claim 4: You Should Limit Dairy Intake
When we were little, the popular idea was that kids should drink milk every day so they can have strong bones and what not. Like a billion celebrities did Got Milk ads so they could sport that iconic milk 'stache. Now, little kids drink almond and oat milk because dairy is apparently going to kill us all. However, some recent studies have found that dairy isn't actually that bad for us. Other doctors try to argue that it is bad for you. Are we all giving ourselves osteoporosis from calcium deficiencies? This is really starting to stress me out, NGL.
Claim 5: Red Wine Is Good For Your Heart
This seems like something that everyone just wants to be true so they can justify blacking out while watching The Bachelor ordering a glass at dinner for their heart health. Does wine *actually* benefit us? The Mayo Clinic seems to think that moderate amounts do help your heart. But Harvard health seems to think the evidence is weak. So…pick your favorite hospital? DGAF and drink a whole bottle anyway? Great plan.

Anyway, since no one knows if this stuff is true or not, go get yourself a nice fat slice of like, mocha cheesecake. Live your best life because clearly, no one knows if anything is good or bad for you. Plus like, who cares? Diets are boring. Do you think when you're 90 you're going to be like "damn wish I had eaten more broccoli." No way. You will def be happy you ate that goddamn slice of cheesecake.
For more diet and health tips, listen to our podcast, Diet Starts Tomorrow!
Images: Giphy (3)
Make These Easy Carb Swaps To Shed That Winter Weight
When it became April, idfk. Like, wasn't it last week that we were all bitching about how January was, in fact, four months long? Here comes the sun, and with it, the last-minute panic as we all try to get our bods bikini ready after six months of eating our weight in cheese, carbs, and alcohol. The fine layer of fat we've built out of boredom for survival over the winter must now be shed. You'll need to fucking sweat it out at the gym, but making some easy carb swaps when you're stuffing your face can help, too.
Ditch Cereal For Bacon And Eggs
Sounds cray, but it's for real. Cereals and granola packs on upwards of 60g of carbs, not to mention the added sugar. Best to start your day out with loads of protein, and having two strips of bacon plus two eggs clocks in at ONLY 1.3g of carbs. There may be more calories, but you'll stay fuller longer and will, therefore, be happier.


Ditch Whole Grain Bread For Lettuce Wraps
Whole grain bread is like, semi-good for you, but two big leaves of lettuce have about 0.5g of carbs, whereas two slices of whole grain bread have about 19g. Swap that shit and feel healthy AF. Use the lettuce leaves for any sandwich item where you wanna ditch carbs. Tacos in lettuce! Burritos in lettuce! Salad in lettuce! The possibilities are endless.
Ditch Pasta For Zoodles
I realize that Italians everywhere are screaming in pain for this one, but either cutting your pasta portion in half or ditching it completely and using spiralized zucchini or spaghetti squash in its place is where you want to be. It really isn't that bad, once you smother it in pesto, Bolognese, or marinara sauce. Plus, a whole zucchini only has about 10g of carbs compared to the normal 50g in a plate of spaghetti.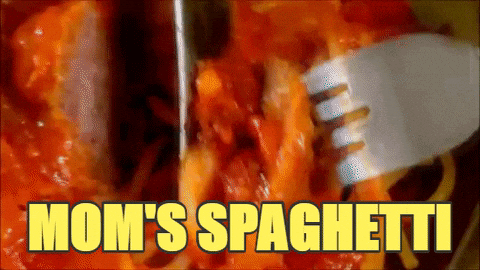 Ditch Mashed Potatoes For Mashed Cauliflower
Fun fact—if you puree cauliflower in a food processor, it takes on the consistency of mashed potatoes, minus the butter, cream cheese, sour cream, extra butter, etc. that you're normally drizzling all over your side dish. Cauliflower has 29g of carbs PER HEAD, versus your run-of-the-mill 64g in ONE potato. Holy shit.
Ditch Fries For Roasted Veggies
No fucking brainer here. If you're one of those people who buys or makes fries at home, fucking knock it off. Grab some fresh carrots or turnips, slice 'em up French fry style, and roast them with olive oil, salt, and pepper. You'll get your crispy fix without the 30g of carbs attributed to a bunch of French fries. Also, you'll be healthier and, therefore, cooler.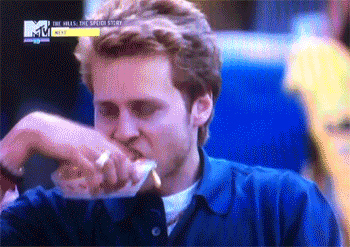 Ditch Buns For Mushrooms
It's okay if you're gagging at the thought of a mushroom burger, but it's honestly not a horrible swap. According to Eat This Not That, swapping out the burger bun for the portobellos will cut carbs AND save you the blood sugar spike that usually comes with eating white bread.
Ditch Breadcrumbs For Almonds
If your recipe calls for crisped breadcrumbs to add a crunch, swap them out for ground almonds. The almonds have a boatload more protein and minimal carbs but still get you the crunch you need for whatever you're making.


Ditch Rice For Grated Cauliflower
Head to the freezer aisle for "riced" cauliflower, which sounds super gross but is only shitty if you don't flavor it. If you're craving a plate of Thai curry over top fluffy rice, swap in the cauliflower. Since there's so much nuanced flavor in Asian dishes, using the cauliflower as a base won't bother or distract you as much as it would if you were eating it alone.
Images: Giphy (4)
The 5 Grains You Need To Add To Your Diet Like, Yesterday
We all learned in like, infancy, that carbs are evil incarnate. But it would probs surprise you to know that working whole grains into your diet is actually like, good for you. They won't make you fat, and they could actually make you live longer. Shit, they'll even reduce cholesterol, improve your heart health, keep you full, and make you better at sex. One of those things was not true. But like, aside from rice and couscous, what else is there in the grain world? (And don't say pasta.) We rounded up a few so that you don't have to traipse through the aisles of Whole Foods' self-serve bulk area for longer than is absolutely necessary.
1. Amaranth
Ever heard of it? Probs not but that's okay. Amaranth is full of protein, calcium, fiber, AND iron so naturally it's great for you. You can cook it and add it to your morning oatmeal, use it as a rice or pasta, or just eat the raw seeds for extra crunch (jk, don't do that). Oh, and it's gluten-free for all you fake celiacs out there.

2. Oats
Yawn. Oats are totally boring and have been a snoozefest at breakfast for years, but that doesn't mean they aren't healthy. As told by the frightening Quaker man on the box whom I've had nightmares about, oats are super heart healthy and can keep you full for more than breakfast. If you really hate oatmeal, sprinkle whole oats into your baking adventures or make a savory oat porridge and serve it with something fancy. Really.

3. Quinoa
Quinoa was a super popular buzzword (buzz-grain?) a few years ago, but just cause it's kinda gone out of style doesn't mean it lost its benefits. If you aren't super tight with heart disease, diabetes, and being a fat fuck, this should be your go-to grain. It's also a complete protein since it actually contains all nine essential amino acids. The ancient Incans must've been some healthy motherfuckers.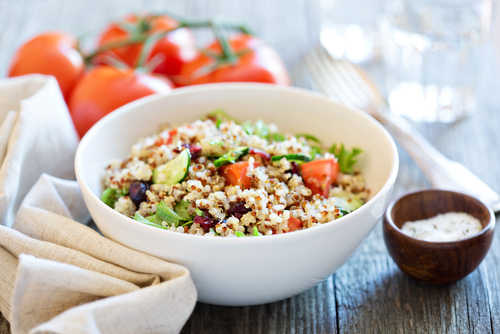 4. Barley
Do the cholesterol goblins keep you up at night? Me either, but keeping them at bay still isn't a bad idea. Whole grain barley (not pearled, which is the not-as-healthy variety with the germ and bran removed) lowered cholesterol by A LOT for people in a study who apparently had to eat it for five weeks. That's a lot of barley, but the benefits are legit. It'll also keep you fuller for longer, making you less likely to reach for a candy bar later.

5. Freekeh
The name is stupid, the benefits are not. And no, it is not the first half of the hook to a Petey Pablo song. This ancient wheat is super low carb and has four times the fiber of brown rice. This shit also has more vitamins and minerals than other grains. FUCK, it even helps digestion. I guess the real question is why aren't you already inhaling this? You can make it rice style and serve for dinner OR get kinda weird with it and make a sweeter version for breakfast. Oh, and if you can't find it, head to the Middle Eastern section of the grocery store.

The Betches' Guide To Keeping A New Year's Resolution
The new year is well under way and I bet—like, I'd literally bet $1 million on it—that you've already broken at least one of your New Year's resolutions. You've probably been grumpy and had a bun in your hair on your way to work since you got back, and I highly doubt you've seen the inside of the gym more than once in the past 11 days. Plus, like, we all know you haven't cooked a meal since before December started. But no worries betch, I feel you. I'm here to make you feel a tiny bit better about what a failure you are. Here's how to keep a new year's resolution like a betch.
Instead of resolving to go to the gym every day…Resolve to walk home from work three times a week (weather permitting). This way you get some exercise and it's fucking cheaper than the $100 a month Equinox charges you. Going to the gym is great, but when you set a goal and are too lazy to actually go do it, you feel shitty about yourself and end up binge drinking wine/eating everything in sight, claiming that you'll be better tomorrow. You won't. Just accept that this is who you are.

Instead of resolving to stop drinking…Resolve to only drink on the weekends. You have a full-time job/are a full-time student and as stressful as doing work is, alcohol has a shit ton of calories that you literally just don't need. However, it's unreasonable to think that at this young age you're going to stop drinking altogether. Unwind on the weekends like you're supposed to and your tolerance will go down, you'll need less to feel drunk, and the amount of calories you're consuming won't be as steep. You can stop drinking when you're dead.
Instead of resolving to eat clean…Resolve to stop eating pasta more than once a week. Carbs, as amazing as they are, are fucking terrible for you. But, again, you're young; just stop boiling pasta every night for dinner because it's easy and buy a fucking bag of lettuce every once in awhile. You can cave when you're PMSing but only then because honestly, there are other things to eat in your cabinet whether you'd like to admit that or not. Just like, watch out for expiration dates because we know you haven't looked in your pantry since you moved in and your mom took you to Trader Joe's to stock up on healthy options.

In conclusion, stop resolving to change every single thing about yourself and just accept that you hate the elliptical and you love vodka sodas and carbs. Just like, stop loving these things every single day and you'll automatically be better than you are. May the rest of 2017 be in your favor.