The Best Amazon Self-Care Essentials To Have On-Deck For Chill Days
Self-care is quite a hot topic lately. And, it should be, right? If you're not taking proper care of yourself, you can't do the same for those around you. And let's be honest, everyone has a lot of sh*t going on. Whether you're dealing with a micro-managing boss who won't let you catch a grip, or you're dealing with a breakup that's been way too hard to get over, self-care is essential. And self-care also isn't selfish. Yes, it goes a lot deeper than the material things like getting monthly massages or signing up for yoga, but there are some staples you can add to your everyday routine to amp up your self-care game. Here, 10 self-care products from Amazon to shop right now.
Betches may receive a portion of revenue if you click a link and purchase a product or service. The links are independently placed and do not influence editorial content.
Essential Oil Diffuser
Essential oils can be used for aromatherapy, skincare, and other health benefits. Some popular essential oils for relaxation and stress relief include lavender, peppermint, and eucalyptus. Just pop 'em into a diffuser to get them into your space. Breathe in. Breathe out. 

Shop It: Miserwe Remote-Controlled Essential Oil Diffuser, $18.99, Amazon
Jade Roller
A jade roller is a facial massage tool that helps reduce puffiness (aka hide that hangover), increase circulation, and promote relaxation. It's an easy way to chill the f*ck out in just a few seconds.

Shop It: Baimei Jade Roller & Gua Sha Kit, $9.99, Amazon
Yoga Mat
Yoga might not be for everyone, but if you're curious you can try doing some 'ol stretches right at home with a cute yoga mat. Plus, a good quality yoga mat can provide comfort and stability while trying to relieve stress and improve overall well-being.

Shop It: Retrospec Solana Yoga Mat, $36, Amazon
Water Bottle
Staying hydrated is important for both physical and mental health, but sipping h2O throughout the day isn't always such a breeze. A reusable water bottle can help you stay on top of your hydration goals throughout the day and hold you accountable.

Shop It: Hydroflask Wide Mouth Bottle, $49.95, Amazon
Calming Face Mask
A face mask is a great way to pamper yourself and give your skin some extra TLC. There are many different types of face masks, but a sheet mask is easy to use, targets your skin concerns, and has no face washing involved. Look out for one with calming ingredients, like this one from Dr. Jart+ infused with tiger grass.

Shop It: Dr. Jart+ Cicapair Tiger Grass Calming Mask, $15.99, Amazon
Scented Candles
Light up your space with the calming aroma of sweet lavender as you unwind from sending emails all day. It's like walking into a warm hug while setting a super cozy vibe.

Shop It: Sweet Water Decor, Relax, Girl Candle, $19.95, Amazon
Bath Bombs
Bath bombs are a fun and luxe way to unwind after a long day. They come in a variety of scents and can provide a spa-like experience in the comfort of your own home. Get yourself a pack like this to find your new fave.

Shop It: Naked Reverie Bath Bomb Set, $31.99, Amazon
Foam Roller
Stretching and muscle recovery is a huge part of self-care and a foam roller is an easy way to do both. It can help relieve tension and soreness in your muscles, making it a great addition to your post-workout routine.

Shop It: TriggerPoint Grid Foam Massage Roller, $30, Amazon
Journal
Journaling can be a great way to reflect on your thoughts and feelings, and help you manage stress and anxiety. A good quality journal can help you stay organized and focused on your goals. This journal has five-minute props ready for you to fill out, which is especially helpful on those days where you're not sure where to start.

Shop It: The Five Minute Journal, $24.99, Amazon
Sleep Mask
Getting enough sleep seems to get harder with age—yikes. Whether it's work stress or your personal life, some factors cause you to need some extra help catching some Zzz's. This viral NodPod one is like a weighted blanket for your eyes and can help target anxiety.

13 Mother's Day Gifts Under $100
When it comes to made up, unnecessary holidays, I will always be the first to say how stupid they are. Case in point: wtf is National Fruitcake Toss Day and why do we set January 3rd aside for it? As far as I'm concerned, January 3rd is a day of post-NYE rest. Mother's Day, though, is not one of those holidays, and it is as legit as it is necessary. I applaud all mothers for all of the incredibly hard work that they do. I, for one, was a supreme brat from ages 12-23, so I am definitely going to spend May 10th bestowing upon my mother a thoughtful gift that says, "thank you for putting up with my bullsh*t for so long."
Here's the thing, though: my mom deserves like 25 Hermès scarves, the Tiffany diamond (you know, the one Lady Gaga wore to the Oscars) and a few other luxuries, but I just got laid off and can barely afford organic strawberries these days. Luckily, there are a few great Mother's Day gift options for under $100 that say "You are a queen and you deserve the best, but, as you can see, I am poor rn." Good enough, I guess.

I'm sure some of you may think that no respectable woman would carry around anything that says "mom" on it, but this phone is not for regular moms; it's for cool moms. Seriously, my mom is a classy broad with amazing style and I know for certain she'd f*cking love this leather case. It's totally customizable, so if you're not into pastels with navy accents, you can pick whatever color combo your mother would love most. Have fun spending the next four hours designing this bad boy!

Most mothers I know subsist on tea, and these super cute vintage-looking tins from Society Social make for a great gift. Each tea flavor comes in a different colored tin and contains 20 tea bags, so she'll be set with her tea habit for a good while. Also, if you ask me, this is a literal steal.

This silk pillowcase is a perfect example of something I've always wanted, but could never bring myself to actually buy. Luckily, I dropped enough super subtle hints to my roommate and she bought it for my birthday. Let me just say, it totally lived up to the hype. Here's why your mom will also love it: it's anti-aging. For starters, she won't wake up with creases all over her face, but more importantly, the silk won't absorb her serums, moisturizers and eye creams. It also protects her hair. Win-win!

If you've ever been to New York, you've been to Levain. They make the densest, richest cookies I've ever had, and I mean that in the best way. The sweet relief that comes with taking a bite of the classic chocolate chip walnut is what I imagine doing opioids must feel like. Seriously, they're so f*cking good and can last for months in the freezer. I don't know your mom, but I promise she will love them.

Local Eclectic is a female-founded and female-run online marketplace for emerging and independent jewelers to sell their gorgeous designs. I have gotten so much jewelry from this place that I'm embarrassed to admit how much of the money I don't have has supported my jewelry addiction. Anyway, these birthstone rings are super delicate and can be layered, so getting a few for your mom based on the months you and your siblings were born is so cute. Or just get her one to remind her who her favorite is.

This robe is currently on sale, so don't wait to get it if you want to save serious $$. It's made of Turkish cotton, which means it's soft af. The inside is a super plush terry cloth and the exterior is a very on-trend waffle pattern. I am really tempted to get this for myself because I'm pretty sure that my current dark gray floor-length robe was inspired by the Grim Reaper's from the Sims. Serena & Lily is a home brand beloved by many moms, so I'm sure any of them would appreciate this.

Let me just start by saying if you have principals and refuse to spend $67 on a candle, check out Voluspa for gorgeous candles at a less offensive price. Anyway, Jo Malone is known for her perfume and, as of late, her candles. I actually have this one on my nightstand and I get whiffs of it even when it's not burning. The glass container has a really nice minimalist look and the candles all smell amazing, so you really can't go wrong. The Wood Sage & Sea Salt scent is the most popular, and I love that not-so-subtle "bougie parfumée" flex on the bottom of the label.

Guys, listen: for my first Mother's Day, I would really appreciate a bottle of 90-proof liquor. In all seriousness, this is a great gift! Everyone loves a good cocktail—especially now that we will most likely still be staying at home on May 10th—and gin is a crowd-of-less-than-10-pleaser. Also, this bottle looks like something Julia Engel would have displayed on her bar cart because it's so charming and whimsical-looking.

In the Pursuit is kind of like Local Eclectic, but for literally everything, not just jewelry. If your mom is into crystals, burning sage, and palo santo, she will lose her mind at this kit. It contains a rose quartz crystal, clear quartz point, sage wand, beautiful matches and a bunch of other sh*t that will definitely clear the bad energy from her house.

Gray Malin is a photographer whose pictures are reminiscent of Slim Aarons, but way more affordable. I got this book for myself at a book-signing and, after flipping through it, bought myself one of his photos. His work, mostly aerial photos of beautiful beaches around the world, is really beautiful and the book is a great way to see it all without having to drop thousands on a big-ass picture your mom has no wall space for.

Everyone loves slippers, and if anyone tells you otherwise, they're a liar. UGG may not be as cool as it was in 2006, but their slippers are still unparalleled. If your mom is aching for a canary yellow slide that she can wear around the house, she'll love these. They also come in black, though.

If your mom loves yoga as much as she loves the environment, this towel is the perfect gift for her. I know what you're thinking, "a towel?" but this is no ordinary towel. In fact, it's made from recycled fabric and is non-skid, so your mom can use it as a yoga mat. I mean, who doesn't love a good multi-purpose product, right?

If your mom lives in the tri-state area, don't even think about getting her flowers unless they're from PlantShed. If Rufus Humphrey was a botanist instead of an art-junkie, he'd have opened PlantShed (it's half charming flower shop and half coffee shop). They teach you how to care for your new plant so that your mom couldn't kill it if she tried.
Images: Brigitte Tohm / Unsplash; Bloomingdale's; Gray Malin; In The Pursuit Studio; Caskers; Jo Malone; Serena & Lily; gopjn.com; Levain; Slip; Society Social; Casetify; Kin; PlantShed
Betches may receive a portion of revenue if you click a link and purchase a product or service. The links are independently placed and do not influence editorial content.
5 Terrible Self-Care Ideas You'll Have While Stuck At Home & What To Do Instead
I get it, I get it. We're all bored. As it turns out, self-isolating is hard when you have to do it, as opposed to when you spend an entire weekend enjoying your alone time knowing you'll see your coworkers again on Monday. The urge to do something, anything, to take your mind off the news and the fact that you've been wearing the same sweatpants for four days and still haven't vacuumed your living room is strong. At this point I think we're all just wishing we had plans to cancel. We wouldn't cancel, because we're desperate for face-to-face human interaction, but wouldn't it be nice to have the option like in the good old days? 
Anyway, the good news is that even though we're all stuck in isolation cells like a really bad, prolonged episode of Love Is Blind, there are a lot of options for self-entertainment. A lot of them also relate to self-care, which is also good—taking care of ourselves mentally and physically right now in any way we can is pretty imperative so we don't slowly go insane. Speaking of going insane, even with the best intentions, general boredom and lack of social contact can be the perfect cocktail for some truly bad decisions. Here's some advice on how to ward off the worst ideas you'll have while in self-isolation, and some suggestions for alternatives that won't involve you crying on the phone to your mom about how to fix bangs that are cut too short.
DON'T: Box-Dye Your Own Hair (Or Cut It, For That Matter)
A bad box-dye job can take a full color correction from your stylist to fix. If you majorly bleach or darken your hair at home right now and mess it up, it could be weeks (months?) before you can see a professional. And even if the color comes out exactly the shade you thought it would, you never really know how you'll feel after that sort of major change. What if you take the towel off and see yourself as a brunette and hate it? Then you have to sit on your couch battling general anxiety and bad hair. Cutting it is, if possible, an even worse idea. Put the scissors down. You didn't want bangs two weeks ago, and you don't actually want them now.
DO: Try A Hair Mask

Instead of taking kitchen scissors to your forehead, try something that's going to give you healthier, bouncier hair that you can post on your Insta story from your couch. For a mask that takes care of most major hair issues, you can't go wrong with the It's a 10 Miracle Hair Mask Deep Conditioner. Like the name indicates, it tackles everything from tangles to dryness or damage. If you like to wake up to super soft hair like a Disney princess, then Sephora's collection of sleeping masks is a good choice. They have a range of scents and potions depending on what your hair needs, and they're formulated to work while you sleep.
If you need something more intense, Olaplex Hair Perfector No. 3 is made for strengthening and protecting hair. And, of course, you can always make your own: honey, olive oil, and avocado make a rich DIY mask for conditioning, and I'm a big fan of adding a few drops of tea tree oil to everything because it's great for clarifying. 
DON'T: Attempt A Major Home Reno Project
What if you bust a pipe or something? Never ideal, but especially not right now. The rule of thumb should be not to try anything involving power tools, or not messing with anything that, if broken, you can't live without for the next couple weeks. If you get wild with a hammer and wind up with a hole in your wall or a cracked window, you're 100% going to regret it.
DO: Spruce Up Your Space

Buy a new duvet cover, a candle, some decorative pillows, or anything relatively small that might help your space feel fresh and new. We're all suddenly spending a lot of time staring at our living spaces right now, and a small change can be refreshing. 
Say what you want, but I've always been a big fan of the Bath & Body Works candle collection. They have a great range of scents whether you want to picture yourself on a beach in Tahiti or make your bedroom smell like you're baking snickerdoodles. Anthropologie and Nordstrom also have amazing options for candles that smell incredible while doubling as home decor.
When it comes to bedding, reviewers swear by the Brooklinen Classic Duvet Cover as an all-around winner, and for budget-friendly options there are a million choices on Amazon. West Elm has gorgeous options, especially for organic or fair trade materials that will make you feel like you're sleeping wrapped in a cloud. I love that the website has a whole page that compares all the bedding materials they use so you can choose for yourself what level of ultimate relaxation you want. For decorative pillows and basically any other home decor needs you can think of, Target is another all-around fav.
DON'T: Sleep With Your Roommate/Housemate
When you're starved for human contact and you're also drinking at every hour of the day because time has ceased to matter, you might look up from your third cocktail and suddenly see your housemate in a whole new light. They're there, they already share your germs, and you're quarantining together. It's a love story waiting to be written, right? Wrong. This person may be one of your only sources of in-person interaction, and the last thing you want is to screw things up so badly with your last link to human contact by getting drunk and sleeping with them. Being stuck inside with a one-night stand/roommate sounds like actual purgatory, and you've also lost your drinking/movie-watching buddy because now you guys can't look at each other without stammering, blushing, and having nowhere to run.
DO: Feel Free To Get Down One-On-One

SHIBARI Mini Halo
Now is the time to… explore your body. Already got a vibrator? Get another one. Dying for a distraction that's both sexy and completely removed from the insanity of our current world? I can't recommend the Black Dagger Brotherhood series by J.R. Ward enough. It's basically paranormal erotica featuring hot vampires, and it's got a grand total of 17 books so far. If you love the TV show True Blood and wished the Twilight series had more sex, this is the series for you. Or if reading is not your jam, download Dipsea for access to all the sexy stories you could ever have time to listen to. And if you don't follow the above advice, here's how to fix things with your roommate once we're all allowed outside again.
DON'T: Adopt An Animal You Aren't Prepared For
I know they're cute and you're feeling lonely and the pull is strong. But adopting an animal, especially an animal like a dog or cat, is basically as much work as having a child. It sounds extreme, but it's a great statement to remember when you're watching kitten videos and thinking about how fun it would be to bring home a furry friend for companionship. If you live in a studio apartment on the 11th floor with no yard and you bring home a high-energy puppy just to realize you can't care for it, that's not fair to either of you.
DO: Help Local Or National Animal Organizations However You Can
Visit your local Humane Society or ASPCA website or Facebook page and donate, or see if they're requesting specific materials or looking for foster parents. You can also search for local shelter organizations near you and offer to help out how you can. Definitely foster if you have the ability! It's a great way to get some companionship for yourself while you're stuck at home while also giving an animal a place to be safe and happy—without the full-time commitment of adopting. If that's still a little too much for you to handle, get another plant so you can take care of something without the pressure of that thing having a face. 
DON'T: Drop Your Phone In The Toilet Or Bathtub Right Now
Maybe the only thing worse than this current state of quarantine would be the situation you're in now, minus a phone or laptop because you can't get to a store to fix it. So, watch out for your electronics. Little tip from me to you.
DO: Become A Luxurious Bath Enthusiast

It's a hobby that will keep your hair clean and relax your mind, body, and soul. It really does it all. Plus, you can drink while you're soaking, or you can read a book, or just be alone with your thoughts if you're brave. And don't worry, there are plenty of ways to take a bath these days that jazz up the entire experience and make you feel like you're at a spa you can't afford.
First things first, you need something to hold all the fun stuff you want to bring into the bath with you. I suggest ordering a bath tray like this one from Bed Bath & Beyond, which can hold a book, a glass of wine, and the waterproof vibrator you ordered from the list above all at the same time. 
When it comes to bath products, milk + honey makes super decadent products from scrubs to soaks that are all organic and made from hyper-clean ingredients that will make you feel like a bathtub goddess. I love Bath & Body Works Eucalyptus Spearmint Sugar Scrub for areas that tend to get dry or just need a little extra love. For bath bombs that are as fun to look at as they are to use, Lush has a big selection that are bright, playful, and come in different shapes, colors, and scents. For the classic bath enthusiast, some good old Dr. Teal's Pure Epsom Salt Soaks are the perfect addition to your tub. They're cheap, easy to use, and they smell amazing.
And for afterward when you're in a relaxation haze and you want to sit in bed with a face mask on and not move for a few hours, the Barefoot Dreams CozyChic Robe is an ideal choice for lounging. You'll forget the fact that we're in a pandemic when you feel like you're in some sort of plush, sumptuous cocoon. 
The most important takeaway from any of these tips is that the goal is to hopefully reduce anxiety, help you relax, and stay human while we all ride this thing out together. We won't be stuck inside forever, but for now, besides following the latest CDC recommendations, it can feel like there isn't much we can do to control our own lives. We're all just sitting on our couches, drinking wine, and complaining about this together. So just take comfort in that, and in the fact that you didn't lose half your hair by trying to bleach it at home during a pandemic.
Images: puhhha / Shutterstock.com; Olaplex; Nordstrom; Amazon; milk + honey
Fall Scented Candles That Smell Amazing
If one of your favorite parts of fall isn't fall-scented candles that make your home smell like a giant spiced pumpkin, then I'm going to go ahead and assume that you have no soul. To me, there's nothing better than an autumn Sunday spent hungover on the couch watching football and ordering UberEats as fall scented candles light up my apartment. It makes me feel better about all of the fall-related festivities I'm missing out on in the outside world.
These days, however, all of the fall scented candles begin to hit stores while we're still in the dog days of summer. And they're a lot more complex than the OG pumpkin scented blocks of wax. Your favorite candle brands have started developing aromas that combine literally every possible component of fall that we all know and love. Insert here: fragrances dubbed "Sweater Weather", "Pumpkin Pecan Waffles", and "Bonfire S'mores". Regardless of what your favorite parts of the autumn months are, odds are that there is a candle to satisfy your needs.
Keep reading for the best fall-scented candles that you can get your basic little hands on this year.
At first whiff, Yankee Candle's Pear & Tea Leaf smells like a combination of apples and pears that transforms into a sweet vanilla scent. The incredibly powerful aroma lasts for up to an astonishing 38 hours. While I'm not great at math, this should last you quite a few hungover Sunday snuggle sessions. My takeaway? This scent reminds me of sneaking sips of the sweet spiked apple cider that my mom used to brew up in a crockpot on chilly fall days.

While I've never personally taken a harvest walk, smelling this candle reminded me of those glorious mornings you wake up super early for a football tailgate. The sun is shining and there is a crisp breeze in the air and you can just smell the bad decisions that are to come. What does that smell like, you ask? Sweet memories, that's what.
JK, the sweetness you can smell from this candle is actually the top note of bergamot that fills up your space without being too overpowering. After the invigorating bergamot takes over, the next scent that you get from this candle is the base scent: sandalwood. It's a rich, creamy scent that complements the sweet top note. Like Pear & Tea Leaf, Harvest Walk is part of Yankee Candle's Elevation Collection so it comes with the brand's Platform Lid that creates a sleek base for lighting up your home with your fave fall scents.

If you're anything like me and baking (or cooking in general) is something that you can't be trusted to do, then simply cop one of Hillhouse Naturals' Pecan Praline candles. For just $19, you can trick people into thinking that you actually made that store-bought pie. This candle smells sweet and creamy like a caramelized pecan. Which is kind of perfect for if you're looking to satisfy a sweet tooth without consuming all of the calories.

Luckily, Hillhouse Naturals' Farm Stand Pumpkin candle smells more like pumpkin spice then it does like a farm. The candle upgrades the typical sweet pumpkin scent by adding touches of fresh and natural notes of wood.

Odds are you've never tried (or heard of) pumpkin peanut brittle before. But if you were to try it, it would probably smell sweet and salty with a dash of spice. This powerful smelling candle combines two of the most important food groups: peanut butter and pumpkin. It reminds me of one of those fall street festivals that have food carts that sell things like fried Oreos, caramel apples, and obviously, peanut brittle.

What is the perfect autumn? It's a time that smells like fresh cranberry, spiced pumpkin, crisp apple, and rich clove. The sweet yet spiced scent is rich. It lingers throughout your home so you can feel like you're picking apples or pumpkins. Really, though, you're sitting on your couch binge watching Netflix. Everyone's favorite home soap and fragrance retailer guarantees that their three wick candles, it will last anywhere from 25-45 hours. That's pretty good news for those that like to keep a candle lit at all times.

Images: Yankee Candles (2); Hillhouse Naturals (2); Bath & Body Works (2)
Shop Our New Chic AF Get Lit Candle Collection!
Nothing says "I'm super chill and totally have my life together" quite like an apartment full of candles. Like not crappy candles though, so don't try Sears. Instead, check out the new chic yet funny af candles from Shop Betches!! Not only do these candles smell fucking amazing, but they say hilarious stuff that'll make people think you're like, sooo funny and charming just for owning them. We're calling it the Get Lit collection so you already know what it's about to be.
Maybe you need to cover up the smell of your roomie's cat so no one mistakes you for the crazy cat lady? Perhaps you forgot to get your bestie a bday gift? Or maybe you need to spice up things in the bedroom since you haven't added a new fuckboy to the roster lately? Whatever your reason, you'll want these in your home, your fuckboy's home, your parents' home, your friend's home…You get the point. If you weren't already obsessed, they come in NEW chic AF packaging, making them the perfect gift for every ocassion. Just maybe choose wisely which one you buy for which ocassion. Or be super hipstery ironic about it IDGAF. 
So here's a list of them in no particular order:
When a boy comes, you should always have something baked. We know you can't even manage Tollhouse pull-apart cookies, so fFake it 'til you make it. This candle smells like chocolate chip cookies so you won't even have to worry about setting a small fire in your oven.

Don't be mad at us if you get 16 of these candles sent to your house from various fuckboys trying to send a message. It's Champagne scented so you can pretend to be classy…just like you pretend you don't give head on the first date.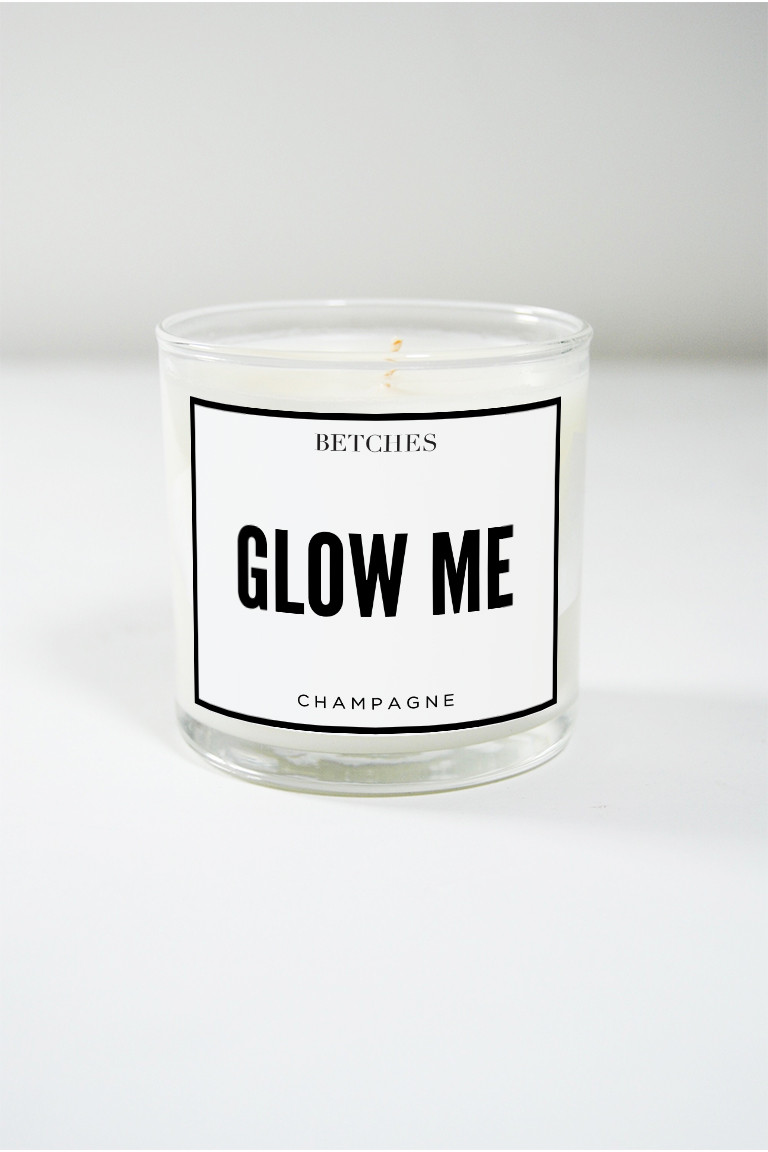 For your friend who won't give up her assertions that the 2000s was the golden age of hip-hop, this candle smells like cucumbers, everyone's favorite smelling dick-shaped health food.

And because we're like, such good people we brought back our best-selling OG line of candles! Here's the lineup in case you forgot:
You loved it, you bought it, and now we brought it back. This candle smells like grapefruit for the healthy yoga goddess within you. I mean honestly I'll probs just light this one and pretend I do yoga and eat salads as I watch Netflix on the couch. Whatever. Still zen AF. 

This one smells like wine and roses which makes it super classy. You can pretend to be mature and light it at your next wine and cheese party. Who am I kidding? You can just light it at the pregame instead. That's kinda what it's for.

This one smells like vanilla which, TBH, is such a neutral smell it'll please everyone. Plus the label is censored so people will know you're chill enough to drop an F bomb or two, but also you know how to keep things vanilla appropriate.

So what are you waiting for?? Shop the Get Lit collection now!!