Celebrity Couples You Didn't Know Were Set Up
I think most people would agree that dating can be a total pain in the ass. It can be lonely and tedious trying to wade through everyone out there, just trying to find one good match. But if you're lucky, you have some ride or die friends that are always trying to help you out. Whether my friends are setting me up with someone they know or helping me evaluate my matches on Ship, I need all the help I can get.
If you're skeptical about the idea of your friends getting involved in your dating life, I get it. But maybe it's a good idea to let them help you. Lots of your favorite celebrity couples have been set up through friends, and you might not even realize it. Here are some of our favorite examples:
Nick Jonas & Priyanka Chopra
When Nick Jonas and Priyanka Chopra first went public with their relationship last year, it seemed super random. Little did we know, there's one surprising person at the center of their relationship: The Rock. Yes, like Dwayne Johnson. In 2017, Priyanka worked with The Rock on the Baywatch remake, and then Nick worked with him the next year in Jumanji.I'm not sure how much The Rock really played matchmaker here, but he did say that he'll take credit "if they're happy."
Joe Jonas & Sophie Turner
Nick isn't the only Jonas Brother who got a little romantic help from a friend. In 2016, Joe's band DNCE did a song with Hailee Steinfeld, who is friends with Sophie Turner. Hailee revealed that Sophie texted her asking about Joe, and she gave her his number and the green light to go for it. Now Sophie is chugging drinks at sporting events and generally seems very happy, so her bold text definitely paid off.
Taylor Swift & Calvin Harris

This relationship wasn't meant to be, but it was fun while it lasted. Back in 2015, Taylor and Calvin were first introduced by mutual friend (and fellow famous singer) Ellie Goulding. Ellie said that they're both "really awesome and really tall," so she thought they would make a great couple. And they did…for a while.
Cameron Diaz & Benji Madden
Cameron Diaz has been married to Benji Madden since 2015, and Nicole Richie happily takes credit for it. Nicole is married to Benji's brother Joel, and she says that she's "a devoted sister-in-law." Someone please tell me how I can get into this family, because I really want to go to Thanksgiving with Nicole and Cameron.
John Krasinski & Emily Blunt
Truly, I think these two are one of the cutest couples in Hollywood. They also work well together, considering I've had to sleep with a white noise machine ever since I saw A Quiet Place. Turns out, they were set up on a blind date in 2008 by none other than Anne Hathaway. John said he wasn't looking for a relationship at the time, but it was love at first sight when he met Emily.
Jennifer Aniston & Justin Theroux
Jennifer Aniston is one of the most famous and beautiful people in the world, but even pretty people can appreciate some help from a friend. Surprisingly, she was introduced to her ex Justin Theroux by Robert Downey Jr. This seems like, very random, but I guess it's proof that love can happen in literally any way.
Meghan Markle & Prince Harry
This is the setup that made women all over the world question the dedication and loyalty of their friends. The Duke and Duchess of Sussex were set up by a mystery mutual friend, and Meghan insists she didn't really know anything about Harry before meeting him. She's always said the only thing she asked was "Is he nice?," which is what my mom asks me when she brings up a guy I went on one date with six months ago.
So you might not have A-list movie star friends to set you up on dates with other A-list movie stars, but that's not really the point. Dating isn't always fun, and having your friends in the picture can make it a little more enjoyable, and improve your results. Rather than wasting your time (and mental energy) alone on the apps, let your friends in your Ship crew do the heavy lifting for you. Maybe you'll meet your Prince Harry (if you do, please tell him to slide in my DMs), or at least someone decent who won't ignore your texts.
Images: Shutterstock; @priyankachopra, @joejonas, @calvinharris, @benjaminmadden, @johnkrasinski, @justintheroux, @kensingtonroyal / Instagram
Presented By

The Betches' Bachelorette Guide To Las Vegas
Planning sucks, and bachelorette parties are a ton of work. So we're taking all the guesswork out of planning a bachelorette party by breaking down top bachelorette destinations. Our guides will tell you where to stay, eat, party, how to get around, and give you a sample itinerary that you can follow. You're welcome.
Las Vegas is synonymous with bachelorette parties, so it only makes sense that this is our first of many bachelorette party guides. No one goes to Sin City to relax so this itinerary is for the girls who like to party all day and night only to pass out go to sleep and do it all over again the next day. The Vegas strip offers four miles of nonstop partying options, which is probably why so many people flock to the city to pregame their nuptials. But in a city with so many options, how TF do you know what to do to maximize your time? No need to reach for your essential oils—we got you. Here is your official Betches Bachelorette Guide to Las Vegas.
Where To Stay: The Cosmopolitan
View this post on Instagram
When it comes to lodging in Vegas, you'll want to consider a few factors: where to get the best bang for your buck, where to find the most ideal sleeping arrangements, and where you can get f*cked up create memories that will last a lifetime. You're definitely going to want to stay at a hotel that has both a day club and night club as well as one that has a ton of restaurant and bar options. This will just makes your life that much easier, and the chance of getting lost coming home at 5am that much smaller.
The Cosmopolitan is my go-to spot for staying in Vegas for a variety of reasons. The Cosmo is considered one of the smaller hotels, which is crazy to even fathom considering it has two towers of hotel rooms, a huge casino, over 25 food establishments, a spa, a night club, and a day club. But size does matter because the layouts of these hotels is extremely confusing and since you'll only be there for a short time, you don't want to waste time walking in circles when you have a pool party to get to. Plus you won't have to deal with flocks of tourists that are spending the day aimlessly shopping while you're just trying to find the nearest exit.
The suite options at The Cosmo are essentially created for large parties, specifically the Wraparound Terrace Suite. The suite can also connect to the room next door, allowing your entire group to share accommodations without being squished. The Terrace Suite's balcony doors open to a huge terrace that offers insane views of the Vegas skyline—the perfect place for all your Instagram photos-to-be.
How To Get There
Unless you live in Los Angeles the thought of driving to Vegas will never cross your mind. But lucky for you there are a ton of direct fights from the east coast that will cost you around $500. $500?! Yup… we would say this is the average cost for what a bachelorette flight will cost someone, however there are a few ways to make paying for this less painful.
Download the Hopper app that lets you track flight prices for dates of your choosing. The app will send updates right to your phone when flight prices start to fluctuate and when the optimal time is to book is. The other way to soften the blow of this financial burden is to pay with credit card points. Literally put anything and everything on your credit card to get as many points as possible in anticipation of your trip. Most cards offer double points for travel and dining so get ready to justify those excessive Uber rides and weekday Seamless orders.
How To Get Around
We highly encourage you to take full advantage of the limos and party buses that wait outside the hotels at night and during the day. For roughly $10/person, you can get into the party vibe and IG story the experience and really rub it in the face's of those who didn't make the cut to join the trip.
We definitely do not suggest walking home unless the last stop of your night happens to be within your hotel. Uber is plentiful in Vegas and a majority of hotels have designated Uber/Lyft pick up areas, making it really easy to get from point A to point B. Even if it says its a 10 minute walk to your hotel, err on the side of caution and request a car. Plus, your feet are going to be on fire from wearing heels all night.
Where To Eat

If there's anything more plentiful than nightclubs in this city, it's got to be restaurants. Since people will be suffering at varying degrees of hungoverness, we suggest just finding someplace low-key in your hotel for breakfast, with the exception being the buffet at the Wynn. This $32 all-you-can eat option was voted best Vegas buffet, and with damn good reason. Soak up all the alcohol with more than 120 dishes and 15 live-action cooking stations.
Vegas is meant for group dinners, with endless options scattered throughout the strip. Since ordering à la carte can get pricey, we suggest setting up a prix-fix menu option in advance so your friends know upfront what they're expected to pay. We suggest picking a restaurant within the hotel that you plan on going out at. For example, if you're heading to Marquee, then opt for dinner at STK. Plus, these restaurants are well aware bachelorettes are in town and will offer customizable options like putting the bride's name on the menu for no additional cost. Some of our fav nighttime spots include: Beauty & Essex, Sage, SUSHISAMBA, and Hakkasan Restaurant.
Where To Party

While there are tons of pool party options in Las Vegas, three remain at the top when compared to the rest: Marquee Day Club, Encore Beach Club, and Wet Republic. But which pool to go to on which day? DJs like The Chainsmokers, Tiësto, and Calvin Harris will be taking the stage, so make sure to check the events calendar on each club's website a couple months before your trip and decide from there.
Promoters are prevalent in Vegas and are highly recommended since working with them will basically alleviate any financial burden of going out. (It's how we make up for the pay gap, ladies.) Here's how to find a promoter: literally go to the explore page of Instagram and type in "Vegas Promoter". You will be greeted with 100+ options of people to choose from. Some are more legit than others, so sift through and find the one who's working the parties you want to attend. Look at for people who have some semblance of a social life mixed into their promotional materials. From there start sliding into their DMs—we promise this isn't weird.

Also, you'll start to notice the second you post a picture on IG in Vegas, the promoters will come and find you. Seriously—they check geotags and find people they can work with to get into their partner venues. And don't be too alarmed if they request pictures of the girls in your parties—that happens and is definitely off-putting, but it's not like, a sign you should call the cops. If you're not feeling that vibe, just find another promoter. TAKE ADVANTAGE!! Proof below:



The benefit of working with a day promoter in Vegas is that they also work night parties. The lines get crazy regardless if you bought a ticket for that night, so having someone who works with the venue is always helpful. Unlike in other cities, the venues in Vegas encourage the use of promoters because they help fill their clubs with girls. Once you meet up with your promoter in the lobby of the hotel, they will escort you to a designated table area with varying degrees of comped service. Yes, really. You're welcome.
Nighttime Entertainment
If you're looking to entertain yourselves in ways  that don't involve getting completely obliterated, congrats on being a better person than me Vegas offers a ton of nighttime live entertainment options. Rose Rabbit Lie and Spiegelworld are two interactive shows at The Cosmopolitan that mix fantasy and reality in a slightly more refined atmosphere. So if you aren't into getting pushed around a club fighting to get a blurry picture of Calvin Harris, we suggest opting for a show. Plus some of our fave artists are known for their Vegas residencies like The Backstreet Boys, Christina Aguilera, Lady Gaga, and Gwen Stefani.
But if you're still unsure of exactly what to do and when to do it, here is our Betches approved itinerary for your partying pleasure.
Thursday, Day 1:
Pro Tip: If you're traveling from the east coast, take advantage of the time difference and aim to arrive as early as possible to allow for an entire day of debauchery
Check into the hotel, unpack, and claim your bed
Change as fast as humanly possible into your bathing suits, rip a few shots in the room, then hit a pool party stat (Marquee, Encore Beach Club, or Wet Republic depending on which DJ you like that's playing that day)
NAP!!!!!! Even if you "don't nap", lay your ass in bed and attempt to relax for AT LEAST an hour and a half. You'll thank us later when your friends want to go out after dinner.
Head to dinner at TAO in The Venetian Hotel
Either get tickets to see a live show or hit up Hakkasan Nightclub for the Tiësto residency
Friday, Day 2:
Pro Tip: Slow and steady wins the race halfway through a Vegas bender. Listen to your body and don't force yourself to do something you're not feeling. After all, if you're heading to Vegas any time soon, temperatures are well above 85 degrees, and dehydration will knock you out.
Sleep in and grab breakfast casually somewhere in the hotel
Lay out at the hotel's chill pool (yes, there are raging pool parties and relaxing pools—take advantage and rest halfway through your trip)
Get dressed up and head to dinner at Sushi Roku, a trendy sushi spot with awesome views of the Strip in Caesar's Palace
Check out Calvin Harris' residency at Omnia Nightclub (also located in Caesar's Palace)
Saturday, Day 3:
Pro Tip: Food is your friend; you're likely hungover and are going to need sustenance to soak up that alcohol. Plus, you're going to need to fill up before your last pool party and night out!
Indulge in the famous breakfast buffet at The Wynn
Pick a pool from Marquee, Encore Beach Club, or Wet Republic that you haven't gone to yet
TAKE A NAP!!!!!!
Head to STK for your last dinner out
End your epic weekend at XS Nightclub that has DJs like Steve Angello, Diplo, Alesso and Drake performing on a frequent basis
Sunday, Day 4:
GET THE F*CK HOME WHERE YOU BELONG!!!
All The People Whose Reputation Taylor Swift Tried To Ruin In Honor Of 'Reputation'
As a long time listener of Taylor Swift's music, I've learned a lot from her over the years, like how to only date emotionally unavailable men or how to act like a psycho when dating said emotionally unavailable men. Or that true friendship is hard to come by, especially if you're looking for friends who collectively weigh the same as of one of your thighs. But tbh her most valuable life lesson had nothing to do with friendships or men or trying to make bangs happen for four fucking years, but rather how to live your best life as a petty fucking asshole. Because if there's one thing Tay knows how to do, it's how to be petty AF. Not all heroes wear capes, people. We're mere days away from the release of Taylor's newest album, Reputation, and I for one cannot wait to see who else she's about to shade the fuck out of for the entire world's entertainment. Seriously, sounds so lit. So in honor of this momentous occasion, let's take a look back at all of the reputations Taylor has ever tried to ruin, because we all know that's the main goal of every fucking thing she's ever written.
Camilla Belle
Camilla was one of the first entries in Taylor's burn book people to make herself an enemy of Taylor's, and she did it way back in 2010 when Taylor was still just a girl with a guitar and a hair crimper. #TBT. Camilla made the mistake of stealing Joe Jonas away from Taylor, because yes, you heard that right, this entire feud started over Joe fucking Jonas. In typical petty fashion, Taylor didn't want to directly hash it out with Camilla and instead wrote a song about the whole thing called "Better Than Revenge", where Taylor called her the nastiest skank bitch she's ever met and to not trust her because she's a fugly slut "an actress" who is "better known for the things on the mattress." Ah, slut shaming. It's so creative, so innovative, so blatantly insecure, and goddamnit that's a catchy tune. I'm sure Camilla holds nothing against Taylor now, especially not when Taylor likes to incorporate the phrase "uplifting women" into every one of her awards speeches ever.

Nicki Minaj
Remember when Twitter was just an outlet used by celebs to publicly shame one another for us peasants' personal entertainment and not used by the person running our country to threaten other countries that happen to have a massive amounts of nuclear weapons? Yeah, neither can I. But back in the day in 2015, Nicki Minaj used it to call out Taylor's win at the VMAs for Best Music Video of the Year. She said, and I quote, "If your video celebrates women with very slim bodies, you will be nominated for vid of the year." Which feels like a very fair assessment of the world we live in. But, similar to how I think everything is about me always, Taylor took this tweet v personally instead of seeing the comment for what it really was: a statement about the racist white patriarchal society we live in. Taylor immediately tweeted back with "I've done nothing but love & support you. It's unlike you to pit women against each other. Maybe one of the men took your slot." Wowwww. Sick burn, Tay! Almost as sick as the haters gonna hate, hate, hate. What will you come up with next??

Katy Perry
Tbh I was totally into this public shaming because I can't fucking stand Katy Perry, and also, it resulted in the making of "Bad Blood", which is still one of my all-time favorite Taylor Swift songs. No one knows exactly what went down between Katy and Taylor, though from this interview in Rolling Stone I can surmise the following happened:

Taylor was, of course, the girl with vintage skirt, while Katy was Regina George. No seriously, that's basically how it went down according to Taylor so that's obviously a factual account. After the "Bad Blood" music video came out, Taylor got criticized for shitting on more females in the industry, but like, she got a Grammy out of it and all Katy got was that tragic pageboy haircut, so who was the real winner here?
Kanye West/Kim Kardashian West
I literally can't talk about this whole Kanye-Taylor-Kanye Again-Taylor Again-Kim Kardashian conflict any fucking more because I do not have enough hours in my day to outline this entire shit show for you again. I actually have subreddits to troll shit to do. Can I please be excluded from this narrative? Basically, Taylor has been feuding with Kanye West since 2009, when Kanye acted like a fucking insane person and tried to ruin Taylor's VMA's speech. Since then they've gone back and forth to see who the bigger asshole is. Kim K even jumped on the bandwagon because she is thirstier than me on a Saturday at 1am drunk swiping through my Bumble matches when it comes to drama. After #SnapGate2016, Taylor retaliated with her new song, "Look What You Made Me Do". In the song, she's out for fucking blood with literally everyone who has ever wronged her (inspiring), but she seems to personally attack Kim and Kanye with lines like "I don't like your tilted stage" and "I don't like you." Fucking savage. I have no idea how Kimye will recover from this.

John Mayer/Harry Styles/Calvin Harris
I'm grouping all of her exes together here because, again, I need to troll the stars of Riverdale on Instagram have other important shit to do. That said, I'm pretty sure the breakups went something like this: cheated on her, cheated on her with Kendall Jenner, refused to take anymore #couplegoals pics for the Insta so she dumped him. I paraphrase. Honestly, I can't fault the girl for wanting to roast her ex boyfriends in front of the entire fucking world, because this is actually what I also do after every single breakup. It's v cleansing. It's either that or report their tagged photos with the new girlfriend as "offensive material" to Instagram HQ. Ya know, either/or.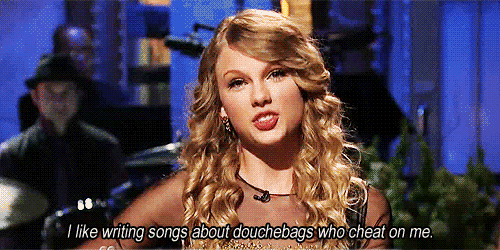 Anyone Born In The Year 1989
I guess Taylor decided to take a break from shitting on all of her ex-boyfriends and went after an enemy more manageable than Hollywood's entire male population: anyone born in the year 1989. That's right, Taylor tried to trademark a year in which millions of people were born just so no one would "rip off her merch." *slow claps* I aspire to be this petty. Do you think she teaches a class? I'd love to know how I can go about trademarking 1992.

The level of pettiness Taylor Swift uses in her every day life is truly inspiring tbh. Here's hoping that one day I'll feel confident enough to literally shade every human being who has ever breathed near me instead of just anonymously blasting them in my articles. In the meantime, I can't wait for Reputation! Who else thinks Taylor wrote a last-minute bonus track to talk shit about her bff going back to her shitty ex? *cough* SELENA GOMEZ *cough* Fingers crossed!
Calvin Harris Wants To Get Back On Taylor Swift's Good Side
Last summer, Taylor Swift reached peak snake status. Kim Kardashian posted that infamous video recording on Snapchat, and Taylor broke up with Calvin Harris like a week after he was in a car accident. But one of the best parts was when Calvin completely went off about Taylor on Twitter.
It was just after "word got out" that Taylor had actually written the lyrics for "This Is What You Came For," and Calvin was having none of it. He tweeted that Taylor should focus on her new relationship (Tom Hiddleston, RIP) instead of "tearing your ex bf down for something to do," and that she was trying to "bury him like Katy but I'm not the guy."

Cue applause, bouquets of flowers, Champagne, because it looked like Calvin was 100% fucking done with Taylor's bullshit and was ready to go on the warpath. Buuuuuut it was all too good to be true. In new quotes that have surfaced from an interview with British GQ last year, Calvin says that he acted on the wrong instinct, and that he just snapped after feeling like his talent was belittled.
He says that he doesn't blame Taylor but the media circus got to him and blah blah blah are you done yet? Like, sorry if Taylor's 12-year-old fans aren't buying your new album, but this is just lame. If Taylor went around apologizing after saying something bad about an ex, she literally wouldn't have any music left. Her Spotify catalog would basically be "Welcome to New York," and then some shit from the Hunger Games soundtrack.

Calvin, we liked you. Sometimes your taste in women is questionable, but you've given us no less than three Rihanna bangers, and for that we are grateful. Now grow a pair and don't say anything nice about Taylor Swift ever again.