Which 'Bachelor In Paradise' Couples Are Still Together?
It's been a long, drawn-out year for Bachelor Nation, and I for one am relieved it's over. I normally live and die for Bachelor in Paradise, but this season was a total bore. The only true drama was the beginning of the season, and it was mostly Blake crying about how victimized he feels after women are mad at him for f*cking everyone else. Yeah, no sh*t Blake, people don't like that. Then Caelynn went to live in a van. Clay whined about Angela—after he dumped her. And then it ended. Amirite? I don't feel sorry for you idiots. Somehow, in spite of being some of the dumbest people alive, some of the cast actually managed to find ~*true love*~. Or they can at least fake it long enough to keep the ring and get sell some FabFitFun boxes. It's like a fairy tale! So, here are the couples that are still together after BiP ended. I wish them all the diarrhea tea sponsorship deals their hearts desire!
Hannah & Dylan
In spite of it coming out that Hannah had DMed pretty much every guy on the beach, Dylan remained stalker-y obsessed with her all season. TBH, I don't know why you'd bother with someone that's actually slept with everyone like Blake, when Dylan clearly likes you and only you. But thankfully, unlike some people, Hannah clearly has read He's Just Not That Into You and went with the guy who actually liked her. Thank god. She and Dylan are totally compatible in the sense that they're completely dull af and mostly like to lie next to each other while going, "No, I love YOU more!" So glad they can annoy each other with their complete lack of banter. Congrats on the engagement, guys!
Demi & Kristian
I love Demi, and maybe I'm selfish, but I wanted to see more drama from her. I love that ABC is finally acknowledging that gay people exist, and maybe this is hard-hitting conflict for people that live in the Midwest, but over here in LA, people are just gay and it's not a gimmick or a point of interest. It's normal. I wanted to be entertained, you know? But whatevs, I guess I'll take watching a super cute love story unfold. Look, I'm cynical, okay?! Anyway, Demi and Kristian are still engaged, and I'm happy for them.
Katie & Chris
I honestly forgot these people were even on the show about halfway through. Chris is the worst. He's been on these shows 100 times and he's never been here for the right reasons. This somehow made him irresistible to Katie. I love when we see normal, beautiful, intelligent women on these shows, and you're like, "What? How are you single?" and then you see their taste in men, and it's like, "Oooooooh, I see the problem." See also: Tayshia. Katie is too good for Chris. Somehow, they're still engaged despite the "rocky" relationship and her roasting him on-camera about their relationship issues. They also posted real awkward Instagram posts about how difficult love is. Um? You guys have been together for five minutes, most of which was on an all-expenses-paid beach vacation. I assure you, you'll eventually have like, real problems.
Tayshia & JPJ
If a grown-ass man throws multiple screaming tantrums on TV, what do you do? If you're Tayshia, you think he's husband material, apparently. In spite of all the red flags that JPJ is too immature for a relationship and a little unhinged, these crazy kids seem to have made it work because they're back together, but they're not yet engaged. I just can't wait until they get into their first fight and JPJ thinks Tayshia is "insulting intelligence". Yikes.

Dean & Caelynn
Dean and Caelynn are shockingly still together, after he dumped her on her birthday and then came back to sabotage a functional relationship to get her to come live with him in his van. Caelynn, you're really bad at this. Staying with Connor should have been a no-brainer. Anyway. Dean and Caelynn have been traveling a bunch (how do they have money to travel? Neither of them seem to have jobs?). I also don't buy that they really live in the van. I can promise you that Dean is squatting in Caelynn's apartment rent-free and spends all day smoking weed on her couch. She's probably like, "Dean, like, maybe you should shower today," and he's all, "What? Who wants an EASY relationship?" Dean, the answer is everyone. Let's just hope they don't have any Deanie Babies soon.
Connor & Whitney
After Caelynn brutally dumped Connor to go live in a van (oh no baby, what is you doing?), Connor was devastated. Like, he literally found out that his relationship was over while watching Dean eat Caelynn's face in front of everyone. YIKES. However, not all was lost for Connor, because after he threw a little tantrum and left, BiP sent Whitney to rescue him. They mostly stood around going, "Yeah, like, and uh, yeah", and Connor said it was great conversation. Seems about right. So Connor and Whitney hung out for few days in Mexico and apparently are still dating and NOT living in a van. Sorry, Caelynn, Connor definitely won the breakup. And now he has a date to the middle school dance!
UPDATE: There are new rumors that Connor and Whitney are no longer together. Sad! But if you look at their Instagrams right now, they're both obviously in Tulum. Idk, you do the math. I won't be heartbroken if they don't stay together forever, but it seems unlikely that they're just separately in the same place in Mexico in the middle of September.
Images: Instagram (@hannahg11, @kristianhaggerty, @katieemo, @tayshiaaa, @deanie_babies, @consaelaway); Giphy (3)
The Best Outfits From 'Bachelor In Paradise' That You Can Buy Now
The women of Bachelor In Paradise are truly all having themselves their own versions of hot girl summer, from shutting down f*ckboys to celebrating all kinds of love. They all look snatched as hell and also all have a killer wardrobe. This powerful group of women are influencing me (and my wallet) in all types of ways, from purchasing a ticket to next year's Stagecoach to now fueling my online shopping addiction. So, since you too probably want to know where their outfits are from, here are some of the best pieces the girls have worn so far that are actually still currently available for you to buy now.
1. Caelynn's Lime Green Dress

For Love & Lemons Meringue Mini Dress, $225
Caelynn has been slaying in her subtly sexy cowl necks, and I'm so here for it. Her date looks have all been perfectly effortless in a way that really amplifies her insane natural beauty. This neon green dress by For Love & Lemons is a must-have in your wardrobe right now. Dress it down by wearing it over a graphic tee with sneakers or dress it up with strappy heels and a statement earring. Whichever way you wear it, this dress is a true no-brainer.
2. Demi's Striped Swimsuit

Vitamin A Mila Top in Verano Stripe, $66 & Vitamin A Lupe High-Waist Bikini Bottom, $110
This is the swimsuit Demi has worn for most of Paradise so far. Of course, she probably only actually wore it for one day, but the way this season is edited so choppily, I feel like we've seen it in every episode. Which, I'm totally okay with because I'm obsessed with this suit. Demi wore it with the high waisted version of the bottoms, but if you're someone who thinks high waisted bottoms look like an adult diaper, then you'll be happy to know there's a low-rise option too.
3. Hannah G.'s Hot Pink Dress

LIONESS Mysterious Girl Mini Dress, $76
Sure, Hannah may be making some questionable choices when it comes to her love life in Paradise thus far, but you definitely can't deny that she's been making all the right choices when it comes to her wardrobe. She legit looked like Barbie when she wore this hot pink leopard dress, so can you blame Dylan for only having eyes for her? I sure can't.
4. Kristina's Floral Off The Shoulder Dress

White Fox Force Of Nature Mini Dress, $84.95
Kristina always looks gorgeous, and this season of paradise is no exception. She really knows how to dress for her petite frame, and she always looks so polished and put together no matter what. Even if on the inside she's having a mental breakdown over Blake, you'd never know it from her outward appearance.
5. Hannah G.'s Snake Print Wrap Dress

Hannah G.'s Collection for JustFab Snake Print Wrap Dress, $56.95
So if you weren't already aware, Hannah G. has a collection for JustFab and I'll be the first to say IT'S AMAZING! She's worn several pieces from the collection in Paradise thus far, some of which are actually already sold out. Fortunately, this super cute snake print wrap dress is still available, but I can't imagine it will be for long. It's such a cute dress to wear casually with sneakers or out on a date with some heels.
6. Tayshia's Hot Pink Bikini

Topshop Crinkle Bikini Top, $26 & Tanga Bikini Bottom, $22
If there's one thing I know so far from this season of Bachelor in Paradise, it's that I'm officially a Tayshia stan. Between her relatively confusing romance with JPJ to her IDGAF attitude toward Blake, Tayshia is doing Paradise right. Not to mention she's also worn some great looks along the way, like this super affordable hot pink Topshop bikini. The sizes in the top are limited, so act fast if you want it!
7. Caelynn's Leopard Print Midi Dress

Endless Summer Harper Slip Dress, $168
Caelynn wore this dress on my favorite date we've seen so far in Paradise, the one between her and Dean. They were so flirty and playful and you could totally see in Dean's eyes how much he likes Caelynn. It also makes it even that much better knowing that these two made it and are currently together. And that's not a spoiler because everyone already knows that and they post about it all over Instagram, so chill.
Now, if you're anything like me, the first piece from Bachelor in Paradise you had to have was that black lace naked dress Hannah G. wore on her date with Dylan. Which apparently is actually Kristina's dress, and she wanted you all to know that. But regardless, it doesn't matter because it's basically sold out everywhere. *Sigh.* So, to avoid that same painful non-buyer's remorse, shop all the above pieces ASAP!
Images: @bachelorinparadise, @teamdannah, @the_style_spotter, @bigblondehair, @tatyshiaaa / Instagram; For Love & Lemons; Revolve (2); Hello Mollly; White Fox; JustFab; Nordstrom
Betches may receive a portion of revenue if you click a link and purchase a product or service. The links are independently placed and do not influence editorial content.
It's Not About Stagecoach: What We're Getting Wrong About Blake Vs. Caelynn
I'm going to be honest with you guys, this past week has been tough for me. And no, not because of stress at work or because I'm trying out some new strict diet, but rather, because of all of the Bachelor In Paradise drama that has taken our pop culture and entertainment world by storm. I've personally been agonizing over which side of #BachelorNation I should be on: Caelynn's or Blake's? It's legit the only thing I've been thinking about the past so I figured I might as well process this as I write about it.
In a few words:

Before we start, I have a few things to disclaim: I actually liked Blake on The Bachelorette, and I disliked Caelynn on The Bachelor. I can't explain it, but there's just a deceptive and fake vibe Caelynn emits that makes me not trust her. Also, my best friend is a pageant girl so I have heard first-hand stories regarding these types of girls for years now. And, let's just say, some of them lose their sh*t over this pageant stuff. Suffice it to say, my opinions on this Blake/Caelynn feud surprised even me. So let's get into the drama at hand.
It Goes Down In (Blake's) DMs…
First, I need to express in no uncertain terms that I believe that 90% of the guys who go on The Bachelor are losers. And by "losers" I simply mean that they're the kind of guys who aren't used to attention, but have craved it their whole lives. They never got to be homecoming king or frat president—heck, they were lucky if they even got into a frat, let alone get voted Safety and Wellness Chair. The other 10% consists of 2 groups:  5% that go on the show solely because they get how it works—they know it will bring them easy fame (looking at you, Jed)—and then, the final 5% are genuinely great guys who genuinely go on the show naively in search of love… or were submitted for the show by a pushy family member.
Which leads me to my genuine belief, said best by the Queen of Paradise herself, Demi: "Blake is a loser." And I don't mean that in a malicious way. I mean it in the way that he's a loser at heart, and is not used to being the "cool guy". Look, I think Blake is cute and genuinely a good person. But I think, prior to the show, he never experienced what it's like to be the hot guy every girl is after. Blake used to be the type of guy who couldn't get a girl to save his life, and now, he has an Instagram DM box overflowing with hot women. This has led to the creation of our current Blake, a genuinely good guy at heart turned f*ckboy because he doesn't know how to handle all of this positive attention from the opposite sex.
#StagecoachGate2019

Okay, now that I've provided all of the background information leading to my official stance, let's get into the actual situation. Long story short, Blake slept with Kristina and then Caelynn on back-to-back nights at Stagecoach. He supposedly has had more than a one-time hookup type of relationship with both women. He also apparently had been DM-ing and hanging out with several other Bachelor alum prior to Paradise. Overall, not a good look.
Now, the reason that everyone (aka all of Twitter) has taken Blake's side is due to the fact that the text messages he released showed that Caelynn was the one thirsting for Blake at Stagecoach and that they had BOTH agreed to keep their Stagecoach hookup a secret. This goes against Caelynn's narrative that Blake ghosted her before Paradise. Sidebar, F*CK BLAKE for releasing Caelynn's drunk texts! I can't think of anything more mortifying than this. 
Now, here's the thing—according to what we were told by Caelynn (and which has also been confirmed from several other reliable sources of people within The Bachelor franchise) this Stagecoach hookup wasn't their first hookup, nor was it some random one night stand. To put it simply, you just don't have that type of flirty texting rapport with a random stranger who you don't know.
In the post-hookup texts, Caelynn totally agreed to hide the hookup. The "hookup" being the key word here: she agreed to hide the hookup, not to hide the whole entire f*cking relationship. This is the kind of situation that I guarantee a lot of us have been in. You're blackout, see an ex or ex-fling out at the bar and, even though you KNOW your "relationship" is technically done, you also know they're comfortable, so you drunk text them because you have no inhibitions. The next day you wake up hungover af, and severely regret your drunken backsliding, but have to just move on with your life. However, in Blake and Caelynn's situation, "moving on with their lives" is actually "going to Paradise where the entire country watches you try to find love while untangling this very 2019 issue."
Welcome to "Paradise"…

Okay, so now again, imagine you are these two. You were both drunk and hooked up, but a week from now you're both headed to Paradise, where you have a real shot at finding love. You two have already tried an actual relationship and it didn't work. So why on earth would you both go into this new experience and declare to everyone that you just recently hooked up? That's going to turn off potential suitors in both directions, especially if Caelynn and Blake had already started building relationships by talking to people prior to BIP, which, according to Caelynn, Blake was definitely doing.
Therefore, these two agree to not disclose the hookup. But, here's where I think the majority of people are getting it wrong: yes, Caelynn agreed that there was no need to share their Stagecoach hookup, but she probably didn't think they were agreeing to hide the entire relationship and completely ignore each other in Paradise. Like, imagine how hurtful that would be? For her "ex" to hide that they ever had any form of relationship would be such a stab to the ego!
Now, the next issue Bachelor Nation is in arms over is Caelynn claiming that Blake ghosted her which, mind you, is still possibly separate from their post-Stagecoach hookup texts. It sounds like, prior to their Stagecoach hookup, they were 100% in a "relationship" of sorts, but Blake's f*ckboy ways got the best of him and he pulled away out of whatever "relationship" they had. Then, after seeing each other at Stagecoach (and probably flirting while there) Caelynn drunk texted him, to which Blake of course responded. So, due to their hookup and friendship text conversations post their drunken hook-up, Blake doesn't believe he actually ghosted her. But, from my understanding, the "ghosting" actually happened months prior when they were actually in their non-official "relationship" with one another and Blake faded out. 
Also, sidenote, for Blake to deny that he and Caelynn were ever in an actual relationship infuriates me to no avail. @Blake, @Jed, and @allothermillenialf*ckboys: just because you don't put an official label on it doesn't mean you weren't in a relationship. If what Caelynn said was true, and they were FaceTiming three times a day, talking on the phone, and hanging out, then they were in a relationship. Whether they officially referred to one another as "boyfriend" and "girlfriend" or not, it's still considered a relationship, and it's an immature and sh*tty move to deem it anything less.
In defense of Blake, I'm not mad at him for sleeping with Kristina and Caelynn back-to-back, especially given the fact that Caelynn was clearly wanting it at Stagecoach. What I AM mad at Blake for is denying that they ever had any type of relationship and for completely ignoring Caelynn when she showed up at Paradise. (And if that was all just editing then kudos to producers, you had me fooled!)
Now, my greatest piece of evidence in favor of Caelynn is the mental breakdown she had to Blake in last week's night two episode. I've never related to anything more or really felt for a reality TV star than the way I did to Caelynn in this moment. I've been there in that exact deep emotional spiral, as I'm sure many of you also have. It's that, "I feel crazy but I know I'm not crazy and that I actually have the right to feel this way, but I'm trying to play it cool, but I'm actually not cool and actually, you're crazy but I will to be the one to look crazy so F*CK YOU" type of meltdown.
We're all very aware that Caelynn is a pageant girl and is therefore experienced in keeping her sh*t together and staying cool under pressure. Therefore, for her to have such an intense, emotional, out-of-control breakdown spiral says something about the nature of her and Blake's relationship. If it genuinely was just a "one night stand" and Caelynn was just pissed off that Blake ghosted her after, she probably would have had a more even-keeled and annoyed reaction like Kristina's. But, when you've had an actual relationship with someone and then see them and they act like you don't exist and like you never meant anything to them, then you have a reaction like Caelynn's.
Final Thoughts

So here's where I'm at: Blake, you're a f*ckboy. It's all about the games for you, and you are in a very selfish time of your life which like, fine, that's fair. I understand, but you NEED to be humbled. I believe you're a good guy and are doing anything you can to protect your reputation right now. You genuinely don't believe you did anything wrong because that's what you've been telling yourself to justify your actions. Blake, the reason people like you is because you're sensitive, cool, charismatic, and fun-loving. So just man up, own your sh*t, and we'll all forgive you! Just publicly recognize that you and Caelynn had a relationship, whether it was explicitly defined or not, apologize for upsetting her and making her feel crazy, and then we can all move on. Stop dwelling on this, and on being right, because, realistically, if you actually were fully confident that you were right, you wouldn't be retaliating the way you are, posting a drunk girl's text messages. All I have left to say to you is, good luck getting any late night booty calls from girls at this point!
Now, for Caelynn, I f*ckin' feel you sis. You're a beautiful girl and any guy would be LUCKY to be with you…especially a guy like Blake. However, I don't think you're defending yourself correctly in this situation. You need to address the fact that, whether he officially deemed it a relationship or not, you two did have an actual relationship prior to your drunken Stagecoach night together. Therefore, it's not actually about the fact that he slept with Kristina and then you. Like, yeah, that sucks and it hurts, and the way he supposedly acted the  next morning is extremely douchey. But none of that is the actual problem. I get that you probably did still have feelings for him when you slept with him, and so the fact that he slept with someone else the night prior and was blatantly talking to other girls in front of you was hard for you. However, you need to let that part go because, at that point, he had already made it clear to you that you two weren't a "thing" anymore by, I'm assuming, ghosting you. By focusing on his Stagecoach hookups, you're making it way harder for people to be on your side. When, in reality. I think everyone, especially fellow women out there, would be on your side over the fact that, Blake showing up to Paradise and not even talking to you or wanting to tell anyone that you guys have a history is f*cked up. No one should EVER be ashamed to be with you, Caelynn, and you know that, which is why I think you're dragging his name through the mud more than you should be. You're hurt, and I get it, but this whole thing will be a lot easier if you just focus on your own feelings and what he's done to hurt you rather than on Blake's "single guy actions" which, in an argument of right versus wrong, he technically had the "right" to do.
All I have left to say is that I'm excited AF for the rest of the season and, in the infamous words of Chris Harrison, actually think this will be, "the most dramatic season ever."
Images: Giphy (5)
UPDATED: A Full Breakdown Of Blake And Caelynn's Messy Texts
UPDATE: The fallout in Bachelor Nation surrounding the Blake/Caelynn/Kristina drama has continued throughout this week, and last night Caelynn finally spoke out about what's been going on. After Blake posted and deleted their texts on Tuesday night, Caelynn responded on Wednesday with a lengthy statement on her Instagram.
First, Caelynn immediately owned up to sending those texts, but said that the screenshots from Stagecoach are not an accurate representation of their relationship. She also said that she's "mortified" that her private texts were published by someone she considered a friend. I actually feel for her on this. In this era of social media scandals and receipts, it's become super common for people to publish text screenshots, but it's definitely still an invasion of privacy.
Caelynn also says that it seems like she and Blake just had different ideas of what their relationship was. She clarifies that when she said Blake "ghosted" her, she was referring to before Stagecoach, after they had been talking for a few months. This makes more sense, given that they were definitely texting between Stagecoach and the time they left for Paradise. 
While Caelynn does an okay job of trying to move past the drama, I do think she did an important thing by addressing the comments people have made about her. As someone who has been open about her history with sexual assault, she is adamant that she will live her life how she wants to, whether people approve or not.
Unsurprisingly, the person who came out of this with the best take was none other than Bekah Martinez:
sharing private sexual conversations is fucked up.
manipulating the truth to gain…attention? pity? or whatever is also fucked up.
each person was fully aware of how their actions would affect the other person.

so in conclusion i ship caelynn+blake

— bekah martinez ♡ (@whats_ur_sign_) August 8, 2019
Yeah, basically Blake and Caelynn both did some messed up sh*t, which is not that surprising, and maybe they really do belong together. This season of Bachelor in Paradise is already iconic, so I can't wait to see how the rest of this mess unfolds.
I'm usually not a big Bachelor watcher, but damn, Paradise is already bringing the heat this year. Obviously, you can read our full recaps for all of the drama that's going down with Chris Harrison's messy beach crew, but the nightmare that's unfolded between Caelynn and Blake (and Kristina, and Tayshia, etc.) is worthy of its own analysis. After Tuesday night's episode, Blake took to Instagram to share screenshots of his pre-Paradise texts with Caelynn, and it started a sh*t storm of epic proportions.
One would imagine the point of Blake sharing the texts would be to clear his name, but honestly, they just make the whole situation murkier. On the show, Caelynn is making Blake seem like the world's biggest asshole, but the texts don't make her look so great either. To make matters even more confusing, Blake then deleted the screenshots from his story, saying that he "never wanted Caelynn to get attacked like this." Sorry buddy, but it's a little too late, because we obviously have all the screenshots saved.
In the first set of three screenshots, which Blake captions "Stagecoach," we see him and Caelynn in a back-and-forth that might be flirting, but really comes across as more creepy on Caelynn's part. She says she's coming over, and he protests over and over again as she tells him to "chill" and "loosen up." She then says she ordered an Uber, which is seriously questionable to me. Like, if I told someone multiple times not to come over and they said they ordered an Uber, I would immediately take out a restraining order, and probably move out of the country.

In the second screenshot, we can see that Blake has cropped out the majority of a photo, and that really weakens his case here. When someone posts text screenshots as proof of something, there's always a chance that they've added or removed things to shape the narrative, so Blake should've just left the entire photo so we wouldn't be left wondering what he's leaving out.
In the second chunk of texts, Caelynn says something weird about sleeping in the shower, and then continues to taunt Blake when he says that they can cuddle but not have sex. Even if she was joking around with him, it's not a great look. Think about it this way: if it was a woman telling a man that she wouldn't have sex with him, and his response was "Yes sex. Only sex," I don't think we'd be having a discussion about who's right and who's wrong.

But then, Blake flips it around and says something gross about how Caelynn acts when she starts drinking. I think he might be saying that after she drinks she's going to want to cuddle, but it's all very confusing at this point. I have a feeling they'd both already been drinking, and no one said these two were the smartest people in the world to begin with.

I totally understand if Caelynn just wanted to have sex with Blake (me too before this week), but these texts make her seem thirsty at best, and verging on problematic/predatory. We'll never really know exactly what went down between all of the Paradise people at Stagecoach, but these texts don't really do anything to clarify the situation, for better or worse. All we really know is that it was messy, which isn't new information.
The most interesting portion of the texts, in my opinion, are the ones that Blake labels "1 week before paradise." In these manic conversations, Blake and Caelynn are both up in arms about how to deal with their past relationship, as it pertains to Paradise. It's unclear what was the inciting incident for these texts, but obviously something happened that really freaked both Blake and Caelynn out. It seems most likely that someone found out about their relationship from a third party, and they were afraid that their trips to Paradise would be affected if everyone found out.
I'm not really sure why they were so afraid of people finding out, because obviously messy AF ABC isn't about to turn down the drama of two people with a contentious past. They live for this sh*t. Have you seen how they invited Clay and Angela to the beach? But perhaps there was something in their Paradise contracts about not telling anyone until they were on camera? It makes sense that production would want them to save the biggest drama for while the cameras were rolling, and if everyone on the beach already knew about Stagecoach, this week of Paradise would've basically just been JPJ throwing up.

The texts about Colton and Cassie start to bring things into the light a little bit more. It seems like Caelynn probably had previously told Cassie about hooking up with Blake, and so they were worried that she and/or Colton had spread the information to other people. Honestly, I totally wouldn't put it past those two to totally narc on Caelynn, but they said they didn't know what happened.

In that text where Blake talks about telling someone "so that she isn't crazy mad when she is down there," he's probably referring to Hannah G, but more on that in a minute.
In the further texts, Caelynn and Blake are still going back and forth about what to do, I guess in terms of whether or not they should even go on the show? It seems like they both knew they didn't want to tell anyone about their relationship, so I'm not sure what else they would be debating. On the show, Caelynn talks about how Blake said that hooking up with her was a mistake, and in these texts, he basically says just that. We might still be missing some context, but Caelynn wasn't fully lying.

Really, it's tough because we'll never know what happened on that phone call, or any of the other times they talked on the phone. They were both clearly really nervous about this whole situation, but I think a lot of it actually comes back to Hannah G. In the last texts that Blake posted, Caelynn messages him to ask if he's told her yet, presumably referring to their history.
Even though it weirdly hasn't really been addressed on the show, everyone pretty much knew before the show that Hannah G and Blake were into each other. Caelynn did say that Hannah was one of the women Blake was DMing the morning after they hooked up at Stagecoach. Hannah and Caelynn are friends from Colton's season, so it makes sense that Caelynn would be nervous about Hannah's reaction to finding out. We don't know the timeline of when Blake was talking to each of these women (probably all at the same time), but it was bound to get messy when they all found out.

We don't even know if Blake and Caelynn ever told Hannah G before the show, but either way, things have obviously gone bad for him on the first few nights of Paradise. These texts are a lot to get through, but I think the biggest takeaway is that Caelynn has been very favorable to herself in how she's characterized her relationship with Blake. From the texts, it seems unlikely that she really thought they were ever in an exclusive relationship, and he definitely wasn't the only one who didn't want to tell everyone about them.
There's still a lot more Bachelor In Paradise to go, and I'm sure we'll get a lot more drama between Blake and basically every woman there, but for now, he should probably refrain from posting more screenshots on Instagram. He might not be the only asshole in the situation, but that doesn't mean he's not still an asshole.
If you're as ready for this messy af season of Bachelor in Paradise as we are, make sure to get your Betchelor Nation Tee from Shop Betches now.

Images: balockaye.h (7) / Instagram
Our Spoiler-Free Predictions For The 'Bachelor In Paradise' Couples
The Bachelorette finale is this week, but as we wait with bated breath to find out which fame whore Hannah is contractually obligated to spend the next 90 days with, I've already moved on. Why, you ask? Because next week, Bachelor in Paradise begins! It's the best show in the franchise because it has the most drama, the most tears, and as my mother says, the most "swapping of STDs." She said it, not me! I can't help it, I just love watching Bachelor Nation get drunk and hit on each other. It's like taking a secret peek into all their DMs, and even though it's horrifyingly messy and you're so embarrassed, national TV won't let you look away. What could be better?
My favorite thing to do as we approach the Bachelor in Paradise premiere is predict the couples that will come out of the season. I don't want to brag *wink*, but I did correctly predict Kendall and Joe last season, and that was when all the spoilers were saying she was getting with Leo. Some people might say I'm a bit of a BiP savant. Okay, fine, those people are me, I say it. And now I'm back again to work my magic. Let me preface these predictions and tell you that I've based them off one trailer that I half-watched while a Law & Order: SVU marathon was playing, and I've included some people that are not on the official released list of cast members because I saw them on the preview, so I know they were there. You can't fool me, ABC! So, are we ready to make sweeping assumptions about people's character in order to pair them up with other people we've made sweeping assumptions about? I sure am! 
Annaliese Puccini And Cam Ayala, Chris Bukowski, John Paul Jones

I don't get why Annaliese has such a problem finding love. I mean, sure, she has multiple irrational fears including bumper cars and puppies, but I grew up with a paralyzing fear of poppable balloons and that's never stopped me from being lov… oh, wait. I take it back. 
Last season, Annaliese seemed to cycle through all the men that no one wanted so that she always had a man and a rose, only to get unceremoniously dumped by a "social media participant" on the Paradise reunion. It seems she's somehow recovered from that humiliation, and is back for more. A leopard can't change its spots, so I think she'll do the same thing this season and pick up the guys that no self-respecting bumper car lover would ever be interested in. And that means Cam Ayala, a skinny white dude that raps and says "ABC, Always Be Cam"; Chris Bukowski, a guy who is so old it's probably illegal for him to be in the same room as most of these women; and John Paul Jones, our very first serial killer to grace The Bachelor. Thanks for taking one for the team, Annaliese! 
Demi Burnett And Bri Barnes

Okay, this one is a shot in the dark. In the trailer, Demi is seen making out with a woman and saying that she's in love. The woman looks like she is tall, white, and blonde. But, no one that I saw on the cast list really fits that description. So, I'm literally casting someone myself, and if I'm right, I will expect endless accolades and will be insufferable for the rest of my life. Bri was the one who showed up on Colton's season pretending to have an Australian accent. She didn't last long, but that's a ballsy move to get noticed, and something I think Demi would think was hilarious and appreciate. And Bri fits the physical description. That's all I got, but I think relationships have been based on less, right Arie?
Also, Demi, if you're looking for a sexually fluid dating show next time, might I suggest the sh*t show that is Are You The One? I think you'd fit in nicely. 
Blake Horstmann And Hannah Godwin

Once Blake manages to finish crying over his parent's divorce, Hannah will swim to him through his river of tears and together they will form the most perfect, most boring, All-American couple. 
Caelynn Miller-Keyes And Dean Unglert

This Caelynn and Dean prediction might be influenced by things I've seen around the internet but never clicked on, I'll admit it. We must be willing to accept help in order to predict correctly be our best selves, right? 
I'm a little concerned by this pairing because the preview makes Dean look like a 70's pedophile with a giggling problem, so I can't really imagine what will draw Caelynn to him. I do imagine that once they get together Caelynn insists on a Miss Congeniality-esque makeover for Dean, and he will emerge from a beach hut resplendent, dripping in sweat, and flipping his hair to the tune of "Mustang Sally". 
Bibiana Julian And Mike Johnson

Bibiana didn't have much luck last year, and I want her to find love SO BADLY. She is funny, sassy, and has short hair, so basically she is me if I was willing to humiliate myself in exchange for a FabFitFun sponsorship. Mike is hot, and sweet, and would call Bibiana a queen, which I think she really needs to hear (just a guess!). What a perfect couple. And yes, I basically did just set myself up with Mike. Call me! 
So those are the pairings I think will be getting together this season on Paradise! Best of luck to all the happy couples, and if you decide to get married next season I hope you'll consider a prenup. 
Images: Giphy (5)
UPDATED: Who's Going On 'Bachelor In Paradise' Season 6?
I'll go ahead and share an unpopular opinion: summer is kind of a trash season. Sure, the first month of day drinking out in the sun is fun—but the next two months are exhausting. By the time August rolls around, there's literally nothing I'd rather do than curl up in an air-conditioned room and binge on Bachelor in Paradise. Since we have to suffer through another round of The Bachelorette before ABC will give us what we really want, they're keeping Bachelor in Paradise season 6 cast decisions pretty quiet for now. But because I'm ~that bitch~ I decided to creep around the internet anyway and see what I could find out. Here's who you should (and shouldn't) expect to see on Bachelor in Paradise season 6.
Demi Burnett

Demi is the closest thing we have to a fully confirmed BiP contestant, given that Chris Harrison said we'd "see again somewhere" on Women Tell All. Unless they're giving her her own talk show, that's a pretty clear indication she'll be hitting the beach in August. Also, it kind of seems like fans would riot in the streets if she didn't join the cast, so I'm glad both ABC and Demi are going along with it.
Forget about @colton jumping the fence, I'm more hyped for @demi_burnett to spill some TEA tomorrow night?☕️

(She better be on Bachelor in Paradise or I'm gonna fight someone)

— lauren ღ (@laurennn2313) March 5, 2019
Courtney Curtis

Yes, the contestant who stuffed a pacifier in Demi's mouth on Women Tell All. Yes, I do think that's the only reason she'll be offered a role, and no, I don't think she'll last very long. However, Courtney has proven that she is drama-hungry enough to do just about anything, and has precisely the kind of high tolerance for embarrassing herself that's required to appear on the Bachelor franchise. We'll get her back on Bachelor in Paradise season 6 if for no other reason than two episodes of re-ignited Demi drama.
Courtney baby you only got screentime an a possible spot on Paradise because of Demi be grateful and keep it pushing sis cause Demi is winning this fight ? #WomenTellAll pic.twitter.com/V89GLStNK5

— Olivia Broussard (@OliviaBroussar1) March 6, 2019
Caelynn Miller-Keyes

Caelynn, on the other hand, people are less sure about. When asked on Ellen back in March whether she'd consider joining the Paradise cast, she "answered with a solid 'maybe.'" But given her overall takeaway from being on The Bachelor ("this process sucked for me," it was "absolute hell," etc.), not everyone is sure she's ready to dive back in to reality TV. Then again, those comments were largely made in response to questions about whether she'd be the next Bachelorette. Given that she wasn't offered the role, this could have just been her attempt to save face. IMO, Caelynn might ghost the ABC producers for a month or two when they ask—but she'll come around.
Hannah G(odwin)

Will everyone's favorite content creator get back in the game?! Honestly, given that she cracked 1M Instagram followers from The Bachelor alone, I'm not sure what else she needs from Paradise. Apparently, she doesn't feel the same way, and has been dropping references to Paradise left and right in her interviews. Specifically, references to meeting Blake Horstmann, the Bachelor Nation-approved romantic pick for her. "I think Blake's a catch. So I'd like to see him there," Hannah G. told Extra TV. "I'd have to hang out with him to kind of figure out if that would work and everything. So maybe Paradise would be a spot to meet each other. Who knows. But also I want to go in super open-minded and just go in with my gut."
IDK about you, but that definitely sounds like someone who's going on Paradise to me. And possibly, someone about to Tia the sh*t out of Blake while there.
Can we get Blake and Hannah G together on #BachelorInParadise and call if a day? Those two deserve love and would be magic together. #TheBachelor

— Jackie (@jlhalvy) March 12, 2019
Blake Horstmann

On that note, can we expect to see Blake in Paradise? Word has it he didn't join the cast last year because he was still in talks to be the next Bachelor at the time. But talking to Us Weekly in March, Blake said the following: "If I'm single, I probably will be on Paradise." Hear that, my Colorado betches? If you want Blake on Paradise, just make sure no one dates him in the next three months. Should be easy enough.
Tayshia Adams

Now for some more troubling news. Tayshia Adams, who was essentially robbed of the Bachelorette title, might…not have been asked to join Bachelor in Paradise season 6 either?! In a recent Vulture interview, Tayshia was asked whether she'd ever go back on reality TV. Her answer: "I have mixed feelings about that. I'm looking forward to what other opportunities come around, whether with Paradise or anything else. I'll never say never. But it's a different world."
That sounds to me like someone who has distinctly not been offered a place on Paradise—and who would very much accept it if she were. Wondering which opportunities will "come around" implies a lot less confidence that Hannah G.'s statement that she "want to go in super open-minded." If I'm right on this, the only question that remains is what the f*ck ABC's problem with Tayshia is. She was the only member of Colton's final four who could talk about something other than their relationship, and I feel that kind of mental acuity should be rewarded. For what it's worth, Evan Bass agrees with me.
Tayshia is so great. So much class. Sad she feels ashamed that some idiot cheated on her. I don't think she'll end up with Colton but hot damn she'll easily engaged by the end of paradise! #thebachelor

— Evan Bass (@ebassclinics) March 5, 2019
Joe Barsano

Since Joe was eliminated from The Bachelorette night one (good spot, Hannah!), he was able to confirm to Variety last week that he'll be appearing on Paradise. He's otherwise known as the "Box King," because oh IDK he made it his Insta handle, Twitter handle, and the entire theme of his intro video for The Bachelorette. This guy came in guns blazing (from a branding perspective, NOT a romantic perspective) and sadly, I think it'll make him as boring on Paradise as he was on The Bachelorette. You have to at least pretend you're in it for something other than cold, hard cash, Joe—that's what gets you roses.
Cam Ayala

Cam was a slightly more memorable Bachelorette candidate than Joe, but unfortunately only because he came off like a total f*cking psycho. He was actually giving me major Chris Randone vibes, so even though his turn on Paradise isn't confirmed, I would be majorly shocked if he didn't appear. After all, Paradise is where they send all the "misunderstood" (read: emotionally unstable) rejects. Now, as to who will be the Krystal to Cam's Chris—Demi was the closest thing Colton's season had to a villain, and I can't see her falling for his bullsh*t. Maybe they'll bring back Chelsea? She's been around the Bachelor block so many times now I think she'd say yes to anybody. 
John Paul Jones

Finally, John Paul Jones. He hasn't been eliminated on The Bachelorette yet (and honestly, he's been more fo a legit contender than I expected) but search your souls: do you really think Alabama Hannah is walking out of there with a ring put on her finger by John Paul Jones? He looks like he's 16, has no discernible job, and told Hannah outright that his long-term plan is to ride on her coattails. Relatable? Absolutely. But not Bachelorette husband material. Everything about him is a gimmick, which makes him perfect for Paradise: and while I think Demi's a little too sharp for him, I could see pageant queen Caelynn wanting someone like this to follow her around and hold her purse. (Sidenote: do we think Caelynn's ego would allow her to date one of Hannah's cast-offs? Time will tell…)
That's all I have for now—but rumor has it the full cast list for Bachelor in Paradise season 6 will drop in June, when Hannah B. has kicked a few garbage men off her round to join the fun. Can't wait!
Images: Disney ABC Press; @laurennn2313, @jlhalvy, @ebassclinics, @OliviaBroussar1 / Twitter
Hannah B. Is The Bachelorette ABC Deserves
As I sit here on this shockingly sunny Wednesday morning, two things are very clear: this hangover might kill me, and Hannah B. is going to make one hell of a Bachelorette. Sure, there's plenty to complain about, starting with the fact that she's younger than me (she's 24; I am…not). I'd rather not see more of Alabama than I have to (or more pageant footage, for that matter), but for f*ck's sake, half of the final four were some variation of pageant girls from Alabama. And yes, we've watched Hannah B. struggle to string together basic sentences, which some might consider a red flag. But I'm here to tell you why this tongue-tied, Southern pageant queen will give us the most fun season we've had in years—and why any other choice would have been a huge mistake.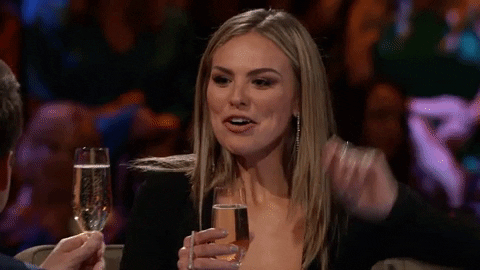 First, let's take a look at who was in line to be the Bachelorette. In this Variety interview, ABC exec Rob Mills confirms that they spoke to everyone in the final four plus Demi while making their decision. Let's take Demi out of the equation real quick: that woman was born to be on Paradise, and I'm pretty sure we have no idea what her real voice sounds like. Also, she is deeply and fundamentally not ready to get married, which we should at least still pretend is a prerequisite for being on this show.
So, that leaves Tayshia, Hannah G., and Caelynn—all of whom technically deserve the Bachelorette title more than Hannah B. Going by the rules of Becca's season, if your leading man deviates from the script and ambushes you for a surprise on-camera breakup, you are supposed to be the next Bachelorette. So both Hannah G. and Tayshia got pretty f*cked there. Actually, it's kind of a fun game to think about who got a worse deal out of this season. Is it Hannah G., who's gotten shockingly little screen time for someone who looks like a Barbie come to life, up to and including them cutting her fantasy suite? Or is it Tayshia, the divorced 28-year-old who jumped out of a plane, got dumped on camera, held a sobbing Colton in her arms, and STILL didn't get chosen as the second-ever non-white Bachelorette? (It's Tayshia, Tayshia got more f*cked here.)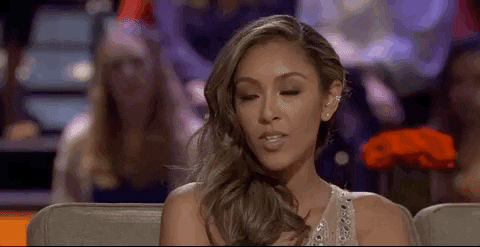 But here's the thing. We can all agree the Bachelorette shouldn't have been Hannah G.—she has a thriving career of "content creating" ahead of her either way, and I think she's about as ready for marriage as Demi is (f*cking 23-year-olds). Can we all secretly, quietly agree that we didn't want it to be the qualified and mature Tayshia either? I want many good things to happen for her, and I'm genuinely grateful that her screen time forced Colton to open his mouth for reasons other than kissing. But first of all, the last two Bachelorettes we've had have been responsible, grown-up women, and it's been boring as hell. Second of all, while it's f*cking disgraceful that there's only ever been one non-white Bachelorette, ABC needs to do some serious work on itself before they are ready to have another.
The show, in its current state, is barely equipped to handle a Bachelorette of color. Let's not forget the many "yikes" moments in Rachel's season where ABC cheerfully broadcast that it has no idea how to address race in a thoughtful way. They (probably purposefully) put a feminist-hating, Black Lives Matter-disparaging bigot on the show as a potential suitor to the first black Bachelorette, and kept him on for weeks, forcing the black contestants to explain to him why his own actions displayed undertones of racism. In my opinion, the change that needs to happen is ABC hiring more people of color and doing a serious overhaul of their many regressive attitudes—not throwing another black woman into a series of semi-racist situations with all of America watching.
Similarly, on the subject of topics ABC is unequipped to handle, Caelynn would also have been a disaster. When Caelynn shared the story of her sexual assault, it was moving, unflinching, and brave. She proved her eloquence, her inner strength, and her ability to be truly vulnerable on camera. But holy sh*t, can you imagine a season of The Bachelorette actually grappling with this? Think about the male contestants they pick. You know at least four of them would have made tone-deaf references to sexual assault before the end of night one. And Caelynn would have had to tell her story and relive that trauma several more times on camera, with different men, who have differing abilities to respond correctly. It would have been painful, sad, and peppered with tactless transitions from Chris Harrison. And let's not forget that the producers, in all their "careful vetting", let a convicted sex offender compete on Becca's season—and he made it pretty far in the process! Caelynn has a valid and important story to tell, but I'm glad we're not seeing it on The Bachelorette.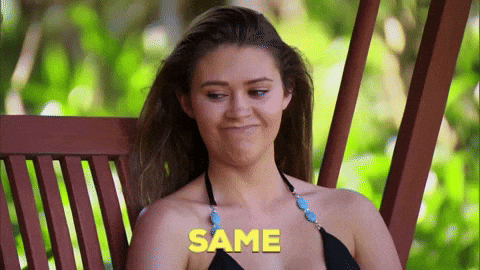 So, is my final point that Hannah B. is the perfect choice because she's young, white, and trauma-free? While I don't love the look of that sentence, that kind of is my argument. Rachel and Becca K., like I said, are smart, confident, gainfully employed women who know what they want. One of them wound up with her second choice, and the other with a MAGA troll—not exactly the empowering message we hoped they'd send. So maybe, at least for this season, we can stop pretending that The Bachelorette has the capacity to be an empowering show. I don't care if Hannah B. has the vocabulary of a fourth-grader and has never felt real pain. The Bachelorette is terrible at portraying eloquent women and their trauma in a watchable way anyway.
Hannah B., with her terrifying smile and big shiny eyes, was exactly the same person when she got sent home as she was when she arrived. While all the other girls slowly crumbled and dropped their facades, Hannah B. didn't flinch. ABC doesn't need or want an accomplished, mature woman as their Bachelorette. They need a marionette doll who can watch this guy rap without gagging. There will be no opportunity to get upset on this season of The Bachelorette—I'm sure whoever Hannah B. ends up with will be a great first husband. Until ABC is ready to make The Bachelorette a show that can handle serious issues without embarrassing everyone involved, bring on the Hannah B. Roll tide!
Images: ABC; Giphy (3)
The Best 'Bachelor' Recap You'll Ever Read: The Women Tell All
Welcome to Bachelor…Tuesday! I know what you're thinking—where's It's Britney, Betch?! Don't fret, friends, she is on a kickball team doing something mysterious and very cool, and will be back next week! I'm just helping out today because I'm such a good friend. And, please, don't even bother coming for me in the comments saying she's better and I'm not funny and this is trash yada, yada, yada. Because I already say that to Britney on Gchat everyday, and then again to myself every night. So I gotchu. Now, on to the task at hand, The Women Tell Us Nothing We Didn't Already Know or, alternatively, Bachelor in Paradise: An Audition. I have my wine, I have my bad attitude, and I am ready to partayyyyyy.
They start off the episode reminding us of everything that happened 24 hours ago, because the producers just assume we all blacked out on Whispering Angel while watching that cringe-fest. Fair. Last night, Cassie told Colton that she's just not that into him, Colton finally jumped that f*cking fence, and Chris went on the hunt for his runaway Bachelor, like he was a bloodhound racing to find a missing child in a really juicy episode of Dateline.
Chris intros the show, and is giddy that last night "Colton's worst nightmare" came true. "He disappeared into the dark night of the Portuguese countryside. He is lost to us." Okayyyyy Chris you're not penning the next great American novel, you're just phoning it in on a network reality dating show, I think we can tone down the dramatic prose just a bit.
The women get introduced. I do not recognize half these women, but am pleased to see that Tracy's eyebrows grew in. Did she invest in microblading?
Okay who TF is Jane?? Now ABC is just trolling me. I see you ABC, and I know she's a really a seat warmer while Elyse is in the bathroom! Right?
Since Colton's season continues to give us little to no content, ABC decides to waste our time and throw it back to "the most dramatic" moments of seasons past. They're going all the way back to Jason Mesnick. Really? Demi wasn't even born yet when that season was on! Caelynn was still a toddler in a tiara! No one here gives a sh*t. TBH all these flashbacks really do is show us how little emotion Cassie actually felt last night. Her eyes were drier than the Sahara Desert. 
Then they decide to show us clips from the season that WE JUST WATCHED. Chris says "there was a lot of drama before the infamous wall jump." Dude. We've been calling it a fence all season. Were you even here?
Oh good, our first shower scene of the evening. Why does ABC insist on making me feel like I'm watching a perv's secret bathroom camera every episode?
We're 15 minutes in and it looks like we're finally going to start!
Chris: What were you thinking when you met Colton?
Ladies: 

And now more clips of all the fake feuds we just watched. Look, I may scroll through Instagram for the entirety of every single episode, but give me a little credit. I can look at pictures of balayage and watch Colton dry hump a blonde at the same time.
Chris immediately brings up the Onyeka/Nicole feud, because he would like to drown the audience with Nicole's tears and finish up early. The ladies basically just hurl insults at each other, and I feel like I'm back at a sorority chapter meeting. Funny, I used to drink through those too.
Nicole: You said I was mentally unstable.
Onyeka: Liar! I said you were emotionally unstable!
Chris then asks Katie why she told Colton that certain women were not there for the right reasons. She tells him she was talking about Caelynn and Cassie. OMG! Katie claims she heard them talking in Singapore on the bus from the airport to the hotel, and they were saying to each other that one of them should "win" and then the other can be the Bachelorette.
Caelynn says Katie is lying. Katie says Caelynn is lying. I'm lying to myself that this hell is almost over.
Okay seriously though, WHO IS JANE?! And why is she defending Caelynn? FYI Jane, even inserting yourself into this dumb feud is not gonna get you on Paradise, honey. Maybe call up MTV and they'll let you on Ex On The Beach? Different beach, same low standards. I think you'll fit in well.
OMG, Kirpa says she heard Caelynn was talking about sliding into the DMs of cast members from other seasons! WHO?! Please tell me it wasn't Robby, please tell me it wasn't Robby. Their veneers combined would blind the innocent public.  
Demi apologizes for calling Courtney "the cancer of the house" and changes it to the bed bugs of the house. People may not like Demi, but you can't deny she was MADE for reality TV. We are blessed she lives during this time. What would have happened if she was born during like, the Victorian era or something? She would have been beheaded SO FAST.
OMG! Courtney just told Demi she has the maturity of a 3-year-old and SHOVED A PACIFIER IN HER MOUTH. Um, isn't that assault?

Okay now we're finally getting to the good stuff. Chris calls Demi up to the hot seat. Demi talks about how she is not ashamed of her sexuality and starts shouting, "It's 2019! I'm promiscuous! Sorry dad!" Aww, that's sweet. She thinks her Dad doesn't know. But like, he's met you?
Chris then tells Demi she was very brave to talk about her mom being in prison.
Demi: I was going back and forth about it, but when I realized I could use it to stay longer, I decided to tell Colton.
Chris asks Demi if her mom is proud of her. Demi says yes and it's like DUH of course she's proud! Her daughter was one of the most ruthless competitors in Bachelor history. What's not to be proud of?
And ANOTHER Colton shower scene. Did you guys know that every time ABC shows Colton in the shower, an angel loses its wings? It's v sad.
Chris calls Nicole up to the hot seat. Really? Does she warrant more time? We heard her get yelled at for a solid 45 seconds, and got a chance to check out her fresh highlights. That's all I need to see. Chris pulls out a box of tissues for Nicole, like my therapist doesn't also do that for $200 a session. You ain't special, Chris.
Nicole tells Chris she went on The Bachelor because she wanted to make her family proud. Hmm, you didn't want to try, say, volunteering first? Perhaps going back to school and get a masters degree? No? The Bachelor, you say? Okay. And I'm sure Paradise will make them even prouder!
Wait WTF is this?! Chris basically called Nicole up there to tell her she is getting free Halo Top Ice Cream for a year?! Cool, ABC is literally selling airtime to advertisers now. And to think, when they showed the preview for this segment I thought ABC was going to do something nice for Nicole's autistic brother. I hope he isn't lactose intolerant!
AND ANOTHER SHOWER SCENE. My sexual attraction has been so diminished by these I don't think I will ever find a man appealing again, let alone Colton.
Chris calls Hannah B. up to the hot seat. She looks FIRE and is daring ABC not to choose her as The Bachelorette. Caelynn, the gauntlet has been officially been thrown down, and I think this might be the first competition where you don't beat Hannah.

Hannah says she feels pressure to be perfect, and has always struggled with it, and has a hard time being vulnerable. Man, whoever wrote this monologue for Hannah really knows what they are doing. It makes me like her, and I hate everyone. Seriously. Ask everyone I work with. They'll tell you I f*cking hate them.
Chris then gives Hannah a chance to redo her toast that she fumbled during her first one-on-one with Colton. I want to tell you it was better, and that at least she didn't end it with "roll tide" but then she did, so I can not. Alabama, you all need to get some new material.
Caelynn gets called up to the hot seat. I feel a deep hatred toward her garbage bag cut into the shape of a dress. It's rare that designers really nail the unique sheen of the Glad brand, but by god they did it!

Caelynn cries while watching her time on the show back. She says it was hard because she felt like she had met her person and then he dumped her. Don't worry Caelynn, you're only 23! There's plenty more disappointment ahead of you love to come!
Caelynn also says that Colton told her he was falling in love with her since Singapore and "That's a long time." Oh honey, 72 hours is only a long time to a fruit fly.
Chris does take the time to commend Caelynn for sharing her story of sexual assault on the show. And as much as I really don't like her as a person, or how Colton responded to her, I will say it was very brave of her, and I do hope that it helped her and helped others. Snaps for Caelynn!
And Colton has FINALLY emerged from the shower, pruny as a spring breaker who fell asleep in the hot tub after a late-night drinking sesh. Does he look different to anyone else? Did he dye his hair? Or is it because he finally put his P in a V?

Chris asks Colton how he's feeling and Colton says he's nervous, which surprised him because he thought he would be "cool and confident?" At this point I looked around my empty apartment and screamed "This guy thinks he would ever be cool and confident?!!" My couch and kitchen table both agreed this was absurd. Then we all had a good laugh.
Caelynn: What went wrong?
Colton:


Then Sydney takes one for the team and asks Colton if he's still a virgin. We're listening. But instead of answering, Colton takes this time to ask Sydney what the phrase "whack my weeds" means. Colton! You know you are supposed to have sex talks exclusively with Chris or he won't get his bonus. Why you gotta do him dirty like that?
They transition out of this discussion before we get an answer out of Colton, which is fine with me because now I can stop shrieking in horror over what is happening on my TV screen. I don't need my neighbors calling the cops on me again. Chris asks Colton about the "fence jump." Ahhh I see he remembers his line this time.
Chris:  What was going on in your mind as you were running away?
Colton: I can't believe girls don't even want to f*ck me when I'm the Bachelor.
Truth.
Chris assures us that Colton makes it back alive, as if I'm not looking at his basic ass on my screen right now.
ABC then shows us bloopers, which I will sum up for you like this: Hannah G. maintains her lack of personality even when a tent falls on her, Colton gets more intimate with a street dog than he does with Cassie, and places have bugs.
I hope you enjoyed the 15 minutes of new footage we just watched! Next week, Colton's journey finally ends, and hopefully none of us will ever have to hear a grown man talk about his virginity ad nauseum again. Later!
Images: ABC (4); Giphy (3)