This Twitter Thread About One Guy's Trip To Cabo Sounds Like A True Crime Documentary
There are certain wonders of the world that cannot be explained. Who built Stonehenge. Who was Jack The Ripper. Where is Cleopatra's tomb. How is Twitter free. That last one I ask myself at least once a day, especially when I come across content that is too premium to not cost money. That happened last night when, during my usual Twitter scroll, I came across a thread from Andrew Kimmel detailing his recent trip to Mexico. After reading it, completely captivated, I immediately sent it to my friends, telling them it is the most interesting thing I've read on Twitter. I know that's a bold claim, but I promise this thread will deliver.
The thread starts out like many disgruntled travel tweets, with Kimmel tweeting at American Airlines. "Ugh, here we go," I said to myself. "Another angry rant at an airline because someone's flight got delayed over circumstances beyond the airline's control." But that's not what happened at all—instead of your run-of-the-mill "f*ck you American Airlines for canceling my flight due to severe blizzards" tweet, I got a full-on action movie.
Dear @AmericanAir,

After arriving back to LA from Indonesia, I was $275 EQDs under (yet 25K miles over) from maintaining status. You asked me to pay $1875 (?!) to keep status, so instead I booked a $400 rt ticket to Mexico for 24 hrs. Here's how my fucking night went…

— Andrew Kimmel (@andrewkimmel) December 31, 2019
Okay, so I am not on any kind of status on any airline (except maybe "don't give this girl any wine" status), so I could relate to approximately zero percent of this tweet. But I'm guessing the gist is this (rich people, feel free to correct me in the comments): in order to be able to keep some perks, Kimmel would have to spend $275 more dollars on a flight, or $1,875 real dollars. That is some ridiculous math, but sounds about right for airlines. So Andrew says "f*ck it" and buys a trip to Mexico so he can keep that sweet, sweet status.
Things start out pretty good so far.
I managed to find a cheap hotel room and rented a car for $35. I went out for a nice dinner and met a family who surprised me and paid for my bill (perhaps I should eat alone more often!). I then decided to hit some bars. And this is where my 24 hour mileage run got interesting.

— Andrew Kimmel (@andrewkimmel) December 31, 2019
And then things go from "Instagram highlights" to First 48 Hours episode.
At the last bar of the evening, I was presented with a bill for over $300. I had two beers. The bar manager said I needed to pay or he'd call the police. I give him my credit card and it was declined due to fraud protection, which I found out today as my phone had died earlier.

— Andrew Kimmel (@andrewkimmel) December 31, 2019
First of all, never go to a bar with a dead phone. Second of all, that beer had better be fermented with liquid cold and come with a side of Tyler Cameron if they're going to charge $150 for ONE. (Yes, yes, I know it's plain extortion, just go with me on the joke here.) Then, things get crazier.
Of course the police were working with the bar manager w/ the tourist swindle, so the police handcuff me as the bar manager steals my debit card and passport. I'm put into a police car and sit up front with two officers. We actually got along quite well as I applauded their con.

— Andrew Kimmel (@andrewkimmel) December 31, 2019
I actually can't wait for the Scam Goddess podcast to cover this con.
The police bring me to a jail somewhere outside of Cabo. I asked if they could at least get my passport back. They laughed and said they're locking me up for 30 minutes then letting me go. I'm placed in a cell with a guy from the UK who got into a fight.

— Andrew Kimmel (@andrewkimmel) January 1, 2020
So then the next tweet is about how this guy from the UK is lamenting from Mexican jail about how his wife is going to kill him. It's not super necessary to the plot, but it does add some character.
Three hours goes by. "Capitan? Capitan?" I shout through the bars. It's now daytime and my cell mate tells me he's gotta take a shit, but there's no toilet paper. There is a blanket covering the window, so I suggest he take it off and use that. And he did.

— Andrew Kimmel (@andrewkimmel) January 1, 2020
Then, Kimmel takes a nap while his cellmate's wife posts his bail.
I doze off. I'm awoken several hours later by an officer. "Your friend pay bail." What the fuck? Im given my belongings and shoved outside where a woman from Kenya was waiting for me. "I heard what happened when you came in, so I figured you could use some help."

— Andrew Kimmel (@andrewkimmel) January 1, 2020
Obligatory "thanks, kind stranger!"
I thank her over & over and ask what she was arrested for. "I ordered an Uber and the driver said I didn't pay." Fuck Cabo. So now the two of us start walking to nowhere and spot a guy chilling in his car. We ask for directions back to the marina and he instead offers us a ride.

— Andrew Kimmel (@andrewkimmel) January 1, 2020
The Cabo tourism department (do they have one?) is probably sweating right now.
Imagine if a Mexican & a Kenyan came up to a car in the US & asked for directions. Anyways, we get to the marina & the Kenyan offers the guy cash… he refuses. It's now 2:00 & my flight leave at 3:26. The Kenyan joins me to the airport, but unfortunately her flight was at 8:30am

— Andrew Kimmel (@andrewkimmel) January 1, 2020
I have no fucking clue what I'm going to do. I call passport control in the States to report a stolen passport. They tell me to call the local embassy. I call and they're closed. I ask my new friend to wait in the car at the airport as I run to the airline desk. It's now 3:00pm.

— Andrew Kimmel (@andrewkimmel) January 1, 2020
Losing my passport is one of my biggest nightmares, so I can only imagine how Kimmel feels.
I tell the airline agent what happened and ask if there is anything I can do to get home. I show her my Real ID (what a stupid fucking name) and a photo of my passport. She gets on the line with CBP and somehow arranges for me to jump on the last flight out without a passport.

— Andrew Kimmel (@andrewkimmel) January 1, 2020
So, my driver's license expires in 2020, so I spent no less than a few hours during Christmas discussing with my family all the different types of IDs and what each one does. And isn't the point of the Real ID so that you can go to Canada and Mexico without a passport? Or is that the enhanced one? F*ck, they make this sh*t way too complicated.
I'm directed to the immigration desk as the airport and advised I need to purchase a new immigration form for $35. "All I have is my credit card," I tell them. I'm then redirected to another desk that accepts credit card payments. "We'll need your passport to process, sir." pic.twitter.com/WsAZQSuLCV

— Andrew Kimmel (@andrewkimmel) January 1, 2020
LOLLLLL what kind of insane episode of the Twilight Zone is this? I would have probably snapped and ended up back in a Mexican jail at this point.
I run back to my friend in the rental car, tell her I can make the last flight out, but I needed more money 🤦‍♂️ At this point, I'm losing my shit over just about everything, and she grabs my hand, tells me it'll be ok and then kisses me 😳 I kiss back. What the fuck is happening?

— Andrew Kimmel (@andrewkimmel) January 1, 2020
Okay, wait what? When did this go from "friends" to you're now kissing outside an airport before running to make your flight? I know that this is a Twitter thread, but a little foreshadowing that there was sexual tension here would have helped.
"If you don't make your flight, you can stay with me at my Airbnb," my jail crush tells me. Fuck. What once was "get me out of Mexico" turned into, "well this could be interesting." But of course I couldn't. I came to Mexico for a goddamn mileage run & I'm getting that status ✈️

— Andrew Kimmel (@andrewkimmel) January 1, 2020
Alas, it was not meant to be. Kimmel made it home (but no word on whether he made it to his friend's New Year's party, since according to another tweet he landed in LA shortly after 1am).
So to sum it up, I was $275 short for status… was given an offer to maintain for $1875 (!?), took a $400 flight to spend 24hrs in Mexico after 20hrs travel the day before & ended up in a Mexican jail w/ no passport, a $350 bail bill, & an African crush. Happy new year everyone!

— Andrew Kimmel (@andrewkimmel) January 1, 2020
So now I've got about a million questions. Did he and his Kenya crush exchange numbers? Will they see each other again?? And is he ever going back to Mexico? Just kidding about that last one. But I really can't wait until Netflix options this movie as a suspense drama/rom-com with Noah Centineo starring as Kimmel. This was seriously better than half the thrillers I've read this year.
The other amazing/terrible part of this? American Airlines responded to Kimmel's first tweet…. completely missing the mark.
Reaching Executive Platinum status isn't easy. For those who make it, the benefits are amazing! We're happy you'll make your goal!

— American Airlines (@AmericanAir) December 31, 2019
Yikes, read the room. Some intern at American Airlines is definitely getting fired, and I bet legit bars and hotels all over Cabo are going to be falling over themselves to offer Kimmel and his jail crush some free drinks and a place to stay. Not a bad ending to an otherwise traumatic experience!
I feel like the moral of this story is, if you're going to book a cheap flight just to maintain your mileage status, fly domestic. Oh, and don't go to a place called Urban Bar in Cabo San Lucas (with a name like that, though, it seems kind of obvious the place is a scam).
Images: JESHOOTS.COM / Unsplash; andrewkimmel / Twitter
The Betches' Bachelorette Guide To Cabo
Planning sucks, and bachelorette parties are a ton of work. So we're taking all the guesswork out of planning a bachelorette party by breaking down top bachelorette destinations. Our guides will tell you where to stay, eat, party, how to get around, and give you a sample itinerary that you can follow. You're welcome. Here's our Betches Bachelorette Guide to Cabo.
If you're near the end of your reign in Singletown, Land's End (aka Cabo) is where you should head to live out your last days pre-"I Do." Los Cabos is one of those no-brainer bachelorette destinations because you can either go Girls Gone Wild Baja style, or just chill by the pool sipping margs all day, not doing a lot and not giving a f*ck. If you're anything like us, you'll probably want to do both. Retox to detox, amirite? And considering more celebs and Insta influencers party here than most other parts of Mexico (or the world, quite frankly), there's always a ton going on. Day clubs, nightclubs, dive bars in the sand for all the tacos, pool parties, swanky hotels with major restaurants and bars, year-round sunshine, more clubs… Basically it's a dream vacay with the girls, right before your dream wedding day. But before you bust out the matchy-matchy bride squad bikinis, peruse our official Betches Bachelorette Guide to Cabo, then go forth and make us proud.
How To Get There
If you live on the west coast, congrats! You're already halfway to Cabo! Especially you LA betches. East coasters (and New Yorkers in particular), go a day early and leave a day later because most airlines and itineraries make you connect, and while Cabo is always worth the trek, it's a far one. 7-10 hours kind of far. According to our friends at Orbitz, January is the cheapest month to go (airfare ranges from the mid $300-400 mark, depending where you leave from), but you can also find serious deals on hotels and packages September through November. If you plan on reserving your tickets months in advance, just hold on. Three weeks out is when you'll find the low-budget prices, and forget waiting until a Tuesday to book. While this weekday was once the cheapest time to purchase flights, you can bank 36% in savings if you book on Sunday. More money for swimsuits, yasssss.
How To Get Around
Just delete your Uber and Lyft apps, because they're a damn waste of battery and storage in Cabo. Taxis are the way to go and relatively cheap, plus they all take US dollars. Plus, once you're on the main strip in Cabo San Lucas you can easily walk (or stumble) from one bar to the next. Many resorts are next to one another on the beach, so the same thing goes for pool party and day club hopping—by foot is fine. Just note that we wouldn't recommend this mode of transportation at night, as it can be rocky AF in the dark. Safety first, ladies. As for getting to and from Cabo San Lucas and San José del Cabo (the other side of Los Cabos, 20 minutes away), a one-way fare is roughly $40, but can go as high as $70. Time to put your bargaining skills to the test.
Even though these competing towns are semi-close, they're totally different in terms of vibe. Cabo San Lucas used to be a quaint fishing village that's turned straight-up scenester and boasts some of the best nightlife, biggest party hotels, and maritime activities, while San José del Cabo is way more chill. The legendary Flora Farms is there though, and Nido at Viceroy, plus Omnia Dayclub…but more on that later. If you can't decide on a side to stay, a few upscale resorts are situated in between the two (like Las Ventanas al Paraiso, A Rosewood Resort and One&Only Palmilla). Less time in a cab = more time at boozy brunch. Just sayin'.
Where To Stay
If you're trying to ball out on your bachelorette, there are serious crash pad options at The Cape in the form of penthouse suites and residential villas that come with cater-to-your-every-whim concierges and luxe perks. We're talking massive outdoor patios with private plunge pools, grills for BBQs, fully-stocked kitchens and bars, and everything you need to make getting wasted living your best life with your entourage easy peasy.
If you can't fit the entire squad in your cushy quarters (or only extended the VIP invite to a select few), not to worry. The 161-room hotel has plenty of other accommodation categories that all offer unobstructed views of the Sea of Cortés and famous arch rock formation. Another positive about going with a smaller scale boutique gem is you won't get drunkenly lost, like you would at a spring break hellhole. The Cape is serving intimate vibes (along with countless Insta opps with their modern architecture and open-air layout), so finding your way to the pool, spa, and rooftop lounge—or home at night tipsy in heels—is actually possible.
Then there are these epic soaking tubs to discuss:
Wine, bubbles, and a few blissful moments of ME time are really all we need in life, especially on a girls trip when the hostess demands are coming in hot. Did we mention there's a craft beer garden with rotating resident DJs? So if you're too hungover to actually leave the premises, the good times keep on keeping on at bach HQ. Foodie brides-to-be (and besties) will also be psyched to hit up onsite restaurant Manta, helmed by chef god Enrique Olvera. Go watch his Chef's Table doc on Netflix and you'll get it.
When you do choose to head out for shots, shots, shots, The Cape is only a short taxi to the Cabo San Lucas nightlife scene, and if anyone is feeling adventurous the next AM (although doubtful), it's situated on prime turf for surfing. Monuments Beach is less crowded than most other stretches of sand, which we can appreciate when we're in a no new friends mood.
Another hotel route is the all-inclusive, which is a great option if you're looking to save a few bucks. Le Blanc Spa Resort Los Cabos is the nicest (and newest) in Cabo and they're adults-only, which is the only way to roll on a bachelorette. Kristen Cavallari recently stayed here with her girl gang to shoot Very Cavallari, and they offer a ton of Betches-approved packages for groups, including perks like airfare credits for staying an extra night, early booking rewards, resort and flight bundles, and more ways to help you save coin for when you need them most—bottle service at the club.
Le Blanc's personal butlers will even unpack your luggage for you (because why should you lift a finger on your bach?) and be at the ready with a comfort menu, so you can select a bunch of bougie pillows, bath salts, aromatherapy oils, and handcrafted soaps. High-maintenance divas, just try to contain yourselves.
Where To Eat
When in need of fried fish tacos to soak up the booze and cure a killer headache, Mango Deck, The Office, Baja Cantina, The Giggling Marlin, and Zipper's will do the trick. As for more refined fare for the fancy group dinners you are really coming to Cabo for, commit these to memory:
Cocina Del Mar Restaurant at Esperanza: Besides the fact that this clifftop setting is beyond stunning (and probably splashed all over your feed when perusing the 'Gram for travel inspo), it's one of the most epic gourmet experiences you'll have in Cabo. Just be sure to pace yourselves throughout the culinary journey that is Cocina Del Mar, since you'll actually want to remember this meal from start to finish.

Nicksan: Damn fine sushi straight outta the Pacific Ocean that's been a mainstay in Cabo for years. Order the tempura oysters curry yaki, beef filet serranito, clear lobster rolls, and as many nigiri and maki as you can stomach before a big night of drinking.
Flora Farms: 100% brunch goals. If you didn't come to this magical farm-to-table restaurant and grocery in the foothills of the Sierra de la Laguna Mountains whilst in Cabo—did you even GO? The answer is no. From their veggie-centric libations (like carrot margs and a Bloody Mary made with heirloom tomato water) to their Neapolitan-style pizzas and every garden-grown delicacy on the menu, it's just so so delish. And cute.

Chileno Bay: Cabo is known for its desert-meets-sea appeal and for this visually-charged reason, Chileno Bay is high our list of places where we want to stay, spa, and die happy. For the bach however, we'll settle for dinner at Comal or lunch at beachside taco bar TnT.
Nido at Viceroy: Dinner in the floating nest needs to be on the Cabo bucket list for sure. Not only is the ceviche and catch of the day next level, but their house-made sangria and Pisco-based cocktails will get you feelin' loose in no time.

P.S. The resort just launched an Instagram Bestie program for bachelorette groups, which allows you to book their dedicated photog/tour guide. They'll lead you to the best spots, put you in the good light, and snap the pics. Yes, really.
Where To Spa


Even if you visit The Resort at Pedregal just for the champagne tasting at El Farallon, or to check in and brag to all your friends back home that you went, it's worth it. Constantly named Cabo's #1 resort, it's in a league of its own, but we suggest going for the spa offerings because to put it mildly, they're B-A-N-A-N-A-S. There are Mexican folk healing rituals that will make you forget what you did the night before, "the cure" detoxes to restore your body and mind to a working state, non-invasive "inhabit face lifts" that fill, tighten, and firm (because God knows we need that) and four different types of "moon phase" treatments that encourage self-discovery. Exactly what a bride could use post-bender and pre-walk down the aisle.
Where To Party
Every day's a nonstop party at ME Cabo, which has insane daytime pool ragers and one of the only swimmable beaches in Los Cabos. This makes it a must-visit for bachelorettes. If you're into wet t-shirt contests, rolling magnum champagne carts, and flirting with randoms three (okay six) drinks in, you'll have a blast at their day/nightclub Blue Marlin Ibiza Los Cabos.

Omnia Dayclub over in San José del Cabo is also a given for questionable shenanigans, and you should definitely check out their main event, Endless Sundays. The Hills hottie Audrina Patridge just celebrated her birthday there, and it's always crawling with reality stars and big name headliners like Zedd, Diplo, and Chantel Jeffries. While on property at Vidanta (where Omnia is located), swing by Casa Calavera when you need to come up for air, before downing more tequila. This beachside Day of the Dead-inspired cantina from Hakkasan Group will save your life in-between DJ sets in the form of crave-worthy nibbles and guac.
As for where to party it up, nightclub wise, El Squid Roe is a given for drunk girls blowing penis whistles in coordinating outfits, all while being sprayed by waiters wielding tequila guns. Too much to handle, or not enough? Other top contenders for drinking and dancing whilst getting slightly less obliterated include Mandala, Pink Kitty, and Crush, and Cabo Wabo Cantina, La Palapa, Cabo Lounge, Cabo Blue, Jungle Bar, and Rockstone Tavern for live music.
Thursday, Day 1
Pro Tip: If you're traveling from the east coast, book the earliest flight humanly possible—especially if you have to connect—and then drive over to Cabo San Lucas from the airport in San José del Cabo (the main international airport).
Check into the hotel, unpack, and claim your bed
Throw on your suit, rip obligatory welcome shots of tequila, then make your way to your hotel pool. Or if you want to start out with a bang, book a daybed or a VIP table at Blue Marlin Ibiza at ME Cabo (note: these sell out fast so book in advance)
Take a lunch slash happy hour break at Mango Deck or The Office and check fish tacos and margs off the list of to-dos
Nap time! Seriously at this point you're probably already drunk and even if you find a lone hammock to fall into a power nap is what you need to make it through the night
Head to drinks at The Rooftop at The Cape, then dinner at Manta (or vice versa)
Go big and don't go home. JK, obviously you should get some sleep at some point to do it all over again the next day. But not before club hopping at Mandala, Pink Kitty, and EL SQUID ROE
Friday, Day 2
Pro Tip: Sleep in, then wake up and drink as much tequila Pedialyte/Gatorade/coconut water as you can before ordering mimosas and Bloody Marys at brunch. Hydration is key for another big day ahead.
Brunch by the pool or make your way over to head to TnT at Chileno Bay for lunch and then you can take advantage of their swimmable beach (one of the only others besides the one at ME)
Use the app GetYourGuide to book a glass-bottom boat tour around the Sea of Cortez, go parasailing above The Arch, snorkel near Lovers Beach, or scuba dive around Cabo's protected coral reefs
Get dressed up and head to a sunset dinner overlooking the water at Cocina Del Mar Restaurant at Esperanza, or El Farallon at The Resort at Pedregal
Break out your bach party flair and roll in like a unit ready to take over Cabo Wabo Cantina
Saturday, Day 3
Pro Tip: Take three would be the time to switch hotels if you want to be closer to San Jose del Cabo—and the airport to go home. Las Ventanas al Paraiso is in-between both sides of Los Cabos, so not too far of a trek if you're hungover.
Brunch at Flora Farms and document every single moment on social media
Get ready for an all-day rager at Omnia (unless your flight leaves later on Sunday and you can go for Amazing Sundays)
TAKE A NAP!!!!!!
Head to Nido at Viceroy for your last dinner out
End your epic weekend at Mixology Fusion Bar, the one main nightclub in San Jose del Cabo—just be sure to find out the secret password to get in beforehand
Sunday, Day 4
GO THE F*CK HOME AND CALL OUT SICK FROM WORK ON MONDAY TO SLEEP OFF THE BENDER YOU JUST SURVIVED!!
Who Had A Worse Birthday: Stassi Or Ariana? A Timeline
This article required a lot of deep-diving into old Vanderpump Rules (ya welcome). So before I get into the issue at hand, I need to vent a few things. Wow, it's weird seeing Kristen and Tom together. Katie, how did you ever justify that hair? And present-day Jax looks like someone who ate season 1 Jax. I am shooketh. What a journey it's been. On the topic of aging, it's the most contentious happiest time of the year! Sunday, June 24, is the birthday of both Ariana and Stassi. Historically, this is when they evenly divide their mutual acquaintances and compete over who can throw a better party. In honor of these two fab ladies, let's take a look at who did it better over the years. Happy birthday, and try to play nice this year!
Seasons 1-3
Tricks, no significant Ariana yet. Seasons 1-2, she's not yet (openly) with Sandoval, so we're not allowed to fully care about her. Or see her birthday parties. And season 3 has no Stassi. For a quick recap of Stassi's birthdays: season 1 is Vegas with horrible ex-boyfriends Jax and Frank; season 2 is Cabo and everyone hates Scheana. Also, the description of Stassi as Malibu Barbie in these seasons is hauntingly accurate. Moving on!

Season 4
Still no Stassi (sad), but Ariana does a great job stepping in as the resident birthday bitch. Weirdly, Peter decides to be her competition on this and throws a guys-only trip to Vegas. For, as Ariana puts it, "the day after fucking birthday." Obviously, this launches an all-out war between the men and women of SUR. Katie tries and fails to assert any control over Schwartz, yet again. Ariana gets deep and talks about the loss of her father, but Sandoval's brain is chanting "bulldozers" too loud for him to give a shit. In a move that ultimately surprises no one, every single guy who is invited goes, even as their girlfriends beg them otherwise. The girls stay home and make out with each other. The win goes to first-time player Peter, who as punishment is never allowed to celebrate his birthday on camera again.
Ariana does throw a party, and it's interesting. It's "kid themed," which means they all dress like slutty versions of 6-year-olds and jump on giant trampolines. The fake sumo wrestling and bounce houses I could do without. But the pool floats, tequila, and option of pouring a bucket of cold water on Sandoval's head make it way better than any party I've thrown.

Season 5
This year is more of a contest of who's having a worse time. Stassi takes Katie, Kristen, and Scheana to Montauk so that Bravo can kick off Summer House. Kyle does a bad job hitting on Stassi and Stassi does an even worse job handling it. Scheana and Kristen bitch about not liking seafood. Katie takes too many shots and no one wants to deal with it. The house is nice and all, but ultimately they're getting drunk in a kitchen with East Coasters they don't know.
Ariana, on the other hand, has a NASCAR birthday weekend in Sonoma. For the producers' enjoyment reasons unknown, this involves packing Jax, Brittany, Sandoval, Schwartz, and Ariana into an RV. Jax bullies the shit out of Brittany, Ariana teaches Brittany what "misogynistic" means. Someone clogs the toilet. It is, quite literally, a shitty time. Which birthday party is better depends on what's important to you: not being bored to death, or having access to a real shower. I know my preference.

Season 6
Finally, we get to Season 6. As I'm sure you all remember, Ariana throws a Kings and Queens themed birthday party. Stassi also throws a party, and the theme is murder. Ariana's birthday is great opportunity to mix lingerie with fur. Stassi's is an opportunity to let Katie paint your face and watch her take ass shots. Stassi's freaking out because she's hopped up on tequila and Adderall and invited her shithead of a boyfriend Patrick. She leaves Katie and Kristen with a bill for over a thousand dollars, which they do not take well. Ariana's party involves fewer breakdowns, but a lot more of Scheana's exposed skin. Again, it's a pick your poison situation.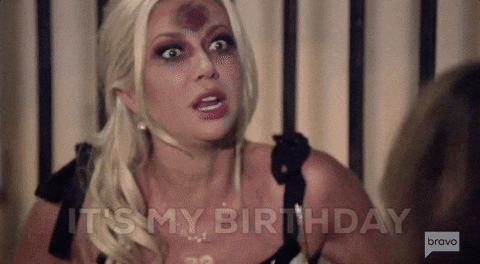 All told, I'd have to say Ariana's parties are better if you're into elaborate themes and dressing up. The one year Stassi tried to do that was…weird. But historically, Stassi nails the whole luxury trip/drunk by the pool type of birthday, which is my personal preference. It's a shame that most of them came with a side of Stassi screaming incoherently, but you win some, you lose some. Happy birthday again to Ariana and Stassi, and can't wait to see what they dream up next.
Images: Giphy (4)
The 'Vanderpump Rules' & 'Summer House' Casts Are Besties
I've said it before, I'll say it again: Vanderpump Rules is one of the greatest shows of our time. I know pretentious af TV watchers will be like, "No way. What about Downton Abbey and Breaking Bad and Veep?" STFU, no one cares about your fancy shows. Sure, this season of VPR has been a little lame because Stassi's lost her betchy edge and I literally couldn't give two fucks about who Lala is sleeping with, but whatever, shit's still fire. Because once a week isn't enough, Summer House premieres Jan 16. It seems like it's pretty much VPR but in Montauk. How can we tell? Because the assholes that are the cast of Vanderpump Rules spent New Year's in Cabo with two of the Summer Housers. Obvi.

Summer House's Ashley and Lauren Wirkus, aka the Wirkus twins, are apparently friends with Stassi. I mean it makes sense because they're all blonde and probs a little mean. They made an appearance in an earlier VPR episode where they met Stassi for lunch at SUR and Queen Lisa dragged Stas, lol. And the whole Summer House crew is going to show up for Stassi's bday in Montauk next week. What a strange coincidence.

Now about this whole New Year's vacay to Mexico thing.

Here's my question: Does Stassi really fucking hate LA or just hanging with the SURvers or what? Because she randomly became BFFs with Naomie and Craig on Southern Charm this summer and now she's all up in Summer House. I mean, what's next? Married to Medicine? Lol now that I'd watch.