4 Pilates Moves To Tone Your Butt & Legs
All these exercises strengthen butts and legs at the same, but most importantly, without a strong core (which, in pilates, we refer to as The Powerhouse), your shoulder and hips will tighten as a result of bearing the brunt weight of your body.
These exercises are typically performed in a systematic order of the classical pilates to be more effective. Before taking on any of these exercises, make sure you've already exercised. For example, jogging, bicycling, Soulcycle, etc. would all work. This is to ensure that your muscles and joints are supple, to sustain and keep the form of these exercises with consistency.
Single Legs Kicks

Setup: Lie flat on your stomach, nose to the mat, and place your palms in line with your ears. Engage your abs, press the floor away with your palms into straight arms, lift your chest up and stretch it forward, bending the elbows just under your shoulders, with each hand in a fist to anchor you, and your head in line with your spine, eyes leveled.
Movement:  Kick the heel of your foot to your bottom in a dynamic motion like "kick kick" and switch, "kick kick" and switch. As you kick your heels, keep your hips and butt stable by pressing the hip flexors to that mat, zip the inner thighs, and keep the knees together. Engage your glutes, and kick for 3 sets. Do not let your booty pop up, hence why you press the hips to the mat. Be mindful not to let your lower back collapse either, which is why your abs must be engaged with a pull in and up.
Modifications: Lower your abs down to the mat with your chest up and forward, with your elbows slightly forward, and your hands in a fist in line with your elbows, and kick your heels to your bottom.
Double Leg Kick

The double leg kick is the next progression after double kicks.
Setup: Remain flat on your abs after the single leg kicks, with your chest down, on the right side of the face on the mat. Keep your neck long, and stack the palms on top of each other in the small of your back, ideally in the mid back close to the shoulder blades.
Movement: Kick the heels of your feet to your butt, 1-2-3. Lift the chest forward, then stretch and reach the arms behind you, over your butt and hands folded, to further open your chest. Then, turn your head to the left side of the face, lift and reach arms again, and repeat. Abs must be engaged, and legs stretched long when straight. Repeat 3 sets.
Modifications: If your shoulders or arms are tight, and it's too difficult to stack them on top of your lower back, rest the back of your hands on top of your butt or on the mat when kicking your heels to the bottom, and lift your arms up in line with your hips when you lift your chest up and forward.
Leg Pull down

Setup: In a plank position, put your elbows and wrist right under your shoulders, with your legs straightened out, and the heels of your feet together, toes apart, navel to spine.
Movement: Pull navel to spine. Flex toes to rock back in a straight line, and point your toes to lengthen your whole frame forward. Keep pulling your navel to the spine, and resist the gravity of your back collapsing down into the joints by lifting back up to the sky. After 3 sets of repetitions, lift the right leg and rock back and forth and repeat on the left side.
Modifications: If balancing your upper body on your palms is too much pressure on the joints, bend the elbows and rock back and forth on elbows with hands in a fist. Just remember to resist the gravity of the body upwards. Imagine you're balancing a tray with glass on it on your back, and don't let it slip off while moving. You have to balance it by keeping your back straight and level.
Leg Pull Up

The leg pull up is the next profession from leg pull down.
Setup: Start by sitting on the mat, knees bent, feet flat on the mat, arms stretched behind in line with shoulders, and palms on the mat. Lift your hips up in line with your knees and straighten the legs in front in two steps, heels together and toes apart.
Movement: Engage your abs and lift your right leg up, pointing the toes. Do not scrunch your feet, reach them like you're trying touch something in front of you, and maintain the height on of your hips as you lower the leg down the mat. Flexing, lift the left leg, reaching the toes, and repeat the same motion.  Repeat for 3 sets.
Modifications: To modify this exercise, keep your hips up, bend your knees with your feet flat on the floor and your feet and knees together. Keeping your knees in line with your ankles, progress to extend the right leg straight up from and in line with the hips, and with both knees leveled in even height, lower the right leg straight down to the mat to the height of the left ankle. Lift it back up to the knee's height, bend the knee, and switch to the left. Repeat the same exercise as the right leg. Repeat this in 3-5 sets.
Caution: This exercise is very challenging on the hips and shoulders, as you can stiffen up when locking your joints. The key to sustaining this exercise is to keep the heaviest parts of the trunk (i.e. chest and hips) up.
Images: Michele Paniz Photography
The Best Instagram Trainers For Quick At-Home Workouts
Don't get me wrong—I have nothing but
deep-seated disgust
respect for all the SoulCycling betches out there. But for me, paying $40 to feel bad about my Target sports bra and distinct lack of abs is not really something I'm willing to do. In my very busy, #adulting life, I have specific requirements for my workouts. They should be free, doable from home, and under 30 minutes. Oh, and actually feel like a workout—aka I should break a sweat and/or actively find it difficult. As it turns out, not everyone is as
lazy
innovative as me, so finding workouts that met all these criteria actually took a while. We all know the queen of quick at-home workouts,
Kayla Itsines
, but here are a few others for when you want to mix it up/be able to walk the next day. Without further ado, here are my favorite trainers with quick at-home workouts that actually work. You're so welcome.
Pamela Reif
I don't remember how or where I came across
Pamela Reif
, but she now plays an alarmingly large role in my life. Like, my boyfriend knows her name because I show him her Instagram so often. It's weird. Anyway, a quick scroll through her IG will reveal that her fitness routine is no joke—and neither are her abs. While she does legit gym sessions too, she's also the creator of several 10- and 20-minute
no-equipment workouts
that will leave you feeling like you just got out of Barry's in one-third of the time. She also reposts pictures on her story of ~regular people~ who do her YouTube workouts and tag her, and no lie, over half have mini six packs. My favorite videos are the 10-min "
Booty Burn
," 10-min "
Sixpack Workout
," and 20-min "
Flat Belly & Round Booty
". (Leg day freaks, don't @ me). If you only have 10 minutes to work out but want to be sore for three days, I can't recommend her ab workouts enough. Oh, and here's what HER abs look like, if you needed more convincing:
Gina M. Florio
I came across Gina Florio for the first time through
Popsugar Fitness
, which posted
this kettlebell workout
. Yes, the fact that it requires equipment is a little more high-maintenance than I care to get, but if you don't own two kettlebells (pro tip, dumbbells will work too), you should seriously consider investing. It'll cost less than a month's access to a very cheap gym, and you can do SO MUCH with them.
Gina's Instagram
is filled with quick at-home workouts with kettlebells, and every one I've tried so far is brutal in the best way. She breaks her workouts down so you're only doing 2-4 reps at a time, but you'll do 4-5 sets total. Personally, I love this system because it's much easier to trick your body into doing just 2 more than it is to do just 25 more. You'll definitely feel like you're dying between rounds, but you'll be done in 20 minutes and feel like a badass now that you know how to do things like snatches and dead cleans.
Fiji McAlpine
Some days, any kind of jumping/lifting seems like too much—even if it's only 20 minutes. When I really can't stomach HIIT-type action but want to justify the cookie I ate a lunch, I turn to my all time favorite yogi: Fiji McAlpine. You'll note that I did not link to an Instagram there. In demonstration of what a pure and legit yoga-teaching soul she is, she doesn't have one. Instead, you can find her workouts on
DoYogaWithMe
, an amazing website that shares a ton of free yoga videos for all lengths/focuses/levels. I discovered Fiji in particular early on through a friend's recommendation, and I'm obsessed with all the videos in her
14-Day Challenge
. Especially, as I'm sure you guessed, the ones that are
20
or
25 minutes
. Her classes are labeled as Intermediate, but I am by all accounts a Beginner and really didn't struggle with her classes. I just had to work my way up to certain poses, which she assures you in her very soothing voice is normal and ok. Fiji's approach to yoga is a perfect combination of deep stretches and active movement, so you don't get burnt out on either way but you never feel like you're wasting your time. If you're up for some light core work and can't remember the last time you stretched, Fiji's yoga classes will feel amazing. Just trust me.
There you have it! My fave ab/butt-focused, full body, and yoga workouts. All free, all minimal equipment, and all under 30 minutes. So next time your flaky friend pulls a bad sushi excuse and bails on SoulCycle, maybe put the $40 toward a new pair of shoes and try one of these instead.
3 Unexpected Ways Show Off Your Butt
You and I both know you haven't been paying for $30 SoulCycle classes because you "just love the way exercise makes you feel." You've been working hard to look good, and now it's time to show off your butt that you've been working so hard for. Sure, you could rock those high-waisted shorts with the hemline that's literally at your ass cheeks, but that might not work in all occasions, like work and family gatherings. Or like, maybe it's cold outside, IDK. So you want to make your butt look round and toned without actually exposing it. Life is hard. Keep in mind as you shop for your own butt-flattering ensemble that there are a few key outfit components that will help draw attention to your derriere. I've styled three occasion-specific outfits that will best show off your butt. And don't worry if you're ass is basically nonexistent—these outfits will work for flat and bubble butt girls alike. There is a god.
For Being Out & About Running Errands…
You probably already know what I'm going to say here. Yup, YOGA PANTS. Ask any guy on a college campus (or like, in existence) and he'll tell you the wonders of yoga pants and the magic they do for a girl's ass. To up the ante even further, wear your Lulus with a crop top to show off your midriff and really accentuate your waist. This will draw attention to the contrast in size between your tiny waist and now-looking-extra-fat ass.

From left: Brandy Melville Serena rainbow top; Lulu Lemon Wunder Under hi-rise tight full-on Luon 28″
For When You're Daytime Casual
Daytime casual can pretty much mean anything from shopping with your friends to dinner with your boyfriend's family. These are the outfits you wear when you want to look like a put-together classy lady and not like your true trash bag self headed to 1Oak. This is the instance when you'll most likely reach for your jeans, so let's discuss what to look for in your denim specifically.
When shopping for denim to accentuate your ass, look for styles that will contour your butt. I know it sounds ridic, but then again what don't we contour these days? You want to look for jeans that have strategically placed sanding—basically, envision your best Mudd jeans from middle school. Remember how the butt was a lighter shade than the rest of the pants? There was a reason for that. That's the same kind of style you'll need now in order to perfectly flaunt the shape of your butt. Lighter washes of denim in general will help draw additional attention to your ass, so get yourself a pair of Levis which are vvvv trendy right now.
Another thing to look for when choosing your jeans is back pocket details. Details, such as pocket flaps and zippers, add volume to your butt and draw more attention to it. But be careful, because huge pockets will make your butt look smaller, so look for smaller pockets. You should also always look for high rise styles to, again, highlight the contrast between your butt and waist. Pair your high waisted denim with a peplum top which automatically accentuates curves.

From left: Ale by Allesandra x Revolve Caridad top; AGOLDE Jamie high rise
For When You're Out On The Town…
Head to your local Body Central or Wet Seal (if that still exists) because the only thing you'll need to show off your ass is a bodycon dress! If you want to look *slightly* more classy, pick one with a high neck and long sleeves. This style will make you look hot without looking like you're trying to look hot, even though you are trying to look hot. I know, being a girl is hard. Anyway, a solid colored style of dress will look chic as hell and show off your ass without distracting away from it.

Cue "Anaconda" by Nicki Minaj 'cause you're ready to show off that ass whatever the occasion!
Images: Brandy Melville; Lululemon; Revolve (2); Free People
The Ultimate Butt Lift Workout For People Who Can't Afford Injections
We're living in a society that convinces us to drink apple cider vinegar to get skinny and delete Snapchat because Kylie Jenner isn't feeling the new update. It's a weird time to be alive, so let's just pretend this whole perky butt fitness trend is normal. Everybody's trying to get that butt lift look, whether it's because your boyfriend stalks Kim Kardashian or you're deep down a #bootygainz Instagram rabbit hole. If you can't spend a million dollars on plastic surgery and you're looking to do something about your tragically flat butt, stop Googling weird hacks and just do this workout. Do each move in the circuit and try to aim for 3-4 rounds total. And like, you're welcome in advance if you can't sit down tomorrow.
1. Goblet Squats
Goblet squats sound scary, but they're just regular squats that you do while holding a kettlebell for added weight. You can also hold a dumbbell if you prefer. Stand holding a kettlebell at your chest (15-40 pounds) with the handle facing downward. Spread your legs to at least shoulder width, because the idea of this move is that it provides additional butt lift by shifting some of the work from your quads to your glutes. With your weight in your heels, squat down until your hips are at (or below) your knees, and remember to keep your chest and head up to avoid hurting your back. Pause for a second at the bottom, then come back up while squeezing your butt to activate your muscles. 10-12 reps should do it here, depending on the weight.

2. Cable Kickbacks
The cable machines might look intimidating if you usually stick to body weight or free weight movements, but I swear that it's so easy to use and you'll get the hang of it really fast. For cable kickbacks, you'll need to make sure the head of the cable is a foot or two above the ground. Once you have it at the right height, put your right leg into the hook and adjust your weight (anywhere from 10-20 pounds should work). Holding onto the cable pole or anything stable in front of you, kick your leg leg backwards, squeezing your butt at the top. Then, slowly bring the leg back to the ground and repeat, switching legs once you've completed 10-12 reps. Also, if you feel these in your lower back, try doing them on your hands and knees instead. You can still get similar butt lift benefits.

3. TRX Lunge To Knee Raise
These can be done without a TRX as well, but holding onto the straps gives you additional support and ensures you're isolating the glutes of the working leg. Holding onto the TRX strap, lunge backwards with one leg, bringing it to a 90 degree angle behind you. Then, bring the leg back up, raising your knee up until your waist, or higher if you're super flexible. The brilliant idea is that you're actually hitting two muscles at once by lunging back and then bringing the knee up. You'll get more out of these if you go a little slower, so reduce your reps to 6-8 if you find them especially challenging. And, of course, don't forget to do both legs.

4. Single Leg Bridges
Glute bridges are a classic butt lift exercise, and by raising one leg at a time, you can target your glute muscles even more by really focusing on each side. This also means that if both your butt cheeks aren't sore AF tomorrow, you were totally working harder on one side. Lying on a mat, keep your hands at your sides and your knees bent out in front of you. Then, extend one leg as you lift your butt off the ground, squeezing your glutes and lifting your hips toward the ceiling. Think about pushing down with your left heel as you lift. Do 10 reps on one leg and then switch to the other.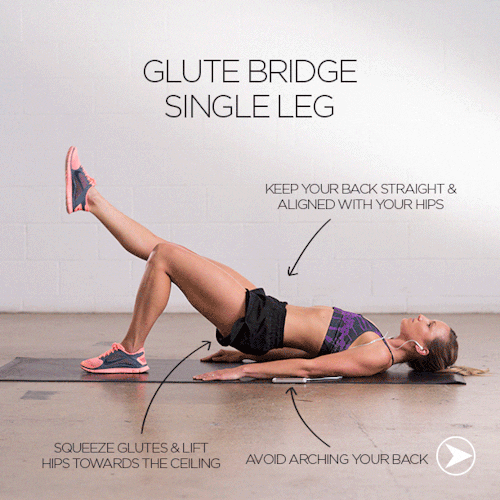 5. Jump Squats
Jump squats are a plyometric movement, so they're different than the slower reps you've been doing so far, but it's been scientifically proven that you'll get a better butt lift by combining high rep and low rep movements together in one workout. AKA, we're obviously doing these even though they suck. Jump squats are exactly what they sound like, and you won't need any weight for this move. Start in a bodyweight squat, keeping your chest high and your knees behind your ankles. Then, jump up explosively, straightening out your legs at the top, and landing back in your squat position. Your rep count doesn't matter as much here, so try to just keep jumping for 30 seconds without rest.

6. Wall Sit
This last move will cause you to feel a slow, painful burn in your thighs and butt, so this is your chance to blast that aggressive Kanye song you save for the final sprint. It's also the last exercise of the circuit, so don't give up until it's confirmed that you won't be able to walk tomorrow. The idea here is simple. You have to find a wall and sit in a squat with your back against the wall and your hands out in front of you. Make sure you're sitting low and don't cheat yourself here. Try to hold for 45 seconds, or go for the full minute if you're psychotic ambitious. For an extra super awesome fun bonus challenge, try extending one leg for 10 seconds before switching to the other one.

Images: Charlotte Winslow / Tumblr, Giphy (5), 
4 Squat Moves For A Kardashian Ass, Sans Injections
If you spent your winter with too much Netflix and not enough treadmill, you're probably thinking it's too late for your spring break bod. Like, maybe you procrastinated going to the gym too much and now you're freaking out about the Cabo trip next week.  Don't worry, like we've learned in last-minute dress shopping, there's always an overnight express delivery option, and fitness is no different. Sort of. Because we're such a good friend, we're going to tell you the secret to making your ass look like you didn't say yes to the dressing. That secret is squats.
If you want to get an ass like Serena without the four kids (or whatever the lyric is), all you need to do is these simple squat exercises and you'll literally see results in less than two weeks. Like, you could get a butt before your next period. Just do squats everyday until you get on that plane for spring break and you'll give Jen Selter a run for her money. Without actually having to run, that is.
1. Classic Squats (25-50 Reps)
Stand with your legs in second position, slightly wider than shoulder width. If you don't know what second position is, we're sorry your parents didn't love you enough as a child. Make sure your toes are pointing forward in line with your knees. Then with your arms out in front of you, sit into your squat until your butt is on the same level as your knees. Keep your back as upright as possible. Pretend like you're sitting down into a chair or trying to take a shit in the woods or something—whatever helps you picture it. Feel free to put on a song about butts while you do this—we recommend "Anaconda" or "Bubble Butt" or the ever-classic "Dance (A$$)." You should feel it in your glutes, and your inner thighs will get a little sore too. If you start to feel the burn, you'll know it's working. Just like laying out in the sun. Which you'll soon be doing when you show off your new butt at the beach. If you're in a time crunch you can just do 100 of these classic squats a day and skip the rest or add some weights to step it tf up.
2. Moving Squats (25-50 Reps)
We know you like a challenge so you'll get bored after doing the classic squat 50 times. Even the most rewarding long-term relationship needs the occasional thing to spice it up. So vary up your squats by moving while you do them. Take a step out to the right (or left, honestly whatever) and then go down into a squat. When you stand back up, step with your left over and back out with your right into the squat. Do this a few times, then go the other way. You'll feel kind of like a crab walking when you do this, but that's good because it will make you think of the ocean, which you don't want to be at with a lame flat butt.

3. Jumping Squats (25 Reps)
At this point you're probably 6% closer to a Kim K butt, but you're not done yet. This time, plant yourself in the classic squat position. Instead of sitting and standing back up, you'll jump when you stand back up from the squat. When you land, bend your knees and go straight back into the squat.
4. In And Out Jumping Squats (25 Reps)
At this point you're almost done with the workout and probably have listened to "Bubble Butt" at least twice, but don't worry, we're almost done. This jumping squat is very much like the one we just did, but instead of jumping straight up and down, you'll now jump in with your legs together when you stand up, much like those Russian nutcracker dolls that kick out when you pull a string on them. Jump in and jump out into a squat as many times as you want, but we suggest 25.

At the end of the day, your butt is a magical thing, because unlike most of the other stuff on your body, you can actually pretty easily work it out to make it better. #Blessings. You can't exercise your way to bigger boobs (unfortunately), so focus on the squats and you'll be spring break ready before the TSA can detain you at the airport for traveling with your friend Molly on Spring Break.
More moves for a better butt here!
7 Moves That Will Give You Kylie Jenner's Butt, No Surgery Needed
There are a lot of random workout trends and weird body goals that go in and out of style, but in 2017 everyone wants a good butt, no questions asked. I mean, ever since it became acceptable to go out in leggings and to wear bikinis that are made with less material than your red string bracelet from Birthright, the butt has really taken its place as one of the most important body parts. With summer coming up, the clock is fucking ticking, so get off your ass and get it toned and perky in time. Do each of these seven moves for 45 seconds each, then repeat the circuit another 2-3 times total for a kickass workout, pun intended (and the only acceptable occasion to use the word "kickass").
1. Goblet Squats
Goblet squats sound scary, but they're just regular squats that you'll do while holding a kettlebell for added weight. We're not hating on bodyweight squats, but you'll see results so much faster while holding a heavy weight, so why do 500 normal squats when you can get a perkier butt by doing like 20 weighted ones? Exactly. Stand holding a kettlebell at your chest (15-40 pounds) with the horns facing downward. With your weight in your heels, squat down until your hamstrings are on your calves and remember to keep your chest and head up to avoid hurting your back. Pause for a second at the bottom, then come back up while squeezing your butt to activate your thot powers muscles.
2. Split Squats
Split squats are different than conventional squats because they focus on your right and left sides individually, so you can hit every part of the muscle. This move actually looks more like a lunge, but they really target the bottom of your glutes, so you'll feel them tomorrow morning. Stand with your right foot forward and your left foot behind you, with both knees bent. Dip downward, bending your legs into a 90-degree angle, trying to get your back knee to touch the ground. Then, come back up by driving through your heel. Alternate reps on each side, and remember to keep the front knee in line with your front foot. Add a weight in your hands if you've got it down.
3. Kettlebell Swings
Kettlebell swings are one of those exercises that can be done SO wrong if no one explains what the fuck you're supposed to be doing. First of all, this is a LOWER BODY movement, so if you feel yourself using your arms too much, you're doing it wrong. You're supposed to feel it in your butt. The idea is to grab a heavy kettlebell (25-50 pounds), and place it on the ground in front of you. Hinge your hips and lift the bell up, hiking it in between your legs so that it's basically touching your butt. Then, swing the bell forward with your hips, making sure it stays above your knees on the way up and swings to chest-height. Then keep swinging in that same motion from between your thighs to your chest. If you find it easy to swing it that high up, get a heavier kettlebell. Your ponytail should be a hot mess by the end of the 45 seconds.

4. Single Leg Raises
Single leg raises might actually be the single best exercise to make your butt perk up like, three inches. Make sure you take your time on these, because it's not a fucking race. Start by laying on your back with both feet on the ground and your legs bent. Raise your hips up to the sky, like you're in a bridge position in fourth grade gymnastics, and then point one leg up while keeping the other bent. Dip your butt up and down for 10 reps, then hold at the top for 10 seconds before you switch sides. Remember to squeeze your butt to really use your muscle. If you're not feeling the burn and you feel like you're just humping the sky, you're not doing it right, and it's pretty embarrassing and everyone is judging you.
5. Sumo Jump Squats
Tired of the word squat yet? Spoiler alert: too fucking bad. They work. These squats are amazing because they target your inner thigh area while getting your heart rate up, so you're toning your butt and burning calories at the same time. Start in a regular squat position, but with your feet turned outwards, like an awkward ballerina. Then, squat down, and when you come up, add in a hop, keeping your feet turned outwards. Keep jumping as much as you can without stopping. You should feel the burn on your inner thighs pretty fast. 
6. Donkey Kicks
These might sound like a weird sex move, but they're actually an amazing toning move that targets the muscles in your thighs and butt, so stop being so skeptical and start kicking. Start on your hands and knees with one leg straight out behind you with your knee at a ninety-degree angle. Press your leg straight up, and alternate sides. Once you do regular reps on each side a few times, pulse the leg upwards for 10-20 seconds. If your shoulders get tired from being on your hands, switch to your forearms and/or do some fucking arm workouts and stop being such a weakling.

7. Star Jumps
The star jump is a cardio move, which means you'll be ending this workout by jumping and sweating. Don't cry yet. The idea is to get your heart rate up while working your butt and your inner thighs at the same time. Start in a narrow squat with your feet together and hands in front of you. Then, explode up into a high star-shaped jump, separating your legs and arms in the air and then bringing them back together as you land in that same narrow squat. Make sure to actually separate your legs while your jumping, or else you're defeating the purpose of the move. Good luck walking up the stairs tomorrow.