Sex Positions That Count As Your Cardio For The Day
Let's get one thing straight before getting into this list: if you bang hard enough in any position, it's exercise. But, I get it. We've all had a time or two (or three) when our stamina is pushed to the limit. It's the moment you wish you went to the gym more so you could keep the sex going. (It's normal, it happens to everyone, and it's not a big deal.) Unfortunately, going to the gym requires… actually going to the gym. And who has time for that this winter? I can barely make it out of my bed to go to work. I'm not going to brave the elements just so I can work up a sweat when I can do that just fine in my own bed. So, here are sex positions that count as cardio and defs will make you hit the showers after (maybe for round two?).

This one sounds like some yoga sh*t, but trust me, you'll feel the burn. This is not for the weak—or uncoordinated. Basically, the guy sits cross-legged and the girl straddles him, and it somehow works. It takes a special couple to be able to coordinate their bounces perfectly to actually count this as having sex and not just like, sitting weirdly. My boyfriend and I cannot master this one, no matter how many times we've tried. But I can tell you that just attempting this position is a workout in itself. The guy can burn about 40 calories per half hour, while the girl can burn up to 100 calories.
This position is a killer workout for both partners, and I think we all know the mechanics of this one. For her, being on all fours works your abs and quads, getting that bikini body ready. For him, the faster he thrusts, the better the workout. According to The Cut, the girl can burn up to 118 calories in 30 minutes, while the guy can burn up to 211. (That's provided he can last for 30 minutes.) To put this in perspective, jogging at five miles per hour for 10 minutes can burn 91 calories. Moral of the story? Bang longer to burn more.
This one is your classic cowgirl position that we all some of us know and love, but with a twist. Instead of bending your knees, crouch on top of him. Doing so spikes the girl's calories burnt to about 120 to 170 calories. How many calories will the guy burn? Zero. True.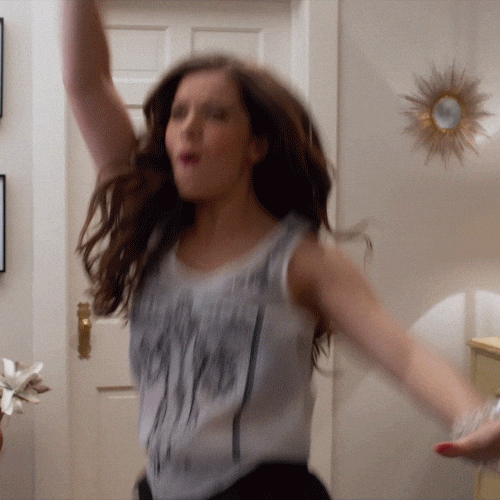 This one is a REAL workout and definitely one of the best sex positions that count as cardio. The girl can burn around 150 calories per half hour and the guy can burn up to 500 calories. Want to up the cardio level? Pick her up, man. I'm not gonna say that the larger you are, the more calories he can burn, but if you're five feet tall and a size zero, he's not burning that much. Just another reason to have that second piece of cake!
This one has the benefits of missionary position with some added results. In missionary, the girl can burn about 44 calories, while the guy can burn around 143 calories. But shoulder stand is basically the candlestick position you used to do as a kid in gymnastics. She'll be working her abs like crazy, so thank your childhood gymnast for the help. Bonus: this position will have him working his glutes, giving him buns of steel.
Just prop those legs up on his shoulders, and you'll be able to justify not going to the gym that day. Not only will the girl burn around 115 calories, but she'll also increase her flexibility. He'll burn about 130 calories, which is great.
But remember, no matter what position you do, stay safe, kids.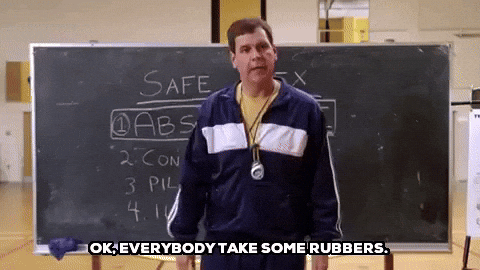 Images: Stokpic/Pexels; Giphy (3)
This Is How Much Exercise It Takes To Burn Off Thanksgiving Sides
If you're an inner fat kid like me, then you're probably already drooling at the thought of all the delicious food you're going to eat on Thanksgiving. I literally can't wait to eat at least seven pounds of green bean casserole, sweet potato pie, and stuffing. Thanksgiving is only one day, yes, but for many people (hi) that "it's only one day, YOLO" mindset can set off a series of unfortunate events that leads to a holiday weight gain, which I'd like to try to avoid. So I've decided to take your favorite Thanksgiving sides and put them in perspective—how much exercise does it take to burn each one off? Is it really worth having more of Aunt Marge's mediocre boxed stuffing when you're already on the verge of exploding? Maybe. Maybe not. I'm not here to make that choice for you, I'm just here to give more information. 
Stuffing
One serving of stuffing equals 195 calories. Depending on how fast you run, running a 5-minute mile or jog-walking a 13-minute mile is what it will take in order to work off this 5-star side dish. Honestly, that's pretty doable, especially if you and your cousin go out to smoke for a walk around the neighborhood after the meal. So go ahead and have that spoonful if you want. If you pack the stuffing onto your plate, increase the distance accordingly.
Cranberry Sauce
86 calories for one slice of cranberry sauce… so let's say one serving is about 200 calories. To burn that off, choose to take the stairs instead of the elevator at work, at the mall, in your apartment complex, or wherever else you can find stairs. Opt for 15 minutes worth of climbing steps outside or just hop on a Stairmaster at the gym. Again, very doable.
Sweet Potato Pie
394 calories of sugary, delicious sweet potato goodness. It's worth every bite, but will take you a little bit longer to work off. To burn around 200-300 calories, you can do 30 minutes of burpees. Spend about 45 minutes with generous breaks in between sets and you'll have earned your pie. Ugh that's like, a lot of burpees. 
Mashed Potatoes
One serving of mashed potatoes will charge you a grand total of 237 calories (why can't we have nice things?), give or take 25 calories depending on if you add gravy or not. Hop on a treadmill at the gym for an hour and you shouldn't feel those mashed potatoes weighing you down anymore.
Pumpkin Pie
It's 323 calories for a single piece of pumpkin pie on its own. Add 137 calories if you add a scoop of vanilla ice cream on top (which you should). To burn 500 calories of whatever sugary treat you ate for dessert, take an hour Zumba class and dance it all off.
Remember, this is the amount of recommended exercise per serving… and we all know we don't just have *one plate* at Thanksgiving dinner. We have 3-5 plates the day of and two more of leftovers the day after. So you could do all this exercise, or you could just not work out at all and realize that one (or three) days of eating different than normal won't kill you. Happy Thanksgiving, betches!
How To Burn Calories Throughout The Day Without Working Out
As much as we'd all like to be that girl who gets in an hour-long cardio session at 7am when the rest of the world is sleeping, it's just not gonna happen. In fact, the idea of getting out of bed to do something active while I could be in a deep sleep literally makes me nauseous. We all have those years days that getting to the gym just isn't in the cards for us, but it would still be nice to cut calories without legit starving ourselves. Here are some ways to burn calories throughout the day without breaking a sweat.
1. Skip Stairs
It might sound ridiculous, but going up the stairs burns a lot more calories that you'd think. I mean, you know the feeling of being winded after climbing the subway steps. That shit is a fucking workout. To make stair climbing even more effective, skip a step like some annoying 13-year-old boy. By skipping steps, you're activating the glute and quad muscles in your legs, which are the biggest calorie-burning muscles in your body. You might look like an idiot, and someone will definitely see up your dress, but you're basically replacing your 45-minute spin class. Ok, not really, but it's better than nothing.
2. Do The Public Restroom Squat
If you don't usually squat when using a public restroom, we're not judging, but like, ew. If you've ever been to an airport and have held to hold a squat over the toilet while peeing, you know how much it actually burns your legs. It's a great toning exercise and it actually burns calories. So, just pretend you're always at an airport and you'll burn calories every time you go to the bathroom. Your butt will probably get toned AF in the process, so I'd start now.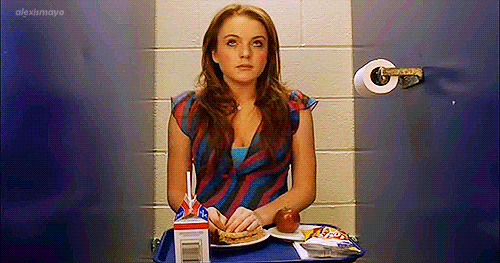 3. Eat Fiber
Foods with fiber are obviously healthy for you, but it turns out they literally help your body burn calories when you eat them. Foods that are high in fiber burn calories—it's been scientifically proven—because they are harder for your body to digest. So, when you eat fiber-heavy foods like broccoli, oats, beans, and Brussels sprouts, your body needs to work harder to digest and so it burns calories without making you lift a finger. We're basically giving you permission to order like, three more vegetable sides.
4. Drink Lemon Water In The Morning
If you've ever read an interview with any health guru or health-conscious celebrity, they all claim to start their day the same way: with a glass of lemon water in the morning. While we'd much rather skip straight to our cold brew, lemon water has a ton of benefits that will help your body throughout the day. Drinking water on an empty stomach will help flush out any toxins before you eat, and the polyphenols in lemon can help reduce your appetite, so you're less likely to refill your bowl of Honey Bunches of Oats three times. Try drinking 8 ounces of lemon water before breakfast and you'll see why Gwyneth Paltrow swears by it.

5. Engage Your Core
For people who don't work out, this one might be a little confusing, but once you get the hang of it, it'll be a game changer for your body. The idea is to engage your core when sitting at your desk, walking home, or just watching TV at night. Just like you have to squeeze your core during planks and sit-ups, engaging your core during everyday activities will help improve your posture, strengthen your abs, and burn calories when you're not even working out. You're putting in a little more work than you usually would, but then again you're not making it to the gym today so stop whining.
6. Drink Coffee
In case you needed another reason to drink a shit ton of coffee before your lunch break, here's another one: it'll help speed up your metabolism and make you burn calories. Here's how it works: the caffeine found in coffee is a central nervous system stimulant, and coffee contains chlorogenic acid, which is a compound that may help slow absorption of carbs. So, when you drink coffee, it makes you less hungry and speeds up your body's metabolic rate. Basically, order the Venti. Your body deserves it.