Why Max Lugavere Doesn't Believe In The '5 Meals A Day' Diet Strategy
Living a healthy lifestyle during the holidays should honestly count as an Olympic sport. For many people, Thanksgiving is the beginning of the end, diet-wise. You feel like there's basically no hope after you've eaten an entire bird, your body weight in stuffing, and pumpkin pie is seeping out of your pores. That's why we had nutrition expert Max Lugavere on our Diet Starts Tomorrow podcast to give us some tips on getting through the holidays without wreaking havoc on your body. Here are some of our highlights from our chat with Lugavere, but to get all his advice, listen to our podcast linked below.
How our food has become less nutritious overtime
You're more likely to be hangry and overeat when you chose to eat processed foods
The optimal amount of protein to consume is probably double the recommended amount
You can burn calories by eating protein
Why rats in New York City are becoming type two diabetic
Why Lugavere does not believe in the "five small meals a day" method
Lugavere lives by the motto that "Your next meal is another opportunity to turn it all around." So yeah, diet really does start tomorrow if you want it to
How to stretch your stomach to fit more food on Thanksgiving
Remind yourself as Lugavere does, it's about progress, not perfection
Hear the full Diet Starts Tomorrow episode above. To connect with Max Lugavere, check out his Instagram, podcast, and best selling book.
Images: Yakynina Anastasia / Unsplash
6 Easy Ways To Burn Calories Without Actually Working Out
Thanksgiving can be one huge blur of red wine, unresolved tension from last year's political debate, and too many slices of your mom's pumpkin pie. I mean, we don't blame you for eating your feelings. Between all the preparing, forced family time, awkward personal questions, and sampling every dish before it hits the table, the holiday can be pretty exhausting. Nothing's stopping you from eating your Thanksgiving meal like you're preparing for a nuclear apocalypse (not a bad idea considering the way things are going for our country rn), and we get it. However, if you want to burn a few extra calories to get your body ready for all your fav dishes, we've found a few ways that don't consist of skinny teas or any other Instagram diet hacks. Here are some scientifically proven ways to burn calories so you can go ham at Thanksgiving dinner:
1. Drink Lemon Water In The Morning
Remember when we used to take gummy bear vitamins just because we were told they were good for us? That's kind of like what lemon water is today. Basically every nutritionist and health guru in LA swears by a glass of hot water with lemon in the morning, so we believe that it does something for us. Drinking lemon water first thing in the morning has been proven to kickstart your digestive system and speed up your metabolism, so it will help you burn more calories throughout the day. Drink a huge cup of lemon water on the morning of Thanksgiving and you'll feel better all day even when stuffing your face with pumpkin pie. Like, an extra slice is fine because I drank lemon water, right??
2. Get Off The Couch And Help Out
Being home for Thanksgiving is basically an excuse to lay around all day and try to drink enough wine to deal with your annoying second cousins, but if you actually do something to help out, you'll end up burning calories just by being *somewhat* helpful. Help carry the groceries inside, cut the vegetables, or take the dog on a walk. I know laziness is inevitable when you're home and don't have any responsibilities, but any sort of moving around helps keep you active. I'm not saying carrying a case of water bottles inside the house from the driveway is gonna make you lose three pounds, but keeping your body active will prevent your metabolism from slowing down throughout the day, and we can honestly use any help we can get at this point.

3. Get In A Quick HIIT Workout
There's no better excuse to escape family time than your physical health. It doesn't matter if you don't even work out the other 364 days of the year. Thanksgiving is the perfect time to lie to your loved ones about your personal priorities and insist on spending a few minutes by yourself to get in a quick workout. I mean, this is assuming your high school dealer is out of town and your friends are busy with their own families. Either way, HIIT isn't such a bad last resort, and it's the most logical way to burn calories when you're planning on indulging later on. Even a 15-minute interval-based workout can help you burn calories for up to 24 hours afterwards, so put on a sports bra and do the damn thing. We even made a workout routine for you, so what's your excuse?
4. Drink Cold Water
Thanksgiving can be a great time to catch up on your hydration, considering you don't remember the last time you actually drank a full water bottle unless you were severely hungover or coming out of some bootcamp class that still gives you PTSD. We already know that staying hydrated keeps you full and clears your skin, but apparently drinking cold water helps your body burn more calories when at rest. When you drink cold water, your body has to work to bring the water up to its own internal temperature, which burns calories without you even realizing. If I were you, I'd start chugging.

5. Add Cinnamon
Luckily for you, cinnamon is kind of a seasonal staple, so it's probably in a good number of your Thanksgiving desserts already. Cinnamon has been proven to help you burn calories and lose weight because of its regulatory effect on blood sugar levels. Here's how it works. When your body's insulin levels increase, it increases the metabolism of glucose, and the cinnamon helps prevent fat from being stored from the high blood sugar. In other words, a scoop of cinnamon can stabilize your blood sugar and prevent your body from holding onto extra fat. Sprinkle some in your coffee or anything else that makes sense to put cinnamon in. It's Thanksgiving… it shouldn't be too hard to figure out.
6. Eat The Brussels Sprouts Side Dish
There's a ton of amazing food at Thanksgiving, but brussels sprouts are KEY if you want to burn calories while eating. It sounds impossible considering all foods have calories, but eating cruciferous vegetables like brussels sprouts will actually make your body burn calories because it needs to work extra hard to digest the fiber. This applies to veggies like kale and broccoli, too. There's basically this scientific phenomenon where some foods have a thermal effect, which means your body uses extra energy to digest them. Brussels sprouts are packed with fiber, so your body will literally burn calories while digesting it. Everyone wins.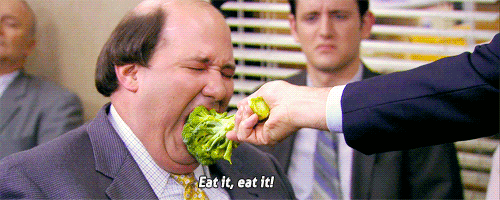 How To Burn Calories Throughout The Day Without Working Out
As much as we'd all like to be that girl who gets in an hour-long cardio session at 7am when the rest of the world is sleeping, it's just not gonna happen. In fact, the idea of getting out of bed to do something active while I could be in a deep sleep literally makes me nauseous. We all have those years days that getting to the gym just isn't in the cards for us, but it would still be nice to cut calories without legit starving ourselves. Here are some ways to burn calories throughout the day without breaking a sweat.
1. Skip Stairs
It might sound ridiculous, but going up the stairs burns a lot more calories that you'd think. I mean, you know the feeling of being winded after climbing the subway steps. That shit is a fucking workout. To make stair climbing even more effective, skip a step like some annoying 13-year-old boy. By skipping steps, you're activating the glute and quad muscles in your legs, which are the biggest calorie-burning muscles in your body. You might look like an idiot, and someone will definitely see up your dress, but you're basically replacing your 45-minute spin class. Ok, not really, but it's better than nothing.
2. Do The Public Restroom Squat
If you don't usually squat when using a public restroom, we're not judging, but like, ew. If you've ever been to an airport and have held to hold a squat over the toilet while peeing, you know how much it actually burns your legs. It's a great toning exercise and it actually burns calories. So, just pretend you're always at an airport and you'll burn calories every time you go to the bathroom. Your butt will probably get toned AF in the process, so I'd start now.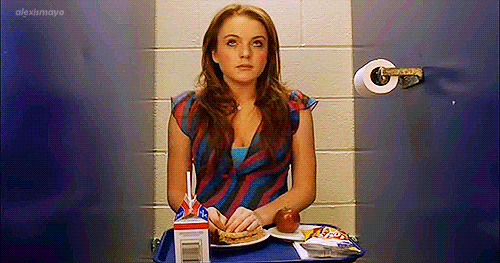 3. Eat Fiber
Foods with fiber are obviously healthy for you, but it turns out they literally help your body burn calories when you eat them. Foods that are high in fiber burn calories—it's been scientifically proven—because they are harder for your body to digest. So, when you eat fiber-heavy foods like broccoli, oats, beans, and Brussels sprouts, your body needs to work harder to digest and so it burns calories without making you lift a finger. We're basically giving you permission to order like, three more vegetable sides.
4. Drink Lemon Water In The Morning
If you've ever read an interview with any health guru or health-conscious celebrity, they all claim to start their day the same way: with a glass of lemon water in the morning. While we'd much rather skip straight to our cold brew, lemon water has a ton of benefits that will help your body throughout the day. Drinking water on an empty stomach will help flush out any toxins before you eat, and the polyphenols in lemon can help reduce your appetite, so you're less likely to refill your bowl of Honey Bunches of Oats three times. Try drinking 8 ounces of lemon water before breakfast and you'll see why Gwyneth Paltrow swears by it.

5. Engage Your Core
For people who don't work out, this one might be a little confusing, but once you get the hang of it, it'll be a game changer for your body. The idea is to engage your core when sitting at your desk, walking home, or just watching TV at night. Just like you have to squeeze your core during planks and sit-ups, engaging your core during everyday activities will help improve your posture, strengthen your abs, and burn calories when you're not even working out. You're putting in a little more work than you usually would, but then again you're not making it to the gym today so stop whining.
6. Drink Coffee
In case you needed another reason to drink a shit ton of coffee before your lunch break, here's another one: it'll help speed up your metabolism and make you burn calories. Here's how it works: the caffeine found in coffee is a central nervous system stimulant, and coffee contains chlorogenic acid, which is a compound that may help slow absorption of carbs. So, when you drink coffee, it makes you less hungry and speeds up your body's metabolic rate. Basically, order the Venti. Your body deserves it.