The Best Bronzers For Glowing, Radiant Skin
Betches may receive a portion of revenue if you click a link and purchase a product or service. The links are independently placed and do not influence editorial content.
Summer is just around the corner, and if you ask me, there's nothing better than a golden, sun-kissed glow. And since we all are officially off tanning beds and on that SPF train, sometimes you may need a little extra boost to achieve that I-just-got-off-a-yacht-and-look-so-effing-amazing look. Enter:  Bronzers. Whether you prefer a subtle radiance or a bold, bronzed look, there are tons of bronzers on the market to help you achieve the perfect sun-kissed finish. Ahead, you'll find the best bronzers for 2023, including affordable and luxury options, as well as clean alternatives.
First up, let's take a look at some affordable options. One of our top picks is the Milani Baked Bronzer. This drugstore gem has a silky texture that blends seamlessly into the skin, giving you a natural-looking glow. Plus, it's available in multiple shades, so you can find the perfect match for your skin tone. At just $8, it's a steal.

Shop It: Milani Baked Bronzer, $9.97, Amazon
Another budget-friendly option is the Rimmel Natural Bronzer. This bronzer provides a warm, matte finish that's perfect for everyday wear. The formula is buildable, so you can customize your look to your liking. Plus, it's under $5, making it an absolute bargain.

Shop It: Rimmel Natural Bronzer, $3.59, Amazon
If you're looking to splurge on a luxury bronzer, the Guerlain Terracotta Bronzing Powder is a classic that never goes out of style. This bronzer has a luxurious, velvety texture that blends seamlessly into the skin, creating a natural-looking glow. Plus, it's available in multiple shades, so you can find the perfect match for your skin tone. At $53, it's definitely an investment, but it's worth it.

Shop It: Guerlain Terracotta Bronzing Powder, $59, Sephora
For those looking for a more natural option, the ILIA NightLite Bronzing Powder is a great choice. This bronzer is formulated with clean, natural ingredients like jojoba oil and cocoa seed butter, making it a safe choice for those with sensitive skin. It provides a warm, subtle glow that's perfect for achieving that natural, "no-makeup" look. Plus, it's vegan and cruelty-free.

Shop It: ILIA NightLite Bronzing Powder, $34, Sephora
Another clean option is the RMS Beauty Buriti Bronzer. This bronzer is formulated with organic, natural ingredients like buriti oil and jojoba seed oil, making it safe for even the most sensitive skin. It provides a warm, golden glow that's perfect for achieving that sun-kissed look. Plus, it's free from harsh chemicals and synthetic fragrances.

Shop It: RMS Beauty Buriti Bronzer, $28, Nordstrom
No matter your budget or skin type, there's a bronzer out there for everyone. From affordable drugstore options to luxurious splurges, there are plenty of bronzers on the market to help you achieve the perfect sun-kissed finish. And for those looking for a clean option, there are plenty of natural, safe choices available as well. So go ahead and get that bronzed glow you've been dreaming of – with the right bronzer, anything is possible.
The Best Bronzers For The End Of Summer So Nobody Has To Know How Pale You Get
As we head into depression fall, our summer tans we worked so hard on will fade faster than you can say, "PSL." The idea of a tanning salon sounds great and all, but IDK about you. Absorbing a massive amount of UV radiation into my skin doesn't sound fabulous after all. And like, did I mention the cost? You have to at least be willing to give up a weekend of ringing up a bar tab in order to afford decent tanning so you don't look like a cast member of Jersey Shore. Well, it's a good thing we live in a society where looking racially ambiguous at all times is encouraged (unless you actually are racially ambiguous, in which case you're SOL). Otherwise, we wouldn't have a cheaper tanning alternative, bronzer, to rely on for a golden glow. So honestly there's no reason why you can't be tan 24/7 in temperatures below 70 degrees. With summer being another nine months away (kill me plz), here are the best bronzers to cover up pasty pale skin since all you'll do this season is Netflix & thot chill.
With five different shades designed for every skin tone, this bronzer will give you the perfect sun-kissed tan without looking like Trump. The powder-based bronzer has a super creamy texture with a shimmery finish so you can apply and blend in easily. That way, your contour won't look as though you just smeared brown lines across your face and you can stay looking ~lit~ all night long.

This is like, magic of a bronzer if I've seen it. The silky powder immediately sinks into your brush's bristles for the most seamless application you can imagine. Like, honestly, this is the only bronzer I'd drop more than $35 on, and that's saying a lot. The matte finish won't make you look like a walking disco ball and even allows you to apply it for all-over body bronzing. Fucking bless.

Have you ever wished you could be tan without using a source of heat? Um, same and so does probs every other normal person, which is why Guerlain created the closest thing to it. This bronzer apparently leaves varying shades of "sun" to make your sunless tan look as realistic as possible. The moisturizing ingredients won't dry your skin out and they enhance your skin's natural shine without making it look greasy. Also, this makes you smell like your annual Aruba vacation, so what's not to like?

This godsend of a baked bronzer is for those of you who want something that's weightless and sheer enough to make you forget it's even on your face. There's a wide range of shades created exactly for your skin tone so you truly (and finally) can pull off the "I just rolled out of bed and literally put this on to say I tried" look. Haven't heard of it? It's like, slang from England I'm going to make happen. It has bomb buildable coverage so you can reapply as you desire.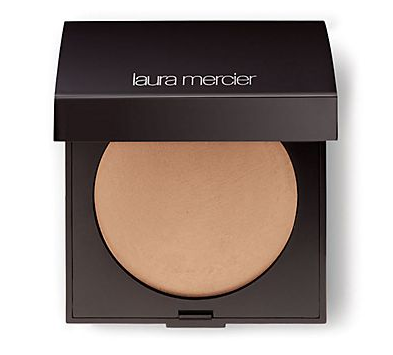 If you could wear a single makeup product everyday for the rest of your life, it would def be this—no questions about it. It's a non-comedogenic bronzer, so it won't clog your pores and cause breakouts if you "accidentally" fall asleep with it on. And that's not even the best part. It also has rosy pink hues to provide a natural-looking flush and brighten the palest of skin tones so you no longer look like a vampire.