This $13 'Glow Lotion' Will Replace Your Expensive Bronzing Drops
Betches may receive a portion of revenue if you click a link and purchase a product or service. The links are independently placed and do not influence editorial content.
Say hello to L'Oreal Paris Glotion, your go-to product for achieving a radiant glow that rivals the sun-kissed effect of bronzing drops. This innovative highlighting enhancer not only illuminates your skin but also offers a bronzed touch, giving you a stunning complexion that radiates with a natural-looking glow. Get ready to replace your bronzing drops and embrace the luminous beauty of L'Oreal Paris Glotion.
L'Oreal Paris' Glotion is a multitasking marvel that combines the benefits of a moisturizer, a highlighter, and a bronzer in one powerful formula. This lightweight lotion not only enhances your natural glow but also provides essential hydration for plump, healthy-looking skin. What sets it apart is its ability to deliver a warm touch, replacing the need for bronzing drops. Say goodbye to dull, lackluster skin and hello to a luminous, bronzed complexion that turns heads.
Get your glow on with L'Oreal Paris Glotion's customizable and subtle bronzing effect. Whether you desire a soft, natural radiance or a more pronounced, illuminated look, this highlighting enhancer delivers. Simply adjust the amount you apply to achieve your desired level of luminosity and bronze. It's like having a custom glow and bronzer in one bottle, giving you endless possibilities for creating your signature look.
Forget complicated techniques—this bad boy is designed for effortless application and seamless blending. Its lightweight consistency glides smoothly onto the skin, melting effortlessly for a natural finish. Apply a small amount to the desired areas, such as your cheekbones, brow bones, and cupid's bow, and gently blend for an instant luminous effect with a touch of bronzed radiance. Achieving a radiant complexion has never been easier.
And, it goes beyond the face—it's a versatile product that can be used on the body as well. Mix a small amount with your favorite body lotion to achieve an all-over glow that gives your skin a bronzed luminosity. Apply it to your collarbones, shoulders, and legs for a tan effect just in time for summer.
No matter your skin tone, this glow balm is formulated to complement and enhance your natural beauty. Its carefully selected shades cater to a wide range of skin tones, ensuring that everyone can achieve their desired glow with a hint of bronzed perfection. Say goodbye to separate bronzing drops and highlighters, and embrace the convenience of this highlighter as your all-in-one solution for achieving a luminous look.
Bottom line, replace your expensive bronzing drops with L'Oreal Paris' Glotion. It provides hydration, radiance, and a healthy-looking glow all in one bottle. Enjoy the effortless application, seamless blending, and versatile use for both face and body. Get ready to radiate and bronze like never before.

Shop It: L'Oréal Paris Makeup True Match Lumi Glotion, $13, Amazon
The Best Bronzers For Glowing, Radiant Skin
Betches may receive a portion of revenue if you click a link and purchase a product or service. The links are independently placed and do not influence editorial content.
Summer is just around the corner, and if you ask me, there's nothing better than a golden, sun-kissed glow. And since we all are officially off tanning beds and on that SPF train, sometimes you may need a little extra boost to achieve that I-just-got-off-a-yacht-and-look-so-effing-amazing look. Enter:  Bronzers. Whether you prefer a subtle radiance or a bold, bronzed look, there are tons of bronzers on the market to help you achieve the perfect sun-kissed finish. Ahead, you'll find the best bronzers for 2023, including affordable and luxury options, as well as clean alternatives.
First up, let's take a look at some affordable options. One of our top picks is the Milani Baked Bronzer. This drugstore gem has a silky texture that blends seamlessly into the skin, giving you a natural-looking glow. Plus, it's available in multiple shades, so you can find the perfect match for your skin tone. At just $8, it's a steal.

Shop It: Milani Baked Bronzer, $9.97, Amazon
Another budget-friendly option is the Rimmel Natural Bronzer. This bronzer provides a warm, matte finish that's perfect for everyday wear. The formula is buildable, so you can customize your look to your liking. Plus, it's under $5, making it an absolute bargain.

Shop It: Rimmel Natural Bronzer, $3.59, Amazon
If you're looking to splurge on a luxury bronzer, the Guerlain Terracotta Bronzing Powder is a classic that never goes out of style. This bronzer has a luxurious, velvety texture that blends seamlessly into the skin, creating a natural-looking glow. Plus, it's available in multiple shades, so you can find the perfect match for your skin tone. At $53, it's definitely an investment, but it's worth it.

Shop It: Guerlain Terracotta Bronzing Powder, $59, Sephora
For those looking for a more natural option, the ILIA NightLite Bronzing Powder is a great choice. This bronzer is formulated with clean, natural ingredients like jojoba oil and cocoa seed butter, making it a safe choice for those with sensitive skin. It provides a warm, subtle glow that's perfect for achieving that natural, "no-makeup" look. Plus, it's vegan and cruelty-free.

Shop It: ILIA NightLite Bronzing Powder, $34, Sephora
Another clean option is the RMS Beauty Buriti Bronzer. This bronzer is formulated with organic, natural ingredients like buriti oil and jojoba seed oil, making it safe for even the most sensitive skin. It provides a warm, golden glow that's perfect for achieving that sun-kissed look. Plus, it's free from harsh chemicals and synthetic fragrances.

Shop It: RMS Beauty Buriti Bronzer, $28, Nordstrom
No matter your budget or skin type, there's a bronzer out there for everyone. From affordable drugstore options to luxurious splurges, there are plenty of bronzers on the market to help you achieve the perfect sun-kissed finish. And for those looking for a clean option, there are plenty of natural, safe choices available as well. So go ahead and get that bronzed glow you've been dreaming of – with the right bronzer, anything is possible.
Summer Beauty Products That Won't Sweat Right Off
Betches may receive a portion of revenue if you click a link and purchase a product or service. The links are independently placed and do not influence editorial content.
Summer is officially here, which means the temperatures are rising and your makeup is starting to melt off by noon. We all know the feeling when you want to throw out the thick shit and swap in some newer, lighter summertime alternatives. I feel like there are some people out there that can get away with no makeup but, *speaking for myself*, that's not everyone. So we've rounded up all the best summer beauty products that will give you that effortless, no-makeup-but-I'm-still-wearing-makeup look.
Face & Skin
Two words: Sweat. Resistant. Estée Lauder has been in the beauty business for longer than many of us have been alive, and they've really hit the nail on the head with this one. With a weightless feel and over 25 shades, your skin will glow all day long.

Double Wear Sheer Long-Wear Foundation
For those of us who tend to get a bit oilier in the summer (*cough* me *cough*) a powder foundation can keep you shine-free for a lot longer than some liquid products. Bonus points: there's a built-in primer.

Camo Pressed Powder Foundation

e.l.f.
This concealer is honestly everything you needed and more. It's a concealer, eye cream, and spot treatment all in one little tube. Less time layering products = more time day drinking on rooftops.
I know some of you are thinking, "Setting spray, really? Isn't it just overpriced water?" But I promise you this product is worth every penny. It's smudge-proof and transfer-resistant for up to 16 hours and perfect for those late summer nights.

All Nighter Setting Spray

Urban Decay
Merit's cult-favorite complexion stick is not a foundation or concealer, but it also kind of is? Offering breathable and buildable coverage, this lightweight product can also serve as a contour. I mean, what can't it do?

The Minimalist Perfecting Complexion Stick

Merit Cosmetics
Eyes
This base layer provides an incredible blank, crease-free (& vegan!) canvas for all the fun beauty trends you'll want to try this summer. If you're feeling brave enough to try them, that is. I heard blue eyeshadow is coming back and idk how to feel about it.

Eyeshadow Primer Potion

Urban Decay
Okay, this is definitely a cult favorite of mine. With its smudge-proof formula and shimmery pigments, this stuff is perfect for the golden-hour-every-hour vibe you're hoping to give off.

Long-Wear Cream Eyeshadow Stick

Bobbi Brown
Am I the only one whose eyebrows sweat? I didn't think so. Enter: this Brow Sculpt Shape and Hold Gel by REFY. Whether you want your brows to have that feathery effect or you simply want to make sure they stay in place, this wax/gel hybrid will work wonders.

Brow Sculpt Shape and Hold Gel

Refy
Talk about natural—the first ingredient listed in this mascara is water. It's vegan, cruelty-free, and makes people around you ask, "Are those your real eyelashes?" It's buildable so you can take it from day to night and the only thing that's flaking is you canceling plans.
Cheeks
For those of us who are locked in an office 24/7, it's still possible to look sun-kissed without going in the sun. This easy-to-blend formula is perfect for both the bronzing expert and the cosmetic newbie.
This cream-to-powder formula has a natural, yet visible shimmer to it. Highlight for the perfect dewy (not sweaty) look that won't budge. Also, it's Rihanna… Enough said.

Match Stix Shimmer Skinstick

Fenty Beauty
This blush boasts a 12-hour wear, and I can promise it lives up to the hype. Made with Amazonian clay, this blush glides on seamlessly and provides a true blush, not a fake flush.

Amazonian Clay 12 Hour Blush

Tarte
Lips
There's quite literally nothing worse than thick, sticky lip gloss in the heat. This Wet Lip Oil is the perfect balance of treatment and color. It's light, hydrating, and sheer for a perfect kiss of color.

Wet Lip Oil Plumping Treatment Gloss

Kosas
A lip stain is the ultimate summer lip product—it gives your lips natural color while staying in place virtually all day long. This best-selling cream lip stain is transfer-proof and full coverage—perfect for sweat-filled days or nights.

Cream Lip Stain Liquid Lipstick

Sephora Collection
If you are really going for that "no makeup" makeup look, a balm is perfect for you. This Vanilla Lip Butter Balm smells incredible and can even double up as an overnight lip mask. Great for the beach or bed—my two favorite places.

Vanilla Lip Butter Balm

Summer Fridays
Image: Martin Pisotti /Deathtothestockphoto.com
5 Self-Tanners That Won't Make You Streaky
If there's one thing in this world I can confidently say I'm an expert on, it's self-tanner. In fact, I would go as far to say that I'm a pioneer of self-tanner. Back in high school, my parents wouldn't allow me to tan. And I was the only one in my friend group who didn't have "cool parents" who would allow me to do so. (Obviously, now I'm grateful to them—hindsight is 20-20, right?) But, that being said, my group of besties were all SO tan and I was extremely jealous. I had to find a way to keep up. I mean, bronzer can only do so much. And trust me, I caked that sh*t on, as all naive high school girls do. But, at some point, the bronzer wasn't enough. And so, I began my journey down the aisles of drugstores, trying every and any product that promised a bronzed tan.
Since my amateur high school days, I've graduated from drugstore aisles to expensive sh*t at Sephora, in my never-ending pursuit of the just-got-back-from-vaca glow. So, that being said, here are the self-tanners that actually work, from least to most expensive. 

First, we'll start with the drugstore option. I was actually introduced to this one by a colleague of mine a few months ago. When she came into work looking like a bronzed goddess, I had to know which high-end self-tanner from Sephora she was using. To my surprise, she informed me it was the Jergen's mousse, and I was beyond impressed. As a self-tanner connoisseur, I had to get my hands on it. And I can attest, this stuff works. It dries almost instantly, which is a huge perk, and gives a stunning non-orange tan for a very affordable price. Although, disclaimer, it still has that dreaded self-tanner smell. You know the one.

This self-tanner brand is newer to Sephora, and has been making waves fast. It's streak-free, easy to apply, and gives an amazing tan at a totally reasonable price. Isle of Paradise utilizes color corrective technology that reacts with your individual skin tone. It contains hydrating ingredients that allow the tan to go on and fade seamlessly. Isle of Paradise has options for different levels of tan, utilizing different color bases to ensure a non-orange, natural-looking tan. I personally LOVE their darkest shade, which has a violet tone base that gives me a rich, deep brown tan. 

I first discovered this self-tanner on Instagram (where all the best things in life are discovered, obviously). This tanner gives my skin a stunning bronze shade that looks super natural and rich—so much so, that people ask me whether I just got back from vacation. I mean, maybe they're just asking passive-aggressively so that I'll spill my self-tanning secrets, but hey, I'll take the compliment. This one also consistently looks great on different people with different based skin tones, as I have seen first hand on several of my friends. This is the current self-tanner I'm using as I wait for Sephora to restock the Tan-Luxe mousse, and I highly recommend.

This is a great self-tanning product for those new to self-tanning. It's easy to apply and doesn't go on super dark. It's one of the innovative self-tanning products that uses a green base to create a more natural and less orange tan. It won't look too dark, but it will still be enough to be noticeable. Of course, if you're like me and want to be as dark as possible, you can just use a few layers of this one to deepen the tan.

This stuff is the end-all, be-all of self-tanners. Why? Because, not only does it give a flawless shade of bronze, but it also goes on clear and thus comes off clear. It is the only self-tanner that I have ever used that doesn't come off on my clothes or sheets. There's nothing worse than waking up with a guy and his sheets look he just slept with an Oompa Loompa. It's my favorite self-tanner, and constant go-to. And, even though it's the priciest one on this list, the bottle lasts a while and it's 100% worth it.
As you've probably noticed, mousse is my formula of choice. In all my experience with self-tanners, mousse is the most reliable, consistent, and easy to use. I also think that it fades the best out of all the formulas I've tried. We've all seen the girl (or been the girl) with splotchy leftover tanner, and we also all know that it's never a good look. Apparently the newest formula on the market is self-tanner water, which is one I have yet to try. But according to the sales woman at Sephora, it's the latest self-tanner must-have. So take that as you will.
Images: @savwalts / Unsplash; Amazon; Sephora (3); Ulta
Betches ay receive a portion of revenue if you click a link and purchase a product or service. The links are independently placed and do not influence editorial content.
7 Useless Beauty Products That Are Just A Waste Of Money
I don't think it's exactly a hot take to say that we probably all spend too much money on unnecessary sh*t we don't need (like when your mom gives you $40 and you immediately go and spend it… plus $60 more… on online shopping). Beauty in particular is one area in life where it's super easy to overspend. It seems like nowadays, there's a hyperspecific beauty product for every single minute part of your body and face. Like, we have eye primer and lip primer and face primer, which are (supposedly) all different things that are not interchangeable. Let's cut to the chase—the makeup industry is full of unnecessary products… products that I've purchased and own. But, save yourself! SAVE YOUR MONEY. Here are some useless beauty products you can cut out of your life.
1. Foundation Brush
I own a few. Not sure why, though. To be completely honest, I stopped using foundation brushes when I discovered beauty sponges. Now, those are a MIRACLE. I hate streaky foundation because, well, who likes streaky foundation? A beauty sponge evens out my makeup and leaves it seamless. Everyone talks about foundation brushes and how they are amazing, but beauty sponges are cheaper and do the job just as well. Throw away your "foundation" brushes, and move on, ladies. They are toxic. End your relationship and start dating a beauty sponge.

BEAUTYBLENDER beautyblender® nude
2. Waterproof Mascara
I'm confused on what the point of a waterproof mascara truly is, unless (god forbid) you're attending a funeral. Why would you want it to last? How long do you want it to last? Did you know leaving mascara on for an extended period of time damages your lashes? If you leave it on for more than your normal day job, you're destroying your lashes. It's a fact! You also have to use a makeup remover that will get that type of product off. It's WATERPROOF. Do you think washing your face with water like normal people do will take it off? No, sweetie. Get yourself a regular-degular mascara and call it a day.

Too Faced Better Than Sex Mascara
3. Brow Gel
As some of you may know, I am a beauty guru, and one of the perks of being a beauty guru includes receiving PR PACKAGES! It's like Christmas every day! Brands love to send products to us, and duh, of course I'm going to try them out! One day, I used a brow gel I received in a PR package and I used it every time I got done doing my brows because well, I GOT IT FOR FREE, WHY WOULDN'T I? Then I came to the realization that if I didn't get it sent to me for free, would I purchase it in stores? No. Girl, the answer is no. It's pointless. It genuinely does nothing to my eyebrows but add a little more color. But uh, so does my eye brow pencil and some Vaseline/eyelash serum/clear lipgloss. Use that.

4. Bronzer
BRONZEEEEER! OH MAN! I'm gonna keep this one short, sweet, and simple. Invest in a contour palette. The colors in the contour palette are almost identical to your bronzer shades. Just use your contour palette and bronze with those colors. Remember, bronzer is for giving color to the face and contour is for giving definition to the face. Switch from your contour brush to your bronzer brush and go off, sis.

ANASTASIA BEVERLY HILLS Contour Powder Kit
5. Mini Mascara
Even more so than waterproof mascara, this is the most pointless mascara to invest in. People use mini mascara for the wand because it is specifically made to get into your bottom lashes. Can I be real here? DO NOT WASTE YOUR MONEY ON THIS PRODUCT! Just use your regular mascara wand. Trust me, it works just as well. It worked before it was a thing and it works now.

MAYBELLINE Volum' Express The Falsies Mascara
6. Lipstick Primer
We need a primer to paint a house, even a car. But not for your lips. Lipstick primer is another waste of your money. It's all about the formula. If you find a good lipstick with a solid formula, then you're good to go. Do you want a matte lip? Test out formulas that work best for you. A lot of people automatically jump to conclusions when their lipstick starts coming off when they eat. "It said it was matte! Why is it coming off?!" Most foods have an oil of some sort, and oil will break up any type of lip product you have. I think any lip primer is pointless. Your lipstick is going to come off eventually and that is okay. It's a lipstick, not a lip stain!

Stila Stay All Day Liquid Lipstick
7. Moisturizer
The only time I use moisturizer is when I wake up and before I rest my pretty head to sleep. But before my makeup? Na. POINTLESS. I know so many beauty gurus who have publicly put online that they use a moisturizer before they prime for their makeup. But why? Why not use a primer that is hydrating and will do the same job? Remember, primer is the first base you set on your face. It's supposed to stick to your face so your makeup lasts longer. So if you moisturize before then, it's not being applied directly on your skin, which is defeating the whole purpose of PRIMER. If you find a hydrating primer, that will do the job perfectly and save you from wasting a moisturizer. Its a 2-in-1. Take my advice!

One word: USELESS. All 7 of these beauty products are USELESS. We don't need them. Don't feel bad that you wasted your money on them, though. Sometimes we get so caught up in thinking we need certain items to make us look poppin', but the truth is, we already are poppin'. So let's save, and spend on beauty products that actually work.
Images: Jake Peterson / Unsplash; Glossier; Amazon; Sephora (3); Ulta (2)
Betches may receive a portion of revenue if you click a link and purchase a product or service. The links are independently placed and do not influence editorial content.
Super Long-Lasting Products For Your Skin & Lips
Now that winter is in full swing, my skin has officially lost all its moisture. There are only so many face masks I can do. But putting makeup on top of cracked and flakey skin can be a disaster. Typically, liquid and cream products are your go-to in the winter. Save the powders for the warmer weather. After starting with a hella good moisturizer (see here), use these moisturizing makeup products to stay hydrated af all day and beat the winter dryness.
First Aid Beauty is a fab brand if your skin is sensitive, and the brand is not ridiculously overpriced. This primer and moisturizer is a two-in-one (hello, lazy gals) so you moisturize and prep your dry skin at the same time to ensure your makeup lasts and doesn't get crusty. But if your skin is super dry, I'd suggest still moisturizing beforehand. Double the moisture, double the hydrating—I can hear the glowing angels singing now.

I don't think there is anything worse than having a super dry under eye area. It's not a cute look on anyone (not even you, Beyoncé… sorry). But this concealer is my holy grail. I have probably gone through a dozen of them and I don't plan on stopping anytime soon. No matter how dry my under eyes are, this concealer never gets cakey or cracks. It lasts for ages and can be layered to build the coverage. 

Another moisturizing makeup product I am so obsessed with. I bought it over the summer and I have been using it ever since. This cream blush is super hydrating so my cheeks never get dry from the winter winds. It also has great staying power. I use the color Naughty n' Spice, but there are three other colors to choose from. What's amazing is I can use it as blush, eyeshadow, and lipstick if I'm going for that monotone look (or just super lazy). Nudestix, if you're reading, please come out with more colors. Thanks!

I have yet to find a cream bronzer as amazing as this one. I know it's pricey, but it does last a long time. But if you know of a dupe, hit me up in the comments. It gives you a natural sun-kissed glow even in the dark depths of the winter. The only issue? It comes in one shade. Although it claims to be a universal color, that's impossible. Chanel, it's 2019, you can do better.

This amazing lipstick is incredibly moisturizing, and claims to keep you hydrated for 8 hours. It contains beeswax, moringa oil, raspberry seed oil, and vitamin E. It is all natural, long-lasting, and has amazing color payoff. My fav color is Doused Rose—it's the perfect your-lips-but-better shade, but there are 17 others to choose from to fit every occasion.

Pricey, I know, but in this case, it's well worth it. This beauty cult favorite is a suuuuuuuuper moisturizing facial mist to end your beauty routine. Say goodbye to dry and powdery makeup! If your skin is feeling super parched (and your wallet is feeling super full), spray this bad boy on before and after your makeup routine and your skin will be so glowy and hydrated you won't know what to do with yourself.

Images: Banter Snaps / Unsplash; Sephora (4); Nordstrom; Burt's Bees
Betches may receive a portion of revenue if you click a link and purchase a product or service. The links are independently placed and do not influence editorial content.
The Best Bronzers For The End Of Summer So Nobody Has To Know How Pale You Get
As we head into depression fall, our summer tans we worked so hard on will fade faster than you can say, "PSL." The idea of a tanning salon sounds great and all, but IDK about you. Absorbing a massive amount of UV radiation into my skin doesn't sound fabulous after all. And like, did I mention the cost? You have to at least be willing to give up a weekend of ringing up a bar tab in order to afford decent tanning so you don't look like a cast member of Jersey Shore. Well, it's a good thing we live in a society where looking racially ambiguous at all times is encouraged (unless you actually are racially ambiguous, in which case you're SOL). Otherwise, we wouldn't have a cheaper tanning alternative, bronzer, to rely on for a golden glow. So honestly there's no reason why you can't be tan 24/7 in temperatures below 70 degrees. With summer being another nine months away (kill me plz), here are the best bronzers to cover up pasty pale skin since all you'll do this season is Netflix & thot chill.
With five different shades designed for every skin tone, this bronzer will give you the perfect sun-kissed tan without looking like Trump. The powder-based bronzer has a super creamy texture with a shimmery finish so you can apply and blend in easily. That way, your contour won't look as though you just smeared brown lines across your face and you can stay looking ~lit~ all night long.

This is like, magic of a bronzer if I've seen it. The silky powder immediately sinks into your brush's bristles for the most seamless application you can imagine. Like, honestly, this is the only bronzer I'd drop more than $35 on, and that's saying a lot. The matte finish won't make you look like a walking disco ball and even allows you to apply it for all-over body bronzing. Fucking bless.

Have you ever wished you could be tan without using a source of heat? Um, same and so does probs every other normal person, which is why Guerlain created the closest thing to it. This bronzer apparently leaves varying shades of "sun" to make your sunless tan look as realistic as possible. The moisturizing ingredients won't dry your skin out and they enhance your skin's natural shine without making it look greasy. Also, this makes you smell like your annual Aruba vacation, so what's not to like?

This godsend of a baked bronzer is for those of you who want something that's weightless and sheer enough to make you forget it's even on your face. There's a wide range of shades created exactly for your skin tone so you truly (and finally) can pull off the "I just rolled out of bed and literally put this on to say I tried" look. Haven't heard of it? It's like, slang from England I'm going to make happen. It has bomb buildable coverage so you can reapply as you desire.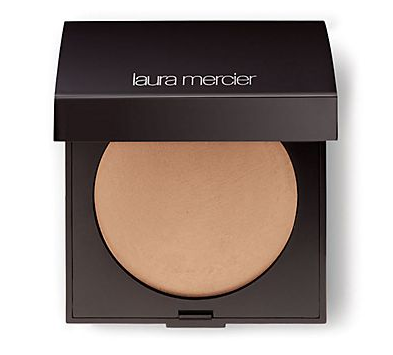 If you could wear a single makeup product everyday for the rest of your life, it would def be this—no questions about it. It's a non-comedogenic bronzer, so it won't clog your pores and cause breakouts if you "accidentally" fall asleep with it on. And that's not even the best part. It also has rosy pink hues to provide a natural-looking flush and brighten the palest of skin tones so you no longer look like a vampire.