The Best TV Shows & Movies Coming To Netflix In November 2018
Well, we basically made it to November. It's a lovely month for curling up with your cuffed bae and never leaving your couch. Or, if you're like me, curling up with yourself and hiding out from your family during Thanksgiving dinner. So what better to do with your time cuddled up from the family cold than watch everything on the internet. Here are the best TV shows and movies coming to Netflix this November.
Nov 1: 'Sex and the City: The Movie'
Carrie Bradshaw is one of the most iconic figures in the history of delusional dating, so this movie is an absolute must-watch (if you haven't already memorized the entire script). Our gal Carrie is getting married to Mr. Big, but he's a f*ckboy and goes AWOL on their wedding day *pretends to be shocked*. In an attempt to get Carrie out of her depression, the girls all take Carrie's would-have-been honeymoon to Mexico. Charlotte sh*ts her pants, Miranda has make-up sex, and Samantha is drunk so this movie is basically art.

Nov 1: 'Good Will Hunting'
Matt Damon is vulnerable, smart, and sexy (that's more than I can say about any men in my life) in Good Will Hunting. Originally released in 1997, Damon's character, Will Hunting, is a bad boy-turned-math-prodigy in need of big-time therapy in order to keep him out of jail. After bulldozing through a bunch of bad therapists, he meets Dr. Sean Maguire, played by Robin Williams (tears). The two obvs bond and hit it off. I won't spoil anything, but this movie changed my best friend's life, so if that's not a recommendation worth taking, IDK what is. Bring a box of tissues and get ready to ugly cry.
Nov 1: 'Sixteen Candles'
There's no coming-of-age story better than this. If this wasn't the movie that turned you into a woman, you're probably too young to be reading this site. Anyway, the plot goes as follows. It's Sam Baker's 16th birthday and legit everyone forgot. Her sister is getting married the next day, so like, that's important, but c'mon she's 16! Things are no better at school, and a sex quiz gets mixed up into the hands of Sam's crush à la To All The Boys I've Loved Before. The movie ends with the most iconic scene in cinematic history—Sam's first kiss over her 16th birthday cake. But who is it with? Watch and find out.

Nov 1: 'Bring It On: In It To Win It'
The third installment in the Bring It On collection is one of the many nostalgic movies coming to Netflix this November. Still not as good as the first, this movie follows Brooke and Carson, rival cheer captains, as they battle it out at Cheer Camp. Also, the Spirit Stick is BACK, BETCHES. Carson's a dumbass and gets lured by a hot male cheerleader, Penn, to ride a rollercoaster and make out, inevitably leaving the Spirit Stick unattended. It gets stolen and the two squads blame each other and get into a Westside Story style cheer fight. They get busted by the cops and have to combine squads, naming themselves The East-West Side Shets, which is the biggest crime of this whole movie.
Nov 16: 'The Princess Switch'
Think Monte Carlo meets Princess Protection Program meets High School Musical—but like, if all of those were somehow a Christmas movie too. Vanessa Hudgens stars as her own twin, in a very Lindsay Lohan move. One Vanessa is a princess who's sick of her crown, and the other is a baker from Chicago. The two are pissed with their current lives so with the help of ~Santa~ they switch places. This movie basically sounds like a holiday-themed version of all of Netflix's rom-coms (sans Noah Centineo). So that obviously means I'm going to watch it the second it comes out.
Nov 2: 'House of Cards' Season 6
This should be interesting. House of Cards is back for its sixth and final season. The series almost collapsed because Kevin Spacey is basically the worst human ever, but luckily, Robin Wright is here to save the day (and the show) by taking on her role as the first female President of The United States. She's low-key super into murder, though (relatable), and is absolutely ruthless, so it should be interesting to see how she decides to dispose of her husband, because you know she will. Also, can someone tell me WTF Doug is going to do?

Nov 4: 'Patriot Act with Hasan Minhaj'
Hasan Minhaj is the first ever Indian-American host of a weekly comedy show, and he's awesome. His politically slanted show covers both evergreen and topical news, ranging from historical events in American politics to current issues, like Jamal Khashoggi's murder. Minhaj also makes sure to bring stories that you won't usually get to hear to light, such as the ongoing crisis in Yemen or the current ruling Saudi family. His dark humor and quick wit are sure to keep you entertained and informed (and it doesn't hurt that he looks like a Ken doll). The show airs every Sunday, so it's the perfect cure for your Sunday scaries.
Nov 9: 'Super Drags'
This is the show you've all been waiting for: drag superheroes. Three gay co-workers are department store employees by day, and crime-fighting Queens by night. Of course, the cast is stacked with the voices of ah-mazing Queens Trixie Mattel, Ginger Minj, Shangela, and William Belli. This show, originally from Brazil, is supposed to have a comic-book feel to it with a raunchy edge. It may be animated, but it's certainly not for your Saturday morning cartoon (is that still a thing or do kids just, like, Snapchat now?). How could you not want to watch a show where they say stuff like "twerk away the shade"?   

Nov 9: 'Westside'
Just when you thought reality TV couldn't get any better, here comes your next obsession. Westside follows the lives of nine musicians trying to make it in Hollywood. What's unique about the show is that it's not poorly lit and filmed with an iPhone. Netflix legit put effort into making this show both entertaining and aesthetically pleasing to watch. But don't worry, you'll still get your offside commentary and classic sh*t talking. It also features fully produced music videos (done by the cast) and original songs. I'm feeling like this is going to be a beautiful cross between Real Housewives of Beverly Hills and Glee. Stay tuned.     
Nov 16: 'Narcos: Mexico'
Obviously, you're addicted to true crime (and have probably binged our entire new podcast series) so Narcos's latest installment will have you questioning everything you thought you knew about drugs *takes bong hit*. This companion series takes you inside the history of the illegal drug trade in Mexico (so it's like, educational). It follows the Guadalajara Cartel during the 1980s and its leaders. Thrown into the mix is Kiki Camarena, a DEA agent who makes his family move from California to Guadalajara. And you were mad about your dad moving the family from New York to Ohio. Kiki gets way too caught up in the Cartel's sh*t, so bad things happen (shocker). It's based on a true story, so don't Google and spoil it.

Images: Marvin Meyer/Unsplash; Giphy (5)
All The Best TV Shows & Movies Coming To Netflix In January
2017 is coming to an end (thank the Lord), and so is the current Netflix lineup. Out with the old, in with the new old movies we forgot existed, or something. While I appreciate the new titles (more on this later), I don't totally understand why Netflix has to take things away from us. Sure, I haven't watched one episode of Law & Order: SVU on Netflix to date, but that doesn't mean they should take the streaming rights to seasons 14-17 away from me. Isn't the internet getting bigger? Can't you store that shit on the blockchain or something? Netflix and life should be about unlimited choices, like those new soda fountains at movie theaters: no, I am never going to choose Diet Cherry Vanilla Coke, but you know what, it's comforting to know that it's an option.
So while we mourn the loss of things we never watched, and I wait for Netflix to change their philosophy on choices, let's run through some of the cool shit we will be able to choose not to watch come January.
1. The ENTIRE 'Bring It On' Series
Bring It On, Bring It On Again, Bring It On: All or Nothing, Bring It On: Fight to the Finish, Bring It On: In It to Win It.
There are five. Did you know there were five? I had no idea. BRB I have some cheerleading to watch.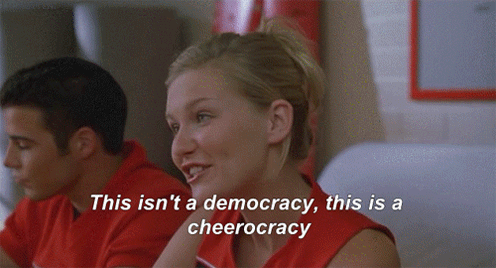 2. 'How to Lose a Guy in 10 Days'
I remember this movie being terrible but also being obsessed with Kate Hudson's yellow dress. While no one—no one—should ever take dating advice from this movie (you will actually lose all guys all the time, unless you are Kate Hudson, which you probably aren't), I am excited to re-watch and realize I had awful taste in clothing.

3. 'Marie Antoinette'
January is Kirsten Dunst season on Netflix (see: Bring It On), and I am all about it. Grab some cake and watch her slay as Marie Antoinette while Jason Schwartzman plays the most awkward of kings.

4. 'Midnight in Paris'
I hate that this is a Woody Allen movie, but not enough to hate this movie. It's Owen Wilson at his whiniest and Rachel McAdams at her Regina-ist. This almost makes up for Netflix taking Mean Girls away from us. Boo you whore.

5. 'Strictly Ballroom'
I recognize that this may be an unpopular choice for BEST, but if you are a die hard Moulin Rouge fan like myself, and you want an entertaining, lower budget, Australian version of Moulin Rouge (and who doesn't?), then this is the movie for you. Jk, the only thing they have in common is Baz Lurhmann as the director. But still, the outfits are spectacularly awful.

6. 'The Truman Show'
Do you think this will still be entertaining or will it just be terrifying af because maybe we are all living in a Trump-controlled superdome?

7. 'Grace and Frankie' Season 4
If you haven't watched seasons 1-3 yet, then you have some serious bingeing to do. Jane Fonda and Lily Tomlin are true feminist icons/American heroes, and they are funny af. Plus, Jed Bartlet from The West Wing and Jack McCoy from Law & Order make an adorable couple.

8. 'The Godfather Part I & II'
You will have a lot more to talk to guys about on a first date, plus you will finally understand that reference from You've Got Mail (not on Netflix, I checked).

9. 'The Shawshank Redemption'
Tbh, I'm surprised this wasn't already on Netflix. How is this literally everyone's favorite movie if we haven't been able to stream it for free until now? Anyway, I'm stoked for the opportunity to re-watch, and let's all hope that 2018 will be to us as Andy Dufresne's escape from prison was to him.