6 Bridesmaid Gifts That Can Actually Be Used At Your Wedding
There's a lot to think about when you're getting married, and you don't want to neglect your bridesmaids. Making sure you give bridesmaid gifts thanking them for participating in your wedding is important. By the time you get to the morning of said nuptials, there's likely to already be some resentment, anger, exhaustion, and general pettiness amongst the group. Maybe you made the horrible decision to have two maids of honor, or for your mom to be a bridesmaid, or to have four hours of pictures sandwiched in the middle of the day. Whatever the case, it's best practice to quell the potential mutiny of bridesmaids with bribes. Bonus points if said gifts can be used the day of your wedding, like these neat things:
Shawls

AayamCashmere Wrap Shawl – $48.85
Are you getting married in the dead of winter, or in a location that just experienced weather cold enough to freeze boiling water in mid-air? I'm not going to delve into your choices, but offering a shawl–be it faux fur or hand-made cashmere as a practical but sweet bridesmaid gift wouldn't be the worst thing in the world. There are plenty of beautifully made Lenny Kravitz-sized scarves that your ladies can drape around their freezing bodies that won't detract from your tasteful outdoor pictures.
Booze

Modern Gourmet Make Your Own Gin: Homebatch Edition – $14.99
Obviously, booze is a wonderful choice. Get a few bottles of local wine, small batch whiskey, or craft gin for your ladies, and watch the magic unfold the morning of the shindig. You can even customize booze offerings by which lady likes which spirit. That can work especially well if you have more than six bridesmaids and someone is feeling ignored. You're the bride and star of the show, after all, so a bit of directed love at a specific friend can go a long way. #Psychology. You can even get weird with it and get everyone gin-brewing kits, so they can experience the magic of making alcohol right at home! It wouldn't be a great day-of option, unless they just get bored and eat the spices and chug the gin.
Robes

LeRoseGifts Lace Bridesmaids Robes – $36.04
Robes to get ready in (and take nauseating group photos in) are a big thing these days, and, honestly, it makes a ton of sense. Why wouldn't you want a cute, cozy bathrobe to hang out in while strangers slap makeup on your face or tease your hair so it looks amazing in a flower crown? It's going to photograph a lot cuter than a stretched out t-shirt from that brewery down the road and Bugs Bunny sweatpants. Etsy has been leading the charge on these, offering everything from monogrammed waffle weave spa-quality robes to thinner material boasting giant flower patterns. There are also looks for every price range, so if you think Sarah deserves a robe for $50, but Natasha only earned a $16 robe, you can make it happen.
Nail Polish

Essie Nail Polish in Ladylike – $6.74
Are they all required to wear fire-engine red or soft peony pink on their nails for your big day? Cool. Buy it for them and stick it in their bags as a thank you. It's a small touch, but it's a nice way to ensure that they always remember you whenever they paint their nails that color. Ever.
Weekend Survival Bag

PaperArtScissors Survival Kit – $2.45+
If you're wedding is bound to be a sh*tshow, at least try to save your bridesmaids a bit of pain. Etsy has tons of cute survival packs pre-loaded with Tylenol, Chapstick, Pepto, water, sunscreen, and hangover pills as inexpensive bridesmaid gifts that'll come in very handy after the six-hour reception. Plus, it's nice to have things like mints on hand if they're trying to smash later with that hot groomsman. Just saying.
Jewelry

Tiffany & Co 1837 Cuff – $310
Let's say you're a v specific bride, with v specific taste. Maybe you want your bridesmaids to wear really pretty white gold hoops and gold necklaces and gold knot bracelets. That's cool. Maybe you should have that be their gift. Seriously, some of the best gifts I've gotten while serving time as a bridesmaid have been the jewelry that the bride wanted us to wear. Sometimes it was knotted gold earrings, occasionally it was a not-tacky silver bracelet. They'll appreciate the jewelry, and you'll appreciate that no one is wearing a fake Heart of the Ocean necklace because she thought it looked so fetch with her bridesmaid's dress.
Images: Andre Hunter, Unsplash; Tiffany; Etsy; Amazon
Bridesmaid Dresses You Should Never Make Your Friends Wear
Being a bridesmaid means you're the bride's bitch for whatever amount of time transpires between the cutesy package with pics of you two, a wine glass, and the "will you be my bridesmaid" note (covered in v tasteful gold glitter) to the bitter end when she and her now-forever dude run through a parade of sparklers. If you're the bride, have mercy. If I've agreed to be in your wedding, I pretty much have to do whatever you want and not question it. That includes wearing some travesty of a bridesmaid dress if you insist I do so. So what if I look terrible in tangerine—it's YOUR special day, and I am but a minion. The least you can do is absolutely not put me in any dress that makes me feel fat, fugly, and poor.
Love your bridesmaids? Don't put them in any bridesmaid dress that checks these boxes:
It's Fucking Yellow Or Bright Green
Cool colors are safe. Some warm colors, like reds and burnt oranges, can pass. But for the sake of this article, approximately 1% of people look good in yellow or lime fucking green. The rest of us look like washed-out, pale mole people who have only glimpsed the sun this one time. Go for a different bold color.
It Has Ruffles
A few ruffles on a bridesmaid dress are okay. Ruffles like the kind that make you look like an Elizabethan courtesan are not. They're itchy, they're going to get covered in makeup if they're close enough to the bridesmaid's face, and they're just not cute on anyone.
It Has A Plunging Neckline
Sure, Susannah will look great in the deep V, thanks to her size A titties and 110 lb 5'9" frame (lucky bitch). But Fiona and Beatrice are going to look like 10-pound sausages stuffed into five-pound bags with the girls spilling out for all the see. Don't want a potential spectacle on your wedding day? Go for a sweetheart neckline—it looks good on everyone.
It's White
Ain't nobody got time for look good in white. Plus, as the bride, do you really want to blend in and have people guess which one is the bride in all the pictures from your super special day? HELL NO.
It Has Long Sleeves
Want to suffocate a bridesmaid? Put her in long sleeves during your September wedding which, amazingly, was a balmy 85 degrees instead of the assumed 70. Watch her pass out during hour three of picture taking. Become entranced by her pit stains.
It Includes Cowboy Boots
NOPE. I'm sorry, but nothing looks tackier than having your bridesmaids lined up in a chiffon-ish bridesmaid dress punctuated by a disgusting pair of cowboy boots. They're not trendy—they're trashy. And they will literally detract all gazes from your flowing ivory or white (whatever) gown to their boxy, shitty, leathery existence. Keep the boots where they belong—at country concerts and NASCAR outings. Oh, and I'm not even making a category for camo dresses. If that's what you want, you go right ahead and put your girls in camo. While you're at it, better take out a second insurance policy on your double-wide, cause chances are you pushed one maid too fucking far.
It Costs More Than $500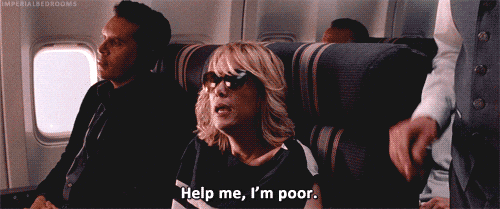 Trust me—your bridesmaids are already broke from your bachelorette party, shower, engagement party, spa days, wedding gifts, etc. Adding on a $500 bridesmaid dress that they'll never wear again is fucking rude. The average/acceptable price is between $200-400. Keep in mind they'll definitely need alterations, too, so chill TF out.
Images:  Zoriana Stakhniv / Unsplash; Giphy (2) 
5 Bridesmaid Etiquette Rules Everybody Needs To Know
If you've been HONORED by being asked to act as a bridesmaid for your bestie's big day, there are some ground rules. Etiquette kind of sucks, but better you be in the know about what's expected of you, rather than show up drunk the day of not having attended or thrown any party, gotten a gift, or sent congratulations cards.
We recently stumbled upon this post from Refinery29 about a sad bride whose wedding party is lame totally dropped the ball and didn't do jack shit for her leading up to the wedding, which at the time of this sad handwritten tale, was only two weeks away. How can you avoid this happening to you? Whether you're a bridesmaid or a bride, we came up with some fucking easy rules and guidelines.
1. Tell The People What You Want
This bride could have avoided internet suicide and general sadness if she had just TOLD HER BRIDESMAIDS TO THROW HER SOMETHING. As soon as I chose my bridesmaids, I told them that I wanted a bachelorette party, period. I didn't give a fuck about a shower (my sisters-in-law threw one anyway; it's fine), but the bach needed to happen. Lo and behold, it did. So brides, open your mouths and ask if you want something particular. Not everyone has a fifth sense to predict the weather your mood and wedding desires.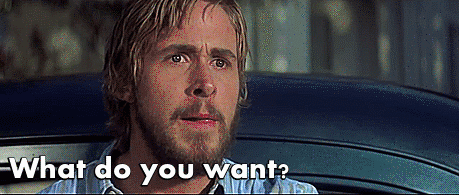 2. You Aren't Required, But You Better Ask
Bridesmaids: No, you aren't required by wedding law to throw the bride a bachelorette, shower, whatever. HOWEVER, if the bride has asked you to be in the wedding, you should probably at least ASK if she has something in mind or wants something in particular. Don't just assume that because she's said nothing, she isn't interested. Yes, it's possible, but you don't want her to end up like the sad bride in our story, unless she's a bitch and totally deserves it.
3. Don't Expect A Lot
Brides: This song goes out to you. If you've finagled your wedding party into hosting a bachelorette or shower or wtf-ever and you haven't actually planned it out yourself, lower your expectations. Everyone has a different idea of what would be considered fun for a bachelorette, so if you're expecting an acid trip in Vegas and get a quiet brunch at the nearby café, don't freak out. Unless you are VERY specific with your maids and/or family members, you need to chill tf out.

4. Gifts Are Necessary
Bridesmaids (and guests for that matter), need to bring a goddamn gift to SOMETHING. Period. Whether they bring it to the shower or the bachelorette or the wedding itself, you need to bring a gift. Stop being a cheap ass.
5. Try Not To Be A Bitch
Alright, so this one applies all around. Brides, don't expect everyone to bend over backwards for you from the time you get engaged to the time you have that contrived sparkler sendoff into a lifetime of holy matrimony. People live far, have small budgets (sad), and have things to worry about other than you—like their doggos. Believe it or not, you are not the first person to ever get married (WHAT), so stop acting like it.

Bridesmaids, if your bestie's big day is coming up and you've been chosen to be part of the crew, don't argue about the dresses. Don't argue about the destination. Don't whine about wedding colors. Shut up and do what the bride says, within reason.