7 Wedding Trends From The Last Decade That We Never Want to See Again
While a typical engagement doesn't last 10 years (although it might feel like it), there are some popular wedding trends that have been around that long. Look, I love a good wedding detail that's a little off the beaten path—it keeps things fresh—but like your d*ck of an ex, some things are meant to be forgotten. Here are seven overused wedding trends we should leave behind in the 2010s and never look back. 
Flower Crowns

To be honest with you, I was never a big fan of this nature-inspired hair accessory, even when it first came on the bridal scene. I never quite understood why someone would voluntarily opt for a headpiece that was once covered in dirt when there are so many more stylish options out there that will last longer than your bridesmaid's latest f*ck buddy. I get that it might have a whimsical, free-spirit vibe that you're trying to give off, but take a yoga class or try out aromatherapy instead. Nobody came to your wedding to see you try out your newfound inner Janis Joplin. Please spare us and opt for a rose gold headpiece if you still want to be basic trendy. 
Photo Booths

The idea of a photo booth is extremely repetitive. First of all, you're paying thousands of dollars for a professional to basically be your paparazzi for the night. If you want pictures of all your guests making silly faces, place your photog in the middle of the dance floor when "I've Gotta Feeling" by the Black Eyed Peas comes on and everyone's 4+ drinks deep. There's also a very high probability that your guests have their cell phones with them and will take more than enough impromptu selfies. Set up a shared folder, ask all your guests to drop in their images from the night before, and there you have it. You've created your own digital photo booth without spending a dime. You're welcome. 
Over-the-Top Rustic Details

It's time for a rustic intervention. Everyone stop what you're doing and put down the re-purposed window panes, the entire tree's worth of wood slices, the old dresser drawers full of mason jars, and the football field's worth of burlap. It's too. much. At this point people are digging through their grandma's attic to find anything from before 1980 and made of wood to use as wedding decor. You don't need to do this! I promise there are plenty of other decorative elements out there that will help you evoke the rustic vibe you're looking for. Ask your wedding planner for help and don't resort to random crap from a yard sale. Lauren Conrad might be able to pull off a wedding adorned with charming flea market items, but I assure you, you cannot. 
Matching Bridesmaids
A lot of people have already done away with dressing their bridesmaids to make them look exactly the same, but I'm officially declaring it dead. You heard it here first. With literally millions of options for bridesmaids out there, there's no reason to dress all of them the exact same. They're your friends, not your Barbie dolls. Mix-and-match bridesmaid dresses doesn't have to mean letting them pick whatever the hell they want. Whether you pick a specific dress for them to wear and let them select their neckline, or you offer them a range of color options in a specific style, we believe in giving direction but not making them look unidentifiable. 
Bouquet/Garter Toss

Please don't @ me for this one. I know it's a long-held tradition that didn't just become a thing this decade, but it was alive and well at many celebrations over the last 10 years and it shouldn't be. Not only does it call major attention to the single people (doesn't playing "Single Ladies" by Beyoncé do enough damage ?), but I for one cringe from secondhand embarrassment when I see the groom crawl up the bride's dress to retrieve the garter. But hey, if you feel confident enough to do that with your grandma in the front row, more power to you. 
Social Media Wedding Planners

For some strange reason a surplus of wedding social media services became trendy this decade. If you're not sure what I'm referring to, there were literally companies you could hire to do the social media for your wedding. Like your wedding is its own f*cking brand. From helping you come up with a hashtag and helping your guests use it, to gathering all the images your guests took the night before (isn't that the purpose of a hashtag?), this pretty much just seems like a fake job you'd see on The Bachelor. None of these tasks require hiring and paying someone, so I beg of you, don't fall into this money trap. 
Etsy-Themed weddings

I admit, I've fallen victim to the power of Etsy many times. I go wild adding everything to my cart, like creative signage, guest book options, etc. before I realize I'm about to check out with $2K worth of crafts in my cart. My advice? Slow down. Do you really  need 15 signs that point guests towards the bathroom? Is it really necessary to paint every guest's name on their napkin? When you find yourself obsessively clicking "add to cart", step away from the computer and remember you're not Oprah and you don't have an endless supply of cash.
I'm just a girl standing in front all you brides-to-be asking you to help me in my pilgrimage to leave the trends of the last decade behind us. I promise, there are many more new trends coming this decade for you to abuse! 
Images: Shutterstock; CL-Medien, MakeStory Studio, / Shutterstock.com; Micheile Henderson/ Unsplash
Black Friday Bridal Sales That Will Save You $ Before The Big Day
If you're a bride-to-be, then it may be wise to actually use your Black Friday for good this year to save for your big day. Instead of mindlessly spending money under the guise of getting some amazing deal on like, a TV or whatever, you could actually save some of your wedding funds by being more strategic with your Black Friday shopping. Just like everything else in America, there are Black Friday deals on bridal dresses, bridesmaid dresses, and basically everything else bridal. And, the best part is, you don't even have to leave your house if you don't want to, because all of these deals are available online. So, lucky for you, you won't have to tell your grandkids tales of how you had to swing elbows at your local David's Bridal to get your dream wedding dress. Here are the Black Friday bridal deals to take advantage of this year.
BHLDN

Jenny by Jenny Yoo Providence Gown, $1,075 $400
BHLDN is known for their stunning gowns and unbelievable wedding pieces. However, some of their prices can also tend to be on the unbelievable side too (and not in that same good way). This year for Black Friday, BHLDN will be offering an additional 30% off sale (excluding final sale) plus free shipping on all orders. They have tons of beautiful bridal accessories, so even if you're not necessarily gunning for that sale wedding dress, there's still plenty of reason to shop their Black Friday Sale.
Nordstrom

Noel and Jean by Katie May Oh Baby Plunging Lace Trumpet Gown, $1,235
Everyone's universal favorite retailer, Nordstrom, is a hot spot for Black Friday deals. And now with their extensive wedding shop there's even more reason to check them out for Black Friday. Nordstrom is already showing tons of price slashes on select styles across their site, so I assume they'll offer some of those discounts within their wedding shop this year too. Nordstrom's online wedding shop is super easy to browse, and offers curated assortments of everything from wedding dresses for you to wedding dresses for your mom. No, but like actually…they have a "Mother-of-the-Bride Dresses" tab.
David's Bridal

Metallic Baguette Foldover Crossbody Clutch, $39.95
As previously mentioned, you definitely don't need to go out and throw 'bows to take advantage of these Black Friday deals. Starting at 6pm on the Wednesday night prior to Thanksgiving, David's Bridal will be offering 20% off everything online, and they have some amazing dresses and accessories. And, given how low the prices already are, you're sure to get a steal.
Zola

8-Bottle Private Reserve Wine Cellar, $159.99
Great news, people! Zola has a whole week of promotions to help you save money for your big day. Starting on Thanksgiving, Zola is doing 20% off on gifts, 40% off on paper, and 50% off on holiday cards. So if you need any of the aforementioned things, then you know where to go, and the best part is you don't even have to worry about being on your computer at the crack of dawn to get these deals. After having started on Thanksgiving, these deals will carry on through 12/10.
Expressionery

Save the Date Address Stamp, $45 before discount
This site is currently doing 30% off everything and they have some really cute (and very Instagrammable) stuff worth checking out for your big day. Everything they do utilizes a stunning calligraphy design, so you definitely don't have to worry about it being some cheap weird discounted online stuff that comes in looking like sh*t. This stuff is actually legit, and at 30% off, seems like a no-brainer.
My Wedding Favors

Personalized Stemless Wine Glasses, from $1.99/glass
My Wedding Favors is currently offering 20% off their site. They have tons of cute kitschy bridal things, whether for wedding party favors or for asking someone to be your bridesmaid or groomsman. So, whether for your own wedding, bridal shower, or even if you're just a guest attending a wedding who needs a meaningful personal gift, My Wedding Favors is the place to go.
BACH

If you've read all of our bachelorette guides and still don't want to plan a bachelorette party, the BACH Party App can help you organize all your plans with your phone. You can make and share a group itinerary, harass the other bridesmaids for payment chat with the other attendees, track and split expenses, and book experiences like GLAMSQUAD, goat yoga, and hangover IVs directly in the app. Starting Wednesday, November 27, save big on your bachelorette party if you're doing it in Nashville, Las Vegas, Miami, New Orleans, Austin, or Charleston, because BACH is offering 25% off experiences/activities through December 4. 25% off a beach party in Miami? Don't mind if I fake an elaborate proposal just to get these deals.

Kenny Flowers The Piña Party Sarong
"Bride Tribe" tanks are so 2015. If you need matching attire for your bachelorette, get matching sarongs from Kenny Flowers instead. They also do kimonos, cover-ups, and matching one-pieces in a variety of cute patterns that are made in Bali. And the best part is, unlike those tanks your friend made you buy, you'll actually wear these again… and I don't just mean to the gym or to bed. Even better? Just for Betches fans, use code BETCHESBRIDES for 30% off bach party orders.
If you're a bride-to-be, you probably want to save as much money as possible. So take advantage of Black Friday to get some bridal deals, and use the money you saved for stocking the open bar. Because, at the end of the day, no one will remember the hand-beaded vintage details of your dress, but they will remember if the open bar had the premium stuff…or if you cheaped out with house vodka.
Images: @charissek/Unsplash; BHLDN; Nordstrom; David's Bridal; Zolas; Expressionery; My Wedding Favors
Betches may receive a portion of revenue if you click a link and purchase a product or service. The links are independently placed and do not influence editorial content.
How To Go Bridesmaids Dress Shopping So That Your Friends Don't Hate You
Sponsored by Brideside
When planning a wedding, you'll quickly learn that everybody has an opinion, and many of them won't line up with yours. (Is that why they say opinions are like assholes…because they're full of…no wait, it's because everyone has one.) Anyway, there are few times that it will become more evident that it's really f*cking hard to get people to agree on one thing more than picking what bar to go to on a Saturday night, and that is bridesmaid dress shopping. Like, you and your friends can barely decide on a vibe for going out one night—despite everyone agreeing they're going to dress like scrubs, at least one person always shows up in a crop top—so how the hell are you going to choose bridesmaid dresses? It's gonna be hard, but services like Brideside are switching up the way we shop for bridesmaid dresses, and making things a lot less painful for all involved in the process. TG.
So how do you keep a group of stressed out and on a budget betches happy? Read on for our tips.
1. Give Options
This can be a little difficult if you have upwards of five bridesmaids varying in size and like, personal aesthetic/attitude (case in point: my roommate and I went to the same party Saturday night, me in a lace-up crop top and denim shorts and her in a flowy mermaid skirt and flowery top). That being said, there are silhouettes that tend to look good on everyone—think flowy, v-necks, and nothing too short. You can also ask your bridesmaids to choose from a few styles you've already picked out. Remember, not everyone has to match perfectly—choosing ombre and varying dresses by complementing styles is a very easy way to make your friends happy and a fun way to switch up traditional wedding attire. And, using a service like Brideside allows everyone in the wedding party to try on a few dress options BEFORE dropping any money on them. Think of it like Rent the Runway for your wedding party. For $30, each girl can try on three sample dresses, which, to me, sounds a lot more convenient than trying to either get everyone to the same shop or assigning dresses via email that no one has ever seen, felt, or tried to sit down or do the Cotton-Eyed Joe in. Create a custom closet for your whole wedding party on Brideside's website, then let your girls pick and choose what to try on. You can also choose different styles (or make a stylist do it for you, my personal favorite choice) and see what flows nicely together.
As a note, I know you want to just tell all nine hundred of your bridesmaid to "pick whatever as long as it's dusty pink / black / sky blue" but you're opening yourself up to a lot of trouble if you do that. You're going to end up with a lot of slightly off colors and a lot of questions regarding if any of your friends are actually color blind because you clearly said apricot, not peach!! *Takes deep, calming breaths* Anyway. Working with one retailer like Brideside lets you pick a stylist, a color palette, and not just let a bunch of betches run wild on your local bridal salon looking for the Pantone color that you've demanded they wear that looks slightly different to everybody.
2. Be Mindful Of Budgets
I get that every bride wants their bride tribe to look amazing and sophisticated, but it's important to keep in mind that not every girl may have $500 to blow on a dress they'll only wear once. (Nobody is going to shorten it; grow up.) Unless you want to end up in an article by yours truly on a truly insane bride who demanded her bridesmaids drop $800 on a designer dress, talk money ahead of time and settle on a number that everyone feels comfortable with. Spoiler alert: it's probably going to be around and under $300.
On top of settling on a magic number, if you set up your digital closet ahead of time with Brideside, you can add favorites for all your bridesmaids to see. Plus, bridesmaids can also add styles if you're open to mixing and matching, which takes a little off your plate, but calm down—you're still in charge. They can even input measurements so the stylist can cater to you even better so you hopefully don't have to try on every dress with a giant binder clip. Basically, it's a win-win. 
If you're all heading to a bridal shop together, make sure that your stylist only pulls selections that fall within the agreed-upon budget. Like, you don't want to fall in love with bridesmaids dresses that are around $700 each and have a full-blown meltdown in front of everyone… again. With Brideside, you can shop for styles at around $150 (and like, strong-arm your maids into throwing you an elaborate bachelorette party since you're SUCH a good friend and saved them so much on dresses) or go fancy with styles up to $300. Which is still not even expensive as far as these dresses go. How positively luxe of you. 
3. Color Is Important
Think about your group and what color scheme, or differing but complementing scheme, can work with everyone's complexion. (Hint: Almost everyone looks good in blues, greens, and some burgundies). It's definitely an extra consideration, but you'll be thankful once you see your pictures and no one looks like a washed-out ghost or Oompa Loompa. Using Brideside can actually really help with this, since the colors you see online (or with one or two bridesmaids in a shop) can look completely different once they're on Rachel who lives 300 miles away. Curate your online closet with a few varied color families and then they can try on the style at home with a few color swatches for reference while Facetiming and giving you, the bride, the final say. Ah, technology.
4. Think About Your Dress, Too
It's important to take your own wedding dress into account when you're choosing your bridesmaids' dresses. I mean, you are kind of important. If you've bought (or are leaning towards) a grand ballgown style, it's probably best not to have casual mismatched mini dresses. Or like, questionable footwear (COWBOY BOOTS! CONVERSE SNEAKERS! CROCS!), but that's an article for another time. If you're going for sleek and styled, a fluffy, ruffled number on your girls is going to look a little out of place. At the end of the day, you're the bride, and your friends have to match your style for once. Own it. Making it as easy for your friends as possible while staying true to your own style is completely reasonable, and even more importantly, doable. 
5. Consider The Weather
If you're getting married in the winter, don't put your girls in short or backless dresses. If you're getting married in the summer, it's probably best to steer clear of heavy fabrics, high necks, and long sleeves. These are pretty obvious memos, but I've seen brides create a mutiny by overlooking basic weather patterns. Use logic, and choose light, breathable fabrics for warmer seasons, or light fabrics with the option for shawls for the winter. It's really not that hard.
The way we plan and approach weddings is changing, and that goes for shopping for bridesmaids dresses, too. Gone are the days where you are all shoved into the same strapless gown (thank you, sweet Jesus). Brideside can help you create a unique experience that will take so much of the stress and hassle out of choosing your bridesmaid dresses and leave your girls with dresses they will actually want to wear. But not like, a second time, probably, because that's just how it f*cking goes. 
Images: Genessa Panainte / Unsplash
How I Was A Bridesmaid In 3 Weddings In 3 Months Without Going Broke
Let me start off by saying that you can do it. You can be a bridesmaid and still have your sanity and money in the bank by the end of it. It might seem overwhelming to be in multiple weddings in a short period of time, and you might think you'll go broke and lose all of your free time, but I'm here to tell you, it doesn't have to be like that. I would know. Last year, I was asked to be in three weddings in September, October, and November. I traveled to Virginia, Chicago, and Cleveland, respectively, within six weeks of each other, to stand beside my best friends as they said "I do" to some pretty amazing men.
Don't get me wrong—I was both honored and thrilled to be a major part of the kick-off to their amazing journeys, but I was a 27-year-old editor living in one of the most expensive cities in the country. So clearly I'm far from being the "Rich Girl" Gwen Stefani sings about. I won't lie, I dedicated a good amount of my time off to drunken weekends in various southern cities (in the heat of the summer, no less) and a good chunk of change to flights, gifts, and penis straws, but I wasn't about to let anything keep me from standing by my friends' sides, so I devised a plan to be three-time bridesmaid without going broke, and I'm here to share my saving secrets with you.  
Start A Wedding Fund
has anyone ever created a "wedding budget" that they stuck to??

— betchesbrides (@betchesbrides) April 9, 2019
As soon as I got asked to be a bridesmaid, and then got asked again, and then again, I made a mental list of everything I knew I'd have to get for the occasion, times three. Just thinking of the dresses, hotels, and flights made me feel poor af, and I made a very adult move and decided I needed a financial plan to stay afloat (I'm really not the financial planning type, so this might be a bit of a shocker for those who know me). I opened a savings account and set up an automatic monthly transfer from my checking account. I know, soooo adult. The paychecks for my second job at a local bridal salon went right into my wedding fund, and if I got an extra buck here and there from freelance work, I would deposit it right into that account. I wasn't necessarily rolling in dough, but it added up quicker than I expected. Whenever I booked a flight or bought something wedding-related, I specifically used that money. Even if you don't add a ton to your account every month, every little bit helps!
Use Price Alerts And Frequent Flyer Miles
another day, another engagement

— Ashley Fern (@disco_infern0) March 15, 2019
Unless you're like Lala from Vanderpump Rules and you have a hookup with a private jet—in which case, cheers to you—chances are you'll have to buy a flight to at least one wedding you're in. I am not engaged to a hotshot movie producer, so I flew commercial like most normal twentysomethings to two of the three weddings I was in, and their respective bachelorette parties in Miami, New Orleans, and Savannah. Not gonna lie, after the third one I swore to God I would never drink again (clearly that didn't work because I'm drinking as I write this). Websites such as Hopper and Airfarewatchdog allow you to put in the dates of your trip and they'll notify you when prices drop and advise you whether or not to buy them at any given time. Have some points or frequent flyer miles stored up? This is a good time to cash them in. And, of course, if your destination is in driving distance, that should always be option number one, but I wasn't about to drive 24 hours to Miami. Can you imagine doing that hungover? F*ck no.
Rent Or Buy Secondhand Bridesmaid Dresses
Bridesmaids dresses are not cheap. Before you buy a gown on a designer's website, check out Vow to Be Chic. It's like Rent the Runway for bridesmaid dresses. Rent the Runway itself also carries bridesmaid dresses. The one issue with renting is that you can't get the dress altered; however, if you know your exact measurements, you might be able to find one that fits you perfectly. Another option is to visit the website, Forever the Bridesmaid, and buy a dress from a fellow bridesmaid who doesn't need hers anymore (and you should probably sell any dresses you have hiding in the back of your closet). Be sure to check with the bride if this is OK, because she may have a very specific style or color she wants you in that's exclusive to a certain store or designer. You can also ask friends if they have any bridesmaid dresses hanging in their closets. Chances are they've been in a few weddings and have some gowns collecting dust in their closets. Ask around, you might be surprised how many people you know have a dress they're dying to get rid of. One bridesmaid's trash is another bridesmaid's treasure, right?
Spread Out Your Spending
*gets married* *spends as much on clothes and shoes for the bachelorette/shower/rehearsal dinner/wedding/after party as the wedding costs*

— betchesbrides (@betchesbrides) May 2, 2019
I separated my bigger purchases (airfare, bridesmaid dresses, penis straws) so I didn't drop a ton of money at once. Make a list of everything you know you'll need, and make a payment schedule for yourself. I know that sounds like an annoying amount of extra work, but if you know you're getting a big bonus at work in a certain month, buy your bachelorette party flights that month. Think about your cash flow and the cost of all the things you need to buy, and devise a plan. If you spread out your spending you won't find yourself dropping a thousand bucks at a time.  
Share Hotel Rooms
Whether you're part of a couple or riding solo to these events, make plans with fellow bridesmaids and their dates to share rooms. I did that at a few of my wedding events as a way to save cash, and it worked! You need to stay somewhere, and so do the other members of the wedding party, so why not team up and lower the cost of the hotel? What's better than a slumber party with your besties you don't get to see very often? You can also opt for an Airbnb in the area and get the whole wedding party under one roof! The more the merrier—and the more money you'll save.
Don't Complain
For those of you singles about to embark on wedding season, stay safe out there, but more importantly—and I cannot stress this enough—stay drunk.

— Betches (@betchesluvthis) May 2, 2019
Remember to keep your financial issues to yourself. You definitely don't want to be the Debbie Downer of the group, always bitching and complaining. At the end of the day, being a bridesmaid is a huge honor, so be happy you've got friends who want you by their side on such a big day. If you really, really can't afford something, try to be up front about it, so you don't end up causing problems down the line. You'll get through this, I promise.
Images: Shutterstock; @betchesbrides (2), @disco_infern0, @betchesluvthis / Twitter; @betchesbrides (2) / Instagram
The Worst Wedding Trends We Can Expect To See In 2018
I will literally never stop shitting on other people's weddings. You can say I'm a terrible person, judgmental, etc., but all I'm doing is broadcasting to the internet all the things you say in your group chat. Sucks for you. I'm like, the voice of a generation.
If you're going to spend tens of thousands of dollars on a party, we're allowed to pick it apart. This year, I hope to see less of certain trends, more of others. These are the top 10 trends I'm predicting for weddings in 2018. Hang on to your cynicism.
1. Creative Desserts
I said it before, and I'll say it again: no one wants your stupid naked/buttercream/10 tier wedding cake anymore. That's over—it's cancelled. What people DO want are creative desserts like giant tables of homemade cookies (cough, I'm so ahead of my time, cough), doughnut walls (even though they're fucking stupid), fondue fountains that are tacky but whatever, and Viennese tables which I appreciate for the classy factor.

2. Woodsy Is Apparently In
Good news if you bill yourself as boho chic rustic—the woodsy homeless wedding look is in for 2018. I guess that means that barefoot brides, flower crowns, and raw wood tables (perf for giving shitty kids splinters) will dominate my Instagram this year. I don't hate it, but I'm sure by November I'll be ready to gouge my eyes out with that raw pine centerpiece you so lovingly and sustainably sourced.
3. Purple Shit
RIP Prince. In honor of Pantone's color of the year, get ready to see purple fucking everywhere. In bouquets, on the bridesmaids, in those stupid little flowers all the groomsmen wear—EVERYWHERE. If it's the right shade (like a dusty lavender or lush violet) it'll be fine. What I don't want to see is someone forcing their bridesmaids into dark plum dresses that makes them look like that big purple thing from the McDonald's crew that still gives used to give me nightmares.

4. Greens
Greens on table runners, greens down the aisle, evergreen branches to go with your winter wedding—get ready for a departure from flowers.
5. Balloons
FUCK. I HATE balloons. They belong at children's birthday parties and sadly floating outside used car dealerships ONLY. However, with the departure from floral arrangements, don't be surprised to see these rubber horror shows "tastefully" worked into centerpieces, as aisle décor, and (possibly most horrifyingly) in bouquets.

6. Garden Parties
Good news for the bougiest of us: garden parties are for weddings in 2018. Hosting nuptials in large botanical gardens in the afternoon with tea and finger sandwiches PLUS a true return to formality is all wrapped up in this shit. Can't say I'm mad.
7. Fucking Stupid Invitations
I've already voiced my hatred for overly involved invitations. It's a piece of paper that's going to get thrown away. But 2018 wedding trend watchers (how do you become a trend watcher?) predict invitations being fucking crazy this year. Wood, velvet, origami—let your imagination soar. So get ready to throw away something super interesting and expensive.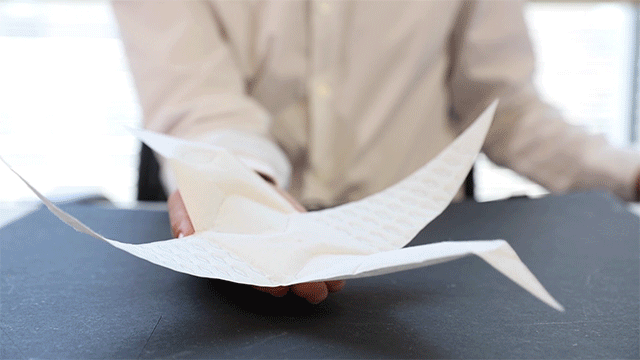 8. The Return Of Silver
I think we can all agree that copper, rose gold, and regular gold are officially now overdone and tacky. As with the return to some formality with weddings, we're also swinging back to plain, pretty, CLASSIC silver utensils and serving vessels. Thank god.
9. Hanging Flowers
How Gardens of Babylon of you. So, along with lots of greenery, instead of flowers and greens on tables, a lot of crunchy bitches will be looking to hang garlands and flowers from every goddamn rafter. This will def up the woodsy feel—especially when a poison flower falls in my food.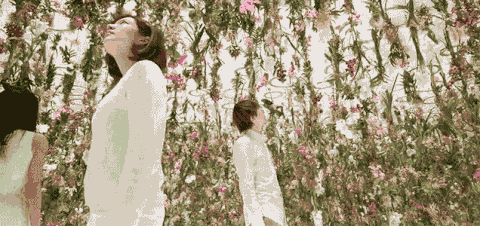 10. Velvet
This 80s fabric is having a moment, as evidenced by my boss's velvet leggings. We don't totally hate it, especially for winter and fall weddings. Just use it sparingly. An acceptable way to use velvet would be as bows on bouquets, or on two-piece dresses as a top for bridesmaids (SO CHIC) with full satin skirts or some shit. Not acceptable: velvet wedding dresses, velvet jackets on dudes, and velvet flowers. Gag. No.
What Your Bridesmaids Dresses Say About The Type of Bride You Are
I'm never usually one to boast about my accomplishments (LOL), but I will say that I've committed a lot of selfless good deeds in my life—like, I always retouch my friends' noses before making myself look better posting a photo to IG, and I'll never prevent my dates from reveling in their manhood and picking up the tab. But probably my most selfless deed that really takes the cake is being a fucking bridesslavemaid.
Don't get me wrong, I'm honored to drop a few Bens on a vacay with 12 girls that'll end up in my personal burn book and purchase crystal wine stoppers that'll serve no purpose but to cork the divorce cabernet six years from now, but as I reflect on what it is I'm really being asked of as a bridesmaid, I can't help but compare each task to legal slave labor for nothing in return—and worst of all, doing all that while drowning in fugly pastel chiffon. Like, take Princess Leia for example—at least that fat worm thing had the decency to make her look hot AF as a slave in a slutty bikini. So as much as I'm not trying to make this all about me, I'm also not not saying that I'm counting on using my bridesmaid headshot to make my ex's new girlfriend jealous as my new prof pic, but I can't do that while parading around as a spitting image of my grandma's linen dinner napkins on Christmas Eve. So brides, think long and hard before dressing your #BrideTribe in the following dress styles you'll prob find on Us Weekly's Worst Dressed list, or you'll end up with eight ex-best friends and wedding convos like this:
Wedding Guest 1: That ceremony was gorg!
Wedding Guest 2: Yeah, but did you SEE those bridesmaid dresses?
Wedding Guest 1: At least the bride looked good…
Wedding Guest 2: What was she wearing again?
I rest my case.
Strapless
Whether you've got man shoulders or chronic pit tit, NO girl looks good in strapless unless you're fucking Gwyneth Paltrow. It's just a fact, and one that the bride most def knows but selfishly decided to overrule. Like, I'm not saying strapless gowns are completely unfortunate looking, but the bride was definitely thinking that when she later framed all but any picture of her and her bridesmaids. She's the type of narc that posts an Instagram of your group of friends where she looks hot, even though Ashley has protruding camel toe and half a lazy eye. She knows that strapless will obv only look good on her, because no shit—a strapless wedding gown contains more boning than senior prom night. Plus, strapless dresses are so early '00s, so I can only assume this country club wedding will contain every other outdated detail, like a beer-and-wine-only bar, "YMCA" on the must-play list, and worst of all, a fucking cupcake tower.
Accurate depiction of me in a strapless dancing to "Shout!" in my own personal hell:

Floral/Any Other Gross Pattern
A bitch who forces her friends into floor-length floral dresses that show no cleavage and aren't worn on Sunday brunch church, is either one of two things: hipster as fuck and more than likely getting hitched barefoot while high off her ass, or an actual descendant of fashion hell who still thinks braid crowns are totes on trend and will "photograph so well." Her altar is probably made of twigs, and tofu burgers were a must-have menu item, made of 100% vegan material. Look, I'm not saying there's anything bad about this Taylor Swift, pre-boob job, flower child thing that's going on, I'm just saying that even if Show Me Your Mumu were to #spon my wedding with free floral bridesmaid dresses, I'd need much more liquor convincing.

One-Shoulder
You know how they say the camera adds 10 pounds? Well single-shoulder chiffon gowns add like, 20. I might've slept my way through world history, but I was conscious enough to know that, last I checked, this was 2017 and not ancient Greece, 1269 B.C. Honestly, I'm going to let this one slide, because I'm a nice person, and I'm just gonna assume this is the 54-year-old bride's third marriage, and that this was all just a bribe in order to make it look like she has friends other than her new step-daughter and the office receptionist. Whatever the case, someone needs to relay the message to Susan that this isn't a frat house toga party, and that, in my opinion that nobody asked for, this dress is tacky and I hate it.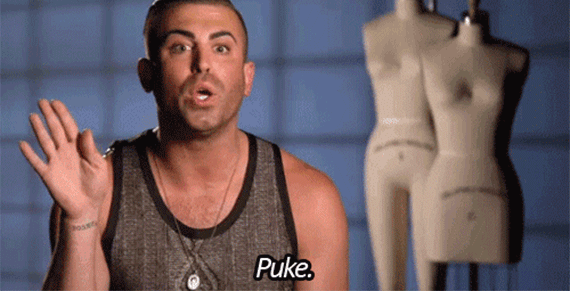 Knee-Length
I once saved a photo to my wedding Pinterest board, in like 2012, of a knee-length bridesmaid dress paired with sunflower bouquets and matching cowboy boots. I also once said I'd like to be married with four kids by the time I'm 31. The difference between these two things? Nothing, because they both now make me want to vomit uncontrollably. This isn't ninth grade homecoming, and there's no reason to show face at a wedding looking like you're about to attend opening day at the county fair. Wedding season is a time for bridesmaids to hide their self-loathing and alcohol bloat under a mop of floor-length fabric—not to show off their legs that haven't seen sunlight or the StairMaster since fucking Nam. Besides blasting her love story all over HowWeMet.com and DIY-ing every detail down to her own goddamn veil, this bride also blasted any chances her bridesmaids will be getting laid at the end of the night.

Sequin/Beaded
This. This is the bride who promised her bridesmaids they'd be able to wear this dress again, because it's not basic as fuck, and duh, it's designer. Nice try. This bitch is so extra, that she's confident enough to not even question the fact that she may not be the center of attention due to the flashy bridesmaids, probably all because of her upcoming outfit change post-ceremony. She took the hashtag #SweatingForTheWedding from 0-10 real fucking fast, thanks to Orange Theory's membership. She is also obviously marrying for the money and the show, since out of her 13 bridesmaids (that's literally more friends than I know actual people), only like, four of them are actually close to her. It's okay, because this bride screams future PTA prowess and tennis player of the month.

Fuck it, just give me one of the Fritz Bernaises.