Where Do You Even Start When Planning A Bridal Shower?
So, you have the esteemed honor of planning a bridal shower—cheers to you! But literally, planning a bridal shower might seem daunting, and you may need a drink. Or two. Like, where do you even start? Do people still play games? Do you have to invite the bride's great-grandma? It can seem like a lot, but don't freak out just yet. The event experts at PartySlate have you covered with tips on where the hell you even start. Follow these 7 manageable steps, and you'll plan an amazing shower that the bride will love… and you won't drive yourself crazy in the process.
1. Determine The Hosts
Almost anyone can throw the bride-to-be a bridal shower. However, the first right should go to the mother of the bride, bridesmaids, or female family members. But more often than not, the shower is hosted by more than one person, so that one person doesn't get stuck with the entire bill—which is probably where you come in. If you're reading this, we assume you're a bridesmaid or the maid of honor (if not, maybe you're just a sadist?). It doesn't matter why you're deciding to host, just figure out who's doing the job. 
2. Pick The Palette Or Theme
While a specific shower theme is not required, you might want to at least have a color palette. Number one, it makes decisions easier. Number two, themes and colors are a great way to relate to the couple's style. Do they love Paris? Parisian theme it is (this theme in particular has the added bonus of giving you a great excuse to re-watch Bridesmaids). Obsessed with Italian food? Make it an Italian theme, and serve up some fresh mozzarella and chicken limone. Once the theme or palette is set, commit to it! (Unlike the FWB you sometimes Netflix and chill with.) It takes a little extra effort, but will make the shower look so much more chic and put-together. Carry theming and colors throughout the tabletop decor, invitations, and cocktails. But please, pick just a few colors. Do not make a hodgepodge of ROY G BIV— let's be civilized, people. Not to mention, that just creates more work for you!
3. Choose The Venue & Set The Date
I mean, duh. Now that you have a concept in mind, use that inspiration to select the perfect venue. Try to keep things consistent with your overall vibe when choosing your venue, too. If you are going for a rustic, open-air concept, a restaurant's dark, private dining room may not be the best choice for your shower. Also keep in mind that you don't have to host   the bridal shower at a venue or event space—hosting a shower at somebody's home is always a great time, and offers some more flexibility (not to mention, you won't have to pay to reserve the maid of honor's backyard).
4. Invite Guests
We hope that we don't need to explain this one. See: The One Where Rachel and Phoebe Plan Monica's Bridal Shower.
5. Choose The Decor & Menu
Bridal shower decor can get cheesy—and fast. Trust us when we say that two tulips and a "Miss to Mrs." banner are not decor. Make it a memorable event that will get people excited for the wedding (and the lead-up to it). Add personal touches that remind people of the bride-to-be. Like, if she loves peonies, add peonies. Is she lemon and lavender pancake-obsessed? Weird flex, but ok. Then the princess shall get all the pancakes. Which reminds us: do not forget the dessert. Whether it be a doughnut bar or a whimsical cake, everyone wants a sweet treat after their meal.
6. Set The Dress Code
Don't go overboard with it, but give people some parameters regarding what the f*ck to wear to this shindig. Anyone who's ever stood in front of their closet for 30 minutes, digging through racks of clothes, yelling, "I have nothing to wear!" will thank you.
7. Plan Activities
There are a few things worth mentioning here. While we do not consider gift opening a game, some consider it the main event that takes place at a shower. So that's an option. But, if that's not your route, you might want to create an eye-catching display table of unwrapped gifts, rather than an estate-sale-style pile of mix matched presents. For example, use linens, risers, and florals to create a visually stunning display of gifts for guests to check out. That way, you can just ogle the gift-wrapping instead of spending two hours opening each and every gift. Yes, it can really take that long.
As for real games, it can go a few different ways. We all know Aunt Bunny will want to play traditional games, like making a gown out of toilet paper or "Who knows the bride best?" quiz. Some basic games she might include: a quiz to find out who knows the bride the best, (s)he said/(s)he said where both partners are quizzed in advance, or the ever-engaging bridal bingo. Some contemporary showers are taking a different route, like having a craft cocktail bar or CBD oil-mixing stations. Dare I say, something original!
If you're still feeling like you're at a loss trying to plan a bridal shower, read this article again head over to PartySlate.
Images: Keri Calabrese Photography, Krista Mason Photography (4), Jennifer Bowen, Roots of Life Photography, You Look Lovely 
5 Bridal Shower Games That Need To Stay In The 1950s Where They Came From
Bridal showers are outdated and tacky. I'm sorry (I'm not), but throwing yourself a party meant to stock your home with sheets, towels, and Tupperware seems a little outdated these days. First of all, who isn't living with their significant other before they're engaged? Like, and even if you aren't, are you a home schooled jungle freak that hasn't broken out of mom and dad's house yet? If not, you probably aren't ready to get married. But I digress.
The absolute worst part of any bridal shower is the games. These were likely dreamt up in the 1950s when women were super psyched about staying in a kitchen all day and rubbing their husband's feet when he came home (not). So, to say we feel they're outdated and tacky is an understatement. Please stop playing these bridal shower games, or at least let me know the itinerary in advance so I can make sure to not be there.
1. Anything Involving The Big Hat
You've seen it before. This isn't necessarily a game, but more a terrible tradition. Basically, your aunt or mom or future mother-in-law or someone else who wants to embarrass you creates a giant hat out of ribbons from gifts and a paper plate. The bride is then required to wear it. Everyone laughs and takes pictures. Fuck that.

2. What's In The Bag?
Just like WHAT'S IN THE BOX, this game is fucking traumatizing and terrible. The hostess takes a bunch of brown paper bags and fills them each with some kind of household item. Guests are then blindfolded and asked to "sniff" the bag. Alright fam, unless there's some coke in one of these, count me out (lol not rly but srsly). The official rules say you can add anything from powdered detergent to ground mustard to sawdust. What sheltered Victorian betch came up with this shit? "Oh this party sucks, LET'S MAKE MARGARET SNIFF CAYENNE AND SEE WHAT HAPPENS!" Jesus Christ.

3. Bingo
Hard pass. Unless you and your guests are over 65, this is probably going to be a real shitty time.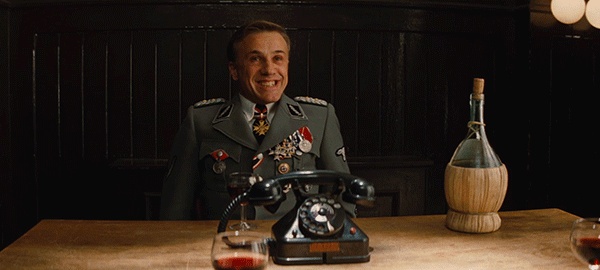 4. Toilet Paper Gown
This game is shitty (LOL). Guests wrap the bride in toilet paper creations after splitting into teams. Sorry I'm not super into being wrapped in the same material used in area where I do my top secret business.

5. The Newlywed Game
If, somehow, your fiancé has come to the shower with you (BIG ETIQUETTE NO-NO unless it's a WEDDING shower and not a bridal shower), please do not play the newlywed game. Nobody wants to see the super cute responses you come up with and no one wants to see you get a question wrong and yell at your fiancé for it later.