JoJo Fletcher's Tips For Planning A Wedding After 'The Bachelorette'
Bachelorette couple JoJo Fletcher and Jordan Rodgers are FINALLY getting married (smh it's been 3 years…). The couple are getting ready for their spring/summer 2020 wedding, and we couldn't be more excited. On our newest episode of the Betches Brides podcast, JoJo sat down and told us the ins and outs of what she has in mind for her upcoming ceremony. Here are 5 tips she gave us on how to plan a wedding after the madness that is The Bachelorette.
1. Wait To Get Married
It's not rocket science, but apparently people forget this: The Bachelor/Bachelorette isn't the real world. IRL, you aren't traveling to Latvia with three of your potential fiancés, all expenses paid, and having a date card reveal your next destination. This can pose challenges to an engaged couple once the cameras stop rolling, because as JoJo explains, you may think you're getting to know someone on the show, but the truth is, you aren't. She emphasized that while on the show, "It's this whirlwind romance, you're on a high and you come off and you're thinking that you totally know this person but, in all honesty, you really don't." As annoying as it is for us fans that she and now-fiancé Jordan have been engaged for three years with no wedding, JoJo explains that that time was what they needed to create a healthy and happy relationship together. She doesn't even think their relationship would have lasted otherwise. "If Jordan and I were to have gotten off the show engaged and started planning a wedding right after," she says, "we probably would not have made it."
2. Decide What Kind Of Role You Want The Show To Have
On the Betches Brides podcast, JoJo makes it clear that she does NOT want her wedding to have anything to do with the show. She says, "it definitely won't be some sort of Bachelor/Bachelorette wedding—I know that for sure." She wants to be able to share some of her wedding with her fans but emphasizes, "Jordan and I are firm on that we don't want our wedding to be a produced event." Sad that means we can't watch it, but happy for them overall.
 3. Come Up With A Vision
 Before you can do anything to start preparing for your wedding, you need to figure out what you want it to look like. For JoJo, she wants her ceremony to be, as she puts it, "whimsical and beautiful and outdoorsy". Though she doesn't know the style she wants for her dress, she knows she wants "to feel like it is my wedding day—I don't want a dress that I feel like I can wear to some white party gala. I want to feel truly bridal." I mean, don't we all want that?
4. Decide On Your Wedding Party
When it comes to the guest list, Jojo is trying to keep it small. She wants the guest list to be around 150 people whereas Jordan thinks it will be much larger than that (yikes). What JoJo is certain about is that she is not into the whole "Vegas thing" for a Bachelorette party. She mentions, "I just want to be on a beach, I want spa, I want sun, I want girlfriends. I'm not a big clubber." As for Jordan, his idea of a great Bachelor party would be, "going to play golf and then going to a little hole in the wall sports bar and having a beer with his buddies." And finally…
5. Get Your Finances In Order
JoJo is on top of her sh*t when it comes to $$$. She and Jordan have sat down with a financial planner from Northwestern Mutual to discuss finances and future plans for their marriage. She says, "Meeting with that advisor from Northwestern Mutual totally made me so much more confident in what finances will look like as a couple and I would recommend it to anybody." She said the advisor guided a much-needed financial conversation to prepare them for the future together. JoJo recommends all newly weds or anybody engaged to do it. "Have that conversation," she urges, "it puts you in a way better place, and honestly, it was the best thing for Jordan and I."
I don't know about you, but I'm pretty impressed with JoJo and how shes handling her plans. She's super chill (honesty maybe a little too chill) and made it clear that all she wants is a ceremony to get married to the love of her life and that's all— no bullsh*t. I'm happy for her and Jordan and I am SO excited to see the pics. Listen to the rest of the Betches Brides podcast for more insider sneak peeks of her upcoming wedding.
Images: @joelle_fletcher/Instagram; Shutterstock
What Your Wedding Guest Dress Says About How Drunk You're Getting
Maybe it's our love for daydrinking in 90-degree weather or maybe it's just that we'd give anything to relive our college rallying days. Whatever it is, it's no surprise that summer coincides with wedding season. Even if one night stands are as close to love as you'll ever get, you will never say no to an event with open bar and attractive single men looking for love in a hopeless place—except, that place is not the bar you black out at every Friday for happy hour. IDC if you believe in Prince Charming or even if eternal love is a foreign concept to you, everyone fucking loves weddings. They're like, the perfect excuse to not only get out of plans you were bailing on anyway, but to buy another expensive dress you'll probs never wear more than once. Like, a photo op to make your ex and his new thot GF jealous? Uh, sounds like an average weekend a great fucking time to me. Whether you're somebody's plus one or prepping for your best friend's wedding, here's the dress you should wear based on your wedding guest #mood.
Floral Maxi Dress

Wearing a maxi dress to a wedding is the most basic bitch of them all. You're respectful in keeping it long and classy—two things your last relationship was not. However, you still aren't giving up on marriage because you really don't want to be a part of the 50% divorce rate statistic, so you're ringing in the newlyweds with a flirty, feminine, floral-printed maxi dress. You're single and ready to mingle, or find your husband altogether, so you'll go with a style that's kinda slutty and shows some cleavage, thanks to your next push-up bra. Your best best is the Lulus Wondrous Water Lilies Black Floral Print Maxi Dress.

Bodycon Cocktail Dress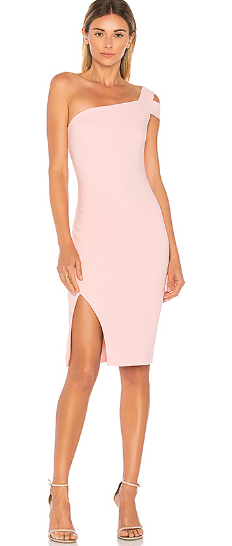 Once you heard there was an excuse to dress like an A-list celeb and walk the aisle like one, you were the first to RSVP because I mean, I guess you just like the attention. You're confident because you know your summer bod looks good this year so obviously, you're going to show off your curves in a v sensual bodycon. You were the bodycon queen all of college so, it only makes sense you bring it back if you plan on being sorority-girl-wasted anyway—just for old times' sake. Enough shots will def have you twerking on the dance floor but, you don't mind the spotlight so, it's fine. Millennial pink is def your color since it makes your spray tan look literally so much better, so go with the LIKELY Packard Dress.
Two-Piece Dress

You're like, really chill and probably into finding your inner happiness or, something along those lines. A modern two-piece is basically a maxi Vanessa Hudgens would wear Coachella but, not so hippie-esque. You hate talking shit and getting involved in drama but, you'll still sip your tea and watch that shit go down. Your wedding will probably be outdoors where there are white Christmas lights everywhere. Cute. Since this is probably sounds like you, you'll want the Laundry by Shell Segal Two-Piece Gown.

Black Dress

Surprisingly, a lot of idiots people don't know that you can wear black to a wedding because they say it's dark and moody, or whatever. However, you know that the timeless color looks elegant, classy, and slimming on everyone so you'll stick with what you know best. You don't really like to go with crazy prints or bright colors because you think they're annoying and too in-your-face. You might come off as standoffish because everyone else acts their shoe size and you just literally can't even. You prefer to stay away from looking thirsty AF with a revealing dress so you should go with a basic fit and flare style like this Halston Heritage Cold-Shoulder Fit-and-Flare Dress.

What Your Wedding Dress Style Says About How Much Of A Bridezilla You Are
Mazel Tov! You're getting married. Or you're balls deep in a breakup and fantasizing hard about a day when a man comes into your life who doesn't turn out to be a total fuckboy as soon as you hook up. Either way, you're obsessed with weddings right now. Despite being a completely outdated societal norm that reinforces the idea that women are nada unless they have a man who loves them, it's something we all dream about our entire lives. Hey, no one ever accused me of being a romantic, but even I'm all fired up about putting on a big cotton ball of a dress just to have some poor dude proclaim that he's officially whipped in the name of the Lord and the government. I blame Say Yes To The Dress tbh. Like, fuck you Randy for making me all basic and shit. How dare you? I'm supposed to be a card carrying feminist out here in my pussy hat and yet the minute somebody mentions floral arrangements, I'm suddenly full of opinions. It's the eternal paradox. Anyway, to help you judge the shit out of almost-married besties this wedding season or make sure you don't commit bridal fashion suicide if you're you're the one saying "I do," here's what your wedding dress style says about you.
Ball Gown
If you dream of having a dress so big you can hardly walk down the aisle, you def want a ball gown, meaning you're a basic AF bride. You probably say shit about wanting to feel like a princess on your big day and all your bridesmaids def commence talking shit about you as soon as you leave the room. Just trust me. They are. You're the type that's dreamed/talked/pinned about this day for-fucking-ever and you're super optimistic about getting married, even though deep down you know a lack of interesting sex with a man who is developing a beer belly is in your future. You'll start a mommy blog once you have kids and make everything look like it's perfect, but you'll have a secret stash of vodka and maybe a little weed in your nightstand for the one day a year when you're actually allowed to enjoy life.

Mermaid/Trumpet/Fit And Flare
First things first, what's the fucking difference? And even if there is a slight difference, is three different names for something that's virtually the same really necessary? I'm gonna say no. But I digress. If this is the kind of dress you go for, you're confident and hot but you understand that your 90-year-old Meemaw doesn't want to see you looking like a hoe on your wedding day. Ever since you got engaged, you haven't eaten carbs (except for that one drunken pizza binge at your bachelorette) and you've been hitting up SoulCycle every morning. You're super successful at work thanks in large part to your type A personality. Because of this, you're obsessing over every detail of your wedding and have had at least four nervous breakdowns planning this shit. You're excited for it to be over with so you can finally relax, but let's be honest, you'll find something else to obsess over in a matter of days. Probably like, a baby or some shit.

Something See-Through
If this style is for you, you're the trashy bride. I mean, at least you're bold, right? You're marrying someone who's rich AF because there's no way you'd settle for one dick the rest of your life if there wasn't some benefit in it for you. You were the lush of your sorority in college and while you were excited to get married at first, the whole "till death do us part" thing has you wigging the fuck out the closer you get to your wedding. In a few years, you'll get a role on Real Housewives because you need to do something for you and after two seasons you and your husband will call it quits. You'll say it's because the pressure of living your life on reality TV magnified your problems, but it's really because you were bored out of your fucking mind. In a year or so, you'll try releasing a pop single and it'll be embarrassing for literally everyone.

Tea Length
Hold on. I need to wait for this massive eye roll to end before I can put together my thoughts. Okay cool. I'm finished. A tea-length wedding dress is reserved specifically for hipster brides and people who are roughly a thousand times less cute than they think they are. At your wedding, everything will be DIY because "you couldn't find anything that truly embodied your essence" and you will literally tell everyone in earshot about it. For favors, you and your fiancé brewed your own beer that's fucking disgusting if I had to guess and made custom labels that say "Let Love Brew." Vomit. IRL, you pride yourself on not having the type of job the status quo—or as you like to call it, "The Man"—expects you to have. So like, you harvest bees and sell honey on the side of the road or some shit. Idk. Long story short: You're the worst. Welcome to your tape.

Multiple Dresses
Isn't one $10,000 dress for one evening of your life enough? If your answer to this question is no, you're extra af. You care way too much about what everyone thinks and you're going to be so tied up in everyone's opinion of you and your wedding, you're going to be fucking miserable the day of. In general, you try way harder than you need to at pretty much everything you do. Out of your 12 bridesmaids, only 4 or 5 would consider you a close enough friend to have them in their wedding, and all of them are pissed about how much money they had to spend making your destination bachelorette happen. Ouch. In a few years, you'll pop out a kid or two and quit your job to be a full-time mom so you can take up tennis at your local country club and become the president of PTA.

Your Mom's Dress
If you insist on wearing your mom's old haggard wedding dress from the 80s, you're a typical nicegirl. Everything you do in life revolves around what's best for others rather than looking out for #1 and because of this you've been walked on by everyone you know. Tragic. You think wearing your mom's dress will be a sweet gesture and will make her v happy, but did you even think about yourself? I mean, it's your fucking day and you're gonna wear some tacky shit from the 80s? I'd feel bad for you except you're also the type that would only have beer and wine at your reception, fuck maybe even no alcohol at all, and I don't feel bad for people who pull that kind of shit on their friends.

A-Line
Brides who choose A-line dresses are sophisticated, classic betches, not just on their wedding day but in general. Unlike most brides, you've been chill throughout the entire wedding process and not a total nightmare so you'll still have friends other than your spouse once this whole thing is over. You're like really really pretty and don't need a super tight dress to be the hottest girl in the room. You're the type that won't change after you get married. You'll still hang out with all your friends and not be lame AF and for sure won't keep your wedding portraits as your prof pic for too long. When you have a kid, you'll name it something normal and have the appropriate amount of involvement in its day to day life. Congratulations. You win.

How long is it acceptable to keep your wedding profile pic up? Find out here!