Hot Take: Let's Keep Erika Jayne On 'RHOBH' For As Long As We Can
There's nothing that brings the internet together like a good old fashioned scandal. Whether that's Hilaria "how you say cucumber in English" Baldwin, the O.J. trials, or Tom and Erika Girardi vs. everyone they've (allegedly) f*cked over. 
As of late 2020, Erika Jayne/Girardi officially transcended the reality TV world into mainstream news and pop culture after she filed for divorce from Tom and the couple was sued for allegedly leveraging their breakup to embezzle money. And even though the Housewives franchises are no stranger to legal scandals (Teresa Guidice, Lynne Curtin, Jen Shah, etc.), Tom's reputation and the sheer gravitas of the situation has catapulted the story into major news outlets like the LA Times and CNN — but most importantly, it's being featured on the Real Housewives of Beverly Hills. 
Up until this season, Erika Jayne was the Kourtney Kardashian of RHOBH: boring AF (Kim said it, not me). And sure, unlike Kourtney, Erika has been interesting to look at, but beyond that she's been cold, reserved, and truly an enigma wrapped in a riddle and (allegedly stolen) cash. 
IMO, getting to feature the divorce/lawsuit this season is the best thing to happen to RHOBH in a looooong time. Over the past few years the franchise has been littered with trivial storylines like PuppyGate that drag out for 10 episodes longer than they should, so bringing in an actual scandal to basically be the eighth cast member this season is bringing much-needed dimension and depth to the show. Otherwise, you just know the entire season was going to be ViolateGate (Sutton vs. Crystal). Yawn. 
And I commend Erika on what she's given us so far in season 11. She's basically the Faye Resnick we never got — divulging her perspective on the lawsuit, commenting on Tom's declining health, and sharing her real feelings about her and Tom's relationship now that she doesn't have to protect him. Her storyline this season has seriously resurrected the franchise from the brink of irrelevance, lacing it with a hint of true crime-ish elements combined with a more open and off-the-cuff Erika who's actually pulling her weight within the cast. 
And that leads me to my hot take: let's keep The Pretty Mess on RHOBH as long as she's still being… well, pretty messy. 
If I'm getting too far ahead, there are CliffsNotes below to get you up to speed. But if you already have your PhD in the Erika/Tom scandal like me, feel free to skip the summary and get straight into my open letter to Bravo on why they should keep Erika around for season 12. 
Erika's Involvement in the Lawsuit(s)
About a month after Erika filed for divorce, Edelson PC filed a class action lawsuit against Erika and Tom, alleging that the couple embezzled settlement funds meant for victims who lost family in the 2018 Boeing plane crash. The lawsuit also claimed that the "'divorce' is simply a sham attempt to fraudulently protect Tom's and Erika's money…". 
On the heels of that, Tom's former business partners filed a separate suit against him, claiming that Tom kept funds over $315,000 that he owed them for his own gain.
And although all this shadiness was allegedly orchestrated by Tom, the scandal is being framed in a way that implies Erika is guilty by association — and not just because of the allegedly opportunistic divorce, but also because her company EJ Global received over $20 million in loans from Tom's law firm. 
That $20 million was probably spent on her glam squad's room and board during cast trips alone (kidding) (not really), which makes it all the more sad to know it could have been used to pay victim settlements — and all the more infuriating considering it did not belong to Erika in the first place. And that's a sentiment the judge agrees with, after ruling that specific victims can go after Erika for up to $11 million to replace the amount Tom never paid them.
Why This Sh*t Is Interesting
What punches up the entire storyline is the juxtaposition between the way the media/lawsuits are framing Erika, and how she's portraying herself on RHOBH. 
While the lawsuits suggest that Erika had some part in/knowledge of Tom's shady dealings, the RHOBH version of Erika is acting as if nothing illegal happened. In fact, she's enraged that people dare speculate that the divorce timing was suspect, saying during the latest episode, "What's being said is just, I mean, it's insane. That my divorce is a sham, but nobody cares about the facts." She also explicitly said the divorce wasn't a ploy to hide assets while FaceTiming Kyle and Lisa. THE TEAAAA. 
I'm the first to admit that she's in a sh*tty position, mostly thanks to Tom. But we can't forget that Erika is a performer by trade with an alter ego that even Danielle Staub couldn't pull off. We've seen her transform from the world's best poker player to a puss-patting, bodysuit-wearing, loud and bright singer/dancer. All this to say, her time on the stage and those two episodes in The Young and the Restless prove that she has the chops to act the part that her PR recommends. 
And as much as I love to analyze what's strategy and what's not, at the end of the day I just want good TV. So Erica sharing those tidbits about the lawsuit hit hard, as did the comments about her and Tom's pre-divorce relationship. For the past five seasons, we've heard nothing but glowing reviews of Tom "styrofoam cup" Girardi. Not a peep of indiscretion or disagreement, and not even Kim Richards piped in threatening that she had dirt. But Erika has finally, finally expressed several iotas of emotion and raw stories about their relationship this season, and whether those are her true feelings or a narrative suggested by her PR team (or Mikey), it makes you wonder, what other dirt is she going to spill, now that she's not protecting Tom?
And we're going in the right direction. So far this season, Erika has detailed his heartless goodbye, admitted she was pissed he didn't come see her on Broadway, and even expressed her fear about her public perception post-divorce in the last episode when she said, "I don't want his actions to absolutely kill what I have created."
And there are logical reasons why Erika is being more real. For one, she needs that Bravo paycheck more than ever, especially after detailing her fears about the attorney fees in the latest episode. Now that she literally needs this job, it's in her best interest to involve herself in the storyline and bring some actual juiciness — whether that's Tom related, post-divorce dating stories, etc. 
Another reason to keep her on the show is that despite the accusations, Erika's still proving it's expensive to be heeeer-er-er-er by boarding a PJ and sporting a $189k ring. That's some major BDE when you're in the middle of an embezzlement lawsuit, and some very Jen Shah-esque energy that makes for ridiculously entertaining TV. 
And while Erika's attorneys briefly dropped her and then took her back (for reasons we can only speculate), her castmates have continued to show their support and allegiance to Erika, both on the show and on social media. From Kyle and Lisa dancing to "XXPEN$IVE" and most of the ladies wishing her a happy birthday publicly, they clearly don't feel a need to distance themselves at all. Truly women supporting women, in the words of Ramona Singer. 
Thanks to Tom, Erika's part of a truly impactful scandal that I'm 100% sure will be turned into a Hollywood blockbuster. With that being said, capturing Erika's perspective on the RHOBH is a fresh, deep, real storyline that's captivating AF. And because court cases take forever and Erika can only say so much right now, Bravo can easily milk this content well into next season as well. Not to mention, Erika will definitely be opening up with some new storylines about post-Tom life in an effort to stay relevant (and liquid… with those big lawyer bills). 
Image: Bravo
Dear Betch: How Do I Get Over A Breakup While In Quarantine?
Need Jordana to answer your most pressing dating questions? Email us at [email protected] for a chance to have your dilemma featured on Dear Betch.
Dear Betch, 
I very recently went through a breakup with my boyfriend of ~3 years. We are both 27, living in NYC. 
We live very close to each other in the city; however, after a few weeks of city quarantining (and seeing each other often), we each left the city to quarantine with family in separate states. During this time, it seemed there was a shift in our relationship: less communication, less FaceTime, less attempts to see each other (on both our ends). Eventually this led to us deciding to go our separate ways, as it seemed we couldn't give each other what the other needed out of the relationship (wasn't the first time we discussed not meeting the other's needs). Nothing specifically happened, but I honestly felt like we just weren't the match for each other—and I had these thoughts before the pandemic but wasn't really forced to face them until our time apart.
My question is, how do we get over breakups during this time? There aren't as many usual distractions to help, and I worry even more so about having to relive/grieve the breakup once life is back to normal, and I'm forced to face the reality of my life without him in it. Even if I do think our breakup was for the best long-term, it doesn't stop it from being hard to go through, deal with, and worry about.
Any and all advice would be welcomed!
A socially distant single
Dear Socially Distant Single,
Socially distancing is tough enough without the added distress of going through a breakup, so I'll start by saying I'm really sorry you're going through this. I've been there, it sucks. Breakups are often even (ironically) tougher when things end semi-amicably and you can't villainize the person or blame the breakup on some horrendous event (like cheating or some other dramatic event). 
However, breaking up in the midst of a global pandemic has its own silver lining. In 2019 you might think you could fix your heartbreak with distractions like drunk brunch with friends and hooking up with random people, but you'd actually be wrong. When you use distractions to make you forget the pain you're in, you avoid feeling it and never really deal with it. The shortage of activities like parties, weddings, and festivals this year will ensure you don't bypass this important stage in the breakup grieving process: letting yourself feel sh*tty. I know we all want to avoid pain as much as possible, but like a nagging Slack from your boss, pain is something you will have to face eventually, either full-on in the beginning, or drawn out over the course of an even longer time period due to numbing it with your distraction of choice. 
Take advantage of quarantine by letting yourself feel bad for a while and reflect on the highs and lows of your relationship. What did the relationship with your ex teach you about what you want to do differently next time? What did it teach you about yourself, and your likes and your dislikes? What red flags will you look out for next time?  Using quarantine to let yourself feel everything will ensure that when things start to open up you can enter the world with a fresh, healed heart and be ready to go out and meet new people. You'll be able to actually have fun at the events that are happening instead of having to beat back the lingering sadness in the back of your mind. 
That's not to say that there aren't certain things you can do to help yourself in the meantime while you're grieving this breakup. First off, delete him from all social media, not because he's a bad person, but because constant updates about anyone will make it impossible to move on from them. There are probably days when you second guess your decision and the heightened feeling of socially distanced loneliness makes you want to reach out your ex. When this happens, text a designated friend about what you'd want to say to your ex, and she can remind you of all the reasons you broke up. Finally, break up your sadness by getting into something new, be it a new workout routine, podcast, really good book, or anything else that will make you feel like you're channeling your energy into something and growing as a person. This will make you remember that the rest of your life is ahead of you and there will be a ton of amazing people you'll get to date along the way. 
Best of luck, Betch!
Jordana
Need Jordana to answer your most pressing dating questions? Email us at [email protected] for a chance to have your dilemma featured on Dear Betch.
The Most Dramatic Celebrity Breakups Of 2019
There are so many things to love about this time of year. The bottomless supply of baked goods, the wall-to-wall Hallmark Channel Christmas movies, the multiple consecutive days where you don't have to change out of your pajamas, and finally, looking back on all the juicy breakups that happened throughout the year. I believe the phrase is "the best way to spread Christmas cheer is by recounting strangers' personal pain loudly for all to hear," no? Well, it certainly is for me. And this year, there were A LOT of celebrity breakups. So many, in fact,  that Ryanne even had to talk me down from one when I INSISTED you would all care about the guy from This is Us divorcing his wife. You can thank her in the comments. But let's take a look at the rest of the most dramatic celebrity breakups of 2019, and really get in the holiday spirit! 
Khloé Kardashian & Tristan Thompson
I had really hoped that by the end of this decade we would have stopped talking about these people, but it seems that is not the case. In fact, two members of America's First Family of Reality TV made it onto this list. The things I do for you guys. I still can't believe this breakup was only this year, but it was indeed back in February when Jordyn Woods foolishly cut herself off from the Kardashian juvederm gravy train by making out with Tristan Thompson. Big mistake. Huge. She claimed (on Red Table Talk) that it was just a quick kiss on the lips, but that was enough to seal her fate. Kylie threw her out, onto the mean streets of the Hollywood Hills, left to fend for herself with nowhere else to go but a slightly smaller mansion. Poor baby! 
This was the last straw for Khloé, who will tolerate her boyfriend motorboating models while she's at home pregnant, but a goodbye kiss on the lips is OVER. THE. LINE. She also seemed to blame Jordyn for her breakup when we all know men are the ones responsible for where they put their d*cks. 
Why are you lying @jordynwoods ?? If you're going to try and save yourself by going public, INSTEAD OF CALLING ME PRIVATELY TO APOLOGIZE FIRST, at least be HONEST about your story. BTW, You ARE the reason my family broke up!

— Khloé (@khloekardashian) March 1, 2019
Maybe don't pick a cheater next time, Khloé! 
Kylie Jenner & Travis Scott
We might as well get on with the Kylie and Travis breakup, since we're here. This relationship was a whirlwind. Kylie and Tyga broke up, and then she almost immediately got with Travis, and then she almost immediately got pregnant, because her mother was too busy selling her sister's sex tape and building an empire to teach her youngest daughter about the birds and the bees. At the very least she could have showed her that tape! Alas, she did not, and here we are. Stormi was born in February 2018, less than a year after Kylie and Travis got together. Things seemed to be going well for a while, with Travis even telling Playboy that having a baby had not slowed down their sex life at all. Duh, Travis! You are still in the honeymoon stage! And you have nannies! I think a decrease in sex life happens because people are tired from the baby and also kind of sick of each other from being together so long. Two problems Travis and Kylie would not be encountering. But congrats on beating the odds! 
But then, October came and Travis and Kylie announced they were on a break. Guess that sex life finally slowed down, huh? They still appear to be close, and although I wouldn't count out a reconciliation, this really was the end of an era for Kylie. Thankfully she has those billion dollars to hold her close at night! 
Miley Cyrus & Liam Hemsworth
I've got to admit, this one hurts. I thought these two crazy kids might just make it. After meeting on the set of The Last Song *pause for audible sobbing* and dating on and off for over 10 years, they finally got married in December 2018. Then, by August, it was over. And that's when it got messy. All of a sudden Miley was dating Kaitlynn Carter, the most annoying cast member on The Hills: New Beginnings, and Liam was walking around Australia looking like someone drowned his puppy. I haven't seen anything sadder since we got my brother's wedding photos back and it looked like my glass of champagne was my plus one in every single shot. (It was.)
THEN! Miley and Kaitlynn breakup (duh, she's annoying!) and now Miley is with Cody Simpson. AND THEN!!! Miley got a tattoo that says "freedom" which is obviously throwing shade at Liam. A little dramatic, but okay. 
But FINALLY! Liam is getting his head in the game and fighting back, recently posting a thirst trap. He looks hot, but we know you're not that innocent, Liam. Even my grandmother knows what a thirst trap is. 
Cole Sprouse & Lili Reinhart
This summer it was reported that Cole and Lili, aka the one sane spot in that bonkers fever dream known as Riverdale, broke up after two years of dating. OR DID THEY? This story was reported in July, but the day before they had been perfectly cordial at ComicCon. And I don't know about you, but I don't think "cordial" is the word I would use to describe myself post-breakup in my early 20s. Maybe "deranged" or "paralyzed by rage," but definitely not cordial. 
They never confirmed the breakup, and then, they started f*cking with us. Lili posted a picture of their magazine cover together saying "none of you know sh*t," and Cole posted the same picture, with a caption I don't understand but I can feel like I'm being mocked, you know?
If Cole and Lili broke up, or if they did not, it doesn't matter now, because they're back together! I don't like being toyed with, but I will take it if it means that Bughead is forever. 
Bradley Cooper & Irina Shayk
I heard you all sigh when you got to this one, but don't act like I'm the only one here who cares about Bradley Cooper. He's still hotter than most of the men in Hollywood even when he's pretending to pee himself at the Grammys, okay? So, last year, Bradley wrote, directed, and starred in a little film called A Star is Born, maybe you heard of it? *pause for audible sobbing*. Sorry, that garage scene haunts me. Anyway, his co-star was the inimitable Lady Gaga, and boy did people want them to be a thing. And then, Gaga and her fiancé broke up, and she and Bradley performed at the Oscars, making everyone believe they were in love. Guys, THEY ARE ACTORS. THEY WERE ACTING. 
With this kind of speculation, though, it was almost inevitable that Bradley and Irina were going to break up. In June they announced that they were separating, which is sad, but at least they did produce quite possibly the most adorable child of all time. Yes, I do follow celebrity baby Instagram accounts, and no I don't want to talk about it. I would just like to stress, though, for all you believers that are still out there, he will never, ever, be getting with Lady Gaga. Because he's obviously going to end up with Jennifer Garner, right? Where my Alias fans at??!
Hannah Brown & Jed Wyatt
And finally, we get to the biggest Bachelor Nation breakup of the year. I think this one can be summed up by saying "men ain't sh*t," but you probably want a little more explanation than that. Basically, Hannah picked the incredibly poor man's Tim McGraw as the winner on her season of The Bachelorette. And then, after she picked him but before the season was finished airing, it was revealed that Jed had a girlfriend when he went on the show and he clearly was in it just to get famous. FOR SHAME, JED! Tim McGraw would never do something so nefarious. So, Hannah dumped him on After the Final Rose, and went on to win Dancing with the Stars, and in general be one of the best Bachelorettes that the franchise has ever produced. She scrubbed him from her Instagram, but he didn't because he still needs her to keep him relevant, duh. It appears Jed has a new girlfriend, good for him! Just FYI sweetie, he didn't write "I wanna be your Mr. Right" for you. 
And there you have the most dramatic celebrity breakups of 2019. Count on even more Kardashians on next year's list!
Images: khloekardashian, travisscott, liamhemsworth, winterstone, commentsbycelebs, lilireinhart, colesprouse, _itsleeas, jedwyatt/ Instagram; khloekardashian/Twitter
Kylie Jenner Addressed Why She And Travis Scott Broke Up
It feels like it's been simultaneously 30 minutes and 84 years since Kylie Jenner and Travis Scott announced their split, though neither of those time frames are accurate. Just one day after the news that Kylie and Travis broke up, Kylie was spotted hanging out with her ex Tyga. Kris Jenner may work hard, but Kylie works quickly. Initially, we didn't know the reason behind the split, and sources were only reporting that the two had decided to step away for a bit. Now, TMZ is claiming to know why Kylie Jenner and Travis Scott broke up, and they seem, in a word, like total bullsh*t.
Sources apparently told TMZ that "their decision to break things off came weeks ago, following a very long honeymoon phase that was full of love, touring, going on vacations and of course … raising their daughter, Stormi, together." However, after they stopped jet-setting around the globe and had to confront the harsh reality of the day to day grind that is parenting, they "fell out of love," according to sources.
I don't know what kind of contract Travis signed with the devil Kris Jenner to get out of this breakup unscathed, but I'm seriously impressed that he did not get completely thrown under the bus like all the other Kardashian exes. Now all he has to do is not make out with any of Kylie's friends, and he should be able to bounce right back.
I'm especially not buying this "it was mutual" stuff because Kylie seemingly shaded Travis on her Instagram story. Though Kylie is not nearly as obvious with her IG story subtweeting as her sister Khloé, fans think she took shots at Travis in this video. It's subtle, but  in typical Kylie fashion, she mouths along the words to a song.
It's not a Travis Scott song, because that would just be too obvious. Kylie's singing along to "Stretch You Out" by Summer Walker. The lyrics include, "What you on your last breath, your last sweat, your last dime? / Out of your f*cking mind / Can't you see I'm f*cking trying / You want p*ssy six times a week / And you never wanna clean up"
Okayyyyy, the plot thickens! In the words of Andy Dwyer, this case just remained interesting. Did Travis act entitled and Kylie couldn't take it anymore? I could see it, given that their relationship was basically one giant publicity push for him.
BUT THEN! Literally moments after I published this article (FML), Kylie tweeted this:

While I'm glad that coparenting Stormi is her and Travis's first priority, Kylie doesn't get to rail against the internet for making everything 100 times more dramatic than what it really is! The internet's ability to overdramatize is the driving force behind her and her entire family's fame! Hmph.
Initially, TMZ was alluding to the fact that Kylie and Travis's split might not be permanent, but given that Kylie immediately went running to her ex—who she had not remained close with after their breakup, for obvious reasons—that seems unlikely. I mean, celebrities are not exactly known for making the most rational long-term decisions, so I'm just projecting here. But if it were me, and my ex went to go hang out with their ex at 2am one day after we told everyone we broke up? Let's just say, I've deaded people for a lot less.
Fans also were quick to point out, in the case of any piece of Kardashian news, that this could very well be a publicity stunt. That's because Travis Scott has a single coming out on Friday. TMZ acknowledges this, but claims, "we're told the timing of the breakup news is simply a coincidence … this is not some sort of stunt." Which is EXACTLY the type of statement you would make if you were planning an elaborate PR stunt!!
I don't really think this is a PR stunt, but anything is possible when it comes to this family. We will probably never know the real reason why Kylie Jenner and Travis Scott broke up, but I'll be continuing to stalk Kylie's Snapchat for clues. Ugh, I wish she was as messy as Khloé—that would make my job so much easier.
Images: Shutterstock.com; kyliesnapchat / Instagram
5 Types Of IG Posts That Tell You A Couple Is About To Break Up
Here's to annoying couples: may we know them, may we judge them, may we actively avoid them. Unfortunately, the latter is nearly impossible in our culture of oversharing. The good news is that the most flagrant offenders probably won't be blowing up your feed for too much longer. Read on for the telltale posts that indicate there is trouble in paradise.
1. The -Month "Anniversary"
I feel the need to start this section with a brief etymology lesson. The word "anniversary" comes from the Latin adjective anniversarius, which means "returning yearly," as well as the Latin noun annus, which means "year." So it always baffles me when I see couples commemorating their "3 month anniversary!!!" on social media. While it's severely premature cute that you're celebrating your relationship's survival over the course of a fiscal quarter, it makes absolutely no sense. What's more, it reeks of insecurity. How dicey are things that you feel the need to prove the legitimacy of your relationship with a fake anniversary?

2. Gratuitous Tributes
These eyesores come in many forms, the most common being a weekly #WCW or #MCM post. Don't get me wrong. I love love and think it should be celebrated, but it feels more authentic when it happens organically in the context of an actual milestone, like a birthday or a (real!) anniversary. We should appreciate our partners, but must this appreciation be constantly performed on a public forum on a weekly basis? These posts are where the cracks (say crack again) really begin to show in a relationship. They come across as reactionary, like the poster is trying to make up for something he or she did wrong, leaving the sentiment reading more like a coded mea culpa instead of the undying declaration of love it claims to be. Why should Chad send flowers to his girlfriend after she catches him texting bitches when he can overcompensate by firing off a #WCW thirst trap on the 'gram and call it a day?
3. Incessant Vacation Pics
I will confess that I am guilty of posting way more than I normally do when I am on vacation. But I do try to space out these posts and be cognizant of the fact that while I'm posting basic shots of my third pasta lunch in a row, my followers are toiling away at their work desks, secretly hoping that my Aperol Spritz goes down the wrong pipe. Couples on the brink of a breakup, however, don't seem to have this sort of self-awareness. Instead, they assault your feed with daily posts and endless selfies from their romantic seaside dinner in Santorini (btw, it's kinda hard to see the scenery in your selfies, Susan) to make up for the fact that they spent the majority of said dinner arguing about when Matt is finally going to propose. The frequency of these posts is the big tell: the more they are posting, the more they are trying to convince their followers and themselves that EVERYTHING IS FINE! The reality, though, looks something more like this:

4. PDA Overload
Beware of the PDA pictures, my friends, for these are the death knell for many a relationship. Kissing pictures are generally tough. I'm willing to overlook them, say, on one's wedding day, but anything else feels voyeuristic and leaves me with a lot of questions, the most important being: Who TF is taking these pictures?! The more performative the pose (looking at you, dips), the less likely the couple is to stay together. Case in point: I watched an acquaintance post a monthly kissing pic with her boyfriend for several months, only for this gentleman to disappear in the night from her feed just three months later.
5. Inspirational Quotes
Call the coroner and prepare the morgue, because this relationship is deceased. There is no clearer sign that a relationship is on the outs than when one party begins posting inspirational quotes, especially when those quotes are passive-aggressive digs at the other person. My personal favorite is, "Never Let Anyone Be Your Priority If You Are Only Their Option." In other words, Chad graduated from texting bitches to actually f*cking at least one of those bitches and YA GIRL IS PISSED.
Actual footage of me reading these kinds of posts:

As sure as the Kardashian-Jenners will find a way to remain relevant, annoying couples will continue to torture us with their undying proclamations of love on social media. I only ask that these couples be consistent in their oversharing. If they're going to be this extra when things are going up in flames well, then the least they can do is spill the tea on the circumstances surrounding the breakup. Don't leave us hanging, it's rude. In these dark times, a fire selfie with the full breakdown of how Angela caught Todd in bed with her barre instructor is the kind of post the people need.
Images: Austin Loveing / Unsplash; Giphy (5)
Is Anna Camp And Skylar Astin's Divorce Really Amicable? We Investigate
This past Friday leading into to the holiday weekend was like the Red Wedding for celebrity couples. Game of Thrones nerds, did I get that one right? If not, I mean to say it was a bloodbath, like blood was literally (fine, figuratively) splattered everywhere. Adele and her longtime partner broke up, Michelle Williams and her secret husband called it quits, and now Anna Camp and Skylar Astin have decided to end their marriage after two years.

That's right, the unrelenting taskmaster from every basic b*tch's favorite movie *raises hand* and the guy that swept us all off our feet with juice pouches and Rocky announced they were divorcing. In their joint statement to Page Six on Friday, the couple said, "We can confirm that we have decided to separate, and this decision was made mutually and amicably. We kindly ask for privacy as we navigate this transition." Wow. I hope they didn't pay someone $500 an hour to steal that off a Microsoft Word template. Hours after they issued that statement, Anna officially filed for divorce. And hours after that she was lady dancing to a Mariah Carey chart topper in her pajamas, using her second bottle of wine as a microphone. I imagine.
So what happened to our beautiful couple?! It looks like things started to go south at the beginning of this year, which is the last time the Pitch Perfect stars posted pictures of each other on Instagram. It's basically a cardinal rule that a couple that posts about each other on Instagram together, stays together. In retrospect, we should have known something was amiss a lot sooner.
WHAT HAPPENED? PLEASE TELL ME, YOU LOOK SO IN LOVE!
While they claim the split is amicable, I am not convinced. They put their house on the market in March, for one. PEOPLE reports that on March 25, the home was listed as "coming soon" on Zillow. Ouch! Do you think Anna told her realtor she was going to file for divorce before she told Skylar? 
They've also recently unfollowed each other on social media. That's harsh. I'm sorry, but this does not sound like it was "amicable," or like it was any of the other buzzwords their rep decided to use while they screamed obscenities at each other over his head. Instagram has a mute feature! If you don't want to fuel gossip, use it! Now we all know the mere sight of the other person drives you into a homicidal rage. Doesn't sound "mutual" to me.
The fact that Anna and Skylar released this information right before a holiday is also suspicious. And of course, strategic. These pitches were hoping we wouldn't notice their breakup and wonder what happened because we're all busy with our own celebrations and spending time with family and friends and all the other celebrity divorces that happened this weekend. (Sidenote, what is it about Easter that made all these couples file for divorce? Is it the Easter egg hunt?) I guess they forgot to think about the fact that some of us lead lonely, sad lives with plenty of time for gossip *insert evil laugh that turns to tears*.

No news has been released about the reason behind the divorce. Regardless of what happened between Anna Camp and Skylar Astin, I'm happy if this is what's best for both of them. I'm also happy that Skylar was written out of the Pitch Perfect series in the third movie so I don't have to worry about their breakup ruining my franchise! Now please excuse me while I furiously google if Anna Kendrick is currently single.
Images: Giphy (2); therealannacamp/Instagram
Why Is Ariana Grande Celebrated For Doing What Taylor Swift Is Mocked For?
Like most sentient Americans, I've spent the past few weeks in a world where Ariana Grande's "thank u, next" is the only soundtrack. It's passed well beyond the point of "great song!" and into the realm of "if I don't get my daily fix, I will probably die." I am certain I'm not alone in this, given that "thank u, next" has shattered multiple records in the streaming world. More importantly to me, the song and its accompanying video have secured Ariana Grande's transition from pop star to icon, from whom every social media nugget and on-screen appearance are nothing short of gospel.
As I've watched (and wholeheartedly approved of) the reaction to "thank u, next," one question continued to bug me. When Taylor Swift sings about her exes, she causes a similar flurry—but one filled with sneering, eye rolling, and the suggestion that she can't be taken seriously as an artist for choosing such diary-like content. Then Grande releases a track in which each of her exes are called out by name, and she's hailed as the ultimate badass for it. As someone who both genuinely loves Taylor Swift's music and feels that 90-95% of songs should be about one's exes, I couldn't help but wonder: why is Grande celebrated for the very thing Swift is mocked for? I've outlined my theories below.
Ariana Grande Is Cool & Confident
Let's be honest—a huge part of the appeal of "thank u, next" is the fact that, given the option, we would all present ourselves like Grande did after a breakup. "Thank u, next" is perhaps the coolest emotion one can evoke when facing an ex—even more so if done with genuine gratitude and while looking insanely flawless. "Thank u, next" is a song we can all caption our pictures with while drunkenly "accidentally" tagging exes, and the worst thing that happens is you've been overly polite to someone who wasted a year of your life. You tag an ex in a pic captioned "got a long list of ex-lovers / they'll tell you I'm insane," and you're not coming back from that so quickly. This brings me to my next point.
Taylor Swift Is Earnest & Emotional
Taylor Swift, almost determinedly, does not put up a "cool girl" façade when she sings about her exes. She painfully scrutinizes where it went wrong, often down to the minute of their breakup. She lingers on their ultimate incompatibility, mourns for the good times, and explicitly details the extent to which both she and her ex will suffer for this loss. Swift is, in my opinion, a far more realistic version of what you look like after a breakup. Contrary to what Grande's rom-com mash-up video would have you believe, most people do not soar from broken engagements feeling validated in all of their choices and loving themselves like never before. They come out feeling lost, broken, and all too likely to dwell on all the most unhelpful and unattractive things.
In other words, they look like this: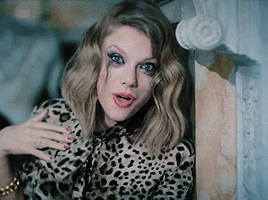 Not this: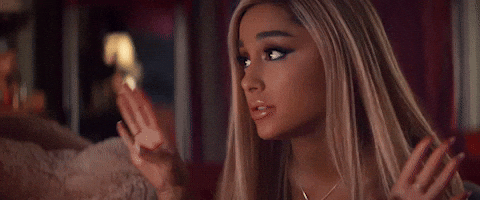 So, if Swift is ultimately more relatable, shouldn't that mean more critical success? F*ck no! Please. Name the last time someone wanted an honest reflection of themselves, particularly if it's unflattering. From the bathroom scale to the pop soundtrack of your life, you want to be fed beautiful lies. People yell at Swift for being vulnerable about her exes the same way you yell into the mirror the morning after drunk-dialing your own ex 12 times the night before. Swift isn't critiqued in spite of being relatable; she's attacked precisely because of it.
Ariana Grande Is Gracious & Direct
First and foremost, we have to acknowledge that Grande takes the high road with "thank u, next." She betrays not one scrap of vitriol toward her exes, talks no sh*t about them or the relationship. She simply thanks them for their time, and reaffirms her commitment to herself. So, that alone is easier to get behind than one of Swift's "remember those three minutes in 2004 when you said we would die together" tirades.
On top of that, there's the fact that Grande seems to have no fear of confrontation (can't relate). She names each of her exes plainly, and even gave many of them a heads-up before the song's release. So, if her exes themselves don't have an issue with the song, it's a little harder for the general public to decry it.
Taylor Swift Is Petty & Secretive
Swift, on the other hand, does everything short of attaching a treasure map to each album with hints to which lyric refers to which ex-boyfriend. Yes, the national obsession with tracking those connections, and stalking her love life in general, has gotten totally out of hand. But when she describes the relationship down to the month ("Back to December"), memorable holiday (4th of July), eye color (too many to count) and so on—it's a little hard not to engage. Add to that the fact that she decidedly doesn't take her exes' feelings into consideration on this—and given the contentious nature of many of her songs, it's not hard to see why.
To clarify, I'm not in any way saying that artists should have to poll their exes before releasing a breakup track. The world would be a much sadder place if that were the case. I'm just saying that Swift's refusal to do so—and Grande's respective decorum toward exes—makes Swift the much easier target to criticize. Basically, Grande is doing all the things you're supposed to do after a breakup; Swift is doing all the things you hope people never find out about after a breakup. And one of those girls will get dragged a lot harder than the other—it's just a fact of life.
Moral of the story here? We should all try to be more like Ariana Grande. JK—you guys knew that coming in. But honestly, that is the hidden message behind the song's unequivocal success. When Swift sings about her exes, she does it emotionally, vindictively, and evasively. She speaks about her exes with all the bitterness of someone still deeply invested in the relationship, or at least actively wounded by it. When Grande sings about her exes, she's singing from the point of view of someone who's moved on—and ultimately, just singing about herself. So yeah, do be more like Ariana Grande. Move on from relationships that didn't work, stop emotionally investing, and celebrate yourself. Apparently, the world has a much harder time tearing that down.
Images: Giphy (2)
5 Signs Your Relationship Won't Last
Apparently, it's a thing to make bets on how long your friends' relationships will last. Like, why not profit off your friends' unhappiness? Some guys I know are weirdly good at making these bets. It made me start to wonder, what exactly are the signs your relationship won't last?
You'd think they'd be obvious, but since girls keep missing them, it's time for a little refresher. As much as you might wish otherwise, your relationship probably isn't the exception to the rule. Sorry. So before you start picking out engagement rings, clue into these signs your relationship won't last, and your "bae" might not be around for much longer.

1. You Started Dating Within Two Minutes Of Meeting
So you may argue that some relationships that start quickly don't fail. You know, all that love at first sight, Romeo & Juliet stuff. That always works out oh so well, right? Wrong. So instead, let's consider some possible scenarios.
1. Did you start dating because he was, like, really into you (as a whole entire person) or because you guys hadn't slept together yet? You would think by 2018 that these medieval motivations would no longer be a thing, but boys are just as gross now as they were 1,000 years ago. Thank u, next.
2. Did you start dating because he was scared you'd start dating someone else? There's nothing like a healthy dose of jealousy to make boys do irrational things. Maybe he wants to date you because he really likes you. But maybe he just wants to date you because five other guys like you too, and he wants to win and be the alpha male. (Again, boys are gross.)
3. Are you moving through relationship milestones too fast? A general rule of thumb: don't tell someone you love them after you have known each other for a week. Don't get engaged after dating for a month. Just because you think you've met your soulmate after a dance floor make-out doesn't mean you'll feel that way a month from now.
2. Your Life Goals Are Totally Different
In theory, opposites attract. But if you want to have a high-powered career and he's still content getting stoned with the boys every night, you're in very different stages of life. Just because someone is really f*cking attractive doesn't make them your perfect match. That hot lax player in your Econ class may be fun to hook up with, but if you can't hold a conversation now imagine, how freaking boring it would be to date him.

3. His Friends Suck
The Spice Girls weren't wrong about dating someone's friends when you date them (though their reunion tour is a different story). In the early stages, your boyfriend will spend a lot of time with your friends, so he better like them. And ditto for you.
If his friends suck, that's kind of problematic. First of all, it will get annoying to hang out with a bunch of people you f*cking hate. Also, it gives you a clue to what he's like when you're not around. Are his friends all douchebags with the same sense of humor as a 12-year-old? Do they make crude comments about your friends or other women? Maybe not the most ideal guys, and hey, shocker, your boyfriend might not be either. "You are the company you keep" and all that sh*t.
On the flip side, if his friends don't like you, that's also bad news. Guys claim they don't gossip as much as girls but TBH that does not seem true. If his friends are sh*t-talking you to him then a) bye, assholes and b) that's a bad sign for your relationship.
4. The Relationship Is Unequal
Is one person super needy? Maybe it was flattering at first but it will get annoying when you can't even hang out with your own friends. Either he needs to chill TF out or your relationship will fizzle once you eventually clue into the fact that losing all your friends for a rando boy is not worth it. Ever.

5. You're Dating Out Of Convenience
Are both of you, like, really busy all the time? Maybe you have high-stress careers or you're in training season for your sport and can't go out anyway. So why not find yourself a stand-in soulmate? That's really great…until one person decides they aren't too busy to download Hinge and find someone they actually really like. Or until the other person realizes they were only a convenient option. Andddd now it's messy.
If none of these signs fit you, then you'll still probably break up eventually because most relationships end. Yeah, life sucks, and I'm cynical. Go buy yourself some hot chocolate and re-watch To All the Boys I've Loved Before for the twelfth time. Way more fun than dealing with some lame-ass boyfriend.
Images: Giphy (3)