The Throwback TV Shows With The Messiest Hookups
Anyone who knows me knows that I think Gossip Girl is the holy grail of terrible TV, and in these times, it has brought me a lot of comfort. Seriously, when I'm down and feeling blue because I haven't seen another human being IRL since mid-March, just got laid off, and have been subsisting on DiGiorno for way too long, I think about that episode when everyone found out that Blair boned Nate and Chuck, and even Jenny didn't want anything to do with her. Like, what's a pandemic compared to Blair Waldorf's slow and painful demise in the first season??
Anyway, if it isn't clear, I re-watched the entire series over the course of the last two months and am blown away by the fact that none of the characters are bothered that everyone hooks up with everyone's exes! Like, am I too old-fashioned for not wanting my best friend to f*ck my ex?? This got me thinking: GG definitely isn't the only show whose cast is horny af for each other. So join me in taking a walk down memory lane.
'Gossip Girl'

I obviously had to start with the messiest show of all time. In the first and best season, the couples kind of make sense since the characters are all supposed to be juniors in high school and the writers have lots to work with. Nate and Blair have allegedly been dating for 10 years (which means they started seeing each other when they were six, k) and Dan and Serena start dating. Again, this all seems normal. I stan! But then, the rest of the seasons happen and it is very clear that the writers were just kind of like, "idk whatever."
Without going into too much detail because I have a word limit, I'll just say that pretty much all of the guys in this show are eskimo brothers. Dan and Nate both hook up with Blair, Serena, and Vanessa; Jenny hooks up with Chuck and Nate; and Ivy, a random character who doesn't matter, hooks up with Dan, Nate and Rufus (!!). I'm not necessarily judging because everyone on this show is disturbingly attractive, but still, it's a little crazy. These people are supposed to live in New York City and can't find anyone outside their social circle to hook up with? Unrelated, but after season four, everyone just stopped going to college and no one acknowledges it.
'Friends'

There is definitely some cross-contamination here even though it's more subtle than that of GG. On a show with 10 seasons, it's easy to forget who hooks up with whom, but luckily, I remember. Obviously, the two main couples are Ross and Rachel and Chandler and Monica, but there's some overlap I haven't forgotten about. Yes, I'm talking about Rachel hooking up with Joey. Let's not forget that Phoebe also kissed Joey, although they never ended up together, even though Joey did propose. I'm also convinced that Monica and Chandler only got together because the writers didn't feel like bringing in a new character crazy enough to date either of them.
There obv aren't so many inter-cast relationships on Friends as there are on Gossip Girl, but there are def a few instances of the Friends dating the same people. For instance, Joey and Ross both dated the hot science lady, Charlie, and Joey and Chandler both dated Kathy. Ugh, come on, you guys!
'Desperate Housewives'

I truly believe this was one of the best shows literally ever. If you haven't watched it because you were too young to understand what was happening when it was on TV, give it a watch now. It's on Hulu. Anyway, as its name implies, the main characters are all married, but there is one singleton who I absolutely live for. Edie Brit is the Samantha Jones of Desperate Housewives, and she has loves to f*ck her friends' ex-husbands. Is it just me or does that sound like an intro on a Bravo show? She dates Gabby's ex, two of Susan's exes, and makes out with Bree's ex. Yikes! Even though I love Edie as much as I love this show, which is a lot, I always thought that plot line was kind of weird and pointless.
'Girls'

There were two really weird love triangles in this dumpster fire of a show: Adam/Jessa/Hannah and Ray/Marnie/Shoshanna. First of all, the whole premise of Girls is that, at least for a little while, they're all bound by their strong female bond, so why are they all so quick to date each other's boyfriends? Also, I'm confused why two gorgeous, cool, impressive women are both so into Old Man Ray. We'll never know.
'One Tree Hill'

Unlike my experience with Gossip Girl, I watched this show when it was on television and have not thought about it since, so my knowledge of inconspicuous details is pretty unimpressive. However, one thing I'll never forget about this iconic mess is the love triangles. First we have Lucas/Peyton/Brooke then we have Nate/Peyton/Brooke. Uhhhhhh. Brooke and Peyton are the Blair and Serena of the early 2000s, so I guess it makes sense that they're both down to hook up with each other's boyfriends. The Nathan/Brooke situation was never super serious, but Lucas and Peyton got married! After she seriously dated Nathan! What! Does that make them the Dan and Serena of this show?
What did I miss? Are there any other shows where the cast loves to bang each other? Let me know in the comments!
Images: Everett Collection / Shutterstock.com; Giphy (5)
Is It Weird To Be A Twentysomething Who's Never Been In A Relationship?
Must. Find. Boyfriend. As soon as I graduated from college, it seemed like every girl whose sole priorities were once partying and getting hungover bagels with her friends suddenly had one totally different priority, and one priority only: finding a boyfriend. Girls all around me (and some guys, but mostly girls in my experience) were running around demanding answers and screaming "WHERE IS HE?!?!?" with the passion of Teresa Guidice as she flipped the table on Danielle Staub. It's like everyone in my life was one bad date away from a Tinsley Mortimer circus breakdown (fast-forward to 3:50), since we're already talking about the Housewives.
Anyway. The more emphasis those girls placed on finding a boyfriend, the more girls who didn't and hadn't had serious relationships got down on themselves. I felt like many of my friends were questioning WTF was wrong with them for not having had a serious relationship yet. I was always the hype woman behind them exclaiming, "You're only 25, you just haven't met the right guy yet!". But soon enough, even I—who has had countless three-month flings in my twenties but nothing super serious—started to get down on myself. Was I the problem? My narcissism was wearing off, and in its place seeped realistic, down-to-earth thoughts about potentially maybe starting to think about… looking inward. 

So, Is It Weird?
My first step in cracking the super obvious solution of not dating f*ckboys anymore was speaking with Lindsey Metselaar, host of the millennial dating podcast We Met At Acme, to get her opinion. Her first thought on the general topic of not having had a serious boyfriend by your mid-twenties was, "it's less that it's weird and more that it's a reflection on your choices and overall maturity." Totally fair. Like, ohhh, I should STOP going for the guys that still text "thx" instead of the grueling "thanks"? That might be a start. 
This post isn't about me, though. We want to help you pinpoint if not having a serious relationship yet should be of concern to you. So, if the following situations/behaviors sound familiar, then yes, perhaps it is weird and perhaps you are the problem. Read up, buttercup. Yes, it is weird if:
No One Tries To Set You Up
If there's a deafening silence every time you hint at being set up with your friends' hot (or maybe even mediocre-looking, since you're desperate) brother? Then yeah, people are clear on the fact that you repel love interests. 
You're Constantly Getting Broken Up With For The Same Reason

If more than once you've heard that you're too needy, or that you're too high-maintenance, or that you're too more than once—maybe it's time to change that! "It will never hurt to do some introspective work," shares Lindsey. "You can always learn something about yourself." So even if you are totally perfect, as most betches think they are, take that time to look inward, and see how you feel!
You're Sloppy
"Drinking too much, smoking too much weed—it's excessive, and can definitely do damage," says Lindsey. If you're still that f*cked up girl that needs babysitting, then the only guys you'll attract are either super controlling guys à la Joe Goldberg from 'You', or sociopathic frat boys. How charming! 
You Have A 'Type'
"It's helpful to notice your patterns in relationships, especially while in therapy," explains Lindsey. "Recognize those negative patterns, stop having a type, and be more open-minded to people you weren't open to in the past." Is going for clearly emotionally unavailable guys a negative pattern? Asking for a friend. 
"Accept the love you deserve," says Lindsey, while also remarking that she knows it's corny. It's so true though! "If you are someone who continues to date the same person and keeps making the same mistakes, you can't trust yourself," she explains. Makes sense. 
You Have Bad Habits
"People don't want to face that their bad habits can affect their personal relationships," explains Lindsey. Quite frankly, we all have bad habits, so I think it's more about meeting the person that you're willing to change those habits for. Like, we're all addicted to our phones, so it's about caring enough to put the damn thing down. Though I wonder how much practice that takes. 
Tips For Moving Forward
Okay, so you've looked inward. As have I! Luckily, Lindsey also shared some reassuring tips on how to approach relationships moving forward, even if you've already pushed absolutely everyone away! I kid, but we can all benefit from a little advice. 
"Go into dating with no expectations," says Lindsey.
Me: Yeah, I'm not really putting too much thought into this date, whatever happens, happens, no expectations, just totally chill.
Also me: I will pass away if this date does not go well. 
"Every time you meet someone that you think could be special, be sure to protect yourself. Don't make assumptions that it'll turn into anything, or else you'll have all of your eggs in one basket which can lead to getting hurt," explains Lindsey. "I've seen so many people try to force things with someone who's not ready to sacrifice for them and, you know, wants to sleep at their own apartment every night." 
As someone who has a thorough 10-step skincare routine, sleeping out is never particularly exciting for me. This really made me realize, you have to do things you might not want to do to be in a relationship, even if it means enlarged pores! *Crying but also growing up* 

"If you're ready for a relationship, you'll be willing to compromise," explains Lindsey. With that, I end this investigation!
Image: @pablomerchanm /Unsplash, Giphy (3); uuppod / Instagram
Is Anna Camp And Skylar Astin's Divorce Really Amicable? We Investigate
This past Friday leading into to the holiday weekend was like the Red Wedding for celebrity couples. Game of Thrones nerds, did I get that one right? If not, I mean to say it was a bloodbath, like blood was literally (fine, figuratively) splattered everywhere. Adele and her longtime partner broke up, Michelle Williams and her secret husband called it quits, and now Anna Camp and Skylar Astin have decided to end their marriage after two years.

That's right, the unrelenting taskmaster from every basic b*tch's favorite movie *raises hand* and the guy that swept us all off our feet with juice pouches and Rocky announced they were divorcing. In their joint statement to Page Six on Friday, the couple said, "We can confirm that we have decided to separate, and this decision was made mutually and amicably. We kindly ask for privacy as we navigate this transition." Wow. I hope they didn't pay someone $500 an hour to steal that off a Microsoft Word template. Hours after they issued that statement, Anna officially filed for divorce. And hours after that she was lady dancing to a Mariah Carey chart topper in her pajamas, using her second bottle of wine as a microphone. I imagine.
So what happened to our beautiful couple?! It looks like things started to go south at the beginning of this year, which is the last time the Pitch Perfect stars posted pictures of each other on Instagram. It's basically a cardinal rule that a couple that posts about each other on Instagram together, stays together. In retrospect, we should have known something was amiss a lot sooner.
WHAT HAPPENED? PLEASE TELL ME, YOU LOOK SO IN LOVE!
While they claim the split is amicable, I am not convinced. They put their house on the market in March, for one. PEOPLE reports that on March 25, the home was listed as "coming soon" on Zillow. Ouch! Do you think Anna told her realtor she was going to file for divorce before she told Skylar? 
They've also recently unfollowed each other on social media. That's harsh. I'm sorry, but this does not sound like it was "amicable," or like it was any of the other buzzwords their rep decided to use while they screamed obscenities at each other over his head. Instagram has a mute feature! If you don't want to fuel gossip, use it! Now we all know the mere sight of the other person drives you into a homicidal rage. Doesn't sound "mutual" to me.
The fact that Anna and Skylar released this information right before a holiday is also suspicious. And of course, strategic. These pitches were hoping we wouldn't notice their breakup and wonder what happened because we're all busy with our own celebrations and spending time with family and friends and all the other celebrity divorces that happened this weekend. (Sidenote, what is it about Easter that made all these couples file for divorce? Is it the Easter egg hunt?) I guess they forgot to think about the fact that some of us lead lonely, sad lives with plenty of time for gossip *insert evil laugh that turns to tears*.

No news has been released about the reason behind the divorce. Regardless of what happened between Anna Camp and Skylar Astin, I'm happy if this is what's best for both of them. I'm also happy that Skylar was written out of the Pitch Perfect series in the third movie so I don't have to worry about their breakup ruining my franchise! Now please excuse me while I furiously google if Anna Kendrick is currently single.
Images: Giphy (2); therealannacamp/Instagram
3 Signs His Female Friend Is Sabotaging Your Relationship
I can already anticipate all the backlash to this article (I announce to my three readers). People of different genders can be friends without being attracted to each other, When Harry Met Sally set us all back decades, blah blah blah. Ideologically, I want to and kind of do believe all that. But I was also single for basically the entirety of college, better known as the four horniest years of everyone's life. So, I can tell you with complete confidence that single women competing for male attention are among the most vicious, scheming creatures on this earth. If you are a heterosexual woman in your twenties, it's pretty much guaranteed that you have at some point toed the line of acceptable behavior with a guy in a relationship. Similarly, you've likely felt threatened by a female friend who you suspected would rather see your relationship fall apart.
Then again—purely statistically speaking, definitely not from experience—you've probably also ruined, or at least damaged a relationship by being a jealous psycho when nothing was going on. So, from my vast experience, here are the three signs to let you know that a female friend is actually something to worry about. Read on before sending your 50th passive-aggressive text about Karen from work.
1. She Pretends You Don't Exist
This seems like an obvious one, but you'd be shocked how many well-meaning boyfriends pretend not to notice don't notice it. Typically, I allow my close friends to go on five dates MAX before I start angling to meet whoever they're dating. If your boyfriend has a close female friend who shows zero interest in getting to know you, that probably means she's busy pretending you don't exist—and encouraging him to do the same. By never asking to meet you, your boyfriend's "friend" is, at best, undermining your importance in your boyfriend's life and subtly implying that you won't stick around long enough to be worth meeting. At worst, she's implying that it would somehow be awkward or unthinkable for her to meet you—after all, you wouldn't introduce one girlfriend to the other, right?
Since you can't exactly tell what's going on in her head, here are a few warning signs. If she exclusively invites your boyfriend to hang out one-on-one at bars, date-y restaurants, or activities she knows you're not into, not great. If he has to ask if he can bring you whenever she invites him to a party, not great. And if, when you arrive at a party with him, she pretends you're not there while treating your boyfriend like they're the only two people in the room all night, really really not f*cking great. Finally, if you go out of your way to be friendly to her—DESPITE ALL THIS—and she barely acknowledges you? That's when you walk out.
Basically, if she's trying to will you out of existence so she can keep pretending she has your boyfriend all to herself, you have a problem. And if your boyfriend lets her get away with this, you have a sh*tty boyfriend.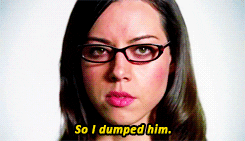 2. She Touches Him—Like, A Lot
I am not a total psycho. (Well, I kind of am, but that's not pertinent here.) I understand that friends make physical contact, and I am not suggesting you burn all your boyfriend's possessions every time you see him give someone a hug. That being said, if you're reading this article, I assume you have at some point flirted with a man. You know what friendly touching looks like, and you know what flirty touching looks like.
When it comes to this particular issue, I really encourage you to trust your gut. When I was 17, I spent months watching my best friend "playfully" hit my boyfriend's chest whenever he made a joke. I was told by everyone I knew to "calm down," and they were just friends. Even the friend in question just pulled the excuse that she "expressed herself physically." Lo and behold, six months later I find out they've been having secret sleepovers. So no, you can't exactly require that your boyfriend abstains from any physical contact with other human beings. But if you're watching someone touch your boyfriend in a way that makes you feel sick, pay attention to that feeling.

3. She Sends Him Emotional Drunk Texts
Again, I understand that friends are there to offer each other emotional support. If she tells him intimate things or goes to him for support after a breakup, that's not necessarily a red flag. But if she texts him highly affectionate or deeply personal things when her inhibitions are lowered (aka she's drunk AF), it may be a clue into what she wishes their relationship was like. And obviously, if she texts him anything along the lines of "come over," you need to have a serious conversation about boundaries.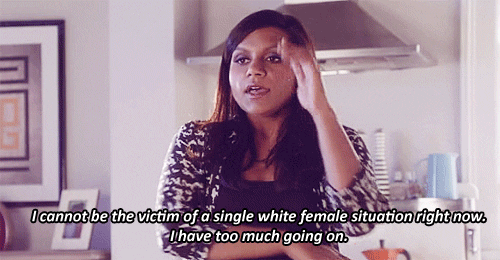 I'm not going to lie—this was a tough article for me to write. Like, had-to-take-a-walk-around-the-block-and-ward-off-a-full-scale-panic-attack tough. I've been cheated on, and I've also been the other woman (I think—they didn't mention their girlfriend for the weeks/months we spoke, but it later sure seemed like a girlfriend existed). So while I really do trust my boyfriend, I've seen firsthand how a seemingly happy relationship can be sabotaged from the outside. Is it usually a sign of an underlying problem? Sure. But even if it doesn't go to the point of cheating—if there's just another woman in his life who consistently forces your boyfriend to choose between her comfort and yours—it can make the strongest relationship feel shaky.
So, if your boyfriend has a female friend who exhibits the above behaviors, I encourage you to talk it out. No ultimatums, no screaming I WILL CUT THAT B*TCH (just me?). An honest conversation about what would make you feel better, and whether those are steps he's willing to take. If he refuses to even entertain the conversation, or—*gasp*—calls you crazy, then it's time to consider how much of the problematic dynamic is actually being caused by your boyfriend.
Images: Giphy (4); Parker Whitson/Unsplash
4 Frightening Realities Of Living With Your SO
Before I moved in with my boyfriend, I interrogated everyone I knew who lived with their partner. I'd read plenty of horror stories about couples breaking up after living together too soon. They were all frustratingly vague about how and why exactly things went wrong. My friends, sadly, were similarly unhelpful. "It's just different" was the most common offering, with "the first month was the worst" being a close second. Six weeks into living with my boyfriend, I'd agree that both those things are true. But because I'm paid to write this not a terrible friend, I'll actually explain why. Here's what to actually expect when you move in with a partner.
1. Laundry Will Kind Of Rule Your Life
This aspect of living together is particularly true if you live in NYC and the closest laundry to you is a laundromat that only takes quarters. Totally random example, NBD. But, even if you have a washing machine in the comfort of your home, or go full bougie and get it picked up, there's just going to be a lot more dirty clothing existing in your home. Especially if your partner plays sports and/or is a guy and therefore inexplicably goes through six T-shirts a day. Either way, I miss only thinking about laundry every few weeks. And of course not having anyone judge me when I used my laundry bin as a "backup tees" drawer.
2. Food Is Now A Shared Entity
If you're not already, I highly recommend listening to every episode of the Diet Starts Tomorrow podcast. They spend one episode talking about how hard it is to control your eating in a relationship. I loved it so much that I made my boyfriend listen to it. In the year and a half we dated before moving in together, I'd complained plenty about his constant desire to post up at beer gardens, or his tendency to make the whole box of pasta whenever we cooked. Now that we live together, I deal with all those struggles, plus the fact that he fills our kitchen with chips, Gatorade, and sugary cereals. Not to mention that he buys everything in bulk as though we are a family of seven.
Clearly, many of these problems exist because he also does most of the grocery shopping. I should be more grateful. But I have a late-night snacking problem, so I am instead furious that I now have such binge-able food on hand at all times. Anyway, whatever your weird food needs are (and you def have some), prepare to spend a lot of time arguing about what groceries you actually need. And/or screaming at your partner when you come home hangry at 10pm and the only food available is a microwavable corn dog.
Me to my boyfriend: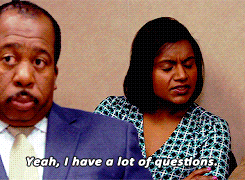 3. "Clean" Means Different Things To Different People
I'm very lucky with my boyfriend—for many reasons, but in this context, I mean because he's relatively neat. He does the dishes, he vacuums occasionally, he's kind of a freak when it comes to crumbs, you get the idea. HOWEVER. Things that I never realized are very, very important to me—like wiping down the bathroom sink/mirror, or having a designated place for shoes—won't even occur to him. This leads to a lot of arguments where I become convinced that he's actively trying to piss me off. And he has literally no idea what I'm talking about. Or where he tells me he cleaned the apartment and I come home and think he's joking. Basically, you're going to need to sit down a few weeks in and tell each other plainly what's important to you in terms of maintenance.
4. You're Probably Grosser Than You Realized
It's not like my boyfriend and I went from seeing each other once a week to living together. But I do think I underestimated how much I used my time in my own apartment to do all the weird stuff I don't think about. Like eating a block of cheese in bed, trying to get a good view of what feels like back-ne in my bathroom mirror, trying on 16 different shirts and flinging every reject on the same chair. All of these activities are made way less fun by being in a room with anyone else. And they're made UNBEARABLE if that other person starts commenting on it, which they definitely will. You are now doing it in a space that they equally live in.
Ultimately, this isn't the worst thing in the world and will actually probably curb some bad habits. But I def had a few moments of deep shame on this road. Like when my boyfriend came storming out of the bedroom demanding to know why there was almond butter on his pillowcase.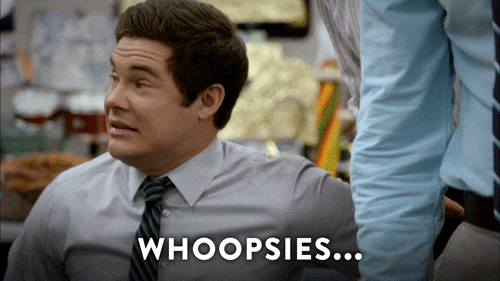 All in all, the biggest thing I've noticed about living with my boyfriend is space, plain and simple. Even with roommates, there's always a spot that's yours alone. Not having that is more of a shift than I expected. There are lots of fun parts too, like the fact that you can be naked all the time, pay way less rent, and just feel smug and happy every time you can reference OUR apartment. So as long as you're willing to have a few screaming fights, a few cool-down conversations, and a few ugh-compromises, I wholeheartedly recommend it. If you try to treat the living arrangement like one of you is renting a room and the other one owns it, I guarantee that won't work out.
Images: bigkidproblems / Instagram; Giphy (2); Unsplash/Jeremy Banks
By Banking On Tia & Colton Drama On 'Paradise', ABC Did Us All A Disservice
Last week, we had the long-awaited return of the only Bachelor franchise worth saving: Bachelor in Paradise. Unfortunately, because the Bachelor franchise is obsessed with itself, we had to suffer through some drama we were already bored of on The Bachelorette: Tia and Colton. (TL;DR: Tia & Colton had a brief thing, Tia made Becca cut him after hometowns. If you need more details, try this.) Bachelorette fans have already jumped down Tia's throat for her behavior and Becca even responded asking people to chill TF out. But apparently the BiP cast didn't get the memo. Half of the episode is spent making fun of Tia for her big crush on Colton. The other half is spent roasting Colton for ignoring Tia when he (spoiler) arrives on night two.
According to ABC, the Tia and Colton story line is the most interesting thing happening this season. So why does it feel so boring?
 We Know Too Much
I'm new to the Reality Steve game, but I've come to realize this season that The Bachelor is only a surprise if you want it to be. In the case of Tia and Colton, even spoiler noobs like me were well aware that Tia and Colton had a reunion in Paradise. (Reality Steve had leaked pictures as early as June.) In addition to that, we all have social media. If there had been a serious falling out between Becca and Tia, we would have seen the unfollows. If Colton was seriously closing the Tia door, he would've deleted his heart-eye tweets about her on Arie's season. And Baby Bekah's been more than happy to keep us posted on her thoughts about all this, including speculation about their time in Paradise back when The Bachelorette was airing.
In other words, you would have had to try really, really hard to watch Paradise and not know that Colton and Tia were getting together. There's nothing organic or surprising; it's practically contractually obligated, and it's a real drag to watch.
This GIF says way too much about their whole dynamic.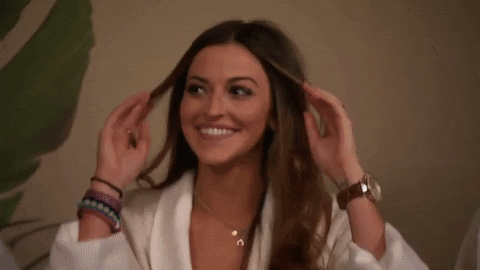 We've Seen Too Much
So, we knew it would happen. That alone shouldn't have made it so boring. In fact, confrontations you actively expect can be the most fun. Which brings us to the next point: Tia and Colton are just not that interesting. The fact is, Tia was not chosen to be the Bachelorette. And if I have any luck remaining on this earth, Colton will never be chosen as the Bachelor. Sure, Colton's got the celebrity exes and virginity, and Tia's got the knockoff Raven Southern charm. But beyond agreeing that they're both attractive people in a vaguely Friday Night Lights kind of way, I have limited interest in seeing where their stories go. I would rather watch Krystal, whose newfound sanity is already hanging by a thread, or Joe, who I sadly like less every time he opens his mouth, than continue with these two.
Paradise is a place for slightly unhinged people to gain new corporate sponsors make bad choices, not a pageant queen and Boy Scout to practice rounding second base. They're not crazy enough or tragic enough to make for really great entertainment. And I think it's safe to say that ABC has worn them out.
All of America watching this story line: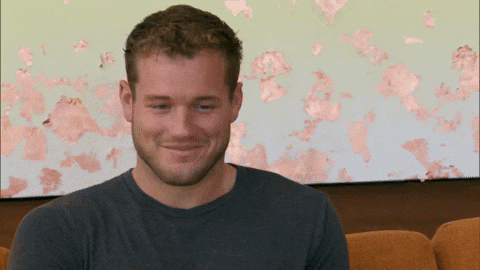 This Whole Situation Sucks
Finally: when Colton arrives on that STD-ridden Mexican beach, it's not a question of whether he'll be into her. It's a question of whether he'll cave to the public expectation that he MUST like Tia as much as she likes him, or risk his reputation going for someone else.
As a quick refresher on their relationship, Tia DM'ed Colton while he was in the casting process for The Bachelorette.  They started talking, then stopped talking when he found out he was going on the show. Their in-person time was limited to a single weekend in Los Angeles. If we're assuming worst-case scenario, Tia is walking the line between stalker fan and one-night stand. Best case, it was a short but intense fling that nonetheless, they cut off well over six months ago. And now Colton, fresh off a breakup of his own, is being asked to couple up with Tia or be hated by all of America.
As for Tia, who is understandably a ball of nerves, there's a lot more on the line than "does this guy still like me?" She's waiting to see if Colton's going to save her reputation by making this a love story, or publicly dump her. Because if Colton doesn't go for Tia, Tia just f*cked with Becca's journey for a guy who wasn't even into her. And that's hard to come back from—in Bachelor Nation, and just in life generally.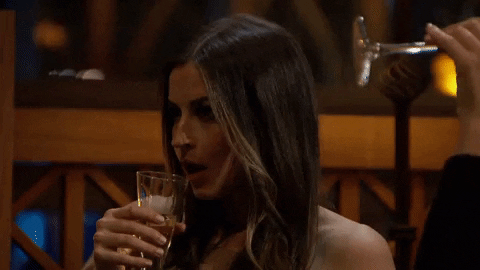 Same, Tia. Same.
Overall, I'd love to stop seeing these two faces on my TV. Colton has seemed in over his head for a while, and Tia has backed herself into a corner that will be very boring and painful to watch her get out of. For the sake of everyone's sanity, let Tia and Colton put this embarrassing chapter behind them and focus on footage like Jordan explaining American history or Bibiana punching people.
Images: Giphy (3)
The 7 Signs Your Boyfriend Is A Fuckboy
So you're in a relationship that you're not sure about. Don't worry, there's a whole MTV show named after the fact that it's fucking hard to know who your soulmate is, so we don't expect you to have all the answers. Obviously there's no real way to know if you've found the one, but there are definitely signs that he's not the one. Chances are if you're asking to begin with, it's probably not a good sign. Also not a good sign? The following list of things—if you match a few of these, chances are that just because you swiped right on each other, doesn't mean you're a real match.
1. He's Jealous.
He doesn't get excited for you when you succeed. You write it off as him just being too busy to care about your shit, but he could be insecure when you're doing well. If he isn't thrilled for you when you get a promotion or land a job you love, he's basically negging your career. Chances are he's jealous you're doing better than him, and guess what? You're only going to get more successful and he's going to get more upset. You should be with someone that's happy for you, not afraid you're going to outshine him.

2. He Distracts You From Important Shit You Should Be Doing.
You're not a teenager going through puberty anymore, if you're getting so caught up in the relationship you're losing sight of your goals, he's not bringing out the best in you. A stable relationship should bring out the best in you and not distract you from shit you actually have to do. If you're getting distracted by the relationship, something is probably missing that makes you feel insecure, otherwise you'd be able to focus on having a well rounded life. Think about your relationship like an open bar… if you're constantly watching the clock, you're not having fun. It should feel like it's never going to end, not like you're always in the last five minutes before last call.

3. He Only Talks About Himself.
Even if he's an Olympic medal winner or a billionaire with a start-up, if he's only interested in you because you're interested in him, then you're going to have a problem. Sure, he'll probably make a great dad, but only because his kid is like one of his Olympic medals to him, a sign of his accomplishments rather than a human he actually wants to love. If he talks disproportionately about himself without asking you how you are, he's not actually the right guy for you. You need more attention than an escaped snake in the zoo, and if he can't give that to you, then you're going to get away.

4. When You're Together You're Either Drunk Or Partying.
Sure it might be fun to hook up when you're drunk, but if you're spending the majority of a relationship blacking out and stumbling home together, you're more in love with partying than you are with each other. You party with your friends, but you've also been to brunch with their moms, shopped for outfits together, and comforted each other when they're going through a breakup. The man you're dating should have as many merits sober as he does drunk, so if you're not hanging out sober at all, then you're probably not as compatible as you think.

5. You Have A Hard Time Keeping Plans.
Whenever you try to make a date or go somewhere together, things always fall through. You both chalk it up to being busy and successful, but you still manage to have time to watch dumb movies like Baywatch and go to spontaneous karaoke on a Tuesday night. Maybe it's that you're both trying too hard to fit a relationship mold that neither of you want, but whatever it is, your beach day/museum trip/romantic dinner plans keep getting pushed. It shouldn't be this hard to keep plans, especially with someone you're dating, so if you've had to reschedule a date more than three times, it's a sign that neither of you are prioritizing each other.

6. You Still Think About Your Ex.
We all Facebook stalk our exes from time to time, but if you're in a happy relationship you quickly forget about ghosts of fuckboys past. If you're wondering what your ex is up to or have looked up his Instagram story more than three times this week, you're probably reaching out to your past because you're bored with your present. The guy you're dating might just not be satisfying you totally, which is why you're thinking about your exes and how he stacks up against them. Definitely not a good sign if you're still thinking about your ex in a new relationship.

7. He's Embarrassing To Take Out In Public.
Maybe it was his fault for wearing the wrong shoes to the club, or maybe he got too drunk and started arguing with the bartender, but instead of sticking up for him, you're just embarrassed to be seen with him. This is usually a sign that you're not a good match, or you'd be fawning over his dumb quirks like they're Brigitte Bardot's tooth gap. Imperfections in someone you love make you love them more, but his flaws just annoy you, which means you probably don't love him as much as you think.

What Does Your Horoscope Reveal About Your Breakup Style?
Listen up betches, just because you're a precious, unique snowflake doesn't mean parts of you aren't a little predictable. Obviously we're talking about your horoscope. So you already know the basic traits of your sign, but who cares if you're "stubborn" or "indecisive"? Isn't everyone? Let's get into the real stuff. How does your horoscope sign affect your relationships? Or more specifically, your breakup style? Let's find out, so that you can finally know the best tactics for you to rip out someone's heart and stomp on it.
Aquarius
Though you like to think of yourself as a coldhearted ice queen, the truth is you just want someone strong enough to break down your walls. You're like Aurora in that castle full of thorns. If he can't handle a dragon or witch, how is he going to handle you? Therefore when you break up with someone, you tend to get icy and retreat back into hiding. You're not one for sentimental texts with your ex. You also value independence in your relationship, which means you don't tend to be co-dependent and you believe in a clean break.

Pisces
You thrive when you're alone and you have no problem being single. That being said, you don't take romance lightly, which means if you're going through a breakup you're going to be a hot mess. You're like Reese Witherspoon in Cruel Intentions—you're careful about getting involved but once you've chosen someone they can't get out from under your grasp affections. You also don't do short-term relationships, maybe because it's so hard to break up with you, so if you're going through a breakup then you're probably getting over a long-term relationship, which means you'll recruit all your friends to help you get through it.

Aries
You're loud and not afraid to let someone know you like them. This also means when you're going through a breakup, you can't promise not to drunk text your ex… at least a few dozen times. You'll probably have at least three false alarms of "I'm over it" moments before you actually pull through. You'll have the urge to "win him back" with some big show of affection, but trust us, just put that energy into your friends and family instead. You're too good for him, it's time to move along.

Taurus
You're the girl Ludacris sang about, the lady in the streets and a freak in the sheets. Taurus are well-balanced in every way, which means you are both physical and emotionally in tune. You'll think of your relationship sweetly, but you're not one to pine away in agony over a lost love. You'll rebound hard and probably meet your next bae accidentally while you're at it. You can't help it you're so popular.

Gemini
You are so indecisive that one day you'll feel like you just lost your true love and the next day you'll feel like freedom is the best thing you ever had. You are a volatile lover, which means you probably fought a lot with your ex, but the makeup sex was that much better. Because of your indecisiveness, there's probably a line of backburner bros who think you're "mysterious" and can't wait to be your rebound. You'll have no trouble flirting your way out of heartbreak, but brace yourself because when emotions hit, they hit hard. Just keep your besties on speed dial and make sure you've still got a Netflix or HBO login and you'll be good.

Cancer
You're so stable that even the adults in your life come to you for advice. Like, you probably have coached your drunk boss through his or her heartbreak on occasion. Going through a breakup is rough for you because you made compromises in your relationship and believed that it would be worth it if you made it work. So you're probably really hating on your ex right now while also trying to "understand" where they're coming from (answer: hell). You are going to stalk your ex hard on social media under the guise of "making sure they're ok". You secretly hope they realize how much they actually needed you, but this also means you probably thought you were better than them the whole time (fair) so maybe you are better off without them tbh.

Leo
You're ready to get back out the night of your breakup. You'll probably get trashed and avoid your emotions for as long as physically possible. You're a passionate but also attention-loving betch which means you'll definitely rebound like Kobe until you forget why you were even in a relationship to begin with. You're going to miss your ex a lot, though, mainly because being with someone made you realize how awesome you are and you like to be reminded of that more often. Your breakup style is to get out there and let your charm do all the work.

Virgo
You take your time when you're falling in love, which means you take your time falling out of love. You might not end up dating again for another year, and you know this because a lot of time goes by between relationships for you. So this means you take your breakup slowly, knowing that even though most people would have moved on by now, you still find chances to bring up your ex nonchalantly. Like, your co-workers might be talking about getting a cat and you'll casually mention "when my ex and I got our first cat, we knew right away we wanted to keep him…" blah blah, point is, your head is going to be stuck in relationship mode well past its expiration date. But once you meet the next "love of your life" you'll transfer everything over like a well run Swiss bank: no leaks.

Libra
You're more about the romance than the sex, so chances are by the time you broke up with your ex, the sex wasn't even that good. You're not a volatile person, so if it ended it was probably for the best. You're very sweet which means you'll be the one comforting him while he tries to get over you. Most likely you just got bored and needed to get out of the relationship. If he broke up with you, you probably didn't want to admit it, but you could do better. You'll find someone more interesting and forget he even existed.

Scorpio
Once you let someone in your heart, they're never getting out. You might pretend you've let them out, but they don't know you still have the real key. What this means is you'll probably know he has a new girlfriend before they've even officially called each other boyfriend/girlfriend. You can sense everything about all your exes—when they're doing well and when they're not, the precise number of cocktails he will drink before he drums up the courage to text you, that sort of thing—and even though you claim to not be jealous, everyone knows better than to bring up your relationship. You'll get over it by using your sex appeal to rebound and meet someone who adores you, meanwhile you'll be pining for all the people who didn't reciprocate your feelings. A Scorpio is never done breaking up, but a Scorpio's also always in love, so it kind of balances out.

Sagittarius
You're a free spirit who doesn't like feeling tied down. You love your partners with sweetness and kindness, but that doesn't mean your kindness can't be cruel to someone who wants you to care more than you do. You just have so much love to give you don't want to commit to one person. So when you break up with someone you're ready to see what the next thing is. You're probably a little relieved when it's over, and you can't wait to cut your hair and go shopping so you can figure out what the "new you" is. You might go to Vegas or Australia, or just like, a different bar than the one you always go to, just somewhere fun where you can show off your haircut and appreciate being single.

Capricorn
You're stubborn about what you want, which means once you've decided you want something, that's just what's going to happen. So if you're the one who broke up with him, there's no going back no matter what. But if you're determined to get him back then he'll be back and you both know it. That doesn't mean anything's going to change, but it does mean you will go into the breakup with a very clear idea of how to get out of it. You've literally looked at bouncers who've told you no and just laughed and walked right in, so a breakup is no different. Like okay, you want to end this relationship? That's cute. Cut to two years from now he's going to be picking out a ring. Sorry, but you just get what you want.

What kind of fuckboy should you date based on your horoscope? Find out here!