Why 'The Real Housewives of Potomac' Is Becoming The Best 'Real Housewives' Franchise
It would be an understatement to say that Galentine's Day is a big deal in my friend group. It's a day to celebrate friendships, new and old, without the overbearing presence of cis-heteroxual male energy. It's a day to turn an absolute look, because you cannot spell "lifelong friendships'"without "photo shoot." And it's a day to drink prosecco. So much prosecco. Scholars and theorists alike might even say too much prosecco. Galentine's Day is always one of my favorite days of the year, but when I think of Galentine's Day 2020, it can be characterized by one defining moment: the day my friend Danny and I reached peaked anti-social status, and left mid-party to start watching The Real Housewives of Potomac. (Also, it's the day I discovered what a ring light is, and that I firmly believe that access to free health care and an affordable ring light are basic human rights).
If you're like me, The Real Housewives are your lifeblood: you breathe Herman Munster Louis Vuitton; you bleed SHE by Shereé Joggers (release date: tbd). You would never accept a stuffed bunny for your grandson unless it had the right energy. You meet the knowledge of someone being engaged 19 times with the flip of a table. You know every franchise inside and out, which means you also know there is currently an opening for the best Real Housewives franchise.
It's an unfortunate, yet known fact that previous Real Housewives front runners are, frankly, losing their elite status. New York is currently in a transition period, still trying to find its footing without Bethenny, while our usual favorites (Dorinda, Ramona, Sonja) are growing less and less lovable. Beverly Hills is begging for plotlines—making an entire season not even about an actual threesome, but the mere discussion of hypothetical threesomes, and bringing back Brandi Glanville in what can only be described as an act of desperation. Atlanta is a close front runner, but current speculations of a future without NeNe Leakes create an air of uncertainty surrounding the strength of the franchise. This all leaves the perfect opening for The Real Housewives of Potomac to take its rightful spot as the supreme Real Housewives franchise.
As we watched in our too-much-prosecco hazed state in the aftermath of Galentine's Day, my friend and I immediately realized that The Real Housewives of Potomac wasn't like any other franchise—and that's what made it so hard to look away. While all of the ladies of Potomac are Black women, their lives are diverse in ways that make for excellent TV. Of course you have the women who are uber rich, with mansions galore and glam-squads at the ready (Karen, Monique, Katie), but you also have women who are just, dare I say, middle class—they're doing well, but also have to go to work to pay the mortgage, and in some cases, the rent (Robyn, Gizelle). You have women in happy marriages to lifelong sweethearts, and you have women who are divorced, dating, and thriving—and you have one woman who is divorced from, but still living and sharing a bed with, said lifelong sweetheart. The women of Potomac also widely vary in age, with Karen Huger, the self-proclaimed Grand Dame, who began her Housewives tenure at the age of 52, and Ashley Darby, who made Housewives history as the youngest Housewife at the age of 27.
Potomac is also different from any other franchise because it takes place in, well, Potomac. Andy Cohen is known for giving us inside looks into the lifestyles of the rich and famous with women reigning from notable, big-named cities like Beverly Hills, New York, and even Dallas. But, he took a sharp left turn in choosing to establish a franchise in a place like Potomac, a small town in Maryland that, while boasted as one of the most affluent neighborhoods in the country, very few people could place on map. In short, I will boldly claim that The Real Housewives of Potomac reinvents the wheel and challenges what it means to be a Real Housewives franchise in new, exciting, and unique ways.
That's not at all to say, however, that Potomac doesn't know how to deliver classic, Housewives-defining elements that every franchise is required, by Bravo law, to possess. You have your overbearing mother (à la Atlanta's Mama Joyce and New York's Dale) in Candiace's mom, Ms. Dorothy, who never provides a dull moment in being both a therapist but also someone who hits her daughter with her purse at social events. You have sightings from random celebrities you have not thought about in years (à la Fetty Wap in New Jersey) in Macy Gray, when she appears in season 4 to teach Karen's daughter, Rayvin, how to sing. And of course, you cannot have real Real Housewives drama without the husbands getting involved. Much like PK and Ken in Beverly Hills, and the New Jersey Joes, the husbands of Potomac also reluctantly become roped into plotlines, most notably with "Did Michael Touch That Man's Butt-gate"—a fascinatingly complicated plotline that transcends season lines.
One of my favorite Housewives tropes is the classic power struggle between the queens of the franchises: Teresa Giudice and Melissa Gorga, Lisa Vanderpump and Kyle Richards, Jill Zarin and Bethenny Frankel. Potomac follows suit with the constant back-and-forth between Karen Huger and Gizelle Bryant. These women have a unique friendship, in that Gizelle's achilles heel is not being able to recognize when she's wrong, and Karen's achilles heel is only being able to recognize when Gizelle is wrong. The women begin their tussle early on in season 1, and the cycle of "fight, no apology, fight, bad apology, fight, real apology" has, without fail, occurred every season since. However, what sets Karen and Gizelle's friendship apart from other franchises is that it's clear that there is genuine respect and love between them. We learn that the two have been friends for years, far preceding the Real Housewives cameras—and that is apparent. Yes, Gizelle hits below the belt when she wears a T-shirt that says "#FreeKarenHuger #TaxReform," after Karen and her husband's tax debts come to light, but she is also the first one to wipe away Karen's tears when she breaks down at the season 3 reunion after the deaths of her parents. The ladies fight hard and love hard, a prime example of how Potomac gives you classic Housewives, while also pushing and redefining the Housewives narrative. 
Past seasons have been nail-bitingly thrilling, but season 5 is where I expect The Real Housewives of Potomac to really come into their own, and secure the currently empty slot of best Real Housewives franchise. The season 5 trailer gives us broken wine glasses, the introduction of a new Housewife, and wigs both good and bad. But, I'm most excited to see how the fifth season of Potomac will handle and discuss our current social climate as it pertains to race. It is true—we are living in unprecedented times, and the culture we consume, especially culture that is centered upon the lives of seven black women, should reflect that. Simply going based off Instagram posts, the women of most other franchises (except, you guessed it, Atlanta) have missed the mark incredibly when it comes to the anti-racism discussion. But the ladies of Potomac have never been strangers to the discussion of race on the show, from season 1 when Robyn and Gizelle cling tightly and proudly to their blackness, despite the lighter hues of their skin, to season 4 when Gizelle hosts a trip to New Orleans and the women emotionally tour a slave plantation. I'm excited and optimistic to see how the ladies of Potomac approach the current racial movement and show the women of other franchises that posting a black square to the grid, or simply ignoring the movement entirely, simply ain't it. 
I was asked the other day who my favorite housewife was on Potomac, and I didn't have a clear answer. Not because there are not personalities with a capital P within the franchise, but because these women are all connected, a cohort of women who pristinely works off each other to serve the plotline. You can't have Ashley without Monique and Karen; you can't have Robyn without Gizelle; you can't have Candiace without her mom paying half the mortgage. The Real Housewives of Potomac is storyline-driven, which I think is where their lasting power lies. I simply cannot wait to see these women sweep the #1 Real Housewives spot with the premiere of their fifth season.
If you love RHOP, check out our video with Ashley Darby:
Photo by: Sophy Holland/Bravo
Scheana Deserves Better Than Her Treatment On 'Vanderpump Rules'
Living in quarantine during coronavirus has us doing things we never thought we would: justifying our cleanest pair of joggers as formalwear, going without showering for days on end, and, god help us, confronting the horror that is our front-facing camera for the sake of human interaction. It's hard not to feel like we're living in the Upside Down. Watching this season of Vanderpump Rules is no exception. After years of happily laughing at Scheana's scheananigans (sorry, had to), something shifted this season. Once hilarious, the constant jabs at her now just feel cruel. I never thought this would happen, but Scheana needs a champion, and I volunteer as tribute.
The Show Wouldn't Exist Without Her

I'd be remiss if I didn't acknowledge our herstory. Had Scheana not had an ill-advised affair with Brandi Glanville's ex-husband, we'd lack the crucial link that allowed Vanderpump Rules to spin off seamlessly from The Real Housewives of Beverly Hills. Most people would be reluctant to openly own their role as mistress in an extramarital affair on national television. Scheana not only did this, but she took the heat (being called a "homewrecker" by Stassi seemingly every episode of season 1) and humiliation (never forget her gray tooth) with grace. She's been carrying the show on her back ever since and has given us some of the most memorable storylines. Who can forget her quinceañera wedding featuring the iconic crop top wedding dress? Or her proclamation that Rob can hang a TV on the wall in under seven minutes? She's also the only main cast member regularly interacting with the new sentient globs of hair gel cast members. She does all of this without complaint and laughs right along with us at her cringiest moments.
She's Getting A Misogynistic Edit

Speaking of cringe, the editors have been portraying Scheana as f*ckboy man-hungry for several seasons since her divorce. And for a while it was pretty on point and funny, mostly because the editors were using Scheana's own words to troll her. This season, new cast members like Max and Brett are piling on, and it's no longer fun. It's one thing to string together a masterful, symphonic compilation of the 97 times Scheana uttered the word "Rob" in season 6. But to allow two indistinguishable greaseballs who just arrived on the scene and have zero credibility to openly disrespect her on camera and call her "boy crazy" and "middle-aged" is a bridge too far. Off camera, Lisa has joined in and called her "desperate", and an episode of Watch What Happens Live featured a "Desperate-O-Meter" to measure this alongside various clips of Scheana interacting with men. Meanwhile, Max goes from banging Scheana to Dayna to Vegas Baby Scheana in a matter of weeks and is now being inexplicably included in scenes with main cast members. It be ya own editors, which brings me to my next point.
She's Being Portrayed As One-Dimensional

No one is denying that Scheana enjoys male attention and is clearly looking for a serious relationship, despite her claims otherwise. But that's just one part of her and, unfortunately, it's the only side of her the editors are allowing us to see. Throughout this season she's brought up her egg freezing process and subsequent surgery, yet it's constantly being minimized and reduced to a punchline. Her fellow castmates either barely acknowledge or ignore the subject when she brings it up. I can't say I'm totally shocked, as self-involvement seems to be a prerequisite for getting cast on this show, but why aren't the editors exploring this storyline a bit further? It's incredibly relevant and relatable, as more and more women are delaying starting a family. And let's not pretend we don't have room for it in this trash heap of a season. If there's airtime for LVP to hide her bra in Schwartz's luggage, a funeral for a lizard who died by negligent homicide, and 12 episodes dedicated to Jax and Brittany's Kentucky Fried Wedding, we could've delved into Scheana's fertility journey a bit more. Then again, letting viewers see her as a complex woman balancing her dating life with her desire to one day have a family wouldn't fit the narrative of Scheana as desperate psycho.
I love a good troll as much as the next Bravo fan, but Scheana's treatment of late goes far beyond the fun shade we enjoy as viewers of Vanderpump Rules. It's also tired at this point. She's been the punching bag on this show for far too long, and it's time we give her the respect she deserves. A couple of seasons ago I could have never imagined coming to Scheana's defense, but hashtag it's all happening.
Images: DFree / Shutterstock.com; Tenor (3)
What's Wrong With The Men On 'Southern Charm'?
Southern Charm is one of my favorite Bravo shows, and I was really excited for season 6 after a spectacular season 5, where all the women seemingly banded together to take down the "good ole boys" club that pervades Charleston and the mindsets of the men there. It was an exciting time to be watching—the #MeToo movement was igniting, and for a brief moment it felt like there would finally be a reckoning for some of the more toxic men on the show. To some extent, there has been, with Thomas' arrest and removal from the cast, but you wouldn't know it by watching this season. The camaraderie between the women is not quite the same as it was last season, and the only woman bold enough to call out the men's more problematic behavior is being portrayed as a pseudo-villainess. How did we get here, and are there any good men on Southern Charm?
Thomas

Although Thomas is no longer a cast member, his presence still lingers with the aftermath of his arrest for sexual assault and battery, and Kathryn's struggle to maintain custody of their two children together. The two met when Kathryn was 21 and still in college, and Thomas was 51. I have no problem with an age gap, but a middle-aged man pursuing a relationship with a woman barely old enough to drink feels predatory and manipulative. And by Kathryn's account, their relationship was emotionally abusive—she told People that when they started dating, "I just did what he said and took on his opinions and feelings as my own." She also said that when their relationship started to deteriorate, she and her daughter were forced to live in the basement of Thomas' plantation, where she felt "sad, scary, lonely, confused, quarantined and isolated."
When Kathryn and Thomas were on the outs in seasons 2 and 3, she was a veritable pariah and excluded from just about every social function by everyone except Craig. Instead of trying to understand her perspective, she was written off by the others as gold-digging, crazy drug addict (after testing positive for marijuana, of all things) and completely disregarded in favor of a cocaine-using felon and disgraced politician whose attempts at speaking French would make the Seine run dry. Only after the sexual assault allegations against Thomas came out did cast members like Cameran and Patricia turn their backs on him and warm to Kathryn. And to that I say:

Shep

This has been a revealing season for Shep. Up until now, Shep has largely gotten away with his more problematic behavior. His attempt to grab and kiss Chelsea in season 4 was largely glossed over by the rest of the cast and referred to as an "incident" by Bravo instead of the assault that it was. The rest of the cast seems to regard his clear problem with alcohol and inability to commit to a woman or a vocation as the amusing quirks of a goofy man-child rather than glaring red flags. Interestingly, the arrival of Madison this season has exposed a lot of Shep's more toxic tendencies. He refers to Madison as a "white trash hairstylist" despite Shep never having worked a day in his life. He shames her for sleeping with someone in retaliation after catching Austen in the middle of a threesome. Where was this outrage when he heard that Austen cheated with two other women?
After balking at Madison's admittedly inappropriate revelation about him and Danni, Shep responds by DOING THE EXACT SAME THING and telling Cameran that Austen is a "sexual deviant" because he and Madison have done "butt stuff" together. It's unclear what exactly he is referring to, but either party being on the receiving end of said "butt stuff" is hardly sexual deviance in this day and age. You know what is sexually deviant? Sleeping with someone you call a friend and definitely allegedly giving her chlamydia. Say what you want about Madison, but I can't help but respect her for going toe-to-toe with the resident bully of the franchise. Shep has continued his one-man white privilege parade off-camera by recently posting a story to his Instagram where he openly mocked a visibly embarrassed homeless woman collecting cans. It's revolting enough that he found this woman's situation humorous. But to taunt and expose her to his hundreds of thousands of followers is appallingly callous, not to mention willfully ignorant. Gosh, I can't imagine how he is still single!
Ummmm It might just be me but I really don't think "BUTT STUFF"equals sexual deviancy and Is Shep not drinking because he is still on anabiotic's from the chlamydia I'm confused

— Brandi Glanville (@BrandiGlanville) August 8, 2019
Whitney

Whitney first pinged my creep radar in season 1 when he slept with Kathryn and told her to keep it a secret, only to reveal it later to Thomas without consulting her. Since then, Whitney and Kathryn's relationship has been rocky, and Whitney has gone out of his way to sabotage her relationship with Thomas and malign her character. During season 2, Whitney convinces Thomas to film campaign videos with Kathryn's sorority sisters that could easily have passed for Cialis commercials, and Kathryn reveals during the group's trip to Jekyll Island that Whitney took Thomas to a strip club when she was 9 months pregnant with their child. Whitney's obsessive insertion of himself into Thomas and Kathryn's relationship looks a lot like Shep's current involvement in Austen and Madison's relationship. Is Shep so focused on what's going on between Madison and Austen because he, like Whitney, is actually the one feeling butthurt? When we find out this season that Kathryn and Whitney have recently slept together, Whitney bizarrely denies it and attempts to gaslight her by saying, "We have a different interpretation of events." I'm not sure how Kathryn can misinterpret your middle-aged penis struggling to find its way into her vagina, but okay, Whit.
Austen

We can now proceed to the f*ckboy portion of this article. Austen was first introduced to us in season 4 as a younger and marginally more attractive version of Shep. His behavior following the cooling off of his "relationship" with Chelsea and subsequent relationship with Madison support the comparison. He proceeded to suggest to all of his Instagram followers that Chelsea has no sex drive as well as talk badly about her to Madison, as all classy men do. When his girlfriend catches him in the aftermath of a threesome (I'm convinced hell is a persistent loop of him screaming "MAAADISEHHHN!"), he proceeds to call her "a crazy person" and threatens to physically remove her from his home. After all, it's easier to deflect and question a woman's sanity than to take ownership for the misdeeds that are making her so "crazy" in the first place. #JusticeForVictoria Even when he isn't the target of criticism, Austen is reluctant to side with women. When Naomie and Chelsea rightfully called out human hemorrhoid J.D. for his philandering and grifting last season, Austen claimed he needed more proof than the claims of his friends, one of whom got her information from J.D.'s wife.
Craig

Oh, Craigy. Our favorite pillow artisan is by far the least toxic of the bunch, and he should be commended for his fierce defense of Kathryn for many seasons, but he is not completely innocent either. He lied to the entire group about graduating from law school and passing the bar, and when Naomie directly questioned him about his desire to be a lawyer, he responded by telling her she was acting dumb. I agree that at times her approach was a bit mean, but Naomie's concerns about Craig's ambition and general life direction were not unfounded. Two seasons later we are still watching him struggle to get his fledgling pillow business off the ground and wake up before noon, yet Naomie was deemed a bitch for having the audacity to challenge her poor, innocent boyfriend. Even after she has clearly moved on, Craig continues to disrespect her by telling anyone who will listen that she still has feelings for him despite Naomie seeming genuinely happy in her new relationship (however we may feel about Metul).

It'd be a cop-out and a vast oversimplification to attribute the toxic behavior of the men on Southern Charm solely to Southern culture. Though that's certainly a factor, it's a symptom of a larger and more insidious disease in our society. When we allow boys to be boys unchecked and without any accountability, we breed a sense of entitlement where, given enough time, money or even fame, a Craig or an Austen might become a Shep or a Thomas. Until we do, men like these Southerners will keep passing for gentlemen.
Images: Bravo; Giphy (2); BrandiGlanville / Twitter
Bethenny Is A Modern Day Gretchen Wieners: 'Real Housewives of New York' Recap
So, Real Housewives of New York City is still on a tequila binge in Tequila, Mexico and if you haven't watched this episode yet, I'd highly recommend it. It will definitely make you feel better about every questionable decision you've ever made.
Anyway, the episode starts out with everyone talking about their boobs, which then results in everyone being naked and running around.
Carole: I bare my boobs for art. The rest of the girls bare their boobs for tequila. PS, I have the best boobs of the group. They're real.

Ramona and Bethenny have a nice moment in the pool.
Ramona: I really like you
Bethenny: I'm a pretty cool person
Ramona: But I feel like you don't like me
Bethenny: Well, I don't like you right now
The conversation then turns back to the comments Ramona made about Bethenny being naked in the press and how that must have affected B's daughter, Brynn. I would just like to note that Bethenny is literally ass naked during this conversation.
On the other side of the pool, Dorinda is trying to get a pants-less Sonja dressed.
Dorinda: It's literally like trying to put a bikini on a piece of spaghetti.
Anyway, back to Bethenny and Ramona. They're literally screaming (slurring) and crying in the pool and there are little nude-colored pixel square censors over Bethenny's boobs. I actually feel like I'm watching two Sims fight right now. The conversation ends with them making up, but we all know they'll end up picking another fight soon.
Sonja's still super drunk and asks Bethenny if she'll have sex with her, but B isn't down.

Bethenny: I'm sorry. You're barking up the wrong vagina.
Bethenny is the first one at dinner again and she's pissed because she always shows up late to shit and is still somehow the first one there. SAME, B.
Obviously, everyone's been blacked out for a few days, so there are like, five separate arguments brewing. Dorinda starts yelling at Bethenny and so Bethenny and Tinsley start running around her and it's just a mess of slurring and dancing. It's truly beautiful.

Then, in the middle of Tinsley apologizing to Ramona (apparently this is just the episode where everyone's going to black out and apologize like a bunch of drunk girls in a club bathroom becoming best friends), the women start to hear fireworks and all immediately stop their conversations and run outside to stand under the fireworks and scream. However, during the fireworks, Dorinda is concerned because she cut her hand.
Dorinda: I cut my hand off.
Bethenny: Do not give me a psychoanalysis.
Dorinda: I gave you a psychoanalysis about your life?
Bethenny: I keep getting into fights with these wasted blondes. It's like, they have all this resentment about my success.
Me:

Is this just like, a giant war between blondes and brunettes? Isn't that what Gossip Girl was for? Didn't Serena and Blair teach us that party girl blondes and power-hungry brunettes all have their own great qualities and don't need to compete with one another? Like, hello, this is 2017! Women don't need to be competing with one another, they're supposed to be obsessed with each other and leave the fire emoji on each other's Instagram posts. Duh.

The next morning, the women are getting ready to go to yoga and Ramona decides to fill Luann in on all the ~dramz~ she missed.
Ramona: I had a great talk with Bethenny last night. We bared our souls (read: tits) to each other. It was good.
Luann: Until you screw it up again. *signature insane Luann laugh*
There's a lot of awkward tension between Dorinda and Bethenny. Dorinda basically doesn't think she needs to apologize for last night, because she was too blackout to remember. Instead of an apology, she's basically like "whatever, I was drunk." And instead of understanding the fact that sometimes when you drink tequila for multiple days straight, you say things you don't mean, Bethenny is super pissed.
Sonja's in a super good mood, which is making her really tired.
Sonja: I'm so exhausted from being happy!
Again, me:

Then Dorinda pulls Bethenny outside to apologize and Bethenny pulls off one of the greatest humble brags of all time. She starts crying and talking about how hard it is to be so successful because she doesn't want to sound like she's gloating all of the time. She's truly a modern day Gretchen Wieners.
Bethenny: I have an emotional hangover. I'm back to being the crier.
I am TOTALLY going to use that line sometime in the very near future.
Everyone is getting massages and relaxing and boating and shit-talking.
Tinsley is on a boat planning a party to say thank you, but also fuck you, to Sonja for letting her live with her for a few months.
Carole says that she's good at fishing even though she's not good at very many things. If anyone wants to take a quick back-read through some of my recaps from this season and fish out all of the times Carole bragged about being good at something outdoorsy, but then complained that she's not outdoorsy the next episode, please be my guest.
Surprise, surprise, Carole didn't catch a fish so they go grab one from a market to pretend that she did. They even take a picture with the fish to make it look like Carole caught it. Of course, Luann isn't buying it and assumes the captain caught it or something.

Finally, it's the last night and everyone's waiting for someone to fuck it all up.
Bethenny: I think to end this trip, somebody should be killed. It's weird if we all go home too happy. I need my frenemies back.
Now that's a woman that has her priorities straight!
For the last night, the women all go out to dinner and Tinsley is the drunkest one this time. It's basically just more drunk yelling.
Luann: Tinsley, you should stop saying the F word so much because we're at a restaurant.
Tinsley: Well, you say Palm Beach all of the time and it's actually West Palm, soo… it's West Palm, so whatever.
I can't tell if that's the best or worst comeback I've ever heard.
Anyway, next week is the season finale and I really hope they're not all too hungover to make it interesting.
What Your Favorite Real Housewife Of Orange County Says About You
Last night was a big night on Bravo. And not because those rednecks from Oklahoma returned or because Kathryn dyed her hair fucking nuclear maroon for the Southern Charm reunion, but because the OG housewives out in Orange County are officially back. Now, it must be said that these women might be my least favorite because they're all trashy af and they ran off queen Heather. But my god do they make good TV. I mean, they fake cancer for Christ's sake. There isn't anything they won't do for ratings, which I can respect. But because none of them are betchy in the slightest, ranking them really wouldn't make sense. So instead we're here to tell you what your favorite wife of the OC says about you. And no. I didn't include that new Peggy lady because she wasn't on last night's episode and I don't know jack shit about her except that her debut tagline sucks. You can go shave your back now.
Vicki Gunvalson
If Vicki is your fave, you became lame af post-undergrad and are really trying to hold on to your previous way more fun life. You were the social chair of your sorority and got voted biggest lush senior year, but got a boring job like accounting or, idk, selling insurance, and now you just look desperate screaming "Whoop it up!" at company happy hours. In terms of your love life, shit isn't much better there. You're super thirsty for guys to like you, but they just don't. You should probs go on sabbatical or at least intensive therapy to try to turn things around.

Tamra Judge
Every squad has one and it looks like you're it: the annoying af girl who won't shut up about fitness and eating healthy. Like, hi. I literally couldn't give two fucks about your power greens salad or how high you were on the torque board this morning. You have friends but you probs don't even know about half of the group hangs because they don't want to hear you bitch about calories and how bloated you are in your size 0 pants. Do yourself a favor and eat some pizza and stfu.

Lydia McLaughlin
People who like Lydia better than the other wives are the stereotypical nice girl, my personal least favorite of all types of people. Sorry. You listen to Taylor Swift and wear Uggs while sipping pumpkin spice lattes and just bask in your basic way of life. Anytime there's an inner clique fight, you're the first to try and make peace and bring everyone together again. You work for a nonprofit or are a nurse and you host weekly bible studies. Your mere existence threatens to put me into a coma.

Shannon Beador
Shannon Beador fans find themselves somewhere in the middle of the pack. You're not the HBIC but you don't get walked over, either. Well, at least not by your friends… fuckboys are a totally different story. You keep it real, which makes cool normal people love you and fake betches hate you. Every once in a while you let your crazy side show and whip out a crystal or give yourself an enema, but for the most part you're chill.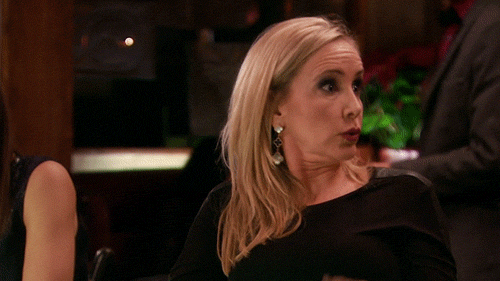 Meghan King Edmonds
A lot like Shannon fans, if you like Meghan, you're probs pretty normal. You've been super popular your entire life so it only makes sense that you grew up to a rich skinny betch married to a professional athlete. Fucking duh. You're pushing the verge of being a nice girl, but you also have enough of an edge to not take people's shit. Tbh, sometimes you're a little boring but that may be because everyone you hang out with is a legit psycho.

Kelly Dodd
You're a BSCB. There's really nothing else to say about it because that's the fact. You have a handful of friends but they only hang with you because you're always down to get shit faced and you're a good person to have on your good side. Because you'll cut a bitch. Maybe one day you'll reel it in, but chances are you'll just end up someone's drunk aunt.

Read: The Disney Princesses Ranked By Their Real Housewife Alter Egos
Dorinda Is Hands Down The Best Housewife: 'Real Housewives Of New York City' Recap
This week's episode of Real Housewives of New York City includes a ski trip to Vermont (are these bitches ever NOT on vacation?), but perhaps the trip that made them really feel out of their element was the one they took in the opening scene. Bethenny takes everyone to the Bronx for dinner at an Italian restaurant and immediately sets the tone for the episode.
Bethenny: I'll need two bottles. These girls can drink.
And then one second later…Dorinda shows up hungover.

Bethenny then starts ripping on everyone and their outfits, but mostly Tinsley, who doesn't know how to dress for anywhere besides brunch on the Upper East Side…in 2007. (Like, yeah, we all love Gossip Girl, but I'm shocked to see that she's still dressed like it.) To B's standards, the only one who was prepared for this lunch was hungover Dorinda.

The cast is planning a trip to Vermont, which obv leads to a conversation about how crazy Ramona is. This time, they get into an old issue about some Tipsy Girl alcohol being a ripoff of Bethenny's SkinnyGirl from like, forever ago.
Of course, the whole thing leads to a brawl in a public restaurant. Sonja keeps trying to pull up some screenshot receipts on her phone and Dorinda exhibits literally every emotion on the drunk girl spectrum.
Carole: I gotta be honest, I love it. When Dorinda is bad, she's so good.
Dorinda: Enough about going backwards! ASSWIPE.

Then, they all simmer down and some creepy old guy tells Carole that she looks like "Ivania" Trump. Lol, okay.
Tinsley goes to a therapist and talks about how much wine she has to drink to fall asleep, but definitely doesn't think she's at risk of alcoholism. She also has some interesting (read: boring) realizations about the type of men she's into.
Tinsley: The type of man that my father was is the type I am attracted to in men.
That's called daddy issues, Tinz. GROUNDBREAKING. Then, like any decent reality television therapy session, she then talks about how her trespassing charges have been dropped.

Then, the whole cast goes on a ski trip to Vermont, which is pretty exciting because everyone knows that all of the best Housewives drama happens on ski trips.
Bethenny actually invited Ramona. Because Ramona can't be cool and has to be like, all uncool, she texts Bethenny some long-winded crazy shit to apologize on her way up.
Dorinda forgets all of her luggage in New York because she was too hyped up from getting laid and wants to call an Uber pick it up for her. Sounds reasonable.
Carole: Dorinda is the gift that keeps on giving.
Agreed. Dorinda is totally the best one this season.

Ramona finally shows up and Bethenny is already pissed upon hearing her voice for the first time. She literally shows up being annoying.
Dorinda: Ramona, do you have camel toe?
Ramona: I was in the car for five hours. I'm lucky I can walk.
That's potentially the grossest line I've ever heard on Housewives…and I watch Jersey, too.
Ramona and Sonja then act like creepy little girls at summer camp and try to pick the best room together so they can snuggle. They basically end up pissing everyone off, because everything they do pisses everyone off anyway.
Then, Tinsley starts talking about how she's "boy crazy." Although her standards aren't like, super specific, they've definitely tightened up since the last episode.
Tinsley: Are you a man? Do you have a job? Are you older than me?
Quick, somebody call TLC because we've got a new set of standards to adhere to.
Everyone starts giving Tinsley unsolicited dating advice and she starts bitching about the fact that Sonja is so controlling of her. Bethenny's like, totally done hearing about this shit. Same tho.
Bethenny: Live with Sonja, follow her rules, or grow up and move out.
Tins then goes off about how she's still not over her abusive relationship, to which Bethenny is like "been there, done that." Tinsley tells Bethenny that she doesn't really understand, because her abusive relationship was made public and B's was not. As if Tinsley was at all relevant before this season and Bethenny isn't actually famous. Riiiiight.
Anyway, everyone better start freaking TF out in the first five minutes of the next episode or I'm so over it. Ski trips are supposed to be insane and I'm disappointed so far.
8 Former Real Housewives Who Need To Come Back To Bravo ASAP
Last week, Andy Cohen and his band of minions other Bravo execs dropped the trailer for the new season of Real Housewives of Orange County, and, per usual, it looks fucking batshit and therefore amaze. Obvi. They also announced that there will be a new wife joining the crew this season and she will be the 100th "Real" Housewife of all time. Can we just take a minute and think about that? I mean, holy shit that seems like a lot. I can only think of like, 12 off the top of my head. JK. I know every last one of them, but still. It's a fuck ton. And while most of the women who have come and gone can just stay gone because they were boring AF, there are a few who should def come back for the sake of reality TV. Here's a list of our fave ex-Real Housewives who can def sit with us.
1. Heather Dubrow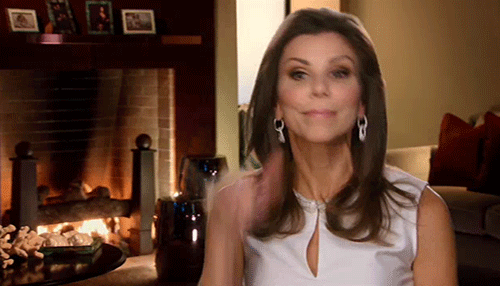 So technically, we haven't even felt the effects of queen Dubrow's departure from RHOC yet since the first season without her doesn't premiere until July. But I can already tell you it's going to fucking suck. I don't feel like I'm going out on a limb here when I say the women of Orange County are some of the trashiest of all the franchises. I mean, Tamara and Vicki? Gross. And Heather was the one shred of class the show had and now that's gone. We always kinda wondered WTF Heather was doing hanging out with these trash bags, and now I guess she's finally come to her senses. Maybe she and Terry will move to LA and she can join RHOBH—those betches seem more up her alley.
2. Nene Leakes

Nene is arguably one of the greatest housewives of all time. She's funny AF, all-around fab and can read anyone who crosses her for absolute filth. YASSS girl! She left the show because she was splitting her time between the ATL, LA, and NY because she's so awesome Hollywood and Broadway stole her away so she could have an actual career. Makes sense, I guess. Rumor has it she might be coming back to RHOA next season, so our wishes might actually come true.
3. Yolanda Foster

Tbh, Yolanda was kind of a snooze. I mean, how much of a grown woman frolicking in a lemon orchard can I even take? But we want her back because we want the inside scoop on her model kids Gigi, Bella, and Anwar. Fucking duh.
4. Dina Manzo

These days, RHONJ is all about Teresa and all her prison drama, but back in the day, Dina Manzo was the OG HBIC of NJ. That's a lot of letters. She's absolutely gorgeous and she doesn't put up with people's shit, both of which make her a true betch. Every season she's a part of, there's always at least one person thirsty to be her bestie (looking at you, Danielle) and given the mental state of the rest of the Jersey wives, it's pretty easy to see why.
5. Brandi Glanville

Love her or hate her, Brandi was incredible television. She was always drunkenly outing some huge secret or throwing wine in someone's face or something equally as dramatic and we all lived to see what crazy-ass thing she was going to next. All the wives of Beverly Hills are glad Brandi is gone, but even though RHOBH is still one of the best, it's way less eventful without her. I mean, a whole season about whether or not Yolanda was lying about having Lyme disease? Yawn. We also owe Brandi for giving us the greatest show of all time: Vanderpump Rules. Look, I get that it's my namesake's restaurant but it all started with the epic Brandi/Scheana confrontation. So thank you, Ms. Glanville.
6. Kim Zolciak

Sure, she has her own show on Bravo where we can see her, her big booty husband and their 27 children pretend to be just like us. But it's not the same as watching Kim get her wig pulled and called a trash box by Nene. Sorry, but those are the facts. Kim and Nene were the two stars of RHOA in the early years, regardless of whether they were the best of friends or literally wanted to kill each other. Both were entertaining AF. Like Nene, rumors have been swirling around that Kim might come back next season which would be the best housewife return since Bethenny in NY.
7. Heather Thomson

I can admit that Heather yelling "Holla!" every five seconds was pretty fucking annoying, but other than that, she was a badass betch. She was Puff Daddy's right hand girl at Sean John before starting her own company, Yummy Tummy, which is pretty much exactly like Spanx. She was also Carole's bestie on the show and they can def both sit with us. Heather wasn't super into the drama, but she did specialize in calling Luann out for fucking a married dude on vacay. And anyone who shits on Luann is cool with me.
8. Camille Grammer

After being the biggest housewife villain of all time in RHOBH's first season, Camille really mellowed out and became a little boring. But we'd take back season one Camille in a heartbeat. She was conceited AF, threw a v dramatic dinner party and made a cool $30 mill divorcing her fuckboy of a husband, Kelsey Grammer. You go, Glen Coco!
A Definitive Ranking Of The Real Housewives Of New York
Last week was a sad week on Bravo because it was the last episode of RHOBH. Not forever or anything, but ya know, until November. Which is basically forever. Personally, it's my fave because the women are richer than god, they're hot AF, they live in palaces and both Erika Jayne and LVP are legit queens. And now that it's over, I need a replacement ASAP. Thankfully, Andy Cohen came to my rescue and dropped NYC betches in my life right as the Bev Hills wives were on their way out. Like I said, RHOBH is #1 in my heart, but TBH, RHONY is giving it a run for its money. And that's a lot of fucking money. The women are smart, successful and legit funny, plus it's all just so fucking ridiculous that it's enough to pull me out of my Wednesday slump. Well, almost. And what do we do with all Bravo shows we love? Rank the cast by betchiness. Fucking duh.
Psst we have a RHONY recap now. Read it here!
7. Dorinda Medley
Dorinda definitely brings some life to the show and she always makes it nice, but she's by no means betchy. First things first, she's a BSCB. When she gets upset about something, there's no calm, cool, and collected happening. We're talking Teresa Guidice table-flipping type shit. Take a Xanax, D. She talks shit behind her friends' backs, which let's be honest we all do, but she always gets caught. Also, she's dating some nasty fat greasy dry cleaner from Jersey. And on top of it, he's a prick. I'd get it if he was like, some super great guy but he fucking sucks. Last place.

6. Luann D'Agostino
Back when she was a Countess, she probably would have landed a little higher on our list, but now that she's married to a cheating scumbag without a title she finds herself toward the back of the pack. I could write a fucking Charles Dickens-length novel describing all the reasons I can't stand Luann. The biggest one is she's hypocritical AF. Look, I'm the first one to admit I hold other people to a higher standard than I hold myself. Consider it a flaw. But I'm not on goddamn TV contradicting myself for the world to see. The final dagger in her betch coffin is her music career, if you could even call it that. While "Money Can't Buy You Class" and "Chic C'est La Vie" are entertaining to listen to when you're in the mood to judge someone, they're both more embarrassing than my middle school talent show routine to "I'm A Believer" (I know you all don't know me, but that's saying a lot). Luann beats out Dorinda because of her classic line in Turks & Caicos that I say to someone at least twice a day.

5. Sonja Morgan
Similar to Luann, Sonja was probs a mega betch back in her prime. She was married to John Morgan, as in JP Morgan, and when she actually had a job other than making toaster ovens she was a luxury brand consultant with restaurants and hotels, which sounds like one of the most difficult betchy qualities to master: Make a lot of money and make good connections by doing absolutely nothing at all. Obvi. Fast-forward to present day though, and Sonja's life is kinda depressing. She lives in the past and talks about all the famous men she used to screw, but now she's in this outdated townhouse all by herself and dates this creepy old man named Rocco.

4. Ramona Singer
Out of all the housewives in all the cities, Ramona might be the one I have the biggest love-hate relationship with. First off, she's nuts. Like, spent a day too many in Radley on PLL nuts. She's all over the place and mean as a fucking snake to literally anyone who crosses her—but somehow, some way, she always gets away with it. Everyone forgives her for all the crazy shit she does because she's really good at apologizing but not actually meaning it because she's gonna do the same thing in like a week or two. She has her own wine label, which is kinda cool, and she just DGAF, something any betch can relate to.

3. Tinsley Mortimer
Tinsley is new to the bunch this year and already finds herself toward the top of the list. Congrats. She grew up in classic prep school fashion, married a wealthy finance guy (aren't we all) and wound up being one of NYC's most well-known socialites. Dior named a fucking lip gloss after her for Christ's sake and she had a stint on Gossip Girl. She loses a few points because after she divorced said wealthy finance guy, she started dating some dude in Florida, which should have been red flag #1, and he got her arrested for stalking him. IDK, but she looks like shit in her mug shot. Girl, did Paris not teach you anything?

2. Carole Radziwill
In a lot of other cities, Carole would have hands-down been the biggest betch of the group. Why? She's a fucking legit princess and part of the Kennedy family. Sorry, Luann. Your old Countess title doesn't mean shit compared to a royal with Kennedy ties. Like Ramona, she DGAF but does it in a way more chill way. She's super thin and pretty, which is always a bonus, and the type of person you might actually want to be friends with. She can def sit with us. She was a super successful journalist before becoming an even more successful author and is now dating a hot way younger chef. You go, Glen Coco.

1. Bethenny Frankel
Obvi. Bethenny is Queen B of NYC and if it weren't for LVP and Patricia, she'd probs reign over all of Bravo. When the show first started she was the povo single girl that everyone felt sorry for, and now she runs a multi-million-dollar company revolving around margaritas and other types of alcohol that won't make you fat. Despite what your dad might say about reality TV stars, our girl Bethenny is actually smart and funny AF. Like, she is solely responsible for me having any resemblance of a good gif game. Also, mad props to her for realizing her mistake in marrying a fuckboy and getting TF out of that shitty situation. We all fall for them, but only the best of us are smart enough to run away.

Read our Real Housewives Of New York recap here!