10 Of The Messiest Celebrity Divorces Ever
We all know that relationships are hard. Whether your current relationship struggles are getting your S.O. to give you some space during quarantine, or getting that new guy from an app to text you back, we all go through it. But you know what sucks even more than your average relationship bullsh*t? Divorce. Divorce is like a sh*tty layer cake of lawyers, paperwork, and potential financial ruin, and even when it goes relatively smoothly, no one is having a good time.
But the most fun thing about divorce is that, like snowflakes, no two are exactly alike. Each divorce is a new and different sh*t storm, and when celebrities get involved, things tend to get especially complicated. From cheating scandals to money issues to nasty custody battles, these are some of the messiest celebrity divorces ever.
Kristin Cavallari & Jay Cutler
Maybe in a year or two, this one won't have turned out so bad, but right now, it's hard to keep up with all the sources that are coming out of the woodwork about these two. It's been less than two weeks since Kristin and Jay announced their split, and they've already filed competing legal documents, disagreed on finances and custody arrangements, and now seemingly come to an agreement on those things. This week, sources said that Kristin got sick of Jay being "unmotivated" and "lazy" around the house after retiring from his pro football career. Things are happening fast here, and I have a feeling the mess is far from over.
Johnny Depp & Amber Heard
When Amber Heard filed for divorce from Johnny Depp in 2016 after just over a year of marriage, she alleged that he had been physically and verbally abusive, and obtained a restraining order against him. Depp said that her claims were false, and accused her of "attempting to secure a premature financial resolution by alleging abuse." Ultimately, the divorce was finalized in 2017, and Heard donated her full $7 million settlement to charity.
Things got ugly once again last year, after Amber Heard wrote an op-ed in the Washington Post, in which she talked about being a victim of domestic abuse. Johnny Depp sued her for $50 million for defamation, claiming that Heard was actually the abusive one in the marriage. This lawsuit still hasn't been settled, and we probably won't ever know the full truth of what happened in their troubled marriage.
Kim Kardashian & Kris Humphries

I'm bad at remembering how long most celebs have been married to each other, but I will never, ever forget Kim K's 72-day marriage to Kris Humphries. How could I forget a mess like this? After releasing a wedding fragrance and getting paid millions of dollars for a two-part TV wedding special, people were quick to accuse Kim of orchestrating the whole thing for publicity. This included one of her former publicists, whom Kim ultimately sued. She won, btw, and he was forced to apologize to her. Kim and Kris's divorce wasn't finalized until nearly two years later, just two weeks before Kim gave birth to her first child with Kanye.
Denise Richards & Charlie Sheen
After four years of marriage, Denise Richards filed for divorce from Charlie Sheen in 2006. At the time, she claimed he was paranoid and abusive, and that he tried to convince her not to vaccinate their two daughters. She ultimately obtained a restraining order against Charlie, and in 2010, she was granted full custody of their children, due to Charlie's "marital turmoil, sobriety issues and criminal problems." In more recent years, Charlie and Denise's relationship has improved, but even this season on Real Housewives of Beverly Hills, we've heard Denise talk about her ongoing child support case with Charlie. This really is never-ending.
Prince Charles & Princess Diana
I feel like we don't give enough credit to the messy celeb drama of the '90s, but Charles and Diana's divorce was one for the ages. After getting married in 1981, both of them became unhappy pretty quickly, and they each had long-term affairs with other people. This became public in 1992, when tapes of phone calls between Prince Charles and his now-wife Camilla Parker-Bowles leaked to the press. After a couple years of general mess, the Queen intervened, writing Charles and Diana a letter ordering them to get divorced ASAP. Lol, you know things are bad when your mom has to get involved.
To add insult to injury, Diana was stripped of her HRH title after the divorce, which she was reportedly extremely upset about. Honestly, all of this makes the drama with Harry and Meghan look tame. I mean, they just want to live in LA!
Brandi Glanville & Eddie Cibrian

This has got to be one of the most dramatic cheating scandals of all time. In 2009, it was revealed that Eddie Cibrian and Leann Rimes were cheating on their respective spouses with each other. After the scandal broke, Rimes divorced her husband Dean Sheremet, and Cibrian divorced Brandi Glanville. To this day, Brandi and Eddie don't really get along, and there's been plenty of drama between them over the years. In 2017, Brandi accused LeAnn of stalking her after she showed up at a restaurant where she was eating. This prompted Eddie to write an open letter to Brandi, saying that "every couple of months there is another accusation coming from Brandi in an attempt to drum up drama to stay relevant." I have a feeling once their sons turn 18, Brandi and Eddie are going to try their best to never see each other again.
Christie Brinkley & Peter Cook
Lots of high-profile marriages have fallen apart due to cheating, but this one is especially bad. In 2006, Brinkley discovered that her husband Peter Cook was having an affair with a 17-year-old, which is downright disgusting. He also gave the teen hundreds of thousands of dollars and helped her buy a car, all to get her to stay quiet. Needless to say, their marriage didn't survive this, and their divorce was finalized in 2008. Christie Brinkley won big in their divorce case, getting full custody of their daughter, most of their property, and the satisfaction of the whole world knowing Peter Cook was an asshole.
Tiger Woods & Elin Nordegren
If Tiger Woods' cheating scandal wasn't so awful, I might actually be impressed. In November 2009, it was first reported that Tiger had cheated on his wife Elin, who is a model. Why do guys always cheat on models? I don't get it. While he initially denied those rumors, it wasn't long before sh*t hit the fan. Eventually, over a dozen women publicly claimed to have had affairs with Tiger while he was married, and he eventually confessed to cheating with over 120 women, including the 21-year-old daughter of a neighbor. I mean, ew. As a result of the scandal, Tiger lost many of his brand partnerships, and his performance on the golf course also took a nosedive. Unsurprisingly, Elin divorced Tiger in 2010, and she reportedly got around $100 million in the divorce settlement. It's what she deserves.
Jon & Kate Gosselin

Can you believe that Jon and Kate's sextuplets just turned 16 years old?? I guess time flies when you're being messy. In 2009, Jon and Kate Gosselin announced on their show that they were separating, and things have basically been sloppy ever since. While they both claimed the show would go on, TLC placed it on hiatus, because I guess it was supposed to be about the kids, not a train wreck divorce. At first, they took turns staying at the family home with the kids, but the police had to be called a couple months later, when Kate showed up during Jon's scheduled time and the couple got into a fight.
Though the divorce was finalized over a decade ago at this point, the custody disagreements have continued. In 2017, the police were called to an orthodontist's office over a custody dispute. Lol, what? Now, after years of disagreements in court, Jon has full custody of two of the sextuplets, while the other four still live with Kate. Sounds normal.
Paul McCartney & Heather Mills
Paul McCartney married model and media personality Heather Mills in 2002 at an Irish castle, but the fairytale didn't last long. They separated in 2006, and Mills blamed McCartney's daughter (Stella McCartney, you may have heard of her), whom she called "jealous and evil." Yikes. In leaked documents, Mills also accused McCartney of pushing her into a bathtub while she was pregnant and stabbing her with a broken wine glass. Not good. When McCartney and Mills got married, they famously had no prenup, so Heather Mills got a pretty nice pay day in divorce court. Her lump sum was close to $50 million, in addition to $70,000 a year in child support and lots of other perks.
Every divorce is messy in its own unique way, but these are definitely some of the sloppiest from top to bottom. LMK your favorite celeb divorce disasters in the comments, because the possibilities are endless.
Images: Timothy Hiatt/Getty Images; kristincavallari / Instagram; Giphy (3)
Brandi Glanville Spills The Tea On Denise Richards & 'RHOBH' Season 10
Last week, the new season of The Real Housewives of Beverly Hills kicked off, and it's an exciting one for many reasons. It's season 10, we've got some exciting new cast members, the return of some familiar faces, and—what I'm most hyped about—we're finally going to get to the bottom of WTF happened between Denise Richards and Brandi Glanville. We've been hearing rumors about their alleged affair, and the resulting fallout among the group, for months, but now we finally get to see how it all plays out.
This week, Brandi Glanville sat down with Bari Rosenfeld and me for our brand new Mention It All Podcast, and she wasn't afraid to spill some long-awaited tea about what's going on. On RHOBH she was always known for telling it like it is with absolutely no filter, and it's safe to say nothing has changed.
When asked about what it was like living through the rumors with Denise, Brandi stuttered before finding the right words to describe the situation. She says that when she was first brought on to the new season of RHOBH, no one knew anything had happened between her and Denise, and she didn't plan on talking about it. "And then, a certain person changed," she says. "It was brought to my attention some things were not what they appeared to be… and I just spoke my truth." What could go wrong?
While Brandi admits that her commitment to speaking the truth has gotten her in trouble "a lot" over the years, she doesn't have much sympathy for people who want to keep secrets from the cameras. Brandi confirms that Denise Richards sent her a cease and desist letter after their affair became public, but she's adamant that she won't be "bullied" into silence. She explains, "When you sign up for a reality show, you have to talk about everything. And if you think that you're gonna have a secret and then piss on that person, your secret's coming out." Brb, grabbing the popcorn.
Clearly, there's no love lost between Brandi Glanville and Denise Richards, and Brandi admits that this season "won't be the easiest ride for her." There's some major drama brewing in Beverly Hills, and Brandi is ready to get some things off her chest. In the full interview, she shares even more about the situation with Denise, and also opens up about why she feels some of the newer housewives are less compelling. Hint: glam squads. You can listen to the full episode of Mention It All below, and click here to subscribe to get all the newest episodes.
Images: Kathy Hutchins / Shutterstock.com
Did Brandi Glanville Just Confirm Her Affair With Denise Richards?
Okay, I've been cautiously optimistic for a while, but today I'm finally ready to say it: I think this season of The Real Housewives of Beverly Hills is going to be good. While the last couple seasons have been disappointing, it sounds like the show has turned a corner this season. Of course, I'm referring to the multitude of rumors surrounding Denise Richards, and mainly her drama with Brandi Glanville. A couple weeks ago, we discussed some of the rumors, and Brandi's frustratingly cryptic tweets about the feud, but we have new information, and it's f*cking huge.
Last week, the gossip surrounding season 10 kicked into a new gear, with a Page Six report that finally revealed the alleged source of the drama between Denise and Brandi. Rumor has it, Brandi and Denise had an affair sometime in the last several months, and the aftermath sounds dramatic AF. According to Page Six, on the cast trip to Rome in November, the other women confronted Denise about the affair, and the fact that "she was also sh*t talking the girls to Brandi." This is right in line with the rumors that the group was collectively turning on Denise, and it sets us up for what could be a very exciting cast trip. Finally.
If the reports are to be believed, Denise denied all of her castmates' allegations, and she hasn't filmed for the show since returning from the Italy trip. We already know she skipped Dorit's holiday party (thanks to Lisa Rinna's concerned IG comments), and she was also reportedly absent from Teddi Mellencamp's recent baby shower. Essentially, whatever happened on that Rome trip, it was enough for Denise to decide she was done with Real Housewives, and it seems unlikely that she'll even show up to tape the season 10 reunion. Basically, she's pulling an LVP, except Lisa's drama was about a puppy, and Denise's is about cheating rumors. Buckle up.
While Denise's rep told The Daily Mail that "the story isn't true," it looks like Brandi is doubling down on her version of events. Today, she tweeted this message about the difference between hooking up a couple of times and being in a relationship. Honestly, I need to send this tweet to a few of my friends, because I'm sick of hearing about how they're in love with dudes who barely acknowledge that they exist.
Their is a huge difference between hooking up with someone a couple of times and having a romantic relationship with someone

— Brandi Glanville (@BrandiGlanville) January 14, 2020
Now, I'm sure that Brandi isn't allowed to share specifics of the drama before it plays out on camera, but this is about as close as we can get to a confirmation. The specifics of this tweet would make sense with what we've been hearing—one of the main elements of the drama is that Denise may have lied to Brandi about her marriage being open. If Brandi thought her friend was in an open marriage, then she didn't really do anything wrong by hooking up with her a couple times. But if Denise's marriage wasn't actually open, and the rumor is that she and Brandi were like, dating, then things look a lot worse.
Here's the thing. As messy as Brandi Glanville has shown herself to be, she really hasn't ever been a liar. Really, what alienated her from so many fellow housewives in the past was her willingness to be a little too truthful. If you're going on these shows with any kind of secrets, Brandi isn't the kind of person you want around. Obviously, we'll have to wait to see what happens on the show, but at this point, I'm more inclined to believe Brandi than Denise.
When you want to respond but are not "allowed" to… pic.twitter.com/PKl5cgMWYx

— Brandi Glanville (@BrandiGlanville) January 9, 2020
So yeah, I guess I'm excited for season 10? I'm sure there will still be plenty of boring lunches and unnecessary subplots, but it does seem like there's some genuine sh*t at the core of the season. Not everyone is a fan of Brandi coming back, but her messiness might be exactly what the show needs. And hey, now that Denise is likely gone, maybe Brandi will be the one to finally bring up Dorit's money troubles? We can only hope.
Images: brandiglanville (2) / Twitter
Why Is Brandi Glanville Slamming Denise Richards On Twitter?
We need to talk about The Real Housewives of Beverly Hills. Specifically, the upcoming tenth season, and how there might actually be drama (for the first time in a while). While we don't yet have a premiere date for the new season, it should be back in the first few months of 2020, and some recent social media posts provide some important clues about what we can expect. Specifically, Brandi Glanville freaked out on Denise Richards on Twitter over the weekend, and we're trying to get to the bottom of what caused it.
Back in October, we discussed the sources saying that Denise Richards was absent for a lot of filming due to prioritizing other projects. While there was talk at the time that Denise could be demoted to a recurring cast member, that seems not to be the case. We have photographic evidence that Denise already filmed her intro for the upcoming season, so she's not going anywhere. But with former housewife Brandi Glanville back in the picture this season, it looks like Denise isn't going to have a smooth ride.
Though Brandi made an appearance on RHOBH last season as Denise's friend, it appears that their relationship has severely deteriorated in the last few months. Late on Saturday night, Brandi tweeted that she "just got 'Denised.'" After my initial delight at the messiness of this, I started racking my brain about what this could actually mean. Denise has only been on the show for one season, and she didn't do anything particularly messy, so what is "Denising" someone?
I just got "Denised"

— Brandi Glanville (@BrandiGlanville) December 29, 2019
One person replied asking if it's what Denise did to Heather Locklear (had an affair with her husband), but honestly, that seems unlikely. First, Brandi Glanville doesn't have a husband, and second, the Heather Locklear situation happened more than a decade ago, and it feels like Brandi is referring to something more recent. Brandi followed up that tweet with another one, which we can assume is also targeted at Denise.
Seriously bitch???? You wanna play-

— Brandi Glanville (@BrandiGlanville) December 29, 2019
Okay, so there's obviously something big going on between Brandi and Denise, and there are some rumors that get at what might have caused it. As Brandi filmed more scenes for the show in the last month of filming, reports surfaced that she told an "extremely damaging" secret about Denise's husband Aaron, and that "the information was so damaging and scandalous that Bravo is having to run everything through their legal department before they can air it."
This tweet from the beginning of December certainly suggests that Brandi was up to something:
If you sign up for a reality show any & all skeletons you have in the closet WILL come out eventually you can't have secrets & expect to keep them EVER !!! so it's just best to be honest #own it

— Brandi Glanville (@BrandiGlanville) December 1, 2019
While these rumors about filming don't always turn out to be 100% true, it's clear from the tweets that for whatever reason, there's bad blood between Brandi and Denise. On Sunday evening, Brandi tweeted her most cryptic and accusatory message yet, suggesting that someone *cough* Denise is trying to blackmail her with some kind of slut-shamey information about her. Brandi is pretty much an open book, so I tend to believe her when she says all her skeletons are out in the open, but you never really know.
1-blackmail is illegal
2-I have no skeletons in my closet (they're all on the internet)
3-slut shaming is soooooo last year

— Brandi Glanville (@BrandiGlanville) December 30, 2019
Honestly, while blackmail and slut-shaming are obviously never okay, I'm nonetheless kind of excited to see what could possibly push Denise Richards to this point. Last season, she wasn't afraid to make shady comments or get into arguments, but we never saw her truly go head-t0-head with anyone. Whether you want Brandi Glanville back on the show or not, you know that she likes to fight dirty, and it should be interesting to see her get into it with Denise.
But while we're discussing RHOBH rumors, it sounds like Brandi isn't the only one who has issues with Denise. Allegedly, the other housewives have been less than pleased about Denise's spotty attendance during filming this season, and it could become a main issue on the show. A report from Reality Tea claimed that Kyle Richards planned to make Denise the main target of the season, much like what happened last year with Lisa Vanderpump. According to the report, Kyle told Brandi about the plans, and Brandi then tried to warn Denise. Sounds like she didn't take it too well, hence all the shady tweets from Brandi.
And even though filming for season 10 has concluded, it seems like the drama is continuing between Denise and the other ladies. A couple weeks ago, Lisa Rinna called Denise out on Instagram for skipping a party at Dorit's house. In true messy Rinna fashion, she masked her shade as concern for Denise's wellbeing. Subsequently, Camille Grammer called Lisa out on Twitter, saying she should've reached out to Denise privately, rather than "throw your friend under a bus."
You guys, I hate to get my hopes up too soon, but RHOBH might actually be good this year. With Brandi back in the mix, and Rinna seemingly back to the messiness of her earlier seasons, it looks like we might finally get another taste of what made this show so great in the first place. At the very least, it seems like we won't have to sit through 14 episodes of arguments about why Erika didn't wear underwear that one time. And for that, I am thankful.
Images: brandiglanville
8 Former Real Housewives Who Need To Come Back To Bravo ASAP
Last week, Andy Cohen and his band of minions other Bravo execs dropped the trailer for the new season of Real Housewives of Orange County, and, per usual, it looks fucking batshit and therefore amaze. Obvi. They also announced that there will be a new wife joining the crew this season and she will be the 100th "Real" Housewife of all time. Can we just take a minute and think about that? I mean, holy shit that seems like a lot. I can only think of like, 12 off the top of my head. JK. I know every last one of them, but still. It's a fuck ton. And while most of the women who have come and gone can just stay gone because they were boring AF, there are a few who should def come back for the sake of reality TV. Here's a list of our fave ex-Real Housewives who can def sit with us.
1. Heather Dubrow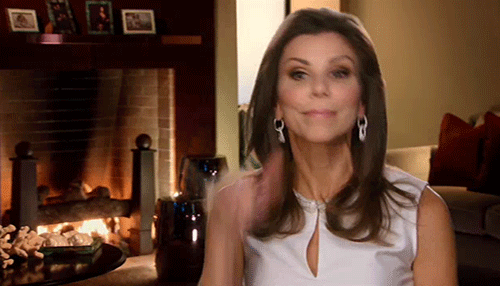 So technically, we haven't even felt the effects of queen Dubrow's departure from RHOC yet since the first season without her doesn't premiere until July. But I can already tell you it's going to fucking suck. I don't feel like I'm going out on a limb here when I say the women of Orange County are some of the trashiest of all the franchises. I mean, Tamara and Vicki? Gross. And Heather was the one shred of class the show had and now that's gone. We always kinda wondered WTF Heather was doing hanging out with these trash bags, and now I guess she's finally come to her senses. Maybe she and Terry will move to LA and she can join RHOBH—those betches seem more up her alley.
2. Nene Leakes

Nene is arguably one of the greatest housewives of all time. She's funny AF, all-around fab and can read anyone who crosses her for absolute filth. YASSS girl! She left the show because she was splitting her time between the ATL, LA, and NY because she's so awesome Hollywood and Broadway stole her away so she could have an actual career. Makes sense, I guess. Rumor has it she might be coming back to RHOA next season, so our wishes might actually come true.
3. Yolanda Foster

Tbh, Yolanda was kind of a snooze. I mean, how much of a grown woman frolicking in a lemon orchard can I even take? But we want her back because we want the inside scoop on her model kids Gigi, Bella, and Anwar. Fucking duh.
4. Dina Manzo

These days, RHONJ is all about Teresa and all her prison drama, but back in the day, Dina Manzo was the OG HBIC of NJ. That's a lot of letters. She's absolutely gorgeous and she doesn't put up with people's shit, both of which make her a true betch. Every season she's a part of, there's always at least one person thirsty to be her bestie (looking at you, Danielle) and given the mental state of the rest of the Jersey wives, it's pretty easy to see why.
5. Brandi Glanville

Love her or hate her, Brandi was incredible television. She was always drunkenly outing some huge secret or throwing wine in someone's face or something equally as dramatic and we all lived to see what crazy-ass thing she was going to next. All the wives of Beverly Hills are glad Brandi is gone, but even though RHOBH is still one of the best, it's way less eventful without her. I mean, a whole season about whether or not Yolanda was lying about having Lyme disease? Yawn. We also owe Brandi for giving us the greatest show of all time: Vanderpump Rules. Look, I get that it's my namesake's restaurant but it all started with the epic Brandi/Scheana confrontation. So thank you, Ms. Glanville.
6. Kim Zolciak

Sure, she has her own show on Bravo where we can see her, her big booty husband and their 27 children pretend to be just like us. But it's not the same as watching Kim get her wig pulled and called a trash box by Nene. Sorry, but those are the facts. Kim and Nene were the two stars of RHOA in the early years, regardless of whether they were the best of friends or literally wanted to kill each other. Both were entertaining AF. Like Nene, rumors have been swirling around that Kim might come back next season which would be the best housewife return since Bethenny in NY.
7. Heather Thomson

I can admit that Heather yelling "Holla!" every five seconds was pretty fucking annoying, but other than that, she was a badass betch. She was Puff Daddy's right hand girl at Sean John before starting her own company, Yummy Tummy, which is pretty much exactly like Spanx. She was also Carole's bestie on the show and they can def both sit with us. Heather wasn't super into the drama, but she did specialize in calling Luann out for fucking a married dude on vacay. And anyone who shits on Luann is cool with me.
8. Camille Grammer

After being the biggest housewife villain of all time in RHOBH's first season, Camille really mellowed out and became a little boring. But we'd take back season one Camille in a heartbeat. She was conceited AF, threw a v dramatic dinner party and made a cool $30 mill divorcing her fuckboy of a husband, Kelsey Grammer. You go, Glen Coco!