How To Tell If You Really Like Him Or If You're Just Bored In Quarantine
Quarantine has been hard AF. As a single twentysomething who's been watching an endless Instagram reel of friends and acquaintances getting engaged, it's been especially hard. (Can I get an "AMEN?")
A month into quarantine, I met a guy at the dog park where I take my dog. Our dogs got along well with each other, and he seemed nice enough. He wasn't exactly my physical type, but he was one of the very, very, very few guys with whom I'd gotten the chance to interact in any way since the pandemic started. So after some friendly flirting and playing parents to our dogs, I gave him my number and texted him just a few days later, asking if he wanted to go hiking with me.
We started to hang out once a week, and once a week quickly turned into almost every day. It was easy to fall into this routine because, well, quarantine, and there wasn't much else to do.
There was a point, though, when our relationship began to feel less like "He's ~The One!~" and more like "he's just the one for now." Three months into dating, right after we'd made it official, we took a little getaway to an Airbnb in a Texas country town for a couple of nights.
A romantic getaway with just us two gave me space to ask myself some valuable questions that made me realize my quarantine boyfriend wasn't my forever guy. Here are those questions:
 Do you text him when you're bored, or are there personality traits of his that you genuinely like?
View this post on Instagram
If you have any of the following thoughts before you text him (or anything like these), you're probably just dating him because you're bored in quarantine:
I'm bored. What's he up to?
UGH, I need attention. Lemme hit him up.
I feel lonely, so I'll hit him up.
If there are things about him that you like, take note of those, either mentally or create a list. I know lists aren't the most romantic things, but they're super helpful!
After I dumped my quarantine boyfriend, I made a list of qualities that are important to me in a boyfriend. I keep it handy and I know it'll help me attract me a guy that's a better fit for me next time.
What kind of thoughts do you have about him when you're not together?
While I was dating my dude, I would sometimes tell myself: "I'm just dating him until I can find someone better." I actually caught myself having this exact thought while doing yoga on the porch of the Airbnb. It was a wake-up call. I know I'm not the only person in the world who's ever had this thought, either. 
The problem is that if you're having these thoughts about the person you're dating, it isn't fair to them—but it isn't fair to you, either. You're wasting their time, and you're wasting your time by spending time with them when you could be opening your heart up to someone else, or just feeding your own soul.
It takes a certain type of self-awareness to be able to figure out whether you're dating someone out of like, love, or loneliness. So pay close attention to your thoughts. And if you're feeling anxious, if your mind is racing at 100 miles a minute in quarantine—which is normal—then listen to your gut.
Close your eyes and take a few deep breaths. Can you see a future with this person? When the head can't sort things out, it's time to listen to the heart. Everyone has an intuition—and while some have stronger intuition than others, there are things you can practice to feel closer to yours, like meditating on it.
What do your friends think of him?
When my friends met my ex-boyfriend, they threw some challenging questions my way. They made good points: that I didn't seem super excited when I was around him, and that I looked more interested in the hot guys walking past us at the dinner table than the guy I was with.
At first, I resented my friends for giving me such, er, unfiltered advice. (But if they don't give you the realest advice, are they even your friends?)
After sleeping on their advice, though, I realized I resented it because it was true. And that maybe, just maybe, I had been in denial for months, lying to myself that this guy was, in fact, ~The One~, when my heart had been telling me all along that I was just using him to pass the toughest months of quarantine.
TL;DR: If you have to ask yourself if you should dump your quarantine boyfriend, the answer is probably a resounding yes. And when you do, you'll feel happier, freer, and able to give yourself the time and space to reflect on the following question: What kind of partner do I really need?
Image: Jonathan Borba / Unsplash; uuppod / Instagram (2)
3 Ways To Have The DTR Talk Without Saying 'What Are We?'
Some events in life are just inherently awkward, like when you say goodbye to someone and end up walking in the same direction, or when your ex is on the bike next to you in spin class. Some events, however, get a bad rap for being awkward when they really don't need to be. For instance, having the "what are we?" talk shouldn't be awkward at all. In fact, it should really just confirm what you both already know: that the situation you're in is either working or it isn't. Tbh, I didn't come up with this brilliant theory; I stole it from my friend's therapist when she was struggling with a potential boyfriend who ended up being a f*ckboy in disguise. My friend was seeing this guy for like six weeks and genuinely had no idea if their relationship would evolve or if it would stay in this weird limbo for another six weeks. So, to get her answer, my stupid dear friend wanted to just straight-up ask him if he wanted to be her boyfriend.
While I applaud the bravery and directness, the problem with this approach is you're setting yourself up to be really disappointed in someone you really liked while also giving him all the power. Not to mention, you're putting him in a potentially uncomfortable situation. So the therapist said, "If you're asking him if he wants to be your boyfriend because you are so unsure where his head is at, then you already have your answer." Like, damn.
If you're in a similar position and feeling unsure about where things stand and need answers, by all means, don't force yourself to just wait until his desires and intentions become more clear. However, simply ambushing someone with a DTR talk is equally not the move. So, what the actual f*ck do you do? Luckily, I have been through enough versions of this to have exhausted every option, so here's how to handle it.
End It

Look, if you really want to date the guy who isn't giving you any indication that he wants anything more than what you've been doing for the last few weeks, you may have to face the music and just end it. Now, I'm not saying to end things with a great guy who really likes you because he won't introduce you to his parents within three weeks of meeting you. I am saying that if you've been seeing a guy for at least, like, a month, and find that you haven't moved forward at all (only seeing each other about once a week, haven't met any of his friends, he never comes to your place, etc.) then it seems like he may want to keep things where they are in terms of seriousness. Even without explicitly saying it, you should be able to pick up on some cues based on his actions.
We've all heard the phrase "trust your instincts," so if you are feeling like you two aren't on the same page about what you want from each other, you probably aren't. It's unlikely that a person who isn't giving you much will totally surprise you and end up wanting something more serious—especially when he's consistently given you nothing but "let's keep this casual" vibes. Ending a hookup should not be awkward; in fact, it should be kind of a relief—at least for you, since you don't feel like hanging out with this clown anymore. Because you definitely don't owe him sh*t, don't feel compelled to make the talk a long, drawn-out conversation. Just remember your key points and get on with it.
Do Nothing

Chances are, after only a few weeks, you don't really have a good sense of who this person is, so there is a possibility that he will come around and end up on the same page as you. If you are a patient person, this could be a good route for you. Like I said, there's no specific amount of time that has to go by before doing something, but if your thoughts on the matter are between unsure and "this isn't happening," that's probably when you should make some sort of move. Like the underdog of The Hunger Games Plutarch Heavensbee once said, "It's all about moves and countermoves." Even though he was referring to the government subtly and slowly staging a murder of Jennifer Lawrence, the same can be said of dating. 
I wouldn't suggest waiting around and hoping he changes his mind one day because that could obviously end really badly, but if you feel hopeful that at some point in the near future, things will change, by all means, don't ruin a good thing. When enough time has gone by that you do feel confident that you both think of each other with the same title, the conversation will happen naturally and will be whatever the opposite of awkward is. For instance, after dating my college boyfriend for two months, he texted me one night and said "I just called you my girlfriend to one of my friends. We're dating, right?" *slow clap*
Ask What's Going On

Tbh, I prefer a more assertive approach to getting sh*t done, but if you don't want to scare this person off, starting the discussion with a question is a good call. When I say "scare this person off," I don't mean of you, the hot queen who's taking matters into her own hands, I mean of commitment. In my opinion, if the person is worth dating, he is probably worth waiting for if all he really needs is a little bit of time. On the other hand, if he says something like, "I really like hanging out with you and I'd like to keep doing that, but I know I don't want to be in a committed relationship any time soon," feel free to drop his ass. Both types of responses warrant the "What do you want out of this" question, because neither type of guy (the one who needs more time and the one who wants to keep hooking up) will initiate the conversation. Let's face it, no guy who doesn't currently, at this moment want to be in a relationship with you will DTR first, because there's no point. If you force his hand, so to say, then you'll at least get some clarity and the next move is yours. If you get the response that suits you, you can keep doing what you're doing and let some time go by, and if you get the f*ck boy response, you can walk away.
At the end of the day, there's no perfect way to have The Talk, so trust how you're feeling about it and do whatever you feel makes the most sense. The takeaway lesson is that this doesn't have to be an earth-shattering conversation that is really awkward and/or upsetting. Of course, if the outcome of said conversation makes you feel some sort of way that isn't queen-like, that's completely okay because we all know that men are disappointing in their nature, but the conversation itself should be easy as long as you know what you want from it. 
Images: Giphy (3); Unsplash
Is It Weird To Be A Twentysomething Who's Never Been In A Relationship?
Must. Find. Boyfriend. As soon as I graduated from college, it seemed like every girl whose sole priorities were once partying and getting hungover bagels with her friends suddenly had one totally different priority, and one priority only: finding a boyfriend. Girls all around me (and some guys, but mostly girls in my experience) were running around demanding answers and screaming "WHERE IS HE?!?!?" with the passion of Teresa Guidice as she flipped the table on Danielle Staub. It's like everyone in my life was one bad date away from a Tinsley Mortimer circus breakdown (fast-forward to 3:50), since we're already talking about the Housewives.
Anyway. The more emphasis those girls placed on finding a boyfriend, the more girls who didn't and hadn't had serious relationships got down on themselves. I felt like many of my friends were questioning WTF was wrong with them for not having had a serious relationship yet. I was always the hype woman behind them exclaiming, "You're only 25, you just haven't met the right guy yet!". But soon enough, even I—who has had countless three-month flings in my twenties but nothing super serious—started to get down on myself. Was I the problem? My narcissism was wearing off, and in its place seeped realistic, down-to-earth thoughts about potentially maybe starting to think about… looking inward. 

So, Is It Weird?
My first step in cracking the super obvious solution of not dating f*ckboys anymore was speaking with Lindsey Metselaar, host of the millennial dating podcast We Met At Acme, to get her opinion. Her first thought on the general topic of not having had a serious boyfriend by your mid-twenties was, "it's less that it's weird and more that it's a reflection on your choices and overall maturity." Totally fair. Like, ohhh, I should STOP going for the guys that still text "thx" instead of the grueling "thanks"? That might be a start. 
This post isn't about me, though. We want to help you pinpoint if not having a serious relationship yet should be of concern to you. So, if the following situations/behaviors sound familiar, then yes, perhaps it is weird and perhaps you are the problem. Read up, buttercup. Yes, it is weird if:
No One Tries To Set You Up
If there's a deafening silence every time you hint at being set up with your friends' hot (or maybe even mediocre-looking, since you're desperate) brother? Then yeah, people are clear on the fact that you repel love interests. 
You're Constantly Getting Broken Up With For The Same Reason

If more than once you've heard that you're too needy, or that you're too high-maintenance, or that you're too more than once—maybe it's time to change that! "It will never hurt to do some introspective work," shares Lindsey. "You can always learn something about yourself." So even if you are totally perfect, as most betches think they are, take that time to look inward, and see how you feel!
You're Sloppy
"Drinking too much, smoking too much weed—it's excessive, and can definitely do damage," says Lindsey. If you're still that f*cked up girl that needs babysitting, then the only guys you'll attract are either super controlling guys à la Joe Goldberg from 'You', or sociopathic frat boys. How charming! 
You Have A 'Type'
"It's helpful to notice your patterns in relationships, especially while in therapy," explains Lindsey. "Recognize those negative patterns, stop having a type, and be more open-minded to people you weren't open to in the past." Is going for clearly emotionally unavailable guys a negative pattern? Asking for a friend. 
"Accept the love you deserve," says Lindsey, while also remarking that she knows it's corny. It's so true though! "If you are someone who continues to date the same person and keeps making the same mistakes, you can't trust yourself," she explains. Makes sense. 
You Have Bad Habits
"People don't want to face that their bad habits can affect their personal relationships," explains Lindsey. Quite frankly, we all have bad habits, so I think it's more about meeting the person that you're willing to change those habits for. Like, we're all addicted to our phones, so it's about caring enough to put the damn thing down. Though I wonder how much practice that takes. 
Tips For Moving Forward
Okay, so you've looked inward. As have I! Luckily, Lindsey also shared some reassuring tips on how to approach relationships moving forward, even if you've already pushed absolutely everyone away! I kid, but we can all benefit from a little advice. 
"Go into dating with no expectations," says Lindsey.
Me: Yeah, I'm not really putting too much thought into this date, whatever happens, happens, no expectations, just totally chill.
Also me: I will pass away if this date does not go well. 
"Every time you meet someone that you think could be special, be sure to protect yourself. Don't make assumptions that it'll turn into anything, or else you'll have all of your eggs in one basket which can lead to getting hurt," explains Lindsey. "I've seen so many people try to force things with someone who's not ready to sacrifice for them and, you know, wants to sleep at their own apartment every night." 
As someone who has a thorough 10-step skincare routine, sleeping out is never particularly exciting for me. This really made me realize, you have to do things you might not want to do to be in a relationship, even if it means enlarged pores! *Crying but also growing up* 

"If you're ready for a relationship, you'll be willing to compromise," explains Lindsey. With that, I end this investigation!
Image: @pablomerchanm /Unsplash, Giphy (3); uuppod / Instagram
How To Talk About Finances With Your Significant Other
If you've already made the big step of deciding to move in with your significant other, congratulations! I can tell you that living with your boyfriend, girlfriend, or partner is one of the best things in the entire world. Unfortunately, you probably won't be smoothly sailing into Bed Bath & Beyond together just yet. Before you move in together, you need to discuss your finances. Which, according to every advice column ever created, should be 100 percent transparent (!), easy (!), and totally NBD! Well, that's bullsh*t. Money is a big deal, and you should treat it accordingly. You don't have to make a ton of money in order to feel empowered and in control of your wallet, but you do need to be strategic. 
Moving in together, right next to getting engaged, is one of the biggest commitments you can make in your relationship. Don't do it unless you've flushed out the logistics. Super romantic? Not so much. But necessary? Absolutely. You have the most leverage and the best opportunity to set the tone for your new living situation before you move in together. Here are the best ways to go about talking about your finances with your significant other: 
Set Aside A Specific Time To Have The Conversation
it has been a few months and my boyfriend still likes to venmo me $5 every tuesday as a "girlfriend subscription"

— natalie (@natatruthh) October 16, 2019
Most people, no matter how much money they make, get a little uncomfortable discussing it. Try to coordinate a time with your partner when you know the both of you won't be as stressed out (read: avoid doing this Sunday night before the work week) so you can be entirely focused on the conversation at hand. Set aside a good 30-minute window to really review everything about your new arrangement. Make an agenda and sample expense list of what the both of you anticipate to spend month to month. Treat it just as you would a work meeting. If you don't come up with an exact cost or answer for something, be sure to follow up. 
You should also decide on who will be listed on contracts or leases as the person responsible for each expense and how/if you'll go about splitting certain costs. Will one of you cover cable while the other handles internet? Is Venmo your go-to? Or will you open a joint credit card to share expenses?
Figure out your money personalities. Is one of you more into going tit for tat? Or is one of you a Virgo and needs to split everything down the middle by the penny? Decide now and be clear with what you choose. It pays, literally, to be meticulous now versus later when one of you starts holding a grudge for being the sole purchaser of your apartment's toilet paper.
You Don't Have To Tell Your Partner Exactly What You Make Or Go Into Details About Unrelated Spending
After moving in with my boyfriend we had a talk about what money should be spent on and what it shouldn't… i just spent $300 on my hair.. let's not tell him 🙂

— Destinyyyyyyy (@LaLaDessie) November 21, 2018
Unless you two are tying the knot and have decided to share 100 percent of your finances, you actually don't need to divulge exactly how much you make or exactly how you spend your money. Realistically, you two have been together for a long enough time where you have some idea about the other's paychecks. If you're clear with what you can afford or are willing to contribute with your monthly expenses, then whatever you have left over is your business. It may seem like a great idea to be super transparent because it comes off more trustworthy or open about your relationship, but it's not required. In fact, you may even be a little relieved to have more independence over how you spend your money. Your boyfriend need not know that you accidentally spent $250 at Sephora when you were tipsy after happy hour. (Heh, sorry babe.) If you want to, that's cool too. But if you're not into that idea, don't feel like you have to.
Be Prepared To Negotiate 
The only bad part about living with my boyfriend is that I can't just spontaneously get another dog. Like I have to get approval this time? So rude tbh

— ashh (@ashh_olmsted) October 15, 2019
As any couple who lasts longer than two weeks can attest to, relationships are all about compromise. You exclusively watch reruns of Law & Order: SVU on Hulu. He needs every single sports channel known to man. All of a sudden your single girl binge watching expenses have blossomed from a cool $11.99 to $100. Find the middle ground. There will be some expenses on both sides that one of you won't want to cough up for. (I mean, do we really need 20 different channels of ESPN?) And if you can't reach an agreement for something the other person wants, then be prepared to pay for it on your own. 
What If Your Salaries Are Completely Lopsided?
Whether you make a lot more (I love living in 2019) or your partner does, I'm a big believer in paying your portion. If your partner is making a quarter of what you do, or vice versa, again, negotiate. Just because you're sharing a space does not mean you have to share expenses 50/50. There are also other factors to consider outside of just income. Is one of you more inclined to clean? Is one of you the dedicated pet parent? While some of these things aren't factorable into an Excel spreadsheet, they do matter when it comes to sharing a space. 
Bottom line, the most important thing to do when talking to your partner about sharing your living expenses is to be honest and realistic. The more you can stay in front of your finances and any additional expenses or problems that might arise, the less likely money will ever cause a problem in your relationship.
Images: Joshua Ness / Unsplash; @ashh_olmsted/Twitter;@LaLaDessie/Twitter; @natatruthh/Twitter
4 Warning Signs You Should Not Move In With Your Boyfriend
When I first started giving dating advice, I was in a new relationship and truly thought I was the sh*t. I was confidently calling out red flags and commenting "DUMP HIM HONEY!!!" on every r/relationships thread I could find. If everyone else's boyfriends weren't as good as mine, I figured, they shouldn't settle for less. Two years later, I still kind of feel that way—but I've also come to understand a whole new world of relationship problems (especially once you move in together) that I'd been too quick to dismiss as dealbreakers before.
Mostly, this is due to the fact that I've been living with my boyfriend for nine months, a development that often leads to fights I couldn't have imagined myself having two years ago. Last week alone, I fought with my boyfriend about both our WiFi password and how we store our towels. It's nuts. We're also closer than ever (thanks for asking), and I can honestly say I have a better understanding of what it takes to make a relationship work long-term. So basically, this is all to say: now that my advice is even more flawless than it was before, here's a rundown of the warning signs you shouldn't ignore if you're thinking about moving in together.
He Doesn't Remember Things You Tell Him
This is the number one most important thing in a roommate. They need to be conscientious and reliable—if you ask them to take care of something in the apartment, they have to remember it. For the sake of your sanity, they also have to remember it without you reminding them 6-8 more times. If your boyfriend is the kind of guy who conveniently "forgets" every time you ask him to do something more than five seconds into the future, or every time you have a conversation about behavior of his that bothers you, he is going to be a sh*tty roommate. Frankly, it sounds like he's a sh*tty boyfriend too. But this is a trait that could be a mild annoyance in a boyfriend, but it becomes a major, non-negotiable issue when you're sharing a living space.
He Doesn't Like Your Friends
He doesn't have to be best friends with your friends—sadly, that only seems to happen on Vanderpump Rules. But if he's said to your face that he doesn't like your friends, acts unpleasant around them, or discourages you from hanging out with them, those are all major red flags. It's fine for him to have an opinion (kind of), but he shouldn't think that opinion entitles him to exert control over your social life. For one, he shouldn't be rude enough to insult people you like, but the key issue here is that he should not be showing classic signs of manipulation, and testing the limits of how much you'll cut out your friends to preserve the relationship. You cannot move in with a guy like that, or his efforts to isolate you will only scale up. Honestly, just break up now if you are seeing those signs.
You Can't Pee In Front Of Him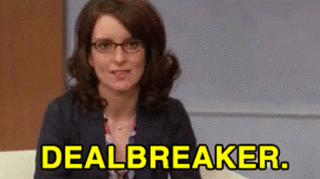 I want to clarify that it's perfectly okay, even 10 years into your relationship, to be the kind of person who always prefers a closed bathroom door. I am largely in that school of thought myself. What's a dealbreaker, in this case, is if you felt you couldn't pee in front of your boyfriend, even in some sort of fictional scenario where you're trapped in the woods and waiting for a circling bear to leave. If the idea of your boyfriend seeing or hearing you pee makes your skin crawl, or makes you genuinely worry about how it would affect the state of the relationship, please don't move in together. Certainly, don't move in together in NYC, where the average square footage of available real estate will ensure that your boyfriend hears you pee every single day. But even if you're rich (or Midwestern), know that moving in with someone will erase some boundaries you have now. You will have less privacy than ever before, and feel incredibly naked and incredibly seen by your boyfriend.
So, if he's a guy who has some weird obsession with "keeping the mystery alive," or would otherwise make you feel uncomfortable for doing something human in front of him—don't do it. You will do something human, embarrassing, and never-before-seen in your relationship within the first month of living together. If you know your relationship won't survive it, that's your answer.
He Refuses To Talk About Money
Yes, this is on every list about moving in together, but that's because it is the most important. To be clear, I don't care whether your boyfriend has been paying for your entire lifestyle and is offering to do the same with an apartment—that's equally, if not more of, a red flag as a guy who doesn't pay for anything. If they're not willing to openly discuss their financial situation, and set clear expectations for what each of you will contribute going forward, you cannot move in with them. In the case of the guy paying for everything, you could suddenly find yourself homeless. In the case of the guy paying for nothing, you could suddenly find yourself with a squatter who refuses to leave your apartment even when you break up with him. And either situation will be a lot harder to get out of if you don't have it in writing somewhere (even iMessage) what the guidelines of your living arrangement are.
That's it from me! Please comment with your worst moving-in-with-a-boyfriend stories below.
Images: Shutterstock; @betches, @uuppod / Instagram; Giphy (1)
6 Sex Positions To Make You Feel Confident In Bed
Nothing is worse than being down to have sex but feeling uncomfortable taking off your clothes. Being confident in bed is a major turn-on, but the fact of life is unless you're Lizzo, you probably aren't feeling yourself at all times. Maybe you're getting your period and feel super bloated. Or you have a pimple the size of Mount Everest on your forehead and the thought of getting down in missionary while your partner makes eye contact with it is a major mood killer. I get it. I'm all for that self-love crap, but it just doesn't always cut it. Sex can be uncomfortable and embarrassing (as we know from these uber awkward celebrity sex stories), but there are tons of ways to help boost your confidence and make you more comfortable in bed. Besides, the more comfortable you are, the more relaxed you'll be and the more fun you'll both have (and likely, the better it will feel). But other than wearing sexy lingerie or dimming the lights, there are certain sex positions that make you feel confident. Because confidence is sexy.
Masturbate

Who says "Sex positions" can't include solo ones? Hear me out. Being comfortable and confident in bed stems from being comfortable with yourself. Knowing what you like and how you like it is extremely sexy. So how else will you know what to tell your BF to do if you don't explore yourself first?
Girl-On-Top
Like I've said before and I'll say again (sorry for being preachy), if you're confident with yourself, you'll exert more confidence. Duh. But to do this, focus on your favorite body part and put it on full display. So if you're super confident in your rack, climb on top and let your partner get an unobstructed view. Personally, I'm not a huge fan of my boobs. They are large and heavy and bounce around. But hey, I guess that's what my boyfriend likes about them. So cowgirl might not do it for me, but for you it could be one of those sex positions that make you feel confident. An added plus is that you'll be in full control and guys find that super sexy.
Doggy Style

Similar to the above, focus on your fav asset. If that's your ass, then turn around and do it from behind. If 2016 on has taught me anything, it's that people love butts—even just looking at them. But it's 2019, we're eating ass now, so you might want to kick it up a notch. If your hair is long enough to put it in a ponytail, do it. Your bae can pull on your hair as you arch your back. Not only will he see your whole behind, but the arched back creates a super sexy position that you'll both love.
Reverse Cowgirl
Sometimes doggy isn't my thing. The penetration can be so deep that it genuinely hurts, but if I'm bloated it's my favorite position since my stomach cannot be seen. This is why I love reverse cowgirl. My ass is on full display, my stomach is hidden, and I'm in full control. Win-win-win, am I right? It's also not a super frequent position in our repertoire (although it should be) so when I suggest it, my boyfriend gets super excited. The reassurance that I'm doing something he loves is a major confidence booster.
Missionary

Contrary to Coach Carr, do it in missionary. It may seem v boring, but trust me. Lying on your back and letting him have full control may sound lazy, but if you throw in some instructions and boss him around a little, it'll quickly turn from a super passive to a super active position. He'll have the reversal of the typical dominant and submissive roles that are associated with missionary. Knowing what you want and communicating that to your partner is super sexy. Being a boss makes anyone super confident in bed; that's just a fact. If you haven't tried it, I highly suggest.
Sofa Brace
Another spin on doggy is this baby. It's essentially the same, but you brace yourself up against a sofa. What's so sexy about this position? Getting down and dirty outside the bedroom can feel super deviant and hot, which are both major confidence boosters. Sometimes the bed can feel repetitive, so why not change things up? Just make sure your roommates aren't home (if you have them) or the couch doesn't shift too much. Who knows, maybe this will open up the door to having sex around your entire apartment.
If all else fails, ask your bae what they like. Not only is open communication key to good sex, but it also allows them to vocalize what they like and don't like. So you know next time when you kiss their neck or whatever, you'll get a good reaction from them and a little confidence boost for yourself.
Images: Kristina Petrick / Unsplash; Giphy (3)
How 'Shrill' Forced Me To Confront My Own Fat-Shaming
Before I give you my thoughts on Shrill, here's a little context. The first time I sat on a guy's lap, he jerked back and pushed me off. "How much do you weigh?" he demanded, rubbing his legs in pain. I was 13 years old, standing in the aisle of a school bus filled with my 7th grade classmates. Over a decade later, I barely remember the guy—but his comment, I remember. The same way I remember, later that year, comments under pictures of me on my cousin's Myspace: "Who's your fat friend?" Or in 4th grade, when another girl and I broke our ankles at the same time and had to be carried down a flight of stairs. "Looks like I got the light one," a teacher joked, picking up the other girl.
If you haven't yet watched Shrill, the new Hulu show starring SNL's Aidy Bryant, I highly recommend it. (I also recommend tuning out of this article, because duh—spoilers.) Shrill, in six too-short episodes, tells the story of Annie (Aidy Bryant), a fat woman who finds herself taking far too much sh*t from her mother, her boss, and her f*ck buddy-slash-boyfriend. While Annie's struggles are not solely derived from her size, Shrill emphasizes the harmful assumptions made about fat people (namely, that their size is a result of being lazy, or lacking willpower), and how licensed people feel to treat Annie differently because of it. From well-meaning "concern" expressed by strangers to her boss telling her to her face that she doesn't "take care of" herself, the sheer fact of walking around as a woman of Annie's size translates to an onslaught of uninformed, unsolicited opinions about her character.
All this is to say: though I have not, in my adult life, been overweight, I expected to relate to Annie while watching this show. From my own memories of middle school fat-shaming, I was ready to raise a glass in solidarity and share in Annie's triumph as she gained the courage to issue a massive f*ck you to her haters. But while I did find the show highly relatable, it wasn't, ultimately, Annie's struggle in which I saw myself. Instead, I felt my stomach sink every time a passive-aggressive barb was thrown out against her—and I heard it clearly in my own voice.
To fill you in on the decade between being cyber-bullied on Myspace and now: just before high school, I lost about 25 pounds and grew three inches. (Don't hate me; it was the last time I lost weight effortlessly in my life, I promise.) From that moment on, likely because of how I'd been treated when I was bigger, I have been obsessed with getting, and staying, thin. From 8th grade on, no diet was off-limits—from South Beach in 2009 to keto about six months ago. (Am I crazy BTW, or are those diets basically the same?) All that dieting was successful, depending on how you define it. While I'm perpetually in a state of wanting to lose "the last" 5-10 pounds, I am by no means overweight. And importantly, my body allows me to suffer none of the public shaming and discrimination that Annie receives every day.
So, let's take Annie being accosted in a coffee shop by a personal trainer, who grabs her (apparently, tiny) wrist and says earnestly: "There is a small person inside of you dying to get out." Watching that scene, I had no idea what it was like to be Annie. I did, though, have years of memories of grabbing my own wrists and admiring their smallness, of looking in disgust at the rest of my arm and hating myself for the way it (in my mind) ballooned outward. When Annie's mom tells her, "you always feel better when you exercise, I can tell," I hear the same lie I tell people about going to the gym. Sure, it makes me feel better—but only, I'm pretty sure, because I know it's helping me lose weight.
I came into Shrill thinking it would be a feel-good empowering romp, with twinges of painful memories from my past. I was mostly right (it felt great! and super empowering!), but the twinges of guilt I feel are from how I think about my body right now. I hope that my constant desire to be smaller doesn't spill out in how I treat other people—but I can't imagine that it doesn't. If I hate myself for struggling to zip up a pair of size 27 jeans, how would I not judge someone who wears jeans that are two, four, or ten sizes larger? When I look around in envy at the tiny women NYC is riddled with, have I been kidding myself that I'm not, also, looking at fat people with pity? How many people, beyond myself, have I actually been harming with the constant internal monologue of self-directed fat-shaming?
I won't say that Shrill cured me of these habits. Midway through writing this article, actually, I stopped to measure myself to decide which size pants to reference (every company is different, y'all know this). Then I measured myself again—and three times after that, with different tools, because I wasn't happy about the number I was getting. This can't be right, I thought, furiously switching out a charging cable for a piece of ribbon to wrap around my waist. Never mind that reading a different number off my tape measure has exactly zero effect on my actual body. My negative body image, clearly, is still in effect—but Shrill is the first show I've seen in a long time that made me want to do something about it.
If I can recognize how sh*tty people's treatment of Annie is, I reason, I should be able to apply that same logic to myself. And hopefully, if we can all be a little kinder to ourselves in private, we can be kinder to others in public too. I'm grateful that Shrill brought my fat-shaming into clearer view, but the most pressing issue the show elucidates is our policing and shaming of fat people for simply living their lives near us. And whatever personal struggles you may or may not be dealing with, that kind of bullying on a societal level has got to stop.
Images: Hulu Press; @aidybryant, @dietstartstomorrow/Instagram 
5 Easy Positions To Switch Up Your Sex Life
Good morning everybody, let's get this bread your fav sex experimenter (sexperimenter?) is here once again. This time, I will help you spice up your love life in the bedroom. Just call me a user-friendly Kama Sutra with new (and non-intimidating) sex positions to try ASAP. Have you ever wanted to try a new position you saw in a movie (Hollywood film or porn, no judgment) but were wayyy too intimidated? Or do you feel like you do the same three positions again and again? Or are you alone and looking for a slightly erotic read? I got you, ladies. Here is a guide to trying new positions that will not be intimidating, because they're just a twist on the tried-and-true positions you already enjoy.
1. If You're A Cowgirl, Flip It And Reverse It
If you find your go-to position is cowgirl, try reverse cowgirl. It's the same thing, but you're facing the other direction, if you couldn't gather by the name. With the slight variation of the position, it's a whole new experience for both you and your partner. It won't throw you completely out of your comfort zone, but it will still be new and exciting.

2. Modify Missionary
If you love missionary (or are too lazy to experiment with another position), try a modification by spreading your legs out to the side (think spread eagle style) if you're feeling bendy or placing a pillow under your butt to elevate your hips for deeper penetration.

3. Doggy Pancake Style
If you're down for a more animalistic banging session, then you probably love doing it doggy. If you're looking for a little oomph to add to this position, lie completely flat on your stomach with your partner lying on top of you. It might be a little awkward trying to get into the position, but trust, it'll be worth it. Make sure his arms are in a push-up position on the bed so he isn't putting his entire body weight on you.

4. "Flying" Standing Missionary
If you are a gal who loves when you lay down at the edge of the bed and your SO stands in front of you, then the butterfly position is perfect for you. All you do differently is lift your ass. It gives him more control (while touching your butt) and he can thrust deeper. Win-win, right?

5. Spooning In The Afternoon
If you like feeling close to your boyfriend while you bang, then a spin on spooning is perfect for you. Lay perpendicular to your partner (aka one of you is vertical and one of you is horizontal, shouts out to sixth grade math) so your, uh, parts match up. This position allows you to open up your legs (that are draped over your SO's hips) to allow for deeper thrusts and easier access. You'll get to look at each other and have easier access to your clitoris. You're welcome.

Images: Giphy (5)