A Guide To Buying Booze As A Gift So You Don't Look Cheap
Shopping for Father's Day is stupidly difficult. If you're wanting to skip the "fun" mugs, ties, and yard tools, wtf else is it that a dad wants?! Like us, most dads love booze. Whether they like to get weird with tequila or are happy cracking open a craft beer, most dads just want to be left the fuck alone to drink and grill with some goddamn peace and quiet. I can respect that.
So, this Father's Day, don't fuck up by getting a chocolate hammer and "No. 1 Dad" mug for the fourth year in a row. We've rounded up top contenders in all the booze categories to make this a bitchin' (and drunk) Father's Day.
1. Red Wine

If dear old dad is into a nice glass of red wine for sippin' at dinner, look for something that goes with literally everything. We like 2014 Cultivate Pinot Noir—a blend of grapes from several California regions that goes really well with red meat AND chocolate. It has tasting notes of everything from ripe red fruits to a touch of black tea. Sounds manly. Plus, it's about $27, so it counts as a legit gift.
2. White Wine

If for some reason dad is into white wine (maybe red wine gives him heartburn or makes him angry), reach for something that blends well with shit like grilled chicken, spice, and seafood. Grab a Sauvignon Blanc since it isn't especially sweet AND it keeps dad away from basic bitch territory like Chardonnay (shudder). We like 2015 Hawkes Bay Sauvignon Blanc cause it's got a bitchin' blend of acid and sweet with hints of citrus. Make sure dad knows to chill his wine and serve it with something Asian-inspired—like food from that Japanese place he loves so fucking much.
3. Bourbon

If dad is into bourbon, there are a few decent ones you need to be looking to buy. One is Bulleit Bourbon which, at 90 proof, is likely to give dad a hangover Father's Day he'll never forget. The good thing about this shit is that it's smoother than most bourbons since it's 2/3 corn and 1/3 rye. It has mild spice and a littttle sweetness, perfect for drinking straight or mixing into whatever dad needs.
4. Scotch

.


If daddy has an American Express Black Card and you get your pretentious betchiness from him, chances are he drinks Scotch. Bonus points if he does the flicky water thing and sips it in a Hannibal Lecter sort of way. Anyway, if you're looking for a good but affordable Scotch for dear dad, try Chivas Regal 12 Year Old (Blended) or Bowmore Small Batch (Single Malt). Both are under $40 so you won't break the bank, but they're also recognized and awarded as super smooth with interesting flavor profiles. If you're dad's into Irish whiskey (I know it's not the same as Scotch, fight me), get him a bottle of Bushmills Red Bush. It's distilled in bourbon casks for a well-rounded yet versatile flavor profile.
5. Vodka

So if you're Russian or something, dad probably likes his vodka. Is that profiling? Whatever. Anyway, if you're ready to drop about $40 on good, organic vodka, try Purity Vodka. It's made in Sweden or something and has a really clean taste with notes of vanilla and pepper not usually in vodka. Definitely a step up from Dubra and Smirnoff.
6. Gin


Is dad a psychopath who enjoys gin? Is this where you got your psycho tendencies from? Great! Picking a good gin is NOT as simple as grabbing a bottle of Bombay (stop). Look for something decent like The Botanist. It doesn't taste quite as much like a cleaning solution and focuses on a niiiiice peppery kick. Plus it's only like $40 so you can't afford NOT to get it. Or if you want to trick Dad into thinking you spent a lot of money on his gift as penance for maxing out his credit card again or something (speaking for a friend), pick up some Sipsmith London Dry Gin. It's made in London (and therefore automatically classy) and it has a dry finish with spicy notes of juniper and a hint of lemon tart. Dry, spicy, then tart—kind of like dad. Too corny? Sry.
7. Tequila

Are you looking to splurge? Tequila makes us crazy, so if you want to blow dad away for Father's Day and try to make him forget that time you totaled his car, opt for the Avion Reserva 44, which clocks in about $150. It's super rich, aged, and has a really unique taste. If all you've been drinking is Jose, you won't know what planet this shit is from.
8. Craft Beer
If dad is a simple man who just wants to be left alone with a beer, give him the gift his heart desires (and then leave him tf alone). There are literally millions of craft beers out there, so head to Trader Joe's, grab an empty six pack, and start putting together a tasting you think dad would like. Like, any asshole can grab a case of Sam Adams—it'll just mean SO MUCH that you took the time to put that shit together. You're such a great daughter.
How Throw A Classy Kentucky Derby Party Even If You Don't Know Sh*t About Horse Racing
Hi betches!
Looking for a good mint jubilee recipe that doesn't taste like straight up dick aka whisky. I want to look classy look the part you know when you think of mint you think it would taste like a mojito but is actually a mint jubilee?? Please help a sista out by Saturday so I can still be classy hosting and toasting a Derb party. Also maybe an article on what not to wear, caption so you don't look basic..(talk derby to me Insta caption once more…)
Thx !
Lizzie p

TRANSLATION:
Greetings Women,
I am looking for a mint julep recipe, but I do not know that's what it is called. I would prefer it taste good, and not like a penis, which is what I think whiskey tastes like. Please help me, your fellow woman, to acquire such a recipe in time for my Kentucky Derby party this Saturday. Please also tell me what to wear, and what to post on social media so that people think I am cute, funny, and know the correct names for drinks. I do not have Google.
Warmest Regards,
Elizabeth P.
Dear Lizzie P,
You're lucky we're feeling so generous today and kudos to you for celebrating the whitest, richest sporting event there is. To reward you, your mint julep (what the fuck is a mint jubilee? Get your shit together) recipe is below. As far as it tasting like whiskey—well, it's a fucking whiskey cocktail, so aside from watering it down with ice and mint there's not a whole lot you can do. Suck it up. Also, I assume you may actually be from Kentucky based on your poor sentence structure. Good luck with that by Saturday. We've also listed out a few things to wear so you like, fit in.
Mint Julep Ingredients
· Handful of fresh mint
· 1 tsp. sugar (I guess more if you're trying to drown out the whiskey)
· 3-4 oz. bourbon
Grab your pre-chilled old-fashioned glass or pewter cup and place 7-8 mint leaves in the bottom. Add the sugar over top, then start crushing with a muddler. Don't go too crazy—just enough to really bruise the mint and smash some of the sugar.
Pack some finely cracked ice over top, then pour the bourbon over the top. Stir quickly until the whole glass gets super cold and frosts. Add a little mint on top and bam, mint julep.
What To Wear
Giant cute sunhats or classy fascinators: Go for something Kate Middleton wouldn't be embarrassed of.
Classy sundresses: Banana Republic, Lily Pulitzer, Club Monaco, J.Crew, etc. all have some basic AND awesome shit, so choose wisely. Vineyard Vines is the official style of the Kentucky Derby. Check out their line here.

Banana Republic bow-neck dress
Strappy, cutesy heels: The key is being graceful—try these J. Crew satin sandals with ankle wraps which go with literally everything.

J.Crew satin sandals with ankle wraps
An outfit in which hat and dress work together: If one is loud and colorful, the other should be subdued, fucking duh.
Feathers: They're allowed on cute hats.
What Not To Wear
Think of me as your personal Clinton Kelly, except I'm obviously not giving away a $5,000 Visa giftcard.
Denim anything: It's social suicide.
Fugly wedges, gladiator heels, or sneakers: Just no.
Sequins: They're unacceptable on anything for this event.
Shorts or a T-shirt in ANY fashion: The derby is a classy fucking event. Leave your garbage clothes at home.
Anything with a logo that isn't associated with rich people: You know what we mean.
What To Put For Your Captions
Download Capgenius. You're welcome.

What Your Favorite Kind Of Liquor Says About You
As we all know, what you order at the bar can say a lot about who you are as a person. Wine drinkers are classy, vodka soda people are probably counting calories, and if you order a Long Island Iced Tea you're def looking to hide from a troubled past. These are just like, the facts when it comes to cocktail preference, but what about the liquor that goes into those cocktails? We all know at least one WGG who won't shut the fuck up about whiskey, so obviously the liquor you choose to drink says a lot about your personality (in the case of the whiskey chick, that you're annoying AF). While you already know that the giant frozen marg you just ordered is signaling to all the world that you are extra, what does your home liquor cabinet say about you, other than that you're a low-key alcoholic who needs to have access to intoxicating beverages at all times. Sure, you can judge someone by their cocktail order, but why not take the judgment all the way to the liquor that goes into the cocktail—or more accurately, the liquor that is poured directly into your mouth via shot glass? Please enjoy responsibly.
Tequila
With Cinco de Mayo rapidly approaching, all the betches are going to be asking for tequila. It's versatile in the fact you can take it as a shot or put it in a margarita, and, well, that's pretty much it. Tequila is great for holidays, spring break, and nights you feel like blacking out and losing friendships. We've all been there. But if you're the girl who orders tequila on the regular, you're probably the biggest hot mess in your friend group who gives the least amount of shits about earning that title. There's a reason "Tequila Makes Her Clothes Fall Off" is a thing. Your friends might talk some shit about how they're "concerned for your health," but that's probably just because they're jealous AF that you can push all your inhibitions aside and have a good time. Even if it often ends with you waking up in a jail cell.

Vodka
Some might say you're basic for ordering the same type of shot since high school, but those people can go fuck themselves. As we previously mentioned, vodka sodas are the healthiest least terrible mixed drink you can order as far as calories go. And if taking vodka shots is your chosen way to pregame, it's probably because you're efficient and you know what gets the job done. You're looking to get the most amount of drunk while taking in the least amount of calories, and we respect the hell out of that. Ordering vodka doesn't make you basic, it makes you classic. Classic vs. basic is like the difference between Audrey Hepburn and the girl that only posts selfies with the puppy Snapchat filter.
Rum
Ordering rum on vacation is one thing, making it a habit is another. Let's face it, if you need your liquor to be super sweet just so you can choke it down, you're probably a little immature. It's like people who take their coffee with so much milk and sugar it looks like a hot chocolate. Not to say you have to order scotch to be taken seriously, but no one thinks the girl drinking straight Malibu at the party is about to graduate law school or become a CPA. Like, sure, I'll order a rum and coke so I can sing R. Kelly's "Ignition Remix" in my head while feeling like I'm giving myself diabetes, but that's a "It's summer and I just got a text back" thing, not an every day thing.

Whiskey
We've said it once, and we'll say it again—the girl ordering whiskey at the bar is 20 times more likely to say she prefers to hang out with guys because they're less drama. Like fuck off, seriously. You're trying to prove that you're tough enough to chill with the bros like a bro, but also DTF because, obviously, playing lawn darts for six hours was a ploy to make out with your partner. The exception to this rule, of course, is if you're from the South. Then it's perfectly acceptable to down Jack Daniels because it's part of your culture. I'm pretty sure they put that shit in baby bottles down there. Otherwise, you're just signaling to everyone that you're afraid of female friendships, desperate, and all these calories will go straight to your thighs.
Gin
We've all read that study by now that says a person who likes gin is probably a sociopath—it has something to do with people who like bitter flavors being crazy because bitter taste is a sign of poison in nature. Anyway, I'm not going to go as far as to say you're a total psycho, but choosing gin at the bar probably means you're a little insecure. You don't want to go for vodka because it will make you seem basic, yet anything else will make you seem like you don't care about calories. As Ron Swanson says, "Clear liquor is for rich women on diets." So, you, basically.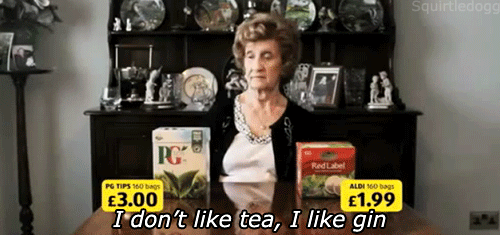 Scotch
The girl who orders scotch isn't actually a girl at all. She's a 70-year-old man who has somehow taken over the body of a young woman. Did you need a scotch to help bring out the flavor of your imported Cuban cigar? C'mon. Get out of my face with that shit. Scotch is only for people who have somehow severely damaged their tastebuds—I'm assuming in some freak World War II accident.
Bourbon
You're probably a bit of a hipster, because bourbon is the new craft beer. You heard it here first, folks. Similar to whiskey, you're probably trying a little to hard to seem casual if you have to order bourbon. Like, I get the appeal. Bourbon has to be made in Kentucky so it's a little more exclusive than plain old whiskey. Plus, if you're real fancy, you can claim that you can tell the difference between bourbon and whiskey, even though everyone around you knows you're full of shit. The Kentucky Derby is Saturday so if you don't know how to feel pretentious while getting wasted yet, Saturday is your chance to try it. Wait, Cinco de Mayo is Friday and The Derby is Saturday? Fuck. Prepare your liver!