What To Eat Before & After Your Workout To Maximize Benefits
Fueling your body before and after a workout is a key component in maximizing the effects of said workout. After all, who wants to work hard and see subpar results? Nobody. That's like, the whole opposite of the entire point. You already bought your cute workout clothes and dragged your ass to the gym, and (hopefully) actually like, tried to put in ~werk~ and didn't just half-ass it. But what you do at the gym isn't the only thing that factors into your weight loss or other fitness goals—what you eat before and after your workout can kind of make or break your efforts as well. What should you eat before your workout? Should you eat at all? And after your workout, what should you eat so your muscles can recover, but you don't undo all the progress you just made? These are the types of questions I get from my clients a lot. I'm going to help you break down what to eat before and after your workout so you can get the most benefits and not completely sabotage your efforts.
Pre-Workout Nutrition
Okay, so I generally fall into two camps here for pre-workout nutrition. If it is early in the morning, like a 5am-6am workout, I understand not eating pre-workout. What's more, if the workout consists of a morning jog or mainly endurance cardio (the treadmill, elliptical, Stair Master, etc.) it is totally fine to not eat before.
HOWEVER. If you're about to go lift weights or do HIIT training, a completely empty stomach could potentially make you dizzy and interfere with your ability to do as much as you want to in the gym (and also be dangerous). The reason for this is when you're running on completely empty, the body has already depleted its glycogen store (which is used for quick energy—it's a reason athletes carb-load prior to a game). This is where I am an advocate of waking up earlier (yeah, I know, I know) so you can actually try to eat something before.
Now, if you're an afternoon/evening gym rat, then I'm sincerely hoping you're not working out still fasted from the night before. A mix of protein and carbohydrates will give you the proper nutrition you need to work out. Stay away from anything with a lot of fat content, because fat takes longer to digest than carbohydrates and protein, so it'll kinda just sit there for a while and cause cramps while you work out. A good example of a pre-workout snack is a bowl of berries, a piece of toast, and two eggs. That's a pretty optimal meal anyway, but it's not too big to mess with you during the workout if you have to go right to the gym after eating.
What I find works best for me is having a proper meal about two hours before I workout. I'm a PM-er, so I workout later in the day after lunch. My lunch could be anything from lentil pasta arrabbiata and chicken breast to ground turkey salad. I give myself time to digest after, then I find I'm able to really go hard in the gym.
Also, it's pretty common sense, but fuel more for a more strenuous workout. So you're definitely going to want to eat more before a leg workout (larger muscle groups = more sweaty, more tiring—I have an article coming on this later) than for an arms/abs workout (smaller muscle groups).
Post-Workout Nutrition
The reason post-workout nutrition, to me, is more important than pre-workout nutrition is because the body requires replenishment after being depleted of energy. Now, amino acids (or protein) play a super key role here because you want the proteins to help your muscle fibers heal and kickstart your recovery process.
You don't really NEED to rush to get in your protein and carbs within 30 minutes after your workout, like many fitness gurus will tell you (this is what they call the "anabolic window"). You're definitely going to want to eat after, but honestly…I live in LA, that drive home from the gym could already take up the whole 30 minutes, honey. Trust me when I say those 30 minutes are not the end-all and be-all. You just want to make sure you're getting enough protein throughout the day; rushing to get it in right after a work out won't make much of a difference.
The best kind of post-workout nutrition should really be a full meal if you have the time for it. Anything with a complete protein source (chicken breast, fish, etc.) and complex carbohydrates (brown rice, pasta, beans are all good options) will help your body recover from the workout. If you're kind of in a time crunch, then a protein shake will do. Depending on how filling your shake is, you might need proper fuel as well.
Images: @dietstartstomorrow (2)/Instagram
Why Squats Won't Get You Your Dream Booty, And What To Do Instead
Squats have never been such a popular exercise as they are right now. Every where I look, men and women everywhere are taking up all the squat racks and Smith machines just squatting their lives away. There are booty building guides that have you doing sets after sets of nothing but squats. And still, after all my time in the gym, squats are some of the most incorrectly performed movements I've seen, setting people up for injury. And even after all those damn squats…I always hear people complaining about lack of results. So what TF gives?
Let's start off how I love to start off everything: with the basics, baby. The basis of the squat move is pushing your body away from the floor, extending up from the hip and knee joints. So, going from low to high. Sitting to standing. Sounds simple right? Like, Grandma Edna who is 80 can go from sitting to standing. Now add into that…
The range of motion of your ankle joint, making sure that your heels NEVER leave the ground (and I mean NEVER, even if you're doing a heel elevated squat where your heels are on propped on plates, your heels should not leave contact with the plates).
Focusing on pushing your hips back as far as they can go (this will ensure that the movement is firing your glutes and hamstrings as much as it fires the quadriceps).
Engaging your core as you lower AND as you rise.
Flexing and squeezing your glutes at the very top of the squat as you stand back up.

It's a lot to think about, guys, I know. When done correctly, squats are a fantastic movement for determining strength. I mean, it's the cornerstone movement of many Olympic lifts such as the snatch, cleans, and jerks for a reason. It is a super effective movement for developing strength and size in your lower body…just maybe not so much for your butt.
Studies have shown that the basic squat is actually activating much more of the quadriceps than the hamstrings and glutes, the areas we really want to target. It's no wonder that those who have only been squatting in hopes of butt gains aren't usually satisfied with the results. Please don't get me wrong, squats are GREAT, but for the purpose of booty gains, there are better options out there to help you achieve your goals more effectively.
Instead of squatting like a basic fitness commoner, a study in 2015 (and results I've seen IRL) have shown these movements to be more effective in gluteal activation during an EMG test: a single leg squat, a side step up, and hip thrust. I explain the correct way to do each of the moves below. If you're a beginner, don't add weights until you're comfortable with the movements of each exercise.
Single Leg Squat

You can use the assistance of a TRX rope to help you move through this exercise.
Standing on one leg, flex your other leg so that it is more parallel to the ground in front of you. This way it's not touching the floor, so you're not cheating yourself.
Push your hips back and begin to bend the standing knee like you're sitting in a chair behind you.
Pushing from your HEEL, slowly push yourself back to standing.
Side Step-Up

Stand right next to a bench or elevated step. The leg closest to the step will be the one working.
Stepping laterally, push up on the heels to lift yourself into standing position on the step.
Slowly lower, keeping your working leg on the bench.
Hip Thrust

Lying on your back, place your feet on the ground, knees bent.
Driving up from your heels (sense a pattern here?), lift your hips straight up into the air.
Engage your core to stabilize yourself and prevent OVER-extension of the lumbar (that's not doing you any favors, don't be extra).
Slowly lower your hips back down to the ground.
When it comes down to it, squats are a great exercise, they just aren't doing exactly what you want them to. No one likes to waste time at the gym, so it's all about figuring out which exercises are the most efficient in terms of meeting your goals. Try these other ones out, and you might finally get that Instagram-model ass you've been squatting toward for years!
Images: Giphy; Unity Intensity; Gfycat
The Ultimate Butt Lift Workout For People Who Can't Afford Injections
We're living in a society that convinces us to drink apple cider vinegar to get skinny and delete Snapchat because Kylie Jenner isn't feeling the new update. It's a weird time to be alive, so let's just pretend this whole perky butt fitness trend is normal. Everybody's trying to get that butt lift look, whether it's because your boyfriend stalks Kim Kardashian or you're deep down a #bootygainz Instagram rabbit hole. If you can't spend a million dollars on plastic surgery and you're looking to do something about your tragically flat butt, stop Googling weird hacks and just do this workout. Do each move in the circuit and try to aim for 3-4 rounds total. And like, you're welcome in advance if you can't sit down tomorrow.
1. Goblet Squats
Goblet squats sound scary, but they're just regular squats that you do while holding a kettlebell for added weight. You can also hold a dumbbell if you prefer. Stand holding a kettlebell at your chest (15-40 pounds) with the handle facing downward. Spread your legs to at least shoulder width, because the idea of this move is that it provides additional butt lift by shifting some of the work from your quads to your glutes. With your weight in your heels, squat down until your hips are at (or below) your knees, and remember to keep your chest and head up to avoid hurting your back. Pause for a second at the bottom, then come back up while squeezing your butt to activate your muscles. 10-12 reps should do it here, depending on the weight.

2. Cable Kickbacks
The cable machines might look intimidating if you usually stick to body weight or free weight movements, but I swear that it's so easy to use and you'll get the hang of it really fast. For cable kickbacks, you'll need to make sure the head of the cable is a foot or two above the ground. Once you have it at the right height, put your right leg into the hook and adjust your weight (anywhere from 10-20 pounds should work). Holding onto the cable pole or anything stable in front of you, kick your leg leg backwards, squeezing your butt at the top. Then, slowly bring the leg back to the ground and repeat, switching legs once you've completed 10-12 reps. Also, if you feel these in your lower back, try doing them on your hands and knees instead. You can still get similar butt lift benefits.

3. TRX Lunge To Knee Raise
These can be done without a TRX as well, but holding onto the straps gives you additional support and ensures you're isolating the glutes of the working leg. Holding onto the TRX strap, lunge backwards with one leg, bringing it to a 90 degree angle behind you. Then, bring the leg back up, raising your knee up until your waist, or higher if you're super flexible. The brilliant idea is that you're actually hitting two muscles at once by lunging back and then bringing the knee up. You'll get more out of these if you go a little slower, so reduce your reps to 6-8 if you find them especially challenging. And, of course, don't forget to do both legs.

4. Single Leg Bridges
Glute bridges are a classic butt lift exercise, and by raising one leg at a time, you can target your glute muscles even more by really focusing on each side. This also means that if both your butt cheeks aren't sore AF tomorrow, you were totally working harder on one side. Lying on a mat, keep your hands at your sides and your knees bent out in front of you. Then, extend one leg as you lift your butt off the ground, squeezing your glutes and lifting your hips toward the ceiling. Think about pushing down with your left heel as you lift. Do 10 reps on one leg and then switch to the other.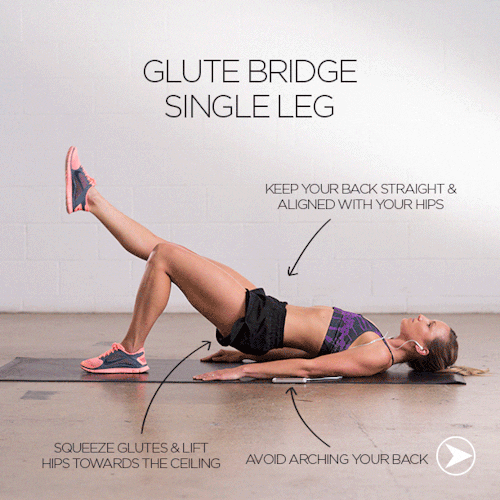 5. Jump Squats
Jump squats are a plyometric movement, so they're different than the slower reps you've been doing so far, but it's been scientifically proven that you'll get a better butt lift by combining high rep and low rep movements together in one workout. AKA, we're obviously doing these even though they suck. Jump squats are exactly what they sound like, and you won't need any weight for this move. Start in a bodyweight squat, keeping your chest high and your knees behind your ankles. Then, jump up explosively, straightening out your legs at the top, and landing back in your squat position. Your rep count doesn't matter as much here, so try to just keep jumping for 30 seconds without rest.

6. Wall Sit
This last move will cause you to feel a slow, painful burn in your thighs and butt, so this is your chance to blast that aggressive Kanye song you save for the final sprint. It's also the last exercise of the circuit, so don't give up until it's confirmed that you won't be able to walk tomorrow. The idea here is simple. You have to find a wall and sit in a squat with your back against the wall and your hands out in front of you. Make sure you're sitting low and don't cheat yourself here. Try to hold for 45 seconds, or go for the full minute if you're psychotic ambitious. For an extra super awesome fun bonus challenge, try extending one leg for 10 seconds before switching to the other one.

Images: Charlotte Winslow / Tumblr, Giphy (5),