ShopBop's Annual Fall Sale Has Arrived, And These Are The Pieces We Want
You know when you didn't even realize you wanted something until you see that it's on sale, then you must have it or you will burst into flames? Well, if you can relate, then you probably already know that aside from it being Ryan Gosling's birthday, today is also the first day of the Shopbop annual fall sale. Will I have 802 different Shopbop tabs open for three weeks straight? Probably, but you know what, when more than 5,000 just-added styles (I'm talkin' dresses for holiday parties, I'm talkin' boots of every heel height, I'm talkin' jewelry you can actually afford now) are finally up to 50% off, you better believe I'm spending the money I normally spend on rent on Shopbop. 
The best thing about the Shopbop annual fall sale, aside from the fact that it's happening at all, is that everything will stay on sale until it's gone. So, if those "The one thing you've always wanted in your closet, but could never afford is 50% off for exactly 31 hours!" kind of sales stress you the f*ck out, you should be experiencing some semblance of relief right now. But if you're feeling overwhelmed on the site because 50,000 pieces is 30,000 more than the amount of seats in Madison Square Garden, then allow me to guide you through the best of the best of the items on sale. You're welcome.
Shoes

Jeffrey Campbell Atone Bow Sandals, 60 $12-15
You might think it's too early to start thinking about sandals, especially because the temperatures outside hit below freezing today, but if you think about it, there's actually no better time than the dead of winter to start stocking up on your summer essentials. These Jeffrey Campbell sandals have cute bows and they come in two colors. Plus they are literally FIFTEEN DOLLARS! Hurry and put these in your cart ASAP.

Sam Edelman "Winona" Rain Booties, $90 $63
I have never owned a pair of rain boots, and my ruined Frye cowboy boots hate me for it. Look, hate on me all you want, but I think rain boots are cute on toddlers and toddlers only. They're also heavy af, so they're gonna be a no from me, dawg. However, I got these Sam Edelman rain booties and have to retract my earlier statement, because these are amazing. Unless you're looking at them up close, they just look like patent leather Western-inspired boots that happen to be waterproof. I've worn these with 501 jeans and an oversized sweater and have never been cozier. 

Schutz "Ionara Ankle Strap" Pumps, $180 $126
I am rarely wearing flat shoes, but there is a limit to how high my heels can go without me breaking an ankle. To me, three inches is the perfect height because they aren't kitten or CFM heels. They're the perfect balance between the two. They're also simple and can be worn with a pair of jeans and a white tee shirt or with a sparkly mini dress. They're also almost impossible to fall down in because the heel is pretty sturdy. Highly recommend for a betch seeking height. 

Diane von Furstenberg "Rhonda" Booties, $398 $199
At least one DVF item should be in every fashion-loving gal's closet because her stuff is amazing, and also because she herself is an icon. I mean, the woman basically invented wrap dresses and her hair is its own solar system. Anyway, as much as I love DVF, I simply do not have the kind of lifestyle that lets me blow $400 on shoes, but for $200, I can make some small sacrifices. These are great because they're high enough (three inches) to give you some some serious height, but not so high that you can't make it on your feet until the end of the day in them. Don't even get me started on the perfection of the color.
Accessories

DANNIJO "Fiji" Scrunchie, $45 $9
If I got a dollar for every hair tie I've lost, I'd have at least $2,000 to my name by now. The idea that someone would pay $45 for a f*cking scrunchie is truly insane to me, but to each her own, right? Scrunchies are making a comeback and I'm definitely down for it, so I would happily pay $9 for this cute metallic one that looks like it's tied in a bow. TBH if I wore it at the end of a long braid, I would look more like a founding father than this beautiful model does, but she's def selling it and I may actually buy it.

Kate Spade New York "Small Sunflower Stud" Earrings, $48 $33
Statement earrings are definitely having a moment right now. But just in case the moment eventually passes, you can get these cute earrings for only $33. Contrary to how massive they are, they aren't heavy at all. I wore them to an offsite meeting with a light wash chambray top tucked into dark wash skinny jeans and black heels and, I have to say, I felt like a J.Crew model… minus the part where I'm 5'10 or taller. Bottom line: they make enough of a statement without overpowering the rest of the outfit. You'll definitely get a "OMG I love your earrings!" at least twice.

For Love & Lemons "Roxy Inset Stone" Clips, $80 $64
Is it just me, or is everyone with hair wearing those oversized barrettes with pearls on them? Just me? Cool. Cool cool cool cool. Do I love the look? Yes, obviously, but I truly hate buying into a trend that I feel like literally everyone participates in. That's why I love these barrettes. They're the same idea as the pearl ones, just, you know, not pearls. The colors also have a sort of vintage feel to them, which is always a fun look to try. If I could get these in every color, you know I would! 

Lizzie Fortunato "Gala" Wristlet, $320 $224
Another reason that I love perusing giant sales like these is because I discovered designers I never would have found otherwise. Sorry, Instagram, I know that's like, your bread and butter, but y'all dropped the ball on this one. This is obviously not an everyday bag, but it is a personal belief of mine that, much like metallics, animal print is a neutral and should be worn as such. I would wear this bag with a black-dress-cool-coat combo on a Saturday night or to Sunday brunch with that pale pink J.Crew peacoat that literally three out of five women own. It's just big enough to fit the new iPhone 11 Pro, which, I'm sorry, is an iPad, but small enough to work as a microbag. Ya love to see it.
DRESSES

re:named "Aurora" Mini Dress, $68 $34
I'm a sucker for a fit-and-flare dress and floral prints, so obviously this dress ended up in my cart the second I saw it and ended up on my credit card the second I read the price. This shape is flattering on pretty much every body type, so you may as well just get it and be damn happy that you did. It's not aggressively pink, so if color scares you (hi, neighbor), you can mute the pink even more than the black does by pairing it with a pair of sheer tights and booties. Loving this already.

alice + olivia "Coley Crew Neck" Dress, $330 $221
Call me crazy, but the '60s are making a comeback, and shift dresses with colorful, bold prints are on my radar. Because it's freezing and will only get colder, I'd probably wear this dress over a black or white fitted sweater—maybe even a turtleneck, who knows? If you don't want to go full-on mod vibes, you could always wear the dress with a pair of sneakers or flats—as opposed to a pair of patent white platform knee-high boots and a pair of chandelier earrings. The bottom line is that this is giving me major Edie Sedgwick vibes, and I need it in my life now. This is definitely a special occasion dress that you probably couldn't get away with wearing every few weeks because people will definitely Kate Sanders you and publicly accuse you of being an outfit repeater. Honestly, whatever. At least the outfits I'm repeating are cute. 

Rhode "Ryan" Dress, $445 $333.75
Annnnnd I found my holiday party dress that I will shamelessly wear to more than one holiday party. Even though it looks a little shapeless, it's actually really flattering because it's so short. There's also a very subtle belt action happening at the waist if you want a little more definition. Lastly, generally a dress that's covered in the brand's logo isn't really my go-to look because #modestyiskey, but I will make an exception in this case because Rhode isn't a super recognizable logo. If it was, like, Chanel, that'd be a different story, but I think this is still a classic and elegant dress. I'd wear this with a pair of very simple pumps (because the dress is obviously a little loud) and a black clutch. 

LOVESHACKFANCY "Violet" Dress, $495 $371
This dress, which is mostly ruched save for the shoulders and hem, has a very retro feel to it. This is such a good look and can be dressed up or down. I'd wear it with flat black leather knee-high boots during the day and then change into a pair of silver heels at night. I mean, who doesn't love a multipurpose outfit, right? I also love this little number because you can wear it in the winter and in the summer, which, if you live in a city like New York, is saying a lot. Next!
TOPS

Z Supply "The Stripe" Shoulder Tee, $48 $19.20
If you work for a cool company that doesn't have a strict dress code, definitely get this top. It's the kind of thing you could wear on a date and say, "Oh, I just came from work" when your date says you look nice. I mean, technically, it's true. Also, this is the kind of thing someone who likes "dolled-up basics," as my grandmother calls them, because it's something you can wear different ways without looking like you're wearing the exact same outfit. Personally, I'd tuck this one into a pair of high-waisted cropped boyfriend jeans and wear it out with ballet flats. Then the next day, I'd rock it again but with a black flowy midi-length skirt and booties. Should I quit my writing job and become a stylist? LMK, but I feel like yes. 

Eberjey "Sadie Stripe Varsity" Top, $78 $39
Normally, I am personally offended when a T-shirt is more than $15, but this Eberjey one is the one exception because it's the softest thing I've ever felt. It literally feels like a kitten's ear. Yes, it's just a T-shirt, but it's also so much more than that. It's also cute, so you can also wear it in the company of your Netflix & Chill or whatever the youths are calling it these days. As the photo indicates, they come with a matching shorts, but if you don't care to look like you're about to saunter around Cape Cod while you binge Netflix alone, you could obviously just wear your college sweatpants or whatever else is conveniently already on the foot of your bed. These are the kinds of pajamas that I'd want to buy at Anthropologie, but would rather spend money on candles instead. So, all in all, I'm happy to buy it on sale here. 

ONE by DONNI "Tri Fleece" Pullover, $218 $87.20
This reminds me of that fuzzy Patagonia pullover that every single 16-year-old owned in 2010, except this one is way more of-the-moment, meaning it's not offensive to people's eyes. As you can see, two of the three colors are neutrals, so you can wear it with anything and, to be perfectly frank, I love it with the white jeans. Can we also talk about this insane deal? It's basically free! Thanks for the free pullover, ShopBop! For real, though, it's almost $200 off, so you know I'm adding it to my cart as I type these words. I also like that it's not aggressively bulky and can be worn as a sweater. 

WAYF "Vincent Intarsia" Sweater, $89 $62.30
Animal print is very in right now, and I'm not mad about it…unless it's, like, actual animal print. This sweater is cool because it's almost a turtleneck, but not quite. I also really appreciate a chunky sweater that's slightly cinched at the waist because, even though it's a big sweater, it's still flattering. Because this guy is a little looser, pair it with a pair of skinny jeans. That's all I've got to say about that!
Not to freak you out, but I had to replace at least one of these items on my list because I went back after writing it and realized it had already sold out. So if you like something, don't hesitate! You have my official permission to impulse buy.
Images: Brooke Cagle / Unsplash; ShopBop
Betches may receive a portion of revenue if you click a link and purchase a product or service. The links are independently placed and do not influence editorial content.
The 5 Types Of Shoes You Need For Fall
This season, instead of mindlessly buying another pair of $200 out-of-style riding boots, let's try something new. I mean, you don't slave over Excel at your miserable 9-5 just to spend your precious paycheck on some fugly fall boots, right? Look, I get it, shopping is hard (for some). And sure, you could easily just hit up Payless with Meemaw and get another pair of tacky-ass tall brown boots, but WHY?! You're better than that, which is why I'm here writing this article. I'm here to help you. I'm here to be a friend to you, and to take the frustration out of all your fall shoe shopping woes. So I give you the only five shoes you need for fall and exactly where to get them. 
1. Staple Black Boot
Just like every girl needs a staple LBD, every girl needs a staple black boot. It's a fall closet essential because it pairs well with legit everything. Plus, when you get home from day drinking, wasted from all those delish spiked ciders, attempting to get ready for the night to keep that weekend bender going, do you really want to use what few brain cells you have left for the day trying to figure out what shoe to wear with your dress? Didn't think so. Just make it easier on your poor blacked-out self and get yourself staple black fall boots.
2. Statement Sneaker
Whether you're into a chunky sneaker or not, statement sneakers are like, totally in this fall. They're a stylish shoe option that is also super comfortable. So like, if you're not on board, get on board. It's not every day we get a trend that's actually comfortable. You can get anything from a chunky white dad sneaker to this chic feminine version of Air Force Ones. Either way, you'll be happy you have them in your closet this fall.
3. Animal Print Boots
Stop being afraid of animal print and think of it as a new neutral. Sounds counterintuitive, I know, but trust me it is. An animal print can pretty much go with any outfit. It instantly takes your basic look to a much cooler level. Snake print in particular usually comes in neutral colors. So wear this animal print to totally elevate your otherwise boring AF turtleneck and jeans this season.
4. Thigh Highs
Hoes, rejoice! Thigh highs are yet again a fall essential, allowing you to wear your inappropriate leather skirt or way-too-short dress, even when it's cold outside. They're like, basically a godsend while waiting in line for those sh*tty bars you didn't even want to go to in the first place. Trust me, embrace this trend.


Chinese Laundry King Over The Knee Boot
5. Slouchy Boots
Pair with a skirt and tights, and you'll instantly look chic as hell. As the name would suggest, slouchy boots give that effortlessly stylish look we all crave. Warning, though: women 20 years your senior will feel the constant need to tell you about how they wore these boots "back in the day." But I guess that's a relatively small price to pay for looking sooo damn good.
So there you have it, no need to stress or make your fall shopping any harder than necessary. I'm going to give each and every one of you the benefit of the doubt, and assume that if you're intelligent enough to be reading this article, then you're smart enough to stop wasting your money on hideous things…like fugly boots. 
Images: Danny G / Unsplash; Net-A-Porter; Nike; Revolve; Steve Madden (2); Chinese Laundry; Free People
Betches may receive a portion of revenue if you click a link and purchase a product or service. The links are independently placed and do not influence editorial content.
6 Comfortable Fall Heels You'll Want To Wear Everywhere
I can't speak for the rest of the world since I'm basically isolated on an island in New York, but the weather this whole week has been like, complete and utter sh*t. Windy, cold, and well, very wet. I'm pretty sure Mother Nature was just giving us one last chance last week to wear all of our fave summer clothes and heels before she decided to drop temperatures down to 70s from here on out and like, bring in a hurricane. As usual, there is never any type of warning for this kind of insanity, so if you haven't done so already, be prepared to spend your evenings re-organizing your closet for fall apparel. Dig up your cargo green jacket, comfy black leggings, and Frye boots. Side note: Who the actual eff wears Uggs anymore? When you're sick of wearing riding boots, flats, and sneakers in the dreary fall weather, here are comfortable fall heels you can wear to the office and to the bars that won't have you walking like Bambi after an hour.
Hate them or love them, it doesn't really matter because they're very much a thing and the majority of the people in your office probably wear them. I'm talking, obviously, about mules. This shoe trend will carry into fall from this most recent summer, but with a classy, yet v comfy, heel. If you opt for a neutral shade or get a head start into one of fall's biggest trends, animal print, then you'll be wearing the most fashionable and comfortable fall heels on the market.

I mean, duh. Can it get any more obvious? Booties are life, fall or not. You'll want to cop a pair with a low heel (probs like, under three inches) in a sexy suede gray or taupe to go with any outfit you can possibly think of.

The sock boot and kitten heel obsession isn't going anywhere anytime soon. You'll actually see more of it all over your Insta feed and in the window displays of all your favorite stores before you know it. Red totally has fall written all over it, so when you combine trendy style with a bold color, you have a head-turning outfit that's bound to get you a million compliments and Insta likes if you document your spicy OOTD. You're welcome.

I have been really into Mary Jane pumps lately. No, not the lame ones that your baby cousin wears to kindergarten or some sh*t. This is the mature, yet sexy schoolgirl style that features a walkable block heel and chic ankle straps. They're v versatile, so you can throw them on with a casual pair of jeans or even a scandalous dress on a Saturday night. They're really the perfect comfortable fall heels.

Pedicures and open toe heels do not only have to come out in the summer. Transition the summer style into fall with a toasty brown color, warm suede material, and thick, block-heeled ankle boot.

These are about as basic as you can get, tbh. Like, so basic that these are pretty much the new Uggs. If you don't have a pair yet, I'm thoroughly concerned. It's an assumed rule to avoid social suicide that you just kind of have to get yourself an edgy, chic pair of pleather black ankle booties.

Photo: Jaclyn Moy / Unsplash; Lulus; Asos; Revolve; Saks Fifth Avenue Off Fifth; Frye; Urban Outfitters
Betches may receive a portion of revenue if you click a link and purchase a product or service. The links are independently placed and do not influence editorial content.
We're Obsessed With Chrissy Teigen's Collab With Revolve
Chrissy Teigen is our spirit animal IRL. I know no one ever says "spirit animal" anymore, but she's the most relatable, real af, down-to-earth queen woman who rarely ever gives a fuck on social media. So, literally all of us. She's fucking hilarious (RT @ChrissyTeigen), hella smart, has a family that's #goals, can cook better than we ever could, gives clothes away because she is just so nice, and even pissed Trump off enough to get blocked by him on Twitter. It's no surprise that we all aspire to be as betchy as her in every way possible. Not only does she have a bomb af makeup line, but now, we can channel our inner Chrissy in more ways than one. Chrissy's fab collab with Revolve just launched and naturally, I'm buying one of everything as we speak.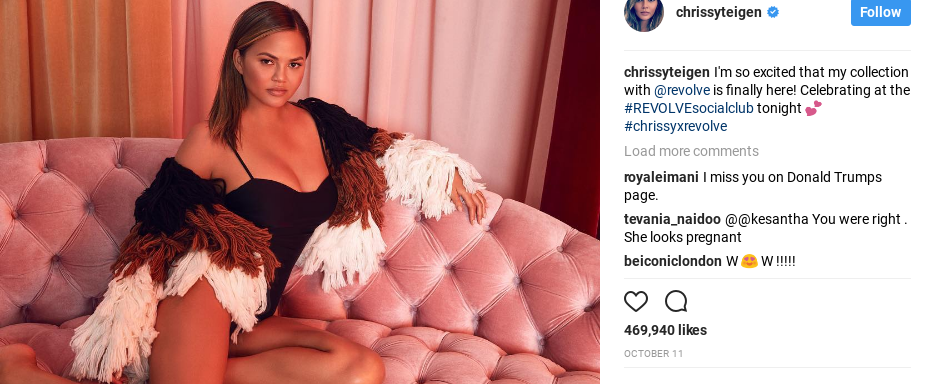 It's mostly in black, so clearly, she knows what's good. From little black dresses to to-die-for matcha pants to risqué tops that show off our "developing" abs, here are just a few of my faves (which doesn't even cut it because I love everything, tbh). I'm not even mad that I'm spending every last dime to my name, though. Peace. Love. Chrissy.

Chrissy's take on a LBD turns up the sex appeal by like, 10 notches on this little number. With cut-out sleeves, a deep neckline, and cinched waist to hide our bloat, the dress is perfect balance of slutty and classy. Those words are normally never in a sentence together, but Chrissy makes it fashion.

All I've seen on the street is everyone wearing these pants. At first, I was hesitant to buy such an item of clothing, but now I def see why everyone's obsessed. They're comfy as hell and still fashion-forward enough to wear to a low-key office (or maybe just my office, but I can't speak for everyone's profession here) and of course, out to happy hour. Plus, with a black pair, you can wear them with anything. Duh. Pair with sock boots, block-heeled booties, flats, or—fuck it. Any shoe looks just as good.

This is the next best thing to add to your closet after a LBD, because it's v versatile so you can wear it like, more than a once a week and still get away with it. Since you can pair this top with any bottom of your choice, you can elevate even the laziest look (sweatpants, anyone?) to appear as though you made an attempt at dressing yourself.

Bodysuits are such a necessity if you're striving to look both v stylish and skinny at the same time. They come in so many styles and colors, it's a wonder why we still own tops, honestly. That is, if we're willing to look past the whole peeing shenanigans. This black off the shoulder bodysuit is plunging enough without actually showing a nip, and is so ideal for all those times when the weather is simply bipolar.

These are the biggest shoe trend of the season, in case you haven't noticed every celeb or store as of late. I basically have a pair in every color at this point, because they make my legs look long af, and I can honestly walk forever in them. Not only are they comfortable AF, but I still get compliments every time I wear them… Even though I wear them on a weekly basis. Needless to say, these are 100% worth every cent, so I def 10/10 recommend you cop this pair ASAP.

It's Time To Throw Out Your Uggs & Replace Them With These Little Black Boots For Fall
The frequency of shitty weather, less sun, and lower temps is just another reminder that the inevitable is near—*dramatic sigh*—fall. Although betches love looking racially ambiguous with each passing day in the summer and day drinking until the end of time, fall is really when betches near and far rejoice and throw leaves in the air for a Boomerang to celebrate the socially acceptable time of year to display their inner basicness loud and proud. Lines for Starbucks will soon become unbearable and if you're careful awake, you may spot a pair of Uggs.
I mean, for god's sake, Bath & Body Works already dropped their fall collection last week. I know this because I may have bought several candles already, but that's besides the point. Stores have already begun pushing their summer collections to the back and bringing forth our basic bitch uniform: leggings, anything oversized, and little black boots. The little black boot is as necessary as a LBD or a fracket. Bible. While you're scoping out next season's buys, you're going to want to add all of these LBB to your cart A-fucking-SAP.
The Troopa style is a fan fave for a reason. This OG combat style can be worn with just about anything, from your aforementioned oversized sweater and leggings to a trendy skater dress. They slip right on so they're bound to be your new Uggs replacement. Take these to happy hour so you can stay both chic and comfortable AF. Plus, they're so durable, I'm not exaggerating (for once) when I say they can easily last through several hundred blackouts, aka years.

NGL, Doc Martens aren't for everyone and they sure as hell don't look good on everyone, either. But since they're a 90s gem they're naturally cool to wear again—if you can find the style that's right for you without looking like you have Ronald McDonald feet. This simple black pair is perf for a modern take on the average combat boot with their lug heel and famous durability. Despite the heel height, the thick heels will get you through hours of walking and dipping it low at the club without a single complaint from the balls of your feet.

Honestly, suede ankle boots are the best fall shoes to happen to me (after over-the-knee boots) because I can wear them everyday and still get an unreal amount of compliments on them. I like a confidence boost, sue me. Suede is one of fall's most overused essential materials, so you'll be starting off the most basic time of year on the right foot. These are v classy, yet versatile so you can make your co-workers jealous impress your co-workers with your shoe game and dress them up for an edgy look after work, too.

You heard it here first: Next season's big shoe trend is called the "sock boot". Not the boots Kim Kardashian wore that look like socks with a kitten heel, so calm down, I'm not that far behind. These are basically ankle boots that come up a little higher (like an ankle sock would, fucking duh) and are a bit tighter than other styles. So like, wearing socks + boots = these. Since street style queens Kendall and Gigi are making these a thing, these ankle boots have to be called something slightly different and absurd. Each heel is different but expect your Insta feed to be flooded with platform and kitten heel styles in the next few weeks.

The majority of your wardrobe is already as black as your soul, so instead of going for Taylor Momsen next fall, add a little bit of color with bright embroidery on your booties. Even if this is the only pop of color you wear with your black Lululemon leggings and black shirt, you'll still turn heads as you walk by. To dress them up, wear with a simple skirt or your fave cropped pants.

On the days you feel like kicking people in the face with your sharpest heels—okay, nvm. Let me start over because that would be like, everyday. Let's go with on every Monday you hate someone who breathes your air, these studded booties are your go-to to channel your inner Satan and don't-fuck-with-me attitude. Wear these to the office or even with the lamest of outfits to make a v savage statement to anyone who dares to even look at you the wrong way.