Regina George's 10 Most Iconic Quotes In Honor Of Rachel McAdams' Birthday
It's been 13 years since Rachel McAdams blessed us with Regina George, and while she may have moved on to Oscar-winning movies and a season of True Detective that never should have happened, we are still upset that she isn't married to Ryan Gosling IRL obsessed with her role as the most iconic member of Mean Girls.
So in honor of McAdams' 38th birthday (she looks better at 39 than you ever will, get over it) let's remember all the times that Regina George said exactly what she wanted to say when she wanted to say it and was literally us without a filter. One day I hope I am as brave as Regina—and that I'll just order cheese fries if I want some fucking cheese fries.
1. When you remember that Donald Trump is President AND Peter isn't Bachelor

2. When your Grandma gives you clothes for Christmas

3. When your Bumble date texts you the next day

4. When you think you might have a gluten allergy

5. When your girl refuses to get blackout with you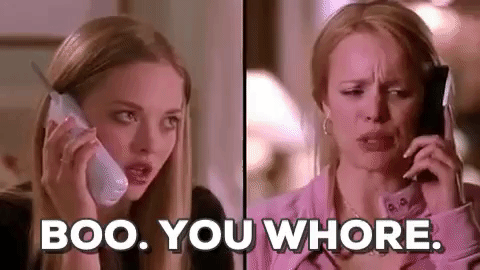 6. When your Lyft is arriving in 1 minute and your friends go to the bathroom

7. When you eat pizza for dinner

8. When your mom gives you wise, thoughtful, and reasonable advice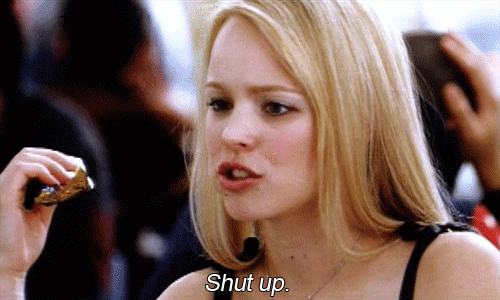 9. When everyone at group dinner orders a salad

10. When your friend says she's trying to save money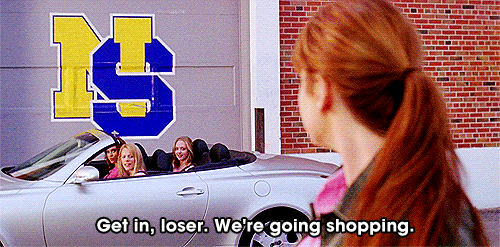 Happy Birthday Rachel—you're a true queen.

Our Best-Selling 'I'm A Mouse Duh' Halloween Costume Is Back & Introducing 'Boo You Whore'
Jambo! If you're reading this, you're like me a procrastinator and haven't even planned out what you're having for lunch, let alone your Halloween costume. It's just like, way too much effort. But you'd never pass up an opportunity to get shit faced, and you know that being that girl who shows up to the bar in no costume, looking like a frigid bitch, is social suicide. So you need a quick and easy costume that requires little to no energy expenditure on your part. Oh, and it's got to be slutty. Since we all know, Halloween is the one time of year when girls can dress like a total slut and no other girls can say anything about it. So that's why on this momentous October 3rd, we're brining back our best-selling I'm A Mouse Duh Halloween costume!

This oversize T-shirt dress is super soft and comfy and it's 100% cotton. Oh, and it's black. Wear it with tights and knee-high boots for a really slutty sexy look, or over leggings if you're like, practical and stuff. These sold out last year, and for good reason. Run, don't walk, to shopbetches.com to get yours now!
BUT WAIT, THERE'S MORE. If you don't want to repeat costumes or like, your friend already has the I'm A Mouse Duh shirt, we got you. This year we're introducing a BRAND NEW costume, Boo You Whore.

You: OMG Betches, you're fucking geniuses!
Us: I know, right?

Just like the I'm A Mouse Duh costume, Boo You Whore is a 100% cotton oversize T-shirt dress. Again, super soft, super comfy, you'll basically live in this shit.
Again, go buy it now because it WILL sell out. And also because Halloween is like, not that far away. Just saying, you can't afford to procrastinate that much longer.
Click here to shop our Halloween costumes!