This $36 SKIMS Bodysuit Lookalike Is All Over My FYP
Betches may receive a portion of revenue if you click a link and purchase a product or service. The links are independently placed and do not influence editorial content.
It feels like everything a Kardashian touches goes viral, right? At least that's the case when anything drops from SKIMS. Every single drop from Kim K's shapewear-turned-RTW brand is quick to sell out. Whether it be a new bra range, swimwear, loungewear, or sculpting undies, it's gone fast.
Take the SKIMS Sculpting Thong Bodysuit for example. Thanks to the power of TikTok, it's rare to see this shapewear one-piece in stock in every size and color (one or the other is typically gone). But, why? Well, outside of the Kardashian touch, it really does help keep you snatched, no matter your size or body type. SKIMS has always made sure to be super inclusive by providing neutral hues that work for every skin tone, and sizing that ranges from XXS-5X.
So, once everyone realized they can get their hands on this smoothing and contouring bodysuit, it flew out of stock on the SKIMS site and at all of their retail partners points of purchase. But, don't worry, TikTokers and avid shoppers found the perfect lookalike to get you covered until a restock is in order. Behold: the Shaperx Seamless Sculpting Thong Bodysuit.
Just like the SKIMS option, this one is size-inclusive and went viral thanks to fashion content creator, Leah Ryder's, review.
It also runs from a size extra-extra small to a 5X, and comes in three different colors—black, beige, and umber. The bodysuit's seamless material makes it practically invisible underneath your clothes, because who has time for panty lines, truly? And you don't have to worry about sitting in an uncomfortable bra that squeezes your underarms and boobs because it's non-compressive for all cup sizes. Yes, all cup sizes.
But, unlike the SKIMS one, it has an open gusset for easy access a.k.a. you don't have to take it off to pee (let's just be real!). Snap closures can be a nightmare to get on and off, so knowing that you can simply slip into this one earns some brownie points. And, while it's technically shapewear, people have no shame wearing it as an actual bodysuit—you know visible as a top, instead of wearing it under a top.
And if you're not into the whole thong thing, don't worry about it. This bodysuit is also available with a brief bottom for full-coverage. There's also a sculpting shorts version if you want your thighs to get in on the shapewear action as well. All have the same seamless and buttery-soft fabric to smooth out and complement your figure.
So, if you've been dying to get your hands on the SKIMS version but have been unsuccessful, give this Amazon option a go instead. It's just as effective, and nearly half the price. Snatched waistlines for everyone!

Shop It: Shaperx Seamless Sculpting Thong Bodysuit, $35.99, Amazon
We're Obsessed With Chrissy Teigen's Collab With Revolve
Chrissy Teigen is our spirit animal IRL. I know no one ever says "spirit animal" anymore, but she's the most relatable, real af, down-to-earth queen woman who rarely ever gives a fuck on social media. So, literally all of us. She's fucking hilarious (RT @ChrissyTeigen), hella smart, has a family that's #goals, can cook better than we ever could, gives clothes away because she is just so nice, and even pissed Trump off enough to get blocked by him on Twitter. It's no surprise that we all aspire to be as betchy as her in every way possible. Not only does she have a bomb af makeup line, but now, we can channel our inner Chrissy in more ways than one. Chrissy's fab collab with Revolve just launched and naturally, I'm buying one of everything as we speak.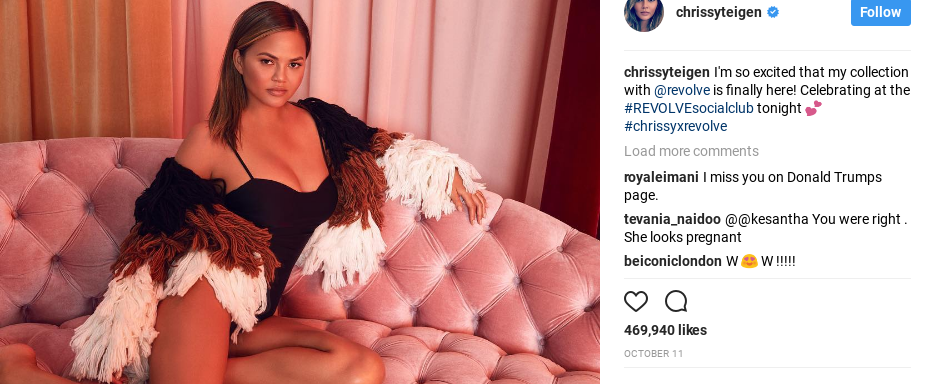 It's mostly in black, so clearly, she knows what's good. From little black dresses to to-die-for matcha pants to risqué tops that show off our "developing" abs, here are just a few of my faves (which doesn't even cut it because I love everything, tbh). I'm not even mad that I'm spending every last dime to my name, though. Peace. Love. Chrissy.

Chrissy's take on a LBD turns up the sex appeal by like, 10 notches on this little number. With cut-out sleeves, a deep neckline, and cinched waist to hide our bloat, the dress is perfect balance of slutty and classy. Those words are normally never in a sentence together, but Chrissy makes it fashion.

All I've seen on the street is everyone wearing these pants. At first, I was hesitant to buy such an item of clothing, but now I def see why everyone's obsessed. They're comfy as hell and still fashion-forward enough to wear to a low-key office (or maybe just my office, but I can't speak for everyone's profession here) and of course, out to happy hour. Plus, with a black pair, you can wear them with anything. Duh. Pair with sock boots, block-heeled booties, flats, or—fuck it. Any shoe looks just as good.

This is the next best thing to add to your closet after a LBD, because it's v versatile so you can wear it like, more than a once a week and still get away with it. Since you can pair this top with any bottom of your choice, you can elevate even the laziest look (sweatpants, anyone?) to appear as though you made an attempt at dressing yourself.

Bodysuits are such a necessity if you're striving to look both v stylish and skinny at the same time. They come in so many styles and colors, it's a wonder why we still own tops, honestly. That is, if we're willing to look past the whole peeing shenanigans. This black off the shoulder bodysuit is plunging enough without actually showing a nip, and is so ideal for all those times when the weather is simply bipolar.

These are the biggest shoe trend of the season, in case you haven't noticed every celeb or store as of late. I basically have a pair in every color at this point, because they make my legs look long af, and I can honestly walk forever in them. Not only are they comfortable AF, but I still get compliments every time I wear them… Even though I wear them on a weekly basis. Needless to say, these are 100% worth every cent, so I def 10/10 recommend you cop this pair ASAP.

White Pieces You Need To Wear Before Labor Day
White is summer's official color for many reasons: one being that I said so, and two, because it's bright, crisp, and refreshing for hot weather. If worn correctly, it doesn't necessarily always make you look fat, I swear. Wearing white kind of fools everyone into thinking you are classy, possibly as smart as a doctor, and bold AF because wearing white is like, taking a major social risk. If you plan on wearing white pants and drinking anything that isn't clear, good fucking luck not making it look like you peed or got your period at the worst time possible. And if you wear them while riding the crimson wave, you must honestly be Beyoncé. Since we're already halfway through the summer (sorry for bringing it up), you might as well wear white while you can before the temperature drops and your wardrobe morphs into all black everything. How fitting. These sleek AF white pieces are worthy of outfit repeating before we all get depressed that summer's over so like, get them now.

I'm not even kidding when I say I wear my white bodysuit more times than I can count, and each time, I still get an overwhelming amount of likes that really boost my self-confidence. This really fucking cute bodysuit features an off-the-shoulder fit (an obvious summer fashion staple) and bell sleeves for an effortless touch. You can wear it with your fave mini skirt or dark high waisted jeans to bring out your fresh tan.

I wish I could tell you that wearing a LWD makes you somewhat more innocent and sweeter but all it will do is make you look like such at a family BBQ, and appear slightly more tan than you really are in all of your Instas. Regardless, owning a white dress is as essential as your LBD for tropical vacays and summer nights out on the town.

Anything that I can get the most out of is a winner in my book. Although wearing white pants is most likely not your first choice, a perfect pair such as these are ideal for days you want to shop until you can't hold any more bags, or for when you strive to be the most fashionable employee in your office. Pair with pumps and a striped bardot top, and you won't regret wearing white pants again.

Similar to white pants, a classy white skirt is really underrated. With the right block heels, your legs will look as long and tan as ever so maybe you'll be mistaken for some low-key model. This secret skort (because middle school is fashion) laces up the side while hugging your waist for the skinny illusion you've been dying to have for the past month.

The best kind of purchases are when you get 2-in-1, fucking obviously. This white cork-accented crossbody reminds me of all that is good in life—summer, simplicity, and rosé that I need stat. Make this your new going out bag for taking only the important shit you need. White goes with just about any color so if you need to throw this in something a little bigger, take off the straps and there you go. A brand new wallet, too.

The limit does not exist for the number of pairs of block heels you can own. Having a bedazzled crisp white pair is a must-have this season. You can strut these to all of the weddings you don't have a date for yet, or just wear with your fave jeans and comfiest T-shirt for running errands. This way, everyone knows you still look hot when grocery shopping at Whole Foods.
5 Heinous Items Of Clothing You Need To Get Rid Of During Spring Cleaning
Spring cleaning is the one time a year you're allowed to put your shit in garbage bags without looking as trashy as Angelina moving into the Jersey Shore house. In fact, I'd even go as far to say that you're not just allowed to do it, but encouraged. Especially if you have any of these things hanging out in your closet. Here are a few heinous items you should purge from your wardrobe during spring cleaning and what to replace them with instead.
1. Anything With Mesh Paneling
We live in an advanced society where there are approximately three billion ways to make your boobs look good, so there's no reason to keep anything with poorly designed mesh paneling for cleavage-related purposes. You should have left that bodycon with a mesh v-neck on the floor of that frat guy's room in 2013, so there's really no excuse to still be holding onto it now.

Go all out and replace it with something that's mesh all over, like a full mesh bodysuit.

2. Ugly Cotton Maxi Skirts
There is literally not one flattering thing about a cheap cotton maxi skirt, yet every Saturday night, girls in clubs across America are raising their vodka crans, trying to make it happen. Like, congratulations. You've found a way to expose both kneecaps in something floor length. Throw it out.

However, a maxi skirt done properly can still give you total a total Jessa Johansson "I just bathed in the stream and then I ran through the field to dry off" vibe.

A long wrap skirt is such a step up. Just do not wear this to the club—that should be obvious but in times like these, I've got to take every precaution.
3. Caged Necklines
I'm not even throwing shade here, but I'm actually pretty certain that caged necklines were designed for flat-chested betches because they're the only ones who can pull this off. However, this look is awful, so they shouldn't even bother.

If you're a betch with a B cup or lower, you can rock anything with a high neck and look amazing. Swap your creepy caged neckline out for literally any other high-neck bodycon.

Pretty Little Things Aniqah white high neck split detail bodycon dress
4. Dumb Bodysuits Like This One
I guess there's nothing like, offensively wrong about wearing one of these, they've just kind of run their course. It's kind of like how college couples always break up during the beginning of senior year. It's not necessarily the worst thing ever, but it's time to see what's out there while you're still hot enough to pull of a bodysuit.

This off-the-shoulder bodysuit is probably going to be the basic betch's go-to top when invited to drink on a week night at the last minute.

Missguided petite scuba bardot bodysuit
5. Crop Tops With Weird Cutouts
"Damn, look at that one inch of exposed skin on that girl's torso," said nobody, ever. Crop tops with weird cutouts are pointless.

If you feel that you like, absolutely need an additional tiny strip of fabric on your crop top, at least go with something that has a tie or some sort of purpose. (And now I have Justin Bieber singing "Purpose" stuck in my head, which I'm so not mad about.)

​