The Kardashians Finally Showed Their True Selves, And It's Not Pretty
If you've been following pop culture for the past decade, you likely know by now that no one controls their images more closely than the Kardashians. There's a reason the common saying exists: "The devil works hard, but Kris Jenner works harder." The momager, by her own account—as documented in her "mem-wah"—runs a tight ship.
Before I continue: What's most important to understand in the context of the Kardashians is that they are, first and foremost, a brand. A mega-brand, at that. And, like with any brand, image is everything, and must be upheld at all costs. Because if your brand suffers a PR fallout or an image crisis, the revenue consequences can be disastrous. (Just ask Victoria's Secret.)
That's why Khloé Kardashian's recent blunder should be the family's worst nightmare. 
Not because the unedited, unfiltered photo of the third-oldest Kardashian leaked in the first place. She looks great—many Twitter users, in fact, said it was the best photo of her they've seen in years. (I just sincerely hope MJ is in a safe place right now.) 
No, the blunder is that their reaction to the photo was so incredibly toxic and so obviously embarrassing, and deserves widespread ridicule—as well as a serious reflection on our part regarding to whom we give our attention and money. 
As many people know by now, Khloé allegedly had her lawyers and even reportedly her sister Kim (!) reach out personally to Reddit and Twitter users who posted the photo—and tweets left and right were swept off the Internet faster than you can say "bible." (Which is especially troubling when you consider the platform consistently lets off Nazis and death threat-spewing users scot-free.) 
If Khloé and Ko. weren't familiar with the Streisand Effect before—an Internet-age social phenomenon in which the act of suppressing information actually further draws attention to it—they certainly are now. The photo went viral, and Khloé released a statement decrying society's bullying and impossible beauty standards, and how they have impacted her over the years. And that's completely fair. I totally have empathy for her there. Getting called "the fat sister" by the media for years isn't a fate I'd wish on anyone. 
But she lost me when she acted like she's a victim of society's beauty standards in 2021 when she and her family are major perpetrators of the problem. It's been more than a decade since the Kardashians came onto the scene as just a regular, albeit rich and connected, relatable family (rather than the fully formed brand they are today). Hundreds of millions of followers later, and with impossibly small, photoshopped waists and surgically enhanced behinds attributed to "hard work and exercise" (rather than the work of very talented LA-based plastic surgeons, or at the very least, personal trainers), the Kardashians have, for years, wielded a staggering amount of power over women's self-esteem, and society's beauty standards as a whole. Who do you think started the signature "Instagram face,"aka an oversize pout, button nose, and fox-like eyes? This, all while selling women products that capitalize on their specifically feminine insecurities—whether it's body makeup, or contouring kits, or slimming shapewear. (Jameela Jamil was onto something when she dubbed the Kardashians "double agents for the patriarchy.")
Like it or not, Kim, Kourtney, Khloé, Kendall, and Kylie brandish massive influence, and have, in a way, become "the standard" that women everywhere have emulated in the looks department—a standard that, to be clear, has been largely appropriated from women of color, from their signature features, to their style choices.
And if even the Kardashians—with their plastic surgery and trainers and personal chefs—are so miserable with their own appearances that they'll sue over an unfiltered photo, what hope do the rest of us have? Why should any of us feel comfortable with our naked, unfiltered, unedited bodies if even a Kardashian can't feel happy with hers?
What a message to send. 
To me, the act of threatening legal action and having Twitter users' accounts suspended for 12+ hours simply for posting an "unflattering" photo is self-hatred at its most distilled. (And it's especially ironic when you remember that Khloé runs a brand, according to its website, on a platform of body acceptance.) 
It didn't end there, though: After the photo went viral, Khloé took to Instagram Live to show off her toned body, from a distance, in a dimly lit room. As if she had something to prove. As if she was saying, "I don't look like THAT. There's something inherently wrong with looking like that, and I need to prove to you that I don't."
In one fell swoop, the Kardashians alienated women everywhere and showed themselves for who they really are: self-hating, fatphobic hypocrites. And while that might sound harsh, they are a brand, after all. And as far as I'm concerned, Kris Jenner and her krew need to rapidly evolve with today's times before their brand gets left behind in the 2010s, just like Victoria's Secret.
Images: Jamie McCarthy/WireImage
Facetune Is Ruining Our Mental Health—Here's What We Can Do About It
How many Photoshopped pictures have you come across today? One? Two? 15 Kardashian posts in a row? It's almost impossible to tell, considering the ease with which Facetune and other editing apps allow us to doctor ourselves. Unless, of course, you have a Photoshop wizard on retainer who will call that sh*t out in a regular column. But assuming you don't (since apparently most celebrities don't either), believe us when we say, photo manipulation is everywhere.
It doesn't take an expert to tell you that constantly staring at doctored photos of beautiful people will eventually take a toll on your mental health, but we checked in with one just to be safe. Earlier this week, I had the pleasure of speaking to clinical psychologist Dr. Jenny Taitz, author of How to Be Single and Happy and End Emotional Eating. We discussed the psychological effects of editing apps like Facetune, and what near-constant exposure to them will do to us. Spoiler alert: it's not good.
The rampant use of Facetune on social media has fed into an increase of eating disorders and other maladaptive behaviors in young women across the country, and it's not hard to see why. "They're comparing themselves to fitness models and influencers who spend hours with makeup and Photoshop and stylists," Dr. Taitz explains. It's an unrealistic sample population, one that we expose ourselves to on a daily basis. To use an analogy, Dr. Taitz says, "If your social network was the top 1% of wealth you would feel poor, even if you were in the top 10%."
Dr. Taitz is a proponent of "radical acceptance," which is the idea of being totally and completely open to what is, as it is in this very moment, and accepting it at face value. Sounds like a given, but it's a lot harder than it seems. For example, she advises, "Instead of judging your thighs that you deem problematic, you make space for them and maybe appreciate that your legs got you to work today."

Once you get to the point where you can be happy with the here and now, the next step of radical acceptance is living a life focused on values. Dr. Taitz believes that how you show up in the world and what you want to be known for are more important than your outward appearance. Revolutionary, right? I shouldn't need someone who went to school for twice as long as I did to tell me that we have worth beyond our outward appearance. And yet there I was, blown away by not only the incredibly soothing tone with which Dr. Taitz explained this seemingly obvious notion, but also by the fact that she needs to say it at all. Turns out there's a reason for that.
"Snap judgments are based on emotion," she goes on to tell me. "You're just glancing at a picture and making a snap judgment without realizing it." The innate behavior to rely on our emotions for quick decision making without taking the time to truly analyze the situation was a super useful tactic when we were Neanderthals trying to survive in the wild. But now that we spend our days glued to feeds full of beautiful people that we can't help but compare ourselves to, it's less helpful and more entirely destructive to our psyche.
"These apps make you think there's something wrong with your life that you need to fix," says Dr. Taitz. And how could they not? After staring at picture after picture of celebrities and influencers—who are already otherworldly beautiful in their own right—edited to a point of absolute unattainability, it's hard to not try and measure up to them.
"A helpful intervention used in eating disorder or body image dissatisfaction treatment is to compare yourself to every third person you see," recommends Dr. Taitz. We'll momentarily ignore the fact that editing apps and Instagram are having the same effect as eating disorders and dive into this tactic. Your Instagram feed is a highly curated collection of images of beautiful people doing beautiful things in beautiful places that you've never been to. It's as fake and overly produced as The Bachelor, but that's easy to forget when it's the only thing you see day after day.
So instead of comparing yourself to one of the thousands of fitness influencers in Mykonos this summer, try looking at every third person you see on the street. Those are real people. Ideally you'd get to the point where you don't have to compare yourself to anyone at all, but let's start with some baby steps.
Dr. Taitz also encourages her patients to try a social media detox, whatever that may mean for you. If you can't go cold turkey, try setting usage hours, or even days to move yourself in the right direction.
What it comes down to is this: the rampant usage of Photoshop-type apps on Instagram isn't just affecting how we feel ourselves—it's tarnishing our quality of life. More people are pursuing elective surgeries than ever before, and while that's totally their right, let's not pretend that it's an isolated event. One of Dr. Taitz's concerns, and something that should be all of our concern, is that "life is becoming a beauty pageant 24/7 rather than a triumph of character."
Beautiful people have always existed, and they've always hung out with other beautiful people and done cool things together. But we haven't always been able to see it—and now we're getting to the point where we can't escape it, even if we wanted to. It's really difficult to feel grateful for your own life when you're busy comparing it to Kylie Jenner's.
So how do we even begin to reverse what already seems to be ever-present? Acceptance. Accept yourself. Accept the here and now. Accept that by abstaining from social media you may not always be in the know. But most importantly, don't accept anything that uses your appearance to dictate your value.
Images: Spencer Davis / Unsplash; Giphy; bellathorne / Instagram
How 'Shrill' Forced Me To Confront My Own Fat-Shaming
Before I give you my thoughts on Shrill, here's a little context. The first time I sat on a guy's lap, he jerked back and pushed me off. "How much do you weigh?" he demanded, rubbing his legs in pain. I was 13 years old, standing in the aisle of a school bus filled with my 7th grade classmates. Over a decade later, I barely remember the guy—but his comment, I remember. The same way I remember, later that year, comments under pictures of me on my cousin's Myspace: "Who's your fat friend?" Or in 4th grade, when another girl and I broke our ankles at the same time and had to be carried down a flight of stairs. "Looks like I got the light one," a teacher joked, picking up the other girl.
If you haven't yet watched Shrill, the new Hulu show starring SNL's Aidy Bryant, I highly recommend it. (I also recommend tuning out of this article, because duh—spoilers.) Shrill, in six too-short episodes, tells the story of Annie (Aidy Bryant), a fat woman who finds herself taking far too much sh*t from her mother, her boss, and her f*ck buddy-slash-boyfriend. While Annie's struggles are not solely derived from her size, Shrill emphasizes the harmful assumptions made about fat people (namely, that their size is a result of being lazy, or lacking willpower), and how licensed people feel to treat Annie differently because of it. From well-meaning "concern" expressed by strangers to her boss telling her to her face that she doesn't "take care of" herself, the sheer fact of walking around as a woman of Annie's size translates to an onslaught of uninformed, unsolicited opinions about her character.
All this is to say: though I have not, in my adult life, been overweight, I expected to relate to Annie while watching this show. From my own memories of middle school fat-shaming, I was ready to raise a glass in solidarity and share in Annie's triumph as she gained the courage to issue a massive f*ck you to her haters. But while I did find the show highly relatable, it wasn't, ultimately, Annie's struggle in which I saw myself. Instead, I felt my stomach sink every time a passive-aggressive barb was thrown out against her—and I heard it clearly in my own voice.
To fill you in on the decade between being cyber-bullied on Myspace and now: just before high school, I lost about 25 pounds and grew three inches. (Don't hate me; it was the last time I lost weight effortlessly in my life, I promise.) From that moment on, likely because of how I'd been treated when I was bigger, I have been obsessed with getting, and staying, thin. From 8th grade on, no diet was off-limits—from South Beach in 2009 to keto about six months ago. (Am I crazy BTW, or are those diets basically the same?) All that dieting was successful, depending on how you define it. While I'm perpetually in a state of wanting to lose "the last" 5-10 pounds, I am by no means overweight. And importantly, my body allows me to suffer none of the public shaming and discrimination that Annie receives every day.
So, let's take Annie being accosted in a coffee shop by a personal trainer, who grabs her (apparently, tiny) wrist and says earnestly: "There is a small person inside of you dying to get out." Watching that scene, I had no idea what it was like to be Annie. I did, though, have years of memories of grabbing my own wrists and admiring their smallness, of looking in disgust at the rest of my arm and hating myself for the way it (in my mind) ballooned outward. When Annie's mom tells her, "you always feel better when you exercise, I can tell," I hear the same lie I tell people about going to the gym. Sure, it makes me feel better—but only, I'm pretty sure, because I know it's helping me lose weight.
I came into Shrill thinking it would be a feel-good empowering romp, with twinges of painful memories from my past. I was mostly right (it felt great! and super empowering!), but the twinges of guilt I feel are from how I think about my body right now. I hope that my constant desire to be smaller doesn't spill out in how I treat other people—but I can't imagine that it doesn't. If I hate myself for struggling to zip up a pair of size 27 jeans, how would I not judge someone who wears jeans that are two, four, or ten sizes larger? When I look around in envy at the tiny women NYC is riddled with, have I been kidding myself that I'm not, also, looking at fat people with pity? How many people, beyond myself, have I actually been harming with the constant internal monologue of self-directed fat-shaming?
I won't say that Shrill cured me of these habits. Midway through writing this article, actually, I stopped to measure myself to decide which size pants to reference (every company is different, y'all know this). Then I measured myself again—and three times after that, with different tools, because I wasn't happy about the number I was getting. This can't be right, I thought, furiously switching out a charging cable for a piece of ribbon to wrap around my waist. Never mind that reading a different number off my tape measure has exactly zero effect on my actual body. My negative body image, clearly, is still in effect—but Shrill is the first show I've seen in a long time that made me want to do something about it.
If I can recognize how sh*tty people's treatment of Annie is, I reason, I should be able to apply that same logic to myself. And hopefully, if we can all be a little kinder to ourselves in private, we can be kinder to others in public too. I'm grateful that Shrill brought my fat-shaming into clearer view, but the most pressing issue the show elucidates is our policing and shaming of fat people for simply living their lives near us. And whatever personal struggles you may or may not be dealing with, that kind of bullying on a societal level has got to stop.
Images: Hulu Press; @aidybryant, @dietstartstomorrow/Instagram 
4 Things To Stop Feeling Guilty About In 2019
2018 was a year of many revelations. (Yes, saying "revelations" instead of "realizing stuff" makes me the intellectual Kylie Jenner.) It was a rapid-fire year of watching our favorite celebs make engagements, break engagements, have babies, and get cheated on by f*ckboys. (What I like to call "the big four.") In between worrying that these celebs are growing up too fast and worrying I'm not growing up fast enough, I realized I was forgetting one important thing. (No, not refilling my anxiety medication. Good one though.) I realized I was spending so much time judging and measuring everyone else's process in life and feeling guilty about my own that I could barely remember what I actually wanted. All I knew was what I thought it should look like.
So, in the spirit of slowing down, letting go, and re-focusing on getting happy from the inside out, here are four things to stop giving yourself (and other people!) sh*t for in 2019.
Feeling Only Okay About Your Job
One of the more toxic elements of Instagram is that everyone on there (everyone successful anyway) seems to be a fully self-made entrepreneur who lives their best life every day, is grateful for every morning, and answers only to themselves. While that obviously sounds delightful, you have to keep in mind that you have no idea how those people got there, and how truthful they're even being about the joy they find in their careers. Similarly, the friends you compare yourself to and feel like sh*t about—whether they're pursuing creative goals or just pulling in a fat paycheck—all likely have their own unique doubts, fears, and misgivings about their jobs. That's the nature of work, and the nature of life in general.
So, am I saying you should stay at your sh*tty desk job forever, because everyone's probably unhappy about something? Try again, b*tch! If you hate your job, or even just don't love it, you can absolutely add "get a new job" to your 2019 resolutions, and go after that mother*cker. But please stop beating yourself up because you haven't yet landed the perfect gig, or even figured out what exactly that would look like. (Although if this describes you, you should definitely give When's Happy Hour a read.)
And here's a secret no one on Instagram will tell you. It's okay to not be totally obsessed with your job. It's okay to want a life that isn't only about the hustle/grind/whatever people are calling their 24/7 jobs these days. You do not have to wake up on Monday mornings eager to "get that bread" if you are happier working a moderately fulfilling 9-to-5 and spending the rest of your time with your loved ones. The world will not end, and you are not a bad person.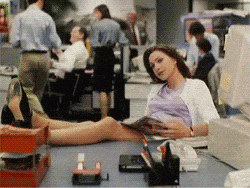 Feeling Only Okay About Your Body
This will all be thematically similar to the last section, so I'll keep it (kind of) brief. On Instagram, everyone either has a perfect body, is a "Before" rigorously working toward an "After," or is making a "bold" and "courageous" statement by weighing more than 98 pounds and being happy that way. Like with your job, if your body makes you actively unhappy then I absolutely encourage you to do something about it. But I also encourage you to think critically about that question. In a world without Instagram, would you be unhappy about your body? Does your body affect how you view yourself every second of every day, or only after you've scrolled through your feed? What makes you happier: a warm chocolate-chip cookie, or a DM request from a "promoter" with 200 followers after you post a selfie in a crop top?
Now, I'm also not saying that wanting to lose weight or achieve new fitness goals or whatever is always bad/shallow/for the 'Gram, but just because we all live our lives on the Internet doesn't mean we all have to look like swimsuit models. And being a work-in-progress—or just accepting that your body will never be the best, most accomplished, most celebrated thing about you is totally fine. Staring at your body every night and hating yourself about it? Not f*cking fine at all.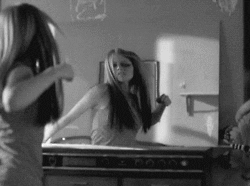 Not Having A Go-To "Squad"
This is really for my post-college and beyond readers. In college, you're surrounded exclusively by people of your own age and every article targeted at you is about the trials and tribulations of the group chat. Pre-gaming is basically a sacred ritual, and the bi-weekly group shot causes more drama than a season of Riverdale. Post-college, you find out a few things about those girl groups. Like that half of them have terrible personalities, drinking problems, or a b*tchy streak that used to be cute and aged poorly. Regardless, I often find myself feeling guilty when I see articles memes referencing a group chat that I no longer have. Or wondering when I became such a loser that my birthday dinner was under 20 people.
But here's the thing: I have never loved my friends more than I do at this stage in my life. Genuinely. The friends that I have are people who I know I can rely on, who I can talk to about anything, and who I personally consider to the coolest, smartest, and funniest people on this f*cking earth. Do I wish more of them lived in the same city, knew each other, and regularly attended Sex and the City style brunches with me? You bet I do! But I'm way over befriending a group of people I don't really have much to say to—just so I can stop feeling guilty and lame when I see pics of Kendall Jenner's girl squad.
This is the only squad that ever mattered anyway: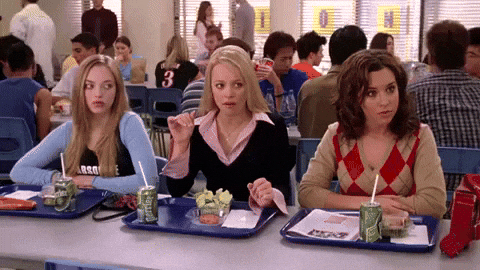 Taking A While To Orgasm
Okay I'll be real. This was the first category I thought of, and the one I was most eager to write. (It is also directed primarily at the ladies, to be clear.) It is about to be 2019, and I am thoroughly over people feeling guilty or ashamed of taking longer to orgasm. The planet is dying, our President is a moron, and society is so fragile that a change to Instagram's swiping feature literally almost killed us. It's the f*cking apocalypse, and women all over the world are still faking it or saying "I'm good" when they are not good because…Honestly, because of what? Sure, you're asking your partner to do more work. But that's not a problem when you're asking them to go in for the 300th pic of you in front of some wall art, so why is it a problem in the bedroom?
More likely, it's because men have systemically engrained the idea that women don't really need to orgasm in order for sex to be finished, so it feels bad or overly vulnerable to ask for it. But like so many things men have said over the years, this was a bad and wrong idea. Women of the world, repeat after me: sex takes as long as it takes you to finish. (Sound selfish? Too bad. Men and women alike have been saying it about men since the dawn of time.) You should never, ever feel guilty that it takes you a while—like putting pizza rolls in the oven vs. the microwave, the better product just takes more time. Let 2019 be the year of no longer accepting things just because men have been calling them true for centuries—the world will be a much better place for it.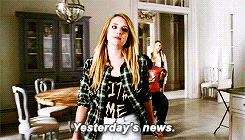 I hope you got some joy out of this article—it truly felt cleansing to write it. I want to reiterate that "not feeling guilty" does not equate to "not doing anything about it." You have the same goals and the same drive whether or not you make yourself feel like sh*t about where you are. This year, give yourself the gift of not feeling guilty about where you are in life. If hating on yourself burned calories, earned money, or gave us orgasms, we'd all have perfect lives. But it doesn't, and we don't, and guess what? It's f*cking fine. Happy new year!!!
Images: Giphy (4); Unsplash / Leighann Renee
What Guys Want Women To Know About Body Image
Secret's out—men aren't always as confident as they seem to be on their dating app profiles. The self-proclaimed one-man version of Betches, Jared Freid, spilled the tea on our Diet Starts Tomorrow podcast this week. He chatted with us about what it's like to have body issues as a man and how he deals with being self-conscious, hating workouts, and eating healthy. Even though he f*cking hates being healthy, he shares with us his experience of learning how to find a balance. Here are some of our highlights from the episode:
Sometimes Jared just watches skinny people eat to see like, WTF they're doing that he isn't
Growing up, Jared's family ate dinner in six minutes, which is like, not so healthy apparently
"I think every guy cares about his body image, but they're less outward about it," Jared explains, "I have looked at a picture and thought, 'okay life is over now'."
We have to accept our bad days in order to be better at creating healthy days
Jared became a sensation at his summer camp because he made a bet not to drink for an entire summer and everyone placed their bets on him losing
Nighttime eating and drinking is the hardest: "the minute I have the first time bite, I'm in for the next hour and a half," says Jared.
Every body is an Instagram body, just put it on Instagram and it's a body on Instagram
It's attractive to be a person who gives a sh*t and is motivated
Guys are too cocky and women aren't cocky enough on dating apps
Nobody is 5-10 pounds away from f*cking you
Check out the full Diet Starts Tomorrow episode above to hear Jared's full segment. Also, catch Jared on our U Up? podcast and his own show, The J Train Podcast.
Images: rawpixel/Unsplash