10 Tie-Dye Pieces You Can Actually Buy Now
Truth be told, (which is what I thought #tbt stood for back when Instagram first became a thing) I did not fully understand this revived obsession with tie-dye. Like overalls, I kind of thought tie-dye was a thing of the 90s that should have stayed there, especially since my only experience with it was in 2004 at a summer camp literally I tried to escape from. However, upon doing some research for the purpose of this article, I've found a few tie-dye pieces I would definitely wear and I can happily admit that I no longer hate the trend. In fact, I want all of the pieces I found and maybe thanks to unemployment money, I can get them!
If you no longer associate tie-dye with hippies and children and want to expand your style horizons, these are the seven pieces you'd love. But act fast, because just like loungewear, tie-dye is selling out at the speed of light.

I actually own this sweatshirt and it's one of my favorite things in my dresser. Yes, I paid nearly $150 for a f*cking sweatshirt. Judge me. Here's the thing, though: you know how your grandmother's front lawn always had those low-growing plants with inexplicably soft fuzzy greenish gray leaves? That's literally what Splendid loungewear feels like. It's like a kitten's ear. It truly makes no sense to me, but I'm not going to question it. This sweatshirt in particular is in muted enough colors that you can definitely wear it out and not feel ridiculous . I'd pair it with a pair of white boyfriend jeans and silver ballet flats.

Need a casual shirt for lounging around? Something you could do your light walk around the block in? Boom, and this color combo is on sale right now. What more could you want?

On the model, this dress kind of looks like something Serena van der Woodsen would wear to sleep, but I would most definitely wear this out. I would wear it with a pair of Greek-looking sandals that you tie around your ankles. The dress is kind of quiet, so pairing it with something with a little more personality would really tie (dye lol) the whole thing together.

Are swimsuits canceled this year? I have no f*cking idea, but I'm being hopeful anyway. This one piece is business in the front, party in the back with a low back and cheeky cut on the bottom. I feel like you could get away with wearing this to your family pool party and a day club (remember day clubs?) equally.

I feel like you can't name a pair of tie dye joggers "Out From Under Jenny" and give zero context in the product description, but okay Urban Outfitters. Tbh, I haven't stepped into an UO since I was in high school, but their loungewear has been on point as of late. I am very particular about joggers because I don't like when they're too baggy or too fitted, and these are right in the middle. They're also made of a a fleecey type of cotton, so they're definitely very cozy.

Shopbop calls this a PJ set, I call it a working from home outfit. This lightweight jersey set has a cute pastel color scheme and tie details on the side, which basically makes it formalwear if you ask me.

If you want to jump on the tie dye bandwagon, but don't want to wear it on your person, consider a super-cute and extremely durable cosmetic bag. It's got a zip closure and a few extra pockets so you can stash your random Chapsticks or whatever, and it's lined.

I'm a huge fan of Onzie's leggings, sports bras, and activewear in general, so these leggings will be perfect for my socially distant runs. (JK, it's more like a jog, if you're very loose with your definition of "jog".) Anyway, they're high rise and high performance, so you can actually do a legit workout in them.

From a distance, these leggings look more like marble than tie dye, which I'm not mad about. I like that the pattern and colors are subtle enough that you're not out and about silently screaming for people to look at you. These are another item I'd happily wear out. I'd throw on a white tee and an oversized denim jacket and call it a day.

Ugh, this bodysuit is so perfectly summery that it's making me kind of sad. I might just get this to wear it around my house underneath some jean shorts while gazing longingly out my window and pretending I'm on a rooftop.
Images: Splendid (2); Nordstrom (2); Bloomingdale's; Urban Outfitters; Shopbop (2); Target; Verishop (2) 
Betches may receive a portion of revenue if you click a link and purchase a product or service. The links are independently placed and do not influence editorial content.
7 Dark Nail Polish Colors You'll Be Obsessed With This Winter
Hello darkness, my old friend. We meet again this evening at 4pm, which is a sure sign winter is most definitely coming. FML. Obviously, living my best life as a recluse sounds amazing, but I hate the cold in every sense of the word. I hate having to risk my fashion rep come December 1st to brace myself for hypothermia so winter doesn't fuck up my entire life. By life, I mean my hair, skin, and hands, so I don't look like a corpse, thank you very much. If you can't find me warming up in the nearest Starbucks with the biggest coffee, you will most def find me at the nearest nail salon making sure my frozen hands don't look ratchet af. Regardless of the temperature outside, having your nails painted at all times is a priority. Obviously. Here are the coolest (pun intended) nail polish colors to get right now, so your nails look on point all winter long.
A festive emerald green is a fab vibrant color that's subtle but sure to make a difference to any lame outfit. With winter bringing in several over-the-top and over-hyped holidays, the color is very fitting for celebrating the holiday cheer and drinking spiked eggnog.

Deep purple is essentially just an upgraded version of black that makes you feel like a total queen with its sexy, mysterious shade. The vampy, dark contrasting color looks great with everyone's skin tone, so rest assured that this will look amazing with the perf accompanying vampy lipstick, too.

Red is just about as timeless as "All I Want For Christmas Is You." We may be tired of them, but both are never getting old, nor are they going anywhere anytime soon. The true red is classy, elegant, and sure to bring cheer wherever you go, even if your chronic RBF says otherwise.

Dark navy is cool, I guess, but there are only so many times you can wear it on your nails. For a preppy twist on the dark blue, try a brighter teal that says you're fun, full of surprises, and into keeping people on their (mistle)toes.

It's the unofficial official color of winter. Gray is the neutral we can never really live without—after black, of course. The dark gray is always a bit comforting, versatile, and a safe go-to if you always have a mini panic attack when you're asked to pick a color.

I think I had you with the eye-catching glitter before you even glanced at this paragraph. For starters, I find the name of this color to be very fitting for my daily personality as of late. The holiday gold is the perfect disguise from showing the general public just how shattered your soul exactly is with its irresistible shine and mesmerizing sparkle. Bring it to this year's company holiday party and NYE shit show. New year, same me.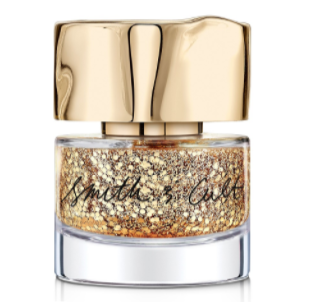 Obviously, I saved the best for last. The Alexa Chung and Nails Inc collaboration is just as amazing and chic as you'd expect from a praised fashion designer. Our favorite soulless color is featured in this collection with a sophisticated twist. The black we know and love comes with pearlescent tones and a satiny finish to make your nails look sleek, fierce, and incredibly betchy.