How To Eat To Beat Bloat, According To A Nutritionist
When the first days of summer made their long-awaited appearance, you probably had the best of intentions when it came to your diet: lots of fruits, veggies, lean protein, and low-calorie alcohols. But if three months of exactly the opposite (hello, burgers, fries, and beer) have left you a little, well, bloated, who can blame you?! You were just living your best life. 
Still, it can be discouraging, and actually physically painful, to feel like your belly is always poking out and doubling in size after you eat certain meals. It probably makes you swear off all your favorite foods, at least temporarily, before a 2am craving hits and you start the cycle all over again. The good news, though, is that you probably don't have to eat less to get rid of bloat. You may just have to make different food and drink choices, and not all of them are boring!
To make sure you get the absolute best anti-bloating advice—and are able to zip up your favorite pair of high-waisted jeans now that fall is upon us—we chatted with Monica Auslander Moreno, RD, and nutrition consultant for RSP Nutrition. Here's what she had to say about beating bloat . 
First, Make Sure You Don't Have Any Major GI Issues
If you're a victim of cruel and painful gas and bloating nearly every time you eat, the solution could be a matter of eating differently—but you could also have an underlying medical issue that needs addressing. "Visit a GI doctor to rule out a medical cause, like IBS, SIBO, or lactose intolerance that could potentially require medication or further workup, and firm up a diagnosis so you know how to leverage your food intake," suggests Moreno. 
If you do test positive for one of these conditions, your doctor may prescribe you medication and suggest you try certain diets to see how they make you feel. Dr. Moreno adds, "If you're diagnosed with irritable bowel syndrome (IBS), for example, there's a pretty concrete protocol we employ to help clients identify their own bloat triggers (it's called the FODMAP diet) but it must be done under a dietitian's supervision, because it's incredibly meticulous and nuanced."
Keep A Food Symptom Diary
If a doctor confirms you don't have any GI issues (or your bloating isn't actually severe enough to visit one), start keeping a food symptom diary to figure out which foods are causing the bloat in the first place. "Common bloat triggers include caffeine, alcohol, carbonated drinks, artificial sweeteners, chewing gum, vegetables like brussels sprouts, cauliflower, broccoli, legumes (beans), corn and popcorn, spicy foods, high salt foods, sugary foods, fried foods, leeks, onions, garlic, deli meats, jerusalem artichokes, and apples," Moreno says. 
While that (very long) list is a great place to start when it comes to identifying bloating culprits, everyone's different. Just because your friend gets massive bloat after her daily jerusalem artichoke (as an important sidenote, we're pretty sure jerusalem artichokes aren't the problem for most people), doesn't mean you will. The most important thing is that you pay close attention to what your triggers look like.
Before you freak out about having to give up caffeine and alcohol forever, it's worth paying attention to times of day when you get more bloated—and how much of certain foods you have to eat before you get bloated—because it's not always the actual food that's the problem. "Everyone's bloat triggers can be different, and some people notice they're more likely to bloat if they even eat a certain food at a different time of day, or that they have a certain threshold with bloaty foods," Moreno says. "Maybe you're fine with half a cup of beans, for example, but not a whole cup."
Load Up On Water
Now, let's get to the good part: exactly what to eat and drink to beat bloat in the first place. When it comes to beverage choices, ditch the beer and diet soda and load up on water and herbal teas instead—specifically mint and ginger teas. 
And as we say goodbye to summer, take advantage of the final days of melon season to get rid of the little pooch. "Go for snacks high in water content and low in bloat potential, like cantaloupe, papaya, and honeydew," suggests Moreno. Another helpful anti-bloat agent? Yogurt. Or if you and dairy don't exactly get along, a lactose-free yogurt. "Try a lactose-free kefir, which is yogurt-like drink packed with probiotics," says Moreno.  
Bloating, while unappealing and uncomfortable, happens to the best of us. So if this is you lately, don't beat yourself up! Beating bloat could be as simple as eliminating a few foods and adding new ones in. You'll be zipping up those high-waisted jeans again in no time. 
Images: Mike Mayer / Unsplash
What Is The Low FODMAP Diet And Does It Work?
Here we are again, examining diets that the internet real life doctors have invented to combat any one of a number of issues we have from tummy troubles to acne to wanting to lose three pounds. Today we investigate the Low FODMAP diet which, with its weird acronym, slightly mysterious science, and general trendiness, sounds like something people would want to Instagram about and use to gain followers. Let's climb aboard the exploration bus.
WTF Is The Low FODMAP Diet?
Basically, the Low FODMAP diet is designed for those struggling with IBS (Irritable Bowel Syndrome) or sensitive stomachs, and with it, tons of gas, bloating, diarrhea, and other v not cute symptoms that can make it difficult to hang out in a bikini during the summer.

The acronym FODMAP stands for Fermentable Oligosaccharides, Disaccharides, Monosaccharides And Polyols. Basically, it refers to small-chain carbs, which occur in a bunch of different foods—including onions, garlic, mushrooms, apples, rye, lentils, and milk—which aren't easily digested in the GI tract. According to BBC, "These sugars are poorly absorbed and pass through the small intestine and enter the colon, where they are fermented by bacteria. Gas is then produced, which stretches the sensitive bowel causing bloating, wind and pain."
The diet, which can be really restrictive, was designed in Australia—the land where literally everything (apparently, including carbs) wants to kill you—and aims to limit and/or completely cut out these items so as to help identify what exactly is causing the discomfort. Science, b*tch.
Is The Low FODMAP Diet BS?
According to Self, several studies have found that the low FODMAP diet can greatly reduce IBS symptoms (some say up to 70%), which is awesome and kind of proves how legit this is. However, if you don't have IBS, this isn't a diet or lifestyle change that you can follow forever.

It's basically a v fancy process of elimination to help you figure out what's triggering your uncontrollable gas, bloating, and general shittiness. The biggest hurdle is that a lot of the FODMAPs occur in what would be considered "healthy" foods, so it isn't exactly great that you have to cut things like lentils and apples out. But, if the alternative is having a really tough break dealing with extreme Crohn's or IBS, I'd probably do it too. There's a lot of science involved in how this works that I'm not going to get into because I don't have unlimited time and don't want to type 15 pages on this. But in a nutshell, this isn't BS and has been proven to help. There are even FODMAP brands that can help with the whole ordeal, like Fody, which has everything from granola bars to pasta sauce sans high FODMAP items.
Will I Lose Weight?
Again, this really isn't the diet to casually try because you hate the way your stomach bloats around 2pm every day. While it is very supported by studies and medical professionals, according to Self, "You should carry out this diet under the guidance of a registered dietitian … not only is it a complicated, nuanced, and slow process, but cutting large quantities of food from your diet means you will likely be missing key nutrients and sometimes key sources of calories if you don't have a little expert help."

So like, you might lose weight since you're cutting out huge quantities of food for two to six weeks, but that isn't the point of this diet. The point of a Low FODMAP diet is to identify what's triggering your IBS or sensitive stomach. Additionally, if your gut is already healthy, this isn't going to do a whole lot for you. (*Whispers* kind of like how cutting out gluten does jack sh*t for you unless you're already gluten intolerant.)
In conclusion (has anyone used that phrase since college research papers?), a low FODMAP diet is amazing for those struggling with gut-related issues like IBS and Crohn's, but it isn't a diet to casually try out with your friends next weekend. Stick to eating healthy and nom on some cucumber if you're dealing with a bit of bloating.
Images: Eaters Collective / Unsplash; Giphy (3) 
How To Get A Last-Minute Beach Body When You Procrastinated All Winter
In just a couple weeks, you'll be showing more skin than Rihanna on any red carpet, so you're obviously panicking over your lack of a beach bod. Maybe you saw a pic of Gigi at the Met Gala. Maybe the woman weighing your Sixteen Handles cup is starting to call you by your first name. Either way, you've procrastinated all winter and it's time to get shit done. Here are five tips to get your bod in shape in time for those inevitable Memorial Day Instagrams.
1. Cut Out Sugar
Throw away any fitness mag that's telling you to cut out carbs and fat. If you want to change your body, simply cut out white sugar. Eating sugar is literally just putting empty calories in your body that will trigger more hunger later on. Sugar is proven to mess with your blood pressure, your hormones, and obviously your body. Don't waste your time skipping breakfast or drinking green juice. Just put down the Sour Patch Kids.

2. Do Short HIIT Workouts
We don't all have time for hours of work at the gym. HIIT, which stands for High Intensity Interval Training, is perfect for betches who need to get shit done in a time crunch. It's super fast and super efficient. The best part is that you only need 20-30 minutes to get the workout done. That's like, one Broad City episode.
3. Load Up On Fiber
Adding fiber to your diet will keep your full longer, so you can avoid all the mindless snacking you thought no one would notice. Fiber helps improve your skin, your blood sugar, and has anti-bloating properties. Foods like avocados, raspberries, Brussels sprouts, oats, and chick peas are filled with fiber—so get snacking. Yes, we just gave you a reason to eat MORE avocado and hummus. There is a god.

4. Go The Fuck To Sleep
You're gonna need to stop going to sleep at 4am for the next couple days. Aside from helping your brain function better and avoiding bags under your eyes, sleep will help you make healthier choices before the summer. Going to sleep earlier prevents late night snacking, burns more calories, and avoids hanger during your 3pm crash the next day.
5. Do Some Prep
You may have been lazy all winter long (don't argue—we've seen your Netflix history), but it's time to step up your game. We can tell you what to do, but we can't do it for you. Make yourself some healthy food at the beginning of the week, write down a few realistic fitness goals for yourself, and get to it. If Khloé could put down the chicken fingers post-Lamar trauma, you can get yourself in shape for summer.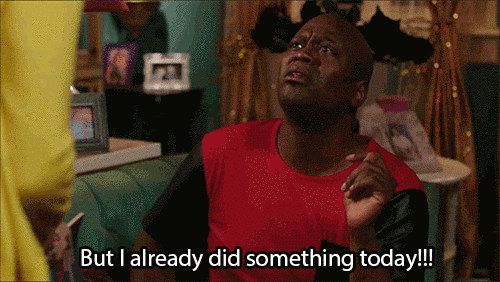 Want more tips on how to get skinny by Memorial Day? Click here!
7 Foods You Should Never Order On A Date When You Know You're Going Home With Him
We can literally write a bible filled with the amount of questions and thoughts that go through our minds during a date, and deciding what to order goes on the top of the list. Okay, maybe after like, is he a serial killer. Anyway, if you're planning on going home with this guy later, you want to order the right thing so that you don't end up feeling bloated, gassy, or in a food coma. Like, if you're treating this date like your cheat day, you're missing the point. Here are the seven things you should avoid ordering at all costs if you know you're going home with him.
1. Extra Soy Sauce
Sushi is a typical date option, and there's nothing wrong with ordering a couple basic rolls and a miso soup, but if you don't want to get bloated after dinner, I would avoid soy sauce like the plague. Sorry if that ruins your meal, but soy sauce is literally a sodium bomb, which will make your stomach bloat, and probably your face too. Soy is difficult on the stomach in general, so you can only imagine what 5,000 milligrams of added salt will do to your tummy post-dinner. Yes, that's how much sodium is in soy sauce. Look at your life, look at your choices.
2. Hummus Platter
A lot of restaurants offer a Mediterranean-style appetizer with some hummus, vegetables, and pita chips, and you might think you're being super healthy for opting for this instead of chips and guac, but it'll come back and haunt you later in the night. In case you forgot, hummus is made of chickpeas, aka garbanzo beans, AKA BEANS. This appetizer will make you super gassy and it's really not worth it. You're better off with the chips and guac.
3. Brussels Sprouts
This category also includes cauliflower, broccoli, kale, or any other cruciferous vegetables that are loaded with fiber. I mean, don't get us wrong. On any other night we'd Seamless three orders of crispy Brussels sprouts from The Smith and eat it for dinner while watching TLC, but on a date, veggies loaded with fiber are just a recipe for disaster (read: farting). These types of vegetables usually lead to gas, bloating, discomfort, and you spending an uncomfortable amount of time in the bathroom while your date wonders if you're trying to ditch him, so just skip them all to be safe.

4. Bread Basket
The bread basket is always tempting as fuck, but if you needed another reason to reject it, here it is: bread is known to cause bloating in most people. Whether you consider yourself Celiac, Gluten-free, Paleo, Vegan, or any other diet you parade all over social media, bread should be avoided on dates. I don't care if it's whole wheat, 9-grain, grass-fed or whatever the fuck is available nowadays. Skip the bread to avoid bloating. Or if not to avoid bloating, just skip it so he isn't forced to witness you stuffing your face with 15 dinner rolls. Save that for like, the third date.
5. Processed Meat
If you're on a date at a baseball game and think you're being super cute and down-to-earth by ordering a hot dog or a burger, you're wrong. You might be better off with like, pizza—or even better, nothing. Processed meats have gone through a shit ton of processes (fucking duh) to preserve their shelf life, like salting, curing, smoking, and adding synthetic preservatives. They have a shit ton of sodium and are super high in fat, and we're not talking about the healthy, avocado/almond butter type of fat. Just say no all those mystery meats and skip the charcuterie plate, too. I don't care how classy you think you are because you can pronounce "charcuterie"; your perfect French accent will not matter when your love handles are bulging out of your jeans.

6. Anything Teriyaki
You might think you're sticking with the safe option by ordering the grilled chicken or salmon, but if the dish is prepared with a Teriyaki glaze, it's probably gonna kill your stomach later on. Teriyaki sauce is literally made out of soy sauce, brown sugar, honey, and cornstarch, which is basically a recipe for a stomach ache. I mean, I know that sauce is finger-licking fucking amazing, but you shouldn't be doing that on a date anyway, so you're welcome.
7. Bubbly Drinks
Alcoholic or not, bubbly drinks are tricky on a date. On one hand, it's tempting to order a vodka soda at the bar or a San Pellegrino for your table, but carbonated beverages are known to cause bloating/burping. And DON'T get me started on beer. Is one drink really worth the regret you'll feel later on? Def not. Your date will not be impressed that you can burp the alphabet—and if he is, maybe you should not go on anymore dates with teenagers? If the waiter asks if you want sparkling or still, stick with still. Plus we all know the best way to appear sophisticated on a date is just to order regular, non-sparkling wine.

What To Eat Before Going Out So You Don't Bloat Or Die
Does bloating ruin you day, your evening, and your life in general? Do you often try to be a responsible adult and attempt to eat before binge drinking, only to find that your meal has sabotaged you into looking like a beached whale? Lucky for you, we've rounded up the top 7 foods to eat before you head out drinking to AVOID the muffin top spillover and bubbly stomach that results from a bloated belly, so you can still rock that deep-V onesie. HOWEVER, these foods are still substantial enough so you won't end the night face-down in a stranger's toilet. Anyone who's ever tried to take shots after only eating salad for dinner can relate. We just saved your life. You're welcome.
1. Salmon
Blah blah blah drinking is bad and can deplete your body of vitamins. So have a piece of grilled or roasted salmon before heading out which will keep you fuller, help prevent a terrible hangover, and keep the bloat at bay.

2. Avocado
The avocado, the fruit we associate most with worship, is a great choice to prevent not being able to button your pants. Since it's full of healthy fats and digested more slowly than carbs, it'll keep you full without adding inches. So, whip up some fucking guacamole and have at it with like, not chips … which will bloat you.
3. Eggs
Full of protein like literally everything else on this list, whipping up an omelet is a legit choice for your night on the town. Eggs are also full of cysteine, which, according to the internet, is an amino acid that gives your liver a boost, which, obviously, you're gonna need.

4. Chicken
Kind of random, but munching on a piece of grilled chicken before seeing how many shots you can take will take longer to digest (keeping you full), is lean protein (keeping you skinny), and will help curb some of the hangover pain tomorrow. Just make sure we're not dealing with breaded or fried chicken … that'd be silly.
5. Hummus With Cucumbers
It doesn't get more basic bitch than this, but your skinny stomach will thank you. Hummus is chock full of vitamins and protein, which will keep you full i.e. when you're blackout you won't crave a burrito bowl quite as hard. The tahini in the hummus can also help prevent hangovers, so win. Why cucumbers? Because they're literally full of water and are one of the best things to help you stay hydrated AND non-bloaty.

6. Very Specific Fruit Salad
So we need to be fucking specific on this one. Make yourself a fruit salad with kiwi, honeydew melon, and bananas. The bananas have potassium and will help prevent a hangover. The melon is a diuretic and helps flush excess water from your system while working to replace electrolytes. Lastly, the kiwi will help you shit (honestly yah) which always makes us feel skinnier.
7. Kefir Yogurt
If you're in the mood for a parfait, use kefir yogurt as your base. It's tangy, thinner than your typical Greek variety, and helps break down lactose which can cause bloating and stomach pain. Throw some nuts and honey on top and you're ready to take shots.
GYST Sunday: 5 Ways To Get Skinny By Next Weekend
While this weekend has come and gone—everybody knows Sunday is not a real day of the week since you spend 90% of the day horizontal—there's always next weekend to make up for your mistakes. You may have ended the weekend face-down in a plate of nachos (shame on you), so now you have a full week to undo all the damage you did to your body over the past 48 hours so you can fit into that deep-V onesie you bought from Tobi. Read below for how to appear skinny in a time crunch.
1. Lose The Salt
If you feel bloated AF right now, eating anything with a ton of salt will only make that bloating worse. When your body takes in sodium, extra water gets stored in your stomach and face, and you'll feel puffier and grosser than usual. Do yourself a favor and skip the added salt this week. The soy sauce will still be there next week once people have already commented on how skinny your face looks.

2. Catch Up On Sleep
It's easy to stay up super late cracked out on Adderall good vibes, but even though the drugs vibes may suppress your appetite, the lack of sleep is making you (appear) fat. This week, try to get at least eight hours of sleep a night. What, like it's hard. It's been proven that more sleep is healthier for you. It boosts fat loss, encourages your body to crave healthier foods, and prevents late-night carb snacking. Get the fuck to bed—as if we really have to tell you twice.
3. Chug Water
All of that shit you've been eating has been making you bloated and has probably made you break out, so this week, make water your best friend. I don't care if you have to be known as that girl that walks around with a 1 Liter SmartWater all day. Drinking a ton of water will help de-bloat you, keep you full in between meals, and clear up your skin. If you're peeing every five minutes, you're doing something right.

4. Eat Small Meals Regularly
There's no real evidence that eating three big meals or six small meals is the better way to lose weight, but when it comes to portion control, eating smaller regular meals will be a game changer. For the next few days, try to eat a small snack or meal every few hours. This way, you won't be starving and eat the entire buffet when it's presented to you. Try to chew slowly and savor every bite, just because like, healthy people do that. And also because nobody wants to watch you gobble down chicken wings like you're Honey Boo Boo's mom.
5. Fucking Sweat
You can try every diet in the book, but nothing will make your body more ready for the weekend than a good sweat sesh. Sorry if you just got a blowout, but it's time to hit the gym and sweat out all that wine and cake. You've basically been eating like you're carboloading for a marathon anyway, so put the food to good use and sweat it out. I don't care if all the SoulCycle bikes in your city are booked. I don't care if your gym membership is expired. Outside is free, and you have legs. Use them.
10 Foods To Help You Debloat If Sweatpants Are All That Fits You Right Now
Bloating is LITERALLY the worst. It's like, you could be eating healthy and totally not shitty, but your jeans claim otherwise. Learning to avoid the shit that makes your stomach hang over your pants is a lesson that should be clutched and held close like a vintage Chanel purse.
Here are the top ten foods that make you NOT bloated, so eat this shit to avoid feeling (and probs looking) like that chick from My Big Fat Fabulous Life.
1. Cucumbers
This shit has been a mainstay in spas for year, and it turns out, for good reason. Cucumbers make you the opposite of bloaty and farty because of an antioxidant that helps reduce swelling in ALL of its forms. So put these shits on your eyes, in your belly, and anywhere else you feel could use a nip and tuck.

2. Bananas
Our fav dick-shaped fruit has ANOTHER use —this time, to help us fit into our jeggings. Since they're so rich in potassium, bananas prevent water retention by telling all the extra salt in your body to get its shit together. An even bigger plus—they'll help you poo, making you feel EVEN SKINNIER. Hooray, bananas.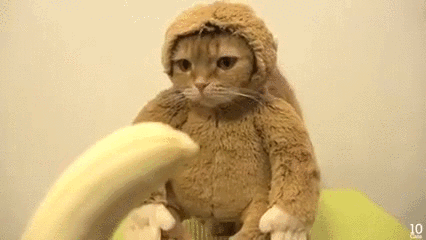 3. Asparagus
Battling water retention is apparently on asparagus' to-do list, and we're thankful for it. Eat it raw, roasted, steamed—what the fuck ever, and you'll feel light and airy despite having had a delicious meal.

4. Ginger
Battling hangovers? Check. Fixing nausea? Check. Making sure your stomach doesn't repulse those around you? Check. Because it's a natural anti-inflammatory, ginger relaxes the whole digestive tract, which makes you feel less like you have to suck it in. Add this shit to any smoothie or tea to help beat the bloat.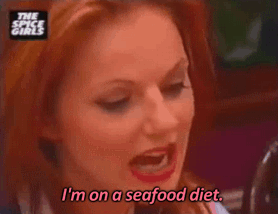 5. Watermelon
Oh yay! Our fav (sorta) calorie-free fruit makes the list. Because watermelon is so full of well, water, it makes you feel fuller without puffing you up. Add the fact that it has little to no sodium (a notorious bloater) and you better be adding this to your diet this week.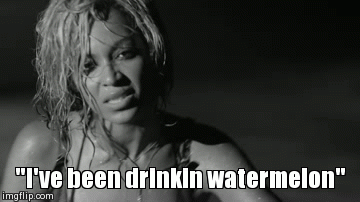 6. Greek Yogurt
A betch fav, Greek yogurt makes the list for showcasing its super good/yummy bacteria. Additionally, since it's high in protein, it'll keep the carbs at bay and keep your tummy flat. Just be sure to say "lol no" to those yogurts with the add-ins or added sugars. That'll do the opposite of giving you a flat stomach—just saying.

THERE IS A GOD. If you need a coffee, keep it iced to add water (duh, an anti-bloater) and skip the sugar. We know coffee will give you a nice little caffeine jolt and the water will like, hydrate you.

8. Avocado
Once again, there's literally no excuse for you to be bloated, having read this list. Avocados and iced coffee? Yah, we can hang. Avocados are super high in potassium like our friends, bananas, which keeps us from retaining water. Once you get rid of all the water, you drop three pounds just like that! We assume.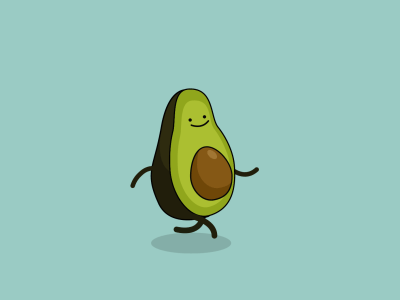 9. Zucchini
Since it's literally a denser, slightly less delicious cucumber, the presence of zucchini on our list shouldn't surprise you. The plus side is that, unlike cucumbers, you can grill, roast, or make chips out of these dick-like veggies. Additionally, they're super filling without the added calories like our good friend, sugar. Thanks, zucchini.

10. Egg whites
Start the day off the WHITE way (no racism intended). Unlike a regular omelette, or doughnut, or whatever, egg whites have basically no sugar, no carbs, and tons of protein. That'll result in a full but flat tummy AND relieve you of some of that extra water. 

5 Beers To Drink During The Super Bowl That Won't Make You Bloated
You want a beer but you don't want to be bloated and farty. It's a dilemma that has plagued betches the world over since the dawn of time. Plus, beer tends to unfortunately add to our waistlines, which is less than cool.
With the Super Bowl coming up on Sunday, we need a game plan right fucking now to combat the potential for un-cute, disgusting, bloated bellies.
Here are five beers to stick with to prevent it. Of course, if none are available, drink some vodka like a fucking adult.
1. Sam Adams Light

At 119 calories for the bottle and only 10g of carbs, this one is a fucking winner. Sure, Sam Adams is pretty basic, but so is a girl with a pudgy stomach. So, you be the judge.
2. Bud Light Lime

Speaking of basic, we know this beer is beloved by beach rednecks, but the lime taste and only 116 calories make it super awesome for not ruining your eventual beach body. Pair with shots of tequila for a blackout party. You didn't hear that last part from us.
3. Guinness Draught

Shockingly, this one only weighs in at 126 calories AND gives you the Guinness taste without the Guinness bloat. Now you can sip, reminisce about being abroad in Ireland, and piss off everyone around you.
4. Bold Rock Hard Cider

Not a beer girl? That's fine—opt for a low calorie cider like Bold Rock, which clocks in at about 120 calories. Plus, the sweet apple juice taste makes for prime sippin'. It isn't bad mixed with bourbon either, JUST SAYING.
5. Michelob Ultra

What has 4.2% alcohol, 3g of carbs, and only 95 calories? Michelob Ultra. This beer is found literally everywhere and you shouldn't have a hard time knocking back two or three without feeling too guilty.
Beat the bloat even more by pouring your beer OUT of the can or bottle and into a fucking glass. Not only will you look like a civilized member of society, but the wider drinking surface area will result in you taking in a lot of air. Thus, less bloating and more science.