How To Eat To Beat Bloat, According To A Nutritionist
When the first days of summer made their long-awaited appearance, you probably had the best of intentions when it came to your diet: lots of fruits, veggies, lean protein, and low-calorie alcohols. But if three months of exactly the opposite (hello, burgers, fries, and beer) have left you a little, well, bloated, who can blame you?! You were just living your best life. 
Still, it can be discouraging, and actually physically painful, to feel like your belly is always poking out and doubling in size after you eat certain meals. It probably makes you swear off all your favorite foods, at least temporarily, before a 2am craving hits and you start the cycle all over again. The good news, though, is that you probably don't have to eat less to get rid of bloat. You may just have to make different food and drink choices, and not all of them are boring!
To make sure you get the absolute best anti-bloating advice—and are able to zip up your favorite pair of high-waisted jeans now that fall is upon us—we chatted with Monica Auslander Moreno, RD, and nutrition consultant for RSP Nutrition. Here's what she had to say about beating bloat . 
First, Make Sure You Don't Have Any Major GI Issues
If you're a victim of cruel and painful gas and bloating nearly every time you eat, the solution could be a matter of eating differently—but you could also have an underlying medical issue that needs addressing. "Visit a GI doctor to rule out a medical cause, like IBS, SIBO, or lactose intolerance that could potentially require medication or further workup, and firm up a diagnosis so you know how to leverage your food intake," suggests Moreno. 
If you do test positive for one of these conditions, your doctor may prescribe you medication and suggest you try certain diets to see how they make you feel. Dr. Moreno adds, "If you're diagnosed with irritable bowel syndrome (IBS), for example, there's a pretty concrete protocol we employ to help clients identify their own bloat triggers (it's called the FODMAP diet) but it must be done under a dietitian's supervision, because it's incredibly meticulous and nuanced."
Keep A Food Symptom Diary
If a doctor confirms you don't have any GI issues (or your bloating isn't actually severe enough to visit one), start keeping a food symptom diary to figure out which foods are causing the bloat in the first place. "Common bloat triggers include caffeine, alcohol, carbonated drinks, artificial sweeteners, chewing gum, vegetables like brussels sprouts, cauliflower, broccoli, legumes (beans), corn and popcorn, spicy foods, high salt foods, sugary foods, fried foods, leeks, onions, garlic, deli meats, jerusalem artichokes, and apples," Moreno says. 
While that (very long) list is a great place to start when it comes to identifying bloating culprits, everyone's different. Just because your friend gets massive bloat after her daily jerusalem artichoke (as an important sidenote, we're pretty sure jerusalem artichokes aren't the problem for most people), doesn't mean you will. The most important thing is that you pay close attention to what your triggers look like.
Before you freak out about having to give up caffeine and alcohol forever, it's worth paying attention to times of day when you get more bloated—and how much of certain foods you have to eat before you get bloated—because it's not always the actual food that's the problem. "Everyone's bloat triggers can be different, and some people notice they're more likely to bloat if they even eat a certain food at a different time of day, or that they have a certain threshold with bloaty foods," Moreno says. "Maybe you're fine with half a cup of beans, for example, but not a whole cup."
Load Up On Water
Now, let's get to the good part: exactly what to eat and drink to beat bloat in the first place. When it comes to beverage choices, ditch the beer and diet soda and load up on water and herbal teas instead—specifically mint and ginger teas. 
And as we say goodbye to summer, take advantage of the final days of melon season to get rid of the little pooch. "Go for snacks high in water content and low in bloat potential, like cantaloupe, papaya, and honeydew," suggests Moreno. Another helpful anti-bloat agent? Yogurt. Or if you and dairy don't exactly get along, a lactose-free yogurt. "Try a lactose-free kefir, which is yogurt-like drink packed with probiotics," says Moreno.  
Bloating, while unappealing and uncomfortable, happens to the best of us. So if this is you lately, don't beat yourself up! Beating bloat could be as simple as eliminating a few foods and adding new ones in. You'll be zipping up those high-waisted jeans again in no time. 
Images: Mike Mayer / Unsplash
Essential Travel Beauty Tips So You Don't Look Gross After Flying
Travel is without a doubt one of the greatest parts of summer. First of all, there's the crack-like (I assume) rush of turning on an "out of office" email reply. Chase that with a daily routine of margaritas for breakfast, followed by triple-digit likes on a "look at my ass this beautiful view" 'gram, and I'm decidedly living my best life. Unfortunately, even the highest of vacation highs tend to come crashing down within 24 hours of returning home. Not only did your "out of office" reply deter exactly zero people from emailing you multiple times, but you now have to deal with the ravaging effects of whatever public transit hell you were subjected to on your return home. (I'm primarily discussing air travel here, but let's not pretend that buses/trains don't leave you feeling pretty icky as well.) Here are some travel beauty tips for avoiding and even reversing the damaging effects of air travel.
Start With A Clean Face
If you're one of those people who can't leave the house without a full face of makeup, I have bad news. No one believes you woke up like that, and you should absolutely never fly in makeup. If you absolutely have to roll up to the airport made-up, at least take it off ASAP once you're in the air. Makeup wipes like these Philosophy facial cleansing cloths are a must, given the state of airport bathrooms and the fact that your bougie-ass cleanser definitely won't make it through TSA. Alternately, you can go with a (travel size) no-rinse micellar water—just please God use cotton pads, not airplane toilet paper. Ew.

Purity Made Simple One-Step Facial Cleansing Cloths
Embrace In-Flight Skincare
Ok, so now your face is clean. Sadly, your work is just beginning. One of the biggest damaging factors on airplanes is that they dry you out like crazy. This means you're looking at red patches, flaky skin, and the overall pallor of a three-day-old corpse (just me?). Luckily, there are ways to avoid this—though they do involve giving exactly zero fucks what the people in your row think. For starters, it seems like every celeb on earth applies a hydrating mask while flying. Luckily, there are "invisible masks" like the Origins Drink Up Intensive,  or Kiehl's Ultra Facial Overnight Hydrating Masque, both of which you can leave on for hours to absorb maximum moisture, without getting dirty looks from flight attendants. For those a little less shameless, the Summer Fridays Jet Lag Mask goes on like a regular mask (that you'll have to rinse off with a warm towel, somehow), but it provides hydration and anti-inflammation without any harmful ingredients or artificial fragrances (it's also vegan). If you're brave enough for a sheet mask, Chrissy Teigen and J Lo swear by the SK-II Facial Treatment Mask.

Kiehl's Ultra Facial Overnight Hydrating Masque
Once you've removed the mask, it's recommended you follow up with your preferred serum/moisturizer/eye cream. (Or if you're prone to puffy under-eyes (hi), consider some cooling pads like these skyn ICELAND firming eye gels.  Emma Stone swears by argan oil for long flights, but your heaviest daily moisturizer should work fine.

As a final, extra-luxe step, invest in a face mist. Celeb stylists love rose-water infused options (try Khloé Kardashian's preferred Jurlique version), but regular old Evian is fine too. If you're reallyyyy trying to get extra about this, the Caudalie Beauty Elixir is another celeb fave. (It's a toning spray, but don't ask me what toner does). Or,  you can follow up your SK-II celeb-approved face mask with their Facial Treatment Essence. (Seriously, do not ask me what essence does.)
Stock A Full Mom-Purse
You know that one friend whose purse is always fully stocked with Kleenex, lip balm, gum, etc? Yeah, you'll want to emulate that to an extent. In addition to all the face wipes and hydrating essentials mentioned above, you should never board a flight without hydrating lip balm, hand lotion, and more water than you usually drink in a week. This final point is especially key, because in addition to making your outsides dry AF, your insides are also dying from dryness when you're on a flight. So drink, drink, DRINK. Even though it's annoying to get up every half hour and use the bathroom, you'll thank me when you don't arrive bloated and constipated (ew), not to mention the fact that the simple act of getting up and moving frequently is proven to help beat in-air bloat, and can help prevent blood clots. Woo!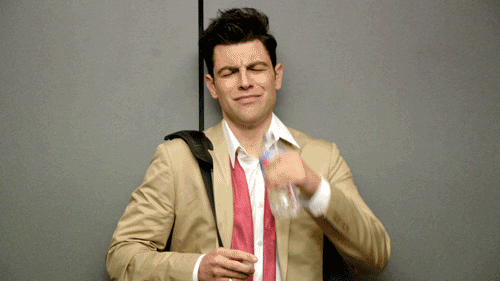 Be Careful What You Eat & Drink
Oh, and speaking of drinking—I have another bubble to burst here. As you know from waking up at 3am with desert mouth after a night of drinking, alcohol dries you out—which means drinking on flights is a big no-no (same is true for caffeine). Yes, air travel is definitely one of those memories I'd prefer be a little hazy, but the pounding headache and exaggerated dehydrating effects all around are not worth the 25-30 minute buzz. Save the drinking for your final destination.
When it comes to eating, you're better off the less you ingest while actually on the flight. Sugar-free foods and gum escalate an already gassy situation (sorry—I don't make the rules), and chewing gum makes you literally swallow air, which, you guessed it, escalates both the gas and the bloat. The same goes for high-sodium foods and any carbonated drinks. So yeah, even your beloved La Croix is a no go. Some experts suggest to avoid eating anything on a flight, since flying may cause your digestive system to slow down, and the restarting process will be all the more unpleasant if there's new food to digest rolling around in there. Whether or not that's 100% scientifically proven, many people who avoid eating on planes say they feel more rested and hydrated after, so it's worth a shot. Were you really that hyped about airplane food anyway?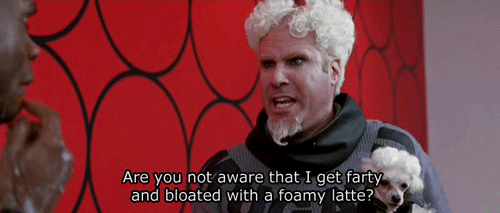 That's all from me (though TBH, it's plenty). I purchased maybe six more products over the course of writing this article, as I'm currently in the throes of post-flight bloat and ogre skin myself. Learn from my mistakes and help slightly soften the blow of going back to work by not having to deal with a pimple the size of a third eyeball taking over your forehead. Really takes away from the glamour of an overseas vacay.
Images: Giphy (2); Sephora (2)
Betches may receive a portion of revenue if you click a link in this article and buy a product or service. The links are independently placed and do not influence editorial content.
7 "Healthy" Foods That Are Actually Making You Bloated
It's summer, which means everyone's scrambling to look good in a bikini. Cue the crash diet and endless crunches. But be careful with your diet overhaul: There are some seemingly healthy foods that actually could be making your body retain water—making you look super bloated as a result. Like, if you're wondering why you look six months pregnant after a huge kale salad and a Diet Coke, it's not your imagination. It's just minor bloating, and it will go away eventually, but in the moment, it literally sucks. Here are some examples of "healthy" foods that are blowing up your tummy:
1. Gum
People think sugar-free gum is the key to dieting, but it could actually backfire on you if you OD on all those sugar alcohols. The reason gum has basically no calories is because it's loaded with fake sugars, which are known to cause bloating. Plus, when you chew gum, you're swallowing a lot of excess air, so that air may show up in your stomach and make you look like you have a food baby. It could also cause abdominal pain. Gum isn't terrible for you, but if you're going through three packs a day, you need to chill.
2. Kale
Kale is a tricky bitch. It's basically a cruciferous vegetable, along with things like brussels sprouts, broccoli, and cauliflower. While these vegetables are obv super healthy for you, they're also loaded with fiber, which means your large intestine has to work to digest them through bacteria. All of the fiber makes your stomach bloated when you eat too much of these foods. So, if you're wondering why you feel huge after eating a box of kale chips, it's the fiber.

3. Miso Soup
Miso soup is a go-to healthy appetizer to order when you're out at a sushi restaurant, and while it's true that it barely has any calories, most miso soups are loaded with sodium, which makes your body hold onto water. When your body takes in more sodium than it's used to, you'll puff up a bit for about a day. You might even see it in your face, so it's probably not the best idea to order miso soup the day before you'll be in bikini pics.
4. Corn
You might be eating a huge plate of corn at your family BBQ because it's the only thing that resembles a vegetable, but it turns out corn is actually super hard to digest. (If you've ever looked into the toilet after you ate a few cobs of corn, you'd already know that.) There's a certain type of carb in corn that is hard for your body to break down, which can lead to bacteria fermentation and trapped air in your stomach.

5. Diet Drinks
Diet drinks are another risky diet hack because there are literally no calories in them, but they're loaded with fake sugars, which trigger sugar cravings later on and actually make you bloated for like, the whole day. I mean, getting a diet vodka soda is fine now and then if you're out for drinks, but drinking a Diet Coke with every meal is a bit excessive and like, probably gonna kill you.
6. Dried Fruit
Dried fruit probably brings back Birthright memories of eating dried mango on every bus ride, but it's also kind of sketchy when it comes to its nutrition. I mean, even though it's fruit, it's loaded with fiber and added sugar, so you just have to control your portion sizes. Experts recommend like, two tablespoons at a time, which is basically two dates, or like, three apple rings. You're basically better off just eating fresh fruit.

7. Sparkling Water
Drinking water is one of the things that actually helps get rid of bloating, but as much as we love our Pellegrino and Perrier, sparkling water isn't doing your tummy any favors. The carbonated bubbles in seltzer are literally air pockets, so by swallowing them, you're allowing air bubbles to build up in your stomach. I mean, who wants that?
7 Foods You Should Never Order On A Date When You Know You're Going Home With Him
We can literally write a bible filled with the amount of questions and thoughts that go through our minds during a date, and deciding what to order goes on the top of the list. Okay, maybe after like, is he a serial killer. Anyway, if you're planning on going home with this guy later, you want to order the right thing so that you don't end up feeling bloated, gassy, or in a food coma. Like, if you're treating this date like your cheat day, you're missing the point. Here are the seven things you should avoid ordering at all costs if you know you're going home with him.
1. Extra Soy Sauce
Sushi is a typical date option, and there's nothing wrong with ordering a couple basic rolls and a miso soup, but if you don't want to get bloated after dinner, I would avoid soy sauce like the plague. Sorry if that ruins your meal, but soy sauce is literally a sodium bomb, which will make your stomach bloat, and probably your face too. Soy is difficult on the stomach in general, so you can only imagine what 5,000 milligrams of added salt will do to your tummy post-dinner. Yes, that's how much sodium is in soy sauce. Look at your life, look at your choices.
2. Hummus Platter
A lot of restaurants offer a Mediterranean-style appetizer with some hummus, vegetables, and pita chips, and you might think you're being super healthy for opting for this instead of chips and guac, but it'll come back and haunt you later in the night. In case you forgot, hummus is made of chickpeas, aka garbanzo beans, AKA BEANS. This appetizer will make you super gassy and it's really not worth it. You're better off with the chips and guac.
3. Brussels Sprouts
This category also includes cauliflower, broccoli, kale, or any other cruciferous vegetables that are loaded with fiber. I mean, don't get us wrong. On any other night we'd Seamless three orders of crispy Brussels sprouts from The Smith and eat it for dinner while watching TLC, but on a date, veggies loaded with fiber are just a recipe for disaster (read: farting). These types of vegetables usually lead to gas, bloating, discomfort, and you spending an uncomfortable amount of time in the bathroom while your date wonders if you're trying to ditch him, so just skip them all to be safe.

4. Bread Basket
The bread basket is always tempting as fuck, but if you needed another reason to reject it, here it is: bread is known to cause bloating in most people. Whether you consider yourself Celiac, Gluten-free, Paleo, Vegan, or any other diet you parade all over social media, bread should be avoided on dates. I don't care if it's whole wheat, 9-grain, grass-fed or whatever the fuck is available nowadays. Skip the bread to avoid bloating. Or if not to avoid bloating, just skip it so he isn't forced to witness you stuffing your face with 15 dinner rolls. Save that for like, the third date.
5. Processed Meat
If you're on a date at a baseball game and think you're being super cute and down-to-earth by ordering a hot dog or a burger, you're wrong. You might be better off with like, pizza—or even better, nothing. Processed meats have gone through a shit ton of processes (fucking duh) to preserve their shelf life, like salting, curing, smoking, and adding synthetic preservatives. They have a shit ton of sodium and are super high in fat, and we're not talking about the healthy, avocado/almond butter type of fat. Just say no all those mystery meats and skip the charcuterie plate, too. I don't care how classy you think you are because you can pronounce "charcuterie"; your perfect French accent will not matter when your love handles are bulging out of your jeans.

6. Anything Teriyaki
You might think you're sticking with the safe option by ordering the grilled chicken or salmon, but if the dish is prepared with a Teriyaki glaze, it's probably gonna kill your stomach later on. Teriyaki sauce is literally made out of soy sauce, brown sugar, honey, and cornstarch, which is basically a recipe for a stomach ache. I mean, I know that sauce is finger-licking fucking amazing, but you shouldn't be doing that on a date anyway, so you're welcome.
7. Bubbly Drinks
Alcoholic or not, bubbly drinks are tricky on a date. On one hand, it's tempting to order a vodka soda at the bar or a San Pellegrino for your table, but carbonated beverages are known to cause bloating/burping. And DON'T get me started on beer. Is one drink really worth the regret you'll feel later on? Def not. Your date will not be impressed that you can burp the alphabet—and if he is, maybe you should not go on anymore dates with teenagers? If the waiter asks if you want sparkling or still, stick with still. Plus we all know the best way to appear sophisticated on a date is just to order regular, non-sparkling wine.

What To Eat Before Going Out So You Don't Bloat Or Die
Does bloating ruin you day, your evening, and your life in general? Do you often try to be a responsible adult and attempt to eat before binge drinking, only to find that your meal has sabotaged you into looking like a beached whale? Lucky for you, we've rounded up the top 7 foods to eat before you head out drinking to AVOID the muffin top spillover and bubbly stomach that results from a bloated belly, so you can still rock that deep-V onesie. HOWEVER, these foods are still substantial enough so you won't end the night face-down in a stranger's toilet. Anyone who's ever tried to take shots after only eating salad for dinner can relate. We just saved your life. You're welcome.
1. Salmon
Blah blah blah drinking is bad and can deplete your body of vitamins. So have a piece of grilled or roasted salmon before heading out which will keep you fuller, help prevent a terrible hangover, and keep the bloat at bay.

2. Avocado
The avocado, the fruit we associate most with worship, is a great choice to prevent not being able to button your pants. Since it's full of healthy fats and digested more slowly than carbs, it'll keep you full without adding inches. So, whip up some fucking guacamole and have at it with like, not chips … which will bloat you.
3. Eggs
Full of protein like literally everything else on this list, whipping up an omelet is a legit choice for your night on the town. Eggs are also full of cysteine, which, according to the internet, is an amino acid that gives your liver a boost, which, obviously, you're gonna need.

4. Chicken
Kind of random, but munching on a piece of grilled chicken before seeing how many shots you can take will take longer to digest (keeping you full), is lean protein (keeping you skinny), and will help curb some of the hangover pain tomorrow. Just make sure we're not dealing with breaded or fried chicken … that'd be silly.
5. Hummus With Cucumbers
It doesn't get more basic bitch than this, but your skinny stomach will thank you. Hummus is chock full of vitamins and protein, which will keep you full i.e. when you're blackout you won't crave a burrito bowl quite as hard. The tahini in the hummus can also help prevent hangovers, so win. Why cucumbers? Because they're literally full of water and are one of the best things to help you stay hydrated AND non-bloaty.

6. Very Specific Fruit Salad
So we need to be fucking specific on this one. Make yourself a fruit salad with kiwi, honeydew melon, and bananas. The bananas have potassium and will help prevent a hangover. The melon is a diuretic and helps flush excess water from your system while working to replace electrolytes. Lastly, the kiwi will help you shit (honestly yah) which always makes us feel skinnier.
7. Kefir Yogurt
If you're in the mood for a parfait, use kefir yogurt as your base. It's tangy, thinner than your typical Greek variety, and helps break down lactose which can cause bloating and stomach pain. Throw some nuts and honey on top and you're ready to take shots.
10 Foods To Help You Debloat If Sweatpants Are All That Fits You Right Now
Bloating is LITERALLY the worst. It's like, you could be eating healthy and totally not shitty, but your jeans claim otherwise. Learning to avoid the shit that makes your stomach hang over your pants is a lesson that should be clutched and held close like a vintage Chanel purse.
Here are the top ten foods that make you NOT bloated, so eat this shit to avoid feeling (and probs looking) like that chick from My Big Fat Fabulous Life.
1. Cucumbers
This shit has been a mainstay in spas for year, and it turns out, for good reason. Cucumbers make you the opposite of bloaty and farty because of an antioxidant that helps reduce swelling in ALL of its forms. So put these shits on your eyes, in your belly, and anywhere else you feel could use a nip and tuck.

2. Bananas
Our fav dick-shaped fruit has ANOTHER use —this time, to help us fit into our jeggings. Since they're so rich in potassium, bananas prevent water retention by telling all the extra salt in your body to get its shit together. An even bigger plus—they'll help you poo, making you feel EVEN SKINNIER. Hooray, bananas.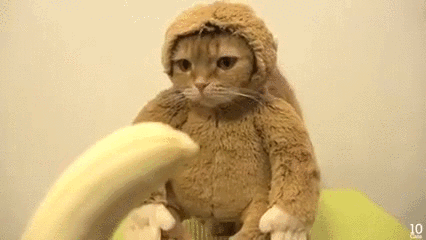 3. Asparagus
Battling water retention is apparently on asparagus' to-do list, and we're thankful for it. Eat it raw, roasted, steamed—what the fuck ever, and you'll feel light and airy despite having had a delicious meal.

4. Ginger
Battling hangovers? Check. Fixing nausea? Check. Making sure your stomach doesn't repulse those around you? Check. Because it's a natural anti-inflammatory, ginger relaxes the whole digestive tract, which makes you feel less like you have to suck it in. Add this shit to any smoothie or tea to help beat the bloat.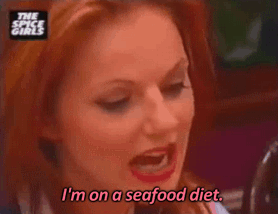 5. Watermelon
Oh yay! Our fav (sorta) calorie-free fruit makes the list. Because watermelon is so full of well, water, it makes you feel fuller without puffing you up. Add the fact that it has little to no sodium (a notorious bloater) and you better be adding this to your diet this week.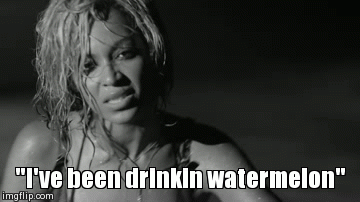 6. Greek Yogurt
A betch fav, Greek yogurt makes the list for showcasing its super good/yummy bacteria. Additionally, since it's high in protein, it'll keep the carbs at bay and keep your tummy flat. Just be sure to say "lol no" to those yogurts with the add-ins or added sugars. That'll do the opposite of giving you a flat stomach—just saying.

THERE IS A GOD. If you need a coffee, keep it iced to add water (duh, an anti-bloater) and skip the sugar. We know coffee will give you a nice little caffeine jolt and the water will like, hydrate you.

8. Avocado
Once again, there's literally no excuse for you to be bloated, having read this list. Avocados and iced coffee? Yah, we can hang. Avocados are super high in potassium like our friends, bananas, which keeps us from retaining water. Once you get rid of all the water, you drop three pounds just like that! We assume.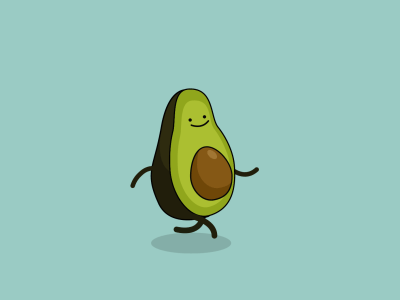 9. Zucchini
Since it's literally a denser, slightly less delicious cucumber, the presence of zucchini on our list shouldn't surprise you. The plus side is that, unlike cucumbers, you can grill, roast, or make chips out of these dick-like veggies. Additionally, they're super filling without the added calories like our good friend, sugar. Thanks, zucchini.

10. Egg whites
Start the day off the WHITE way (no racism intended). Unlike a regular omelette, or doughnut, or whatever, egg whites have basically no sugar, no carbs, and tons of protein. That'll result in a full but flat tummy AND relieve you of some of that extra water.