Why Is Ariana Grande Celebrated For Doing What Taylor Swift Is Mocked For?
Like most sentient Americans, I've spent the past few weeks in a world where Ariana Grande's "thank u, next" is the only soundtrack. It's passed well beyond the point of "great song!" and into the realm of "if I don't get my daily fix, I will probably die." I am certain I'm not alone in this, given that "thank u, next" has shattered multiple records in the streaming world. More importantly to me, the song and its accompanying video have secured Ariana Grande's transition from pop star to icon, from whom every social media nugget and on-screen appearance are nothing short of gospel.
As I've watched (and wholeheartedly approved of) the reaction to "thank u, next," one question continued to bug me. When Taylor Swift sings about her exes, she causes a similar flurry—but one filled with sneering, eye rolling, and the suggestion that she can't be taken seriously as an artist for choosing such diary-like content. Then Grande releases a track in which each of her exes are called out by name, and she's hailed as the ultimate badass for it. As someone who both genuinely loves Taylor Swift's music and feels that 90-95% of songs should be about one's exes, I couldn't help but wonder: why is Grande celebrated for the very thing Swift is mocked for? I've outlined my theories below.
Ariana Grande Is Cool & Confident
Let's be honest—a huge part of the appeal of "thank u, next" is the fact that, given the option, we would all present ourselves like Grande did after a breakup. "Thank u, next" is perhaps the coolest emotion one can evoke when facing an ex—even more so if done with genuine gratitude and while looking insanely flawless. "Thank u, next" is a song we can all caption our pictures with while drunkenly "accidentally" tagging exes, and the worst thing that happens is you've been overly polite to someone who wasted a year of your life. You tag an ex in a pic captioned "got a long list of ex-lovers / they'll tell you I'm insane," and you're not coming back from that so quickly. This brings me to my next point.
Taylor Swift Is Earnest & Emotional
Taylor Swift, almost determinedly, does not put up a "cool girl" façade when she sings about her exes. She painfully scrutinizes where it went wrong, often down to the minute of their breakup. She lingers on their ultimate incompatibility, mourns for the good times, and explicitly details the extent to which both she and her ex will suffer for this loss. Swift is, in my opinion, a far more realistic version of what you look like after a breakup. Contrary to what Grande's rom-com mash-up video would have you believe, most people do not soar from broken engagements feeling validated in all of their choices and loving themselves like never before. They come out feeling lost, broken, and all too likely to dwell on all the most unhelpful and unattractive things.
In other words, they look like this: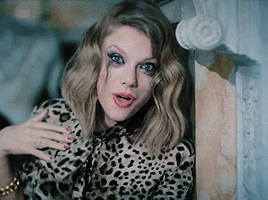 Not this: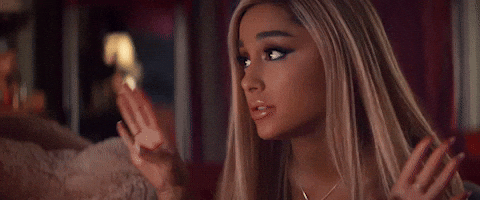 So, if Swift is ultimately more relatable, shouldn't that mean more critical success? F*ck no! Please. Name the last time someone wanted an honest reflection of themselves, particularly if it's unflattering. From the bathroom scale to the pop soundtrack of your life, you want to be fed beautiful lies. People yell at Swift for being vulnerable about her exes the same way you yell into the mirror the morning after drunk-dialing your own ex 12 times the night before. Swift isn't critiqued in spite of being relatable; she's attacked precisely because of it.
Ariana Grande Is Gracious & Direct
First and foremost, we have to acknowledge that Grande takes the high road with "thank u, next." She betrays not one scrap of vitriol toward her exes, talks no sh*t about them or the relationship. She simply thanks them for their time, and reaffirms her commitment to herself. So, that alone is easier to get behind than one of Swift's "remember those three minutes in 2004 when you said we would die together" tirades.
On top of that, there's the fact that Grande seems to have no fear of confrontation (can't relate). She names each of her exes plainly, and even gave many of them a heads-up before the song's release. So, if her exes themselves don't have an issue with the song, it's a little harder for the general public to decry it.
Taylor Swift Is Petty & Secretive
Swift, on the other hand, does everything short of attaching a treasure map to each album with hints to which lyric refers to which ex-boyfriend. Yes, the national obsession with tracking those connections, and stalking her love life in general, has gotten totally out of hand. But when she describes the relationship down to the month ("Back to December"), memorable holiday (4th of July), eye color (too many to count) and so on—it's a little hard not to engage. Add to that the fact that she decidedly doesn't take her exes' feelings into consideration on this—and given the contentious nature of many of her songs, it's not hard to see why.
To clarify, I'm not in any way saying that artists should have to poll their exes before releasing a breakup track. The world would be a much sadder place if that were the case. I'm just saying that Swift's refusal to do so—and Grande's respective decorum toward exes—makes Swift the much easier target to criticize. Basically, Grande is doing all the things you're supposed to do after a breakup; Swift is doing all the things you hope people never find out about after a breakup. And one of those girls will get dragged a lot harder than the other—it's just a fact of life.
Moral of the story here? We should all try to be more like Ariana Grande. JK—you guys knew that coming in. But honestly, that is the hidden message behind the song's unequivocal success. When Swift sings about her exes, she does it emotionally, vindictively, and evasively. She speaks about her exes with all the bitterness of someone still deeply invested in the relationship, or at least actively wounded by it. When Grande sings about her exes, she's singing from the point of view of someone who's moved on—and ultimately, just singing about herself. So yeah, do be more like Ariana Grande. Move on from relationships that didn't work, stop emotionally investing, and celebrate yourself. Apparently, the world has a much harder time tearing that down.
Images: Giphy (2)
What Taylor Swift Music Video Are You Based On Your Zodiac Sign?
We're just under a month away from an Album of the Year drop by the Artist Formerly Known as Taylor Swift, or maybe she's still Taylor Swift? IDK, that whole "Why? Because she's dead" thing still has me super confused. Anyway, in honor of the upcoming release of Reputation, let's take a little gander back through the T-Swift music video catalog and tell you what video speaks to your soul based on your zodiac sign. Get out your fake nerd-glasses and spiral ringlets, betches.
Aries: "Bad Blood"
As an Aries, you're adventurous and energetic. Since Aries is the first sign in the zodiac, they usually see themselves in leadership roles, not unlike Taylor in the "Bad Blood" video as she wrangles her Army of Skanks—I mean, battalion of models to fight the evil Selena Gomez. The Aries betch loves a good challenge, you know, like being able to stand next to Karlie Kloss, Cindy Crawford, and Zendaya without developing an eating disorder. Also, Aries is a fire sign. Like, duh, "Bad Blood" has the most literal fire out of all the T-Swizzle videos.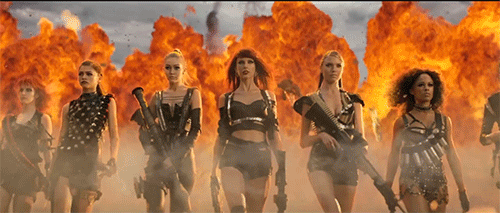 Taurus: "Wildest Dreams"
The Taurus betch has been known to be a bit of a self-indulgent pleasure-seeker. Sounds a little bit like the raven-haired actress Swift plays in the video, right? Likewise, Tauruses (Tauri?) are known for their stubbornness and jealousy. Like, yeah, I would be a little jealous too if I hooked up with Scott Eastwood in the middle of Africa, and then he went back to his dumb wife. As an Earth sign, it makes sense for the Taurus to be matched up with "Wildest Dreams." The video features like, a lot of nature, even if Tay Tay is standing in the middle of it in a ball gown with a bunch of diamonds.

Gemini: "You Belong With Me"
I feel like this was the video that made SO many people into Swifties. Like, it was one of her first big departures from her former Country Cutie persona as she forayed into Pop Star status. Anyway, Geminis are known for their dual personalities. You know, like how Taylor plays herself (a glasses-wearing, sexually active band geek) and a mean girl (a brunette version of Taylor Swift as we know her now). Geminis love to talk, but they are also great listeners—qualities perfect for a peeping-tom type who communicates with her hot neighbor through a series of sad, handwritten notes.

Cancer: "Love Story"
In this video, Taylor plays a Juliet/Renaissance Fair version of herself who falls in love with a swoopy-haired guy definitely circa 2008. Nice. Cancers can be moody and have been known to sulk, possibly in a castle after daddy says you can't date that hot older Romeo type. Cancers can be emotional, imaginative and clingy, often getting lost in their own personal fairy tales—you know, like if you were to daydream that you and a random campus hottie were so in love you killed yourselves. Yeah, that only happens in the play and not the video, but still.

Leo: "Look What You Made Me Do"
Often known for their ferocity, Leos can also be super pompous and patronizing. You know, like if one was to, say, dress up like their archnemesis and metaphorically get in a major car accident. You know, just something silly and light like that. Leos are used to being given the royal treatment, so it's understandable that you'd relate to Taylor sitting in a bathtub full of diamonds or on a throne of snakes. Likewise, you're always reaching for the top, even if the top is that of a pile of your former personas.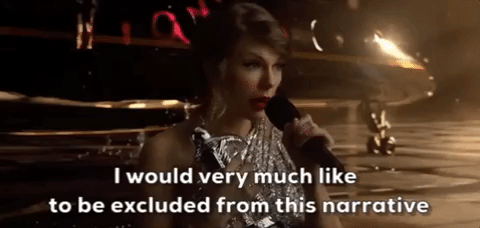 Virgo: "White Horse"
It makes total sense that in honor of the Virgo betch, we'd go back to a more virginal, innocent Taylor like in the "White Horse" video. Sidenote, this video stars Laguna Beach's Stephen Colletti as the love interest. Um, okay. Anyway, Virgos are known for being one of the more subdued signs. In this video we see a more casual and low-key Tay. The video's storyline and sad, heartbroken Taylor should appeal to their more tender and emotional side, even if that emotional side hasn't matured past that of a 17-year-old.

Libra: "The Story of Us"
Partnership is important to the Libra betch, so it only makes sense that you'd relate to how Taylor is pining for the relationship she once had with a nerdy hot guy in this video. Libras are not into conflict, so the fact that it's totes awkward between Taylor's character and a guy she probs hooked up with for a couple months during freshman year but now doesn't really talk to kind of speaks to your soul. Like, you feel for her in this, because you really seek that conflict resolution. Sure, the video ends with the two just shrugging and walking away, but at least you get a hot library makeout scene mid-vid.

Scorpio: "Blank Space"
Damn, Scorpio, you crazy. Kind of like how fucking batshit Taylor goes in this very literal interpretation of her song "Blank Space." Scorpios can be very jealous and often get violent when they're enraged, like how Taylor stabs a weird blood cake and also slices up her lover's dress shirt into having Regina George nipple cutouts. Also, I think my bf legit cringed when she took the golf club to that car. Anyway, Scorpios generally seek a grand passion, totally relatable to the passion between characters in the video. I mean, instead of breaking up with her, the guy just buys a new car. That's true love.

Sagittarius: "I Knew You Were Trouble"
Sagittarius are known for being idealistic like Taylor in this video, always looking for the best in her dumpster fire of a boyfriend… who I think leaves her stranded in the desert/poor man's Coachella in the end? IDK, it's hard to tell what really happens here when you're so distracted by that disaster of a wig. Still, a Sagittarius seeks freedom, travel, and would probs easily be talked into attending an outdoor concert/festival. Like how Taylor shucked her nicegirl appearance to be a bad girl who stays in a shitty motel, a Sagittarius betch doesn't like being confined by the opinion or expectations of others.

Capricorn: "We Are Never Ever Getting Back Together"
A Capricorn can be a bit of a know-it-all; that's why she'll relate to the seemingly silly antics of Taylor in the "We Are Never Ever Getting Back Together" video. Saturn's control over Capricorn can make these ladies a tad unforgiving—you know, how Taylor has to keep saying "boy bye" to whatever hot male model got recruited to play here ex here. Capricorns like to make plans and execute them perfectly, so they'll appreciate how Taylor's band members were prepared to dress like furries and run around probably sweaty AF to make this one-shot video work.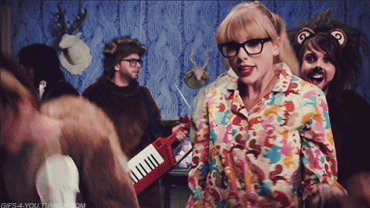 Aquarius: "22"
As an Aquarius, friends are one of the most important aspects of your life, so of course your fun-loving and friendly nature is best exemplified by the video for "22." Though some under the sign are born shy, they're usually seen as more outgoing because of their energetic and eccentric nature. "Eccentric" like how Taylor attends a house party wearing cat ears. Cat ears! What will this girl think of next? An Aquarius feels best in a group, that's why it makes sense that we almost never get a solo shot of Tay in the video. She always has at least one member of her girl posse by her side.

Pisces: "Out of The Woods"
A Pisces is known for being a dreamer, relating to the dream-like journey Taylor goes on in the "Out of the Woods" video. As a water sign, it makes sense for Taylor to be facing the elements like snow and water. Wolves probably symbolize something too, but once again, I'm not really sure what's going on here. Whatever it is, though, it makes sense, because a Pisces is multifaceted and what they say or do will often be interpreted by others in a number of ways. The Pisces betch can often get so lost in their own heads they could totally miss the fact that Tay's blue dress in the video is the same one she crawls out of the grave in at the beginning of "Look What You Made Me Do." And I bet you just re-watched the "LWYMMD" video to double-check, didn't you?