15 Small Businesses Having Black Friday Sales
We all know Black Friday to be our country's very own Hunger Games, a true display of the American people at their absolute f*cking worst. But instead of fighting for our lives like Katniss and Peeta, we're out here throwing elbows for a discounted flat screen? Honestly, it's embarrassing.
However, just like everything else in 2020, Black Friday is going to look a hell of a lot different this year. Due to the pandemic, Karens won't have their chance to stampede a Walmart at midnight (I hope they're okay). Without the normal rush, the big-name retailers will likely take a hit, but these aren't the businesses we should be concerned about right now. Small businesses around the country are fighting to stay afloat amid new shutdowns and restrictions, and many of them are at major risk of survival if they don't produce some cash flow ASAP this holiday season.
So since you can't go body-slam anyone who stands in the way of you getting your half-priced Samsung this year, put your dollars where they truly matter and support small businesses instead! Most small businesses are running their own Black Friday deals, so you can save some coin while feeling good about your purchases. Here are some of the small businesses having great Black Friday sales that we'll be supporting, and you should check them out too.
1. Denim Rush

This brand has become popular thanks to its incredible tie-dye sweats—a style that has become a quarantine staple for many of us. But even beyond just their cozy sweats, the brand has now expanded into other fashion categories, creating more stylish pieces like tie-dye slip dresses and oversized button downs. You can try Denim Rush out for yourself during their Black Friday sale, where they'll be offering 30% off site wide from November 25th through December 1st. Plus, they're even offering a free beanie to match your purchase if you spend over $150. Personally, I'm a sucker for a head-to-toe matching set, so count me in.
2. Coal N Terry

Sure, we're all living in our sweats right now, but let's maybe try to make it at least somewhat cute? Or rather, we actually all owe it to ourselves right now to make it even better than cute— think Kim K lounging around the house in her beige sweats with a full beat type-of-vibe. I mean, that's just the kind of energy I know I want from my loungewear and, if you do too, then shop Black-owned street style brand Coal N Terry this Black Friday. They'll be doing a 50% off site wide sale that you definitely won't want to miss.
3. aReverie Studio

ZAHRIA Beige Cutout Super Cropped Sweater, $55.98
I found this brand on Etsy and can't say enough good things…but I'll try. Not only do they have the best stuff, but they're also offering 50% off everything during their Black Friday sale! They sell trendy vintage-style pieces with a more current feel, making them the ideal place to shop for all your Insta-worthy #OOTDs this holiday season. 
4. BFFS&BABES

Dustdye Rose Robe Full Length, $99
If you need a gift for that person who has everything, I suggest you check out BFF&BABES this Black Friday. They have the cutest gifts like bags, sweatshirts, and robes, and will be offering a rare discount of 10% off site wide. They also offer personalization on their products, so you can make your gift that much more special.
5. Gigi C

If you need to step up your workout ~lewks~ then head to Gigi C for 25% off their site from November 27th through December 1st. They have fashionable workout clothes that will motivate you to actually want to work out, plus incredible swimsuits with unique styles that are unlike those sold anywhere else.
6. Soraya Hennessy

Another great place to shop for that person who has everything is Soraya Hennessy, a brand founded on female empowerment and artisanal craft. The brand celebrates the founder's Venezuelan heritage by working closely with the Wayuu women to create the brand's gorgeous and unique pieces. As if that wasn't enough to make you want to shop their site right now, they'll be offering 30% off your entire purchase for Black Friday.
7. OnKarri

Tina White Print Mini Ruched Dress, $170
Why waste your money this Black Friday buying the same fast-fashion piece that everyone is already wearing, and that you know will disintegrate the first time you put it in the wash? Honestly, that's just poor investment skills—clearly you didn't get a B+ in Finance 100 like myself. Celebrate small business and invest in a standout piece you'll love by shopping OnKarri's online site during their Black Friday sale, where all of the brand's stunning pieces will be on sale for 20% off.
8. Elise Paige

Another great place to shop for gifts, whether for someone else or, you know, just for yourself (hey, you deserve this) is jewelry brand Elise Paige. They specialize in everyday pieces that are trendy and personalized. This Black Friday, the brand is offering 25% off site wide, and you can also get 20% off their custom charm bangles.
9. Thirty20

This brand is one of my newest obsessions, and I'm here to make you just as obsessed as me by letting you know they're offering 30% off everything from Black Friday through Cyber Monday. I discovered this brand over quarantine and have been so impressed with all the new styles they are constantly churning out. The brand will even continue to release new styles every day during Black Friday weekend, all of which are eligible for their sale of 30% off!
10. I Dream For You

The all around aesthetics of this brand make me want to jump into a retro romance movie and meet a cute boy at my local diner. You know, one who I don't have to worry about ghosting me since this was a simpler time before iPhones. Inspired by vintage fashion yet made modern, this brand makes long-lasting sustainable pieces you NEED in your closet. Plus, the brand is offering 30% off site wide starting November 26th and going on through December 1st!
11. Neu Apparel

Muted Mocha Ribbed Seamless Sport Crop, $34
Not only does Neu Apparel make the cutest sh*t, this brand is also using its voice socially and is partnering all month long with Bloody Good Period, a charity which helps create a sustainable flow of menstrual products for those who can't afford them. This is a charity that is certainly more important than ever, given so many women are forced into financial hardship due to the pandemic. And to make the whole deal even better, the site is also offering 20% off site wide for Black Friday.
12. Hutch Design

This contemporary brand prides itself on timelessness and sexy sophistication, making it the ideal small business to spend your money at this Black Friday. During their Black Friday sale, you can get one of their beautiful and stylish pieces for 40% off site wide.
13. LA Collective

You may be familiar with this brand thanks to their collabs with some of our favorite influencers, such as Morgan Stewart, Alexis Ren, and, most recently, Lauren Elizabeth. But with a company attached to such big names you may not have realized that they're still a small operation sold only online. The brand's lines are designed and created in LA, with a focus on making high-quality pieces with the best fabrics.
14. Kristina's Closet

I found this brand on Instagram and can't stop obsessing over their perfectly curated fashion assortment. There isn't a piece on this site that I don't love, and I love it all even more now that it's on sale for Black Friday at 25% off. Plus, it's women-owned and operated so, unlike Bethenny, I'm a woman who supports other women and will definitely be shopping their site this weekend.
15. Kindred Collective

Another brand with the most perfectly curated assortment of product is Kindred Collective, a brand founded by a mother-daughter duo who clearly know a thing or two about fashion. They carry all the top brands like Free People, Show Me Your Mumu, and For Love & Lemons, just to name a few. You can shop their curated assortment online for their Black Friday sale which is 20% off site wide this Saturday through Monday.
So whether shopping for yourself or for someone else, choose to support small businesses this Black Friday and put your money where it matters. Which, shouldn't even be that hard to do with all these incredible sales from the aforementioned amazing brands. Personally, I'll be putting my whole paycheck towards all these amazing pieces and won't feel even slightly guilty about it because like, I'm stimulating our economy and supporting small businesses! I mean, who could argue with that?!
Images: @christiannkoepke/Unsplash; Denim Rush; Coal N Terry; aReverie Studio; BFFS&BABES; Gigi C; Soraya Hennessy; OnKarri; Elise Paige; Thirty20; I Dream For You; Neu Apparel; Hutch Design; LA Collective; Kristina's Closet; Kindred Collective
7 Online Black Friday Fashion Deals You Can't Pass Up
You're either someone who THRIVES off of the adrenaline rush of scoring a deal on Black Friday or… a liar. Everyone's down to save a few bucks on the biggest shopping day of the year. And, not to brag or anything, but I'm one of those people who personally thrives on Black Friday because I'm unusually skilled at fighting through crowds. Just ask my ex-boyfriend about that one time we went to an Avicii concert together and I fought my way through general admission right up to the stage! Well, actually, I got up there but he didn't, so maybe don't ask him because that night didn't end well. Hey, he's an ex for a reason. ANYWAY, I say all that just to point out that you don't have to go beating yourself up right now if you're not a crowd ninja like myself. This is because, nowadays, it's easier than ever to shop Black Friday sales from the comfort of your own home. We've already talked about the best beauty deals to shop, so here are the Black Friday fashion sales that you need to get in on (from your bed).
1. Reformation

Everyone's favorite online retailer, Reformation, which very rarely has sales, will be offering a sitewide discount of 30% off starting at some point on Thanksgiving. We can all assume sizes will definitely go fast, so I'd recommend hitting up this sale first, before any of your other online stops. They currently have tons of amazing pieces that are perfect for all your holiday festivities and ideal for whether you're attending a business casual office party or a boozy holiday house soirée. And by "soirée" I just mean there will be nicer alcohol than Burnetts and Crown Russe, #adulting.
2. Good American

If you haven't tried Good American denim yet, then you're seriously missing out. I feel like people think I'm an ambassador for the brand at this point but sadly, I'm not—I just genuinely love their jeans that much. (Of course, if they are looking for brand ambassadors you know where to find me.) On Black Friday, Good American will be offering 25% off sitewide, so now's your chance to get yourself a high-quality, perfect-fitting pair of jeans that are somehow comfy too, at a discounted price. What a win.
3. For Love & Lemons

Whitney Faux Mohair Sweater, $162
I'm OBSESSED with For Love & Lemons. Unfortunately, when their basic lace thong averages around $50 a pop, it's not exactly my go-to spot for new clothes. However, Black Friday allows a peasant such as myself the opportunity to actually be able to afford their stuff, so you best believe I'll be taking full advantage. The coveted brand will be offering 30% off sitewide, so take advantage and get yourself a holiday must-have statement-making piece while you can.
4. Luv Aj

Double Ball Chain Necklace, $55
This celebrity favorite jewelry brand will be offering 40% off sitewide this Black Friday which is like, the deal of the century. They make great everyday jewelry essentials worth stocking up on, plus they're offering a phenomenal discount. You can finally get in on the cool girl Insta-blogger trend of layered necklaces, just without having to spend your entire paycheck now. Also, if you're feeling selfless, their delicate and timeless pieces make for universally great gifts that everyone is guaranteed to love.
5. DL1961

Hepburn High Rise Wide Leg, $199
Another one of my favorite denim brands, DL1961, will be offering 40% off sitewide, which is actually crazy for a premium denim brand. They make tons of different styles and fits, so if I were you I'd take full advantage and get yourself a trendy pair plus an everyday pair. At that steep discount, you'd actually be dumb not to.
6. Staud

Shirley Bag Tan Croc Embossed, $210
If you don't know the brand Staud, then Black Friday is the time and place to get yourself acquainted. Staud makes super cool clothes and accessories, and also happens to be another celebrity favorite brand. The brand is probably most recognized for their gorgeous handbags, which you'll be able to get for 25% off, along with everything else on their site, starting this Wednesday. So sweet of them to start their Black Friday promotion early knowing how busy I'll be ordering everything else on my list that day, so good looking out, Staud.
7. J.Crew

Silk Tie-Neck Blouse in Leopard, $148
Okay, so J.Crew isn't necessarily on-brand with my personal style, but I also don't work your average 9-to-5. Not to mention, my everyday style tends to gravitate toward denim so distressed that some may consider it to be shorts. However, regardless of my personal preferences, I'm a woman of the people and it is my civic duty to let you know about their unbelievable Black Friday deals. J. Crew will be doing 50% off full price items and 60% off sale. With that type of deal, I may just have to buy this leopard blouse to wear with my aforementioned aggressively distressed jeans. That's probably not the way J.Crew intended it to be worn, but whatevs.
So with all of these incredible deals coming up, I'd definitely start prepping your finances now. Or, maybe you're one of the lucky ones out there whose payday also happens to fall on Black Friday. In which case, I'm actually not sure if that is lucky or not since you will definitely be blowing the entire thing within 24 hours. But hey, eating ramen for a week straight will taste a whole lot better if you're doing so in your amazing new Reformation dress.
Images: Felipe Galvan / Unsplash; Reformation; Good American; For Love & Lemons; Luv Aj; DL1961; Staud; J.Crew
Betches may receive a portion of revenue if you click a link and purchase a product or service. The links are independently placed and do not influence editorial content.
Black Friday Deals On Beauty Products You Need To Know About Now
Black Friday (and more importantly, Cyber Monday) deals are almost upon us. Although I hate crowds, and people, and lines, I really, really love Black Friday deals on beauty products. This is why you can shop online, guys. There is nothing better than telling myself I'm not going to spend money and spending $500 at Sephora but getting $850 of products, so really, I made $350. That's just good business. Since both in stores and online Black Friday shopping is going to be chaos and every woman for herself, it's best to be prepared for what exactly to hit up first and what to buy. Don't wait until the last second when every store is the animal world in Mean Girls. Here are the Black Friday deals on beauty products you need to know about now.
You when you got everything you wanted on Black Friday because you planned ahead:

Sephora is by far my favorite place to shop for beauty deals already with their point systems and lax return policy. They are trying to further my love for them because they are starting Black Friday deals on beauty products on November 15th this year. The early deals are exclusively for the app, so make sure you have that downloaded if you don't already. For Beauty Insiders and Rouge members (which should be all of you, if not, do it now), you get early access to all deals on November 21st, with "regular" customers getting deals long after on Thanksgiving Day/Actual Black Friday. If you choose to go to stores (God help you), Sephora will open on Thanksgiving at 6pm with their deals ready to go. The biggest sale options this year seem to be their $15 & Under deals, where you can stock up on expensive value sets all for under $15.
Ulta is also going to open for Black Friday at 6pm Thanksgiving Day (those poor, poor workers). Their official Black Friday ad goes live around November 12th, so keep a lookout so you can plot what to buy. Their typical Black Friday layout is pretty awesome, with 50% off brands like Urban Decay and Tarte, and $30 off styling products like Chi. Stock up on expensive makeup palettes and definitely take advantage of their 5-for-$5 specials on face masks and other little products.
Amazon already has some of their Black Friday deals out and ready to go. The best part is you can do all your shopping online without missing out on anything. Every day, Amazon will be adding more and more products to their discount list, so check frequently for deals. This is where you should stock up on your have-to-have basics: acne patches, face wash, lotions, that Aztec face mask everyone is obsessed with, etc. Buy in bulk and save the rest of the year.
Bath and Body Works always has amazing Black Friday deals on beauty products. Things sell out quick so you need to be on it. Remember, they have a great return policy, so buy as much as you can with the deals offered and you can return or exchange any scents or products you don't like later. They always have sales going on, so expect them just to be amplified and all at once on Black Friday/Cyber Monday. The real key to owning the BBW system is to sign up for their emails now, and get coupons for 20% or $30 off to use in conjunction with their deals on Black Friday. The better coupons are online only, so keep that in mind if you decide to venture out to the stores. Their elusive $8 candle sale (normally $24!) is usually around Black Friday, but expect the large candles to be marked down to at least half off. Stock up now on those and take advantage of any get-nine-body-washes-for-the-price-of-three weird deals they have. Do you need 10 matching body washes/lotion/body spray combos? I'm gonna say duh, but you can also divvy them up as last-minute gifts later. Or you can just hoard bath products and never have to buy body wash again. Your call.
Images: Shutterstock; Giphy
12 Black Friday Deals That Are So Amazing You Need To Start Emotionally Preparing Now
It may not be Thanksgiving just yet, but fuck it. Really, the most wonderful time of the year is upon us. The Starbucks peppermint mocha is out of retirement, and I'm ready for absolutely everything to smell like pine needles. I've already started playing Mariah Carey's only relevant iconic Christmas album on repeat, and most importantly, I'm ready to blow my hard(ly)-earned money on gifts for myself the important people in my life. It's the season of giving… or something like that. So after Thanksgiving comes Black Friday, fucking obviously. For some lame-ass reason, it's not a nationally recognized holiday, but it's never really too early to start preparing for the biggest and best shopping day of the year. This is one of the rare times procrastination won't get the best of us, so start thinking of a game plan for this year and get a head start on your holiday shopping. You'll totally both thank me and yourself (but mostly me) later. By using my top-notch FBI skills, here's the 4-1-1 on the sales some of our favorite stores will be having. Get ready to destroy your debit card.
The #1 store for stylish, non-boring work clothes is offering 50 percent off of full-priced items in both the women's and men's collections starting November 22 until November 26. It will be valid online and in-stores. Bless.

I just discovered this gem a few months ago and it's honestly perfect for gift ideas. The clothing probs isn't their forte, but they have seriously adorable drink/barware, desk accessories, and home decor. Use the code "ITSBFBABY" to take 30 percent off from November 23 to November 27.

Ban.do Work It Out Water Bottle
Yes, these are those sunglasses everyone on Insta claims to be ambassador for (including Jessie James Decker and Khloé Kardashian). Proceeds go to a super fetch cause, styles are v trendy, and the prices won't even break the bank. From November 23 to November 27, they'll offer tiered deals including 30 percent off of one pair and 40 percent off of two. Amazing.

Kate Hudson's brand extension of JustFab and ShoeDazzle offers high-quality leggings and really effing cute activewear, so you can look like you actually work out. It's a given that no one can ever really have too many leggings, and with an assortment of styles and colors, you'll have fun stocking up your cart on Thanksgiving Day and Black Friday, when the whole site is 50 percent off.

Fabletics Amira Cold-Weather Legging
If you feel like treating yourself to lingerie and boho-chic dresses, take 25 percent off the site using the code "Ouioui" from November 2nd until the 28th.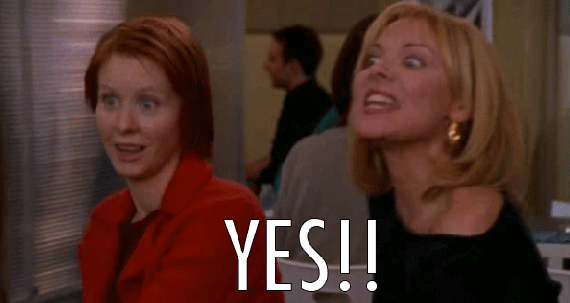 Finally, you can buy that rose gold watch you've been wanting for like, ever without making your parents hate you feeling guilty. From November 22 to November 26, it'll be 30 percent off the whole site, with some styles 50 percent off.

Fossil Neely Three-Hand Rose Gold-Tone Stainless Steel Watch
GILT has our fave designers and brands including Free People, Kate Spade, BCBG and so much more for up to 70 percent off. And, that's just their everyday deal. On Thanksgiving Day, a bunch of selected items will be 90 percent off. On Black Friday, select categories will range from 40-50 percent off, but once it hits 4pm, another round of selected items will be 95 percent off. So, basically, everything will be free and you'll need to have multiple windows open to prep for these sales.

H&M will be extra this year and get a head start on their holiday deals beginning November 14 (which is TODAY, you guys). In-store deals range from a bunch of shit for just $3 to 40 percent off of beauty to BOGO holiday gifts. Until November 27, their website will be up to 70 percent off.

As usual, shopping at Macy's on Black Friday is a fucking shit show. Nothing will change this year, especially because they're offering a fuck ton of deals a bunch of crazy people will def fight over. From Thanksgiving until the 27th, designer collections will be 50 percent off, and women's shoes will . be 40-70 percent off. BLESS. In addition, once you spend $50 or more (which is the easiest thing ever) you also get like, free shit. May the odds be ever in your favor.

We all know Nordstrom goes above and beyond with their holiday sales, so expect this year to be just as good. They're keeping their deals on the DL because they know we're psycho, but for now, they'll start Black Friday sales on Thanksgiving Day online and continue into the following Friday in-store. Until the rest of the deals are announced, you'll be able to take an additional 20 percent off of select sale items.

The Kardashians' hairstylist and BFF is the face behind this brand. This Black Friday, Ouai will be creating limited kits for just $85. They'll apparently include a wave spray, smooth spray, finishing crème, rose hair, body oil, and a super cute clutch. Whether it's for you or your sister, you'll def need to cop one of these ASAP for salon results at home.

For when Saks Fifth Avenue is out of the broke bitch budget range, they have Saks OFF Fifth which is basically the same but way cheaper and more affordable. They're already having amazing deals which include up to 80 percent off select items, 40 percent off of outerwear, and up 50 percent off of Uggs (!!!!). Starting Black Friday, their insane sale will include 50 percent off of women's apparel and accessories, and an extra 50 percent off of sale apparel. To really make it better, there will be free shipping for online orders. PRAISE BE.

T Tahari Knee-Length Wrap Coat
Images: Freestocks.org / Unsplash; Bando; Fabletics; Fossil; H&M; Nordstrom; Saks Off Fifth; Giphy ( 6 )