North West Attended JoJo Siwa's Sweet 16 & We Have A Lot Of Questions
Guys, I have a very pressing matter to discuss, and no, it's not how I'll watch Noah Centineo's new Netflix movie today while at work. I'm going to stream it on my phone, duh. I'm talking about the budding friendship that's happening between JoJo Siwa and North West because, y'all, I'm alarmed.
For those of you who don't spend their time IG stalking the famous friendships of celebrity spawn and therefore have no idea what I'm talking about, congratulations. You're not better than me. For those of you who do know what I'm talking about, then you know that North West, coming off the high of her first magazine cover, recently did a collab with YouTube personality, and the human embodiment of a Limited Too explosion, JoJo Siwa. Well, it was less of a collaboration and more of just JoJo showing North her room, which includes a bedazzled slide and a giant furry sign that reads "JoJo's Juice," and me weighing the pros and cons of calling child protective services. I guess the two of them really hit it off though, because North AND her cousin Penelope both attended JoJo's sweet 16 on Tuesday, and honestly we have a lot of questions.
Before we start speculating as to why a sixteen-year-old would invite a horde of kindergarteners to her birthday party, I think we need to analyze this photo from said party:
First of all, Penelope is looking at the camera like she thinks she's better than this, and she is right. North, take note. Second of all, why do the girls who don't even have their grown-up teeth yet look more mature than the one who is turning 16? Hmm? ANSWER ME THAT. Overall, I find this picture very unsettling, and not just because JoJo is dressed like an extra on the set of The Wiggles. On your 16th birthday you should be sneaking cigarettes in a Wawa parking lot, not entertaining six-year-olds! It's just not right! Like, does anyone else feel like something a little dark is happening behind the scenes here? There were far too many children at that party for an almost-adult to invite, and I was getting some distinct Leaving Neverland vibes from this whole thing.
This became increasingly apparent when I saw a photo of JoJo Siwa with her former cast-mates of Dance Moms. Fun fact: back when JoJo was an actual child, she was one of Abby Lee Miller's elite dancers on Dance Moms. Post-show, most of those girls have tried to shed their child-star images by testing Instagram's nudity policy one thirst trap at a time, and I know this because I follow each and every one of them (and am an active member in Chloe's virtual book club). This is not so for JoJo Siwa! While her friends, who, I remind you, are the same age as her, are literally dressed like Merriam Webster's definition of "jailbait," JoJo is posing next to them like their clown-obsessed acquaintance they were forced to hang out with because their moms still think they're friends.
Holly, you are proving my point for me.
I just sincerely hope that this entire persona was crafted by her mother as a marketing ploy for her to stay relevant. That is the only excuse I'm willing to accept for why she would behave this way, and I'm not just saying that because I've been binge watching The Act, and now want to call the police on every overbearing mother I see. I, mean, are we truly to believe that JoJo's aesthetic is a Lisa Frank wet dream? That instead of trying to guilt her mother into letting her get her belly button pierced like normal girls her age, she'd rather guilt her mother into letting her invite one more five-year-old to her party so they can turn up together on the dance floor? Nah. I'm not buying it. 
Also, North, let's take a page out of P's book and start evaluating who your true friends are here before I write a VERY strongly worded DM to your mother. You might think it's cool now to say you have older friends, but when those friends are 16 and still playing with slime, I think it's time to have a stern conversation with your publicist to see if there are any cooler friends she can dig up for you. And that's your one piece of free advice from me, kid! The next time, I'm charging.
However alarmed I am by the party itself, I gotta hand it to Little Miss 'I Wish I Was 13,' because JoJo Siwa turned that freak show into a lucrative business deal. Footage from the party will air as a Nickelodeon special called JoJo's Dream Birthday on May 18th. Stay tuned for more updates on my rage blackouts thoughts and feelings, as I will certainly be having more of those as more disturbing footage from this party drops.
Images: @dancemomholly /Instagram (1); @aliyah_minisiwanator /Instagram (1)
5 Adult Birthday Celebration Ideas That Don't Suck
January is my birthday month, so to fellow Capricorns, hello, you are the best. But really, we're like the only sign whose "flaws" are actually compliments, ie too focused, too ambitious, too pretty, etc. Geminis are like, oh you're two-faced and you're also batsh*t crazy. Anyway. Being in my birthday month means I have to figure out something to do for my birthday that does not suck. I didn't even bother last year because I was so over it. First of all, you never have any idea how many people are coming. All my friends are coupled off like Noah's f*cking Ark. If you invite your friends, you also have to invite their significant others–even the ones you don't like. And then everyone brings random friends, roommates, etc. It's like, I'm going to have 5 people or 40, not sure which. Instead of having a horrible dinner where you can't get seated because your "entire party isn't here" (even though I explained that my friends are flakes to the hostess no less than 11 times) and people lying about their part of the check, or a house party where you're cramming 5-40 people in your studio apartment, here are some way better ideas so you can actually enjoy your birthday.

Dive Bar
Find a cool, laid-back bar that has food, a ton of space, and cheap drinks. You don't have to reserve a table and you can just hang out all night. Tell your friends, hey, I'll be here from 8PM, show up whenever. If they want to eat, they can get it themselves ordering at the bar and put it on their own tab. No one will kick you out, you don't have to worry about everyone sitting down, and all of your friends can get in even if they arrive late because there isn't ever a line at the door. They may even have live music. It's the closest to having a party in your own house, except you get to leave whenever you want, and someone else has to clean up afterwards.
Wine Tasting Tour
I wanted to do a tour at a winery in Malibu for my birthday, but then it kind of burnt down (awkward). A wine tour is fun because if people don't show up on time, you just leave them, so it's really not your problem. It's also usually kind of expensive, so you'll weed out those people that you felt obligated to invite but don't actually want to hang out with. There are so many different options, like the one in Malibu is actually a safari with animals (who thankfully are all okay post-fire, btw) AND drinking. It's the dream! Think of it as a more exciting way to do a drunk brunch and also, everyone prepays so the check is not your problem at the end of the day.
Beach/Pool
I'm a huge fan of "I'll be here, come if you want" types of events, mostly because I hate waiting for people. Having a party at the beach or a pool is soooo easy and casual, just bring some food and alcohol and tell your guests to BYOB as well. You can spend the day laying out, talking sh*t, drinking excessively, and swimming with no cares about reservations or your house being destroyed. As a January baby, I rarely ever even get this as an option (I mean, I live in LA, so sometimes it's warm enough), but hey, with global warming it's probably something to look forward to.
Venue/Private Room
If you really want to call the shots, consider renting out a private room in a bar or even an entire venue for your birthday. You can pick the music, the drinks, how many people come, and no one can complain about late arrivals. You just stand around looking amazing having the best time, and your friends can come and go as they please. The only true downside is this is expensive. Consider teaming up with a friend whose birthday is near yours and doing a joint party to cut down costs, a la Stassi and Ariana. This is really the best way to do a birthday party IMO, but I cannot f*cking afford it. If only I "worked" at Sur.
Trip
Another way to weed out those people you don't really want to see is to plan a birthday trip. Susan you sit next to at work won't be offended you didn't invite her to a trip with your besties to Vegas because, duh, she has 11 kids and could not possibly swing that. It's the perfect way to cut down up your party list. Even better, book your hotel room with your boyfriend or bestie, and then just tell everyone else, hey, here's where we're staying, book your own room if you want to come. Don't try to split a house unless you want it to be like the dinner check scenario but times a million. But hopefully it's just your closest friends who you know will pay up ASAP, and aren't terrible anyway.

Tell me in the comments some of your favorite past birthday ideas!
Images: Giphy (2)
These Moments Are Proof That Lisa Vanderpump Is An Icon
Moment of silence, because today is a very important day in the Bravo universe. Which is the only universe that really matters. My dear friends, today, September 15th, is the birthday of the Queen herself, Lisa Vanderpump. Despite claims from jealous housewives that she lies about her age, Lisa is turning 58. Sorry Ramona, but Lisa will always be younger. As the star of not one, but two iconic reality shows, it's only right that we look back at some of LVP's most iconic moments, conveniently presented in GIF form.
When Your Friends Aren't Sure If They Want To Go Out

Listen up girls, LVP doesn't want to hear it, and neither do I. I have no idea what this original quote was in reference to, because Lisa has probably said the same thing 10,000 times, most frequently when Dorit won't shut up about her swimsuit collection.
When You Have To Be Honest About Why You Ghosted

Look, sometimes honesty is the best policy.
When A Guy F*cked Up But You Want To Keep Him Around

Ugh, this GIF is everything. The hat, the outfit, the quote. I am 100% here for Gangster B*tch Lisa, but I also understand the feeling of when you should just cut someone out of your life, but you just can't do it. LVP is the relatable queen we need.
When Your Friends Give You The Tough Advice You Need

Much like the waiters and bartenders at SUR, my friends need to understand that they could be dumped at any moment. I am a reckless individual, and I don't need anyone trying to tame me.
Literally Always

Honestly, what am I working for in life if I can't sit at the restaurant I own and just pound shots by myself? LVP looks stunning anyway, so it's barely even sad.
When A Guy Actually Takes You Out On A Nice Date
But actually, it's always your choice. Remember that, ladies!! Lisa and Ken have their own weird arrangement (birthdays and Christmas!), but clearly it works out okay for them.
When You Realize You're Feeling Human Emotions

Just like Lisa, people frequently accuse me of being cold and unfeeling. I usually strive for this as much as possible, but sometimes I just can't help it. Lisa has feelings when she sees puppies, and I have feelings when I see hopeless f*ckboys.
I want to sincerely wish Lisa Vanderpump a happy birthday, and I hope she doesn't have to deal with her nemesis Kristen today. Have fun at whatever lavish garden party Ken is throwing for you!
Images: Giphy (7)
What Does Chris Harrison Do When He's Not On Camera?
Today is a sacred day. On July 26, 1971, we were blessed with a baby boy. One who would grow up to change the world. One whose impact would be immeasurable. That's right, folks, I'm talking about the host you know and love. The man, the myth, the legend. Happy Birthday, Chris Harrison! May the coming year bring you good tidings, joy, and a monetary bonus every time you have to pretend a suitor isn't a literal sex offender. And while we are all so thankful that we're not stuck with Ryan Seacrest announcing cocktail hour and acting like he's not harassing women behind the scenes, we also appreciate that at this point Chris is really phoning it in. I mean, I would too if ABC was practically orgasming at the sight of me.
So let's be honest, Chris Harrison must have a lot of free time. What does he do when he's not announcing "This is the final rose" or counseling professional football players on how to lose their virginity? In honor of our favorite hopeless romantic's birthday, I've come up with a few theories.
Trolling For Young Women
When The Bachelor started, Chris Harrison was a happily married man. But time, life, and sharing the same bathroom took its toll and a few years ago, he and his wife parted ways. So, if you think Chris is not using his C-list celebrity status to pick up twentysomething women, you must have some sort of brain trauma that demands immediate attention. Behold, the evidence.
Chris Harrison works on a show with dozens of single women who would willingly sell their own mother's sex tape to promote fit tummy tea on Instagram. So, if you are one of 25 ladies vying for the heart of a career reality TV contestant with a distracting lisp and an affinity for crying and turtlenecks, I bet Chris Harrison looks real good. And I'm not just making this up like I do most of my articles. Back in 2016, Reality Steve reported that Chris spent a romantic weekend with AshLee Frazier from Sean's season. He tried to play it off like it was a random run-in, but I think they decided to forgo their individual rooms for a fantasy suite. My spidey senses tell me that if Bekah M isn't pregnant, she'll be his next mark.  
Never know when or where you'll run into #BachelorFamily @ashleefrazier #Houston #FinalFour pic.twitter.com/4YgIKskoiv

— Chris Harrison (@chrisbharrison) April 4, 2016
I also assume that when Chris can't find ladies from the show to bang in his free time, he finds other ways to get with women. Like, ABC actually flew Chris all the way to Thailand to say three words on camera. He's gotta be bored. There's absolutely no way he didn't spend his time and money on hookers, I've heard that's a big thing there. Yes, all my information is from The Hangover: Part II. No, I don't care if I'm wrong.
Working On Material For His Second Book
GUYS. I totally forgot that Chris Harrison wrote a book called The Perfect Letter. It was his debut novel and received a favorable review from The Huffington Post, stating, "Do you love romance? Do you love reading? Do you love The Bachelor? Are you from Texas? If you answered 'yes' to any two of those questions, do we ever have a book for you." BRB, I'm headed to HuffPo headquarters to burn them to the ground, who's with me?!
I can only imagine that a hauntingly beautiful book like The Perfect Letter was an immediate success and now Chris and his ghostwriter is on the hook for a sequel. So not only is he busy writing up a storm, but the guy needs material. Not everyone can be as creative as me; it's a gift and a curse. I assume that Chris tries out all of the dates before the Bachelor/ette goes on them to use as settings for his romantic opus. Be on the lookout for romantic hot tub dates in the middle of the desert, too many country music concerts to count, and a demolition derby that leaves someone with a serious case of whiplash in The Perfect Letter 2: The Even More Perfect Letter, coming in 2019.

Maintaining His Good Looks
As I mentioned earlier, today is Chris Harrison's birthday. He turns 47! That's a whole lot of candles to blow out on the cake he forced some poor Bachelor intern to make on their hot plate last night. He isn't getting any younger, and he has to be on TV every week for the better part of a year. The pressure! And let's be real, you know the pure disgust he has to hide every time Ashley I sheds another tear or Chris Soules gets arrested has taken a toll on that baby face. He needs some chemical assistance. Now I don't know for sure that Chris gets botox, and a spray tan, and cryotherapy on a regular basis, but let's do a little compare and contrast, shall we?
Here's Chris on the first season of The Bachelorette in 2003:
And here is Chris today FIFTEEN years later:
He practically looks the same! I'm sorry, but if Chris Harrison is not getting some cosmetic help on his face, then I'd like someone to lead me to the fountain of youth he's drinking from.
And that's what Chris Harrison is definitely up to with all his free time! I hope he has a fabulous birthday, and for my own birthday, I hope someone gives me a gig as sweet as his.
Images: @chrisbharrison/Twitter; Giphy; @chrisbharrison/Instagram (2)
Happy Birthday, Gemini! Here's Your Birthday Month Horoscope
In our ongoing efforts to make astrology the most widely accepted religion of 2018, we present to you our sign season horoscopes. Every month we'll spotlight the sign of the season and give you a preview of what their four-week long birthday celebration will look like. This month begins Gemini horoscope season. Another reason to waste time at work while reading about yourself? The greatest birthday gift of all.
Have you felt different this week? Like something is slightly off but you can't quite tell what it is? Like maybe reality has shifted but it hasn't ruined your life yet so you're just sitting in wait? Don't worry, that's normal. Welcome to Gemini season, betches.
Geminis might be the zodiac world's favorite sign to shit on, but for the next month they are the queens of the castle. What does that mean for the rest of us civilians? That your life just became that much more extra. The events? Nonstop. The drinking? Excessive. The drama? Aggressive. Your bank account? Depleted. Peace and quiet? Cancelled until further notice.
While it may be fun to complain about their two-faced nature and general tendency to make everything 100% more complicated than it needs to be, the truth is that we all love a Gemini. The proverbial Gemini is a snake, a Twitter meme come to life, the reason we all tell our friends to not have sex in August.
Gemini season mood: looking for trouble and if I can not find it, I will create it

— ???????????????? ???????????????????????? (@cozycancer) May 21, 2018
But if we're being honest, real life Geminis are our ride or dies. We love them, we trust them, and we know that both of their faces will always have our backs. So here's to you, Gemini: May the next month be everything you dreamed of, and enough to help you endure the other 11 months of the year when we all ceaselessly drag you.
General Overview
The last few months have been a bit unsteady, Gemini. Not necessarily bad, just unsure. You've been handling it like a champ, taking the uncertainty and fitting it into your routine, but secretly you've always known that it was building to something. This month, all those changes and question marks in your life will finally amount to something, and it will be a turning point for you. No pressure here, but you're going to have to make a decision.
You probably don't like the sound of this, considering this is supposed to be a month of nonstop celebration, but don't fret. Whatever change is coming your way doesn't have to be life-ending. In fact, it may be all the more reason to celebrate. Start taking stock of your life: what makes you happy, what you could do without, and be ready for the moment that could make all the difference.
Career
You've finally reached a point in your job where you feel comfortable. This is a big moment, but don't let it make you complacent. It's easy to see summer on the horizon and immediately kick back and turn on that "out of office" message, but it's important that you don't waste all the momentum that you accrued getting to this point. There's nothing wrong with taking a break here and there, but don't fall behind just because you feel like you can. This is no time to rest on your yannies laurels.

Love Life
Love is in the air, huh, Gemini? The weather is warm, the attractive people in your city are emerging from hibernation, and you're ready to put yourself out there. Our advice: while dating around is all good and fun, don't let it distract you from real connections you may be making. There's no need to rush into a relationship, especially with summer on the horizon, but don't close yourself off to the possibility of finding someone you really connect with. Casual dating doesn't mean you need a roster—you can still make a summer of memories out of one great person.
Finances
After months of saving up, it is TIME. Go wild on a new summer wardrobe. Spring for that spontaneous trip you've been aching to take. Get yourself a new look to go with the new weather. However you want to treat yourself this month, do it. You spent all winter being frugal af just to make it to this moment. Don't hold back.

What to Watch Out For
After being a major emotional support system in your friend group for so long, it can be hard to put yourself first, Gemini. You're going to need to get past that, because there's a lot of shit coming your way this month, and you're going to need to lean on the people close to you to get through it. Your friends may not be accustomed to dropping everything to be there for someone, but they're going to need to learn real quick. Watch out for anyone who refuses to reciprocate your constant support. One-sided relationships are for Postmates and pets, and nothing else.
Images: Giphy (2)
A Look Back At Scheana Shay's Most Delusional Moments
Happy Monday, gang! Today is the 33rd birthday of Vanderpump Rules' Scheana Shay. Marie? Whatever. I'll give you all a moment to call in sick in honor of the 75 degree weather this holiday. While Scheana has the same three careers of most LA residents (actor, singer, waitress), she's better known for her work as a professional Delusional Dater. TBH, it's unclear whether Scheana needs an intervention or a lifetime achievement award when it comes to her delusional behavior. But I'm compiling a rundown of her most deluded moments either way. Without further ado, a list of all the times you wanted to reach into your TV and slap some sense into Scheana. Happy birthday!
Season 1: Scheana The Delusional Mistress
As you may remember from Season 1, Scheana dated Eddie Cibrian, then-husband of RHOBH star Brandi Glanville, back in 2006. What takes this episode from "being a bad person" to "being delusional AF" is that she claims not to have known he was married. Again, she's dating an actor who's married to a future Real Housewives star. Not exactly people known for keeping their private lives private. And yet it takes her "six to eight months" into dating to "find out." Oh, and she takes him back when he says he's actually "separated." Because really, why would he lie?? Great instincts.
As an added bonus, Scheana throws a fit when Lisa bans her from a dinner with Brandy Glanville in attendance. This isn't John Tucker Must Die, Scheana. It's kind of common courtesy not to invite your guests' husbands' mistresses to dinner parties.

Season 2: Scheana The Delusional Invalid
As delusional behavior goes, this is a minor offense, but still extremely funny. Scheana opens season 2 after having oral surgery and giving Stassi the silent treatment for not having called. Stassi neither gives a shit nor acknowledges that there's anything to give a shit about, all season long. It's glorious. But of course, that means the screaming monster inside Scheana's head that needs attention hasn't been fulfilled. So Scheana announces a foot injury. When this, too, does nothing but annoy people, Scheana suddenly has an eye injury. All injuries magically heal after administration of 30 seconds of Lisa Vanderpump telling her to grow TF up. Funny how that works. My only regret is that Lisa stopped this before Scheana came into SUR wearing the neck brace she definitely ordered.
(In case it's unclear why this counts as a delusional episode, consider that this is a 29-year-old woman claiming three distinct injuries in as many episodes. These are the excuses of a third grader trying to stay home from school, and it's confusing why Scheana thinks Lisa's that dumb.)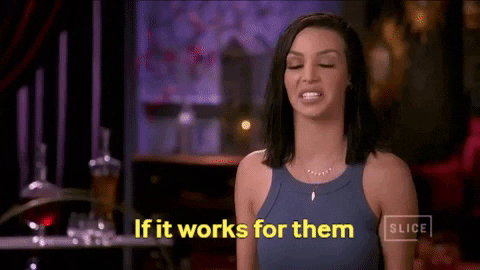 Season 3: Scheana The Delusional Wedding Planner
Between her impending wedding and Stassi alienating all her friends, Scheana's confidence is at an all-time high here. This leads to many deluded moments, like designing a crop top wedding dress and choreographing the reception. My favorite moments, however, are when Scheana tries desperately to chip away at Stassi's hold on the group. This is best exemplified on her bachelorette trip to Miami, which Stassi doesn't attend. So Scheana spends the whole trip loudly saying subtle shit like, "it's so nice when CERTAIN PEOPLE aren't here." Sadly, I really think she hoped if she made the trip fun enough, they wouldn't all run back to Stassi the second she decided to pick up their calls. Sorry Scheana, that's not how girl world works.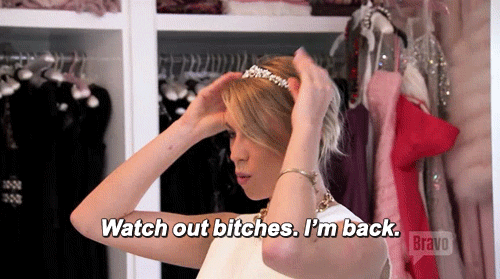 Seasons 4-5: Scheana The Delusional Wife
You all know about this particular delusion, and it's pretty sad so I won't dwell on it long. Despite the fact that Shay seems chronically depressed and occasionally disappears for days, Scheana insists they're fine. He eventually confesses to her that he's addicted to opioids. Scheana is devastated, but decides this can be turned around by working out and having Sandoval make them egg whites. This leads to a series of very painful episodes where Scheana tries to get Shay to act like nothing is wrong. She makes him go out and party with her friends, tells him she wants a fun husband who drinks, and forces Shay to make a confession about his drug use to the group. (The group's joint effort to pretend they considered Shay a friend is both heartwarming and deeply cringeworthy.)
Lisa gently reminds her that there are rehab facilities filled with professionals for this type of issue. Scheana's rebuttal is that she's making Shay pee in a cup at home. Later, she finds out he's spent a bunch of their money buying more drugs (I'm sorry, but duh). Shay continues to lie to her about it (I'm sorry, but double duh). In her one shining moment of VPR clarity, Scheana finally demands a divorce.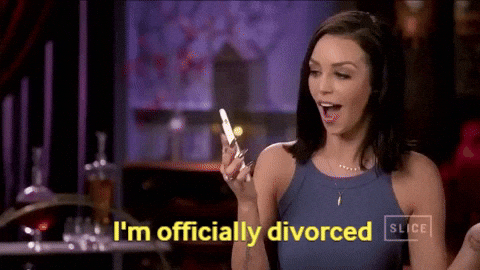 Season 6: Scheana The Delusional Girlfriend
Finally, the Scheana you all know and love, girlfriend of Rob Valletta, future mother of Madison Marie Parks-Valletta. Let's recount Scheana's absurd Rob statements this season. There's the story (repeated three to five times per episode) of how he assembled a TV in seven minutes (while she timed him!). There's the general praise of Rob's status as Platonic Ideal of Man, including a giant penis, ability to both fix a boat and water-ski behind it, and foresight to buy real estate large enough to accommodate all her bratty friends. Then there's the insistence that he never could have kissed another girl at Toca Madera, because "Rob doesn't like kissing." Also, there's the time Scheana said "I love you," blankly stared at him for five minutes, laughed, and walked away. Yikes. I think the pause here was her brainwashing herself into thinking he said it back.
I'll wrap it up with my favorite exchange of Scheana's Rob-related delusion. She's rooming with Lala in Mexico, and Lala gets flowers from her boyfriend. Scheana immediately gets competitive and FaceTimes Rob, who basically says "please stop calling" and hangs up. In the next room, Lala asks if Rob ever sends her flowers. "I don't like flowers," she says. Gifts? "I don't like gifts." While it might seem like Lala is kind of badgering Scheana here, I honestly think it was a kindness. They all just recently watched Rob around Scheana acting like he kind of hated her. Then he essentially hung up on her. If Scheana had been like, "oh no I have $10,000 worth of merchandise in gifts," that would have given the world something to go on. Instead, she said "I hate all gifts."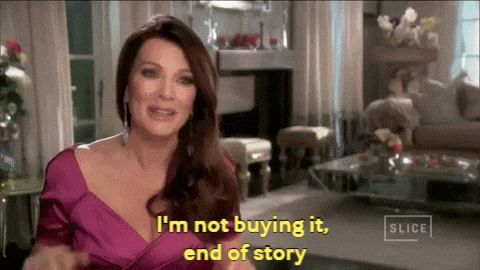 In a final bit of delusional news, Scheana now thinks she should have her own spin-off reality show. She's quoted as saying "with my life in Vegas right now, there's just so many interesting aspects to everything I'm doing out there, and the group of people I hang out with." Pro tip, Scheana: if you're angling for a reality show, maybe don't make your Instagram stories a second by second replay of exactly how boring your life is. And once again, happy birthday!
Images: Giphy (5)
The World Is Your Oyster: Your Weekend Horoscopes April 20-22
With Mercury out of retrograde, the world is your oyster. No longer do you have to live in fear of getting fired, ruining your favorite outfit with a red wine mishap, or drowning inside a New York City subway. Things are really looking up this weekend. Here are your weekend horoscopes April 20 through 22. Let the stars tell you how to enjoy this momentous 4/20 weekend. (You didn't think I'd forget, did you?)
Aries
Finding peace and serenity is so important to you this weekend. It's okay to spend a little cash to spruce up your apartment if it means living a more comfortable lifestyle. Remember, don't make things too cozy. You'll likely never leave if things are too nice, and you're too young and pretty to be a homebody right now.
Taurus
The Sun in your sign means it's your time to shine this weekend. Of course, the Taurus betch isn't one to seek the spotlight very often. That doesn't mean you can't use the opportunity to remind your friends you literally never ask for anything from them, so the least they could do is plan you an amazing birthday celebration.

Gemini
Your social calendar has been, like, really full lately. This weekend, it's okay to take a break and say no to an invite or two. Take a yoga class. Enjoy a walk in the sunshine, Do some other peaceful hippie shit that will look cool on Instagram. Taking it easy this weekend will be super helpful when shit hits the fan on Monday.
Cancer
With the Moon in your sign, you'll feel comfortable expressing your feelings this weekend. Go ahead, tell your boyfriend where you want to eat instead of making him guess for an hour. You pick the brunch spot for the group. Your take-charge attitude won't go unnoticed and will be highly appreciated.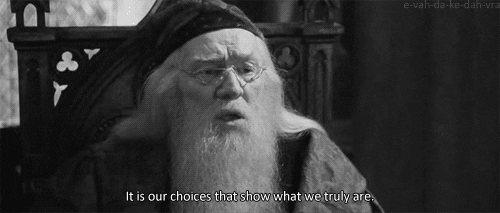 Leo
This weekend, a need for privacy will clash with your nature to be outgoing. Fake it a little. When someone asks you prying personal questions you just don't care to answer, just tell them a version of the truth. Your horoscopes April 20 have issued a decree: Don't be fucking rude, just be a little shady. Keeping your personal life on a need-to-know basis will protect you in the future.
Virgo
You'll grow even closer to someone this weekend as you share an adventure. Travel or a new experience will allow you to learn things about someone you wouldn't figure out otherwise. Like, if your boyfriend is really good at getting you free upgrades on airplanes, you know he's a keeper.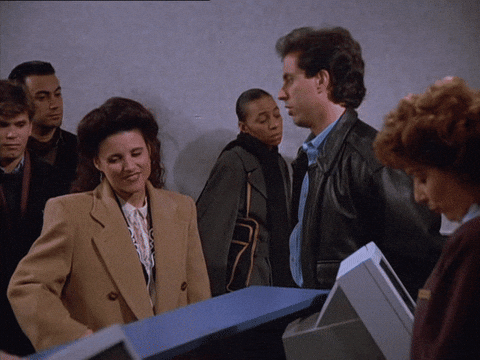 Libra
As a Libra, you're usually pretty fun, carefree, and balanced. This weekend, a more intense side of you could come out. Don't worry about scaring people off. Seeing you in a new light will make them respect you or be turned on by you. Ain't nothing wrong with being a little fiery once in a while, right?
Scorpio
The Moon will allow you to broaden your perspective this weekend, Scorpio. Don't be surprised if you start matching with guys on a dating app you never thought you'd be attracted to. Dudes and sorbet have a lot in common this weekend for you: sometimes what you need is a little different flavor to cleanse your palate.

Sagittarius
You're determined to get some shit done this weekend. I'm sorry. It's just not your nature to be all play and no work. Do what you have to do and then treat yo' self the rest of the time. Nothing says "good job cleaning your apartment" like a new spring wardrobe and a facial, right?
Capricorn
Your ruler Saturn can create some limitations for you. Like, it makes you more responsible or some shit. That can be a burden when you feel like you're kind of babysitting while the rest of your friends are getting fucked up. Take a break from that this weekend. It's your turn to have someone hold your hair while you puke. It's your turn to leave your credit card at the bar. It's your turn to sort of not remember how you got home.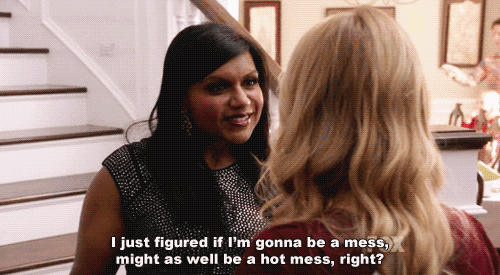 Aquarius
It might sound super boring, but you really just want to stay home this weekend. Don't let the fact that you don't want to pay for overpriced drinks while screaming at people in an attempt to have a conversation in a crowded bar deter you from having a good time. Have the party at your place. The booze is cheaper and people will sort of judge you less for being in your pajamas.
Pisces
The hard thing about being a Pisces is that you're just so enjoyable to be around. People love telling you their problems and shit since you're a pretty sympathetic ear. Plus, you're go-with-the-flow. What's not to love? This weekend, though, you need to draw the line. If someone won't stop blowing up your phone for help with drama that has nothing to do with you, leave them on read. They'll get the point.

Images: Giphy (6)
What To Get Him For His Birthday Based On How Long You've Been Dating
I won't lie, shopping for men is fucking hard. That's not to say that men don't like stuff, because plenty of dudes have more stuff than Khloé Kardashian has butt injections. It's just that we tend to fall into two camps: oblivious dudes who definitely need and even want stuff, but don't realize it; and obsessive hobbyists who very vocally want and need stuff—it's just that all of their shit is incredibly specific and expensive. Ask one what he wants for his birthday, and he'll say something like "I dunno, shoes or something?" Ask the other, and he'll reply with three paragraphs detailing the specifications of the $5,000 modification he wants for his gun, or whatever the fuck he's way too into. Buying birthday gifts for men is hard, and I'm sorry.
That said, one way to make things easier is to break it down by how long you've been dating. That is, your boyfriend's monetary worth to you is based on his emotional worth to you. In other words, the longer you've been humping, the more money you should feel free to spend on him. I've provided some helpful suggestions based on some arbitrary relationship durations, which I just made up, right now. Along with them I've added some ideas that don't cost anything at all for all you broke-ass bobo betches out there.
0-3 Weeks

Gosh, this is awkward as fuck. What's wrong with you, getting involved with a guy so close to his birthday? There aren't a lot of good options here, because it's doubtful that you're even calling this guy your boyfriend yet. If you are, it hasn't been for very long—certainly not long enough to justify buying him anything too expensive. This speaker is as good a choice as any, cheap, useful on its own, and still sufficiently impersonal. It's waterproof and attaches to tile with a suction cup, so he can listen to music in the shower. That's good, because people get naked in the shower, which will make him think of having sex with you.
Free Option: Send N00dz
Totally to your discretion here, as I don't begrudge anyone for not wanting to photograph their naughty bits in an age where everything is permanent. But if you're feeling a little free and/or frisky, a snap won't hurt. The golden rule is that you can show either your face or the parts that would get you banned from Instagram, but not both.
1-3 Months

Ah, that feels better—you're in real, tell-your-friends-and-maybe-even-your-family-about-him relationship mode. You should now feel comfortable spending a little more money on him, which is nice because God knows he's spent enough by now trying to woo you into the sack. A nice way of reminding him of how important to you his wallet is, I think, is to buy him an actual new wallet. These minimalist ones have gotten popular lately, because they don't fuck up our backs when we sit on them and/or they fit in our front pockets. This one is even better, because the aluminum construction and (spurious) military ties will make him feel like a real man as he whips it out pay pay for your fourth frozé of the afternoon.
Free Option: Sex In Public
When I say sex in public, I don't mean like, right on the sidewalk or whatever. That's not a kink, that's deviance. I mean somewhere like a bar bathroom, an apartment balcony, a golf course at night, etc. It's definitely a little trashy and you could still get caught, but that's kind of the fun of it. Just stay away from schools and daycares, and you should be fine.
4-10 Months

You know the drill: more time, more money. At this point in the relationship, you'll start noticing just how barely-together most adult men have their shit. Like, how does this dude have such a good job when he only uses the free toothbrushes from the dentist? Why hasn't a grown man been to the doctor since high school? It's times like these when we might need some help with the basics, and these sneakers are a good addition to the ever-dicey "casual but not, like, gym shoes casual" footwear category. Native shoes are all "beast-free" (i.e., vegan) if that matters to you, and there are lots of good colors to choose from. And since summer's coming up, the beauty of these is that they're ultra lightweight and breathable—important for going sockless without the dreaded swampfoot. I feel like that's an issue men and women can unite behind.
Free Option: Anything New In The Bedroom
We all fall into our sexual routines, and for the most part that's fine. Everyone's happy, you know what you're getting, etc. But variety is the spice of life, so for his birthday shake things up. No one's asking you to cross any personal lines, here—no dry anal or inviting his whole office softball team into the sack—just a nice change of pace. Try introducing a toy to the proceedings, or go out without underwear on and make sure he knows it. Anything to remind him of why he got himself into this situation in the first place, really.
1 Year Or More

Well shit, I guess you guys like really love each other or something, huh? Birthdays get weird in long-term relationships. On the one hand, you want to give him something that at least partially reflects your love and admiration for him. On the other, you'd like to think you're past the point of him needing anything from you to celebrate the fact that he's lived his 31st year on this planet. Split the difference and get him a nice, handsome watch that doesn't break the bank like this one. It's more sentimental than a pack of underwear or whatever, but it's not as try-hard as a fucking Rolex or other absurdly priced timepiece.
Free Option: Get Out Of Town
I don't mean the two of you, I mean you go somewhere else for the weekend. Go visit your parents, or your sorority sisters. Doesn't matter. If you've been together this long you probably spend a shitload of time together, and of course that's nice. But what's also nice is having a weekend to yourself to be a slob, hang out with his friends, and watch porn with the sound turned on. It's the little things, you see.
Head Pro, because he's so cool and not materialistic, doesn't want much for his birthday: just for everyone to follow him on Twitter and Insta at @betchesheadpro, and to email him at [email protected]. And also, to Venmo him $50.
Betches may receive a portion of revenue if you click a link in this article and buy a product or service. The links are independently placed and do not influence editorial content.