3 Things Every Summer Wedding Should Have (And What Not To Do)
Everyone looooves summer. And betches everywhere loooove a summer wedding. Of course, summer weddings can be the absolute best or the total worst…and there's definitely a fine line between the two. It all lies in the small details and, fortunately for you—and really, for your guests as well—there are event design services that take care of all of that for you. One of our personal faves is Birch Event Design, who helped us come up with this list of summer weddings dos and don'ts. So, in order to make sure you stay on the right side of that aforementioned fine line, here are some v crucial summer wedding dos and don'ts you should follow (or else, like, probably face the wrath of your guests).
DO: Have An Outdoor Ceremony (If Possible)

The benefit of having an outdoor summer wedding is that you can utilize the beauty of nature for an effortless picturesque backdrop. Effortless, beautiful, and the best part…free. When you're spending all the money in the world to make your wedding day as flawless as possible, you'll want all the free sh*t you can get. That being said, your main concern with an outdoor ceremony will still be that one unpredictable, bipolar woman in attendance. No, not your mother-in-law: Mother Nature. Just to be safe, make sure you prepare for any and all of Mother Nature's possible mood swings. Of course, the beauty of hiring a service like Birch Event Design is that they can do that sh*t for you. Because we both know that you already have enough to worry about.
DO: Have An Outdoor Cocktail Hour
Outdoor cocktail hours are the perfect complement to your summer wedding. Especially if you're not able to have a full outdoor wedding ceremony, an outdoor cocktail hour allows you to take advantage of the gorgeous summer weather regardless, so you can properly kick off your wedding with those good summer vibes. Plus, it gives you and your guests some more time outdoors to get pics in that Insta-worthy natural daytime lighting. I've said it once and I'll say it again, #doitforthegram.
DO: Have A Cigar Bar Right Outside The Reception
A cigar bar is classy, bougie, and essential to your summer wedding. It gives people an excuse to step outside and enjoy the weather, plus it makes for a great "activity" for the men at the party. Disclaimer, though: just don't make said outdoor area so cute and comfy that people choose to congregate there the whole time. You don't want to spend all this money on perfecting the interior details just for everyone to decide to stay outdoors the entire time.
DON'T: Be Afraid To Use Velvet Or Heavy Linen

These quality fabrics are essential for grounding the room and decor, so don't be afraid to use heavier materials, even though it is a summer wedding. Again, you don't need to be so literal about the fact that you're having a summer wedding. A summer wedding doesn't need to mean beach themed, with seashells and mason jars everywhere. So don't be afraid to get unconventional with it and do the unexpected. At least, in regards to the decor. Oh, and while we're on the subject of unexpected, I'd steer away from trying to be "goofy and cute" with a choreographed dance with your wedding party. I mean, it's just not unconventional anymore. If you don't believe me, just search YouTube. In fact, at this point I think it would be more unconventional not to do one of those tacky dance numbers, but that's just IMHO.
DON'T: Refrain From Using Bold, Dark Colors
When having a summer wedding, the natural impulse is to go with a theme of light neutral colors. But again, like, why be so predictable? Darker, bolder colors for your summer wedding are way less basic, and will make your wedding more chic and thus, more elevated. It's a lot less cookie-cutter, and a lot more all-around cool. And, I mean, what better time to be the trendsetting cool girl than at your own wedding? Of course, that's rhetorical: there isn't a better time.
DON'T: Skip The Coat Check
You may think, "why would I need a coat check in the summer?" Well, I'm here to tell you why. Because people are unpredictable af, and your guests will likely be coming from all over. Plus, for a lot of people, their "coat" may be part of their ~lewk~, but they don't want to be stuck carrying it around for the entire reception. And also, besides needing the coat check for actual coats, your guests can use it to check other belongings. Like, your grandfather who brought his bulky huge vintage videocamera in a non-ironic retro-cool kind of way. The poor guy's got a bad back—give him a coat check so he doesn't have to worry about feeling like he needs to carry around his heavy dinosaur-era camera.
For some brides, their wedding is hands down the biggest day of their life. Even if you're not as obsessed with your wedding as the girls who have meticulously planned out every detail since age 7, it's definitely worth hiring a service like Birch Event Design just to ensure that your day is flawless. Hire a production team and make the investment in yourself, your relationship, your memories and, most importantly, your sanity, to ensure that your wedding day truly is the best day of your life.
Images: Birch Event Design (2)
Is Planning Your Wedding When You're Not Engaged Insane?
I'll truly never know why women are offended at the assumption that all little girls plan their future wedding. All that proves is that we are and have always been f*cking organized, which everyone already knew, so what's the big issue here? For those of you with no sense of humor who are about to explain it to me in the comments, I'm being facetious, so chill out. Moving on!
There's something to be said about planning for an event to which you haven't technically been invited yet. For example, I started painting my cooler for frat formal before I was technically asked and, you know what, I got to study for finals while all of my friends were slaving over their Yetis. On a scale of one to Lindsay Lohan's fake British accent, how obvious is it that I went to college in the South? So, while prematurely buying and decorating said cooler may have been a little much, pre-planning is actually pretty normal—and expected—when it comes to weddings. Look, I'm a firm believer in the surprise element of proposals, but I don't think the idea of getting married to the person you're dating should be a shock. When I think of that, I think of those painful YouTube videos of guys proposing to their girlfriends at basketball games on the big screen, and the poor girl just, like, does not know what to do, but she def isn't saying yes. The lesson? If you're dating someone for a certain amount of time, it's a good idea to have some kind of discussion about your future, if for no other reason than avoiding public humiliation at a Knicks game in front of thousands of people. But, like also so women can do what we do best and make a tackling a giant project (like planning a wedding) look easy. So, if you want to get ahead on wedding planning before getting engaged, read on for tips from Josh Spiegel, Creative Director at Birch Event Design.
Why Would Someone Start Wedding Planning Before Getting Engaged?
Look, the real question is why does anyone do anything before they have to? That, I'll never know, but what I can tell you is that planning a wedding has a lot of moving parts and getting on top of that sh*t is imperative if you want to spend the big day actually enjoying yourself. Of course, getting a jump start on likely the most stressful year of your life may not seem like something you're truly dying to do, but if you're one of those couples who must ruin wed over a long weekend like Memorial Day or Thanksgiving, you don't really have a choice but to start wedding planning before getting engaged, like, a good six months before you even see the ring. I exaggerate, but you do need to lock down the big vendors early—before you get engaged—if you want to have a wedding that doesn't take place in your living room. Spiegel says, "Planning in advance is smart for those looking to wed during major weekends. If you're looking to get married during a popular time of the year, you should book ahead of time so you can ensure you lock in the venue, band, florist, photographer, and other top vendors that you want." Exactamundo. The two real reasons to book these vendors early is because other eager couples may get there first, but also because these vendors are also people who may have holiday plans. Ideally, they'll blow off their families for a big-ass deposit, but they'll prob want plenty of time to convince their loved ones that money is more important than Christmas. So think of them and ask in advance!
What Elements Can We Tackle Before The Engagement?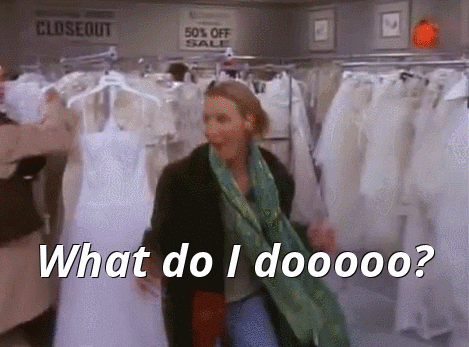 Obviously, you can't like, go dress shopping before you get engaged, because that's just weird and unnecessary. Generally, you go dress shopping with your friends/mom/sister/etc. and I imagine it would be an awkward invite asking them to go to the wedding suite at Nordstrom with no ring yet. So, if you are dying to get started on your lists and your spreadsheets, there are def some things you can plan pre-proposal. Spiegel says, "In general, we believe that people who plan their weddings before they're engaged are making a smart decision. Recently, more than not, we're working with clients who are booking their vendors in advance and locking their dates in." I respect these clients and I would like more people like them in my life, please. I can't tell you how quickly your local florist or cake baker will book up, but from sitting next to my engaged coworker who I'm pretty sure is ripping out one eyelash per venue that is booked for her date, I do know that venues book up eons in advance. The bottom line is that if you know you are getting engaged within the next few months, don't wait until you get the rock to break out your secret wedding Pinterest board. Unless, of course, you don't want to because the thought of planning anything except for dinner this weekend stresses you the f*ck out.
How Many People Start Planning Before The Engagement?
You know when you do something you think is weird, like, I don't know, not leaving your apartment for an entire weekend to binge Queer Eye or weeping harder than you've ever weeped at Queer Eye? Same. But there's nothing more reassuring than other people engaging in the same weird sh*t you do because that makes you feel less weird, right? Same, girl! Ok, so wedding planning before getting engaged is the same way because you are not alone here. I know that if I fully booked my venue before my engagement, I'd feel like both a badass boss and a complete psycho, but after hearing the cold, hard facts from Spiegel, I actually feel pretty ready to plan the entire wedding sans ring. He says, "Percentage wise, about 50 percent of couples are now booking their venues before engagements and about 20 percent of our clients come directly to us before they're engaged." Shut. The. Front. Door. 50 percent?! I know that's a small number if we are talking, like, chances of survival or exam grades, but for re: the amount of couples who plan the wedding before the engagement, that's a pretty astonishing number. But I do have to ask, if both parties of the couple are taking part in the pre-engagement planning, why wouldn't one of them propose already? Just a thought.
Are There Any Downsides To Planning Before The Engagement?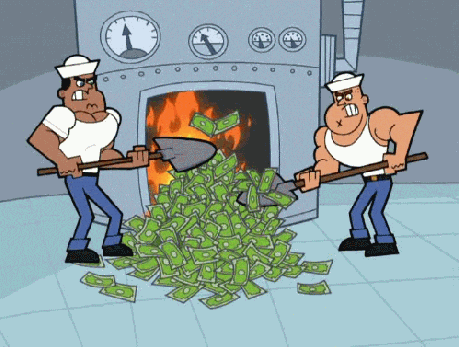 Like most things in life, yes. Spiegel says, "One downside of planning early can be locking into contracts with vendors when you haven't discussed details. This can lead to improper spending since you might not have budgeted correctly or may not have had to chance to do all of your research." As a 25-year-old with a skin care addiction, I am v familiar with the concept of improper spending and, let me just say, it sucks. For example, my sister just booked her $300 an hour makeup artist who uses only Chanel products (lol same) because she felt pressured to just make a decision, but look where that got her. That's $300 she could have spent on more cupcakes. Also, I just have to say, if you are a person who refuses to use non-Chanel products, who the f*ck are you and how do I get into your line of work? Anyway, the only reason we book these vendors so early is because we feel pressured, right? We need to figure out how to use that pressure for good instead of for making terrible decisions that will likely leave us in a sticky spot come the wedding. Not sure why I am including myself in this scenario, as I am lightyears away from an engagement, but hey, that doesn't mean I can't start planning now!! Is it too early to book the Boathouse in Central Park for my wedding in 17 years? LMK, thx!
Images: Giphy (2); Unsplash
Which Wedding Trends You Should Avoid, According To An Expert
Saying that planning a wedding is stressful is like saying water is wet or Jax Taylor has issues with infidelity. So I won't sit here and wax poetic about all the nights you'll wake up in a cold sweat because you had a dream that your table runners were apricot when you had specifically ordered tangerine. But I will say that you're going to be left with a lot of decisions. What's in, what's out, and what's totally gag-inducing when it comes to weddings seems to change by the minute. Is burlap still chill? Should you have a dessert buffet? How about a food truck? Are strapless dresses completely dead? To help guide you in your multi-tiered wedding plans, we asked our in-house expert, Caroline Greif, CEO of Birch Event Design, about what their team foresees as the future of classic, trend-forward weddings for 2019 and beyond.
What's Out

According to my Pinterest page à la 2015-16, burlap, Mason jars, cowboy boots, and barns are very in. Did we all throw up together? Good. Every trend and decor element has its day, but there are definitely a few things that our friends at Birch Event Design say are right out. "Mason jars are outdated. Many people are still doing the earthy vibe, but in a more glamorous fashion." In other words, bundles of twigs and rustic lanterns are a way to bring that nature/farm vibe without throwing a burlap runner down your tables.
Additionally, "Boutonnieres and corsages are no longer necessary—they are a little outdated—corsages more so than boutonnieres. However, they are more traditional, so I wouldn't say not to include them if you like being traditional." So yeah, if you're absolutely set on a v traditional wedding with all the bells and whistles, go ahead and include the corsages, but don't feel like you have to if it just isn't your thing.
What's In
View this post on Instagram

Last year we had food trucks, donut walls, and greenery f*cking everywhere. Our experts say that some of their new favorite trends include ceiling treatments and decorative walls. "These trends add a lot of excitement to a room and really make a bold statement. It's no longer just about centerpieces and the ceremony, and I expect these trends to be around for a while."
So if you've ever really wanted hanging flowers and walls decorated with pictures and draped fabric, you're in luck, cause that sh*t is in. Plus, it'll add softness and atmosphere without more centerpieces and (gag) uplighting. Nobody likes uplighting.
What You're Likely Doing Wrong
View this post on Instagram

If you're desperately searching for that perfect classic trend to weave into your wedding day, or the most amazing flowers for your bouquet, be careful where you look. "I think some trends tend to get overplayed because everyone gets their ideas from social media. I always suggest that our clients design their event based off of what they like, and not just off of what others are doing on Instagram. Be unique!"
Bottom line, you may see someone with hanging eucalyptus or a croissant tower (IDFK) on your Pinterest feed, but if it doesn't feel like you, don't feel like you have to fit in to the trend.
What's Not Done Enough

Speaking of your floral arrangements, Greif says, "I always recommend to be bold. People often play it safe with whites or light pinks, but dark colors are much more dramatic. Natural flower colors are so magnificent and people are too nervous to let them shine." You heard it here first: don't be afraid to pick those near-black dahlias or those wine-red roses.
It's better to have bold choices shine than to feel like you have to hide behind pastel everything (unless you're super into that). I had a close friend get married in a flower garden, and the combination of flowers in her bouquets and the background of her photos was f*cking amazing. She chose nude and pink colored dresses for the her bridesmaids, too, so that the flowers could really be the star of the show. It worked so well, and I'm still hella jealous.
What's Best To Avoid

If you've ever watched Four Weddings, you know that some brides are obsessed with the idea of sticking to a theme. Whether it's "Halloween" or "Winter Wonderland", people are really into the whole notion of making their guests forget that the theme is actually (and should be) "wedding", with a few subtle thematic elements (like pumpkins for your Halloween wedding).
"You have to be very careful with themes. Doing it the right way can be costly, and if you aren't going to do it right, it's probably best not to do it. What you can safely do is translate your theme into a beautiful color palette with elements and floral arrangements that subtly reflect the theme. If you still want to bring it to life, but don't have the budget for it, create a moment, such as a striking entrance design that goes all-out on the theme, but ties into other elements throughout the wedding."
So if you're dying to have an Art Deco/Gatsby wedding (honestly so 2016), then really f*cking go for it. Don't get some geometric cocktail napkins and a feather headpiece and call it a day. Go big or go home. That's why it may be better to take theme elements from several eras or styles you love and marry them together, rather than backing yourself into a corner just for the sake of paying tribute to the 1920s or a v spooky holiday.
Images: Clane Gessel Photography; Shutterstock (2) Unsplash (2); bircheventdesign / Instagram