5 Plot Points From 'The Flight Attendant' That Still Don't Make Sense
HBO, the unspoken hero of late 2020, knew that in order to survive the remainder of the year, we needed the most binge-worthy content, which they delivered in the form of a number series (The Undoing, anyone?). Aside from that and Murder on Middle Beach, one of their heavy hitters that got me through the year was The Flight Attendant starring Kaley Cuoco. It's about a flight attendant (Cuoco) who wakes up after a layover in Bangkok to find a dead man next to her… and no idea of wtf happened the night before.
Contrary to popular opinion (aka that of my close friends) I wasn't a huge fan of The Flight Attendant right off the bat. The flashbacks, though obviously the main plot of the show, irked me, and 99% of the time I wanted to shake Cassie for her irrationally bad decision making. I later realized that is literally the entire point of the show, but until I got there, I was not a fan.
Disclaimer: Spoilers ahead, so here is your chance to exit this piece while you can.
It wasn't until Max got hit by a car that I started REALLY getting into The Flight Attendant. I was on the edge of my couch waiting to see how it all ended, and while the episodes leading into the finale were fun and exciting, the finale not only fell a bit flat for me, but also left me confused. Here are 5 things I'm still questioning days later.
1. All Things Megan

Megan's character is a tricky one. Presuming you've watched the show if you've made it here, you know that Megan is Cassie's coworker, self-proclaimed best friend, and… a spy stealing corporate secrets and intel from her husband and his job for the North Korean government. This plotline seemed juicy and fun, and I was excited to see how it tied into Cassie's disastrous situation, because I ASSUMED it would. But you know what they say about assuming things…
Turns out Megan's subplot was just that: a mostly unrelated subplot. There was no exciting twist that she was secretly working for (or stealing from) the Sokolov family. No finding out that this project is all a figment of her imagination and she's actually losing it. No nothing. Just a train ride to nowhere, kind of like this plot point.
While the writers did throw in the ~twist~ of Shane working undercover for the CIA to keep tabs on Megan it didn't really matter? Because he drunkenly reveals his true identity to Cassie (???) after saving her life (???) and doesn't catch Megan. Shane tops it off by letting Cassie know the CIA wants to hire her (which is normal for someone who wakes up next to a dead body, lies to the government about it, is on the verge of liver failure, and only makes it out alive by continuing to fail upwards). I really needed more from this mess.
2. The Injuries
Now I don't know about you, but my understanding when it comes to being shot or brutally stabbed is that one doesn't typically walk away and carry on with their day. Apparently this rule does not apply to most of the characters in The Flight Attendant, and while I understand that TV magic is a thing, I can only suspend my disbelief so far.
For starters, Miranda. We first see Miranda get shot in the leg in a parking garage. Ouch. Luckily, Miranda has superpowers and is able to ignore her injury, kill Victor, and drive off to the airport. I literally can't function when I stub my toe, but ok. Miranda's superpowers continue after arriving in Rome (after figuring out a way to get on the plane despite the airport staff fully noticing she was shot and trying to stop her). After Cassie arrives in her hotel room, she faces a not-so-fun surprise when she finds Felix and Miranda hiding in her shower. Miranda looks dead in the tub, but, she's not. In fact, she finds a way to escape yet again! Miranda has an almost-happy ending, escaping with the Sokolov money and even sending Cassie a departure gift of Alex's book. Nobody is looking for her and she's not wanted for murder (until season two, that is). All around, super realistic!
Next up in the injury department, we have Joe Goldberg from You Felix/Buckley. This man survives quite the takedown in the Rome hotel room. Cassie first slashes his leg with a knife and then follows up by shooting him in what appears to be the upper leg/hip area. To finish the job (or so we think), Shane busts down the double-locked door and shoots Felix right in the chest. He's somehow not dead, though. Buckley gives them a wave on his stretcher ride out and Shane remarks "son of a b*tch is lucky you only hit him in the leg," which is confusing, because Shane just shot him in the chest (stomach?) five minutes ago.
Finally, Enrico. I'll keep this one short and sweet. He takes a nasty stab wound to the stomach, gets KOed via Felix's knee, and then survives. I'm not saying you can't survive the above injuries, but, what? Max's car accident was slightly unrealistic (really, he's on a morphine drip after getting hit by a car and has no visible bruises or scratches?) but at least they put him in a hospital bed.
3. The Realization that Cassie is in Love with Alex

Now, I'm not here to tell you that you can't fall in love with someone after a one night stand. People on The Bachelor fall in love after a lot less. That being said, I needed more of a reason for Cassie to feel so attached to Alex after one drunken night that she doesn't even remember. In the book (yes, of course it's based on a book), Cassie is pregnant with Alex's child, which makes things a bit more complicated, but also a lot more understandable. When I was watching the show, I needed more of an explanation, because her coming to terms that she was in love with a figment of her imagination never quite added up. You can blame it on her past trauma, her drinking, her desire to break the habit of reckless behavior, but there was never a clear-cut explanation here and that is what I need from a finale—answers.
4. The Uneventful Ending of Hammond and White
First of all, if you're reading this wondering who Hammond and White are, you're not alone. While I was super familiar with the two FBI agents on the case, I genuinely had NO idea their names were Kim Hammond and Van White. But hey, the more you know. Anyway, aside from the obvious lesson learned (douchebag male agent thinks he's right because of white male privilege and belittles Black female agent, only to be proven wrong in the long run), these two don't serve a huge purpose in the end. After being cleared of Alex's murder, Cassie arrives back in the states and goes to lunch with Annie like nothing ever happened. The show glazes over the aftermath of Cassie's wild night (like the fact that she still woke up next to a dead body and lied to the FBI, the fact that she was a murder suspect and needed to be formally cleared, the fact that she witnessed like… five stabbings and shootings in an hour) and we never get to see her final interaction with Hammond and White. Given that their entire purpose was to find her and prove whether or not she was innocent, it felt like a missing piece to the puzzle skipping over the final details.
5. Stalker Felix

There's a lot to unpack when it comes to the Felix/Buckley saga, but there were still some things that simply did not add up to me. In the finale we find out Felix was stalking Cassie, following her around the world using her license as a way of tracking her (?) He half professes his love to her, half wants to kill her to complete the job Victor assigned him, and it's a bit of a confusing mess. Despite having like 100 chances to kill Cassie, he did not follow through—but he still stalked her like prey during their non-intimate moments.
My confusion stems from Cassie's first time meeting Alex. Felix is on the flight (because he's hired by Victor to kill Alex and get the money) but then tells Cassie that he was stalking her. So which one is it. Both? That is too messy. And then Cassie and Alex, his two prey, just happened to end up having a one night stand? That's convenient. Maybe I'm not picking up what the writers were putting down, but I'm deeming this plot point a miss.
All that being said, I did enjoy the show. It was fun, different, and I thought Kaley Cuoco was perfect for the role. I just have two final questions. One, how did Cassie not even flinch when taking shots of that cheap-ass airplane vodka? Two, how did Cassie escape the scene of her father's deadly drunk driving accident with no one questioning the fact that a drunk little girl, covered in cuts and blood, who was related to the drunk driver, was at the scene of the accident? Hopefully these questions get answered in season 2, which let's be real, I'll still be watching—confused or not.
Images: Colin Hutton (2), Karolina Wojtasik, Phil Caruso
The Definitive Ranking Of 'Normal People' Characters
I, like many others this week, spent six hours binge watching the entire season of Hulu's "Normal People". It honestly took me on an unexpected emotional roller coaster. The story of two young people in love, but also in denial. I've never been so frustrated in my life. Like JUST DATE AND BE HAPPY. Ya know??? I cried, I gasped, and I even screamed "OMG THEY'RE SHOWING HIS DICK". So yeah, if you haven't seen it yet, I highly recommend!
It's almost difficult to rank these characters, because they are all so sh*tty at one point or another, but that's what makes it fun I suppose. Here's my ranking of the characters from worst to best.
10. Jamie (THE Absolute Worst)

I debated the worst character for a moment, because there are a few options here. Quite honestly, if you've watched this show, you know that just about every single character is the worst in one way or another. But, after some glasses of wine and deep thinking, I settled on Jamie. Jamie is a rich, smart, prissy boy. But, not the kind of rich that makes him attractive. The kind of rich where he complains that they're drinking Champagne from the wrong glass (maybe he should befriend Dorit Kemsley). He was cast perfectly, because he's tiny and dweeby, which makes it that much more irritating when he's rude and plays the tough guy act. Without giving away too much detail, Jamie is insecure, manipulative, and a loser. In other words: the worst.
9. Denise (Also Basically the Worst)

Denise was also in the running for the worst, but her evil antics seem to stem from somewhere, so she landed at number nine. Denise remains mysterious, but they do not shy away from showing how awful she is during her few moments of fame. She's widowed, which gives her an excuse for being closed off. But, she's still a mom, and it's actually sad to watch how she treats Marianne. I get the wannabe Devil Wears Prada vibes from her, but without the valid excuse to do so. By the end of this show, you essentially want her to get hit by a bus, so, I'll leave it at that.
8. Alan (Again, Also the Worst)

Alan. If you're like, "who tf is Alan", he's Marianne's brother. I clarify this only because I didn't remember his name either, but loathed him as a human. Alan is the conceited red head that everyone hates. He's also born rich, but is dumb, so he doesn't have the perks of coasting through school like his peers. Every time he pops on screen, I cringe, because I know he's here to make us miserable and he succeeds at doing so 10/10 times.
7. Rob, Eric, and Rachel (Different, But The Same)

I'm grouping this trio as one ranking, because they are three versions of the same human. Boring, angry, popular kid who bullies you because they have a crush on you type. They're the kids who peak in high school, and then go on to be the weird, single, 38-year-olds sliding in your DMs with some pyramid scheme BS. Obviously, the plot twist with Rob is quite jarring (no spoilers here), but it still doesn't take away from his slimy personality. It just makes him slimy with some deeper issues than we realized.
6. Helen (Blah)
Helen is kind of boring, but kind of important. I honestly feel bad for her, being the rebound is never fun. She handles it with poise, at first, and I can't decide if it's because she is clueless, or because she wants to be the cool girlfriend. Either way, Connell is always like "I LOVE HELEN" while jerking off to Marianne, so thats where she stands. All I've got to say is, Helen never had a chance.
5. Marianne (Damaged Goods)

It was hard for me to find a place for Marianne. On one hand she is a broken soul, but on the other hand, she's kind of annoying. Like, why must you make so many average situations so miserable? That said, we see a lot of growth in Marianne throughout the show. In episode one, she's a virgin, and by episode 12 we've seen her naked banging multiple guys about 25 times. Most of us call that one semester of college. Hats off to Daisy Edgar-Jones, though. She was very convincing, and very brave. If someone asked me to go on TV at age 22 and show my ~everything~ it would be a hard pass.
4. Peggy (Also Blah)
Peggy felt so irrelevant to me, until I realized she was essentially in every episode. I am not ranking Peggy number four because she's fun. I'm not even ranking Peggy number four because I like her. But, she is simply not as evil as all of her predecessors. She doesn't start drama, she's a ride-or-die friend, and she's a hoe but makes it normal. She's the type of friend that you only bring to a party if you're okay with her sleeping with more than one of your friends (at the same time). But, she keeps it real, and most of the characters in this show lack that quality. So, cheers to Peggy.
3. Connell (My New Crush)

CONNELL. I have so much to say about this boy (man?) For starters, I've never questioned myself more when watching a show. Connell is not traditionally hot, yet so sexy. But, he's portrayed as a high schooler for two episodes, so am I going to jail for thinking that? I googled and he's 24 IRL, which is still too young, but less repulsive. There are so many layers to Connell, and I'm pretty sure every viewer wants to peel them back. He's the token good guy who is peer pressured into being a dick because his friends think it's cool. I feel like he never REALLY grows out of that, but by the end we're all so blinded by love that it doesn't really matter.
2. Karen (DUNF)
Karen is an underlying hero throughout this show, despite the fact that she doesn't make a ton of appearances. Karen is the the designated ugly nice friend, and we love Karen. I feel like her character was handed to us simply so that we are not emotionally distraught every time Marianne gets bullied, and it works. I think the irony of this is that her name is Karen. We all know that Karens typically ask for the manager to complain, but this Karen asks for the manager to compliment an employee's hard work. Love that for her.
1. Lorraine (Queen!)

Lorraine is a sweet angel on earth, and a saving grace to this show. I mean, obviously I enjoy the evil characters, but we needed Lorraine to balance things out. She is the light, and the rest of Ireland is the dark in this case. Lorraine looks like she is 30, but her son is 20, so that is unique. She is just all around a nice gal, and proves that you don't need to be rich to be happy (don't tell the Kardashians that). By the end, you want Connell and Marianne to work out, simply so Marianne can call Lorraine mom. Lorraine FTW!
If you haven't watched this show, please do. This is not an ad, but as someone who has watched more hours of TV during quarantine than in my entire life combined, this show has stuck out to me more than most. Be prepared for an emotional roller coaster, and to lust after Connell. Let me know if you agree with my rankings, and slide into my DMs if you want to argue. There will be no bashing of Lorraine, and no complimenting of Alan, but everything else is fair game.
Images: Courtesy of Hulu
So, You Ate Too Much—Here's How To Reframe Your Thinking
We've all been there: doing super well with our workout routine, eating super clean and healthy, and then the holidays roll around, and you feel like you ate so much mac n cheese, you could literally die. You had the best of intentions. You told yourself you were going to fill up on salad and green beans and turkey. (Okay, so maybe you were a bit unrealistic). That didn't happen, because food is delicious. If you're like a lot of people, you might be feeling a whole lot of emotions, and probably not a lot of them are positive. I don't need to tell you that beating yourself up over not being perfect is counterproductive… but I'll tell you anyway. Don't worry, I'm here to help.
When all is said and done (and eaten), you probably came to one of two different conclusions, right? One, you say f*ck it, you already messed up, might as well give up. Two, you own up to your sh*t, recover, and get back on track. If you picked one, then we need to switch your whole mindset. How are you ever going to reach your goals (in fitness and life in general) if, for every one mistake you make, you give up and make another four or five? One bad meal or one bad day doesn't have to set you back for a week or more. So take a deep breath, stop beating yourself up, and take a look at my best tips to helping you get back on track.
Instead Of Beating Yourself Up… Forgive Yourself
I already touched on this a little, but first and foremost, realize that you're human and no one on Earth has ever stuck to a diet or lifestyle change perfectly. Diets are not designed for perfect execution, but that's a whole different topic of discussion that I could talk about forever. Bottom line, if you went harder at Thanksgiving than you had initially intended, forgive your mistake and dust yourself off. It's just a speed bump, you didn't crash and burn. You'll be okay.
Instead Of Feeling Regret… Find Appreciation
Instead of focusing on all the negative feelings, focus on the upside. Did you have a great time with your friends and family? Did you enjoy the food? Did you avoid getting into an argument with Uncle Paul by making sure your mouth was full with mashed potatoes at all times? Regret nothing. The more you focus on the negative, the more you'll stress yourself out, which will raise your cortisol levels and cause you to further demonize food. If you follow my school of thought, then you know we don't demonize food—doing so will just make you want more of the "bad" foods you have deemed off-limits, and in the long run, sabotage your own goals and happiness.
Instead Of Doing A Cleanse… Hydrate And Eat Fiber
Okay, so instead of just not eating the next day to counteract the damage, drink a lot of water and make it a point to eat something green and crunchy like a salad (crunchy because of the lettuce, not croutons, sorry) for either lunch or dinner. The water and fiber will help move things along, literally and figuratively. Salad, soups, feel free to add whatever lean protein you want. Avoid processed foods and try to limit your sodium intake, because it will just make you more bloated. But, for the love of God, eat! Don't try to crash diet or deprive yourself of food or go on a juice cleanse—that's setting yourself up for more struggle, disappointment, and bad feelings in the long run.
Instead Of Working Out As Punishment… Do It As Motivation
If you feel so motivated, try to get a workout in. To be clear, this is not a punishment for your mistakes. Don't approach it like that, but approach it like, now that your gas tank is full, you have the resource to go the extra mile. You may find that you are able to lift heavier, run faster and go for more reps and sets. Use the extra fuel as a resource for achieving new fitness goals, but make sure not to over-exercise to the point of injury.
Remember: As long as you don't give up, you'll be okay. Keep the vibe and self-talk positive, because literally, EVERYONE on Earth goes through this. What matters is if you choose to bounce back from these setbacks. The difference between progression and regression not just in fitness, but in life, is realizing you're bigger than your mistakes.
Images: Element 5 Digital / Unsplash; @dietstartstomorrow, thefuckitdiet /Instagram
Is Penn Badgley's New Show Problematic?
I started watching Lifetime's YOU for the same reason I assume everyone did. As a self-loathing 24 year-old with an English degree an ex-Gossip Girl addict, I missed watching Penn Badgley condescend to women about literature on my TV. And YOU does serve up plenty of that—but it also serves up a narrative that walks through very dangerous territory. As the show follows the story of one guy's growing obsession with a girl, it has the potential to fall on the side of harmless, bingeworthy pop-horror—or on the side of sexist, hurtful garbage. Here's why I'm a little worried it'll be the latter.
For those who don't know, Lifetime's YOU is about a crazed stalker/bookstore owner named Joe (Badgley) who becomes obsessed with an MFA student/generally insufferable "poet" named Beck. (Guinevere Beck in full, just to give you a sense of the writing we're working with here). The show is (mostly) narrated from Joe's point of view, a device that's apparently carried over from the source material. We hear as Joe decides to indulge his obsession: following her, breaking into her apartment, stealing her phone. We hear the judgments he makes as he examines her life: her friends are shallow and stupid; her choices in men are hopelessly misguided; and above all, she needs to be rescued from her own worst impulses. Rescued, of course, by Joe.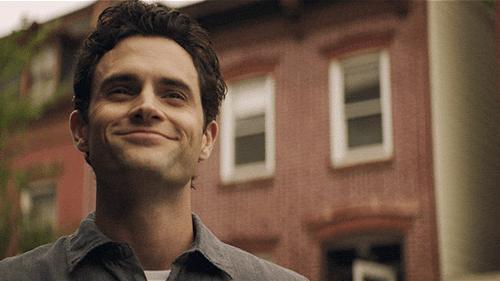 The decision to have us hear Joe's thoughts is useful, to an extent. We hear the jumps in his logic early on ("I should Google her" becomes "I should masturbate outside her window" very swiftly), establishing firmly that he is disturbed and we should treat him as such. But hearing his thoughts also creates an instinctive desire to understand him, as you experience the story through his eyes. And given that the show's view of Beck does very little to contradict his impressions—her friends are portrayed as rich, unsupportive airheads, and her pseudo-boyfriend is a celiac entrepreneur with a trust fund. To an extent, YOU tells us that Joe is right, and Beck does need to be saved from these monsters.
Of course, you could argue that the story is simply uninteresting if Beck is an unflawed character. But in the first four episodes (SPOILERS), we see Joe save Beck's life, help her work through deep-seated issues with her father, and re-invigorate her confidence as a writer. Yes, we also see him murder a man in a bookstore basement, but YOU does everything short of casting Donald Trump to ensure that we want that man dead anyway. For every act or thought that could only belong to a complete maniac, Joe is somehow given an equal and opposite opportunity to prove himself as Best Boyfriend Ever. And between that dangerous balancing act and the flashbacks to (what I assume is) Joe's abusive father, I'm getting a little concerned about the picture YOU is painting.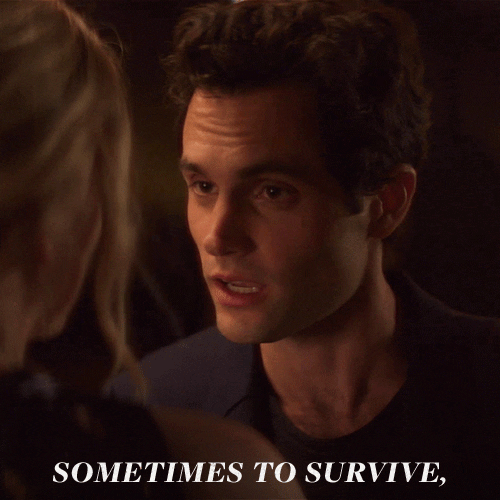 Ultimately, the question of how much we want Joe's character humanized is key. The more we watch Joe have a positive impact on Beck's life, or hear Joe's opinions and agree with them, or are shown flashbacks intended to make us feel sympathy for Joe, the more we're distanced from his active decision to prey on a strange woman. Every time Beck's friends are mocked or demonized for questioning her choice in Joe (ostensibly, because he makes no money), it complicates the narrative of "man terrorizes woman." In an odd way, the story instead becomes "Joe is so great for Beck—if only he weren't also a terrorizing psycho!" It suggests, in turn, that Beck would be better off if someone like Joe came into her life. Just a version without childhood trauma that causes him to stalk and kill people.
But I never sought out this show in hopes of watching a woman get saved by a man. I came hoping to watch a terrible man behave terribly, and eventually be punished for it. I came for the kind of justice that's rare as ever in our current world, where a bad man is outed and punished appropriately. Instead, I'm getting the same of what we see in the news, or what's been written in every book with a male author since the dawn of time. A man did a bad thing—but it's complicated, and he had a bad childhood, and we shouldn't be so quick to judge, and hey, she's not perfect either!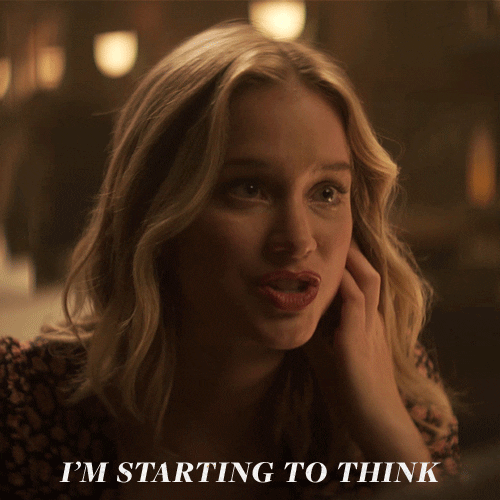 Like I said, I understand the need to have "complicated" characters on both sides for the overall non-awfulness of the story. But when you're showing Beck swiping indiscriminately on Tinder and Joe driving around a corpse in his trunk in the same episode—and implying that judgment is equally deserved for both—I'm going to lose a little patience. Explore Beck's character all you want, but portray Joe the stalker as the monster he is, and not as a morally comparable puzzle we should all be eager to solve.
Images: Lifetime; Giphy (3)
We Asked An Expert How To Stop Binge Eating Once And For All
Dr. Glenn Livingston recently guest starred on our Diet Starts Tomorrow podcast to talk about his book, Never Binge Again. He's a veteran psychologist who had a very serious problem with binge eating for many years. It wasn't an issue when he was young and working out for a few hours each day, but when he got older, got married, and became a psychologist, he no longer had the time to work out. He did, however, continue to eat whatever the hell he wanted. And he couldn't stop. Hitting close to home yet?
Dr. Livingston began to look into why he couldn't stop himself from giving in to his food desires. He funded a large survey in which he found there were emotional patterns associated with particular foods. He dug deeper, and discovered that in today's society with all these luxuries at our fingertips (cough Seamless cough) we "definitely are being overstimulated with pleasure that evolution didn't prepare us for." Damn.
Glenn calls these "pleasure buttons" that we're constantly giving into. He realized he had to find a way to recognize these buttons so he could ignore them. And he did. Cue Never Binge Again.
What are the main theories you espouse in the book?
It's less of a theory and really more just a way to clear all the misinformation and noise which prevents people from eating well today. The research suggests addiction is not a disease, even though that's the prevailing notion. We can choose what does and doesn't go in our mouth. And while whole, natural foods tend to work much better to create permanently thin people, most of us don't have to give things up entirely either. If we take the time to think through the dangerous triggers for us in terms of particular foods, situations, and thoughts, we can decide beforehand what we want to do about them.
I advocate for identifying your triggers, defining clear rules for how you want to behave when they come up. Then listening carefully for that crazy inner voice that tells you to break those rules. When you recognize it, you can ignore it.
Why did you choose to nickname your lizard brain the "inner pig"?
I did this to differentiate it from my human identity. Also, so that I wouldn't think of it as something I was supposed to love and nurture, like an inner wounded child. You need to dominate your lizard brain in the same way an alpha wolf dominates a challenger for leadership. The appropriate attitude is "step out of line and I'll kill you!" As a side note, even though you can't, and shouldn't try to, excise your lizard brain from your anatomy.
How do you actually go about creating a food plan? Are there certain rules you recommend to include or avoid for different types of struggles?
It's very individual. I suggest people break it into four categories, though—things you will never do again, things you will always do, things you will do in certain conditions, and things you can do in an unrestricted manner. I offer a set of food plan templates in the free reader bonus section on my website. There are multiple examples to get you started, regardless of the type of diet you're on.
What are some of the pitfalls of this method? Where have people gotten derailed in the past?
Most people are very frightened of the words "never" and "always". The thing is, our lizard brains act like 2-year-olds. So we present our food plans as if they are set in stone, even though it would be ludicrous to assume that we're never going to change them. We can change them, but only with serious forethought and consideration. I recommend at least a half hour's journaling process followed by a 24 to 48-hour delay before allowing the change to take effect. This moves the food decisions into your higher brain and prevents you from acting on impulse. You can still eat anything you want—nobody is restricting you—it's a matter of what you consider healthy and what consequences and tradeoffs you are willing to make.
How do people overcome the challenges associated with this process?
When you make a mistake, you need to learn how to forgive yourself with dignity and start again quickly. Don't let five cupcakes turn into 15 (or 50). You need to figure out the specific loophole in your food rules that your Pig took advantage of… or the Squeal (irrational lie) it used to get you to break your best plans. Then, you can fix those loopholes and disempower the Squeals by identifying the illogical element of them.
What kind of outcomes have you seen with your patients, people you've coached, and people who have read 'Never Binge Again'?
Almost miraculous when people stick with it. Not just weight loss, but it's the mental freedom which brings people the most happiness. Their life is no longer all about obsessing about food because they've identified and disempowered the dangerous triggers. Now they can think about other things, be more present, enjoy their loved ones, and get back to living their lives and pursuing their goals.
For more on Dr. Livingston's advice about binge eating, check out his new book Never Binge Again, and for more real af diet talk you won't hear anywhere else, follow Diet Starts Tomorrow.
Images: Brooke Lark / Unsplash