How The Schitt's Creek Characters Would Quarantine
Like everyone else, I've been working on bettering myself in quarantine (and by bettering myself, I mean watching all of the shows I've been adding to my Netflix queue). My first official quarantine binge was obviously Parks and Rec, but when I realized that I couldn't watch Parks over and over until this ends, I started looking for new content, which is where Schitt's Creek comes in. 
Honestly, it took me a few half-watches of the pilot, but once I got like, 10 minutes into the second episode I became hooked and made it through the series in, like, a week and a half. And, since I can't stop thinking about the show, I decided that there is no better use of my brain cells then to tell you how I think the characters of Schitt's Creek would be quarantining. 
Johnny Rose

At first, Johnny believed COVID-19 was just like the flu, but after David yelled at him enough times, he started taking precautions and wearing a mask in public at all times. Now he's going a little too far in the other direction, wearing gloves even at home and Lysoling the entire motel on the hour, despite there not being any visitors since even before the pandemic. While he is trying to keep his cool for the sake of the family, Johnny is kind of losing his mind, and his family obviously notices. He won't stop watching the news and parroting every single new COVID-19 development he hears, and is having trouble distinguishing between conspiracy theories and legitimate news. He splits his day between the motel and the cafe, where he's handing out face shields to everyone coming in and trying to install plexiglass barriers at all the tables.
Moira Rose

As we know, Moira does not enjoy being around sick people, so this whole pandemic thing has sent her spiraling. To keep herself sane (to the detriment of those around her), Moira has taken to organizing weekly Jazzagal rehearsals via Zoom. The audio delay makes them unbearable. Moira has been spending her time organizing her wigs, matching them to her face mask du jour, and she'd actually be pretty big on TikTok if she could figure out what it is.
David Rose

David somehow managed to get Rose Apothecary to be declared an essential business, largely because he truly believes that luxury skin care items are essential. However, he is extremely diligent about social distancing and is only operating via curbside pickup. He makes Patrick deliver the customers' orders because he's convinced he's high-risk. Every time he gets a panic attack, he convinces himself it's COVID-19. Ted has started screening his calls. When he's not spiraling, he's developing a Rose Apothecary hand sanitizer that doubles as a scented hand cream.
Alexis Rose

Alexis' business has been growing and she is determined not to let quarantine dampen her success. A true innovator, Alexis bought a sewing machine from a store in Elmdale, and she and David have started learning to make branded masks to sell at Rose Apothecary. The plan was to embroider them in Swarovski crystals and sell them for $500 a pop. So far they've made one mask successfully before the sewing machine jammed and they "took a break".
Stevie Budd

Since there are apparently no hospitals in Schitt's Creek, Johnny has decided that the Rosebud motel would rent out rooms to healthcare providers at a reduced rate. While this is honestly a really good idea, he (unsurprisingly) had no plans regarding the logistics and left all of the details to Stevie. She is one more half-baked idea away from "accidentally" locking him out of the motel.
Roland Schitt

Roland won't stop telling everyone how much he is doing his part, but he goes out in public wearing a mask that only covers his mouth. He also purposely forgets items on his grocery runs so he has an excuse to go back out. He continues to spend time with Bob, claiming the two are quarantining together, even though they are not living together…
Jocelyn Schitt

Since Jocelyn is a teacher, she has been crazy busy over the last few months. On top of conducting her classes via Zoom, she's been going the extra mile to both drop off and pick up homework for her students. 
Twyla Sands

Since the diner is evidently the only place in town to get food, Twyla is working overtime on carryout orders, and it has never been busier. While working around Johnny's developments to the diner, she's been trying to enlist the Rose family to help her deliver orders. They have all left her on read, and she's too nice to double text.
Ronnie Lee

Unsurprisingly, Ronnie has been holding it together the most through this whole ordeal. She virtually walked every single member of the town council through the Zoom set-up process so they could still hold meetings. In her spare time, she's been delivering PPE to the local hospitals, but you'd never know because she doesn't make a big show out of it. She is, however, judging the sh*t out of everyone who is going about their regular lives unbothered.
Bob Currie

Bob somehow brought coronavirus to Schitt's Creek. No one is really sure where he got it from, but when he started showing minor symptoms, he assumed that he just had allergies. Even though Bob should be high-risk due to his age, he did not have a severe case. He did, however, spread COVID-19 to half of the customers at the diner.
In true David Rose fashion, Dan Levy posted a video explaining the importance of wearing a mask on Twitter, and I'll leave you with that super pure content. 
✌🏼😷❤️ pic.twitter.com/3XnpFhW6n2

— dan levy (@danjlevy) May 20, 2020
Images: Courtesy of Pop TV; Giphy (10); danjlevy / Twitter
8 TV Shows We Can't Wait To Binge Watch In 2019
With a new year comes new responsibilities shows to binge watch. Honestly, I'm all about reading more and lying on my couch less in 2019, but I also need to carve out large chunks of time to invest in some rly great drama, comedy, and general weird sh*t. Make entertainment great again this coming year and schedule time to binge watch these shows you won't want to miss.
The Crown
If you love v slow British drama and deep-seeded intrigue (like who forgot to curtsy or how shocking nail polish is), get ready for The Crown season 3, premiering on Netflix sometime in 2019. We don't have a release date yet, but it'll definitely be some time in the new year. Clare Foy will no longer be playing Queen Elizabetch II, but we've got a whole new cast to get invested in during the 1970s-set drama. Look out for the arrival of Princess Diana in the last few episodes.

Marvelous Mrs. Maisel
Amazon Prime has absolute gold with this series. Basically, a 1950s Jewish housewife (who like, kills it at being a housewife) has her life turned upside down when her husband leaves her (lame). Instead of wallowing in ice cream and self pity, she gets blackout and ends up becoming a stand-up comic. The second season is on Prime NOW, and the third season will drop in December 2019. So, you have plenty of time to catch up.

The Handmaid's Tale
Praise be. Hulu renewed The Handmaid's Tale for a third season back in May 2018, during just the second week of season two. If it stays on its current schedule, we can expect to see the next installment in April 2019. Rumor has it we'll see June's escape and her fighting to bring down Gilead.

True Detective
If you were blown away by Season 1 of HBO's True Detective yet completely scarred by a terrible second season (looking at you, Colin Farrell), let's all collectively give this series another shot. It'll premiere on January 13, 2019, and Mahershala Ali will play Wayne Hays, a state police detective from Arkansas who has to investigate the disappearance of two young children. Juicy.

Game Of Thrones
YASSSSSSS. If you aren't a GoT fan, you only have one more season (which premieres in April 2019 on HBO) to hear everyone you know freak out about ice dragons and zombies and a whole lotta girl power. Honestly, the worst part about this show leaving us forever is that we can't stare at Jon Snow brooding and moping around anymore.

What We Do In The Shadows
This upcoming series is based on Jermaine Clement (from Flight of the Conchords) and Taika Waititi's vampire mockumentary of the same name. It follows a group of vampires living as roommates in New Zealand–with more capes and makeup and zero Twilight tween-sh*t. It sounds incredibly weird, and it is, but watching a grown man wander around in a cape and harass people gives me major inspo. It'll premiere on FX in Spring 2019.

Big Little Lies
Beaches and murder and cheating PTA board members and some not-cool spousal abuse made for an amazing show on HBO last year. Even though the series–which is based on a novel of the same name–was slated to only be a limited one season shindig, everyone loved it JUST SO MUCH that it's coming back. Meryl Streep enters the picture as Perry's (RIP) mom and we can't wait to see Reese Witherspoon and Nicole Kidman reprise their roles as Monterey mommies.

VEEP
The final season of Julia Louis-Dreyfus bullying everyone around her while trying to keep her sh*t together will air on HBO in Spring 2019. If you enjoy laughing at the current state of politics in our country (LOL we're all laughing to keep from crying), this is the show for you.

Images: Shutterstock; Giphy (8)
6 TV Shows To Binge Watch With Your Significant Other
"Netflix and Chill" has become such a popular concept for a reason. But to be honest with you all, my boyfriend and I don't typically watch TV shows together. Of course, this is mostly because we always get distracted during them (if you know what I mean) and then have to make time to rewatch the episode later. But having shows to binge watch with your SO sounds like a nice thought. So for those of you out of the honeymoon phase (or who aren't horn-dogs), here is a list of the best TV shows to binge watch with your SO. For those of you in long distance relationships, use Netflix Party, a chrome extension that allows you to watch these shows from wherever TF you two are.
1. 'Haunting Of Hill House'
Okay, so I have no interest in watching this show, with bae or without, because I'm a wimp and can't handle scary things. But for those of you who have the balls to watch this, good for you. I hear it's bomb (but I still won't watch it). A friend of mine said that he really likes the show but would only watch it when his boyfriend was over.

2. 'Friends'
This show is my go-to. When I'm sad? Friends. When I'm happy? Friends. When I get home drunk from the bar? Friends. It's also one of the best shows to have playing in the background when you're banging. A bunch of my friends agree too, saying, "when I can put something on other than sports, Friends is my go-to." The only problem is if you're like me and can pretty much quote every episode, you start reciting lines. Much to my boyfriend's annoyance, when Friends is on in the background, I whisper romantic things like "Could I BE any more turned on?" into his ear. Mood killer? Maybe. But a good laugh for both of us me.
3. 'Curb Your Enthusiasm'
Similar to Friends, this show is a great choice. The episodes are short half-hour episodes that are light-hearted and funny. My boyfriend introduced me to this show and at the beginning, just showed me his favorite clips, which turned into him showing me his favorite episodes and now I'm hooked. Curb to him is like Friends to me. Now that I have been watching it, I can make references to the show and he gets more excited than when I say I'm horny.

4. 'Gossip Girl'
One of my friends got her boyfriend into Gossip Girl because of her obsession with the TV show. It may not seem like the "classic man's show" (don't even get me started with heteronormative gender roles) but it will hook anyone who watches it. According to IMDB, 25% of the people who rated the show were men. Women rated the show at a 7.8 point out of 10, whereas men rated the show a 6.7. So if anyone in the comments wants to argue that this isn't a show for men, fight me.
5. 'This is Us'
Apparently, all guys watch it with their girlfriends but won't admit it to their friends. Granted, this is based on one of my friend's opinions, but I'll take it as fact. If you need your SO to get in touch with his ugly crying face emotional side, fire this show up.

6. 'Riverdale'
If you started watching this show before you and your boyfriend started dating, then it's an easy one to watch together (and then talk about our recaps the next day). TBH this could go for any TV show but Riverdale is one of the best TV shows to binge watch with your significant other. Why? Because you know the storyline and characters from your childhood but take a murder mystery approach to it. V interesting, trust me.
Images: Giphy (3)
The Best TV Shows & Movies Coming To Netflix In December
It's fucking December, guys. As much as I wonder where the hell this year went (since I must've been blacked out for most of it), I'm beyond glad it's almost over. 2017 was pretty shitty, tbh, so here's to hoping 2018 is slightly better—only because I don't think it can get any worse. On the bright side, soon enough, we'll be bundled up for freezing temperatures, yet happily living as recluses for the next three months. With the holiday and winter season approaching, it brings with it a bunch of TV shows and movies we'll gladly binge on the couch instead of tending to our social lives. Whether you're using your boyfriend's, ex-roommate's, or you actually have your own account, log into Netflix, grab cheap wine from Target, and get comfy. Here are eight shows and movies to binge while you eat shitty takeout and live your best life in hibernation.
Movies
'V For Vendetta'
After a batshit crazy war occurs in London, the city is overtaken by a controlling psychotic government. The hero in the film, who goes by V (…couldn't tell you why), tries to fight back in order to get the world back to some sort of normalcy. Along the way, he crosses paths with Natalie Portman, who plays Evey. Together, they probably fall in love, bring world peace, and live happily ever after. I haven't seen this tbh, so whether or not that's actually the ending, this movie is supposedly v good and worth the watch.

'Hitch'
This all-time classic is one you've most likely seen only because it randomly plays during the weekends on E!. Either way, it totally sets the mood for a much-needed girls night rom-com. Will Smith is a "date doctor" in this film, aka that friend who helps you come up with your Hinge messages before there was even Hinge. He helps mentor people with like, corny pickup lines in order to score them a date with someone clearly out of their league. When Smith meets a girl for himself, his cliché tricks fail to work on his journalist girlfriend as she slowly learns his true identity. Moral of the story: You can't ever lie to us girls. We will find out. And we will kill you.

'8 Mile'
Netflix is taking us back to remind us why we fell in love with Eminem to begin with. Not only is he totally hot, protective, and like, family-oriented, but he's also a humble rapper (who may or may not dream about killing his ex-wife). The late 90's film is based on Eminem's actual tough upbringing, his struggles on becoming a famed musician, and most definitely, the only reason you know every word to "Lose Yourself."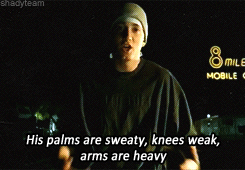 'The Santa Clause'
It's obvs December, so be prepared for holiday classics and annoying Hallmark movies coming everywhere to a screen near you. Netflix has a ton lined up for this month, including all three parts of The Santa Clause. In this classic, Tim Allen "accidentally" kills a man dressed as Santa (um, I thought this was a family movie?) and is immediately transported to the North Pole. He's forced to take Santa's place on Christmas, and suddenly, he begins to gain weight like crazy and grow a long white beard. After he realizes he's neither dreaming nor really fucking high, he decides to take on the job and all of the obstacles that come with it.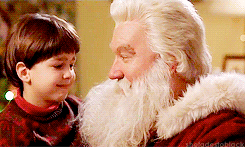 TV Shows:
'Dark' Season 1
This new German series circles around a small town and its shitty, corrupt past when two children go missing. When families go searching for them, they're introduced to shady af people who apparently are the reason why their town sucks to begin with. Supposedly full of twists, time travel, and supernatural stuff, this is being hailed as the next Stranger Things. The first season is going to be extremely binge-worthy when it's too cold to function outside.

'The Crown' Season 2
It has already been awarded the Golden Globe Award for Best Television Drama Series, so with its second season premiere around the corner, we can only hope it exceeds our expectations. The Netflix original is based on the life of Queen Elizabeth II and all those who were a part of it, from the 1940s to modern era. This may sound like your average history lesson, but I assure you, the royal Gossip Girl-like show is much juicier and more interesting than that.

'Fuller House' Season 3
Season 3 of Fuller House comes back this month (again) without the Olsen twins, because quite frankly, they obvs have better things to do than to pretend to be Bob Saget's teen daughters. Um, same. The new season brings more cheesy storylines, annoying af Kimmy Gibbler, and new (hopefully attractive) love interests.

'The Ranch' Part 4
In case you haven't watched a single minute of this, because same, Ashton Kutcher plays a true fuckboy-wannabe in this series. After his football career failed, he decides to run a ranch with family he hasn't seen in over a decade. Talk about awkward. Yet, in typical Ashton Kutcher fashion, he also eventually finds himself torn between choosing his current girlfriend or his high school booty call. See? Absolute fuckboy. However, this shit is apparently pretty funny, so it could be worth watching purely for procrastination.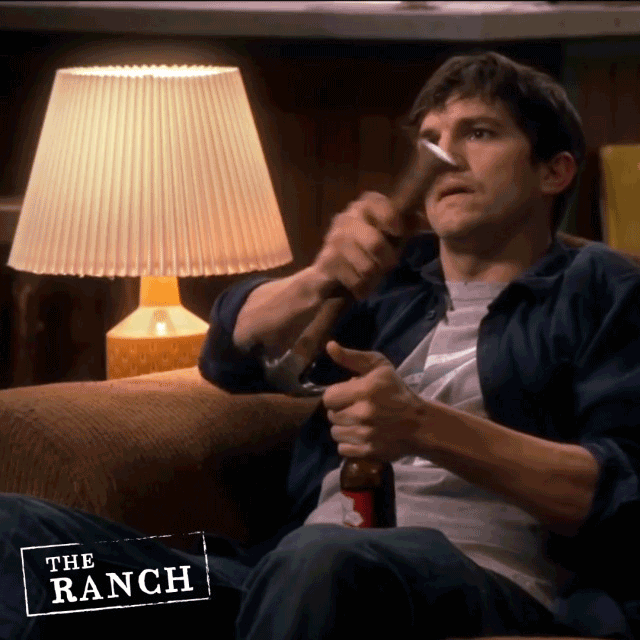 The Best Shows & Movies Coming To Netflix This Month, Just In Time For Netflix & Chill Season
The weather is getting crazier and there's less and less reason to go outside. This is the time of year we commonly refer to as "fall" or "cuffing season." Basically, it's the three months before winter when you could go outside but you kind of don't feel like it so you stay inside and watch bullshit and gain your winter weight instead. Maybe you trick seduce some poor sap into doing this with you, maybe you don't. Either way, it's kind of dope. To help commence your fall chill, here's what's new on Netflix this month so you can get a head start on your winter body. There's a whole bunch of new shit coming that you don't want to miss, from classic oldies to new shows, and here's what we think you'll like the best.
1. 'Little Evil'
Adam Scott from Parks and Rec plays a guy who marries a woman with a kid who happens to be the antichrist. Funny, I thought that was my ex. This movie is a comedy spoof that's exactly what it sounds like. We expect great things, mostly because we love Adam Scott, but also because we low-key love the devil.
2. 'BoJack Horseman' Season 4
This animated sitcom is dope and we're happy it's back. A show about a bunch of animals living in LA with Will Arnett (Arrested Development) playing BoJack, a man, who is also a horse. This is a chill show and easy very easy to binge on. If you haven't caught up, congrats! You can waste an entire weekend of your life binge-watch past seasons, or like, honestly just start watching the new one. It's a cartoon, you'll catch on.

3. 'Dead Poet's Society'
The classic movie about a bunch of bros that learn from Robin Williams is a good way to look back on college when you miss it. This is a good one to watch if you want a low-key night or something to put on when you have a guy over and want to make him think you have good taste in movies.
4. 'Beauty and the Beast' Live Action
If you didn't catch this movie in theaters, we don't blame you. It was probably just all right. But now that it's on Netflix you might as well catch Emma Watson (featuring autotune) playing Belle and that one overhyped gay character everyone freaked TF out about. It's Disney, so expect go be moderately entertained.

5. 'Narcos'
If you haven't been watching this show, you should get on it right now. It's dark and gritty and makes us feel like we're Julia Stiles in Save The Last Dance but with more drugs. Like, we're going to the other side of the tracks but without the whole Juilliard thing.
6. 'Jaws'
Nothing like a classic shark movie to remind you why you're happy swimsuit season is over. This is a great cuddle-up-on-the-couch-with-hot-chocolate-and-bae movie, especially because you can grab him when the scaries happen, despite knowing when they all happen because you've both seen this movie multiple times. The good news is you won't feel bad for missing any of it if things get a little steamy… actually, I take it back. If Jaws gets you hot and bothered, I'm calling the police.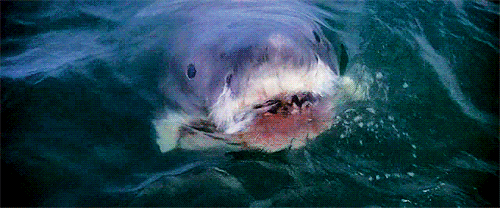 7. 'Portlandia' Season 7
Sketch comedy show about hipsters in Portland makes us laugh, and you can turn it on and off while you're cooking if you don't feel like watching an entire episode. Because it's broken up into sketches, it's easy to jump into whenever you're bored.
All The Best Shows & Movies Coming To Netflix In August
Now that summer is halfway over and all the good holidays have passed, you find yourself bored. Even your summer fling has simmered down and fall shopping hasn't quite started yet. Don't worry, that's why we always trust Netflix to switch up the menu so we don't get tired of the same thing everyday. Thankfully they understand how easily bored we get and have announced new shows that are coming to the site this August. Since we know the only thing you hate more than being bored is to like actually have to think/do anything, we rounded up our favorite August shows and movies coming to Netflix for you.
'The Addams Family' – August 1

We all went through a Wednesday Addams goth phase, no matter how short-lived. And I mean, props to her contributions to resting bitch face and wearing all black in the summer. We may have replaced black lipstick with a more sensible deep purple, but we'll never forget the joy of this movie.
'The Matrix Trilogy' – August 1

It probably won't hold up, but we're sure you can find a drinking game to play along with this one. Plus, there's something about Keanu that keeps us watching, the same way we kept talking to Smarter Child on AIM even though we knew it was a waste of time.
'Wild Wild West' – August 1

It's too bad Will Smith stopped rapping for all his movies, because as campy as this movie was, we still enjoyed it at the time. There's animatronic spiders and Salma Hayek's boobs in this, so what's not to love?
'Wet Hot American Summer: 10 Years Later' – August 4

Netflix continues making these and we're here for it. The last reboot did not disappoint, and we love the comedians involved in this. Plus it'll help you relive your old camp days, which is both fun and terrifying.
'Holes' – August 5

This is where we fell in love with Zero for like five months before the actor who played him promptly dropped off the face of the earth. And the guy who wrote this book wrote the Wayside High books, which was quirky before quirky was a thing. Also, RIP Shia Labeouf. He's not dead but like, you know what I mean.
Marvel's 'The Defenders' – August 18

Superheroes are for nerds, but Jessica Jones was pretty chill so maybe this series will have some mileage. It seems like an easy enough series to watch, and if we hate it we can just wait for the next superhero series they are making literally every 10 minutes.
'Once Upon a A Time' – August 25

If you're one of those people who just cannot get enough of re-imaginings of classic fairy tales, this show is for you. You'll see literally every possible fairy tale personality (Elsa from Frozen makes an appearance) and there are so many episodes you'll be able to binge for days. Also like, costumes and shit.
'The Good Place' – August 29

If you haven't already watched this show now is your chance. Kristen Bell plays a betchy hot mess that gets sent to heaven when she's supposed to go to hell, and she talks her way into letting them stay if she can prove she is good. Basically talking your way out of the ultimate parking ticket.
And don't let these shows Irish exit on you. Here's everything leaving this month, so get your fix in before last call:
'10 Things I Hate About You' – Leaving August 1

This is a classic, and it'll never get old. Also, Heath Ledger. RIP, still not over it.
'Superbad' – Leaving August 4th

This is a classic one to watch if you're leaving for college or just remembering the time you were leaving for college.
'Dope' – Leaving August 10

Just a classic story about a nerd who loves hip-hop—sort of. Come for the 80s style, stay for the very funny performances and Shameik Moore's face (consider this your formal invitation to slide into my DM's, kthx).
'Revenge' Seasons 1-4 – Leaving August 28

Catch up on Revenge before it leaves forever.
Stop Trying To Make Dragonstone Happen: 'Game Of Thrones' Recap
Wow. Here we are. Back again for another thrilling installment of our Game of Thrones recaps. So, who lived, who died, and who showed their boobs? Let's dive in…
This week's episode opens on a horrifically stormy night in Dragonstone, where Tyrion and Varys are casually talking about the night Dany was born like two proud gay dads.
Varys: Everyone in King's Landing loves you
Dany:

Tyrion tells Dany that they can take the seven kingdoms basically anytime, but her plan was never to burn shit down and takeover. Part of her charm as a ruler is that people actually want to follow her, which would be less likely if she just rolled in and blew everything up *cough*CERSEI*cough*.
Dany changes the topic to immediately grilling Varys and his resume under many different aspiring kings. It's uncomfortabl, to say the least. Not even muffled support from Tyrion can derail her storm of questions about all the leaders he's supported and then betrayed.
Rather than get smarmy like we may have expected, Varys is refreshingly honest. What a concept. He tells Daenerys that because he grew up on the streets and suffered under the great Lords of Westeros, his loyalty lies only with the people: the lowborn, the bedraggled and the enslaved. The povos, if you will. This was a wise argument to make to the Breaker of Chains, and it appears he's convinced her for the time being. Honestly, Varys 2020. His odds are good against Trump and the Rock.

Dany asks him to keep her accountable to the people rather than conspire against her if she strays, which was a cute moment until she vowed to burn him alive if he ever betrayed her. Never a dull moment in Dragonstone.
This little pow wow over loyalties is brought to an end by the arrival of the Melisandre, who must have heard there was another hot, young potential savior floating around Westeros and thus rode her shadow demon-baring ass to their doorstep immediately. If nothing else, I respect her dedication to absolute thirst at all cost.
Dany welcomes Melisandre, a former slave and now Red Priestess, with open arms. Varys proves more difficult to win over.
Varys: She used to serve under Stannis Baratheon and it didn't turn out well JUST SAYING.
Daenerys: I'm sorry, but what the fuck did we literally just discuss?
Melisandre is there to warn Dany about the long night and all that it brings, thinking that she could play a pivotal role in saving them all from the White Walkers. For book readers and internet theorizers alike, this is a big moment as it's the first notable reference this season to the Prince That Was Promised AKA the driving force behind the fire religion and the reason that Melisandre has been hopping from king to king the past six seasons.

Dany: You think I could be the Prince that is referenced in this prophecy?
Melisandre: Yeah so if I've learned anything in the past couple years, it's to not fuck with prophecies. Character development, am I right?
Melisandre believes that the prophecy could reference both Jon and Daenerys, and that their collective survival depends on the two of them coming together. Tyrion's ears perk right up at learning that Jon is now the King of the North. Melisandre waxes poetic about Jon's accomplishments as Lord Commander and King of the North, yet somehow fails to mention the whole part where he literally came back to life, or how bad she wanted to bone him. She wants Dany to summon him to Dragonstone so she can try to bang him again get to know him and Tyrion is in full support.
Dany: Yeah why not, let's invite him.
Tyrion: Thank God.
Dany: And then let's make him pledge his allegiance to my superiority.
Tyrion: Like honestly it's always one step forward and two steps back with you isn't it.

Later on in the war room, Daenerys' inner circle is sitting around and bickering about their approach to Westeros. Yara, Ellaria and Olenna are all Team Attack King's Landing As Soon As Possible, while Tyrion and Dany are Team Let's Not Burn a Whole Fucking Country Down Because We Hate Cersei Lannister. Naturally, these two teams sit at opposing sides of strategy.
Dany: I will not be the Queen of Ashes
Olenna: Being well liked for sure worked out for my daughter. Who is now the literal Queen of Ashes. But it's fine.

Tyrion and Dany then outline their plan for the naysayers in the room: The Westerosi armies (Martell, Greyjoy and Tyrell) will lay siege to the land surrounding King's Landing and eventually King's Landing itself. An attack from foreigners would only solidify Cersei's recruitment tactic: that savages have come to take Westeros. No one seems on board for this until Tyrion unveils part two: The Unsullied, lead by Greyworm will sail directly to Casterly Rock, and over take the place that grants the Lannisters all their power. Everyone in the room seems equal parts shocked and aroused at Tyrion is suggesting laying siege to his own home, which is enough to win them all over. Everyone except Olenna that is, which earns her a private audience with Dany.
Not one to mince words, Olenna gets right to the point. Tyrion may be clever, but clever men die all the time. The feminist vibes are very strong. She says the reason that Daenerys has been so successful up to this point is because she hasn't been working within the rules of Westeros, and this great invasion is no time to start. Also, Dany and Olenna are women, which makes them better than everyone, obviously. Girls rule, boys drool, etc…etc…

Olenna: The Lords of Westeros are sheep. Don't be a sheep. You are a dragon. Be a dragon.
Dany: What are your thoughts about putting that on a shirt?
Not to be dramatic but, Greyworm and Missandei's goodbye scene is the best thing to happen to me all weekend. Their awkward and whispered declarations of love cleared up my skin and improved my credit score.

Greyworm: You are my weakness.
Missandei: Not a compliment, but continue.
After a rom com worthy speech about not experiencing real fear until her knew her, we're treated to what no one really ever thought was possible: a sex scene starring Greyworm. Better yet, it wasn't horrifyingly awkward like we all thought it would be. Why did it take until this moment to realize that, without a functioning dick, Greyworm had the potential to become the reigning King of going down on people? Is a boyfriend with no dick actually the best possible boyfriend to have? What is a penis good for, really? Stay tuned.
Greyworm and Missandei: *Slowly grow to love and accept each other for their flaws and overcome the many obstacles in the way of their love*
Me:

Finally, a happy couple in this show who mutually respect each other! Can't wait for them to both die painful deaths!
Meanwhile In Winterfell…
Across the country on the foot of the world's fastest Raven, Tyrion's letter has arrived in Jon's hands. He, Sansa, and Davos discuss the risks of Jon going to Dragonstone and the likelihood of this being one giant trap.

Jon: You know Tyrion better than any of us, what do you think?
Sansa: I think I'm not trying to pay a visit to my ex-husband, thanks.
Davos makes the very valid point that three dragons would make a considerable difference in the fight against the White Walkers, a threat which heavily outweighs the chances of Jon being hurt at Dragonstone. But it's also important to remember that the rest of Westeros hasn't watched Daenerys kick ass for the past seven seasons. To them, she's is just the daughter of the Mad King; another Targaryen with a fleet of dragons at her disposal. The last time that happened, the entire country broke into war.
Jon: Idk I think we should blindly trust the daughter of the man who tried to burn down all of Westeros.
Davos: Worth a shot.
Sansa:

Later on, Sam's raven finally arrives from the Citadel. Leave it to Sam to pick the slowest fucking raven in all of Westeros. Either way, Jon finally knows about the dragonglass reserve living below Dragonstone, which means there's no way he's ghosting Dany now.
Jon gathers the Lords to announce that he will be accepting Tyrion's invitation to Dragonstone, casually throwing in that Dany has a powerful army and three dragons under her control. No one is psyched to hear that, least of all Sansa.

Sansa: How many more traps are you going to fall for??
Jon: At least twenty this season but that is beside the point.
You know things are bad when even Lyanna Mormont is against Jon's plan. Every Lord and Lady in that room are screaming at him to come to his senses, and nevertheless, he persisted. While Jon is short on things like foresight and rational thinking, he appears to have an unlimited supply of impassioned speeches at his disposal. He tells them all that this is quite literally their only hope, because they desperately need both dragonglass and allies.
It doesn't look like anyone will be siding with Jon this time until he goes so far as to pass all power to Sansa in his absence. That's right, our baby is finally Queen of the North and while I'm sitting here beaming as I type that sentence, no one is as stoked as Baelish.
Baelish:

Although his spirits significantly drop after visiting Jon in the Stark family crypt, where Littlefinger decides to try and bond with Jon over things like his dead father and how much his adopted mother hated him.
Petyr: I was bummed when your dad got murdered because it then became clear that Catelyn would rather die alone than marry me. Lucky for me, your sister looks a whole lot like her.
Not catching on to how little Jon wants to speak to him, Petyr goes on to tell him that he loved Catelyn and now loves Sansa just the same. Jon responds with a quick chokehold, quickly reminding us all why we love him so.
Jon: Talk to my sister and I'll kill you myself.
Me:

Back At King's Landing…
Meanwhile, Cersei is holding court amongst former members of House Tyrell, lecturing them about the dangers of Dany and the Dothrakis that she brought across the ocean with her.

Cersei: This bitch Daenerys has crucified noblemen and then fed them to her dragons.
Everyone: Um but remember that time you literally blew an entire cathedral of noblemen up?
Cersei is asking these men, formerly loyal to the Tyrells, to align with the Lannisters against Daenerys and Olenna. They are, uh, skeptical to say the least.
Lord Tarly: Yeah, so what's your plan against her three full grown dragons?
Cersei: new number, who dis?

Jaime approaches Lord Tarly after the gathering, who took time out of his busy schedule of despising his oldest son to make a quick trip to King's Landing.
Jaime: It's so kind of you to make it all the way out here.
Tarly: Right, because your sister responds so well to refusals I hear.
Jaime wants Tarly to swear allegiance to Cersei and in return, he will be made a leading general in the Lannister army. Tarly, for all his faults, is a man who stands by his word and doesn't react well to the idea of betraying his oath to the Tyrells. Jaime sweetens the deal by offering Lord Tarly the title of Warden of the South once the war is one. That's a super big if considering they're going up against three dragons and a legion of warriors, but glory is calling and if world history this show has taught me anything, powerful white men will go to great lengths for it.

Qyburn has taken Cersei down into the bowels of the Red Keep for a tour of Robert's dragon trophies. It's a fun trip down memory lane for Cersei until they happen upon the largest skull of all, which Qyburn uses to make the point that, while terrifying, dragons are not indestructible. He proves this by unveiling the world's largest crossbow, which he's had made specifically to take down dragons. Honestly, if he wasn't so fucking creepy Cersei probably would have fucked this guy already. At this point, he's the only man in her life to not disappoint her.

At The Boring Ass Citadel…
We finally get a real peek at Jorah in the citadel, who is undergoing a particularly bleak doctor's appointment. Maesters clearly don't include bedside manner in their extensive training. The Archmaester tells Jorah that he's got 10 – 20 years before the grayscale kills him, but a max six months before he goes insane and tries to start eating people. Sam watches on uncomfortably from the sidelines as Arch Cristina Yang delivers the news with the same delicacy that he probably describes the bed pans that the pledges have to clean out.

Sam: Shireen Baratheon was cured, are you sure there's nothing we can do?
Archmaester: Which one of us has been studying grayscale for the past fifty years and which one of us scoops shit out of buckets every morning?
Sam: Harsh, but fair.
The Archmaester offers Jorah an extra day before they ship him off to the island of stone men. While he cites Jorah's knight status as the reasoning, his lingering and not at all subtle glances toward the giant sword in the corner of the room makes his point abundantly clear: just kill yourself.

After that light-hearted session, the Archmaester lectures Sam around the library while collecting research for his book about the War of the Five Kings and all the things that followed it. Sam thinks he may have found a cure for grayscale and is promptly shut down when he is told that the Maester who wrote those particular reports died from experimenting on Grayscale. Naturally, this doesn't stop him.
Instead of writing to his family, as suggested, Jorah decides to pen one last sad, handwritten book to his Khaleesi. It won't be as effective without his quiet, urgent whispers, but I'm sure she can use her imagination.

Sam interrupts him with a speech about knowing Jorah's father and a promise that he will somehow cure him of this disease that no one has been able to find a cure for. Clearly ignoring the wishes of his Archmaester, Sam sets in on experimenting on Jorah after a hefty swig of rum. I know I like my doctors to be tipsy before starting any kind of procedure on me.
Jorah: Do you know what you're doing?
Sam: No I don't and honestly you're starting to sound a lot like my dad.
Sam proceeds to remove Jorah's infected layer of skin without any kind of pain killer and then asks him to keep quiet. I was screaming just watching on my couch, so I'm sure that went well. The whole thing was like, the worst pimple-popping YouTube video of all time and I think I speak for the entire world when I say I was not, under any circumstances, here for it.
Wherever The Fuck Arya Is…
Arya hits a tavern en route to King's Landing and finds her old friend Hot Pot, who asks if she'd run into Brienne yet. She evades that discussion, just like she evades any other personal question he asks, opting to just drink ale instead. It was like watching myself on screen, except with medieval clothing.

All plans of murdering Cersei fly out the window when Hot Pot tells Arya that Jon has taken back King's Landing. She drops her pie, hops on her horse, and heads North to where she belongs. Will we be blessed with a second Stark reunion?? The odds aren't in our favor but man will I get my hopes up anyway.
Things aren't looking good for her journey when Arya's campsite is surrounded by wolves, which would potentially be the most ironic death that this entire show has given us. We're baited with the second most triumphant moment of this season when a direwolf that Arya thinks is Nymeria arrives. Either it wasn't her or Nymeria no longer gives a fuck, because the direwolf leaves and takes all the regular wolves with it. Seeing as how it didn't eat her, I'm optimistic that this means Nymeria is back for good. I can't believe that season seven is actually delivering all the Stark family reunions that we so rightly deserve.

Somewhere In The Ocean, IDK…
The Greyjoys have clearly made it to Dorne to pick up their army and are headed to King's Landing for phase one of the war. More strategic progress has been made in this single episode than the first two seasons combined.

In his ongoing suffering, Theon is forced to sit by and serve alcohol to Yara and Ellaria as they shamelessly flirt with each other. Will he ever know peace? Not likely. Yara's shrug to her brother as Ellaria is basically fingering her in front of him is painfully realistic because we've all employed it once or twice or a hundred times in our lives. It was the human embodiment of ¯_(ツ)_/¯: I shouldn't do this but that's not going to stop me.
Any hopes of some girl on girl action are interrupted when Euron's arrives and lays siege to their entire fleet. Full-scale battle breaks out on this dark ship full of people in the same outfit, so I really wasn't sure how things were going for a while, but it became clear quickly that Yara and Theon were not coming out on top here. Euron takes down two of the Sand Snakes while his men capture Ellaria and the third who was sent down to protect her. Theon loses all cool and jumps off the boat instead of trying to save his sister from his uncle. If they both die mere moments after making out below deck, this truly brings the "Bury Your Gays" trope to a whole new level.

Will Yara and Ellaria survive? Will Nymeria come back? Will Jon hook up with Dany before realizing that they're relatives? Guess we'll have to wait until next week to find out.
MVB (Most Valuable Betch) of the Episode: Arya, duh – chugging alcohol rather than having to reflect on her life or answer a single personal question about herself = a true inspiration to us all.