What Your Favorite 'Baby-Sitters Club' Character Says About You
Over the weekend, whether you were too afraid to rejoin society after lockdown or you were forced back into lockdown because people went HAM and your city saw a resurgence of Covid cases, chances are you might've come across the new Baby-Sitters Club series on Netflix Family. Though the series was originally intended for a children's audience, millennials and xennials on my Twitter and IG feeds have also found themselves binging the show. This wholesome content is exactly the nostalgia we've all been longing for in a difficult year, and if you haven't watched it yet, do yourself a favor and head to Netflix.
So what better way to continue that comforting break from reality than to celebrate the iconic series and its characters by asking yourself the simple question of "What does your favorite Baby-Sitters Club character say about you?" None.
Kristy

Did somebody order a control freak? Kristys (Kristies?) are currently stewing over the fact that their 2020 planner has barely seen any action and spend their days in quarantine crafting the perfect itinerary for working from home. You're not the best with change, but that's mostly because things don't sit well with you if you're not able to run the show and be in complete control. That being said, you are a natural leader and you do your best to lead with love. Your friends are your people and you always show up for them. Like the Mom of the group, you're reliable and when people need something done you're the one they have on speed dial.
Claudia

Claudias are the fiercest, most artistic of the bunch. Never afraid to speak your mind, people naturally flock to your confident attitude and effortless style. You will definitely be voted mostly likely to have a future as an #influencer with a roster of Pinterest-worthy DIYs and sustainable capsule collections. Family means everything to you, though it can be frustrating when your family isn't as open to your free spirit as your friends and fans. You're a considerate friend who always has a purse full of snacks, encourages others to explore their creativity, and your attention to detail in your art and for the people you care about never goes unnoticed.
Stacey

Ahhh boy-crazy Stacey. On the outside, you give off the vibes of a Real Housewife in the making, when deep down you're still just trying to figure yourself out (admittedly, most of the Housewives are too). While you worry a ton about what others may think, you try your best to not let your insecurities get the best of you. In reality, all you're trying to do is find genuine connections in this world, and that goes for friends, romance, and family. You sometimes struggle with living up to your parents' ridiculous expectations, but you know that at the end of the day they've got your back. So keep reminding yourself of that and surrounding yourself with friends and boos who do too.
Mary Anne

Mary Annes are either a future therapist's dream or have a successful future as a therapist. Never one to rock the boat, you're always listening and taking in everyone else's energy. By nature you're a people pleaser, though one should never mistake your kindness for weakness. You're still learning to find your voice and develop independence from who you think you should be for everyone else and who you actually want to be. And while you're still evolving your personality and style, you never discount the value of a solid pair of overalls and you can always be counted on to be there for your friends with an ear to listen and a shoulder to cry on.
Dawn

A spiritual goddess, Dawns are optimistic and always look at the glass as half-full—even when the cards they've been dealt haven't always been the best hand. You might have been forced to grow up quickly and play the role of caregiver or authority in your family. And instead of feeling sorry for yourself, you lean into those skills and excel with purpose. Whether it's educating yourself and taking your efforts beyond performative allyship or leading a guided meditation to calm everyone's nerves, you are not only happy to be a part of the group but truly want everyone to see just how wonderful and badass they can be in their own right too.
Karen

An honorable mention for Kristy's soon-to-be step-sister Karen because let's face it, it's been a tough year for Karens. Whether we admit it or not, every single friend group has a Karen. Karens can be dramatic and have a tendency to overreact when really all they are is starved for attention. They genuinely believe they mean well, though it often comes out in problematic and extreme ways, like idk, running away at camp or fearmongering over conspiracy theories. And while Karens still admittedly have room to grow and mature, one thing is for sure—if they like you they'll defend you to the extreme and you'll always get that impossible restaurant reservation even if you're just walking in.
Images: Jesse Austin (5), Kailey Schwerman/Netflix; Giphy 
'He Didn't Pay Him To Go Kill Carole': 'Tiger King's John Reinke On Joe Exotic's Pardon & More
Even months into quarantine, there's no way you could forget about the sensation that is Tiger King and all of its fascinating characters like John Reinke, the former manager of Joe Exotic's G.W. Zoo. Reinke has found a new girlfriend after his departure from the G.W. Zoo, as he reported on "The Tiger King and I" reunion hosted by Joel McHale. Unfortunately for him, Texas courts are out of session due to the pandemic, so his divorce still hasn't been finalized. And we thought Kristin Cavallari and Jay Cutler had the messiest pandemic split. Sara Levine, Betches EIC and host of Not Another True Crime Podcast, sat down with John for a video interview.
Tiger King Experience

Though Tiger King has literally become synonymous with quarantine, Reinke never thought much about the documentary while it was being filmed. "There were so many film crews in and off the park, it was just kind of like everyday stuff, you know, I didn't think anything of it. We had several producers come on and say 'hey, we're going to make a documentary out of this.' Yeah, whatever."
Like the rest of America, Reinke watched the show right when it came out. "I wanted to make sure I wasn't portrayed wrong, I just know how some of the media takes it out of context and makes you look worse than what you are." Despite some of his castmates' complaints, Reinke thinks "everybody was portrayed right." 
Free Joe Exotic

In Reinke's view, the story of Joe Exotic's crimes got twisted around. "He didn't deserve 22 years. Did he do some stuff wrong? Yeah. Was he provoked into paying somebody? He didn't pay him to go kill Carole, he paid him to get off his park so he'd leave us alone." Even from behind bars, Joe is campaigning to have his name cleared. "I'm really, really shocked about how much he's actually accomplishing from jail," comments Reinke. And Joe's efforts are pretty aggressive. He's even commissioned a huge bus to travel to D.C. to beg President Trump to #HelpFreeJoe, a presidential pardon (omg, can you imagine Donald and Joe together? That would be some major quarantine hair inspo.)
Though they're not exactly BFFs, Reinke says that they had a strong working relationship. "I was close to Joe. He knew I could run the zoo and I could run the staff, and he took care of everything else." Unfortunately, he's now in prison for allegedly trying to "take care" of a certain flower crown-wearing enemy.
Carole Did It
Obviously, the biggest meme controversy the show created was whether Carole Baskin, Joe's archnemesis, really did kill her husband. Though Reinke's never met her personally, he has met her second husband Howard when he visited the zoo during the copyright lawsuit between Carole and Joe. According to Reinke, "he was really nice to me" (and I guess you've gotta be pretty nice if you'll let your wife parade you around on a leash on your wedding day dressed in a tiger print toga), but Reinke still says that "It's been crammed down my throat all these years, not just from Joe, it's been crammed down my throat from all the animal people in the world that Carole killed her husband. So it was just in your mind that Carole did it."
Newfound Notoriety

And it looks like Tiger King won't be Reinke's only claim to fame. He appears in a new comedy from Full Moon Features, Barbie and Kendra Save the Tiger King, out via Full Moon Features. Essentially, the movie follows two total ditzes on their journey to save a young Joe Exotic from a plane crash. Yes, you heard me right. "It's just something to break up the monotony from this Covid thing that's got everybody tense," Reinke says. And he's right—I watched the trailer, and tbh it's basically a crossover episode between Apocalypse Now and The Simple Life. 
If you still can't get enough of watching people who are inexplicably obsessed with big cats, you're in luck. To hear more about Joe Exotic, real life catfights, a Tiger King movie (possibly featuring Matthew McConaughey as Reinke, which honestly isn't the worst idea ever), watch the full interview below.
Images: Tread365.com; TMZ; NightmarishConjurings.com
The Best Halloween Episodes From Your Favorite TV Shows
Halloween is almost here, and I say this with all the enthusiasm of someone who will be spending the holiday double fisting Kit-Kats and red wine. Look, I know technically Halloween falls on a Thursday this year, so it is socially acceptable to black out like you would on any other thirsty Thursday, but by god I just can't do it. In fact, the only celebrating I intend to do is with my dog as we sit on the couch and re-watch our favorite Halloween episodes to ever air on TV whilst dressed in costume as Dobby the house elf and his prized sock (I'll let you figure out who is who in that scenario). So, for those of you who are looking to go all out on the couch this year, here are the best TV shows to watch to get you in the Halloween spirit (without really being in the Halloween spirit). 
Friends: "The One With The Halloween Party" (Season 8, Episode 6)

Tbh I was never a huge fan of Friends. I know, I know. Let's tie me to the stake now because apparently that is an unforgivable sin. Sighs. That said, I do love a good Halloween episode, even if it's a Friends episode. Monica and Chandler decide to host a Halloween party where Ross tragically shows up dressed as a spud…nik. No one gets his costume and he is appropriately shamed throughout. If anything, you should watch the episode for costume inspo (it's seriously gold) and also for the hilarity of Joey showing up dressed like Chandler. 
Parks & Rec: "Greg Pikitis" (Season 2, Episode 7)

Parks & Rec had quite a few Halloween episodes, but my favorite has always been the first one, which aired during the second season. Leslie Knope stands off against her sworn enemy, Greg Pikitis, a junior high delinquent who pranks the Parks Department every Halloween. This is also the episode where we meet Burt Macklin, FBI agent, for the first time, when Leslie asks Andy to interrogate Greg over his whereabouts and "maybe waterboard" him. To this day I wish you knew how much I regret not naming my dog "Pikitis" so that whenever she secretly sabotages me by chewing a hole in the crotch of my favorite leggings I could venomously whisper "Pikitis" under my breath. Also, Ann throws a Halloween party and it's trash because Ann is trash. Watching Ann miserably fail at being fun is in itself worth a re-watch. 
One Tree Hill: "An Attempt To Tip The Scales" (Season 3, Episode 4)

Were you even truly living in the early '00s if you weren't tuning in every week to watch the utter madness that was One Tree Hill? The show was about two half brothers who share the same scumbag dad and a love of basketball, but one of them is rich and one of them is a bastard. This is like, the least dramatic plot line of the entire show, and to illustrate this point, let me recommend to you the Halloween episode of season three. Haley comes back from her world (??) music tour and tries to reconnect with her husband, Nathan. She is a sophomore in high school. Lucas, also a sophomore in high school, tries to be exclusive with his f*ck buddy Brooke (baby Sophia Bush), and he believes his worthiness and willingness to commit must be proven via a killer Halloween costume. He chooses Tommy Lee. I think that says enough about how their relationship inevitably turns out.
Peyton, not being dramatic at all, decides to dress as an angel of death, and her father only gives a half-hearted shrug in protest to this alarming outfit choice. The episode culminates at a Halloween party at underage nightclub TRIC, where Fall Out Boy casually performs. Watching this episode live on air, my only question was, where I can I replicate the angel of death outfit to properly alarm my mother? Watching the episode as an adult has me asking quite a few more questions, like why is there so much leather during this underage party? Is it too late to call a hotline about Peyton's obvious issues with depression? And what blackmail did The CW have on Fall Out Boy to get them to continually perform on this godforsaken show? THESE ARE THE THINGS THAT KEEP ME UP AT NIGHT. 
Buffy The Vampire Slayer: "Halloween" (Season 2, Episode 6)

For those of you who are like, Buffy The Vampire Slayer? What's that? SHAME ON YOU, YOUTHS. To educate you poor, misguided children, Buffy is iconic and, as far as I'm concerned, should be mandatory viewing in all schools, sort of like how that Romeo & Juliet movie from the 1960s was. The show follows Buffy, high school cool girl and avid scrunchie wearer, who eviscerates people with snarky one-liners by day and slays vampires by night. If anyone has a problem with that plot description, they can take it up with me and the pointy end of my stake, mmkay?
Any one episode will have enough monsters and vampires to feel like a Halloween special, but the Halloween episode from season two is truly something else. In an effort to seduce the vampire she has a crush on, Buffy dresses up like a girl from his youth: an early 1800s noblewoman. I took a similar tactic to impress the guy in Kappa Sig I dated by dressing up like a cheerleader one Halloween, complete with underwear that said "haze me" on the butt. To each their own I guess, Buffy! Things go amiss for Buffy and her friends when the owner of the Halloween store enchants everyone's costume so that you transform into the thing or person you've dressed up as. Mayhem ensues. The episode is complete with treacherous wigs and even more treacherous English accents, and is an absolute must-watch. 
The Office: "Costume Contest" (Season 7, Episode 6)

Like Parks & Rec, The Office has a LOT of Halloween episodes to choose from, but I think we can all agree that the one from season seven was the best. Pam raises the stakes of the annual costume contest by awarding the winner a Scranton book of coupons that could amount to $15,00o in savings. This leads the employees of Dunder Mifflin to think that the book is literally worth $15K and so everyone goes all out for the costume contest. Angela shows up in a naughty nurse outfit (lol I can't wait to hear how she rationalizes that one to Jesus), Jim actually wears a costume, and Gabe is doing the most as Lady Gaga.
Stranger Things: "Trick or Treat, Freak" (Season 2, Episode 2)

Guys, is there literally anything in this world that's cuter than watching 13-year-old nerds coordinate their group Halloween outfits?! I don't f*cking think so. Stranger Things is fun to rewatch because it feels appropriately spooky and nostalgic, which is what Halloween is all about. Plus, at one point during the episode Nancy gets drunk at a costume party and yells at Steve. I'm sorry, but if drunkenly sobbing in a bathroom after fighting with your boyfriend isn't a Halloween mood THEN I DON'T KNOW WHAT IS. 
Gossip Girl: "The Witches of Bushwick" (Season 4, Eipside 9)
First of all, I forgot this episode of Gossip Girl even existed, let alone that it's aptly titled "The Witches of Bushwick." As a person who used to call Bushwick her penance for past sins home, I can honestly say that there are, in fact, witches in this area of Brooklyn. Not to name names but there was a very suspicious incident at a vegan cafe wherein I mistakenly asked for creamer in my coffee and later became mysteriously ill. I'm just saying, it's suspicious is all. The episode takes place at Chuck's Saints and Sinners masquerade party at the Empire Hotel and it is PEAK Gossip Girl in terms of fashion and fighting. It's a very Serena-heavy episode in the sense that Jenny and friends try to overthrow her while Nate and Dan both try and woo her. Also, Chuck and Blair are there and are perfect. 
New Girl: "Keaton" (Season 3, Episode 6)

New Girl has always been the gift that keeps on giving for me, especially since I've always self-identified as having the spirit of a crotchety, 90-year-old man, in the same way that Nick Miller does. This is one of my all-time favorite episodes because we find out that Nick has been sending Schmidt fake messages from actor Michael Keaton FOR YEARS. Schmidt for some reason believes with his whole heart that the actor who plays Batman has been sending him supportive letters and emails for his entire life when in fact it's been his mom and then roommate Nick writing the sage advice. I almost peed myself watching this episode—it's that good.  
These are the best Halloween episodes to re-watch in preparation for (or during) Halloween. If you don't spend the next 3-6 hours watching this powerhouse lineup of television, I'll be personally offended. Smell ya later!
Images: Giphy (5); Tenor (1); weheartit (1)
8 TV Shows We Can't Wait To Binge Watch In 2019
With a new year comes new responsibilities shows to binge watch. Honestly, I'm all about reading more and lying on my couch less in 2019, but I also need to carve out large chunks of time to invest in some rly great drama, comedy, and general weird sh*t. Make entertainment great again this coming year and schedule time to binge watch these shows you won't want to miss.
The Crown
If you love v slow British drama and deep-seeded intrigue (like who forgot to curtsy or how shocking nail polish is), get ready for The Crown season 3, premiering on Netflix sometime in 2019. We don't have a release date yet, but it'll definitely be some time in the new year. Clare Foy will no longer be playing Queen Elizabetch II, but we've got a whole new cast to get invested in during the 1970s-set drama. Look out for the arrival of Princess Diana in the last few episodes.

Marvelous Mrs. Maisel
Amazon Prime has absolute gold with this series. Basically, a 1950s Jewish housewife (who like, kills it at being a housewife) has her life turned upside down when her husband leaves her (lame). Instead of wallowing in ice cream and self pity, she gets blackout and ends up becoming a stand-up comic. The second season is on Prime NOW, and the third season will drop in December 2019. So, you have plenty of time to catch up.

The Handmaid's Tale
Praise be. Hulu renewed The Handmaid's Tale for a third season back in May 2018, during just the second week of season two. If it stays on its current schedule, we can expect to see the next installment in April 2019. Rumor has it we'll see June's escape and her fighting to bring down Gilead.

True Detective
If you were blown away by Season 1 of HBO's True Detective yet completely scarred by a terrible second season (looking at you, Colin Farrell), let's all collectively give this series another shot. It'll premiere on January 13, 2019, and Mahershala Ali will play Wayne Hays, a state police detective from Arkansas who has to investigate the disappearance of two young children. Juicy.

Game Of Thrones
YASSSSSSS. If you aren't a GoT fan, you only have one more season (which premieres in April 2019 on HBO) to hear everyone you know freak out about ice dragons and zombies and a whole lotta girl power. Honestly, the worst part about this show leaving us forever is that we can't stare at Jon Snow brooding and moping around anymore.

What We Do In The Shadows
This upcoming series is based on Jermaine Clement (from Flight of the Conchords) and Taika Waititi's vampire mockumentary of the same name. It follows a group of vampires living as roommates in New Zealand–with more capes and makeup and zero Twilight tween-sh*t. It sounds incredibly weird, and it is, but watching a grown man wander around in a cape and harass people gives me major inspo. It'll premiere on FX in Spring 2019.

Big Little Lies
Beaches and murder and cheating PTA board members and some not-cool spousal abuse made for an amazing show on HBO last year. Even though the series–which is based on a novel of the same name–was slated to only be a limited one season shindig, everyone loved it JUST SO MUCH that it's coming back. Meryl Streep enters the picture as Perry's (RIP) mom and we can't wait to see Reese Witherspoon and Nicole Kidman reprise their roles as Monterey mommies.

VEEP
The final season of Julia Louis-Dreyfus bullying everyone around her while trying to keep her sh*t together will air on HBO in Spring 2019. If you enjoy laughing at the current state of politics in our country (LOL we're all laughing to keep from crying), this is the show for you.

Images: Shutterstock; Giphy (8)
6 TV Shows To Binge Watch With Your Significant Other
"Netflix and Chill" has become such a popular concept for a reason. But to be honest with you all, my boyfriend and I don't typically watch TV shows together. Of course, this is mostly because we always get distracted during them (if you know what I mean) and then have to make time to rewatch the episode later. But having shows to binge watch with your SO sounds like a nice thought. So for those of you out of the honeymoon phase (or who aren't horn-dogs), here is a list of the best TV shows to binge watch with your SO. For those of you in long distance relationships, use Netflix Party, a chrome extension that allows you to watch these shows from wherever TF you two are.
1. 'Haunting Of Hill House'
Okay, so I have no interest in watching this show, with bae or without, because I'm a wimp and can't handle scary things. But for those of you who have the balls to watch this, good for you. I hear it's bomb (but I still won't watch it). A friend of mine said that he really likes the show but would only watch it when his boyfriend was over.

2. 'Friends'
This show is my go-to. When I'm sad? Friends. When I'm happy? Friends. When I get home drunk from the bar? Friends. It's also one of the best shows to have playing in the background when you're banging. A bunch of my friends agree too, saying, "when I can put something on other than sports, Friends is my go-to." The only problem is if you're like me and can pretty much quote every episode, you start reciting lines. Much to my boyfriend's annoyance, when Friends is on in the background, I whisper romantic things like "Could I BE any more turned on?" into his ear. Mood killer? Maybe. But a good laugh for both of us me.
3. 'Curb Your Enthusiasm'
Similar to Friends, this show is a great choice. The episodes are short half-hour episodes that are light-hearted and funny. My boyfriend introduced me to this show and at the beginning, just showed me his favorite clips, which turned into him showing me his favorite episodes and now I'm hooked. Curb to him is like Friends to me. Now that I have been watching it, I can make references to the show and he gets more excited than when I say I'm horny.

4. 'Gossip Girl'
One of my friends got her boyfriend into Gossip Girl because of her obsession with the TV show. It may not seem like the "classic man's show" (don't even get me started with heteronormative gender roles) but it will hook anyone who watches it. According to IMDB, 25% of the people who rated the show were men. Women rated the show at a 7.8 point out of 10, whereas men rated the show a 6.7. So if anyone in the comments wants to argue that this isn't a show for men, fight me.
5. 'This is Us'
Apparently, all guys watch it with their girlfriends but won't admit it to their friends. Granted, this is based on one of my friend's opinions, but I'll take it as fact. If you need your SO to get in touch with his ugly crying face emotional side, fire this show up.

6. 'Riverdale'
If you started watching this show before you and your boyfriend started dating, then it's an easy one to watch together (and then talk about our recaps the next day). TBH this could go for any TV show but Riverdale is one of the best TV shows to binge watch with your significant other. Why? Because you know the storyline and characters from your childhood but take a murder mystery approach to it. V interesting, trust me.
Images: Giphy (3)
The Most Bingeworthy TV Shows This Fall
As I sit in my flannel, jeans, and black ankle boots, I can happily confirm that the fall season is upon us. True, it's still mid-70s and I'm only dressed this way because there was a tick advisory for my workplace today (working in TV is all glamour, don't let anyone tell you otherwise). But I'm sure we can all agree that it feels like fall. In other words, it's time to curl up in front of your TV and forget the words "crop top" for another nine months. While you probably spent all summer bingeing Office reruns (same), fall is the time for new, highly anticipated TV. In order of when they come out, here are the new and returning TV shows that will dominate your life for the next few months. Please set your DVR accordingly.
'You' – September 9, Lifetime
I should qualify at the start of this list that not every show will be what's traditionally considered "good." For example, most of the dialogue in this particular show makes me want to throw myself through a window. But like, in the BEST way. This show is about Penn Badgley playing a stalker freak who becomes obsessed with a slightly vapid blond and immediately starts doing psycho sh*t like writing about her on an anonymous website breaking into her apartment and messing with her life. So basically, a dark yet accurate glimpse into Dan's future. (Extremely self-aware of Penn Badgley to take this role.) This is my new favorite guilty pleasure show, and if you're a fan of Lifetime at all, I can't recommend it enough.
The first of many red flags he displays in this show: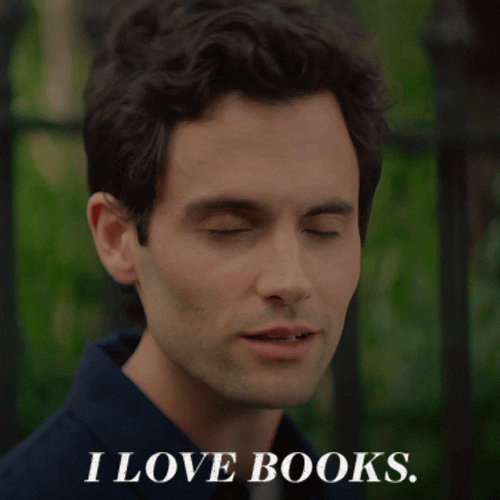 'Maniac' – September 21, Netflix
Okay so polar opposite of the last show, but also about mental health. Can't imagine why that's trendy right now when we have such a stable genius in the White House! Anyway. This whole season dropped on 9/21, and it stars Jonah Hill and Emma Stone. Even in this ~Golden Age~ of television, that's a pretty high-end cast. I won't tell you much about the plot beyond the fact that they both have a sh*t-ton of baggage and sign up for a pharmaceutical trial. The plot is less important than the vibe, which so far is like every episode of Black Mirror smushed into one world. This show is good for an all-day binge when you're up for actually thinking about what you're watching. Invite over your artiest friend so they force you to pay attention through the first 3 episodes, it's kind of slow to start up.
'Dancing With The Stars' – September 24, ABC
Have I ever watched this show before? No, and I probably won't again. But who could resist seeing Grocery Store Joe flit across the stage! I give you permission to stop watching as soon as he's cut.
'This Is Us' – September 25, NBC
You all know what this one is for. This is the show you come to when you need a really good cry, or when you want to ignore all your problems and pretend Mandy Moore is your mom for a while. Also, to get your weekly Sterling K. Brown fix, which is right up there in terms of importance with drinking water and getting enough sleep. It's just a fact of life. This season, we're going back to Jack and Rebecca's first date—and Randall's daughter, Tess, all grown up. Few things are as pure as my love for this show.
Anyone else need to watch this on repeat to cleanse from this week's news cycle?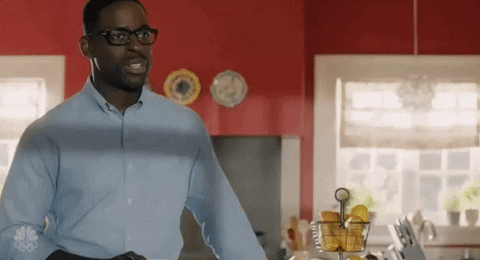 'Modern Family' – September 26, ABC
Did we all kind of get over Modern Family five years ago when it won every award? Yeah, maybe. But this is likely the final season, and they've been teasing a "significant death," so I'm planning on riding out the show until the end. It's the least you can do for something that gave you a few good years, like when you loyally wear your favorite black leggings until they're completely sheer in the crotch. Watch out of loyalty, watch because Phil is still funny AF, or watch because you're hungover and it comes on next on Hulu. Up to you.
'The Good Place' – September 27, NBC
Very few shows like The Good Place have come around in the past few years, and I'm deeply grateful when they do. It's from the creator of Parks & Rec, and has the same soothing effect of all your fave 25-minute comedies. Kristen Bell has spent the first two seasons figuring out that she's in (SPOILERS) Hell, aka the Bad Place. Season 3 opens up with her and her 3 companions having been redeposited on Earth to give things another try. Will they f*ck it up in a largely similar way to the first time? Probably, their memories were erased so IDK why they wouldn't. But it'll be fun to watch them try to fight their baser instincts for a while.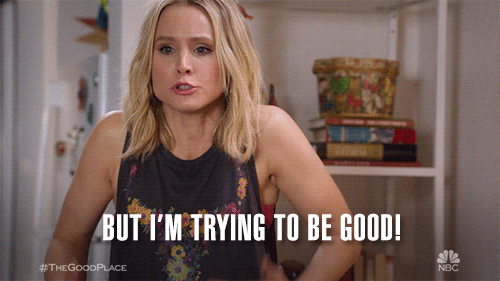 'How To Get Away With Murder' – September 27, ABC
This is another show that's sadly nowhere near as good as it used to be. But at its best it was so iconic that I still can't look away. No matter how ridiculous the rest of it gets, Annalise is still the epitome of boss b*tch goals, and Laurel still has an annoyingly good lingerie collection for someone with such a terrible personality.
'Riverdale' – October 10, CW
Of course the show I'm most excited for doesn't come back until October 10th. OF COURSE. Season 3 of Riverdale is about to be f*cking lit. We're dealing with the aftermath of Archie's arrest, an all-out war with Hiram, more screen time for Cheryl and Toni, and some weird cult stuff with Betty's sister. The promo shows Archie shirtless, more milkshakes at Pop's, and what appears to be a ritual sacrifice of two babies. Exactly what you'd expect and get more than you dared hope, in classic Riverdale fashion. And obviously we'll be recapping it.
Me all season:

The best part of these fall shows? Since they're all newly released, you're basically engaging in a cultural activity with every binge. Some people go to museums; you binge artful new storytelling techniques. Or at least that's what you'll tell yourself as you order Seamless the sixth time that week. Happy watching!
Images: The CW; Giphy (4)
The Best Shows And Movies Coming To Netflix In May
April is finally almost over, and we are legit excited. No, not for actually nice weather or "spending time with friends." April ending means it's finally time for Netflix to drop its May selection, and, tbh, the new lineup is lit. From tearjerkers to comedies, we can't wait to ignore the sunshine and blow off nights out for some serious binges. Here's our roundup of the best shows and movies that Netflix is #blessing us with this May.
1. 'John Mulaney: Kid Gorgeous Live at Radio City'
Okay, not to, like, brag or anything, but I was at this taping and it was the funniest thing I've ever seen. You may have caught John Mulaney on his recent turn as SNL host, which spawned the iconic Diner Lobster, but this is even funnier. Mulaney, a former head writer for SNL and the king of Netflix standup, is perfect for those nights when you just need a pick-me-up or want to showcase how ~cool and into comedy~ you are.
2. 'Dear White People' Volume 2
Come for the humor and stay for the social commentary. Dear White People volume 1 had us laughing, crying, and gasping at all of the drama. This is def a series that you can binge and feel good about, because you're #educating yourself. But also, it's just really really good.

3. 'Riverdale' Season 2
You know what? I'm not even gonna be a Riverdale apologist. Riverdale is the best television show of our generation, and, if you don't believe me, read our recaps. This show has everything: murder, really dramatic lipstick, a musical?, and teenagers that are like, incredibly unsupervised but also pretty stupid. It's the perfect television show, and I won't budge on this.
4. 'Mamma Mia!'
Our Lord and Savior Meryl Streep has ordained that her overalls may grace our laptop screens, and I'm literally so excited. Does Mamma Mia! have a plot? Like, kinda? Can Colin Firth sing? He tried, and that's what matters. Will I still be cry laughing as Meryl Streep has an absolutely preposterous wedding set to ABBA music that's just, like, shoehorned in there? Abso-fucking-lutely. Also, a great way to pregame for Mamma Mia 2, which is hitting theaters July 20.

5. 'Unbreakable Kimmy Schmidt' Season 4
This show is absolutely bonkers, and I can only hope Tina Fey read any one of my 200 tweets in the past year so that Unbreakable Kimmy Schmidt season 4 does not disappoint like season 3 did. Since UKS is a Netflix original, it's like a very rare shooting star, in the sense that it only releases one season once a year. What is frustrating about this is the season is usually very good, funny, and has lots of thoughtful takes on the residual effects of trauma and womanhood. Tina Fey, you sly fox. Also, if you haven't watched Peeno Noir, what are you even doing with your life?
6. 'The 40-Year-Old Virgin'
A biting documentary on the effects of toxic masculinity in today's world—no, just kidding, this is a fun and raunchy sex comedy from Judd Apatow and Steve Carell. Carell plays a 40-year-old man, who, you guessed it, is a virgin. But there's a whole lot of heart and laughs under this…interesting premise. It's perfect for a movie night with the girls and guys.

7. 'Coco'
Just thinking about this movie makes me cry a little. Once that Pixar logo comes on, you know you're fucked. But this little story on the Mexican Day of the Dead, clocking in at only 90 minutes, is jam packed with lovely music, beautiful animation, and the ~magic of family and tradition~. If you're in need of a cathartic cry, or a snuggly night in, pull up a blanket, grab some tissues, and get ready to belt out hum "Remember Me."
8. 'Scandal' Season 7
It's hard to believe that we once lived in a world without Scandal, but it's sadly finally come to an end. With 15 episodes, just accept now that you will say, "just one episode!" and lose your entire weekend to this final season. We honestly can't keep up with all of the twists and turns, but we can guarantee that Olivia Pope will look into the distance, contemplating the intricate and fucked-up power dynamics of politics, and Kerry Washington's coats will only get more powerful.

9. 'Ibiza'
This Netflix original comedy looks lit. Starring Gillian Jacobs, Vanessa Bayer, and Phoebe Robinson as three best friends who head to Ibiza for a "business trip," they meet a hot DJ and have their lives forever changed. It looks like it'll be the perfect girls night in movie. Pop some cheap wine and get ready to laugh.
10. 'High School Musical 3: Senior Year'
Obvi, I had to leave the best for last. The final movie in the series, High Musical 3: Senior Year has everything that made us love HSM so much. Zac Efron roaming the halls of his high school screaming? Check. Sharpay getting absolutely shafted, but still tossing off iconic lines like it's nothing? Big check. A strange subplot about underclassmen trying to steal their identities? Yup, naturally. Why does Gabriella start college literally a month before high school ends? I don't fucking know, but she does set an important precedent: always choose Stanford over the fuckboy. Of course, it closes out with them singing We're All In This Together in graduation robes, because, guys, we are all in this together. And by that, I mean that we will all be streaming this an embarrassing amount of times.

Images: Giphy (5); Unsplash (1)
The Best TV Shows And Movies Coming to Netflix in February
It's officially February, so that means the sun is still setting at 4pm, we're still trying to pull off knit turtlenecks, and we're still watching Netflix. Like, a lot of it. I'd say with the combination of the shitty weather, a boring Bachelor season, and the shit show of our political system, our society is at an all-time low, which means we can only turn to TV to make ourselves feel a little better. I mean, vodka helps too, but it doesn't give you as much material for elevator small talk at work. If you've already binged on all 10 seasons of Friends this month and you're in need of something new to watch, here are the best shows and movies coming to Netflix this month.
1. 'Meet The Parents' & 'Meet The Fockers'
Ah, two classic movies for Netflix & chill season. First of all, they literally go together, which gives you an excuse to keep the TV on for another two hours, and secondly, they're both equally great. I mean, there's nothing like the combo of Robert De Niro and Ben Stiller to make us forget about our own family drama, and also to remind ourselves never to agree to meeting the parents. It's always a trap.

2. 'Coach Snoop'
Watching Snoop in action is more mesmerizing than watching Cardi B give a live TV interview. Luckily for us, Netflix is literally giving us a show that allows us to watch Snoop in his very unknown natural habitat of little league football coaching. Is this real life? The answer is yes, and the show is coming out this week. Sit back, relax, and watch Coach Snoop coach a team of teenagers, no bong in sight.

3. 'Ocean's Eleven', 'Twelve' and 'Thirteen'
Apparently there's an Ocean's Eight coming out this summer, so I guess now is a sensible time to catch up on the other three. Ocean's Eight will be an all-female spin-off with a killer cast. We're talking about Sandra Bullock, Cate Blanchett, Mindy Kaling, Rihanna, James Corden, even Anne Hathaway (which is frustrating, but you can't win them all). Think of the OG trilogy as your pregame. The first remake of Ocean's Eleven (I know, it's confusing, and Hollywood has been out of ideas since 1970) and its subsequent sequels, though, feature the likes of George Clooney, Julia Roberts, Brad Pitt, and more.
4. 'The Joel McHale Show with Joel McHale'
We have to admit we have a soft spot for obnoxious stand-up comedians hosting their own shows, so we'll be watching Joel McHale's show. Joel McHale is known for his amazing pop culture shit-talking and fabulous celeb guests, so we're just praying his show is a fair combo of our two fav pastimes.

5. 'Project X'
This movie is so underrated, and we're totally into its revival, so thank you, Netflix. Project X was the movie that encouraged us to drink more and care less, and it also first opened our eyes to the hotness of Miles Teller (if you'd like to fight me on this, I'll be outside). The movie is all about high school seniors throwing a rager, so maybe it'll even hype us up to leave the house this weekend and get blackout enough to come home before even making it to the club. Ugh, I love being a responsible adult.

6. All 5 'American Pie' Movies
Another childhood classic. Why weren't these on Netflix already? I mean, the franchise was obviously overdone and dragged out way too long, but whatever, the jokes are funny and it just reminds us that life gets *somewhat* better after high school. On one hand, I feel like no one wants to watch the original from 1999, but on the other hand, most kids watching Netflix nowadays were prob not even born yet when it came out. Feel old?
7. 'Everything Sucks'
Speaking of the 90's, this Netflix original show is supposed to be set in 1996, and it follows high school freshmen through their v sucky lives. Honestly, it looks pretty good. The name caught my eye immediately, and the whole thing just feels like one relatable TBT. I mean, anyone who says they're not nostalgic for AIM and Tamagotchis is dead to me. Like, I still look for Dunkaroos in the pantry every time I'm drunk.
8. 'Queer Eye For The Straight Guy' Reboot
In case you've never heard of the original show, the original Queer Eye For the Straight Guy was on TV from 2003 to 2007, and Netflix is launching a reboot with an entirely new cast. The show will follow a new group of "Fab Five" guys who are lifestyle experts and like, D-list celebs with good taste. For example, the well-dressed host on Chopped who announces the mystery basket ingredients was one of the original Queer Eyes. Kinda sounds like our next guilty pleasure… we'll be watching.

Images: Tookapic / Pexels; Giphy (5)