Finally, Bathing Suits For Big Boobs That Won't Choke Me To Death
Betches may receive a portion of revenue if you click a link and purchase a product or service. The links are independently placed and do not influence editorial content.
The grass is always greener on the other side, and this can feel particularly true when it comes to body shape, and even more so when it's time to shop for bathing suits. As a girl with DD boobs (I hate even saying that out loud, but that's a deeper issue/for another article), bathing suit shopping is forever a gamble. I envy my friends who can have fun shopping online for bikinis made out of, like, one single string attached to one small piece of fabric without a damn care in the world. Meanwhile, I have to spend hours in a myriad of dressing rooms trying on multiple different styles of bikini tops and then taking pictures of my boobs at all angles to make sure they look perky and fabulous, and not saggy and unwieldy. Well, the taking pictures part might not be totally necessary, but whatever. It's a process, and in my humble opinion, a sport. 
That is why I am so happy to have found the following swimwear brands that are keeping me, you, and our huge tits in mind when designing their suits. I'm ready to irresponsibly spend my money on supportive bikinis made for boobs like mine.
Skims Swim Plunge Bikini Top

Shop It: Skims Swim Plunge Bikini Top, $42, Skims
Make a splash with the Skims Swim Plunge Bikini Top. With its alluring turquoise hue and plunging neckline, this top isn't just a swimsuit—it's a declaration of confidence at the beach, pool, or anywhere in between. Flaunting its tasteful support, it whispers, "Dive in, the water's fine and so am I."
Panache
Anya Riva Twist Bandeau Underwire Top

Shop It: Panache Anya Riva Twist Bandeau Underwire Top, $41-$75, Amazon
Feeling a bit audacious? Give the Panache 'Anya' top a go. With a bandeau style that doesn't compromise on support, this is the go-to for larger chests wanting a taste of the strapless world. Remember, bandeau doesn't mean bland, especially not with this beauty.
Aerie Shine Pique Scrunchie Tie String Triangle Bikini Top

Shop It: Aerie Tie String Triangle Bikini Top, $22, Aerie
Of course, we all love Aerie and their body inclusivity campaigns, but I am here to say that not only do they talk the talk, but they also walk the walk. They sell string bikinis that are still able to make my boobs look perky. I repeat, string bikinis that make my DD boobs look perky! My fellow full-chested women know that this is as rare of a find as a blonde on IG not complaining about her roots growing in during quarantine. The price at Aerie is also *chef's kiss.*
Cuup The Balconette Top

Shop It: Cuup The Balconette Swim Top, $39, Cuup
The Balconette Swim Top by Cuup in sultry lava red is like a love letter to larger chests. It blends comfort and class with its underwire support and alluring color. Be bold, be fiery, and be comfortably you in this standout piece. Each swim top comes in bra sizes so you'll be sure that they'll fit you perfectly.
Summersalt
The Perfect Wrap One Piece Swimsuit

Shop It: Summersalt The Perfect Wrap One Piece Swimsuit, $95, Summersalt
Summersalt's swimwear styles have gone viral more than once, especially this wrap one-piece. With form-flattering designs for all body types, you can really get a feel for which bathing suit might be best for you. The styles overall aren't anything crazy trendy, so shop at Summersalt if you're looking for that simple, go-to bathing suit that won't scare your middle-aged neighbors away when you're outside making TikToks. 
Monday Swimwear Tulum Top

Shop It: Monday Swimwear Tulum Top, $87, Monday Swimwear
Monday Swimwear is all about offering the perfect fit for every body type. And, all of the models on their website have big boobs, which I appreciate. Even better is that their fabrics are made from recycled nylon and PET bottles. So, not only will your boobs be supported, but the Earth will be, too. I can't tell if that was an amazing or awful joke. Moving on.
Good American Compression Swim Tank

Shop It: Good American Compression Swim Tank, $59, Good American
The Good American Compression Scuba Tank in fuchsia takes tank tops to a whole new level. Boasting a bold color and an impressive design, this top offers generous support for larger chests. It's an unapologetic piece that declares, "I'm here to take on the waves, and look stunning doing it."
Swimsuits For All V-Neck One-Piece Swimsuit

Shop It: Swimsuits for All V-Neck One-Piece Swimsuit, $83, Swimsuits for All
This brand doesn't even offer swimsuits in sizes below a 4, which is pretty great as I need way bigger than a size 4 for these boobs. They have so many different styles, and I can trust that every single option will work for my body type. They also offer tankinis and swim dresses if you're going to, like, a family reunion slash pool party and want to be modest? Or actually, maybe just don't buy a tankini or swim dress and stick to a one-piece.
8 Spring Break Swimsuits Under $50
Shopping for bathing suits is the absolute f*cking worst. Especially when you're shopping for spring break. Attempting to stay on trend but still be comfortable, wondering why some store's sizing is so f*cked, trying not to break the bank for something you may never wear again after that week—it's a lot. What's with swimsuits suddenly costing an entire semester's tuition??? Oh wait, that's just for the top. If you want bottoms too you'll have to give up buying your books this semester. All reasons why I usually end up waiting until the last possible minute to find a swimsuit and get stuck with whatever piece of fabric I can find that fits.  
Thankfully, I've learned from my mistakes and know that right now is probably the best time to shop for swimwear, and to make sure that I find a suit that doesn't force me to give up my weekly Thirsty Thursday margs. Here are eight different swimsuits that are all under $50 and aren't ugly af.

Tbh, you can't go wrong with a classic one-piece. Aerie's swimsuits always have a flattering fit AND they have an option for long sizes for those of us with long torsos. The struggle is real. IYKYK. This suit will give you all the comfort of a standard one-piece suit with the bonus of a strappy back that gives it a chic touch.

Leave it to Amazon to come in clutch for literally everything. I cannot even begin to express my admiration for high-waisted bikinis and their ability to hide the absurd amount of tacos I eat before I go swimming. This ZAFUL suit will be flattering on an array of body types (just make sure you check the sizing and read the reviews before you order). I find high-waisted bikinis give you the same ~security~ as a one-piece suit with the convenience of a two-piece.
If you're an indecisive betch like me and can't choose between a one-piece and a bikini, welcome to the perfect combo: the monokini. This piece comes in both tall and fuller-bust sizing, making it more versatile than some other styles. I know, I know, monokinis have a bad rep for the ridiculous tan lines they leave behind, but this piece is so sleek and cute. And if you think about it, the cutouts are no different than if you were to wear a dress in a similar style, so just embrace it. I love this suit because it indulges my inability to make any choices for myself (something Pilot Pete and I have in common)! 

I'm sorry, did you say a REVERSIBLE bikini? As in two bikinis for the price of one?? Please just take my money, I literally could not ask for more.
H&M Push-Up Triangle Bikini Top, $19.99 & Bottom, $12.99

This one gives off tropical vibes so you'll actually feel like you're going somewhere exotic, even if you're actually just chilling at the public pool in your hometown because you and your friends didn't have your sh*t together enough to plan a trip for spring break. This suit comes in a variety of colors and patterns, but tops and bottoms are sold separately. Thankfully the full suit will only cost you about $35!

According to my sources (aka Google), texture is a big trend for swim this year. So if you're planning on going on The Bachelor one day and want your feed to give off fashion influencer vibes, this ribbed bikini is the perfect choice. Like the piece from H&M, the top and bottom are sold separately, and the full suit will cost about $30.

Not only is this bikini on MAJOR sale, but you also get to mix and match the sizes of the top and bottom. It's also really cute and tropical, so you should probably snatch it up before it's gone.

This one-piece is also on super sale and comes in a few different colors. The thing I really love about it is the tie-around waist. I imagine it'll make me feel like Shakira dancing with that rope during the Super Bowl Halftime Show. And isn't that kind of what we're all going for, at the end of the day?
You don't need to drain your bank account for a fire swimsuit you'll actually want to bring on your spring break trip. Just use the critical thinking skills you've been neglecting to apply in class all semester. Now you can use all the money you saved on what really matters during spring break: dangerous amounts of alcohol and 3am trips to McDonald's.
Images: Ben Parker / Unsplash
Betches may receive a portion of revenue if you click a link and purchase a product or service. The links are independently placed and do not influence editorial content.
5 High-Waisted Bathing Suits That Don't Look Like Diapers
Is it just me or is bathing suit shopping more stressful than wedding dress shopping? At least the dressing rooms at bridal boutiques don't deploy meth lab lighting or mirrors that convince me I'm a chubby ghost who should just lead with my personality when I meet people. Look, when it comes to donning a bathing suit, I think every woman should wear whatever makes her feel her sexiest, but for me, that's def not a string bikini that exposes a casual 97% of my translucently pale body. Don't get me wrong, I like my body, but that doesn't mean I want to focus all of my beach/pool time silently praying that my SoulCycle ass doesn't swallow my bikini bottoms. Enter: high-waisted bathing suits!
Do you guys know about high-waisted bathing suits? I've always ignored these because they can look very diaper-esque if worn incorrectly. But there are some people out there who demonstrate the beautiful magic of high-waisted bathing suits, and I am here for them! There are so many flattering, non-diaper, high-waisted bikini bottoms out there, and if you don't have the energy (or time) to sift through them all, I got you. Whether you're thin, curvy, tall, or short (or any of the other 102 body types out there), accentuating your waist is always a good idea. These high-waisted bathing suits don't look like diapers, I promise you.

J.Crew slays bathing suits. This blue-and-white striped number is no exception. How cute is this thing, people? I always like to incorporate pale colors and/or white into my suits because lighter shades—especially white—make you look tanner than you are. As someone who actually wears a foundation shade called "Ivory," I can confirm that I don't look like a corpse in light-colored swimwear. No matter what skin tone you are, this color combo will def flatter your complexion and figure. Plus, this subtle red moment is giving me all the life I'll ever need. Yes, J.Crew, yes.

While trying on thousands of bikinis, I noticed that aggressive patterns weren't working for me. This could just be because my look already has a lot going on so patterns aren't really my vibe, but like a wedding dress, bathing suits shouldn't have too many elements because said elements take away from the shape. This Beach Riot bikini has the right idea, though. It has enough going on with the stripes, bold colors, and sexy shape, but doesn't overpower anyone wearing it. Most important to note, it's ribbed for her pleasure. Contrary to my summer internships at fashion houses, which, on a scale of Arya Stark's Faceless Men of Braavos apprenticeship to loving life, was a solid three, I'm not a fashion expert. However, I can confidently say that any simple shape or bright colors should be complemented by a ribbed material, otherwise it kind of looks like a sports bra. 

Concerning facial expression aside, this model looks absolutely fierce in this studded ensemble. I am living for the subtle sparkle and overall simple vibe here. Idk about y'all, but I will def be purchasing. The straps are removable (bless), so you can wear this as a tube top until you get sick of pulling it up every time you move, like, at all. I stan. Secondly, these bottoms are simple and chill enough that you can wear pretty much any top with them and not look like a complete idiot. I'll take it in all the colors, please!

If you don't want to spend more on a bikini than you would on dinner, Zaful has your back. As its prices imply, the bathing suits and other clothing it sells aren't exactly couture, but they get the job done and look cute in pics. The patterns are as trendy as trendy can get (just take a look at their Instagram if you don't believe me) and this mix-and-match situation is no exception. I never thought I could rock flowers and stripes in one look, but here we are and I'm not mad about it. I bought one of these saucy numbers last year for a beach trip and it def did not last the entire summer (do not machine wash, people!), but if you just want to boost your swimsuit collection for trips to the Hamptons, Rehoboth Beach if you're poor (hi), or Mexican bach parties, Zaful is the move. It may not be a huge financial investment, but it's an investment in your Instagram, and what's more important than that?

I love AE's mission statement to be inclusive, chic and fun. Like, I want to be those things, please! Teach me your ways, AE. Anyway, a simple black bikini is such a good call because black is slimming, which we could all use as we prance around the pool without any clothes, amiright? IMHO, what makes this look non-diaper-like is the fact that it is has seams along the sides and is slightly ruched. Otherwise, these bottoms would just be like black Spanx without Spanx's magical powers to hold all your sh*t in. So the ruched aspect is v important here. It's also on 50% off rn, so make it rain on these sales.
Images: Unsplash; Aerie; Zaful; Bloomingdales; Dolce Vita; J.Crew
Betches may receive a portion of revenue if you click a link and purchase a product or service. The links are independently placed and do not influence editorial content.
What Guys Think About Bathing Suits
Ever since some nerd made it illegal to swim naked because he couldn't get a tan, people have been forced to suit up before hitting the beach. So until some brave soul takes it to the Supreme Court and fights the good fight, we're stuck with swimsuits. Fortunately, visionaries have been locked in a lab for decades researching the best ways to show some skin without breaking the law. Unfortunately, some of these creations are so hideous that they should be locked in a sunless basement along with their swag-less creators. But some of them are God's gift to mankind. So I'm here to tell you what guys think about bathing suits. If you disagree, it just proves that men don't know anything about fashion.
The Stomach Cut-Out
Let's all stop and take a moment appreciate how impressively awful this is. It looks like someone got blackout drunk and tried to make a one-piece out of their grandma's favorite couch but ran out of material. As if the awkward stomach cut-out wasn't bad enough, it also ties in the front. WHY? The only thing the front tie does is make it look like you have shoelaces hanging between your boobs. Unforgivable. But worst of all, this disaster is guaranteed to leave you with the least sexy tan lines of all time. Nobody wants to walk around naked looking like a modern art mess. Miss me with this.

Victoria's Secret keyhole front-tie one piece
The Bandeau
First of all, you can't go wrong with the classic bikini bottom. It's the mimosa of bathing suits: if you don't like it, you're an asshole and should kindly leave brunch. The top is also good, especially if you go with a brighter color, because it fulfills every guy's childhood fantasy of having a shot with The Little Mermaid. Just me, then?

Victoria's Secret ruched front bandeau
High Waisted
The top is great. We don't need to talk about the top. The bottom, though? Let's talk about the bottom. The bottom looks like it tried to reach the top, got half way and said "fuck it, it's nap time." Yeah, I know high-waisted bottoms have been a trend for a while, and I've been sitting on that joke for years. It's not so much the high waist in particular, it's the fact that the bottoms are just high waisted enough to cover half the belly button—why? A belly button is like a bank heist, you gotta be all in or all out.

Victoria's Secret embroidered strappy high-waist bikini
This Kind That Looks Like A Bra
Every guy likes seeing a girl in a bra. It's the second best thing besides seeing a girl out of a bra, and this style plays it up perfectly. It's classy, it's fun, and by blurring the line between bra and bathing suit, it makes the guy think he's seeing more than he actually is. Which is always a win, because who wants to do more than you have to?

 Victoria's Secret strappy side scoop push-up
Triangle Bikini
A timeless classic. Sexy. Simple. Stylish. And unlike the latest iPhone, it's not desperately trying to add features no one asked for or gives a damn about. No frills, hoops, bangles, dangles, or zippers in sight. Save that shit for a handbag. Every strap has a place and a purpose. 10/10. The best use of shapes I've seen since kindergarten.

The Funny/Ironic One-Piece
Ah, the ironic one-piece. It's cute if you're wearing it for a reason, like a sorority formal, a bachelorette party, or a court-mandated hearing, but if you're casually wearing this at a rooftop pool, it screams "Please follow me on IG before I wash down another Xanax with Smirnoff!" Would Baywatch still be iconic if Pamela Anderson jogged down the beach with "PERF" stamped on her chest? Maybe… I'm honestly surprised they didn't do that in the remake, but hey, there's always hope for the sequel. Point is, if you're gonna rock a one-piece, stick with a solid color or a print, otherwise you're just wearing the female equivalent of a "sun's out, guns out" bro tank. Jaeger bombs, anyone?

Private Party Champagne Campaign swimsuit
Images: Victoria's Secret (4); J. Crew; Private Party
Top 9 Swimsuit Styles That Make Your Boobs Look Bigger
Betches may receive a portion of revenue if you click a link in this article and buy a product or service. The links are independently placed and do not influence editorial content.
Summer is quickly approaching, which means it's almost time to book your next beach vacay or hit up the nearest pool. But for some ladies, finding the perfect swimsuit can be a daunting task, especially when it comes to accentuating their assets. If you're looking for a swimsuit that'll make your boobs look bigger, look no further. 
Let's face it, we all want to feel confident and sexy when we hit the beach, and having a little extra oomph in the chest area can definitely help. Whatever style you're looking for, these are the best options available to make your bust look its best. 
Smart & Sexy Convertible Push-Up Bra

This convertible push-up swimsuit top from Amazon will help enhance your cleavage and give you a more voluptuous look. It features underwire support and removable straps, so you can adjust the fit to your liking. Plus, it comes in a variety of colors and sizes, so you're sure to find one that suits your style and body type.
Shop it: Smart & Sexy Convertible Push-Up Bra, $27.99, Amazon
Smart & Sexy Secret Push-Up Top

This top effortlessly lifts your breasts to enhance your cup size as soon as you slip it on. It features molded cups, underwire support, and adjustable straps for a comfortable and customizable fit. With its sexy plunge neckline and variety of colors to choose from, this top is exactly what you need for a bigger bust at the beach or pool.
Shop it: Smart & Sexy Secret Push-Up Top, $26.95, Amazon
SweatyRocks Halter Push-Up Bikini

SweatyRocks has quickly become one of Amazon's best-selling swimwear brands with thousands of raving reviews, and it doesn't disappoint in the push-up department. This halter top features padded cups and a flattering, ruched design that accentuates your curves. It also comes in a range of colors and sizes, making it easy to find the perfect fit for you.
Shop it: SweatyRocks Halter Push-Up Bikini, $29.99, Amazon
MakeMeChic Push-Up High-Cut Bikini

This push-up bikini will enhance your cleavage and give you more curves up top. The suit also has adjustable straps and a back closure for a comfortable and secure fit. The set comes in a variety of colors and sizes (like hot pink and dusty blue), so you can find the right one to match your style and summer wardrobe.
Shop it: Made Me Chic Women's Two-Piece Swimsuit, $27.99, Amazon
Tempt Me Push-Up Backless Swimsuit

This swimsuit features a sexy, backless design and a built-in push-up bra to give you a more curvaceous look. It also has adjustable straps and a high-cut leg to elongate your figure. Available in multiple colors and sizes, this two-piece is an easy confidence (and chest) booster.
Shop it: Tempt Me Push-Up Swim Halter, $27.99, Amazon
CUUP Balconette Swim Top

The CUUP Balconette Swim Top is a fan-favorite. It's super supportive and has the same construction as the brand's iconic bras. With underwire support and adjustable straps, this top provides comfortable lift and shaping. The subtle balconette neckline is perfect for those who want a bit of coverage without looking frumpy.
Shop it: CUUP Balconette Swim Top, $98, CUUP
Shade & Shore Underwire Shoulder-Tie Bikini Top

With underwire and molded cups, this top will enhance your cleavage and give you super easy support and lift. The tunneled shoulder ties also provide adjustability and a bit of flair. Available in a variety of colors and sizes, this top is sure to become a beachwear staple.
Shop it: Shade & Shore Underwire Shoulder-Tie Bikini Top, $28, Target
Sunsets Muse Bikini Top

Want something a little more sophisticated? The underwire and molded cups provide lift and support, while the adjustable straps and back closure ensure a comfortable and customizable fit. It comes in colors that are versatile and chic, making it easy to pair with any bottom. 
Shop it: Sunsets Black Muse Bikini Top, $88, Bare Necessities
Victoria's Secret Pink Crinkle Push-Up Bikini Top

A simple and chic option for those who want to enhance their bust. With padded push-up cups and a high neck design, this top will give you a more curvaceous silhouette and provide a bit more coverage. It also features adjustable straps and a back closure for a comfortable and secure fit. Available in a range of sophisticated prints and colors, this top is an absolute yes for anyone who wants to look and feel their best at the beach.
Shop it: Victoria's Secret Pink Crinkle Push-Up Top, $36.95, Victoria's Secret
Swimsuit Bottoms That Will Make Your Butt Look Bigger
Summer is coming up, and we all pretty much want to look like a Kardashian in our bikinis. Well… a Kardashian that isn't Rob. Sorry Rob, feel you though. Anyway, with "slim thick" being the latest and greatest body trend, it's no secret that ano skinny is out and #slimthick is in. The good news is that now you can feel slightly less guilty about having dessert because right now it's all about packing that "cake." (Yes, I do realize how I sound, THX.) The bad news is that if you're not someone who can magically channel that dessert directly to your ass, then it's time to go swimsuit shopping. But like, that's actually kind of good news too since now you have an excuse to shop. You don't have to get injections to make your ass look bigger in a bikini. Just look for these styles of swimsuits that will make your butt look bigger.
1. Cheeky/Brazilian/Thong

This one is pretty self-explanatory—the more skin you show, the bigger your butt appears. A cheeky or Brazilian cut will give an illusion of apple bottom roundness while also helping to lift the butt.
2. High Waist

Revolve MILLY Wave High Waist Bikini Bottom
Choose a high waist bottom with a cheeky cut to give an overall appearance of a toned and perky butt. This award-winning combo will really do wonders to lift your sad little ass.
3. Ruched

Free People Soleil Bikini Bottom
The ruching will make your butt appear larger and rounder by creating a flattering heart shape. The style of this bottom itself is naturally curvy, so it only makes sense that it brings the necessary help to your otherwise non-existent rump.
4. Ruffles

Free People Frilla Bikini Bottom
Adding ruffles to your bottoms means that you're adding more fabric, which then creates an appearance of fullness—the same goes for bikini tops when you're looking to make your boobs look bigger. At this point, if you haven't taken my advice and added a ruffle bikini set to your Revolve cart, then I'm sorry but we can no longer be friends.
5. White

Free People The Kate Bikini Bottom
You know how black is slimming? Well white isn't…which is perfect when shopping for a bikini bottom that will make your ass look fat. As an added bonus, a white bikini will make you look tanner, too. I see no reason not to buy like, six white bathing suits right now.
Congrats! You're now equipped to head to the beach looking, as famous one-eyed philosopher, Fetty Wap, would say, "slim thick wit' yo cute ass."
Images: Jernej Graj / Unsplash; Free People (4); Revolve
Betches may receive a portion of revenue if you click a link in this article and buy a product or service. The links are independently placed and do not influence editorial content.
10 Cheap Swimsuits That Look Expensive
Is there anything to do on a snow day aside from eating carbs and online shopping? The answer is no. Like all responsible adults, we spent our work-from-home snow day productively searching the internet for cheap swimsuits that are super trendy and look super expensive but really aren't. Like, anyone can spend last week's salary on the same neon Triangl bikini Instagram models have been wearing since 2014, but we've moved onto better things. The swimsuits coming out for this summer season are all about cool prints and cutouts, so we compiled a list of our favs. Here are 10 cheap swimsuits you need to own by the time the snow melts.

Does anything say luxury better than snake print? The one-piece is classy already, and the little cutout is a cute perk. Plus, it's only $45. I'm into it.

Kind of a boho take on a classic bikini. The tie detail *might* give you more of an illusion of cleavage. This suit comes in a few different styles and colors so you can mix and match, and you'll look good in all of them.

Pastels are huge right now, and this baby blue one-piece is amazing. Perfect cut for any size and the color will make anyone look tan. Also, since it kind of looks exactly like every bodysuit girls on Instagram are wearing, you can totally throw shorts over this and wear it to the bar and no one will notice.

The high-waisted bikini is tricky to pull off, but this one's a winner. Plus, the color block and ribbed texture make it look super expensive, even though it's one of the cheaper bathing suits.

This one's super pretty and feminine, but it's also navy, which literally looks good on everyone. That's just like, the rules of feminism. The ruffle details will also enhance your curves, so really, everybody wins.

If you don't follow at least five Instagram bloggers who either wear or use marble print in every post, are you okay??

Thank god Victoria's Secret lied to us about stopping their swimwear line, because they make the best cheap bathing suits. This suit comes in every color and I honestly want more than one. And obviously it's 2018 so we need some sexy lace-up detail on our one-pieces. Whatever, it looks amazing.

Another color block suit, and the army green is SO chic. Did I mention top and bottoms are like $30 each? Cheap swimsuits are my reason for living.

Florals try to make their comeback every couple years, but they actually work really well with this sick keyhole neckline thing. It will give you depressing tan lines, but it will be well worth it.

The cut on this one is so different, and honestly I'm pretty sure Rihanna owns this. She probably paid a lot more for it, though.
Betches may receive a portion of revenue if you click a link in this article and buy a product or service. The links are independently placed and do not influence editorial content.
The 6 Stages Of Trying On A Bikini After Being A Lazy Piece Of Sh*t All Winter
You've officially survived another winter of dreaded family holidays, surprise engagements, and disguising your 2pm blackout as "brunch" without entirely losing your dignity. But that also means that in the months between November and March, betches were busy living their best fucking lives, Instagramming cheese plates and colorful fruit cocktails, all while pulling off the illusion that their ass underwent months of squat-like workouts, thanks to overpriced Lulu leggings.
Sure, these PPCS (Post Partum Cuffing Season) side effects are totally justified, but unfortunately for me you, the social media façade that just upped your followers prob also upped your pant size. Bikini season is right around the corner as of like, yesterday, and your besties are dying to be sexually objectified at Tao Beach, but that also means they're counting on you to pose for pics with them that scream "GIRLS TRIP!!! But also can you believe this cleavage rn?" while debuting swimwear the size of a hair scrunchie. So if there's one thing I know better than the exact distance it takes to get from work to the bar, it's everything a betch goes through following the pre-bikini season DGAF:
Stage 1: The Invitation
After victoriously indulging in an all-carb diet for four months straight, the only phone call that's dreaded more than your gyno calling to deliver test results is your best friend calling to invite you on a ratchet river retreat. This means pausing your Barefoot Contessa binge and getting off your ass in hopes of finding a swimsuit that'll cover your perma-winter layer so you don't feel like an IRL Flubber on a rocky boat. Being a possessor of chronic Stage 4 FOMO the good friend that you are, you reluctantly agree to a weekend of staged candid bikini photos while hiding behind a donut pool floatie, as you confirm with a high-pitched "OMG YES I'M SO THERE!" Congratulations, you've just survived your first two-way calling attack.

Stage 2: The Casual Browse
Does your recent Google search history read, "bathing suits that hide my back fat"? Bcuz same. Every betch has Googled some sort of self-loathing ridicule at a point in her life, which means that the quest for the perfect bathing suit has officially begun. But first you attempt to save a little face before baring it all to the poor Victoria's Secret employee and peruse your options via Google. After hours of research, only to find yourself 68 weeks deep into Kylie Jenner's sluttiest bikini photos, desperate times call for desperate fucking measures, and your Google searches quickly go from "bathing suits" to "how much did Kim's fat transfer cost?"

Stage 3: The Dressing Room
They say the camera adds 10 pounds, but they also say the fitting room mirror adds like, 20. Idk if it's the shitty interrogation-room lighting, or the fact that my "monthly" bloat has just become a way of life, but TBH entering a woman's fitting room is like entering the fucking Chokey. After trying on the store's entire swim inventory, the only thing you've actually accomplished other than realizing you've unknowingly been growing a winter forest below the navel border for the past three months, is realizing that the trendy off-the-shoulder bikini top you tolerated serves no practicality or purpose other than showcasing unwanted armpit vagina.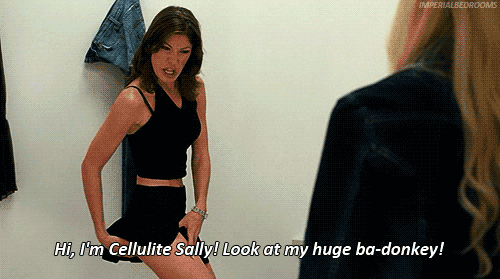 Stage 4: The Crash Diet
As you leave the store, you make a vow to yourself to go full Emily Blunt for two weeks and to eat nothing but a cube of cheese, but only when feeling like you're gonna drop dead. You stick it out for a solid three hours until your drive home automatically lands you in the In-N-Out drive thru line because whatever, you're getting cheese fries. You start randomly developing a sense of false confidence and mutter shit to yourself like, "If they can't accept me at my pregnant Kim K., then they don't deserve me at my revenge bod Khloé." #BIBLE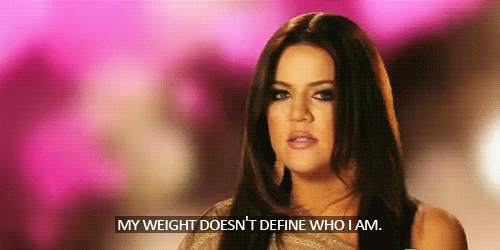 Stage 5: The Prep
Earth to betches: Bikini season is only like 26% about the actual bikini. You don't get a Chipotle burrito to show off the foil wrapping, do you? I'd be lying to you if I said I'm not the best version of myself when I have a tan. And you'd also be lying if you denied that. It makes you look, like, 10 pounds lighter and it gives the illusion that you physically saw the light of day this winter other than through your sliding glass door while you were covered in potato chip crumbs. You resort to whatever painful process it takes to distract people from the slightest amount of "excess love" hanging off your hips like a fucking ornament, and waxing off that 1960s bush you've been harboring like a fugitive. This results in spending more money on your physical appearance than the value of the actual vacation itself, but that's just, like, the rules of Instagram feminism.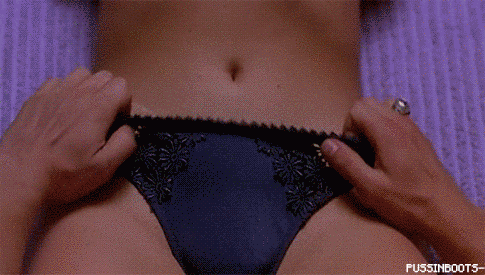 Stage 6: The Presentation
Whether or not your summer bod is ready, a betch knows that the key to living her best vacation life is liquid confidence. 'Tis the season for 9am beer bongs and chips and guac as a meal replacement, so you finally decide to proudly wear your winter bloat like a badge of honor, because #LoveYoself and (hi) DGAFing is your specialty. Vacays may not be about what you wear, but they sure as hell are about what you drink, so chances are, nobody in their drunk state of mind will even notice your nonexistent insecurities. Plus, drunk goggles make everyone look like a fucking 10, so you win. Now sit back, RELAX, and get that fine-ass awesome personality over here and take a shot with me.

If you relate, you need to read: The Sexiest One Pieces That Will Hide Your Winter Weight