8 Pilates Exercises To Tone Your Abs
As soon as the weather hits 60 degrees, all I want to do is wear a bikini, sip on prosecco, and eat some watermelon as I scroll through Instagram, poolside. Even if swimsuit weather is still a whopping three(ish) months away, it's the time of year where we all start to evaluate juuuuuust how confident we feel strapping on our most revealing attire and showing off our beach bodies.
As a Pilates instructor, I frequently get requests for stronger, more toned abs, especially the obliques. Since Pilates was created specifically with the idea that your core is the powerhouse of the body, almost every exercise in mat or reformer Pilates will get your abdominals fired up. And while a lot of us want toned abs to show off in a strategically taken thirst trap for our followers, a strong core is more important to help our bodies function properly, improve posture, and stop low back pain as we sit at our desks all day. If you're looking to get as strong as possible before Memorial Day weekend hits, here are the best eight ab exercises to try without leaving your apartment:
The Plank

Your basic plank is one of the best exercises ever invented, IMO. You'll work your full body when you're correctly executing a plank. Keep your hands stacked right underneath your shoulders, keeping palms (or forearms) pressing down into the floor to help stabilize your shoulder girdle. Pull your belly button into your spine and think about lengthening your body from the backs of the heels through the crown of the head. This will help find your glutes while finding the isometric contraction of the muscles.
Hold your plank for as long as you can! If you're new to planks, start by holding this position for 30 seconds (remember to continuously breathe!) and then work up to one or two minute intervals.
The Plank Plus Mountain Climbers

Once you've mastered just holding your basic plank, it's time to up the ante. While a basic plank will definitely help you strengthen your transverse abdominals (the corset-like muscles that wrap around your middle), adding mountain climbers will challenge and tone your obliques (the "side" abdominals the Dua Lipa flaunts in every single crop top).
Add mountain climber variations by bringing your knee to your elbow. Bringing your knee inside of your elbow will work your internal obliques, bringing it outside of your elbow will work your external obliques, and bringing it diagonally to your opposite elbow will help your oblique slings work congruently.
As you get fancy with your footwork, don't lose shoulder stability and let your chest collapse. This can result in dumping the work of the exercise into your lower back, causing pain. Think about pressing into your palms and pushing into the floor to help keep your scapula (the "chicken wing" part of your shoulder blades) secure.
If you feel yourself arching your low back or if you feel a pinching sensation, work on your basic plank form until you feel confident enough to add the mountain climbers back in.
See if you can challenge yourself to hold your plank for at least one minute as you add your mountain climbers.
Bird Dog Plus Windshield Wipers

This exercise seems innocent enough, but be prepared to fall over on your first attempt. You can start by getting into an all fours position, knees stacked underneath hips, hands underneath shoulders.
Next, lift opposite arm and opposite leg off of the floor. Think about reaching both limbs as far as possible in opposite directions. Press your supporting hand down into the ground to help keep your shoulder supported. Hips should be level (you can place a book on your low back to see if your hips are squared. If it falls off, you'll need to adjust). To finish the movement, move each limb to their respective sides 2-3 inches like a windshield wiper. You'll want to keep it small. Pull it back into your starting position. That's one rep. You should feel your obliques and transverse abdominals fire on to help maintain stability and balance. Aim for 8-10 reps per side.
Crisscross

You've probably done "bicycles" before, but chances are, your form is incorrect. The objective of Crisscross—the official term for the exercise in Pilates—is to find your oblique slings. When done too quickly or with poor form, you're not squeezing the most you can out of the exercise.
First, move slowly. A lot of times I see clients whip these out as fast as they can, but moving with purpose will actually help you find more work in the exercise, which means efficiency! Pretend you're moving through peanut butter as you start by coming up into a mini ab curl. Then think about twisting your armpit over to your opposite hip point while simultaneously extending the leg on the same side you're twisting from.  
Instead of pulling your knee closer into your face, think of it staying in space while twisting your upper body to it. You want your pelvis and lower body to stay as still as possible. Imagine your upper body ringing out like a wet towel, finding every inch of rotation through your thoracic spine.
See if you can work continuously for 30 seconds, alternating sides.
The Side Plank Plus Mountain Climbers

In case you didn't notice, I LOVE planks. Side planks are even better because they're super hard and super humbling, even if you work out a ton.
Before you add mountain climbers, make sure you can maintain a strong side plank. Similarly to a regular plank, you should feel like your bottom shoulder is stable as it bears the weight of your upper body. Your elbow (or hand) should be directly underneath your shoulder, and as you press into your forearm, avoid keeping all of your weight in the elbow—I know it's tempting. Think of the bottom waist lifting up to help recruit your obliques into the exercise. This will help take some of the workload off from your shoulder. Keep your feet flexed. You can have them stacked ankle over ankle or scissored, totally your preference.
If a side plank is super challenging for you, you can also leave your top hand (or fingertips for lighter support) on the ground to help stabilize. Just make sure you're not rounding your top shoulder too much. Your chest should be squared to the side of the room.
Once you feel confident with your plank form, take your top hand behind your head and lift your top leg into a tabletop position. Think of it "crunching" into your waist to fire up your top oblique. You might feel the outside of your butt/hip area start to work. Totally normal! That's where your gluteus medius and gluteus minimus are—two helper muscles for your gluteus maximus, aka your booty! They're jumping in to help bear the support of the side plank.
Try holding your side plank for 30 seconds and fit in as many mountain climbers as you can.
Double Leg Stretch

The double leg stretch is a great way to find the hard-to-reach low abs. This will challenge your entire core while also feeling fun. (OK, maybe it's just me who thinks chillin' in a little ball is fun…)
To begin, lie down on your back and curl up into the tiniest little fetal position you can. Let your knees come into your chest and think of your tailbone tucking under (this will protect your low back) and place your hands lightly on your shins. Take an inhale to prepare and as you exhale, shoot both arms and legs out in opposite directions. Circle your arms back to your shins. That's one rep. The lower you aim your legs, the harder it'll be for your abdominals. Pick what feels most challenging to your body, but if you feel a pinch in your low back, aim your legs higher toward the ceiling.
Repeat for 10-12 reps.
Scissors

The Scissors move is a little twist on the crisscross. Instead of staying up into an ab curl, let your upper body stay down and place your hands on either side of your body in a low "V" shape. Spread out your fingertips and make sure you're pressing into the ground (this will help give you more support from your triceps). Take your legs up toward the ceiling and begin by alternating the legs like a pair of scissors—oooh, see what we did there?—on a 45-degree angle. Again, the lower you go with your legs, the more challenging it'll be for your abdominals.
If you feel a pinch in your low back at any point for this exercise, make a diamond shape with your hands and place them underneath your sacrum (right between your low back and your tailbone). This will help keep your pelvis supported and make you're working safely.
Try to work continuously for 30 seconds.
The Rollup

Last but not least, the roll up! The next time you find yourself lying on the floor hungover, trying to find the meaning of life, try getting up using only your abdominals.
Start by lying flat on your back and place a little pressure into your heels. This will help you "push" against gravity. Bring your arms above your shoulders, palms facing in. Inhale to prepare, exhale to begin, nodding the chin toward your chest as you roll up through your spine, pulling your belly button in toward your middle like you're trying to zip your tightest pair of jeans. Arrive seated on your sitz bones, the bony parts of your butt. Inhale again, and exhale as you reverse the direction, returning to the starting position. That's one rep.
Go for 8-10 reps.
Images: Emi Gutgold
Is Laser Hair Removal Worth It? What To Know Before You Book
I've literally always wanted laser hair removal. It seemed completely unattainable; an urban legend of hairlessness reserved for celebrities (or like, Corinne). Then things changed. Instagram influencers started publicizing the "secrets" of their beauty routines. (Hint: many involved laser.) Laser centers multiplied (at least in NYC/LA), and prices dropped. And, most importantly, I graduated college, got a job, and started paying my own bills (*sob*). The only silver lining of that last change? I suddenly had free reign over how I wanted to irresponsibly blow spend my money. So on a day I was feeling particularly brazen (read: my paycheck had just hit), I went for it. I bought five Brazilian laser hair removal sessions at the "special discount price" of $800. Having gone through the process, here's what you should know before getting laser hair removal.

The Cost Of Laser Hair Removal
Obviously, the cost of laser hair removal will vary depending on what you want done, where you go, and whether you've heard of Groupon. Groupon is a must (especially if you live in NYC or LA, where you'll get the best deals), but don't go crazy. You should always research facilities by reputation first—a hack lasering job can leave you with scarring, burning, and a whole host of other nasty consequences—and then see what deals are available. It's also important to note that most areas will take a minimum of five sessions to see lasting results. (If you have particularly thick hair, it can take a few more). So, most places offer packages of 5 or 6, which I highly recommend if it's your first time.
All told, you should be able to buy a set of underarm treatments for around $200, bikini/Brazilian for around $500, and lower leg for upwards of $700. (Disclaimer: I live in DC, so my options were more limited. Hence the $800 payment). And while I found myself paying off my laser hair removal treatment over several months, I haven't regretted it. I've been getting Brazilian waxes since high school, usually at around $50 each. So I went to a very dark place thinking how much money I could've saved by getting laser earlier. On the other hand, the cost of shaving my legs is so relatively cheap (financially—the emotional toll is enormous). So I couldn't quite justify a laser leg treatment since a razor is like, $20 every few months or whatever. You ultimately need to decide what makes sense for you.

The Experience
As I said before, I've been getting Brazilian waxes monthly for a little under a decade. So compared to that, the pain of laser hair removal was NBD. It's kind of like a hot, sharp pinch, but it passes quickly and they give you a cooling pad after. It's obviously not the most relaxing experience in the world—I'm naked from the waist down and talking about my weekend plans with a stranger, after all. Other cons include some redness/swelling for 24 hours max (not every time), the terrifying comment that I might find "ash in my underwear," and the time my time my technician shaved me instead of giving me the option to do it myself. But it only takes about 15 minutes per session (legs take longer), and honestly, no hair removal is fun.
Disclaimer: If your skin is particularly sensitive, or if you're at a facility that's using shitty machines, you may have a more painful experience. Never be afraid to ask questions about what to reasonably expect from treatment, or more information about how the procedure works and what they're using.
The Results
To be honest, I'm not as blown away as I thought I'd be. Five sessions later, I'm still growing hair—thin and fine hair, granted, and it's mostly invisible unless you're six inches away. Then again, I'm really only doing this treatment for the people who are six inches away, and I'd been hoping for a full-on Beyoncé bikini line. I also have some ingrown hairs, and hoped laser would heal those marks. And it did—but again, it didn't eliminate them entirely. It just made them less obvious.
Since having a few fine hairs on my lower legs would bother me less than having them on my bikini line, I don't think I would have these complaints with lower leg laser treatment. I'm just still trying to justify the cost to myself. Which brings me back to the original question: Is laser hair removal worth it?

In certain cases, like replacing a waxing habit, I say just do it. Even if it's not quite the swath of Barbie skin I had in mind, my bikini line is effectively clean. I won't have to put mental energy into whether I'm bikini-ready all summer, and I've already saved $250 and three hours of my life from waxes I no longer need. On the other hand, buying laser for areas where the alternative is shaving (like my legs) is still something I can't commit to. In the end, it all comes down to your current needs. If you're someone who shaves her legs every day, is sensitive to razor burn, and freaks out at the first sign of stubble, then laser might be for you. It won't turn you into a Victoria's Secret Angel, but it will take unwanted hair off your mind for a long, long time.*
*(Touch-ups after a few years are common.)
Images: Tumblr (3); @alexiswaters_ / Instagram
How To Get Amazing Abs In Time For Summer
Abs have been a hot topic for a while now, so let's talk about them: what they are, how to get them, and like, if we even want them. (The answer to that last question is an obvious yes.) Getting abs became trendy in the early 2000's around the time when people started to realize they wanted J.Lo's six pack instead of Mary-Kate Olsen's emaciated rib cage. Then, the ab crack suddenly became the new thigh gap of the internet and we started Googling shit like "Khloé Kardashian workout routine." All of this important history brings us to today, where we're left staring at our SoulCycle instructor's chiseled stomach and wondering how many calories were in that bagel we ate earlier. If you're looking for some real info, it's time to get some facts straight. Having good abs is more than just a flat tummy—as Meek Mill once said, there's levels to this shit. Meaning, there are a lot of different parts of your abs and you can't just do one exercise to tone all of them. So here's the deal with all your various ab muscles and what exercises you need to do to get amazing abs all over.
That Line Down the Middle
What is it? You may know this line down the middle of the stomach area as an ab crack, which is unfortunately not a drug you can take to get abs. But if our dealer was selling that, we'd save so much on groceries. Anyway. The ab crack isn't actually a muscle and so it doesn't get a real name, but the best way to get it is by having good genes and doing basic toning exercises. Genes are a huge part of it, and some people can have like, no body fat and a strong core, and still not have that line. We're all built differently, so let's work with what we've got.
How do I get it? Planks. It may sound basic AF, but planks are an amazing way to target the entire front of your core, so stop overthinking fancy and complex exercises and start planking. If you're a beginner, start on your hands, but starting on your elbows really targets the muscles better. Basically, you want to start face down with your forearms on the floor and your knees raised up so that only your toes and arms are touching the ground. Make sure you're contracting your abs and not sticking your butt in the air, or else you're literally doing nothing. Also, make sure to keep your back as flat as possible the whole time. Hold for anywhere from 30 seconds to two full minutes. If you're respectively psychotic and you're looking for an added challenge, try doing your plank in a TRX suspension trainer at your gym—if you don't even know what that is, it's best to stick to the regular planks for now.

Those Side Lines
What are they? The "side lines" you see all over Instagram during bikini season (probably while fake laughing on an inflatable swan in East Hampton), are actually called your obliques. Obliques are the most superficial muscle out of the muscles in your abdomen, which means they look hot but actually don't help you that much in terms of being strong as fuck. But who cares about strength? They'll look hot in your Instagram pics.
How do I get them? Russian Twists. There are tons of exercises that target your obliques (others include bicycles and side planks), but Russian twists are really the most effective way to tone those side muscles that look so good in a crop top or one of those slutty cut-out one pieces. Start by sitting on the floor with a weight in your hand (think anything from 8 lb to 15) and your feet slightly raised off the ground. Your legs should be bent at your knees and your upper body should be elevated to create a folding V shape with your legs. Move the weight from one side of your body to the other, ideally touching the weight to the ground on each side of you during every rep. Do this for 30 seconds to a minute, then rest for a few seconds and repeat again. It might hurt when you laugh tomorrow, but in that case I guess it's a good thing we have permanent RBF.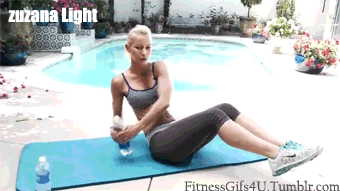 That V-Shape At The Bottom
What is it? No one would ever comment on an Instagram pic to compliment someone's lower abs, but like, why not? That shit is really hard to achieve and honestly I could use a post-workout snack just thinking about all that work. Working your lower abs is super important even if you don't necessarily want chiseled abs because it will help eliminate love handles in the process (but obviously stop eating those double-stuffed Oreos first.)
How do I get it? Well first before anybody asks, you do NOT need to become a man (or Terry Crews) to get the V-cut thing; that was just the best (read: hottest) picture I could find. Anywho. Leg raises. This move looks super easy when you see someone doing it, but once you start, you'll be crying pretty fast. Lying on the floor, place your legs straight out in front of you and your hands on the ground or under your lower back if you're prone to lower back pain. Lift your legs up, keeping them as straight as possible with your knees slightly bent until they make a 90-degree angle with the floor. Hold the contraction at the top for the second, then SLOWLY lower your legs down to the floor in front of you. You'll want to make sure you use a mat to protect your tailbone and stop fucking holding your breath. Seriously, what is it with people not breathing while working their abs? You're not underwater and people around you are starting to get worried.

Inner Core Muscles
What are they? The workouts we've discussed so far will all help tone your abs, but as we mentioned earlier, your core muscles go much deeper than you realize, so you should prob be working those inner layers too. A lot of people get caught up in working the area around their stomachs, but they don't realize that most of your core stability comes from your lumbar spine and lower back area, so try hitting those muscles too if you care about really strengthening your entire core area.
How do I get them? Superman lifts. Everyone has these inner core muscles, but they're pretty weak if you don't work to strengthen them, and Superman lifts are the best way. Lie face down on your stomach with your arms and legs extended and keep your neck in a neutral position. Then, keeping them straight and your torso tight, lift your arms and legs toward the ceiling, arching your back and getting your hands and feet like, five inches off the floor. Hold for a couple seconds at the top and then lower back down. If you're doing it right, you'll feel like an idiot. Try doing 10-15 reps before the embarrassment takes over resting and then repeating again.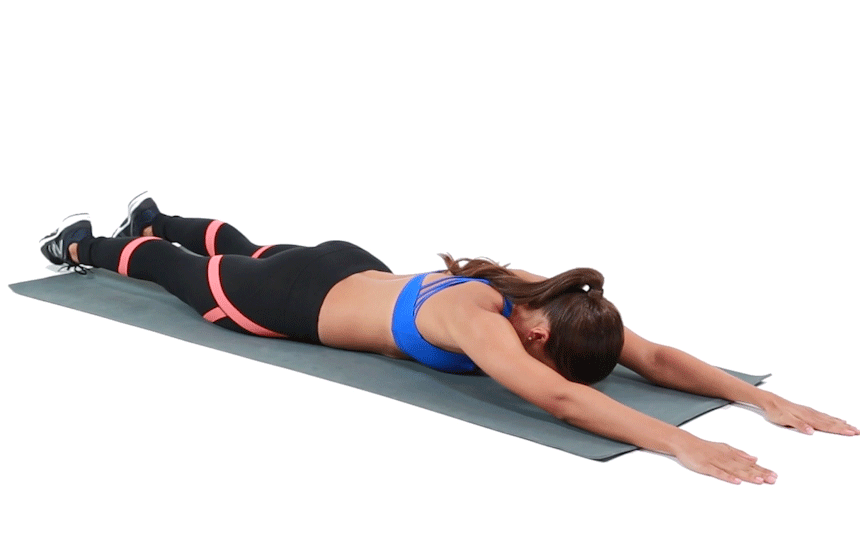 I know it sucks to spend extra time at the gym to do some work that's low-key good for you, but you stuck around last week for like, 15 minutes to find good selfie lighting, so we're gonna assume you have the time.
Top 5 Vodka & Food Pairings For When Wine Just Doesn't Cut It
Bikini season is coming. And while going sober is believed to be one of the best ways possible to lose three pounds, giving up alcohol isn't really an option for us, for obvious reasons. In order to maintain both your bikini body and your drinking habits, you're going to need to pick the lowest calorie drink possible and, subsequently, pair it with some delicious AND low-cal treats to avoid the alcohol-fueled pizza fest that often accompanies a night out at the bar. That brings us to vodka. Occupying its own space on the betch pyramid of much beloved foods (alongside avocado toast, hummus, and grapefruit), vodka is one of the lowest calorie liquors you can chug drink, and it pairs well with seltzer, so you don't get (as) fat. So, naturally, we paired our beloved liquor, vodka, with the best snacks to keep you fit until summer. TLDR; anything smoked, pickled, or otherwise "preserved" works super well.
1. Vodka and Caviar
Vodka is Russian AF, as is caviar, so this is a natural pairing. Caviar is also super chic, low in calories, and can be served plain (no work for you) or on a tiny and adorable piece of toast. Serve up your vodka super chilled with a little bowl of caviar and toasts, and you'll be the richest-looking bitch around. As for advice on how to earn enough money to afford caviar, when you figure it out, please let us know.

2. Pickles and Vodka
I mean, if you have pickles skewered in your Bloody Mary, are you that surprised that they go well with an ice cold shot of vodka? The sour and salty notes pair well with super smooth Polish or Russian vodka—just make sure they're super cold, like your heart, or else you'll get a strange aftertaste. And nobody likes that shit. If you DO decide to pair vodka with pickles, however, be aware that there is a 100% chance you will feel like Snooki. 

3.  Smoked Salmon
Praise Adonai, smoked salmon makes the list. Is there a betchier hors d'oeuvre than smoked and thinly sliced smoked salmon—king of fish—served with a bit of sour cream and capers? Um, no. If you're one of the Chosen people (or if you live in NYC) you've been eating lox on your bagels with shmear every morning for years. What a fabulous surprise to know that a shot of vodka would be a perfect pairing with your breakfast of champions.

4. Steak
As we've learned from Queen Anna Wintour, steak is betchy AND not horrible for you (hello—no carbs and ALL the protein). Lucky for us, it also pairs perfectly with ice cold vodka. So grab an 8 oz., sear it, and serve rare for a dinner, lunch, or snack all of your man friends will be proud of.

5. Ricotta, Goat Cheese, or Dill Cheeses
Lucky for you, some cheeses do pair well with vodka. But beware, betch—cheeses are NOT bikini bod friendly. So, nibble your cheese and take your shot for an afternoon snack, but don't fucking overdo it.