Swimsuit Bottoms That Will Make Your Butt Look Bigger
Summer is coming up, and we all pretty much want to look like a Kardashian in our bikinis. Well… a Kardashian that isn't Rob. Sorry Rob, feel you though. Anyway, with "slim thick" being the latest and greatest body trend, it's no secret that ano skinny is out and #slimthick is in. The good news is that now you can feel slightly less guilty about having dessert because right now it's all about packing that "cake." (Yes, I do realize how I sound, THX.) The bad news is that if you're not someone who can magically channel that dessert directly to your ass, then it's time to go swimsuit shopping. But like, that's actually kind of good news too since now you have an excuse to shop. You don't have to get injections to make your ass look bigger in a bikini. Just look for these styles of swimsuits that will make your butt look bigger.
1. Cheeky/Brazilian/Thong

This one is pretty self-explanatory—the more skin you show, the bigger your butt appears. A cheeky or Brazilian cut will give an illusion of apple bottom roundness while also helping to lift the butt.
2. High Waist

Revolve MILLY Wave High Waist Bikini Bottom
Choose a high waist bottom with a cheeky cut to give an overall appearance of a toned and perky butt. This award-winning combo will really do wonders to lift your sad little ass.
3. Ruched

Free People Soleil Bikini Bottom
The ruching will make your butt appear larger and rounder by creating a flattering heart shape. The style of this bottom itself is naturally curvy, so it only makes sense that it brings the necessary help to your otherwise non-existent rump.
4. Ruffles

Free People Frilla Bikini Bottom
Adding ruffles to your bottoms means that you're adding more fabric, which then creates an appearance of fullness—the same goes for bikini tops when you're looking to make your boobs look bigger. At this point, if you haven't taken my advice and added a ruffle bikini set to your Revolve cart, then I'm sorry but we can no longer be friends.
5. White

Free People The Kate Bikini Bottom
You know how black is slimming? Well white isn't…which is perfect when shopping for a bikini bottom that will make your ass look fat. As an added bonus, a white bikini will make you look tanner, too. I see no reason not to buy like, six white bathing suits right now.
Congrats! You're now equipped to head to the beach looking, as famous one-eyed philosopher, Fetty Wap, would say, "slim thick wit' yo cute ass."
Images: Jernej Graj / Unsplash; Free People (4); Revolve
Betches may receive a portion of revenue if you click a link in this article and buy a product or service. The links are independently placed and do not influence editorial content.
8 Bikini Bottoms That Make Your Butt Look Amazing
If there's anything worse than trying on and buying jeans, it has to be finding a hot bikini. It's easy to simply find cute styles when they're everyfuckingwhere but when you have a bigger bust than all the junk in your trunk, it's fucking hell. No one wants to strut the beach with like, no ass when you already have so many insecurities about your winter weight gain. Even though July literally starts this weekend, you still haven't started your "summer workout plan" because if we're being honest, you're not stepping foot into a gym more than twice and you're sure as hell not going to do a 30-day squat challenge at home when you have to take care of drinking and catching up on Bachelorette scandals other responsibilities. If you aren't waking up with a 6-pack tomorrow (like, same), here are the best bathing suit bottoms to buy that will make you have the best J. Lo-looking ass on the beach. And the best part is, you don't even have the exert energy to get it. Bless.
To Give Your Butt A Lift, Try…

Scalloped edges give any flat ass a great lift by accentuating your hips with its edgy cut. The illusion gives your body just the right amount of curves without making you look wide.

Thank god for the high waist trend because this style gives your butt a big boost and hides any slight muffin top by hugging your hips. A ruffled crochet pattern adds volume to widen the bottom too. Although black is the only relevant color ever because it makes us look skinny AF, for an opposing thickening appearance, find the style in white.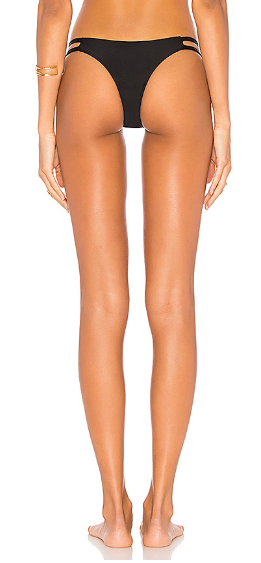 A cheeky fit does exactly what it says. By showing more skin, the high rise sides give your body an hourglass figure so your ass looks fuller with a lifting shape but like, without making you look like you have an awk wedgie.
To Make Your Butt Look Bigger, Try…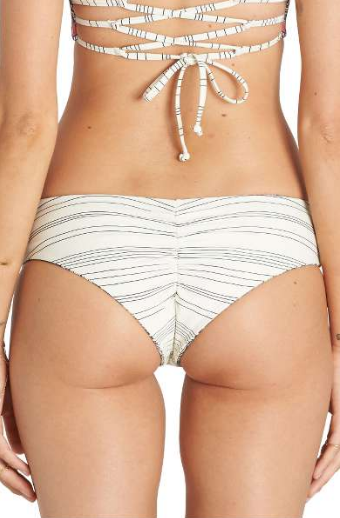 Usually, stripes are a big no-no. However, to give the illusion that you have a nice ass, opt for this style with a little bit of scrunching and horizontal stripes to widen your bottom half. It has just the right amount of slutty with its slightly revealing cheeky cut, aka ideal for quality beach Instas.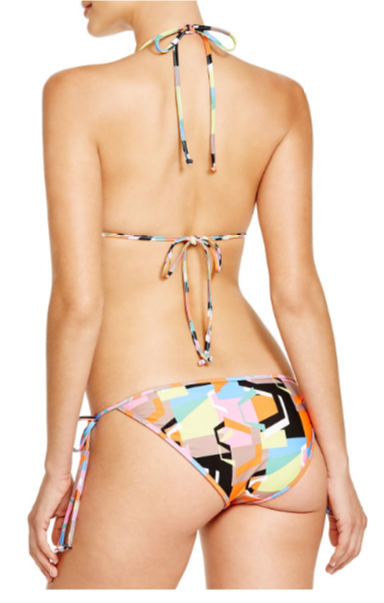 The classic string bikini you probs wear every year is actually good for your booty if you have a style with a bright design. Bright colors and trippy patterns confuse the eye into thinking your ass looks larger than it really is—kind of like hypnosis shit or wearing "drunk goggles." But for your butt.

Similar to wearing underwear, I know, but you should know by now that in order to achieve max booty poppin' results, you need to strut in the Kardashians' fave style: the thong. With dainty straps and in clean white, this bottom will make any nonexistent ass look fucking amazing.
To Give Your Butt A Toned Shape, Try…

For the real deal, you'll want a style that's on the sporty side. Whether it's block-colored or solid black, a simple high waisted style with full coverage enhances a small frame. More fabric adds shape, curve, and therefore, makes your butt look like you do a hell of a lot of lunges.

A hipster bikini is your go-to if you don't want any booty flaws, like annoying cellulite, hanging all out on the beach. The mid-rise style still hides your lower stomach so like, no rolls, and hides your love handles so you can still look toned and athletic. This brief cut provides good coverage by keeping most of your butt inside, and making it look fuller.