8 Bikini Bottoms That Make Your Butt Look Amazing
If there's anything worse than trying on and buying jeans, it has to be finding a hot bikini. It's easy to simply find cute styles when they're everyfuckingwhere but when you have a bigger bust than all the junk in your trunk, it's fucking hell. No one wants to strut the beach with like, no ass when you already have so many insecurities about your winter weight gain. Even though July literally starts this weekend, you still haven't started your "summer workout plan" because if we're being honest, you're not stepping foot into a gym more than twice and you're sure as hell not going to do a 30-day squat challenge at home when you have to take care of drinking and catching up on Bachelorette scandals other responsibilities. If you aren't waking up with a 6-pack tomorrow (like, same), here are the best bathing suit bottoms to buy that will make you have the best J. Lo-looking ass on the beach. And the best part is, you don't even have the exert energy to get it. Bless.
To Give Your Butt A Lift, Try…

Scalloped edges give any flat ass a great lift by accentuating your hips with its edgy cut. The illusion gives your body just the right amount of curves without making you look wide.

Thank god for the high waist trend because this style gives your butt a big boost and hides any slight muffin top by hugging your hips. A ruffled crochet pattern adds volume to widen the bottom too. Although black is the only relevant color ever because it makes us look skinny AF, for an opposing thickening appearance, find the style in white.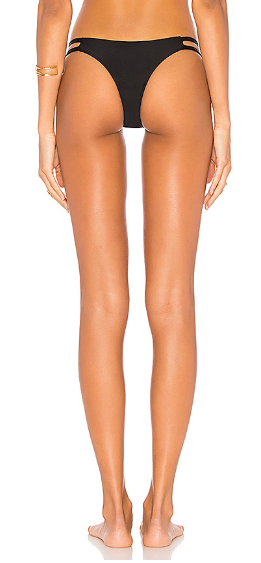 A cheeky fit does exactly what it says. By showing more skin, the high rise sides give your body an hourglass figure so your ass looks fuller with a lifting shape but like, without making you look like you have an awk wedgie.
To Make Your Butt Look Bigger, Try…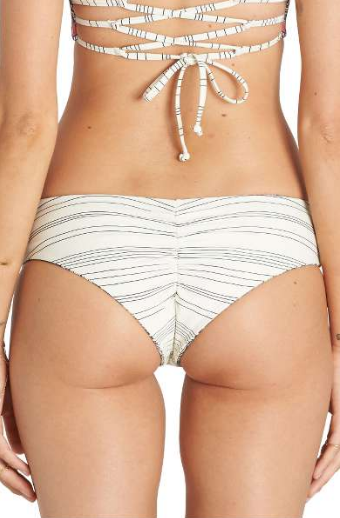 Usually, stripes are a big no-no. However, to give the illusion that you have a nice ass, opt for this style with a little bit of scrunching and horizontal stripes to widen your bottom half. It has just the right amount of slutty with its slightly revealing cheeky cut, aka ideal for quality beach Instas.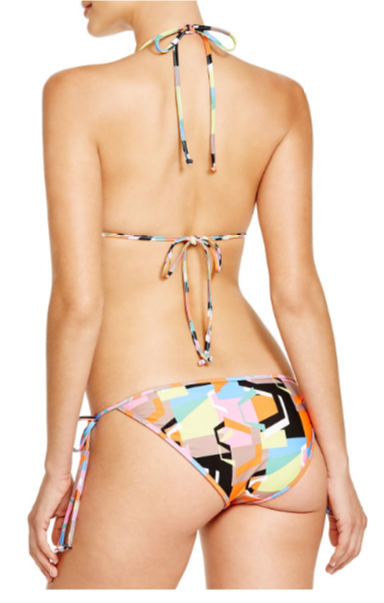 The classic string bikini you probs wear every year is actually good for your booty if you have a style with a bright design. Bright colors and trippy patterns confuse the eye into thinking your ass looks larger than it really is—kind of like hypnosis shit or wearing "drunk goggles." But for your butt.

Similar to wearing underwear, I know, but you should know by now that in order to achieve max booty poppin' results, you need to strut in the Kardashians' fave style: the thong. With dainty straps and in clean white, this bottom will make any nonexistent ass look fucking amazing.
To Give Your Butt A Toned Shape, Try…

For the real deal, you'll want a style that's on the sporty side. Whether it's block-colored or solid black, a simple high waisted style with full coverage enhances a small frame. More fabric adds shape, curve, and therefore, makes your butt look like you do a hell of a lot of lunges.

A hipster bikini is your go-to if you don't want any booty flaws, like annoying cellulite, hanging all out on the beach. The mid-rise style still hides your lower stomach so like, no rolls, and hides your love handles so you can still look toned and athletic. This brief cut provides good coverage by keeping most of your butt inside, and making it look fuller.
The 5 Denim Shorts That Will Convince Everyone You Actually Do Squats
I hate when someone asks me to name my best feature or say what I love most about myself. I guess I'm referring to those annoying AF ice breaker activities we used to do in fucking school that made us feel like we were still in like, kindergarten. This also applies to Lucas Yancey guys who literally don't know how to have a normal conversation so they ask stupid questions like, "what's something you love about yourself?". In addition to loving my stone cold heart and chronic RBF, I'd say I am pretty proud of myself for surviving flat ass syndrome. But, for whatever reason why, I guess it's fucking frowned upon to agree that you're like, really pretty and have a nice ass.
I know many of you are not as lucky as me (obviously). Some of you probably do an overly intense squat routine everyday, or some of you simply settle with wearing saggy pants (which is not okay). If you're fed up with exerting energy that can be used for taking shots at the gym, and you're sick of your bodycon dresses looking like shift dresses, buy some of these fitted shorts for a J. Lo booty. You probably won't break the internet by trying to balance a glass of Champagne on your ass, but you can change your Insta bio to Miss New Booty—which is clearly the better option.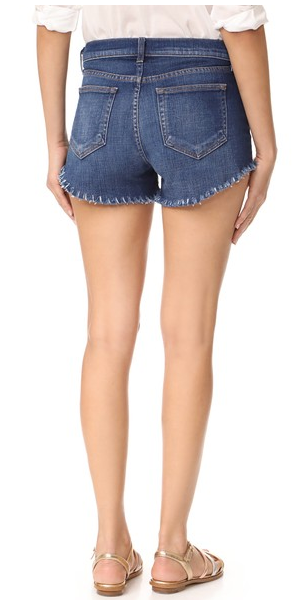 The lighter the color, the more flattering they are for emphasizing your butt size. These shorts are at a perfect high-rise to accentuate your waist and give you an hourglass shape. The uneven hem in the front and the back elongates your legs so people think your butt is held by more material, therefore looking bigger than it really is. Plus, they stretch so the more you can chug at the bar, the merrier.

Denim shorts that have a flexible hem look best when they're folded. Fold at an angle, with the longest edge going towards your inner thigh. The cuffed hem on these shorts cup your butt a little tighter and push your butt up just enough so it looks perky and firm. Bubble butt, here you come.

If you've seen girls at Coachella wearing those 70's-style bell bottoms with a trippy design, you'd agree that their ass always looks ridiculously good. Like, if Kendall Jenner's ass looks good in them, trust me. You stand a chance.

Even if they're not denim, find a soft pair of shorts with a rayon blend that have an intricate design throughout. You don't have to go to Coachella to wear these. Add them to your vacay wardrobe for a pop of color with a neutral flirty top. Guys will probably get lost in a trance staring at you as you strut your stuff. They can look, but they can't touch.

Pay attention to the washes and cuts of denim shorts to find a pair that best suits your booty. This style is created individually, each with a unique vintage wash that serves the same purpose as contouring your ass (without the glitter makeup) for a Kardashian-style belfie. Yes, that means butt selfie and no, I didn't fucking make it up. Do you think I'm an idiot? If you really want to highlight your cheeks—not the ones on your face—go for a cheeky cut that angles just enough to give a sneak peak. Booty, booty, booty, booty rockin' everywhere.

I'm kind of convinced Khloé Kardashian has some sort of chemical in her bottoms that make your ass look like you just did 1,000 squats overnight. Hmm, what might that chemical compound be called? It's fucking magical, I tell you. The length of these shorts shows off your long legs, while the material hugs your waist in just the right places to make your butt look fuller. White shorts are vital for summer to enhance your tan and add a sophisticated twist to any outfit. We'll ignore the fact that the length is super close to becoming Bermuda shorts, which I wouldn't be caught dead wearing anyway.
4 Squat Moves For A Kardashian Ass, Sans Injections
If you spent your winter with too much Netflix and not enough treadmill, you're probably thinking it's too late for your spring break bod. Like, maybe you procrastinated going to the gym too much and now you're freaking out about the Cabo trip next week.  Don't worry, like we've learned in last-minute dress shopping, there's always an overnight express delivery option, and fitness is no different. Sort of. Because we're such a good friend, we're going to tell you the secret to making your ass look like you didn't say yes to the dressing. That secret is squats.
If you want to get an ass like Serena without the four kids (or whatever the lyric is), all you need to do is these simple squat exercises and you'll literally see results in less than two weeks. Like, you could get a butt before your next period. Just do squats everyday until you get on that plane for spring break and you'll give Jen Selter a run for her money. Without actually having to run, that is.
1. Classic Squats (25-50 Reps)
Stand with your legs in second position, slightly wider than shoulder width. If you don't know what second position is, we're sorry your parents didn't love you enough as a child. Make sure your toes are pointing forward in line with your knees. Then with your arms out in front of you, sit into your squat until your butt is on the same level as your knees. Keep your back as upright as possible. Pretend like you're sitting down into a chair or trying to take a shit in the woods or something—whatever helps you picture it. Feel free to put on a song about butts while you do this—we recommend "Anaconda" or "Bubble Butt" or the ever-classic "Dance (A$$)." You should feel it in your glutes, and your inner thighs will get a little sore too. If you start to feel the burn, you'll know it's working. Just like laying out in the sun. Which you'll soon be doing when you show off your new butt at the beach. If you're in a time crunch you can just do 100 of these classic squats a day and skip the rest or add some weights to step it tf up.
2. Moving Squats (25-50 Reps)
We know you like a challenge so you'll get bored after doing the classic squat 50 times. Even the most rewarding long-term relationship needs the occasional thing to spice it up. So vary up your squats by moving while you do them. Take a step out to the right (or left, honestly whatever) and then go down into a squat. When you stand back up, step with your left over and back out with your right into the squat. Do this a few times, then go the other way. You'll feel kind of like a crab walking when you do this, but that's good because it will make you think of the ocean, which you don't want to be at with a lame flat butt.

3. Jumping Squats (25 Reps)
At this point you're probably 6% closer to a Kim K butt, but you're not done yet. This time, plant yourself in the classic squat position. Instead of sitting and standing back up, you'll jump when you stand back up from the squat. When you land, bend your knees and go straight back into the squat.
4. In And Out Jumping Squats (25 Reps)
At this point you're almost done with the workout and probably have listened to "Bubble Butt" at least twice, but don't worry, we're almost done. This jumping squat is very much like the one we just did, but instead of jumping straight up and down, you'll now jump in with your legs together when you stand up, much like those Russian nutcracker dolls that kick out when you pull a string on them. Jump in and jump out into a squat as many times as you want, but we suggest 25.

At the end of the day, your butt is a magical thing, because unlike most of the other stuff on your body, you can actually pretty easily work it out to make it better. #Blessings. You can't exercise your way to bigger boobs (unfortunately), so focus on the squats and you'll be spring break ready before the TSA can detain you at the airport for traveling with your friend Molly on Spring Break.
More moves for a better butt here!