3 Exercises You're Probably Doing Wrong, And How To Fix It
While I totally support not giving a sh*t about how you look at the gym, I mean don't worry about sweating and wearing that old sorority date party tank. You still need to care about what your form looks like. If you're not performing an exercise right, at best you're wasting your time, and at worst you're going to injure yourself. This is not limited to the weight machines, either—some of the most common bodyweight exercises you've probably been doing for years are the ones that people mess up the most often. Read on for the exercises most frequently done incorrectly, according to Los Angeles based trainer and founder of KICHGO, Kit Rich, and how to fix your form.
Bicycle Crunches

If you've ever taken a workout class and done crunches, you've probably been told to keep your elbows down and away from cupping your ears. That's not just for aesthetics: scrunching up puts pressure on your neck, causing tension and stiffness. Another common mistake: rocking your hips back and forth too much, because it looks stupid and hurts your back. Basically, if you're feeling strain or moving a lot in any area that is not your abs, you're not doing it right. Also, that's never going to get you that ab crack.
DO IT RIGHT: Unless you're trying to get a thicc neck (you do you), don't pull or twist from the neck and shoulders. Keep your elbows pulled down and think about keeping your back flat and lifting through the shoulder blades, which is the opposite of hunching over. In your bicycle crunch, keep your hips stable by extending your legs forward from the hip, keeping them low and parallel to the ground. Think of it more like a lengthening motion than pedaling motion—this is what's going to target your lower abs and obliques.
Planks

Planks are awesome. Not only do they strengthen every muscle in your core at once, but you don't even have to move while doing the exercise (my favorite kind). However, because you're holding the position for a while, it can be easy to slip out of good form once you start getting tired. Sticking your butt up or arching your back will take the work out of your abs and will give you back pain, and that's not what we want.
DO IT RIGHT: Because planks are hard in general, you may not be able to tell by feeling whether your hips are too high or low, but a quick peek in a mirror will make it obvious. It's called a plank because your back and shoulders should be as flat as a board, so try to visualize that line from your shoulders to your heels the whole time you're holding the position. Hold your gaze a few inches in front of you instead of directly under you to keep your neck neutral. Finally, squeeze your butt and thighs as well as your arms and abs to help keep the straight line. Start off with a 30-second plank to make sure you've got it down before moving on to longer holds.
Wide Arm Push-Ups

Push-ups are hard, but don't sleep on them—they're great for working out your arms without using additional weights. You've probably f*cked this up before, so you already know what it looks and feels like: tucking the chin and looking down, moving your shoulders up and down one inch and calling it a push-up. You're going to hurt your neck and shoulders that way and not get any benefit to your arms. Remember, a push-up is really just moving your plank up and down, so if you're teetering out of your alignment, it's wrong, wrong, wrong.
DO IT RIGHT: Don't try to act cool. If you can't do a full push-up right now, start by doing modified push-ups on your knees. In the modified push-up, be sure to keep your body in line from the back of your head to the back of your knees instead of bending at the waist when you push down. Extend your arms out wide (slightly past your shoulders) and ground your hands into the floor to firmly support the rest of your body. Bring your chest all the way down to tap the floor and back up. Do this with straight arms and with your core engaged the whole time. When you feel something in your abs as well as your arms, you'll know you're doing it right.
THE TAKEAWAY: If it looks weird or feels weird, it probably is hurting more than helping. Slow down, modify, or do fewer reps at first and then work your way up.
Images: Jacob Lund / Shutterstock.com; Giphy (3)
6 Ab Exercises To Tone Your Obliques
Let's talk about obliques, or as we like to call them, the "crop top muscles." Known in the scientific world as the external abdominal obliques, your oblique muscles are one of three muscles that make up your lateral anterior abdomen. AKA, your side abs. As much as we love crunches and leg raises, those exercises don't really isolate the sides of your abs, which you need to do in order to see your obliques (obviously in addition to a healthy diet). If you're looking for an workout to specifically target your obliques, try doing these six ab exercises.
1. Bicycle Crunches
Bicycle crunches can be one of the best ab exercises for your obliques, but people usually do them so fast that they're not actually activating the ab muscles at all. Take your time on these and think about crunching the muscles instead of cheating your way through it and just relying on momentum. Lying flat on the floor with your lower back against the ground, put your hands behind your head and lift your left shoulder off the ground while bringing your right knee to touch that left elbow. Alternate sides for 30 seconds. If you're feeling this in your neck at all, slow down and try to think of reaching your shoulder to your knee instead of your elbow to your knee.

2. Side Plank With Reach
This exercise should be called the muffin top remover. It's super simple, but it's amazing for getting rid of love handles and toning up the sides of your stomach. Start off in a side plank with your hand on the ground, your feet stacked, and your body in a line facing one side. Remember to keep both of your hips facing the side you're looking at. Then, once you're in a stable side plank, lift the top leg and bend the knee, bringing it up to your waist, and bring the same arm to meet it, crunching inwards on that side. If your balance sucks, just do the leg part, but try for your leg and your arm. Do 10 reps and then switch to the other side.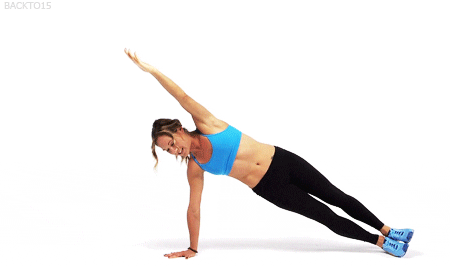 3, Downward Dog Cross Reaches
People don't usually think of downward dogs as ab exercises, but in addition to being a great calf stretch, it can be super effective for your obliques if you add a reach at the top. Start in a high plank position with your hands on the ground and your feet about hip-distance apart. Then, raise your hips, bringing your body in a V-shape downward dog. Once you're in downward dog, take your right arm and tap your left calf or ankle, using your abs to crunch diagonally. Then, do the same with your left arm and right leg. Keep alternating sides for a minute.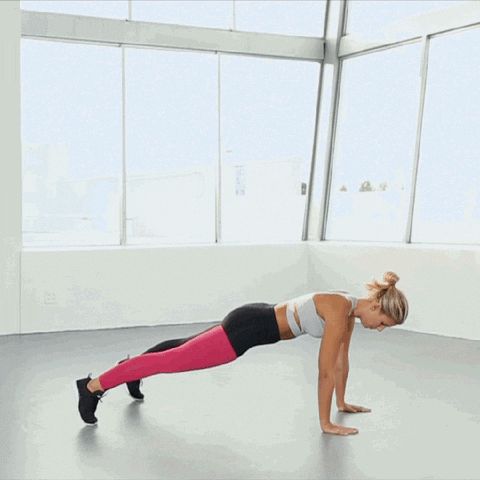 4. Hip Dip Side Plank
I know this one looks similar to the other side plank we did, but the hip dip is a game-changer, so doing both ab exercises is a must. The idea here is to hold the same basic side plank as before, but you're going to dip your hip downwards, slightly tapping the ground on one side and coming back up. You should feel a slight stretch in the side of your body that's closer to the ground. Keep your hips square the whole time. Do 10 reps on the right side and then switch to your left. You can also hold at the top for a few seconds after each rep to feel the burn even more.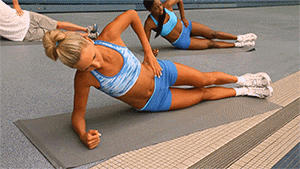 5. Russian Twists
Russian twists can be KILLER for your obliques if you take your time and challenge yourself with the weight. (And no, the name has nothing to do with current events.) Grab a dumbbell or kettlebell, and keep it hovering over your chest, but not pressing into your body. Start by sitting down on the floor and placing your feet out in front of you, raised a few inches above the ground. Your knees should be slightly bent and your torso should be elevated off the ground, making a V-shape with your thighs. Holding the weight with both hands, move it from one side of you to the other, tapping the ground on your right and left sides each time. Do 10 reps on each side, and remember to engage your ab muscles with each rep to avoid carelessly swinging the weight from side to side.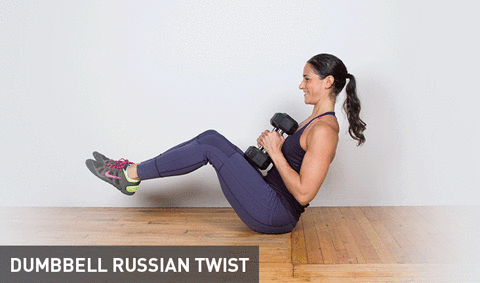 6. Kettlebell Windmills
Windmills are a little more advanced as far as ab exercises go, so if you feel like these seem easy, you need to SLOW DOWN and think about the muscles you're using. To start, take a light kettlebell in one hand and hold it overhead with your palm facing forward.  Keeping the kettlebell locked out the whole time, push your butt outward in the same direction as the kettlebell, and bend your hip, so that you can slowly lean down in the other direction to touch the floor with your free hand. Then, return to starting position, keeping your arm straight before you do another few reps. After about 6-7 reps on your right side, move your kettlebell to the other hand and do the same thing on the left. I know you'll feel these like crazy tomorrow if you're doing them right. I mean, it's like I have ESPN or something.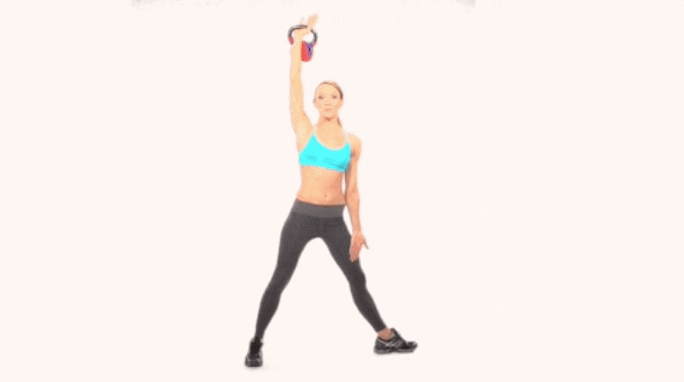 Images: Giphy (6)
How To Tone Your Arms & Abs Without Any Weights Or Machines
It feels like ever since Khloé Kardashian began Snapchatting her workouts and girls everywhere started doing squat challenges in their living rooms, butt and leg workouts have been trendy AF. And while we're totally on board with lower body workouts, betches tend to neglect upper body exercises, and that needs to be fixed. These six moves will work your arms and abs with no equipment necessary, so you can avoid creeps at the gym watching you pick out dumbbells. Go through the circuit 3-4 times in a row for a v effective at-home workout. Oh, and good luck lifting your arms to blow dry your hair tomorrow.
1. Plank Ups
It's important to start out any ab workout with some plank variation to get your core muscles fired up, and we love plank ups because they get your arms involved too. Start in a high plank with your arms on the floor directly under your shoulders. Then, bend one arm to bring your elbow to the floor, and then the other arm, ending up in a forearm plank. Then, push each arm up to the starting position, and continue going up and down from hand to forearm for 45 seconds.

2. Diamond Push-Ups
Diamond push-ups are basically regular push-ups, but instead of placing your hands wide under your chest, you place your hands together, forming a triangle (or a sort of diamond…get it?) with your thumbs and fingers. Bend your elbows and bring your chest all the way to the ground, feeling the burn in your tricep muscles. If you can't get full range of motion while in a high plank, drop to your knees. Aim for 10-15 reps without stopping.

3. Standing Jab Cross
If you've ever gone through the 2-minute arm portion of a spin class wondering why your arms burn so much from throwing a few punches, try doing these jab crosses for one minute straight. Stand up and punch with each hand in a diagonal direction, keeping your core engaged and preventing your waist from moving from side to side. The idea is to burn out your arms while twisting your torso to work your obliques, so keep your core as tight as possible.

4. Plank Shoulder Taps
This is another move that is based in a plank position, but by tapping each shoulder, you're challenging your stability and getting your arm muscles involved in the movement. Start in a high plank and keep your feet about hip-distance apart. During regular planks, it's better to keep your feet closer together, but for this move, you want your hips to stay as square and still as possible, so the extra distance will help. Tap your left hand to your right shoulder, and then do the same on the other side, alternating for 45 seconds. Also, it helps to squeeze your butt and keep your head as straight as possible the whole time.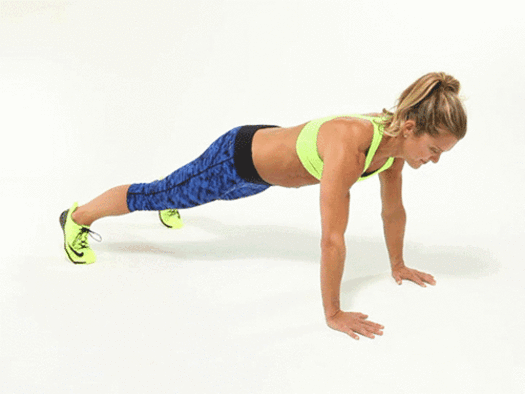 5. Tricep Dips
You don't need a piece of equipment for this one, but having a bench or chair nearby will help. You could also just stack up a bunch of books or shoeboxes. Whatever works. Sit on the ground with your legs in front of you in front of your bench and place your hands on the bench behind you with your fingers facing forward. Dip up and down with your arms, lifting your butt off the ground but keeping your heels planted. Do 15 reps, keeping your elbows tight to your body and directly behind you the entire time.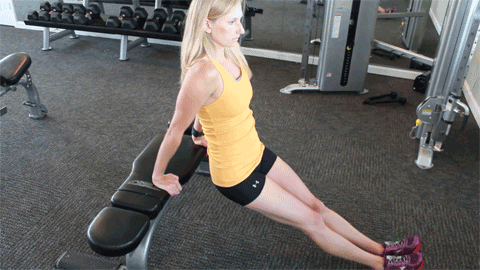 6. Bicycle Crunches
Crunches are like, the OG ab move, so we're taking it up a notch by ending the circuit with bicycle crunches, which basically keep your legs and arms moving while targeting the sides of your abs. Lie on the floor with your lower back pressed to the ground and your hands behind your head. Lift your feet off the ground and bring one knee in towards your chest, lifting your shoulder blades off the ground to touch your elbow to the opposite knee. Straighten out the leg and bring the other knee into your chest, doing the same with the other elbow. Try doing 30 seconds of slower crunches, then do 30 seconds as fast as you can.