This TikTok-Approved Tool Will Literally Make You Look Like a Newborn
Betches may receive a portion of revenue if you click a link and purchase a product or service. The links are independently placed and do not influence editorial content.
Let's face it, we've all woken up in the morning and been like "WTF happened to my face!?" I know I have at least. Whether it's the sodium from the sushi I ate the night before, or if I had one too many espresso martinis at dinner, the puffiness in my face shows all the evidence.
I've tried ice rollers, gua sha tools, and everything you can think of to get my face back to its more chiseled natural state. And as I'm itching closer to my 30s, anti-aging tools and treatments have peaked my interest. That's why I love the NuFACE Trinity Facial Sculpting Device.
It feels like a new and buzzy beauty product drops every second—literally. But, there are a few superstars that tend to stand out from the crowd, and this is one of them. Let me be clear—it's not new. But it's gained tons of popularity thanks to TikTok for its firming and lifting powers.
The NuFACE is a microcurrent-powered tool that lifts, contours, and can even help improve your overall skin tone. All you have to do is apply the hydrating gel that comes with the device and get to sculpting. The NuFACE operates on three different intensity levels, and while it's not painful, you can feel it doing its thing to get you snatched.

The brand suggests using it five days a week for the first 60 days for at least five to 20 minutes on each area you want to focus on. After that time's up, you can cut down to two to three times per week. So, whether you want to get Bella Hadid level cheekbones, a jawline sharper than a knife, or a tighter neck after all that texting and scrolling you've been doing, it can help.
And, don't get me wrong, I love getting a little Botox here and there, but having a daily maintenance tool on hand is the icing on the cake. For extra firming power, you can also add in the NuFACE Silk Creme Activator, as a post-sculpting session moisturizer. Since NuFACE has updated the Trinity in the past, we're sure that this won't be the last version we see of it either.
It'll cost you a pretty penny, though. The kit including the device, primer, charger, and holding stand retails for $339 on Amazon. But, compared to the price of injectables, which can cost you an upwards of $1,000, we'd say it's worth it.
So, instead of freaking out the next time (or first time!) you spot a wrinkle or crease on your forehead, under eye area, or around your mouth, consider easing those nerves with the contouring powers of the NuFACE Trinity. It'll get you looking like a newborn in just two months time.
7 Common Skin Care Myths & What The Truth Is
In a world where beauty bloggers act like they have a medical degree and influencers promote facial cleansing brushes on their Insta stories, basically anyone can call themselves a skin care expert. While it's great that we can learn everything we need to know about toners and exfoliators from just a quick Google search, it also means that a lot of us have based our skin care routine on information that might not be accurate. Don't panic and throw out all of your favorite beauty products just yet, though! Take a look at these busted skin care myths to get all of the facts on how to achieve the glowing skin you've always dreamed of.
Myth #1: Anti-Aging Products Are Only For People With Wrinkles
You might think that anti-aging products are for "older" people who have wrinkled skin. What many of those people will tell you is that they've had no luck getting their skin to look baby-smooth again like it once did. The truth is, once your skin has wrinkles, there's no magic cream that can take them away permanently. The most effective way to be wrinkle-free is to start taking preventative measures when you're young (in your 20s and 30s). That means using moisturizer and sunscreen or another SPF face lotion every day to prevent the development of dark spots and/or other signs of premature aging.
Myth #2: You Only Need Sunscreen If You're Going To Be In Direct Sunlight
This brings us to our next point: it seems that the only time most of us remember to put on sunscreen is when we are going to the beach, or doing some kind of outdoor activity in the sunny summer months. While it is incredibly important that you use sun protection regularly when you plan to go out in direct sunlight, it's equally as important to wear sunscreen on a daily basis, regardless of how sunny or cloudy it may seem.  Especially when it comes to preserving and protecting your complexion, a daily broad-spectrum SPF is essential. Whether you realize it or not, even the smallest amount of sun exposure—whether that be through a window, sitting outside, or even through cloud cover—puts your skin at risk for negative effects from sun exposure. We know that getting a sunburn is very bad for your skin, but the sun can also penetrate the layers of your skin and cause damage deeper down, potentially leading to skin cancer, the most common cancer in the United States.
Myth #3: A Set Skin Care Routine Will Work For Everyone
You may be thinking, "everyone with perfect skin is following the same skin care routine, and I need to use exactly what they use if I want to have great skin too." Yeah, that just isn't the case. Each person has unique skin needs based on their skin type. A person with oily skin will need to use different products to cater to their needs as opposed to someone with dry skin. The same goes for people with mature skin, or sensitive skin, and so on. Just because one product worked amazingly for one person, doesn't mean it will have the same effects for you. Take the time to research your skin type, or visit a dermatologist to find out what your skin type is, and the best way to care for it. The good news is there are so many products available that you're bound to find the right ones for you.
Myth #4: Once Your Skin Reaches Maturity You'll No Longer Break Out
You'd think that once you make it past your teens, you'll never have to deal with acne again. Sorry, but we have some bad news. As it turns out, acne doesn't seem to magically remove itself from your existence once you turn 20. Actually, your skin doesn't fully mature until you're about 30 to 35 years old, and even once you've reached that age range, you may still find yourself dealing with those pesky zits. But why? The most probable cause of your adult acne is your hormones. Your hormones change a lot over the course of your life, but factors like birth control, menopause, and even just your menstrual cycle can cause your hormones to fluctuate and create acne on your skin. Ughhh, we can't have any nice things.
Myth #5: A Skin Care Routine Is Only For Your Face
Finally, you've perfected your skin care routine and your complexion looks the best it ever has. While achieving that sought-after facial glow does qualify for a well-deserved pat on the back, you may be forgetting about the big picture: the rest of the skin on your body! 
You can't forget to invest just as much time and energy into the skin on your body as you do for your face. Though your routine won't be the same—our body skin is much thicker, which is why you wouldn't use the same products on your face that you would on your body (and vice versa). TG, because facial products are expensive. 
When it comes to skin care on your body, keep it simple. Wash your skin well with a soap or shower gel to remove the daily dirt, sweat, and other sh*t that collect on your skin. Next, exfoliate your clean skin. Whether you use a dry brush or a scrub to exfoliate while in the shower, it's important to remove dead skin cells from your body to reveal the healthy skin underneath. Finally, moisturize. Once you've finished cleansing and exfoliating your skin, finishing off with a moisturizer is arguably one of the most important steps, as moisturizing serves to replenish your skin barrier, helping to improve its overall tone and texture.
Myth #6: A Skin Care Routine Is Only Effective If You Use A Multitude Of Targeted Products
With the thousands of skin care products available on the market, you may think that your routine will need to consist of 10 products minimum. The good news is, it doesn't have to be that complicated (or expensive). If you want to create a perfectly effective skin care regimen, keep it limited to these three steps: cleanse, exfoliate, and moisturize. Cleaning your skin of makeup and dirt, exfoliating off the dead skin cells built up on your face, and moisturizing the new and healthy skin underneath is the simplest way to care for your skin on a daily basis and maintain a clean, clear, and healthy complexion. 
However, if you have any unique skin concerns—like acne, for example—you may want to consider incorporating a specialized treatment product into your skin care regimen, as this will work to effectively target and address these areas. An acne cream containing tretinoin, for instance, is great for increasing skin cell renewal, which helps to prevent acne from the inside-out. On the other hand, if you're concerned about dryness or wrinkles, applying a serum for overnight recovery can help penetrate the skin at a deeper level for better results. 
At the most basic level, keep your skin care routine short and simple, and only incorporate more targeted treatments if and when necessary. Make sure to apply these treatments only to the particular areas of your skin that need some additional TLC.
Myth #7: "A Little Dab Will Do Ya"
Most skin care products will say to only apply a pea-sized amount of the product to your face, and this is true when using a product like an eye cream, where a little can go a long way. In reality, however, the suggested amount of product for proper use with most skin care products isn't enough to give complete results for your skin. If you're going to cleanse, exfoliate, or moisturize, don't be afraid to apply a little bit extra. The lighter products like a cleanser or moisturizer can't really hurt your skin, so if you want to get your complexion extra clean and smooth, you can add a little more than the bottle suggests. 
If you do choose to use more of a product than suggested, keep your skin type in mind. For instance, those with dry skin shouldn't over-cleanse, as their skin will dry out easily, and for those with oily skin, there's no need to go overboard on the moisturizer or facial oils. 
For products like a serum, a chemical exfoliator, or a targeted treatment, you'll want to stick to the directions on the label, as these products are stronger and can cause damage to your skin if not used improperly or too frequently. 
Images: Retha Ferguson / Pexels
WTF Is Red Light Therapy & Should You Try It?
It's no secret by now that I'm a fan of high-tech beauty hacks. So when I was offered the chance to write about red light therapy, I dove in—despite having absolutely no idea what it was. 48 hours later, I'm semi-seriously considering taking out a loan to buy a Joovv Elite and converting a wall of my (tiny) apartment into a red light therapy studio. (Don't worry, I'll explain what a Joovv is, my uninitiated friends.) But first, a rundown of WTF red light therapy actually is, how it works, and how quickly whether you should do it. 
What Is Red Light Therapy?
Red light therapy is, in the end, very much what it sounds like: a form of therapy for your body using red light. To be more specific, using wavelengths of red and near infrared light, and to be psychotically specific, using red light "in the mid-600 nanometer range" and near infrared light "in the mid-800s." (You do not need to understand these words in order to reap the benefits. But should you, for example, have a very irritating boyfriend who demands to know the science behind all your beauty treatments, you can now cite those numbers for him.) These wavelengths penetrate "roughly 5 millimeters below the skin's surface," stirring up all kinds of sh*t in your cells without damaging the surface of your skin. A win in my book.
How Does Red Light Therapy Work?
The reason such specific wavelengths are required is that you're going after a very specific effect: to strengthen the mitochondria in your cells. I've been waiting my entire adult life to use this fact that I learned in middle school, and here it is: the mitochondria is the powerhouse of the cell. Unfortunately, my understanding never went far enough to know what that means, so I dove back into my research. According to Healthline, the mitochondria creates energy, or energy-carrying molecules called ATP (adenosine triphosphate. Do I have a PhD yet?). When red light stimulates the mitochondria, it creates more ATP—and with more ATP, cells have more energy to get sh*t done.
can you imagine falling in love with someone who doesn't know that mitochondria is the powerhouse of the cell

— keely flaherty (@keelyflaherty) March 24, 2018
What Does Red Light Therapy Do?
To get a more nuanced view of red light therapy's effects, I spoke to Lindsay Malachowski, the Director of Operations at SKINNEY Medspa. First, I ran the effects I was most hoping were true by her: the wonders red light therapy is meant to perform for your skin. According to Joovv, a company offering at-home red light therapy devices, RLT is clinically proven to boost collagen production, reduce inflammation and redness, and improve the appearance of wrinkles. (I am aware that clinically proven implies there are clinical studies I could read. I prefer a more human approach.) When I asked Malachowski about these claims, she confirmed them as true—with some caveats.
Red light therapy, Malachowski explains, is "the most gentle form of photodynamic therapy:" AKA it's effective, but not going to get you the most dramatic results. Because it's LED rather than laser, and doesn't work directly on the surface of the skin, it provides less "significant changes" than a laser treatment like Fraxel or IPL. That's not to say RLT is useless—Malachowski specifically states that it's an effective treatment to reduce redness, inflammation, breakouts, and eczema, with the added benefit of having no downtime afterward. Finally, while she affirms that red light therapy "does stimulate collagen," she notes that here, too, it's not the most dramatic treatment available on the market. (For that, she recommends non-invasive ultrasound or radio-frequency like Ultherapy.)
When I next asked Malachowski about red light therapy's weight loss and fat reduction effects, she was notably less enthusiastic. According to her, there's "little scientific evidence" supporting those particular claims. She doesn't have much more to say about that, except to recommend CoolSculpting or EmSculpt to those looking for those results.
When I spoke to Joovv's cofounder, Scott Nelson, he directed my attention to a whole other side of red light therapy benefits: namely, those that don't immediately appear in the mirror (sue me, I'm vain). When I asked which groups of people would benefit most from red light therapy, he mentioned immediately that it can lead to "better-looking skin," but he also mentioned people suffering from joint pain, trouble sleeping, or struggling with muscle recovery. He also mentioned that "elite athletes" use red light therapy to achieve "that edge" when it comes to increasing their performance or cutting down their recovery time. For what it's worth, Joovv's clients do include pro athletes Zach Johnson, Anthony Pettis, and Duncan Keith. As for better sleep, he says that using red light therapy "on a regular basis" will quickly improve sleep quality and REM cycles.
So, Where Do I Get It Done?
Good question! Certain salons and spas offer red light therapy treatments, including SKINNEY MedSpa. (It's not offered as a service on its own, but it's a 20-minute portion of their Hi Tech Facial, and they also offer it after Botox, filler, and Fraxel treatments to speed up healing.) Other treatment settings might include lying in a red light therapy bed for 20 minutes, offered by aesthetician Mzia Shiman in NYC.
If you're looking for an at-home version (a phrase I've always personally been happy to hear), Joovv sells red light therapy devices in sizes ranging from purse-friendly to a six-foot-tall wall-mounted model. For these, Nelson recommends a daily treatment of 8-10 minutes, standing three to six inches from the device. When I asked how quickly you saw results (I'm impatient, okay?), he let me know that effects like pain and inflammation relief could be seen in a single session. Effects on the skin, however, would take up to 4-6 weeks of daily treatment.
So, will I be marching out to begin my 4-6 weeks of dedicated red light therapy? Honestly, definitely, but I'm not a hard sell on products that promise to solve all my problems. While experts may not agree on all the effects of red light therapy, there does seem to be substantial scientific evidence that it's a useful treatment for skin quality, pain relief, and improved sleep. Other claims you can test for yourself, and write blog posts about if you so choose. But if this treatment is even half as effective as the clinical trials supporting it would suggest, I'd say it's definitely worth a shot.
Images: @skinneymedspa, @jolenegoring / Instagram; @keelyflaherty / Twitter
I Bought A $24 Dermaroller & Became Obsessed With The Results
As I've mentioned in previous articles, I'm not exactly a skin care expert. My dermatologist, who gently told me to throw out most face products I own earlier today, would agree on this. On the bright side, I have now sought professional advice and am here to share my experience/her wisdom. Today's topic is dermarolling: an at-home skincare treatment boasting celebrity users including Kim Kardashian, Jennifer Aniston, and Gwyneth Paltrow. (Yes, the one who stuffs jade eggs up her vagina. But her skin is glowing, no?) In my ongoing quest for flawless, "I can afford weekly facials" skin, I bought a $24 dermaroller two weeks ago. Here's what you should know before you buy.
What Is Dermarolling & What Does It Do?
If you've heard of microneedling, dermarolling is just the at-home version of that. Both treatments involve creating small punctures all over your face. This (in theory) enhances collagen and elastin production. As your skin heals, the collagen boost helps smooth out wrinkles/fine lines, firm up sagging skin, and improve overall texture/tone. Both treatments can also improve the appearance of acne scars, dark spots, and large pores. As a general rule, microneedling will be more effective than dermarolling for many reasons. It's kind of like the difference between doing a mask and getting a facial—the version performed by a professional with higher-tech tools is always going to come out better. Plus, microneedling tools can create deeper punctures than at-home dermarollers (for obvious reasons), so they naturally have a stronger effect. (Wondering why anyone would bother dermarolling? Because microneedling, like most things Gwyneth Paltrow supports, is prohibitively expensive, at $500-1,000 per session.)

Face Microneedle Dermal Roller System
How Do You Use It?
A dermaroller basically looks like a razor with a rolly head covered in needles on top. Before using it, it is VERY IMPORTANT that you disinfect it. Dermarolling with a dirty roller is literally injecting your skin with bacteria. (Sidenote: really love lecturing you all knowing full well that I "disinfected" my dermaroller with tequila. Whatever, at least I'm trying.)
To use it, you roll the needle-wheel (not the real name, do not refer to it as such) all over your face. One section at a time, roll five times in each direction (up/down/left/right) until you've covered the areas you want to treat. Redness is a known side effect, but I didn't notice much. Just like, the amount you'd expect for having rubbed needles all over your face. After dermarolling, your skin will be primed for absorbing hydrating products—so load up on your fave serum/moisturizer to finish.
Not quite my experience, but you get the idea: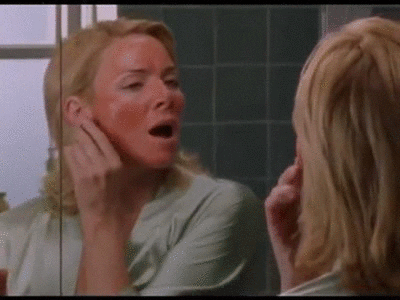 What Are The Effects Of Dermarolling?
The day after using this, I was the most annoying person on earth. I disappeared to my office bathroom maybe 60 times to take yet another "#nofilter" selfie. Even the most heinous of fluorescents couldn't dim my #glow, and I felt like there was a noticeable difference in some roughness/bumpiness that had been bothering me on my cheeks. While effects like taming discoloration require long-term, consistent use of dermarolling (and my day-after glow didn't really last), I definitely noticed a difference. Mostly, it was just a kind of shine/plumpness (I hate that word but I can't think of a better description), plus the glow I won't shut up about.
For reference, here was my scary face before dermarolling:

And here is my post-dermarolling glow:

Real results. Not FaceTune.
The Warnings
All that being said, dermarolling is not without its dangers. Common side effects can include infection, inflammation, breakouts, and damaged skin. Most experts say this can be avoided with proper cleaning and technique, but unless you're going to dermarolling seminars on the regular, chances are you could fuck up. A lot of these issues do stem from improper cleaning practice, so please buy proper cleaning solution and be rigorous about it. Or just like, replace your dermaroller fairly often—I know you spend more than $24 on less important shit.
When I asked my dermatologist about it, she didn't say dermarolling was bad, but she didn't say it was good either. Mostly, she thinks of it as a less effective version of microneedling, and cautioned that dermarolling on any existing inflammation or pimples was a surefire way to spread the irritation to the rest of your face. I also found out that those bumps/redness on my cheek are in fact my new, fun mild rosacea (getting older is great), so whatever improvement I noticed after dermarolling was almost certainly in my head. Whatever! At least I was glowy!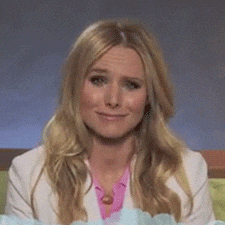 Is this a wholehearted recommendation for dermarolling? If you caught me the day after, it would have been. But after hearing my dermatologist's advice, I've sobered up on the idea of making this part of my routine. While I love buying trendy beauty products way more than as much as the next girl, sometimes less really is more—especially if you're not sure how your skin will react. A dermatologist, on the other hand, is always a good investment.
Images: Dermstore; Giphy (3); Chris Howard / Pexels