No Places To Go, No People To See: Weekend Horoscopes March 5-7
Well, here we are in March again. Pop quiz: did it ever really STOP being March? Experts say no, it f*cking did not, and my wardrobe, unused makeup, incredible savings on gas, and mask-acne offer a lot of evidence to support that conclusion. But after these 12 dark months of March, it seems like there's finally a slight, dim light at the end of the tunnel. It could be a train, but let's think optimistically. Are the stars as optimistic about your upcoming weekend? Let's find out.
Pisces

Take a long, hard look at your current job situation, Pisces. Is this where you see yourself in ten years? Are you happy? Are you consistently frustrated at your boss's passive aggressive jabs? The moon and a few of its planetary buddies are lining up this weekend to provide you with new opportunities, so we'd suggest updating your resume, taking that weird pic off LinkedIn, and applying for some new sh*t. After all that professional nonsense, make time to snuggle with your besties on Sunday.
Aries

GTFO of the house this weekend, Aries. The moon will be filling your head with visions of adventure, so call out of work on Friday and book a few nights' stay at an Airbnb somewhere close, but not too close. Getting away from your surroundings for a few days will do wonders for your mental health, and, like maybe your skin, too.
Taurus

Venus is giving you a rough start to the weekend, so don't be surprised if you get into a fight with a friend. Instead of picking at it, walk away and leave each other alone until you don't feel like you're on an emotional rampage. The rest of the weekend should be smooth sailing, so make a point to schedule a date night (finally) with your S.O., or just order takeout and watch a murder mystery.
Gemini

Get ready for a f*cking great weekend, Gemini. The planets have decided to cut you some slack, so you can look forward to feeling happy, optimistic, and ready for whatever comes your way. On Friday, focus on your S.O. and spoil them a little. Order their fav food, wear the sweats they find the cutest, and let them watch something other than reruns of Real Housewives. Saturday and Sunday are all about intimacy, so continue pouring effort into your relationship and reaping the sweet, sexy rewards.
Cancer

It's shaping up to be a nice lil weekend, Cancer. On Friday and Saturday, focus on you and your own mental health. You've been helping everyone around you lately, and it's time for some R&R in the form of treating yourself. Saturday night and Sunday, once you're feeling refreshed, is for focusing on and spending time with your S.O. You can look forward to zero stupid fights this weekend, and lots of cuddling.
Leo

Passion and creativity start out the weekend, Leo, so if you've been dying to tackle a DIY project that truly #inspired you from Instagram, I guess now's the time to start it (then call your dad to finish it). Saturday evening and Sunday will shine a light on your health and wellbeing, so maybe it's time to actually use that gym membership if you feel like it would a) get you out of the house and b) help you feel better about yourself.
Virgo

You're like, full of ideas this weekend, Virgo. If you've needed some inspo at work, have been searching for recipes to experiment with, or needed the push to start your autobiography, then keep a notepad close by all day Saturday since the "ah-ha" moment is sure to strike. You'll also want to focus on family this weekend, so plan on a trip to see mom and dad if you're able to safely.
Libra

In typical Libra fashion, you're all about being a social butterfly this weekend. Connect with friends and make plans to head out for lunch, dinner, brunch, or some sort of booze-filled combo of all three. While you're nursing your hangover on Sunday, your attention will turn to your nest and favorite people, so try not to take it out on them that you went too hard the day before.
Scorpio

What means the most to you, Scorpio? Is it stuff? Is it people? Is it your environment? Do a little soul-searching this weekend and figure out where your values lie. While you're wondering about existential sh*t, you may feel the pull to spend a sh*tload of money. Try and like, don't. Instead, use the moon's energy on Saturday night to connect with your S.O. and live vicariously through a House Hunters marathon.
Sagittarius

You're feeeeeeeling yourself this weekend, Sagittarius, so make plans to get out and share your joy with others. Make an effort for real plans with your coworkers if you're sick of your actual friends (it happens). Grab that beer and talk sh*t about whatshisname or how spreadsheets are the worst. It'll be fun. The rest of the weekend throws your finances into focus, so be an adult and get your tax info together before you dad yells at you again.
Capricorn

Pay attention to one of your dreams this weekend, Capricorn. If nothing else, it means that sleeping in and telling your friends you can't go out because the universe has messages for you is a totally acceptable way to cancel plans. The moon is also sending high self-esteem vibes, so don't be surprised if you suddenly have the urge to get headshots done so you can admire yourself.
Aquarius

Friendship and being nice are on deck this weekend, Aquarius. Combine the two and go out for brunch and don't drunkenly hit on the waiter! Or, do something even better, like volunteering with friends at an animal shelter where you can walk a bunch of lonely puppies. You'll also want to pay attention to your dreams this weekend, so keep your Notes app open next to your bed so you can write about all the weird sh*t that goes on in your head at night.
Images: Giphy (12)
Put Down The Credit Card: Weekend Horoscopes May 15-17
Get ready for the second wave of 'rona, you guys. With several states throwing open their doors, tossing guidelines to the wind, and allowing people wearing Ford hats and American flag t-shirts, and driving large trucks to "GET BACK TO WORK" and embrace their God-given freedom, we can all expect quarantine Part 2 in our near future.
Whether you're part of the group heading out to crowded shopping malls or the group choosing to stay in and be socially responsible, the stars and planets are still f*cking with us.
Taurus

Oh, what you wouldn't give for drunk brunch with friends, Taurus. Hopefully, bottomless mimosas, midday blackouts, and eggs Benedict will be back soon. In the meantime, dedicate Saturday to catching up with besties and lending an ear if they're on the struggle bus in terms of feeling isolated. On Sunday, look but don't buy when it comes to online shopping. You don't need three pairs of linen pants to lounge around the house in.
Gemini

The moon in Pisces is reminding you to watch your words, Gemini. You're going to be on a bit of an emotional rollercoaster this weekend, so try not to jump down anyone's throat if they ask how social distancing is going for you. Use Saturday to get away from people (like, even more than normal) and write down your feelings. Sh*t, you could even draw pictures if you want. Sunday will have you feeling a bit like your old self, so call your mom and make her tell you how great you are.
Cancer

Nature calls, Cancer. Since a great big adventure to some adorable seaside town or mountain escape isn't like, that feasible yet, try to make plans to hike somewhere interesting and even a bit isolated on Saturday. Not into walking or physical activity? Take your car out for the first time in weeks and drive somewhere remote so you can actually leave your apartment.
Leo

Time for a sexy weekend, Leo. The moon is inviting you to, in the words of Missy Elliot, get your freak on, so don't miss an opportunity to get weird on Saturday, either alone or with a special someone. Plan a date night of sorts. Get some interesting takeout, light a candle, and watch something steamy that your S.O. won't completely hate. On Sunday, the intimacy and sexiness spills into the more romantic side, so take time to cuddle, talk, and be mentally intimate with your partner.
Virgo

Passion and sexy time, yes. Passionate arguments about who last emptied the dishwasher, no. If you can use the planets' push to channel intimacy instead of fights about nothing this weekend, you'll have a great time, Virgo. On Saturday, use your intuition when it comes to romance, especially if you're chatting with someone fairly new. But even tried-and-true relationships deserve a closer look. You may identify some sh*t that isn't cool and could definitely translate as a red flag. Listening is important.
Libra

Are you stressed 24/7, Libra? Use this weekend to examine how your feelings are affecting your physical health. If your stress level has spilled over into a lack of sleep, it's a good time to identify why and how to fix it. Saturday is for journaling, zoning out with a dumb TV show, and eating comforting but healthy meals. On Sunday, download a yoga app and try your hand at guided relaxation.
Scorpio

The moon is all, "hey, let's do sexy times", Scorpio. Be careful, though. On Saturday, you'll be ready to attack (in a sexy way) literally anything and anyone you see thanks to Mars and Neptune, and even people with giant red flags will seem like a good idea at the time. Sometimes, it's best to just stay home with your vibrator—know what we mean? If you're already paired up, enjoy a steamy weekend with your S.O., but be sure to give voice to your wants and needs, too.
Sagittarius

We hereby dedicate this weekend to domesticity, Sagittarius. If there was ever a time to bake banana bread, try your hand at sourdough, or burn cookies, this is it. Use Saturday to jump into the culinary arts and destroy your kitchen. Sunday is for the other domestic sh*t, like dusting, vacuuming, and cleaning out your closet. Those pants from high school aren't going to fit again—it's time to put them into the donation box, fam.
Capricorn

Get your learning on this weekend, Capricorn. Sure, schools aren't in session, and you can't really go to any public class to pick up a skill. But you can FaceTime grandma and learn how to make Sunday gravy. You can also call mom and learn how to use psychology to make your S.O. take the trash out and do the dishes. You'll feel the need for an artistic outlet on Sunday, so pull up some Bob Ross vids on YouTube and learn how to paint happy little clouds.
Aquarius

Time to get up close and personal with your money, Aquarius. You've had a stellar time shopping online during quarantine, but Mars and the moon this weekend will make financial decisions risky. So, no, maybe don't treat yourself to three of the 30 deals in your inbox on Saturday morning. You have enough loungewear. If you're dying to spend, order a nice dinner for yourself on Sunday night as a reward for not blowing your paycheck on stupid sh*t.
Pisces

You're feeling all over the place this weekend, Pisces. Use Saturday to commune with nature to quiet your mind, re-center yourself, and ignore your f*cking work emails. On Sunday, continue the path of turning everyone off and try to go all day without seeing or talking to anyone. It'll give you a much-needed emotional break after a week of helping people—even when it left you feeling drained.
Aries

Holy hostility, Aries. You'll be feeling raw and emotional after work on Friday, so make yourself a margarita and unplug. Use Saturday to catch up on 90 Day Fiancé and call your parents because, well, they miss you. Then, take a 12-hour nap straight into bedtime and, like, pay attention to your dreams since they'll be kind of off the wall.
Images: Giphy (12)
Embrace The Sweatpants: Weekend Horoscopes May 8-10
Did you forget it was Mother's Day this coming Sunday? Well, your mom didn't, so try to send some flowers or make her a picture with dried pasta and glitter. You're in quarantine, so what excuse do you have? You don't. Assuming you drank on Cinco de Mayo, your week probably hasn't been all bad. Lucky for you, the stars and planets are gearing up for a not-awful weekend, too, for most of you, anyway.
Taurus

The moon in Sagittarius on Saturday means it's best to embrace some f*cking lazy vibes. Lay around, read a book, stare at your phone, or eat an entire sleeve of Oreos. It's whatever. That sh*t will flip come Sunday, when you'll feel the need to accomplish a whole host of tasks. So go ahead and roast a whole chicken for dinner, clean out your closet, and vacuum.
Gemini

Try to pay attention to how much you've been bending over backwards trying to please others, Gemini. You tend to put yourself second in relationships because you're afraid of rocking the boat. This weekend, try to be cognizant of that and put yourself first with picking the takeout, telling your S.O. that, yes, it does bother you when he leaves his socks on the floor, and straight-up telling your boss that Zoom is cramping your quarantine lifestyle.
Cancer

Reflect on how you do you, Cancer. Saturday is a great time to get away and do something you truly enjoy, like taking a walk or ordering Taco Bell and eating it alone in your car like a maniac. Seriously think about what makes you happy. Sunday is all about taking action, so do something that's been on your to-do list forever, like attempting watercolor painting or starting a new Netflix series.
Leo

The Sagittarius moon wants you to, like, have fun, Leo. That's funny in and of itself, given the current situation, but if you're determined to live your life by the planets and sh*t, we recommend a Friday night game of whatever game you can play on Zoom or Google Hangouts. Saturday and Sunday are for being creative, so we'd recommend playing Chopped with your roommate and/or S.O. and seeing what kind of gross sh*t you guys can create from the stuff in your fridge.
Virgo

You're going to crave some family time both Friday and Saturday, Virgo, so don't be afraid to dial up your siblings, mom, and dad and have a virtual happy hour or some sh*t. It's also a great time to organize, since the planets will be highlighting all of your most anal tendencies. Organize your spice cabinet or sort through your dishes. Literally, do all the things I imagine Marie Kondo does in her spare time.
Libra

It's all about communication and learning for you this weekend, Libra. Friday after work is a great opportunity to have a nice one-on-one heartfelt convo with your S.O. or bestie about how they're doing in quarantine. These are stressful times, and lending a listening ear is more helpful than you'll realize. Saturday and Sunday are best spent scrolling through Instagram for sales on loungewear. Judging by the amount of people going out and protesting because they can't get their mullets cut and are missing free appetizers at TGI Friday's, we're going to have a pretty serious second wave of the virus.
Scorpio

Time for a Netflix watch party, Scorpio. If you haven't seen your tribe in a while, set up a virtual happy hour for Friday night where you can all drink and watch something stupid like Too Hot To Handle or KUWTK season 1. Use Saturday as a chance to learn a new skill, like how to make 10 classic drinks perfectly and, therefore, making you a valuable asset in the future world. Sunday is for laying around, so embrace the sweatpants.
Sagittarius

Examine your finances, Sagittarius. We get that you feel like a hero for helping out all these local restaurants with your constant takeout orders, but it may not be the best idea if it's eating into your 401(k). Maybe it's time for a household budget? Use Saturday and Sunday to introduce some money saving tools into your life. Then, discipline yourself and try not to keep justifying $70 steak dinners for one.
Capricorn

Friday night is gonna present some wacky dreams, Capricorn, so write that sh*t down. You'll definitely have some déjà vu later on, and remembering weird details from your subconscious may come in handy. Saturday and Sunday aren't going to be too productive, so don't beat yourself up if you literally don't want to do anything. F*ck making banana bread. I wanna make nap time.
Aquarius

You're going to want to examine your goals, Aquarius—especially the ones you always felt were a given. Do you still want to get married? Have kids? Work for the same company for 20 years? These are the convos you need to have with yourself that aren't always fun, and almost always require booze. After all that thinking, use Saturday night and Sunday morning for important sh*t, like sleeping, eating pancakes, and watching reruns of The Office.
Pisces

You may feel especially vulnerable this weekend, Pisces. Those FaceTime first dates and attempts at romance may feel useless, but try not to give in to the low self-esteem feels. It's just the planets f*cking with you. Use Saturday to do some journaling, or head out for a run to clear your head. By Sunday you'll be feeling a little more like yourself, so don't forget to call mom and tell her she's pretty amazing for creating you.
Aries

You're dying to get out and see some sh*t, Aries. Get in the car (and stay in the car) and drive around somewhere scenic. Maybe it's a small town on the river or a nearby park at dusk. Wherever you go, use the time to appreciate nature and the fact that you aren't in your apartment, which, yeah, still needs to be cleaned.
Images: Giphy (12)
Time For A Vibe Check: Weekend Horoscopes April 24-26
So COVID-19 is over, all the protests to reopen states totally worked, and no one is infected with the spicy bat flu anymore. We all returned safely to work and everyone lost 15 lbs.
Psych, we're still in this waking nightmare, lol! Are you eating cake for breakfast with your hands yet? Have you taken up cross-stitching to make your mom proud? Or are you just cycling through four different pairs of sweatpants until the quarantimes are over? Thankfully, the stars and planets are here to guide us, yay!
Taurus

Welcome to Taurus season, bitch! The stars are pushing you to focus on finishing projects this Saturday, so, yes, it's finally a good time to finish painting that spare bedroom or clean out your closet. Those jeans aren't going to fit you again, accept it. On Sunday, focus on finances and make yourself a household budget. It may seem f*cking stupid, given that you're probably SWIMMING in cash thanks to the $1,200 stimulus check, but it's always a good practice to understand where tf your money goes, so get on that.
Gemini

It's all about you this weekend, Gemini. Use Saturday to read that trashy book you've been meaning to finish, spend some quality sexy time with your S.O. (or your fav vibrator), then eat a giant breakfast of pancakes or whatever sparks joy for you. Don't feel bad if you burst into tears this weekend, either. Venus is f*cking your sh*t up and you may be extra emotional. It'll be okay.
Cancer

Pay attention to your dreams this weekend, Cancer. It shouldn't be too hard, considering there isn't much to do aside from eat, sleep, and pretend to work out. After jotting down that bit about your teeth chasing you in that last nightmare, wake up on Saturday and look for ways to help during the 'rona crisis. You could volunteer to make meals, donate to a healthcare workers' fund, or try your hand at sewing masks.
Leo

You're going to miss your friends extra hard this weekend, Leo, and that's what FaceTime brunches are for. After "work" on Friday (you know, that thing you pretend to do on your computer all day), schedule a call with your besties where you all drink margaritas and eat chips and salsa and pretend you're at a sh*tty Mexican restaurant. Saturday, call up the same or a new group of friends (or fam) and all of you can simultaneously watch Too Hot To Handle on Netflix. By Sunday, you'll be thinking about work again, so try and focus on ways you can prioritize your time this week.
Virgo

The moon in Gemini wants you to shake sh*t up career-wise, Virgo. It may not be the opportune moment, but there's always a good time to examine what makes you happy and what doesn't when it comes to your career. On Saturday, browse through some freelance or gig jobs to shake your routine up a bit and add to your resume without leaving your 9 to 5. Talk to friends and family about their professional lives, too, to help get some clarity. After all the work talk, use Sunday to journal about all the time off you're going to take after COVID f*cks off; and, namely, which European countries you'll be visiting and Instagramming.
Libra

You're dying to travel, Libra. Unfortunately, travel isn't, like, v chill rn, so maybe opt for binge watching every season of Parts Unknown, Bizarre Foods, and No Reservations this weekend. Then, use Saturday to order out from a new restaurant (something off the beaten path, like Lithuanian food or Ethiopian delicacies) and Sunday to cook a random country's national or famous regional dish.
Scorpio

Venus and the moon in Gemini are teaming up to make you extra horny this weekend, Scorpio. If you're shacked up with your S.O., use Friday night for an indoor date night complete with a home cooked meal, candles, booze, and a lot of long, awkward stares leading up to a bedroom romp. Saturday is for outdoor activities, so go for a jog or lie in a park far away from any other human beings. You may both be extra emotional, so try to keep things light and happy without becoming argumentative. It isn't worth it when you'll be forced to share space for another few weeks.
Sagittarius

Focus on your bestie or your S.O. all weekend long, Sagittarius. Venus is pushing you to love on the people that mean the most in your life, so make time for those folks a la listening, phone calls, snuggles, date nights, etc. Do something nice like ordering their fav food or letting them watch that show you hate. Everyone's a little stressed and sad with the current state of things, so it's important that you're making all the folks in your life feel extra loved.
Capricorn

Self-care is the name of the game this weekend, Capricorn. Although sitting around in sweats and binge watching (and eating) while in quarantine may feel like self-care, make sure you're checking in on your mental health during these weird times, too. Use Saturday to shut off the news, ditch your phone, and go for a long walk (or run) outside. Pick some flowers, wave to neighbors (from a distance) and take in the scenes you used to take for granted. On Sunday, plant some herbs in or around your kitchen to boost your mood and your cooking.
Aquarius

Creative expression is your jam this weekend, Aquarius. Use Saturday to take up some kind of artistic expression, which can be anything from making glitter and macaroni pictures for your mom to tackling a Julia Child recipe. Try to have some fun with whatever you choose. You know, fun. That thing we used to have before everything was terrible.
Pisces

Focus on home this weekend, Pisces. Sure, you've been sequestered in it for the last month, but the time is now to tidy up your space, take care of your very sad garden outside, or even bleach your baseboards. After all, a clean home is a happy home, right? After all that bullsh*t, get in the tub or shower and soak your troubles away.
Aries

You're dying to learn a new skill this weekend, Aries, so pony up and spend some money on an online course, class, or something of the sort. Maybe you want to learn to cook like Gordon Ramsay, or maybe you want to finally be able to get by with a 3rd grade level of Spanish. Whatever the case, throw yourself into that this weekend to take your mind off that work project and the fact that your parents are like, not social distancing at all.
Images: Giphy (12)
To Quarantine, Or Not To Quarantine: Weekend Horoscopes March 13-15
Beware the Ides of March, or whatever. That has something to do with killing Julius Caesar, a character and person my high school English curriculum demanded I be familiar with. The good news is that the weekend of Ides and March and ancient rulers doesn't seem to be too scary for most of us, if the planets are to be believed. Between warmer weather, longer days, and a stock market prime for buying (ugh, ask your dad to explain it to you), you ought to be taking advantage of this almost-Spring season.
Pisces

Travel, but keep it chill, Pisces. With the coronavirus f*cking sh*t up left and right, head out of town via car and use hand sanitizer to enjoy a weekend getaway close to home. Saturday evening is all about staying present and examining how you really feel about your professional career, or lack thereof. Talk it over with your bestie or partner while eating something bad for you.
Aries

Your dry spell may also be over, Aries. Pluto is helping you out in the romance department on Friday night, so if you're single, maybe it'd be hilarious to line up two or three dates in a row. The moon in Sagittarius on Saturday wants you to recover from your wild Friday night by wandering into the part of town you usually avoid (not like, if it's dangerous tho). Explore some sh*t you wouldn't normally be caught dead doing, like an abstract art gallery or restaurant specializing in animal intestines. Yay, exploration.
Taurus

It's a great weekend to show your partner or your close friends how much you care, Taurus. Scorpio is making you focus on connections on Friday and Saturday, so plan a much-needed date night with your SO—whether it's Netflix and chill or an actual outing at that French restaurant you're intimidated by. And even if you have a headache, try to make time for the sexy stuff, too. It'll be worth it.
Gemini

Recognize how badass you are, Gemini. You don't pat yourself on the back enough, and this is the weekend to do it. Head out for some r&r after work on Friday, be it a pedicure or indulging in something you haven't done since college… like eating an entire Pizza Hut pizza or playing flip cup. Saturday is all about relationships, so pay attention to yours and spend time with the people that lift you up and encourage you to eat another taco or take one more shot. They're like, the best.
Cancer

Bring on the waterworks, Cancer. This weekend is going to be more of an emotional rollercoaster than that time you saw Marley & Me on your period. Since the planets are planning on f*cking up your eye makeup all weekend, make a date with your couch and lock yourself inside to finally binge watch Mark Love Is Blind. Once you're through about five episodes, that joke will make sense, sweetie.
Leo

Call your mom, Leo, and spend some time with the fam this weekend. The moon is all about creativity on Saturday, so make that recipe with a lot of wiggle room, invite your parents over, and argue over your cooking. Sunday is for cleanup and relaxation, so maybe after your mom badgers you about it, you can finally vacuum that cobweb off the top of the fridge and fold your laundry, you asshole.
Virgo

You'll be feeling extra perceptive on Friday, Virgo, so it's fine to dole out advice to your friends whether they need it or not. After your pep talks, Saturday is all about being home, cuddling up on the couch, and not doing chores. You'll feel a burst of energy on Sunday to get some sh*t done, but, otherwise, give yourself a break and revel in the weird March weather, fam.
Libra

It's a great weekend to learn wtf your 401k is doing (or, like what it is), so buckle up and learn about Roth IRAs this weekend, Libra. The moon in Sagittarius on Saturday will inspire you to get out of the house, so keep all those financial tidbits in mind when you head into Sephora after a pitcher of mimosas, k? Sunday is for resetting, so it's a great time to tell everyone about the break you're taking from social media, or whatever.
Scorpio

You're feeling 100% like that bitch this weekend, Scorpio, so f*cking own it. Try out that new top you've been afraid reveals too much side boob on Friday night and flirt with strangers (to an extent; don't get crazy). You'll be in a good headspace to examine your home on Saturday, so go through and start Spring cleaning early—i.e. get rid of all the do-dad's you haven't touched in years, the skirt from freshman year of high school that definitely will never fit again, and donate your beanie baby collection.
Sagittarius

Get ready for some wacky f*cking dreams, Sagittarius. Seriously, keep your Notes app open and next to your bed, because Friday night could be full of imagery weirder than a Salvador Dalí painting. And if you didn't get that reference, maybe you should've paid attention in art history class. Saturday you'll feel friendly and energetic, which is so outside the norm that you should spread your good vibes around. Cheer on your boyfriend at his dumbass dodgeball tournament, or smile at a stranger.
Capricorn

Host a dinner party, Capricorn. We know that cooking (or ordering takeout) for a group can be exhausting, but you'll be craving some friend time on Friday night, so make the most of it with good food, alcohol, and comfy pants. On Saturday and Sunday the planets are pushing you to slow tf down, so don't feel bad if you just want to hang close to home, read a book, and FaceTime your mom.
Aquarius

Listen to your gut, Aquarius. Spend the day on Friday really looking at opportunities for growth at work, whether it means pitching that idea you thought was kind of stupid or volunteering to help on a huge project. It could pay off. On Saturday you'll be feeling social, so soak up the not-30-degree weather and lounge at a brewery where you can pretend to like IPAs and dig hipsters with beards wearing too much plaid.
Images: Giphy (12)
The Earth Is Heating Up & So Are You: Weekend Horoscopes February 7-9
Here we are, barreling into February full blast. J.Lo and Shakira won the Super Bowl, the Oscars are this weekend, and I still don't know if we're supposed to want the groundhog to see his shadow or not, and also, is six more weeks of winter the good outcome or the bad one? And why are we letting a rodent predict the seasons? While we're at it, why is this month so short and yet it lasts forever? Why do we have leap years? Why is the first 'r' silent? I have so many questions about February. And the summer months are still so far off. Send help.
The most important question, though, is at least one we can answer: what do the planets have in store for us this weekend? Will we conquer our fears of group workout classes? Will I overcome my addiction to Taco Bell? How many friends can I alienate when I try to take all of us hiking? Only the universe can know!
Aquarius

The name of the game is relationships, Aquarius. Seriously though, with the moon in Leo this weekend, you'll want to turn your attention to your partner in crime and focus on their wants/needs/weird sex position desires on Saturday. Sunday is all about you though, so try to get a leg up on a nice Epsom salt bath and wine time, k?
Pisces

Check in on yourself, Pisces. It's a good weekend for a two-hour massage and ignoring all your calls/texts/dating app messages. It's also a great weekend to jump start that workout routine you've been putting off. We get it; SoulCycle sucks, but feeling good as hell when those endorphins are pumping certainly will not.
Aries

The full moon means love, romance, and intimacy are on deck this weekend for you, Aries. Instead of sitting at home with your SO, get out on the town on Friday or Saturday night and enjoy each other's company (you know, like you pretended to on your very first date). Come Sunday, you may feel a little torn between caring about yourself and checking in on some family matters. Just try not to let yourself get as irritated as usual and it'll be smooth sailing.
Taurus

It's all about home and fam this weekend, Taurus. On Friday night you should probably plan to come home, clean up the pile of clothes on your floor, pour yourself a very large glass of wine as a reward, then call your grandmother because she misses you. Saturday, you can tackle trying to paint that dresser because, like, if Joanna Gaines can do it, so can you. Once you give up on that, try to fold your shirts like Marie Kondo showed you, give up, and finish that bottle of wine you opened on Friday.
Gemini

Nature is made for absorbing this weekend, Gemini. Hop in the car and drive somewhere you can hike and camp, or at least pretend to. After you commune with the natural world, it's all about human communication late Saturday and early Sunday, so connect with some bros on your favorite dating app, write a great cover letter for when you finally quit your job, or call your bestie and have a long, annoying conversation.
Cancer

Try not to blow all your money in one shopping trip, Cancer. This weekend is a good time to focus on your finances, whether that means your v sad checking account or your joint savings with your SO. If you feel the need to spend money either Saturday or Sunday, try to invest in things you'll have for a long time or things that will be fashionable for quite a while. A little black dress will always be in; a reptile skin blouse will not.
Leo

The moon is in your sign, Leo, which means you have all the good vibes to go around. Friday night should be spent out, since your cheerful attitude is more contagious than the flu (seriously people, get your flu shots. It's not too late). Saturday and Sunday, too, should equally be enjoyed amongst friends and/or family, since your amazing mood probably won't last through Monday.
Virgo

Take time to be with yourself this weekend, Virgo. After work on Friday, head home, order some truly bad (but so good!) comfort food, slap on your sweats, and watch some horrible reality TV (90 Day Fiancé, My 600-Pound Life, and/or any Housewives franchise will do). Saturday and Sunday may bring some really f*cking weird dreams, so try not to read too much into them.
Libra

It's all about the frieeeeendship this weekend, Libra. Grab your SO and your best buds and host dinner and drinks at your house on Friday night. Saturday is great for getting outdoors with the same tribe. Disagreements between your beau and your besties are possible, but as long as you distract them with alcohol, everything should dissipate quickly.
Scorpio

Work will follow you home this weekend, Scorpio. It's fine to dedicate a few hours to a project, but try to focus on yourself and your family. I promise work can wait for Monday and nothing will (probably) explode or burn down if you don't answer emails into Sunday.
Sagittarius

Time for adventure, Sagittarius. Saturday is a great opportunity to either do something you normally avoid (like hiking) or something totally new (also hiking) with friends. Even if you totally suck at it, doing something with good company is never a total bust, right? Sunday is prime for brunch and seeing a movie with your partner since you can't argue as much in a dark theater.
Capricorn

Get f*cking wild this weekend, Capricorn—especially when it comes to the sexy times. You're usually kind of reserved, and that's totally fine, but this weekend you may feel a bit more push to try something a little outside your comfort zone. Maybe you'll dive into tantric or break out some fuzzy handcuffs. Just try not to scare your partner too much. If you're single, use your newfound sexy edge to schedule all the Ship dates you can. May as well knock that sh*t out, right?
Images: Kinga Cichewicz / Unsplash; Giphy (12)
Wait, Is It Still Halloween? Weekend Horoscopes For November 2-4
Are you nursing a Halloween hangover or gearing up for round two? The Moon in Virgo this weekend pushes you to look for the structured and comfortable things in life, while also making you keenly aware of details. Likewise, a Venus-Neptune connection makes it hard to determine the truth. Is he not texting you back because he's actually busy or is it because he's over it? Are you lazy or are sweatpants actually acceptable day-wear now? Let's be honest with ourselves this weekend, no matter what sh*t Venus and Neptune are trying to pull. Here are your weekend horoscopes for November 2-4:
Aries
This is a weekend for maintenance. So, yeah, appease your dad and take your car in for service or to have the tires checked or whatever happens at those places. The Virgo Moon will help you discover and take care of any errors in your system. You know, like helping you finally see that weird patch of hair on the back of your thigh that you've been missing with a razor for the past two months. Oops.
Taurus
This weekend, the Venus-Neptune connection helps you realize that, single or not, a relationship is not going to help you solve all your problems. It's time for you as a sensible, logical Taurus betch to start working on solving your own problems. Practice some independence. Instead of waiting for someone to text back about giving you a ride, order your own damn Lyft. Make plans with your friends instead of waiting for a guy to ask you if you want to do something this weekend. As Fleetwood Mac would say, it's time you go your own way.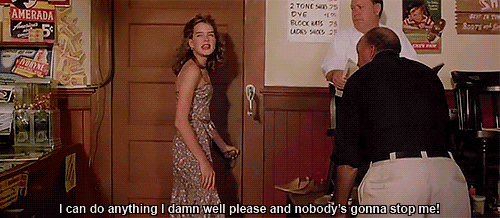 Gemini
An important discussion will take place this weekend, and it's vital that you actually listen to what the other person has to say instead of thinking about when it's going to be your turn to talk. In fact, the conversation may not be headed in the direction you assumed. So, like, put down your phone and pay some attention to the situation at hand. You don't want to mess this one up. I promise.
Cancer
It might feel like you're between a rock and a hard place in deciding how you want to spend your time this weekend. Like, on one hand, you have all this fun sh*t you want to do that will make you happy. On the other hand, you have a person or people guilting encouraging you to do stuff that feels more like an obligation than a choice. Work on setting some realistic boundaries. You can give, like, one full hour to listening to your friend cry after a breakup, but then you both need to move on.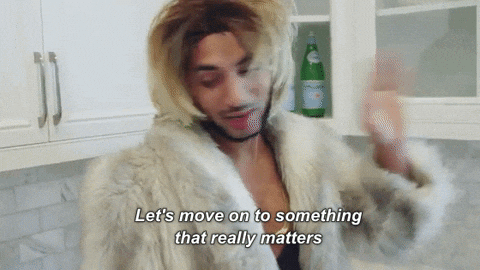 Leo
You've had this problem lately where you allow little inconveniences to ruin your whole day. It might feel like you've been in a funk of one bad thing happening after another. This is unlike you! As a Leo betch, you're used to powering through problems like the confident badass you truly are. This weekend, it's time to refocus that negative energy. Any speed bump needs to just be plowed over. Be upset about it for, like, two seconds and then move the eff on.
Virgo
This weekend, it's best to keep it simple. Your horoscope indicates you could be having a deep discussion. As a Virgo, sometimes you can get too caught up in the abstract when trying to convey how you feel. Dumb it down a little. Also, with the Moon in your sign, you're prone to being more sensitive to the feelings of others. That's super useful because you'll know how to read and respond to every situation perfectly.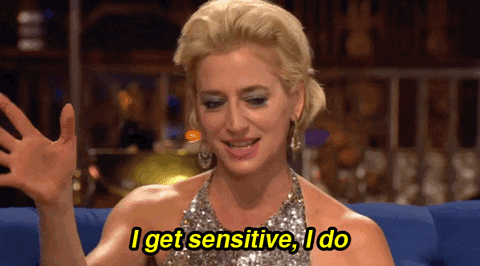 Libra
It's time to expect the unexpected, especially when it comes to relationships. Your date may not be what you bargained for. Like, is this even the same person from the pictures on the app? WTF?! Don't panic. Sometimes it's best to go with the flow and let yourself be pleasantly surprised. More likely, though, you can just chalk this up to experience and remind yourself to never go on a date with someone you haven't Snapchatted or stalked sufficiently on social media.
Scorpio
Jupiter is in your sign this weekend, giving you the strength to forgive. That might sound totally lame, but it could come in handy. No one wants to be known as the girl who carries a grudge. Instead of icing out Katilin for totally copying your costume idea or plotting revenge on Regina for kissing your crush at the Halloween party, it's best to let bygones be bygones. Move the f*ck on so you can use your energy for more important things, like coming up with a great routine for the winter talent show.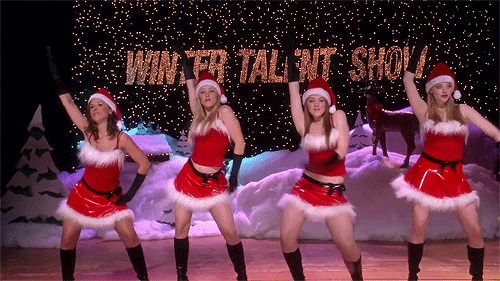 Sagittarius
A messy Neptune-Venus alignment means your usual tricks won't work this weekend. No matter how sickly sweet and charming you are, you might not be able to smooth over a situation you're definitely responsible for. It might be time to stop playing games and start getting realistic about how to handle the mess you made. Also, baked goods aren't the best way to apologize. You'll just end up burning down your kitchen or some sh*t.
Capricorn
Be careful where you're seen and who you're seen with this weekend. Your social life could have an effect on your romantic life. Just because your significant other isn't at the same bar, doesn't mean he lacks an army of spies. So don't even let it look like you're getting too cozy with your "just a friend" or the guy who innocently offered to buy you a drink. I mean, you know more than anyone how important appearances are.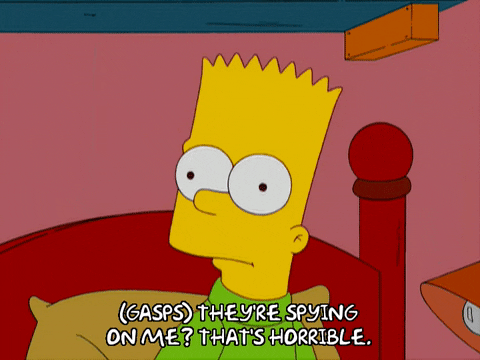 Aquarius
You've been trying to be responsible about your financial situation as of late. That's a good thing because you've developed skills that will come in handy in the future, like making the same outfit look totally different by switching up your accessories. Luckily though, things are turning around for you in the financial department starting this weekend. Your bank account will have a little more cushion for the pushing. Feel free to throw a few dollars around this weekend. Treat yourself, but then lock it back up by Monday. You still aren't Beyoncé. Sorry.
Pisces
You've been dealing with some insecurities lately. I mean, that's kind of typical. You are a Pisces, after all. Anyway, it's time you seek some advice or encouragement from a mentor or trusted friend. Your big sister from your sorority would love to get a call from you. Hell, even someone you look up to at work could help you through a personal issue and make you feel a lot better. Obvi, don't head to your most sarcastic and silly friend. She's great for a pick-me-up, but, like, not in this particular situation.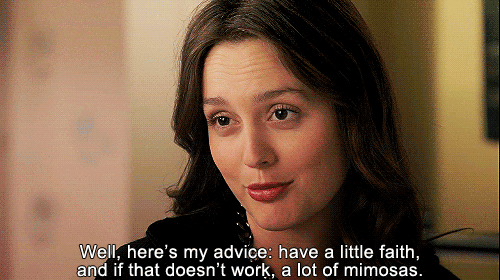 Images: Sarah Diniz Oteiro / Unsplash; Giphy (6)
It's Virgo Season: Weekly Horoscopes For August 20-24
The Sun moves from Leo to Virgo this week. Yeah, boohoo Leos. You won't be the absolute center of attention anymore. As Virgos prepare for their birthdays, the other signs are getting prepared too. You'll feel the need to get things in order for what's to come. Sure, summer isn't officially over, but I see you eyeing those school supplies in the grocery store, knowing full well fall is on its way. Here are your weekly horoscopes for August 20-24:
Aries
You'll have the realization that you really need to buckle down and get your shit together. Summer was great for you, but after months of drinking those White Claw things as if they were water, you're feeling a little lost, a little bit off your game. It's time to buy a blazer or something to make you feel like you're going to get serious about things again… even if you don't actually pull it together until after Labor Day.
Taurus
Now that Mercury is out of retrograde, you can feel free to engage in romantic endeavors again. Let's face it, you can get stuck in a rut pretty easily. So when your Hinge date asks you to do something out of your element, just go. Anyone can think Sip & Paint is a good idea, go out with the guy who takes you to a drag race. OK, maybe that's extreme, but you get the point.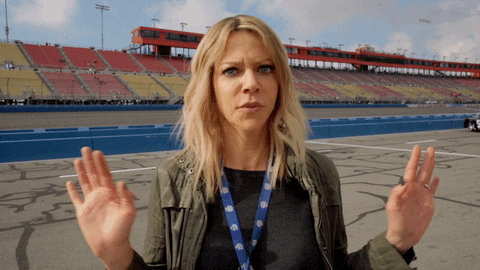 Gemini
With Mercury completely out of retrograde, you can get back on track with your communication skills. Let's face it, coming up with great Instagram captions last month was a struggle. Now that your captions and hashtags are on point, you can also catch up on all the emails and texts and messages you ignored. Like, "Hey, sorry, I'm just getting to this. Mercury was in retrograde."
Cancer
Get out that red pen, mama is scratching sh*t off the to-do list this week. The Moon in Sagittarius and your house of work is supporting you in getting as much done as possible. You might even have the energy to make your own lunch, work, go to the gym, and meet your friends for drinks after. Even if you only do two of those things, you're probably getting more done than you were while Mercury was in retrograde.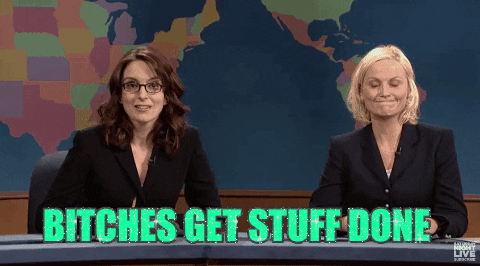 Leo
Even though your birthday came and went, you still have an opportunity to shine in the week ahead. The Moon is in Sagittarius and your house of self-expression. That means that your funniest, most charming self will be on full display. Like, dare your coworkers not to laugh at your semi-inappropriate jokes this week. Also, I can already feel your hilarious hot take on Twitter racking up the likes.
Virgo
The Sun moves into your sign midweek, bringing you energy and good vibes. Mercury is totally out of retrograde, so you're set to live your best life in the month ahead. Since you have a couple days at the beginning of the week to prepare, you might as well freshen up that mani, get a blowout, buy a new outfit—you know, just in case all this attention comes at you hot and fast.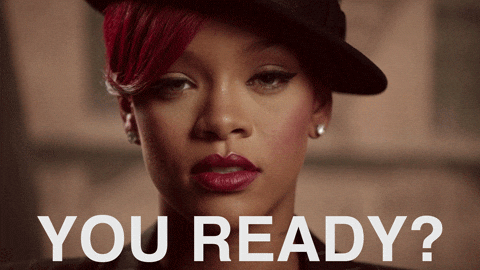 Libra
With your birthday on the horizon, your personal year is drawing to a close. It's a good time to reflect on what went right and what went wrong in the year ahead. With Mercury out of retrograde now, you'll probably get a pretty accurate picture of where you stand in life. Set your goals for the year ahead. Maybe you need to kick that weekly cigarette habit. Maybe everything is perfect and you're amazing. In that case, never change, hun.
Scorpio
Now that communicator Mercury is out of retrograde, you can make progress when planning your next moves. Discussing your ideas with others won't screw you over now. Instead, others might have decent advice to offer—or, better yet, some money for your startup. In your romantic life, it's time to stop treading water. Make the moves or have the conversation that gets things up and running again.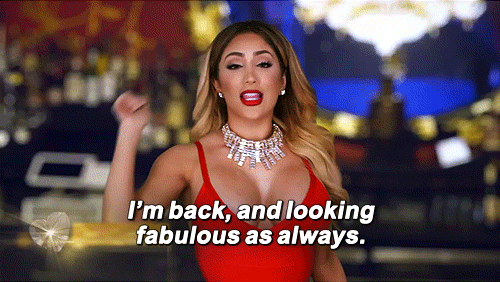 Sagittarius
The Sun travels to the top of your chart this week. It's amazing for you, as that means there's a big spotlight directing a bunch of attention your way. With more attention comes more criticism, too. The Moon in your sign can make you hypersensitive. You better come up with some clever clapbacks or learn to just get the f*ck over it if you want to survive the week without wasting a bunch of mascara on tears.
Capricorn
The Moon in Sagittarius is drawing your thoughts inward. It's a great time for reflecting on how amazing you are. Meditation will center your spirit. If you're feeling less than your best, it might be time to reach out for professional help, and, no, I don't just mean a long talk with your mom. A therapist is like the new hot handbag: everyone has one and they love telling you about it.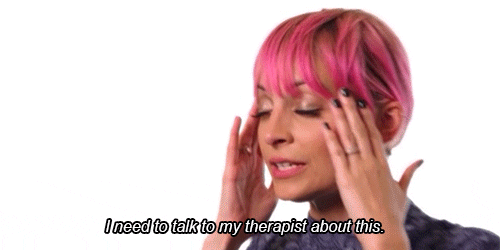 Aquarius
Okay, so, I'm really sorry but just because Mercury is out of retrograde doesn't mean your troubles are over. The next week could be really intense for you. A lot of issues you thought were dead and buried will have a way of zombie-ing back into your life. All of the episodes of The Walking Dead won't teach you how to kill these bad vibes. Take deep breaths. Trust yourself to figure it out. You'll survive this, betch!
Pisces
The Sun sits opposite your sign for the next month. The Sun represents your energy source, so don't be surprised if you're super tired this month. You thought you'd get your energy back after Mercury was out of retrograde, but you were wrong. Thank god it's still summer so you can down cold brew and take afternoon naps in a lawn chair without seeming like a total crazy person.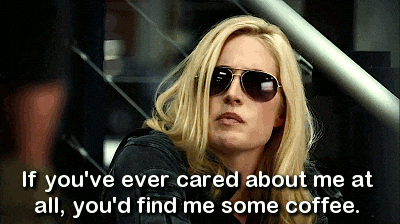 Images: Giphy (6)